It was back in late 2020. I recall, quite vividly, several weeks of bliss with Bowers & Wilkins' 702 Signature Edition speakers (review here). Joy, joy. Over and above the excellent 702 S2 standard version (reviewed back in 2017), the 'SE' was the ultimate expression of the company's highly popular 700 series. Its sonic skills were so sharply refined that it could cheekily face-slap with a challenging glove its 800 series entry points compadres. And then there was that insane 'Datuk Gloss' finish. Knock-out. Time-jump to Q2 2023 and I receive a call from Australian distributor Masimo Consumer's John Martin offering to renew my acquaintance with the 702 flagship, now, in its latest-gen 702 S3 generational evolvement. "How about a review?" Umm… like, yeah!
Long Black, Not Flat White or Mocha Joe
So here they are, then. In situ. And looking rather hot. Not in the new and ridiculously attractive 'Mocha' finish but in a beautifully executed 'Gloss Black'. Mirror-like. Stunning finish aside, the 702 S3s showcase substantial levels of trickle-down technologies derived from the flagship 800 series. For starters, there's the 'Tweeter-on-Top' bullet-shaped housing which has been elongated as per 800s. Then the 'pods' for the midrange and bass drivers are there too, albeit in a reduced protrusion size. Finally, as far as external similarities with its flagship range peers, the 702 S3 sits on a decoupled stabilising plinth which is spaced from the slender cabinet in order to provide the down-firing port with the required separation.
Back to that OTT TOT (Tweeter-on-Top). As mentioned above, the tweeter housing has been elongated in order to further reduce rear wave reflections. The 'Solid Body' housing is milled from a billet of aluminium for a substantial reduction in resonant distortion. Further, the housing is decoupled from the main enclosure via a damped fixing system. Of course, the housing's diameter at the tweeter fixing point is barely larger than the dome itself, making for potentially excellent spatial/soundfield performance.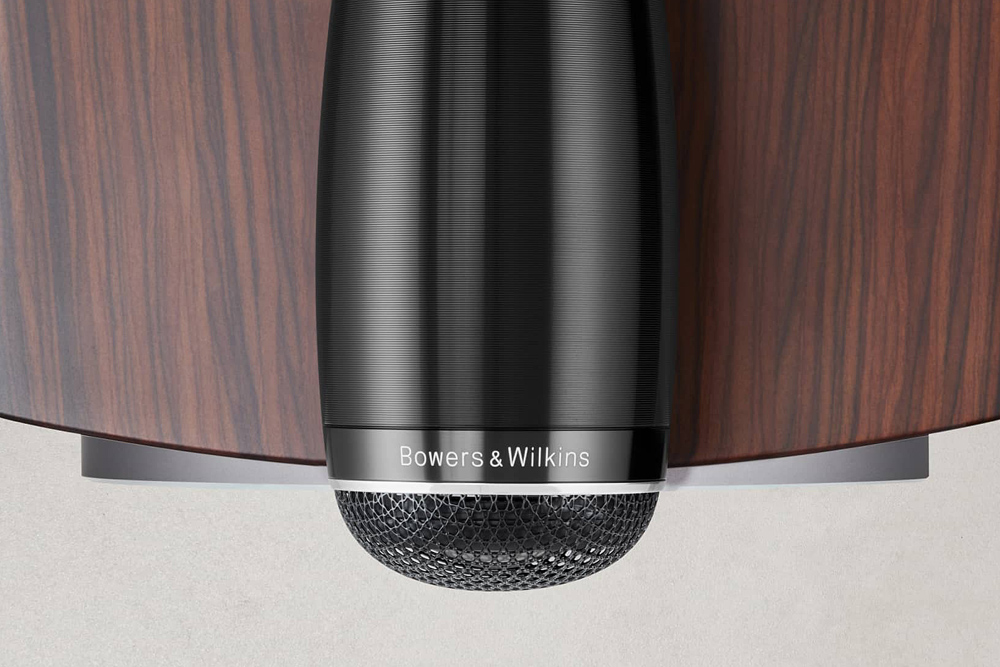 The tweeter itself is a bespoke design solely dedicated to the 700 series products. It features a 25 mm carbon dome said to provide superior high frequency performance when compared to the 700 Series 2 aluminium tweeter. The new tweeter's break-up mode manifests at around 47 kHz, well beyond the perceptible bandwidth.
The tweeter hands over to a 150 mm midrange driver employing Bowers & Wilkins' proprietary Continuum cone material. It sits almost flush with the driver basket via the company's unique FST surround-less suspension arrangement which exhibits reduced cone flex distortion while providing improved transient response. Another influential aspect of the midrange's microdynamic detail retrieval and sharp transient response is Bowers & Wilkins' Biomimetic suspension system which replaces the conventional and ubiquitous corrugated woven cloth spider. The Continuum driver is housed in its own 'pod' which is decoupled from the main enclosure.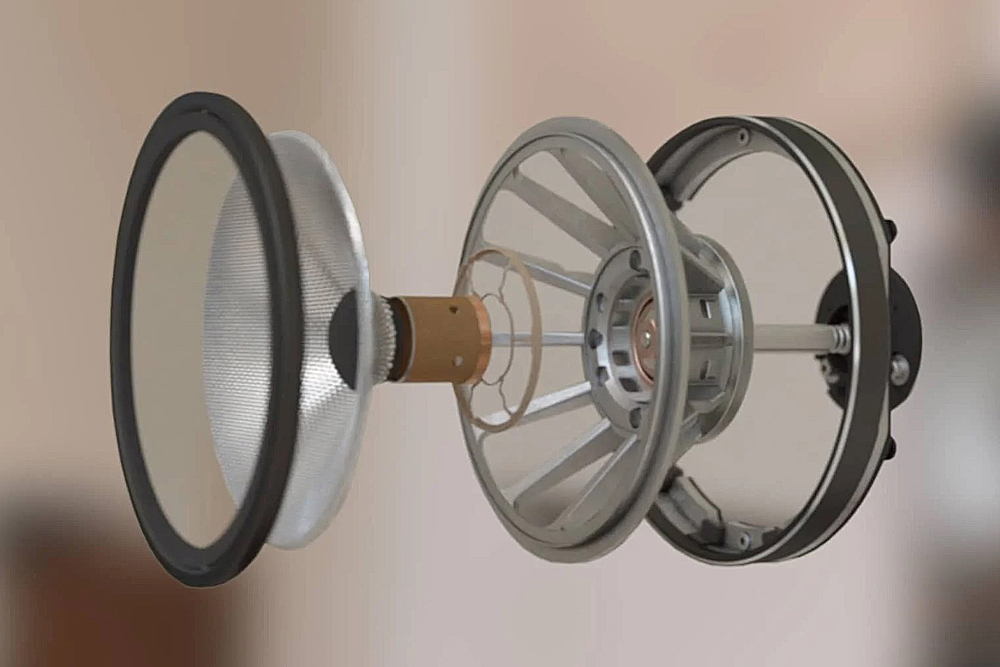 As the flagship model in the 700 series, the 702 S3 features a fairly tall cabinet with three bass drivers on the lower three-quarters of its baffle. They too are decoupled from the cabinet via the pod arrangement. Said drivers comprises a trio of 165 mm Aerofoil low-frequency transducers featuring large magnet motor systems. The Aerofoil material is profiled with differing thicknesses in order to make the cones less prone to flexing distortions, maintaining rigidity while remaining lightweight. Support for the bass drivers is provided by Bowers & Wilkins' 'Flow Port' dimpled reflex port, an architecture which is designed to eliminate chuffing and air turbulence noise. The Flow Port is placed at the cabinet's bottom panel which is raised from the speaker's plinth/platform via four 30 mm high posts.
Round' back you'll find a chrome plated panel etched with the model designation and a set of beautiful binding posts allowing bi-wiring or bi-amping (a chromed metal strap connects the posts together for single-wiring). While the binding posts look great and are well built/machined, their super smooth finish makes it difficult to forcefully hand-tighten/loosen when using spade connectors – a knurled or grippy finish of some sort would be ergonomically better.
The tall enclosure (height: 1138 mm inc. tweeter, 192 mm wide and 354 mm deep) features a subtle curve on its front baffle, a strategy which can result in reduced diffraction effects. Fit and finish is first class while the cabinet seems solid enough and well-braced. I liked the silver dress rings around the drivers which make for an attractive contrast against the black gloss; they also serve to conceal unsightly fixing bolts. Provided hardware includes a choice of either rubber footers or quality spikes which screw onto inserts in the bottom surface of the plinth. Like the rest of the 700 series, the 702 S3 is available in Gloss Black and Satin White (the latter is provided with grey grilles), Rosenut and my personal favourite Mocha.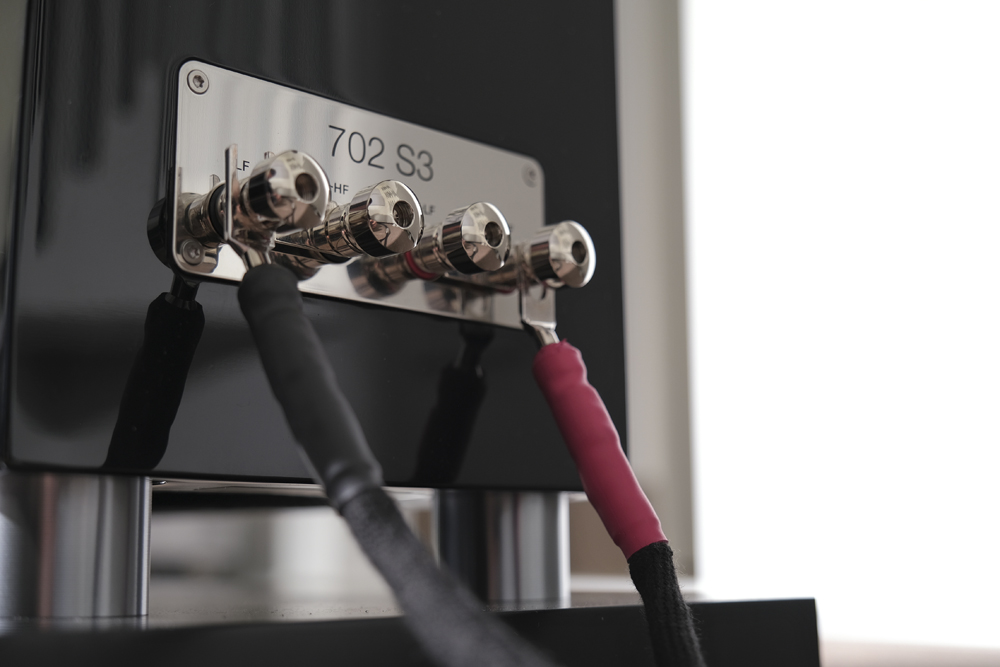 The 702 S3 is stated to have a frequency response spanning from 46 Hz to 20 kHz at +/- 3dB, a nominal impedance of 8 ohms (3.1 ohms minimum) and a sensitivity of 90dB (2.83Vrms at 1m). As a guide, the suggested amplifier power is 30 watts minimum and 300 watts maximum.
Topping it All
Yep, there's something about this Tweeter-on-Top business. Man, these speakers disappeared as far as imaging and soundfield are concerned. Couple that tweeter configuration with the absence of a wide baffle around it and you get a really open soundstage, making spatial reproduction impressively wide and tall. Live acoustic recordings are produced with stunning image specificity. As impressive as that is, the tweeter's handling of detail, in general, is world-class too and not galaxies away from the exactitude of its diamond-clad 800 series cohorts.
The 702 S3s love to play acoustic guitar and I loved hearing it. The cool version of "Light My Fire" from Sylvain Luc's Joko album had all the finger-and-nail-on-string detail you could possibly wring from Qobuz's expertly rendered ones and zeros. Yes, that tweeter again generously offers the smallest nuances which are crucial to realistic music reproduction.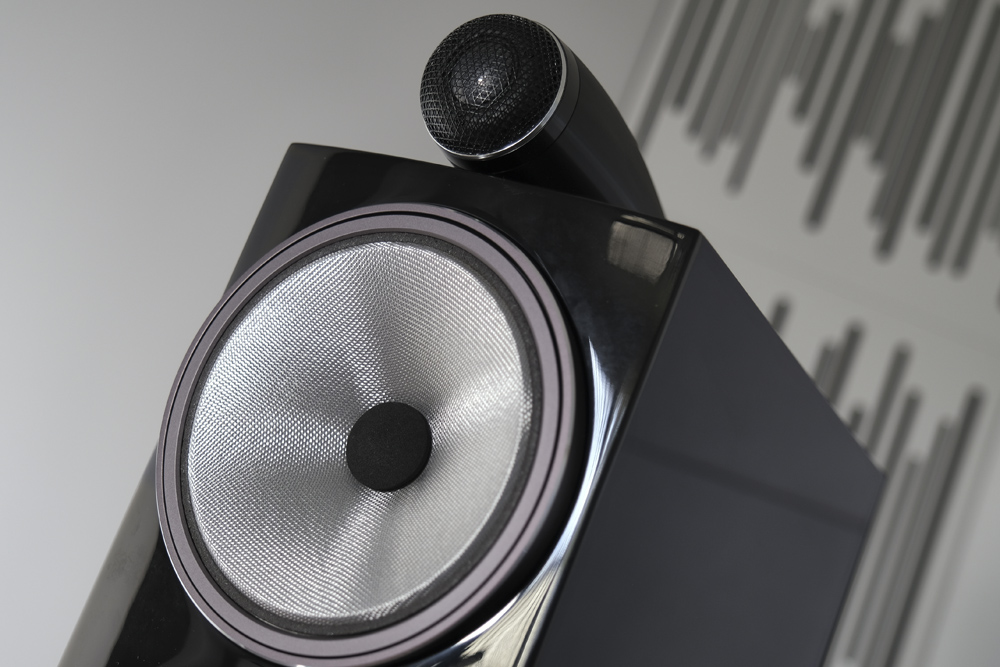 Ditto for Gillian Welch's "Tennessee" from her The Harrow & The Harvest, where Welch's soft strums and mood-laden vocals are so tonally beautiful and so precisely placed within the soundstage (she's always so captivating, in a very restrained way). There's an inherent melancholy to her vocal intonation – probably best shown throughout her Time (The Revelator) album – and the 702 S3s were champions at communicating the emotive power of Welch's vocal style while showing her in a very life-like presence. Her long-time musical partner David Rawlings' atmospheric strings accompany Welch with excellent timing and timbre. This is very subtle and refined music handling by 702 S3.
Like many Bowers & Wilkins models I've reviewed through the years, the 702 S3s treble and midrange transient response is exemplary. Play any Rock track where the snare is well-captured and 702 S3s will deliver it with proper attack, accurate skin timbre and dynamic snap. That satisfying transient and dynamic attack carries across the bandwidth, with the speakers being equally forceful through the low-frequencies (with excellent control via my Gryphon Audio Antileon EVO amplifier). Sure, you'll get a fuller, larger scale sound from a bigger floorstander, or the company's own 800 series models (say, 803 D4 and upwards, of course), as you'd expect from more sophisticated models. Within its price point and physical stature, the 702 S3s are world class.
I often revisit The Red Hot Chili Peppers' Blood Sugar Sex Magik, which is so superbly produced by legend Rick Rubin. It's still, after all these years, one of my benchmarks for bass and midrange punch. It's also scary-good dynamically, across all frequencies. The 702 S3s faced the challenge with confident gusto, their five drivers per side savouring the power and dynamism. Just play the title track, or "Suck My Kiss", or "Funky Monks" or "Naked in The Rain" or even the mellow "I Could Have Lied" and you'll get it. Super enjoyable.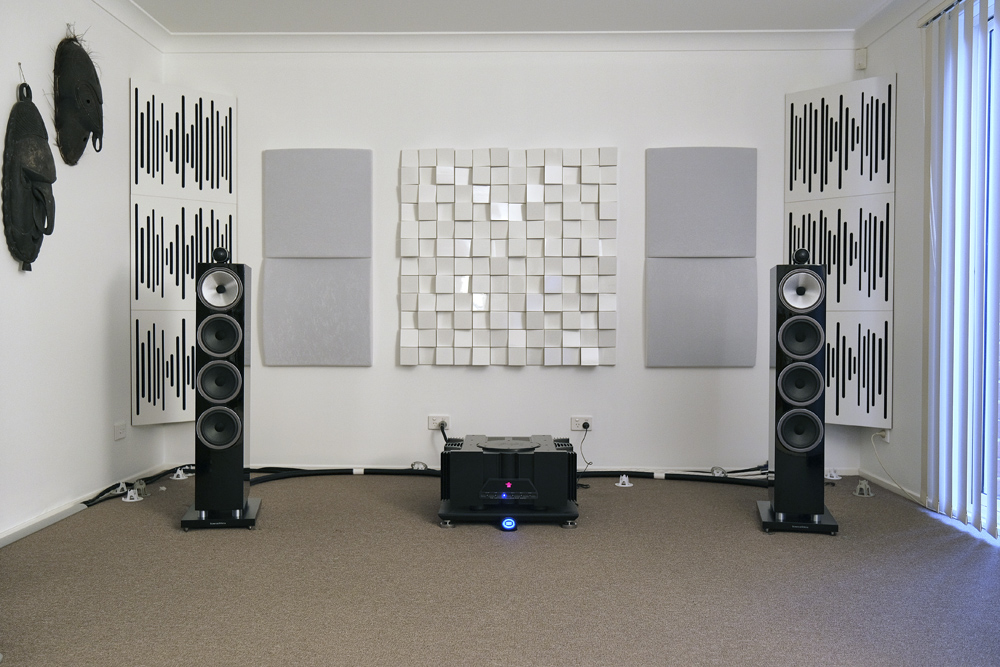 Apropos the music described above, and as a consistent aspect of all the Bowers & Wilkins loudspeakers I've personally reviewed – and there has been a few – I found the 702 S3s liked a bit of kick behind them. Turn up the wick via a reasonably powerful, high current solid state amplifier and you'll be rewarded with improved dynamics and a more open soundfield.
Pianist Daniil Trifonov's hyper-speed dexterity and expertly interpreted Franz Liszt oeuvre on Deutsche Grammophon's Transcendental, via the 702 S3s clearly showed the Maestro's highly virtuosic talents. The speakers convey the masterful musicianship by transmitting the energy and briskness of the performance. From the middle and highest notes as handled by the superb Continuum midrange and carbon dome tweeter and on down to the lower keys via the fast and nuanced Aerofoil bass drivers, it was all a coherent and truthfully conveyed. Play "La Campanella" to fully understand what I'm describing… it's lightning fast and tonally precise.
The glorious sounding 2010 88.2 kHz/24-bit remaster of Rimsky-Korsakov's (or Korsakoff as shown on the artwork) Scheherazade (Living Stereo/RCA Victor Red Seal) as conducted by Fritz Reiner with the Chicago Symphony Orchestra reproduced a massive soundfield within my listening space. I love it when, eyes-shut, speakers can trick the brain into thinking you're at a large live venue. The B&Ws pulled that auditory mirage rather well, placing the various sections of the orchestra in life-like spaciousness.
Similarly, my go-to live recordings – mostly of excellent production quality – performed equally well. You know the ones if you've been reading my reviews for some time. I'm talking Adams (Ryan), Belafonte, Browne, DiFranco, et al – all sonically and musically exceptional live performances. Hearing those much-loved recordings via 702 S3s did them justice, just as speakers on even higher price rungs have done, including the phenomenal 801 D4 (reviewed here). So I'm talking large soundfields, tightly-focused images, and superb immediacy from these live recordings.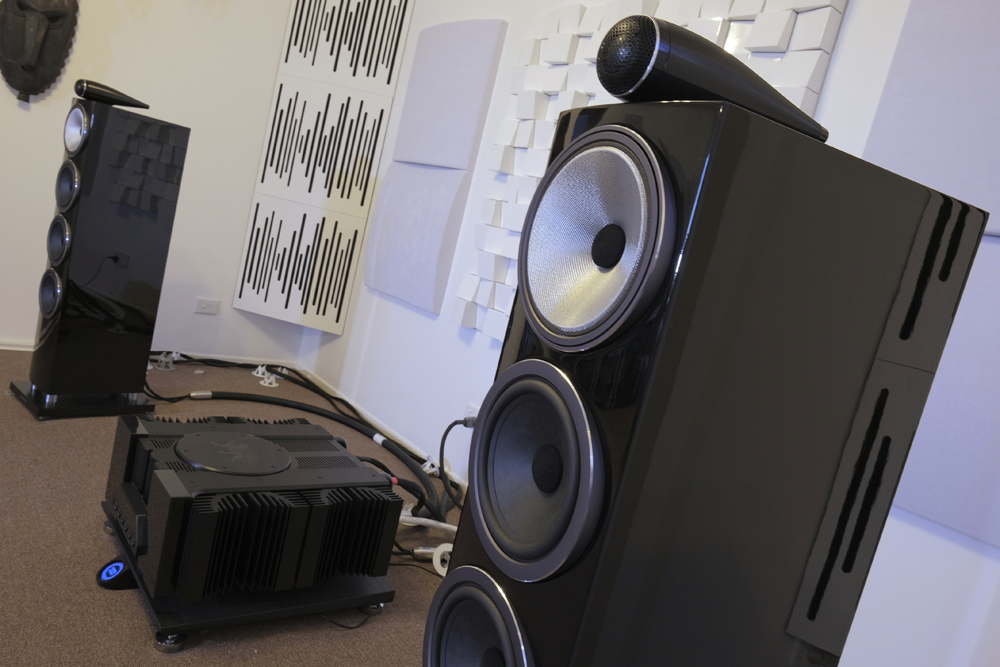 Moving away from live auditoriums and onto live-at-the-studio, playing Mick Turner & Tren Brothers' "Jenny's Song" and "Angel, Pt.1" from the Blue Trees album, I marvelled at the clarity, tonal neutrality and intimacy of Turner's guitar. It was like the instrument was plugged-in directly to my preamplifier… truly eery, in a good way. And while on "Jenny's Song" Jim White's drums had somewhat reduced slam compared to my much larger and ten times more expensive speakers, they still sounded powerful and deep, in line with speakers of the 702 S3s' cabinet volume and stature.
So, with the 702 S3 being this good, what of its upper-tier brethren? As superb a performer as the 702 S3 is, going to the 800 series will provide superior build quality, unique styling and even more sophisticated driver and crossover technology, beyond the 700 series' undeniable excellence in these areas. There will be an enhanced sense of scale and bass power and even deeper insights into the music. That's all at a cost, of course. Yet, at its price point, and arguably beyond it, the 702 S3 is a remarkable performer in all important aspects of music reproduction.
Conclusion
As stated in my intro, back in September 2020, I reviewed the 702 Signature Edition, an upgrade from the standard Series 2 model by way of crossover refinements and a truly beautiful bespoke finish. Sonically, it was a worthy possessor of the 'Signature Edition' model elevation, providing worthwhile improvements from the standard 702 at additional cost. The SE retailed for AU$8500 at the time. Fast-forward to 2023, and the 702 S3, in standard-guise (no word of a Signature Edition yet), hits the market at AU$10,900. The world has changed since 2020, with parts costs, supply chain challenges and freight charge increases resulting in price hikes for luxury audio products.
Signature Edition aside, the 702 S3 surpasses its Series 2 predecessor in terms of refinement and overall cohesion. The new speaker also matches the last-gen souped-up Signature Edition's sonic excellence while offering a tad more bass power and tunefulness (thank you Aerofoil drivers/new Flow Port) and a more balanced high frequency response leading to a freer, more openly spacious soundstage (thanks, new housing for Tweeter-on-Top). While the 702 S3's finish is not quite Signature Edition level, in my opinion, the magnificent Mocha presents near-equal non-gloss beauty.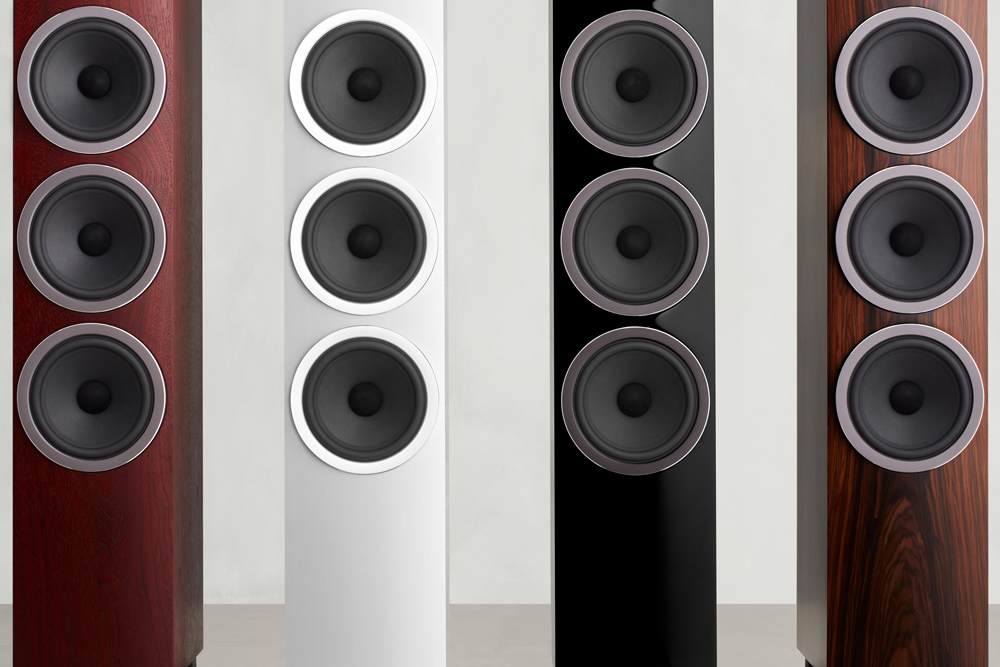 What should a floorstanding speaker in the AU$10K space offer? It should be neutral, transparent to the signal being fed, provide powerful dynamics and deep low-frequencies (of course, within the boundaries of physics vis à vis its enclosure size and driver complement), it should throw a large soundscape with well-placed images. Tonality should be neutral and detail rendered with mindfulness to the source. Finally, it should be well finished and attractively styled while providing pride of ownership and brand cache/value retention.
Yes, Bowers & Wilkins' 702 S3's wide scope of talents meets each and every one of those attributes. In fact, they're smashed out of the park. I can't help but assert the 702 S3 floorstanders are a full "four-bagger" home run success. Highly recommended.
… Edgar Kramer
This email address is being protected from spambots. You need JavaScript enabled to view it.
Associated Equipment
Speakers — Wilson Audio Alexia V, Axis Loudspeakers VoiceBox S (nearfield monitor), Vermouth Audio Little Luccas Mk.II, Atacama stands
Amplifier — Gryphon Audio Antileon EVO
Preamplifier — Supratek Cortese, Totaldac d1-triunity (direct to amplifier)
Sources — Digital: 432 EVO Aeon Mk.3 Reference Music Server/Roon Core, Yamaha CD-S2100 transport, Totaldac d1-triunity DAC. Analogue: Transrotor Crescendo with Konstant Studio controller, Reed 1X Tonearm with upgraded internal wiring, Shelter Harmony cartridge, The Funk Firm Houdini cartridge decoupler, Supratek Cortese & REDGUM Audio RGPH2 phono stages
Processor — DEQX PreMate (part of arsenal/casual use)
Cables — VYDA Laboratories Orion Silver Reference HFC IC and speaker cables, PSC Audio custom design XLR, Vermouth Audio Reference loom,ZenSati Zorro, Tubulus Concentus USB
Audio Rack — SGR Audio Statement Model V, Aspire Audio Belgravia amplifier platform (customised for Gryphon Audio Antileon EVO), Stereotech Aluminar Dark 3-tier rack
Acoustic Treatment — Vicoustic Multifuser Wood, Wavewood Ultra, Cinema Round Premium and Super Bass Extreme
Miscellaneous — Silent Angel Bonn N8 Pro network switch, GigaWatt PF-1 EVO power strip, Les Davis Audio Viscoelastic CLD discs, VRC Vinyl Record Cleaning systemplus miscellaneous accessories
Bowers & Wilkins 702 S3 Loudspeakers
Price: AU$10,900
Warranty: Five Years
Australian Distributor: Masimo Consumer
+61 2 9196 8990
www.bowerswilkins.com/en-au
Bowers & Wilkins
Dale Road
Worthing BN11 2BH
United Kingdom
+44 (0) 1903 221500
www.bowers-wilkins.net