SoundStage! Australia launched on July 1, 2017. One of its purposes is to inform Australian audiophiles; however, since it resides online, it can be read and enjoyed worldwide.
In charge of SoundStage! Australia is well-respected hi-fi journalist Edgar Kramer. Prior to leading SoundStage! Australia, Edgar contributed to the following print and online publications: Audio Esoterica as editor, and Australian Hi-Fi and Sound+Image as a reviews editor, and 6moons.com as a senior reviewer.
From his headquarters, in the beautiful Blue Mountains in Sydney, Australia, Edgar's responsibilities include writing feature articles and reviews, in addition to leading the site's team of reviewers, who are all Australians. SoundStage! Australia was created as a platform for the Australian hi-fi scene, so it's natural that all the content originates there.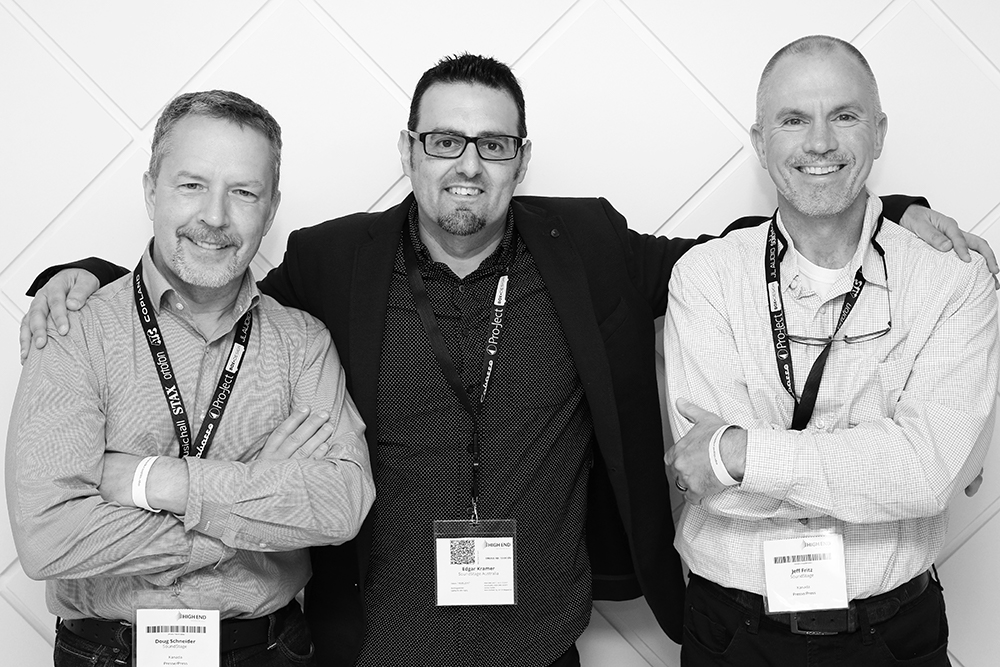 Edgar Kramer (center) with SoundStage!'s Doug Schneider (left) and Jeff Fritz at High End 2017
Although SoundStage! Australia is its own entity, it is part of SoundStage!, which helps to expand its recognition and global reach. Founded in 1995 as a single online publication, SoundStage! has grown to include ten online publications and resource sites, making it the world's largest network of online publications and resources for audio, home theater, music, and movies. SoundStage! also creates high-quality video content, which can be found on YouTube through the following URL: SoundStage.TV.
To learn more about SoundStage, visit SoundStage.com or e-mail This email address is being protected from spambots. You need JavaScript enabled to view it..
To learn more about SoundStage! Australia or to contact Edgar Kramer directly, e-mail This email address is being protected from spambots. You need JavaScript enabled to view it..
SSA