The space for server and streamer products has been steadily expanding for a few years now. While many brands have augmented existing lines of electronics to include servers and streamers, there are also a multitude of digital specialists purely dedicated to that singular product type. Most offer components with or without built-in DACs. While a select few have developed proprietary playback software and dedicated apps in support, all conform to music providers like Tidal, Qobuz, Spotify and others. Most are open to the wonders of Roon and other playback software. Less common, however, are the sorts of streaming/server products which can offer one-box solutions. Belgian company 432 EVO is a high-level digital specialist with a solid portfolio offering an entry-point all-in-one and a further three streamer/servers which provide comprehensive feature sets while allowing connectivity to your own beloved DAC. Below the flagship, 'Master', sits Aeon Mk.3 Reference Music Server, a music playing solution promising the highest level of sonic performance.
Boosted Power
It was back in March 2020 when Tom Waters very favourably reviewed the Aeon's little sister the 'High-End' model (review here). I actually obtained that unit post-review and used it as my reference server/music player. Internally, Aeon's circuit and configuration is superior to High-End, as you'd expect for the price difference. It's a more refined and honed-in product. Externally, you'd have a keener eye than mine, my eagle friend, if you could spot the external difference between the two. In fact, they're doppelgangers, even to the point of identical graphics eschewing model names on their minimalist fascias.
So yes, turnkey. Aeon is a music server which can run Roon and LMS (Logitech Media Server) while also being a Roon Core. In fact, one of the things which attracted me to the 432 EVO music players is the Swiss Army knife aspect which is a digital turnkey allowing connectivity to my treasured Totaldac converter (the entry level 'Essence' is the only model offering a built-in DAC). So aside from being a Roon Core – Roon being my preferred music player – Aeon features in-built storage by way of a spring-isolated 2TB SSD drive (4TB and 8TB can be ordered), a CD ripper featuring a high quality 'bit-perfect' TEAC mechanism and a comprehensive software package which can play original format bit-perfect or upsample up to 32-bit 768 kHz PCM and up to DSD512 in DSF and DFF formats.
Plus, and this is a unique feature, the company's very own name is a reflection of the proprietary 432 Hz tuning algorithm. There's a wealth of material worth reading on the company website (and on the net in general), plus Tom Waters' review of High-End covered this already, so I won't go into this proprietary digital manipulation feature too deeply here.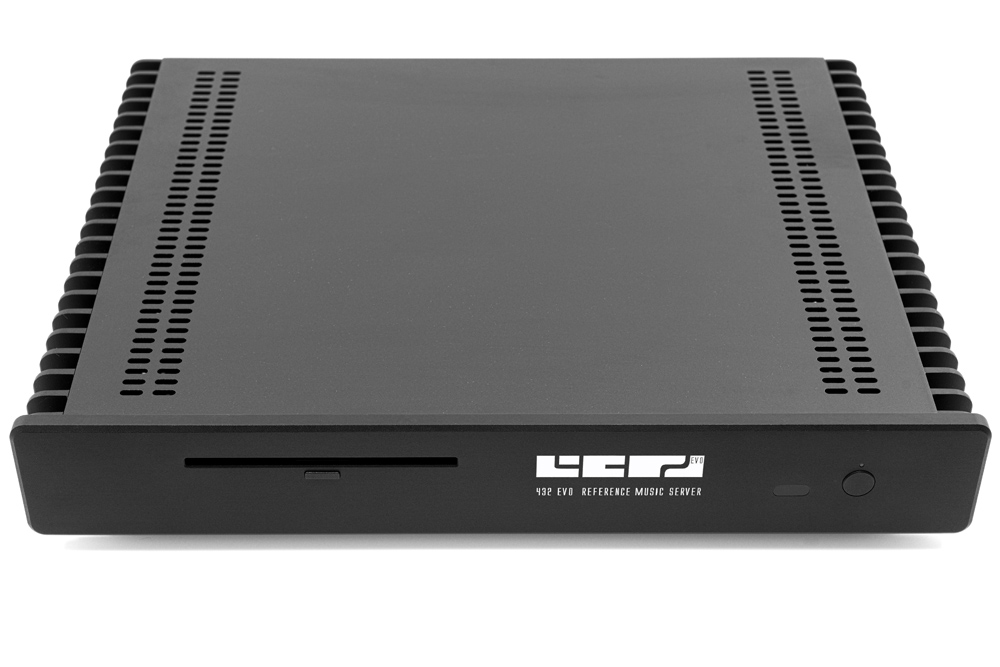 Basically, experiments conducted by Music Researcher and author Maria Renold, and more recently followed up by a number of famed musicians and 432 EVO itself, found that the historical 432 Hz tuning was preferred to the modern 440 Hz 'concert pitch' of modern day instruments (actually an Austrian standard since 1885). Renold presented a scenario where musicians played instruments tuned to 432 Hz and 440 Hz to an audience of 2000 listeners. The experiment's result showed 90% of the audience preferred 432 Hz in contrast to the now ubiquitous of 440 Hz tuning. 432 EVO conducted its own version of the experiment, albeit with a much smaller audience of 60 and, at that event, found 58 preferred 432 Hz. They found music sounded warmer, more… listenable. It's even claimed by 432 Hz proponents that the more analogue-sounding, more natural tuning has positive effects on the human body/brain. It's claimed in a study titled "Music Tuned to 440 Hz Versus 432 Hz and the Health Effects: A Double-blind Cross-over Pilot Study" conducted by Calamassi D, Pomponi GP, that the mean decreased heart rate of listeners coincided with a more intent, yet easier and more involving listening experience while exposed to 432 Hz music. There are plenty of other papers and data with similar findings. If nothing else, this is thought provoking.
So the engineers at 432 EVO, led by digital specialist and music lover Frederic Vanden Poel (Poel is also a senior Linux consultant and has extensive IT experience), went about developing a lossless algorithm which could convert 440 Hz to 432 Hz playback on the fly. Your CD rips and files are stored in their original state and, when selecting 432 Hz playback, Aeon will convert to it as it plays. Very clever. Of course, you can select to bypass 432 Hz altogether and stick to 440 Hz should that be your desire. Importantly, all the native sampling and upsampling options can operate in 432 Hz mode.
In fact, that and many more features and settings can be accessed via a web interface (shown below) which provides several upsampling options (up to the abovementioned resolutions), 'SQi' sound quality filters (total of 10 options at last count) including several Archimago options, asynchronous buffer size and more. It all works via Fedora-based VortexBox which basically adapts Linux computers into servers. Web interface with VortexBox also allows remote access by 432 EVO engineers to troubleshoot, assist with firmware updates and more.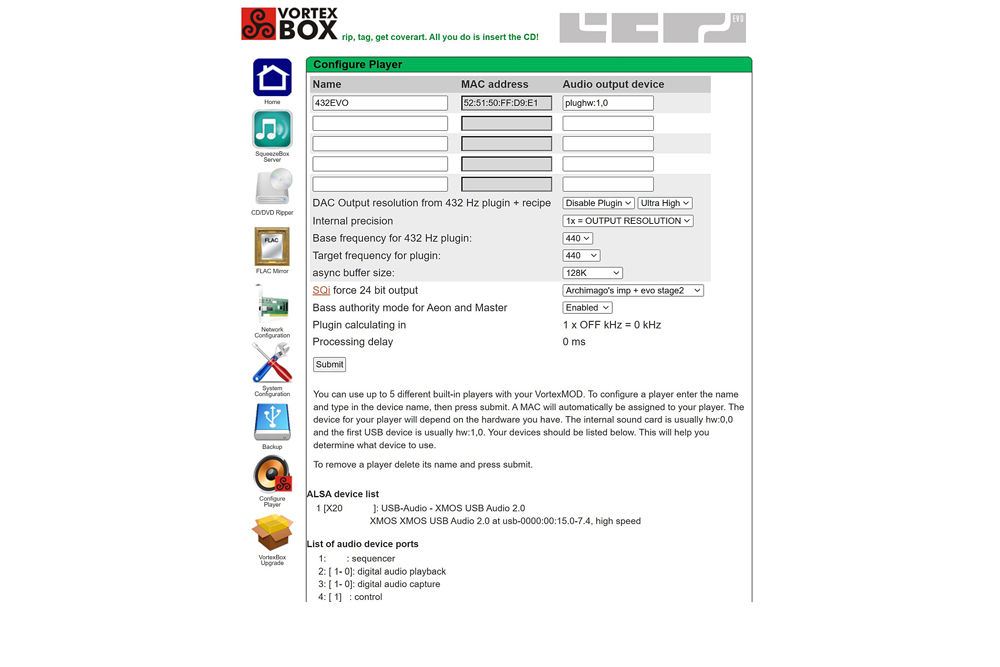 The features embodied in Aeon are comprehensive, to say the least. Aside from everything already mentioned above, there's comprehensive circuit shielding, data protection schemes and intelligent electronic design in general. Aeon Mk.3 now includes a bespoke copper-coated 3D printed shield around the USB ports. Said ports are part of the high-end ultra-low noise SOtM USB module. SATA shielding/noise filtering, reduced EMI and a new superior SATA cable loom (optional item at AU$500 and included in review unit) provide further refinements.
Aeon features a dedicated quad-core CPU with 8GB of RAM. Separate CPU cores are configured for running Roon and LMS while a dedicated core handles audio only. The USB circuit is said to not be reclocked but, rather, employs its own superclock which is independently powered via Sbooster. Custom BIOS and kernel optimisation are also implemented by 432 EVO in order to decrease jitter and enhance sonic performance. As 432 EVO puts it, "We implement techniques from the supercomputing world inside the Aeon to guarantee a stellar audio performance…"
In common with the High-End model, 432 EVO has once again employed separate 9V and 12V Sbooster BOTW Mk.II linear power supplies. Sbooster power supplies have garnered one heck-of-a reputation for solid engineering built around large transformers, generous low ESR capacitor banks and effective mains filtering schemes. 432 EVO's choice to employ the company's power supplies is an astute and strategically sound judgement call.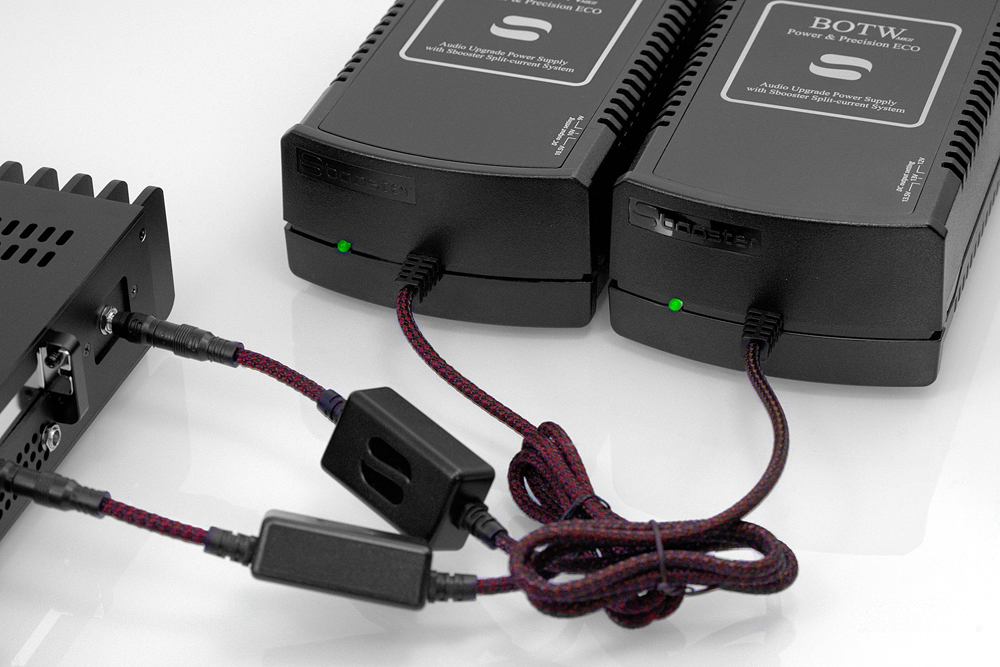 Within the context of Aeon, the Sbooster power supplies are reconfigured to operate in a bespoke scheme which is similar to 432 EVO's three Sbooster-endowed flagship 'Master' music player retailing in Australia for over AU$21K. In Aeon, one Sbooster is tasked with powering the unit as a whole while the second Sbooster is fully dedicated to the USB section and the unit's 'superclock' (SOtM 12MHz sCLK-EX). By the way, 432 EVO offers an upgrade path to Master level.
Of course, being a full Roon Core, Aeon opens up integrated Tidal and Qobuz functionality. LMS provides access to iPeng and SqueezePad control systems/apps. The unit is also compatible with Spotify, countless Internet Radio possibilities, handles MQA passthrough while support is available for just about every type of file format.
Aside from the standard computer motherboard (multiple USB ports for back-up or additional storage, HDMI, DVI, VGA for monitor hook-up, etc.), the rear panel includes two ultra-low noise USB 3.0 outputs for audio from the SOtM board and "real time clocked" gigabit RJ45 network connectivity – these two last items are all you'll need to know about, as far as audio socketry. Of course, a USB 3.0 port from the SOtM board connects to your preferred DAC. Due to their 24-bit/192 kHz resolution limitations, Vanden Poel eschews standard S/PDIF and AES/EBU connectivity and has chosen instead to provide a hot-rodded USB option.
Concentus, the top USB cable from cable specialist Tubulus, separates the audio signal from the USB's AC/power split, so it's a double run of cable. It arrived literally three days before publication and just prior to a trip to Melbourne I had to embark on for a major launch. So, while things sounded promising via a short casual listening session squeezed-in just before my departure, I look forward to further experimentation with this nicely-built USB cable.
Coming back to the 3D printed shield and other design aspects, I thought I would have a chat with Vanden Poel. I started off by asking what the objective and subjective results which have come about due to this proprietary development?
All music servers and endpoints/streamers have some form of CPU. CPUs emit low power microwaves in the frequency range of Wi-Fi, Bluetooth, mobile phones, etc. although not as strong. Since the EVO offers a power efficient CPU, the amount of RF is already low. But unless shielded, all electrical components inside the chassis will still see these microwaves which is a form of electro smog and causes audible time smearing. While the USB receiver in a DAC will still be able to recover the audio data correctly, it will also see those unwanted signals.
Therefore, shielding the critical audio parts, which are the clock and USB output boards in the Aeon and Master models, will greatly improve the sound quality. Subjectively it makes everything more realistic, reveals more layers, has better and tighter bass, etc. We use 3D printing for both our shield (which is finished with a copper coating) and for our spring suspension system, which mounts the SSD on springs.
I then asked Vanden Poel why do 432 EVO servers exclusively run USB output for audio.
S/PDIF and AES/EBU are limited to 24-bit/192 kHz. There are also several direct competitors which also only offer a high-end USB output in their flagship products, often more expensive than our Master. When using USB, the available bandwidth, number of channels and channel capacity goes far beyond S/PDIF and AES/EBU. One example is our mixing desk which can send bi-directional multichannel 24-bit from and to a DAW [Digital Audio Workstation] over a single USB cable.
In direct comparison with a competing upsampling server which is limited to S/PDIF and AES/EBU and which is a direct competitor of our Master, in-house subjective testing and other reviewers have concluded that our Master does several aspects better than the direct competitor which is mainly promoting AES as protocol. Subjective testing has also revealed in many systems, that upscaling to 24-bit/352.8 kHz sounds better than 24-bit/192 kHz, and which is not possible with a single link S/PDIF and AES/EBU.
In my final question, I asked how important a role the Sbooster power supplies play in Aeon's design (and in other 432 EVO servers).
Dual linear power supplies, one 12V and one 9V, each with AC filtering, toroidal transformer for faster transient performance compared to designs with a shared transformer, dual stage DC regulation and with buffering inside the DC cable attached to each power supply. Instead of one giant transformer, we use several since this will improve the transients. The mainboard/CPU has a totally different load pattern compared to the more constant power draw of the USB output and clock boards. Feeding both from a PSU with one shared transformer would downgrade the sound.
In contrast to its closest competitors, 432 EVO has eschewed fancy casework (I do miss that here, I'm a sucker for beautiful industrial design and OTT build quality) and has chosen to channel development budget onto the circuit, software and overall electronic design. That's not to say the Aeon and its stablemates are flimsy or poorly made, in fact, the chassis is solid and neatly assembled from a quality near-single RU-sized metal and aluminium computer type enclosure. The full depth heatsinks on both sides of the chassis allow for cooling of the processor and electronics without the need of a potentially noisy fan.
For Eternity
Having owned the High-End for quite some time, I was fully-up on all the workings of the Aeon and the VortexBox interface. I more or less replicated my settings from the old machine to the new one. While on this, configuring Aeon is simple, efficient and takes a matter of minutes. Or you can futz about as long as you want. Connectivity-wise, all you need is a USB cable to hook to your DAC and an ethernet feed from your LAN/router/switch. That's it.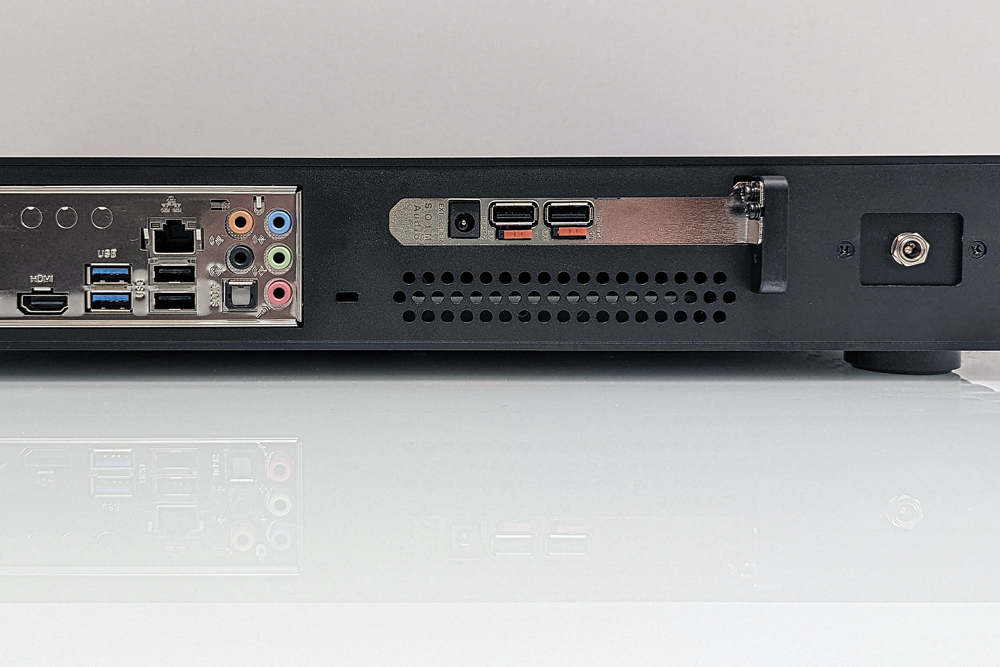 The major differences between High-End and Aeon are in the subtleties. Aeon is more adept at drawing out the minutiae in the low-level detail, providing deeper insights into musicians' playing technique while also improving the way instruments communicate harmonic content.
Also improved is the soundstage size which now takes a far more extended dimensionality, especially in terms of depth and width. Wilson Audio's Alexia V is very strong in terms of soundstage height and Aeon retains this without degradation.
One last major difference is in the way Aeon manages to wring more authenticity, more in-room presence from the crucial midrange. Vocalists, of course, and instruments falling within that bandwidth – importantly piano, guitar, cello, viola, etc. – sound more real, more genuinely… pure.
With this performance trait in particular, I wondered why I found this. What element of the many improvements between High-End and Aeon would be most responsible for this? I figure the superclock's dedicated Sbooster and the heavy 3D shielding may be what I'd point at. I guess, like all good gear, it's about all the improvements combined. Yes, everything, everywhere, all at once.
Take the exquisitely-captured electric guitar on "Angel #1" from Mick Turner & Tren Brothers' Blue Trees album where Turner's gentle guitar strums are represented warmly, intimately and utterly realistically. Aeon conveys all the detail of finger and string with beautiful subtlety, allowing the emotive track – even as simple as it is – to truly communicate its gentle intention. In this track, 432 Hz presented the more fuller, more musical experience.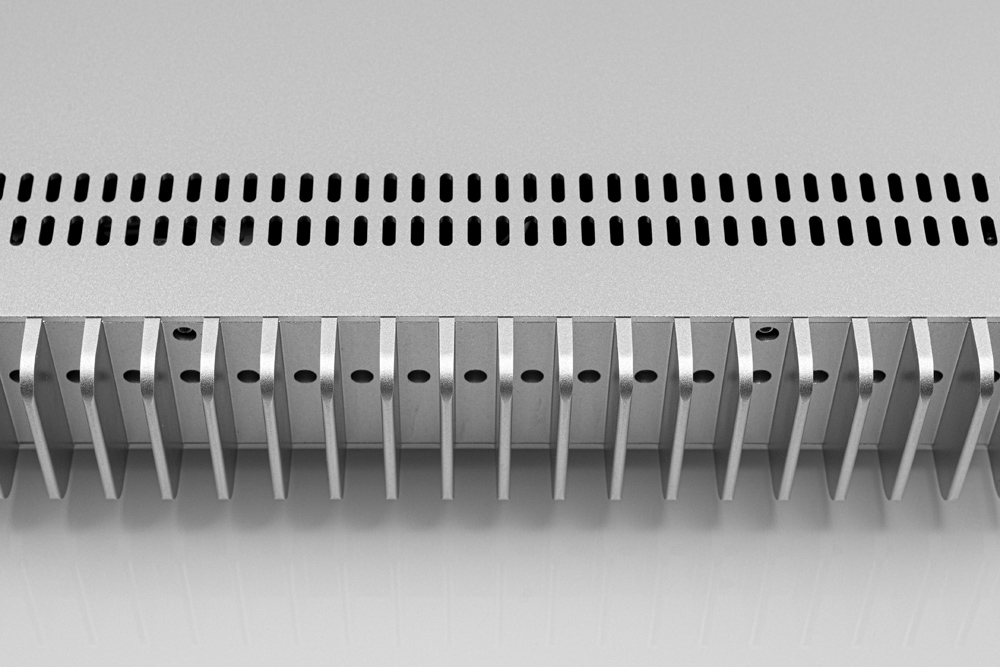 Grand live recordings clearly showed Aeon's excellent soundstaging capabilities. On Quentin Dujardin 4tet's 2020 Live, the track "Blues for M & N" had instruments spread across a massive width, with instruments placed outside the speakers' flanks while Manu Katché's massively dynamic drum sound emanated from a virtual placement well beyond the front wall. I have several albums with Katché as percussion contributor. He's always super tight timing-wise and really whacks with power and rhythmic complexity. Aeon is no shrinking violet – there's very good dynamic power in "Blues for M & N" towards the track's three-quarter mark where the drum solo really wallops.
I really enjoyed the piano on drummer Simone Prattico's "Quartieri Spagnoli" from the Oriundo album. It's a smooth Jazz album… but not too smooth; there's enough musical variety and musicians' virtuosity to maintain engagement through the album's eight lovely tracks. Klaus Mueller's piano undulates between ripples and waves without loss of rhythm or pace. Ditto for the short drum solo where Praticco's tom toms show excellent tonal and harmonic accuracy.
More challenging material also showcased Aeon's resolution powers. Not just in terms of overall detail retrieval but in the way complex mixes were unhomogenised while maintaining the music's integrity. On 10,000 Mod's "Loose" the power and drive of guitars and drums don't drown out the vocals, which punch through with clarity and presence. You'll enjoy the simple yet very effective guitar solo, as I did, and indeed still do, via the Aeon's excellent handling of high-energy pulsing tempo. Interestingly, the transient edges and dynamic expression of heavy rock music with Aeon set to 432 Hz was a tad behind (and I mean subtly) 440 Hz's sheer sharpness of attack.
Soundfield excellence displayed itself again and again across a whole variety of appropriate recordings. I've already mentioned good live releases being truly brilliant. That carried across to big orchestral works, which are spectacular in terms of scale and orchestra placement. Via Aeon, the violin section, for example, is not just one enormous, congealed instrument but a grouping of many individuals playing in unison. Also impressive, even compared to the high standards of ye ole' CD (yes, the silver disc still performs amazingly well), were dynamic oscillations from pianissimo pp to fortissimo ff.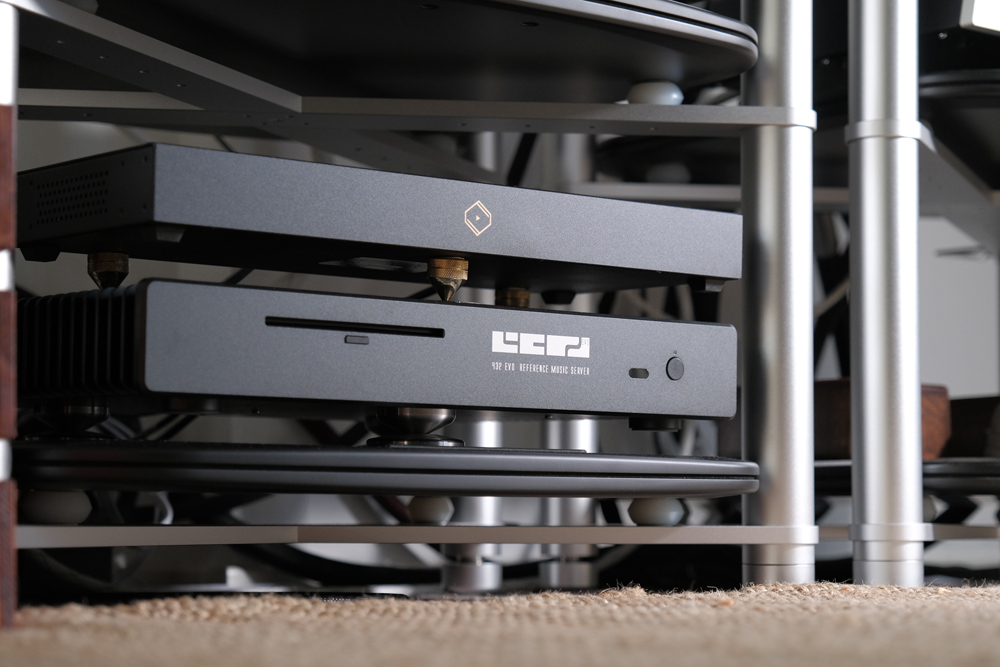 When it comes to Aeon, don't let anyone tell you server/streamers are too digital-sounding for true timbre. Bollocks! Well-recorded tracks from Neil Parent Trio, Anthony Coleman and Brian Chase, Joseph Tawadros, Band of Brothers and so much more, all sounded exceptional in terms of the tonality of acoustic guitar, stand-up bass, piano and percussion instruments. In a past life, I was regularly involved in the live music arena, most often with acoustic instrumentation. I'm fussy re two things that are quite difficult for any audio component and system to reproduce faithfully: dynamics and tonal precision. On the former, Aeon does extremely well within the sphere of its product type, bar none. On the latter, it plays in the same ballpark with the very best whether CD, vinyl, or whatever format you may care to mention.
Conclusion
You know there's something special about a component which provides ongoing – and even increasing – pleasure the more you hear it. Aeon totally falls under that quite rare category – for me, at least. Having said that, whether as a system or individually, I've carefully assembled a component grouping which I treasure as a reviewing tool while also truly relishing it for the immense joy it provides when listening for personal pleasure.
Even more resoundingly than back in the 432 EVO High-End days, I'm finding the ratio of CD and vinyl versus Aeon listening is ever increasing to a hefty majority in the server's favour. This is compounded by the ease of use and the music discovery opportunities streaming via Roon presents so capably. 432 EVO's Aeon Mk.3 Reference Music Server just plays music, whether files, rips or streaming, in a flawlessly efficient and most sonically excellent way.
Here at SoundStage! Australia HQ, this Reference Music Server is now the Reference Music Server; for what just might be Aeons…
… Edgar Kramer
This email address is being protected from spambots. You need JavaScript enabled to view it.
Associated Equipment
Speakers — Wilson Audio Alexia V, Axis Loudspeakers VoiceBox S (nearfield monitor), Vermouth Audio Little Luccas Mk.II, Atacama stands
Amplifier — Gryphon Audio Antileon EVO
Preamplifier — Supratek Cortese, Totaldac d1-triunity (direct to amplifier)
Sources — Digital: 432 EVO Aeon Mk.3 Reference Music Server/Roon Core, Yamaha CD-S2100 transport, Totaldac d1-triunity DAC. Analogue: Transrotor Crescendo with Konstant Studio controller, Reed 1X Tonearm with upgraded internal wiring, Shelter Harmony cartridge, The Funk Firm Houdini cartridge decoupler, Supratek Cortese & REDGUM Audio RGPH2 phono stages
Processor — DEQX PreMate (part of arsenal/casual use)
Cables — VYDA Laboratories Orion Silver Reference HFC IC and speaker cables, PSC Audio custom design XLR, Vermouth Audio Reference loom,ZenSati Zorro, Tubulus Concentus USB
Audio Rack — SGR Audio Statement Model V, Aspire Audio Belgravia amplifier platform (customised for Gryphon Audio Antileon EVO), Stereotech Aluminar Dark 3-tier rack
Acoustic Treatment — Vicoustic Multifuser Wood, Wavewood Ultra, Cinema Round Premium and Super Bass Extreme
Miscellaneous — Silent Angel Bonn N8 Pro network switch, GigaWatt PF-1 EVO power strip, Les Davis Audio Viscoelastic CLD discs, VRC Vinyl Record Cleaning systemplus miscellaneous accessories
432 EVO Aeon Mk.3 Reference Music Server
Price: AU$10,500 (AU$11,000 as tested)
Australian Warranty: Two Years from date of purchase
Australian Distributor: Radiance Audio Visual
+61 (0) 2 9659 1117
www.radianceav.com.au
Klinkt Beter & 432 EVO Headquarters
Blauwe Paal 459230
Wetteren, Belgium
+32 473 79 36 91
www.432evo.be