Bowers & Wilkins produces some of the most desirable audio products in the industry. The company spans its considerable engineering and marketing prowess across a wide range of speaker lines encompassing all major price points while applying the same ideal to its evolving personal audio/headphone and 'life style' wireless speaker products (an expanding high-end car audio line specialises in systems for luxury models for BMW, Maserati, Volvo and more). But to this writer, it's especially gratifying to know that the company has a tremendous impetus in its model for nurturing musicians and their art. Bowers & Wilkins' Society of Sound is a platform for many international artists to showcase their talent and creativity to music lovers across the globe.
It's this powerful creative background that, surely, must serve as inspiration for, and guidance to, B&W's engineers to invent and design the company's multitude of excellent products. And evidence of that is without a doubt present in the new 700 S2 series of speakers which replaces the successful CM series. Recently launched, the 700 S2 speaker range has created some waves across the industry, not least due to B&W's sizable engineering might being poured into this 'bread and butter' range of products. A number of technologies have trickled down from the flagship 800 series and have been adopted to the new 700 speakers. Here for review is the top floorstanding model, an aesthetically pleasing svelte design with some tricked-out tech that puts it among the leaders at this price point.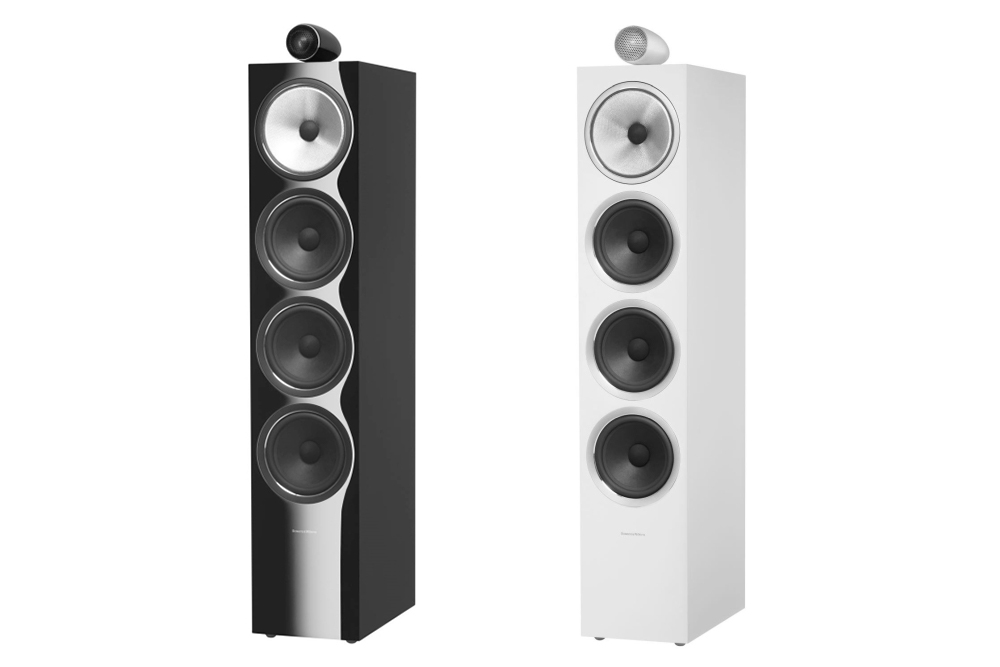 Hail the 7 Gods
Much was learned by Bowers & Wilkins engineers when creating the diamond tweeter and Continuum and Aerofoil midrange and bass drivers for the 800 Series flagships. Up-to-the-minute FEA (Finite Element Analysis) software simulation was used extensively to aid development in a number of key areas but, most importantly, in the intelligent design of proprietary drivers. The success of that series and the general accolades for the engineering prowess behind it led B&W to desire transmutations of these technologies to apply to the new 700 S2 series.
Research led to a new tweeter that, although less exotic than the diamond dome, nevertheless features a 25mm carbon dome with a superb ratio of mass to strength and said to be linear before break-up to 47kHz. The ideal tweeter – and any driver for that matter – should be extremely strong and resistant to flexing and diaphragm resonance while also being as lightweight as possible. The new 700 S2 25mm tweeter succeeds on both counts and is further improved by adopting the trademark rear tube loading as used in the company's top diamond tweeter. Its housing is also new, with the now sitting atop the main enclosure in its own bullet-shaped milled aluminium enclosure which is far less resonant than the plastic arrangement used in the previous CM10.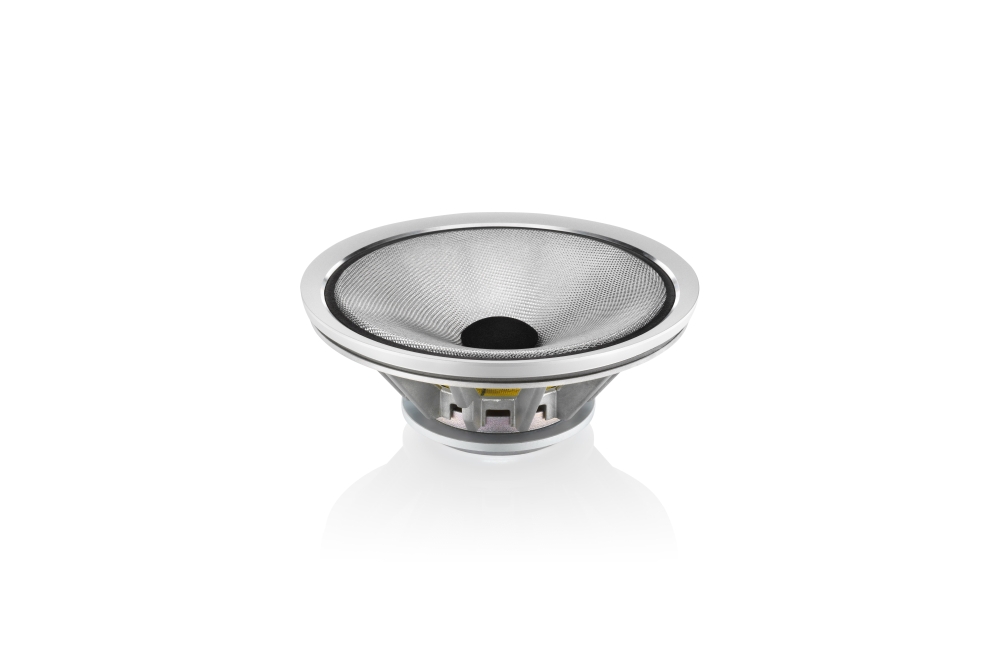 The new Continuum 160mm midrange driver features woven material of a concoction exclusive to B&W. Like the 800 series version, the driver eschews a standard roll surround suspension system. It features, instead, a polymer gasket-like termination that is said to provide more linear excursion, faster reaction times for improved transient response and reduced 'flexing' when high output is required. The Continuum driver is also decoupled from the speaker's baffle via a substantial rubber mount. Press on the rubber gasket and you'll feel some flex. This is a cunning idea and it provides a form of vibrational distortion isolation from, and to, the cabinet proper with the potential for a clearer, more precise midrange reproduction.
The three 165mm bass drivers feature the very lightweight and famed Aerofoil diaphragm manufactured with a variable thickness profile for powerful and responsive low frequencies. The bass drivers' extension is supported by a reflex port designed to reduce chuffing/air turbulence noise via its outward flare and patterned surface.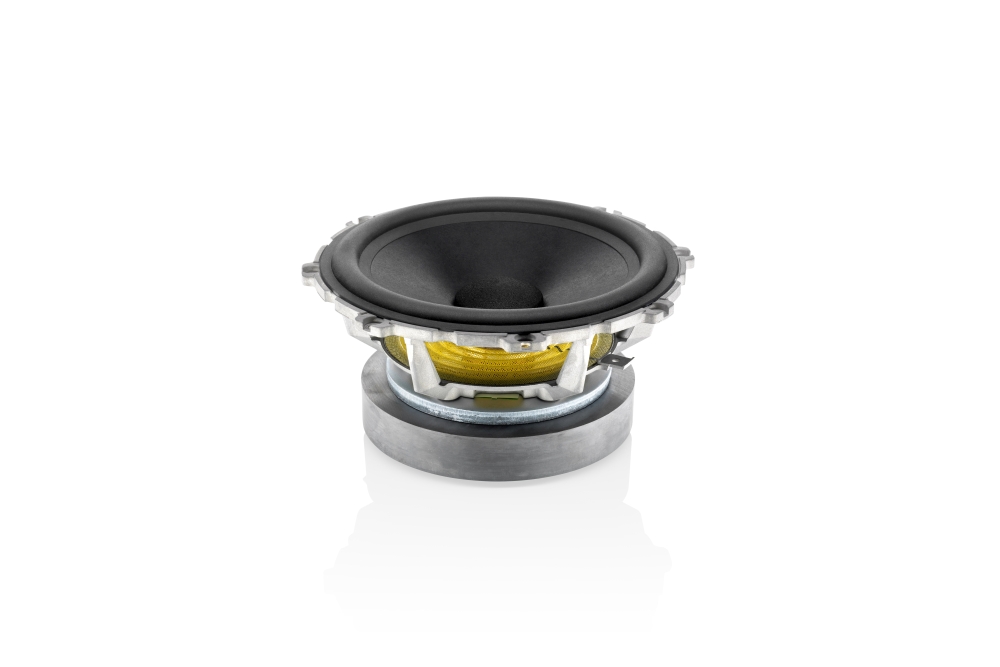 Bowers & Wilkins specifies the 702 S2 as having a frequency response extending from 45Hz to 28kHz +/-3dB with a bottom extension range at 28Hz with a -6dB limit. The speaker presents a benign load for any amplifier via its moderate 8 ohms nominal impedance (3.1 ohms minimum) and 90dB sensitivity (2.83Vrms at 1m). Power handling is good with a 300 watts of clean power being a recommended maximum.
The presentation of the new 700 S2 series is quite superb. The review sample came in an immaculately-applied gloss black that was mirror-like and possessed a gorgeously brilliant patina. Gloss white and Rosenut wood veneer are also available. The cabinet is well built too, with the enclosure being solidly braced on a couple of locations along the long side panels. The bi-wired binding posts are of good quality (although we'd prefer copper cable jumpers a la 800 series rather than the metal links) and allow for banana plugs, spades and, of course, bare wire.
A nicely-finished plinth extends the footprint of the 702 S2 to make it more stable and B&W provides a choice of good solid steel adjustable spikes or large rubber feet to cater to both carpeted and tiled or timbre floors. The grilles are attached via embedded magnets within the baffle keeping the 702's attractive fascia clean and free of lug mounts. Overall, this is a class act.
Location, Location, Location
Like with any quality speaker, the 702 S2 demands careful set-up. The initial speaker position was based on an approximate location in my room where, I've found over the years, most speakers perform appropriately. Throwing on some of my reference vocal tracks showed the 702 S2 to play with a somewhat 'hollow' sound where the midrange seemed recessed and distant while the highs tended to dominate. I knew this unbalanced presentation was an anomaly – I had heard these speakers at the launch and even in that less-than-ideal context they performed admirably. What gives?
A quick recalibration in terms of both speaker-to-wall and toe-out adjustments totally rectified this issue (with final angling I could see just over half of the cabinet sides from the listening position). The message is loud and clear here – these superbly-resolving speakers demand a little attention in set-up. And it's not as if I was schlepping these around the room for days in order to attain normality – it was a simple three inches back and a couple of degrees toe-out. Once that was done, the balance returns – you'll hear this clearly – the true mettle of the design becomes evident.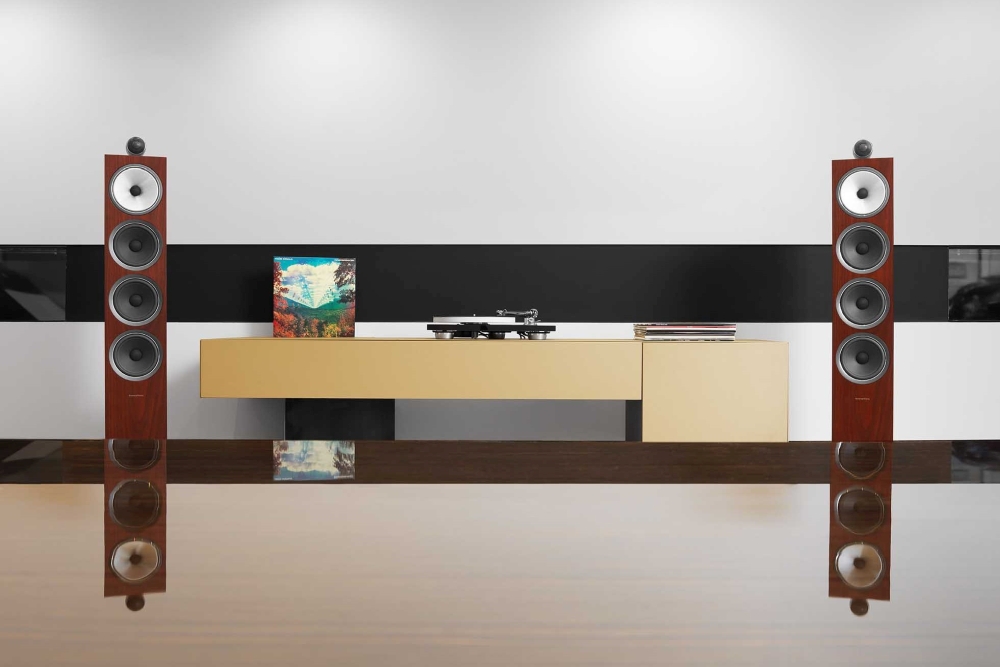 And indeed, what a revelation post-recalibration. Here is a speaker that immediately shows superb instrumental separation, detail and transient attack while being generously endowed in the bass department. Let's deal with one item at a time.
The 702 S2 offers stunning separation of complex recorded material. Throw big orchestral pieces with massive crescendos and it will showcase a finely structured and orderly musical aptitude that retains the integrity of the composer's intent. This is an honest delivery of detail and nuance on par with far, far more expensive speakers. Harii's "Tenderly" from his The Healing Heart Vol. 2 CD is a simple one-man-and-his-guitar recording where the artist's shuffles and movements on a rickety wooden floor (or wooden chair), as he sings, are surprisingly – perhaps even unexpectedly – captured by the sensitive microphones used for the production. It's a low level micro-detail thing that many systems and speakers gloss over while Harii's voice and guitar take precedence. Not here. The 702 S2s provide superb rendition of low level gradations where everything that is in the pits will be served to the listener unscathed. But it's natural; it's not shoved in your face the way that fatiguing hyper-detailed speakers do. The B&W engineers have attained a masterful balance here.
The near fatal percussive attacks on "Duende" from Bozzio Levin Stevens' contribution to the Gypsy Soul compilation were stunningly (in the literal sense) delivered with power, speed and concussive wallop. Levin's deep intro bass rolls – seemingly recorded with the mixing desk's setting at '11' – were felt and heard, while Stevens' guitar cut through the mix with proper tonality and a sense of 'body'. But it was Bozzio's drum rolls towards the track's end that will impress you the most – this was a stunning reproduction of a master of percussion at work with all the power and leading-edge-of-strike that will incur goose bumps to the most jaded of listeners.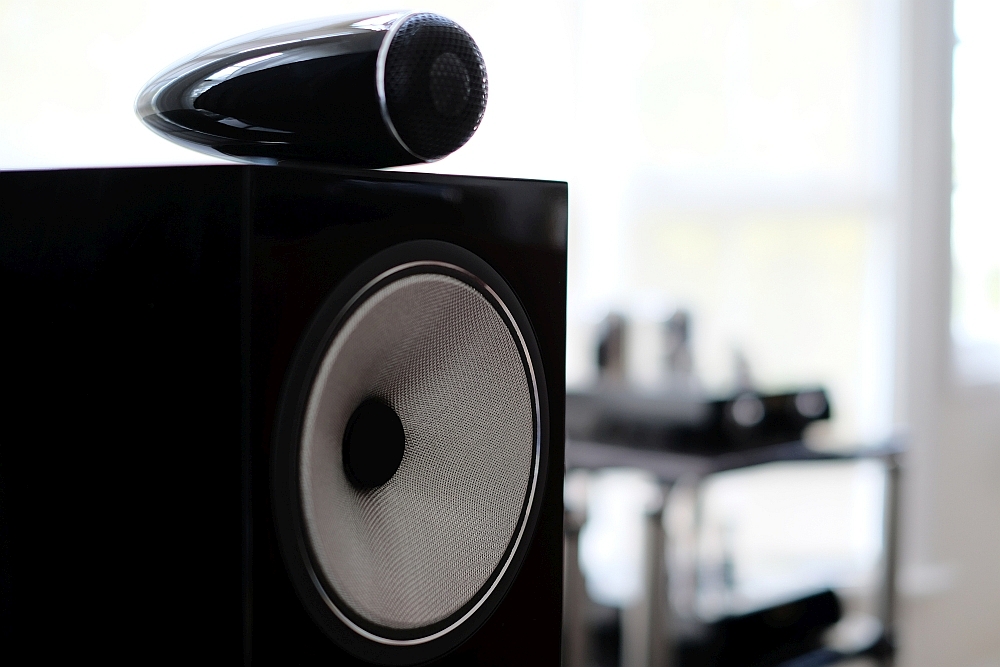 This writer has been convinced by the new carbon tweeter the B&W engineers have developed. It's a transducer capable of good dynamic expression, thorough information retrieval and excellent extension permitting very good reproduction of that 'airy' sound that gives good live recordings their sense of ambience (this is always in conjunction with the low frequencies which, in this case, are very fine indeed). Ryan Adams' Ten Songs from Live at Carnegie Hall demonstrates the tweeters' resolution remarkably. There's space, and depth and Adams' vocal excursions in dynamic contrast (closely mic'ed) never stray into shrillness. It's a convincing reproduction of what must have been an unforgettable concert. Imaging and focus is first rate while the lateral soundstage is wide – especially so after the minor repositioning – and exhibits good depth perspective.
The three 165mm bass drivers work in tandem to produce superb low frequencies. Kick drums are tight and hard-hitting while electric and acoustic bass have a nimble 'bounce' while retaining very good depth for the cabinet size. The low-end is never boomy or overdone in the context of my fairly neutral room and as controlled by the superb Gryphon Audio Antileon EVO.
Conclusion
So what more can be said about a speaker that features extensive engineering, bespoke driver technologies and hails from one of the world's biggest audio companies? Well, for starters, I'll add that the attractively-styled 702 S2 – and the entire series for that matter – is delivered in a superb quality of fit and finish and that sonically it performs to extremely high standards. In fact, this speaker may indeed be the sweet spot in the entire Bowers & Wilkins rather generous speaker product smorgasbord. And of course, being the consequence of large economies of scale, the entire package is offered at a price point that offers indisputable value for money.
And I'll venture to say that the new 702 S2 may be a benchmark in this critical rung in the high performance loudspeaker ladder.
… Edgar Kramer
This email address is being protected from spambots. You need JavaScript enabled to view it.
Associated Equipment
Speakers — Wilson Audio Alexia, Axis Loudspeakers VoiceBox S (nearfield monitor)
Amplifier — Gryphon Audio Antileon EVO
Preamplifier — Supratek DHT Reference, Lightspeed Attenuator LDR passive
Sources — Yamaha CD-S2100 transport, Totaldac d1-core DAC, MacBook with BitPerfect software, AIFF files
Processor — DEQX PreMate
Cables — sILENzIO loom, Vermouth Audio Black Pearl loom (in for review)
Bowers & Wilkins 702 S2 Speakers
Price: AU$6500
Warranty: Five years
Australian Distributor: Bowers & Wilkins Australia
+61 (2) 9196 8990
www.bowers-wilkins.net
Bowers & Wilkins
Dale Road
Worthing BN11 2BH
United Kingdom
+44 (0) 1903 221500
www.bowers-wilkins.net