Within the development of a research-based company timeline, how does such an entity express its philosophies within the context of a product's identity and long-sustained lineage? Well, while some branch-off by introducing entirely new classifications bearing the company's latest technologies, others continue on the engineering path of refining proprietary advancements to enduring platforms. The Wilson Audio Sasha concept is an example of the latter. The company has faithfully managed the development of its iconic WATT/Puppy, with each generation perfected via exclusive technologies culminating in the Sasha platform. Sasha was itself an anagenesis devotedly progressed to a second-gen and then on to the commemorative Sasha DAW, a tribute to company Founder David A. Wilson. Now, the DNA is further refined with the introduction of the next generation: the striking Sasha V.
Spirited Away
Prior to its arrival at SoundStage! Australia HQ, Sasha V had been on high rotation at premier high-end audio retailer Audio Connection for several weeks. A spirited mobile phone conversation with store proprietor Nigel Ng, who also imports Wilson Audio via Advance Audio Australia, kinda went: "EK, you've got to come over to listen to Sasha V! Amazing!" Then… "Better still, I'll send them over!" I was on the cards to review these puppies, however, this was ahead of time by several weeks, seeing that they were the only pair in the country (at the time, one of only two pairs in the world). No horse head on my bed. Offer accepted.
Again, noting Ng's fervour upon receiving Sasha V, I asked him what impressions the new speaker had made at the store. After all, Audio Connection's showroom floor has seen – and its staff heard – several generations of the famous two-enclosure architecture, both via the lineage of WATT/Puppy and Sasha. Nigel Ng affirmed:
The Sasha V captures the spirit of Wilson Audio so very well – not just in their performance, but their ethics and intentions. Yes, it is a premium priced speaker, but the performance it delivers is well above what its price point might suggest. It's such an incredible leap forward from its predecessors. In our current world of commercialism, we've come to expect a replacement product to be better but also cost an arm and a leg more. In my opinion, the fact that there's such a meagre increase in cost of the V relative to the improvement it delivers, says that Wilson could have charged a lot more for the V, but they felt they didn't have to – that the drive for profit is secondary to their dedication to musical performance.
We are lucky enough to get the second pair ever manufactured in the world, and that means a lot to me. I'm probably reading too much into it but that's quite meaningful to me, especially for a humble store like ours in a tiny city in a desert island halfway around the world from the Wilson Audio factory.
So, the speakers were fairly well run-in at the store, only requiring some fine-tuning in terms of positioning within SoundStage! Australia's listening studio. I appreciated the efficiency of Audio Connections' Sam and Bill who skilfully manoeuvred the speakers, in the bat of an eye, spikes and all, to a starting point which was, quite fittingly, close to the location of my own Alexia V, Sasha V's big sis'.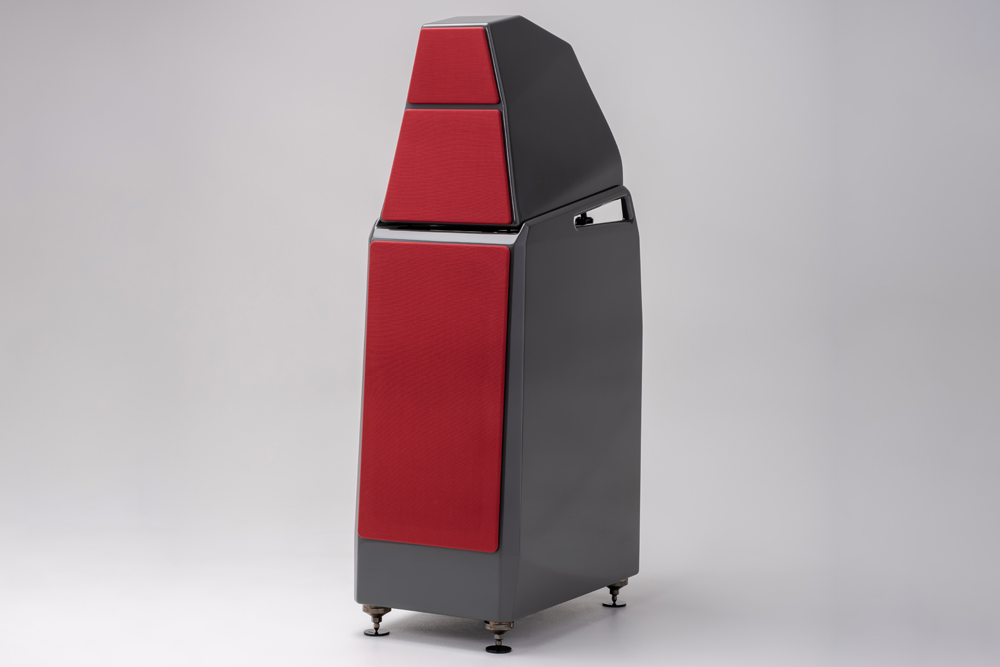 While Sasha V is a highly calibrated evolutionary step over Sasha DAW – its superb predecessor – looking at the speaker from the front, it would take a super keen eye to distinguish the aesthetic differences between DAW and V. It's only once you inspect the cabinet's rear panel that the differences become more obvious. There are quality improvements in the calibration hardware and various styling/cosmetic enhancements. Yet, that's on the surface, really. Digging deeper reveals a whole host of advancements which include new drivers among other improvements.
So, in line with Wilson Audio's generous trickle down policy, Sasha V inherits several engineering refinements derived from upper-echelon models, including the outstanding Convergent Synergy Carbon (CSC) 25mm doped silk dome tweeter as also used in Alexia V. The tweeter assembly features a rear chamber, 3D printed from carbon fibre in-house, which is designed with patterned channels grouped to eliminate back wave distortions.
Also handed down from bigger brethren is the proprietary AlNiCo QuadraMag 180mm midrange driver which, as the name implies, features an arrangement of four powerful AlNiCo (Aluminium, Nickel and Cobalt) magnets. QuadraMag receives support via a wide slot vent on Sasha V's upper module rear panel. The AlNiCo magnet system is configured to provide ideal magnetic flux and voice coil control. The paper pulp composite cone material and the QuadraMag magnet motor system combine to potentially provide fast transient response and tonal precision. The QuadraMag driver and CSC tweeter have been engineered to smoothly crossover to each other and on down to the low-frequency drivers.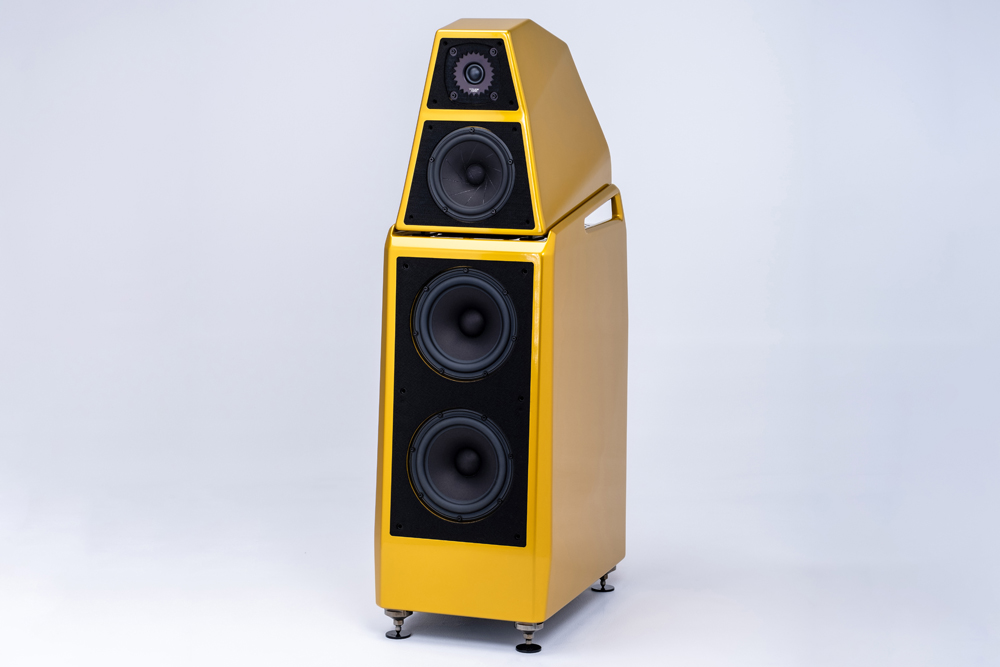 I conducted a video interview with Daryl Wilson (watch here) a month or so ago as part of our 'SoundStage! Talks' series. We discussed many aspects of Sasha V's design, with an important portion of the chat based on the CSC tweeter. Daryl Wilson explained:
The new Convergent Synergy Carbon tweeter has better frequency extension and is much more linear. The Mk.5 tweeter chamber is much smaller. We've also constructed the rear chamber in a way that can't be constructed in any other way than by 3D printing. We also 3D printed a wide variety of materials, and the carbon fibre version was by far the best sounding. We also experimented with the thickness of the walls and the fill materials. All those variables played with the sonic qualities. The chamber absorbs and diffuses that rear wave energy very effectively and far better than the previous generations of tweeters.
In light of what I heard was Sasha V's exceptional reproduction of spatial/soundfield qualities and superb driver-to-driver integration (as I mention in the listening impressions below), I asked Daryl Wilson what his subjective take was.
Because the Convergent Synergy Carbon tweeter is more linear, we were able to get a much better blend between the roll-off of the tweeter and the roll-off of the midrange. Sonically, there's superior openness and 'airiness'. It allows the high frequencies to bloom into the room. Harmonic expression, when you hear a cymbal and there's a natural harmonic decay, that right there, is preserved much better in the new CSC version. Not that the previous tweeter was a zero and this is 100, but it's a noticeable incremental improvement in those areas.
As per the configuration employed since the early WATT/Puppy models, Sasha V's lower cabinet houses twin 200mm low-frequency transducers. The paper pulp cone bass drivers are supported by a flared machined aluminium reflex port located midway up Sasha V's rear panel. As per previous versions. The bass drivers feature large magnet motors and are mounted in an all-X-Material enclosure which features panels 25% thicker than Sasha DAW's cabinetry. The extensive bracing system is also made of X-Material.
Wilson Audio continues its decades-long study into materials technology and the use of carbon, epoxy and phenolic resin among other composites. The materials are strategically implemented within cabinet architectures in order to strengthen the structure and control enclosure vibrational distortions. This is targeted and accomplished by the use of a laser vibrometer system among other design tools. Extensive research has led to the development of the company's newest material which is, of course, V-Material. Wilson Audio states it's the very best non-resonant materials composite the company has developed to date.
In a similar arrangement to Alexia V's, V-Material has been applied to the surface interface between upper and lower enclosures on the bass module's top panel. Machined into a thick plate, the use of this material, in that location, provides isolation for the upper module and vibrational distortion control in the lower bass cabinet. As mentioned above, Sasha V employs X-Material for its low-frequency cabinet while S-Material and X-Material are used in the tweeter and midrange modules. The materials formula makes for an extremely inert cabinet construction. Its solidity is evidenced by each speaker's substantial 111kg weight and by my bruised knuckles.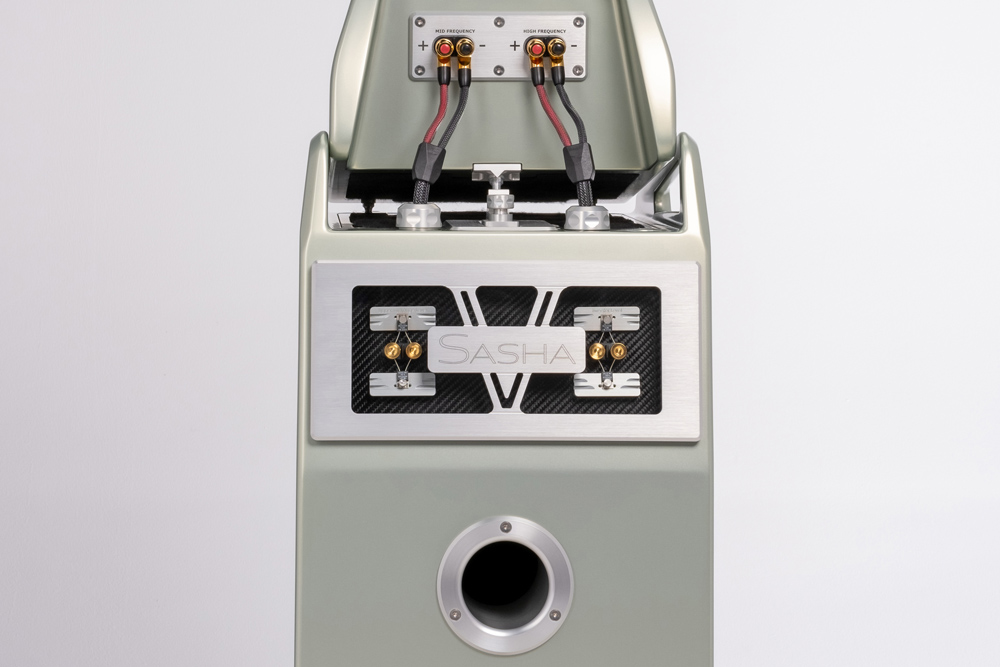 The implementation of the new CSC tweeter and QuadraMag midrange drivers has led to a revision and improvement of the crossover design which now features Wilson Audio's new copper AudioCapX-WA capacitors. As a result of acquiring component manufacturing specialist Reliable Capacitors, the AudioCapX-WA line of capacitors are produced in-house. The new copper capacitors debut in Sasha V's point-to-point crossover network topology. "We've invested about a million dollars on two new capacitor-producing machines. One from the United States and another from Switzerland", Daryl Wilson tells me. The crossover to driver interface now uses Wilson Audio's new V-Cable.
In step with the upper-echelon models, access to the crossover's resistor network is provided via a rear panel. The housing's back plate is now finished in a classy carbon fibre finish and also features a redesigned aluminium and glass cover adorned with a 'V' motif. The resistor binding posts have been improved to allow hand tightening. Said high quality resistors act as fuses to protect the drivers and can be ordered for user-replacement with alternative values in order to accommodate specific room acoustics.
The improved alignment and calibration methodology introduced in Alexia V has been carried down to Sasha V. Module alignment hardware and adjustment methodology are enhanced via better machining, higher metalwork quality and finer calibration settings for driver alignment. So, a two-spike option at the bottom rear of the top module couples to the step block angling system. The front spikes can then be set into one of two metal receptacles/indentations for fore and aft placement. The scheme aims to provide the correct acoustic alignment to the listening position. Wilson Audio has done all the calculations and permutations for listener distance and ear height and presents them in a number of charts in the excellent owner's manual. It's a dead easy procedure to carry out and it need only be done once (unless listener height and distance are changed, of course).
Wilson Audio's Acoustic Diode coupling system is included with Sasha V (also employed in the models above it), with the spiking system's mix of austenitic stainless steel and V-Material construction said to provide improved low-frequency reproduction. The Acoustic Diode's spike can be adjusted in order to level the speakers, with the required level calibration made easy via a flush-mounted bubble level inserted atop the bass module.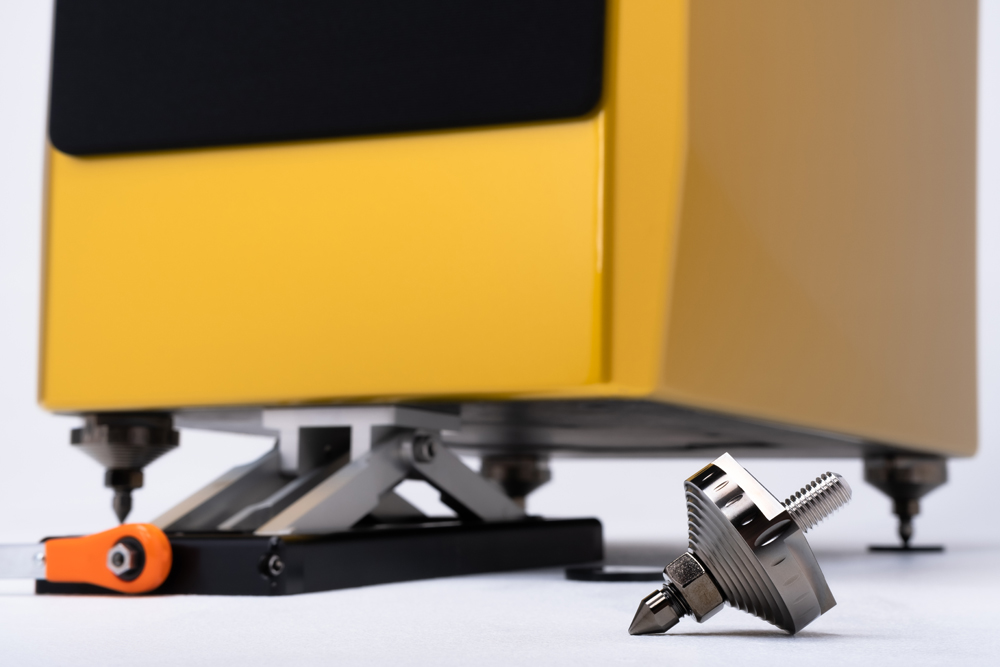 On paper, there have been minor changes in the specifications sheet. Sasha V's Room Average Response (RAR) is quoted as spanning from 20 Hz to 32 kHz at +/- 3dB (almost identical to its predecessor which had a stated high frequency extension of 30 kHz). Again, on paper, there seems to be a reduction in sensitivity from Sasha DAW's 91dB to Sasha V's 88dB (1 watt/1m at 1 kHz) while the impedance is a nominal 4 ohms with a minimum point of 2.36 ohms at 82 Hz.
As stated above, Sasha V is almost identical to Sasha DAW in terms of its aesthetic design, barring minor visual refinements and hardware improvements. Of course, the speakers are available in a wide colour palette via Wilson Audio's immaculately-applied WilsonGloss paint. There are a number of standard finishes in addition to a wide variety of optional extra-cost and custom colours (see company website for details).
There's almost no need to state this – across my many Wilson Audio reviews I've had to write this, so it's become repetitive. Yet, I can't help but to mention it yet again; Sasha V's fit and finish is utterly flawless. The machined steel hardware, the cabinet assembly and structural integrity, the paint finish (I peeked under a large section of the protective plastic 'skin' which I put back in place for safe transportation back to the store). There's an extraordinary, even obsessive, level of attention to detail across all aspects of the product.
Arc de Triomphe
In re-visiting my review of Sasha DAW, I read how I was struck by the low-frequency capabilities of that superb loudspeaker and its superiority over the original Sasha which I owned for several years prior. It's been a consistent arc of progression across all of the recent Wilson Audio speakers – including my so, so loved Alexia V – where the low-end has been remarkably improved in conjunction with incremental enhancements across most aspects of performance too. I can confirm that advancement is continued in Sasha V.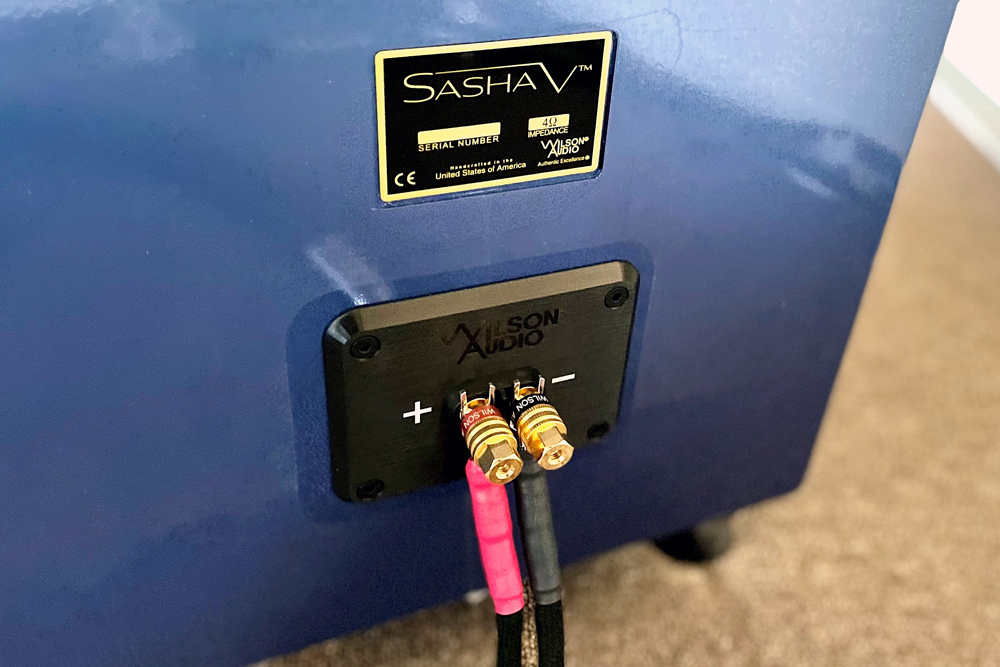 Positioning Sasha V, in theory, was going to be relatively easy. My starting point was based on Alexia V's location in the room, fine-tuning in small increments from there. The final placement was just over one inch further towards the front wall in relation to Alexia V's positioning. However fruitless it would have been due to the long span of time in between, I couldn't help but wonder how interesting an exercise it would be to compare Sasha DAW (which I reviewed in 2019 here) with Sasha V, had they been auditioned in the context of the same acoustic space. Alas, aside from the span of time in between, I also moved house in late 2019 a few months after Sasha DAW's joyful stay.
Once locked in position, Sasha V offered a remarkable richness and fullness to low frequencies which, in a balance always difficult to muster and master, also retained the concussive punch, the detail and pace of bass notes. That is carried over to the new QuadraMag midranger, which in tandem with the excellent CSC tweeter, forms an equally potent duo in terms of dynamics, detail retrieval and transient attack/note pitch. Further, the entire four-driver complement is also effectively seamless in terms of cohesion, both spatially, in an enormously rendered soundfield, and via a tonal truth across all the drivers which faithfully mirrors the timbre of all instruments.
With Sasha V as the conduit, there were a few times throughout my audition period where I was reminded of Alexia V. Especially through the midrange. While the larger sibling offers a bigger sense of scale, a marginally more subtle treble and, of course, a deeper low-frequency presentation, playing intimate jazz or chamber ensembles revealed a remarkable sonic resemblance between brethren. Wilson Audio has always trickled down technologies with optimum implementations within each context. The current house sound carries across Alexia V and Sasha V more evidently through the AlNiCo midrange while Sasha V is a tad more upfront through the highs and ever so subtly more forward in the mids too.
In my well-treated and neutral-sounding room, Sasha V demonstrated an ease in listenability through the high frequencies allowing extended listening without fatigue. Like a true 'Wilson' there's no lack of detail, no clouding of resolution in the unravelling of musical complexities. While not to the extent of, say, a high quality studio monitor's relentlessness in terms of sheer analysis, Sasha V nevertheless nears such a device in terms of truth-telling, but it does so with a healthy dose of humanness… It motivates engagement, presenting all the information required for such involvement.
Yet, it does so in a way that draws the listener away from dissecting and scrutinising the music. Sasha V provides effortless musical participation… it's almost like it urges a locked bond with the music and its creators.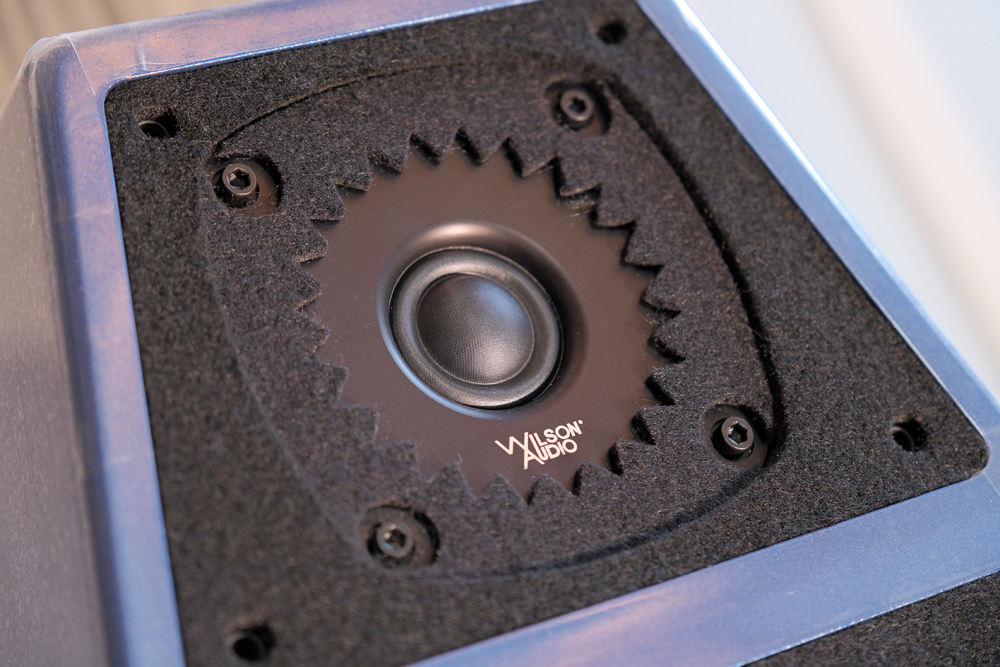 Pensive, emotive pieces, such as the track "Herzlicht" from Masaa's Irade album will doubtless stir you, unless your heart is shaped from chiselled granite… Via Sasha V, Masaa's voice is incredibly present and natural, offered with touching inflections and beautifully rendered oscillations in phrasing, from subtle expressions to vociferous crescendos. Sasha V manages to pull equal appreciation of the track's accompanying instrument, with the background trumpet providing a complimentary, resolved, yet intense underpinning to the vocals.
Another trademark of the last couple of loudspeaker generations from Wilson Audio, certainly there in Sasha DAW, and now carried further in Sasha V is the spatial representation of appropriately recorded material. Of course, intelligent, yet simple live recordings can best illustrate the soundfield recreation powers of any good system. Sasha V was, yet again, and to a further extent than its predecessor, an architect of structured soundscapes which defy the physical stature of what is, effectively, a large floorstander. Yes, a vanishing act, as they say. Sasha V disappears in terms of their physical presence, projecting a realistic soundfield filled with superbly focused images. That Alexia V also does this, in an even larger form, is quite the remarkable feat but both designs exemplify the skills the Wilson Audio engineers and craftspeople apply to driver matching, cabinet integrity, crossover refinement and overall technical excellence.
While I'm not a super fan of The Weavers' style of music, there's no denying the reference level quality of Reunion At Carnegie Hall 1963's live recording. As far as spatial reproduction, this is one of the best. However, the one track I do enjoy (OK, there may be a couple of others too) is the bluesy and more edgy "Train Time". Sasha V's rendering of the spaciousness and the Hall's ambience was almost spooky. Yet I haven't been there… but Sasha V is like a teleporting time machine. What I can resoundingly say, is that the speakers provided a credible facsimile of being at a live performance in a large venue. As far as an audio system is currently capable of. Yes, the more realistic alternative could be to jump on a plane to New York…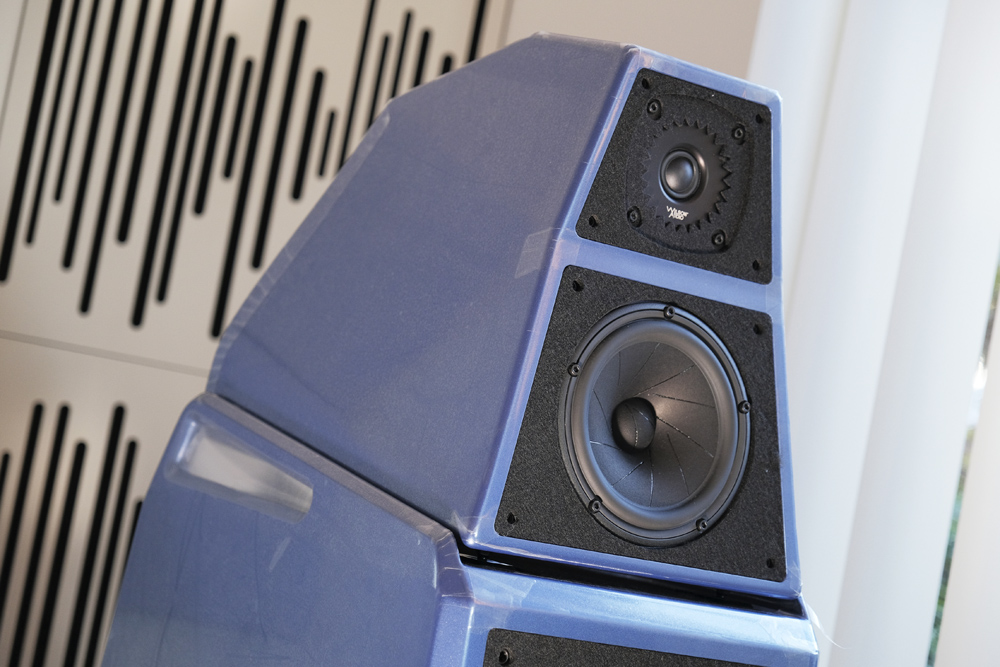 So yes, large soundfield reproduction is also inherent in the Sasha V's sonic capabilities. It's done in a way that reinforces the oft-used cliché – the speakers disappear, projecting a sonic illustration of immense width, height and depth while instruments and vocalists are super-precisely positioned within life-sized images.
Sasha V is fast too. I'm referring to the sharpness of transients, the leading edges of the notes and their associations with pitch and overall dynamics. It's also part of that PRaT thing. It's what stimulates toe-tapping. Play "Need Strange" from Meet The Meatbats 2009 album, Chad Smith's side project (The Red Hot Chili Pepper's excellent drummer) and his band Chad Smith's Bombastic Meatbats. You'll hear what I mean. The impact of Smith's drums and the rhythmic pace of the bass line were outstanding (they are both also exceptional on "Oh! I Spilled My Beer"). Toe-tapping, lone dancing stuff.
The rather enthusiastic cymbal hits throughout the title track on The Beautiful Girls' Morning Sun album were exceptionally well rendered, with each strike having its own sonic tag, for want of a better word. Some were more subtle than others in terms of volume but, importantly, each cymbal hit was individually rendered with its own timbral signature depending on, for example, whether they were edge-hit, really whacked or hand-damped. There was also a satisfying whack to the snare, which was present and lifelike while forcefully pushing along the track's steady beat.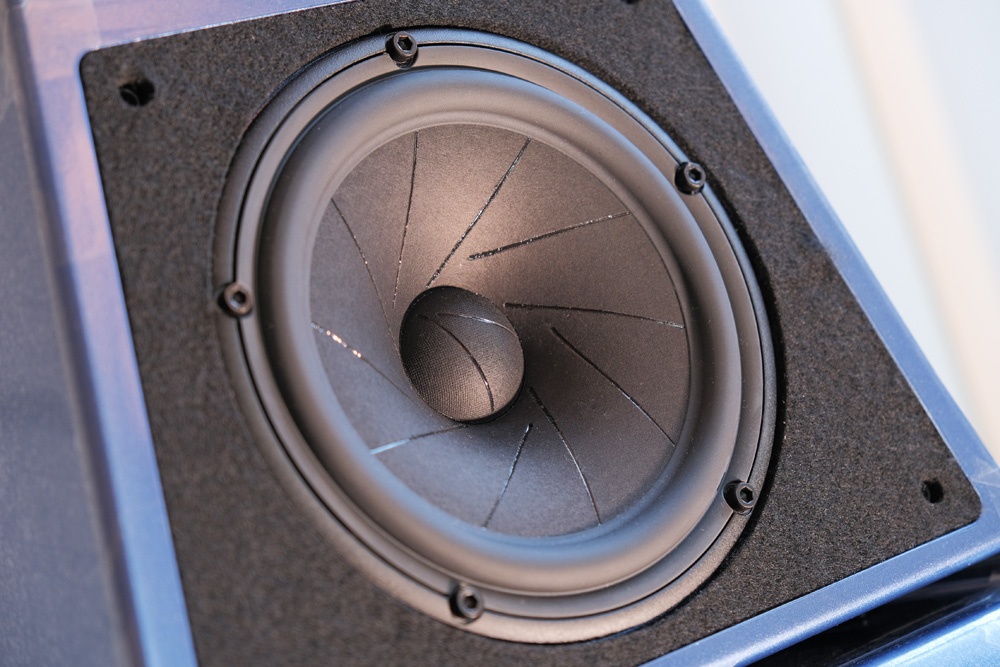 As mentioned above, the tonal accuracy of Sasha V is outstanding. I credit most of this to the finely mated CSC tweeter and QuadraMag drivers and an expertly tuned crossover design. "Sometimes I Feel Like a Motherless Child" from Ahmad Jamal's Marseille album showed the beauty and control of the master jazz pianist. Across the entire span of the keyboards, there was a truth of tone, remarkable note decay and solid heft to the bass keys. No Honky Tonk ivories here; it's a hefty, full-bodied, dynamically realistic piano across the entire keyboard.
Conclusion
In June this year I had the pleasure of hosting Daryl Wilson at SoundStage! Australia HQ. It was almost surreal to have him sitting in the sweet spot listening to his own creation, the Alexia V, within the context of my room and system (Sasha V arrived some time after). He seemed to enjoy what he heard, sharing some positive comments, which I found gratifying… I've certainly aimed to wring the best possible performance from Alexia V, within my means, in terms of room acoustic treatment and accompanying electronics. The same dedication I applied to Sasha V and, indeed, all products in for review which grace my room.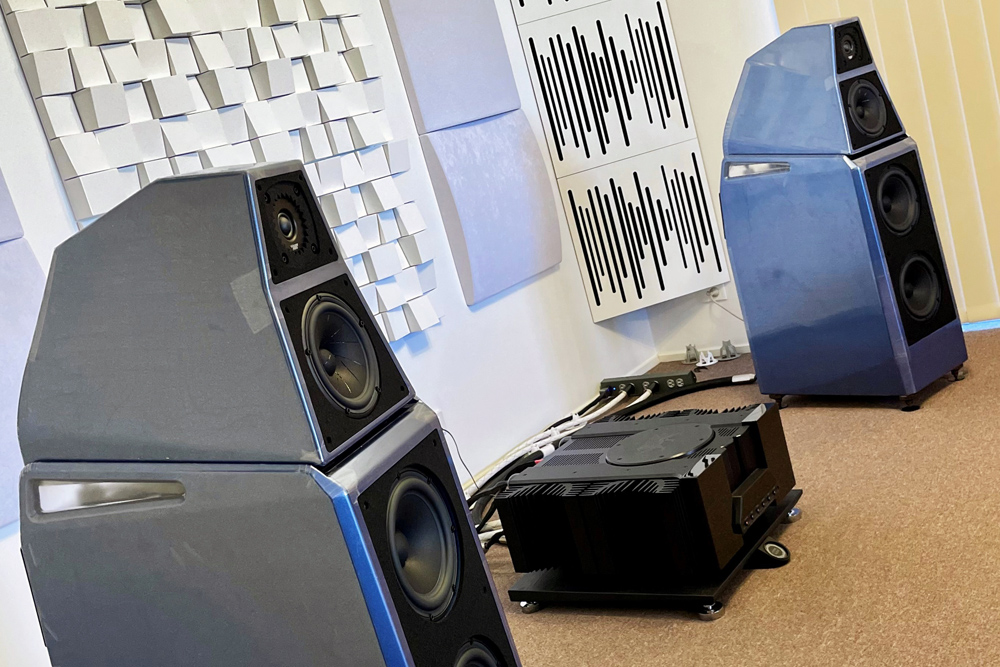 On that day I guided Daryl and his family around the natural wonders of our majestic Blue Mountains (Scenic World was a standout, even for me as a local). Through our varied discussions on the day, I clearly remember a significant comment Daryl made, "When designing speakers, perfection is unattainable, but excellence is well within our reach." Well Daryl, in my humble opinion, with Sasha V as an exemplar in its class, perfection's grail might be a whole lot closer than you think.
… Edgar Kramer
This email address is being protected from spambots. You need JavaScript enabled to view it.
NOTE – The review pair was delivered dressed in the protective plastic 'skin'. I partially peeled away the skin in order to inspect the colour and paint finish which was, as expected, first rate. The skin was replaced and remained that way through the review period.
Associated Equipment
Speakers — Wilson Audio Alexia V, Axis Loudspeakers VoiceBox S (nearfield monitor), Vermouth Audio Little Luccas Mk.II, Atacama stands
Amplifier — Gryphon Audio Antileon EVO
Preamplifier — Supratek Cortese, Totaldac d1-triunity (direct to amplifier)
Sources — Digital: 432 EVO Aeon Mk.3 Reference Music Server/Roon Core, Yamaha CD-S2100 transport, Totaldac d1-triunity DAC. Analogue: Transrotor Crescendo with Konstant Studio controller, Reed 1X Tonearm with upgraded internal wiring, Shelter Harmony cartridge, The Funk Firm Houdini cartridge decoupler, Supratek Cortese & REDGUM Audio RGPH2 phono stages
Processor — DEQX PreMate (part of arsenal/casual use)
Cables — VYDA Laboratories Orion Silver Reference HFC IC and speaker cables, PSC Audio custom design XLR, Vermouth Audio Reference loom,ZenSati Zorro, Tubulus Concentus USB
Audio Rack — SGR Audio Statement Model V, Aspire Audio Belgravia amplifier platform (customised for Gryphon Audio Antileon EVO), Stereotech Aluminar Dark 3-tier rack
Acoustic Treatment — Vicoustic Multifuser Wood, Wavewood Ultra, Cinema Round Premium and Super Bass Extreme
Miscellaneous — Silent Angel Bonn N8 Pro network switch, GigaWatt PF-1 EVO power strip, Les Davis Audio Viscoelastic CLD discs, VRC Vinyl Record Cleaning systemplus miscellaneous accessories
Wilson Audio Sasha V Loudspeakers
Price: AU$82,995 in Standard Colours
Warranty: Five Years
Australian Distributor: Advance Audio Australia
+61 2 9561 0799
www.advanceaudio.com.au
Wilson Audio Specialties
2233 Mountain Vista Lane
Provo, Utah 84606
United States of America
1 801 377-2233
www.wilsonaudio.com