Electrocompaniet has a legacy of nearly 50 years in the industry producing world-class Hi-Fi products. All its products are designed and manufactured in Norway – they are the leading Norwegian manufacturer of high-end audio products. Electrocompaniet products are used by audiophiles, industry professionals and world-class recording studios in 50 countries around the world. In fact, the company's original AW 600 Nemo amplifier was reputedly designed and built to power the "hard to drive" Bowers & Wilkins Nautilus and 801 speakers back in the 90s. The focus of this review is the evolution of that venerable AW 600 Nemo, the brand new AW 800 M power amplifier.
A True Progression
As stated above, the new AW 800 M replaces the older AW 600 Nemo, a highly acclaimed amplifier used in many of the world's best studios. In fact, Electrocompaniet amplifiers have been the amplification system of choice as used by Bruce Swedien across many of his high profile productions (which includes Michael Jackson's Dangerous, recipient of the 'Best Engineered Album' Grammy Award). Electrocompaniet amplifiers were used in Michael Jackson's tremendously successful HIStory recording.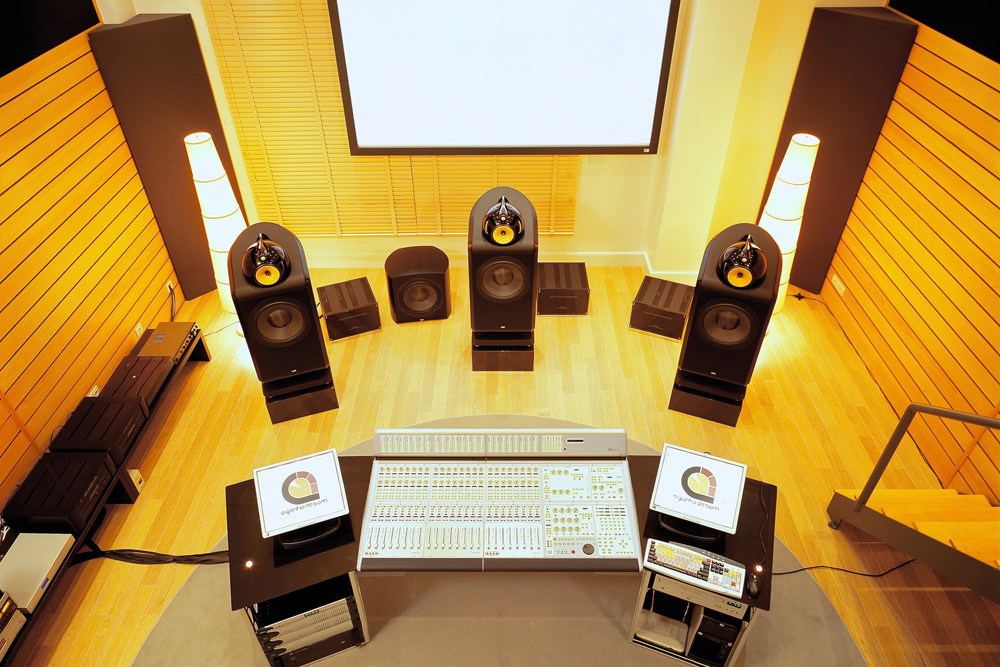 Electrocompaniet says on its website: "The amazing sonic performance of Electrocompaniet is significantly improved in the AW 800 M. The AW 800 M accomplishes this whilst at the same time manages to keep the unique design philosophy and signature sound, for which the company is renowned around the world".
I see no reason to repeat in my own words what Electrocompaniet has so eloquently written… "The AW 800 M encompasses the Electrocompaniet direct-coupled high open loop bandwidth topology, further enhanced with high slew-rate and very high bandwidth amplifier stages. In addition, a brand-new output stage is designed that heavily shields the input and driver stages from the load and makes the output extremely stiff and unaffected by the connected load. This has the added benefit of significantly simplifying the workload of the already gently working feedback system and thus provides vanishingly low distortion figures."
Continuing… "To feed the output stage the power supply is heavily updated and now has a total of 210000 uF supply filtering. Mains power input is DC and RF filtered. The twin toroidal, wire gauge upgraded transformers are magnetically and electrostatically shielded to keep any noise from intruding. The internal ground reference has been vastly over dimensioned and kept fully free of rectifying and output currents. The result is a very clean, noise free output signal regardless of output power, providing a very stable soundstage with the blackest background possible at any sound level."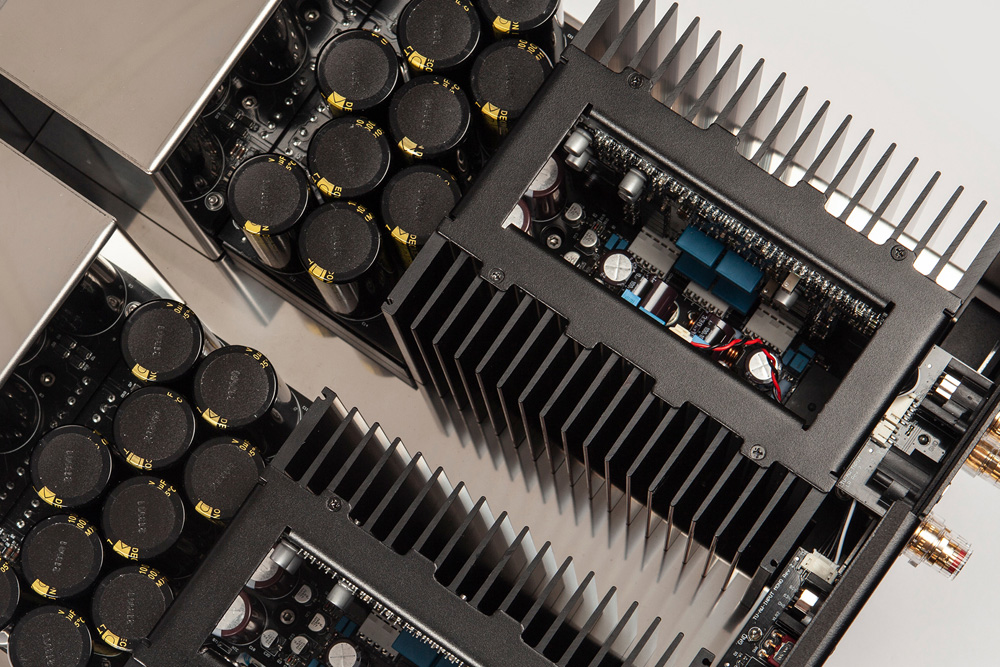 Actually, the power supply features two 800VA toroidal transformers that are electrostatically and magnetically shielded. There are 32 high current output transistors (16 per channel).
Electrocompaniet has been as successful at designing and building the AW 800 M as they have been at so accurately describing it above. Even the hard-copy manual included in the box (how rare is that) is precisely and concisely written. There are many different ways you can configure the AW 800 M – mono, stereo, bi-amped. A mode switch on the back allows you to toggle the appropriate setting. The manual clearly illustrates and talks about each connection mode. Should you lose it, you can download the identical manual from the Electrocompaniet website.
In a small hidden panel just above the IEC inlet there is a switch to allow you to switch to the appropriate voltage for your country. Electrocompaniet factory preset each unit for the destination country.
Just recessed on the bottom of the amp under the front panel you'll find two buttons. The left button controls whether the amplifier should auto-shutdown after 30 minutes. The right button controls the front blue display lights (on/off option only, no dimming). When switched off, both the stylised "e" (for Electrocompaniet) and the power button go dark. At first this seemed a bit odd, but if the amp is in stand-by then the power button is red. So, you can still tell when it is powered on.
You might have noticed that the AW 800 M provides only for XLR balanced inputs. Should you require RCA connectors, then Electrocompaniet can provide you with appropriate high-quality adaptors. But really, since the AW 800 M is true fully balanced internally, you'll get the best performance using it the way it has been designed.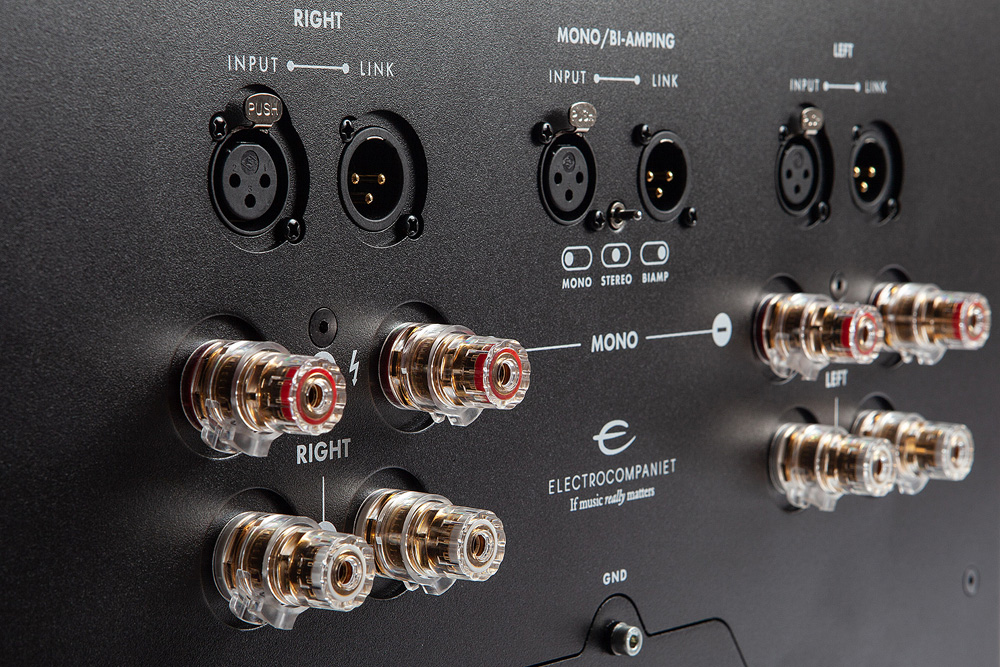 The chassis has been strengthened with a new modular design construction and rigidity has been improved with black brushed aluminium rods running over the top. Also new are feet called SuperSpikes by Soundcare – they help protect surfaces and further isolate from external vibrations. These feet are designed and made in Norway.
The AW 800 M's THD and IMD are vanishingly low. The damping factor is a high 1000 with an 8 ohms load. It has DC, overload and temperature protection circuits. During my time with it, the AW 800 M's behaviour was impeccable. You could even switch it on before your source equipment and nary a harsh word would be spoken.
I had a few questions that weren't answered on the website, so I contacted Electrocompaniet in Norway. Lasse Danielsen, the company's Sales & Marketing Director, responded immediately and was very friendly and helpful. Neither the manual nor their website states the approximate wattage in Class-A – Danielsen clarified that the Class-A power is about 10 watts/channel. For stereo use, the power output is 300 watts per channel with an 8 ohms load, 600 watts with a 4 ohms load and 1000 watts with a 2 ohms load. Also, Danielsen said the stated 210,000 uF filter bank capacitance is total and quoted for mono use. So, for stereo use, the filter bank capacitance would be 105,000 uF per channel. The amplifier weight is 55 kgs, width 406 mm, depth 488 mm, height 292 mm. It's a fairly large amplifier but not too big or heavy to fit inside a large strong rack. And even when run hard, it doesn't get appreciably hot.
The AW 800 M is very quiet, there are virtually no vibration noises, even upon powering up. There is only a miniscule amount of noise and hiss from the speaker drivers when you put your ear right up against them. Even my reference amplifier makes more noise, and it is very quiet.
Powering Up
It's an audiophile adage that there are some that buy great gear so they can listen to their music, while others buy great music so they can listen to their gear. I try to remain in the former camp but sometimes find myself slipping into the latter. All music sounds bewitching through the AW 800 M. So, you can accomplish it all – you have beautiful music, beautiful sound and beautiful gear. No need to compromise. But I'm getting ahead of myself.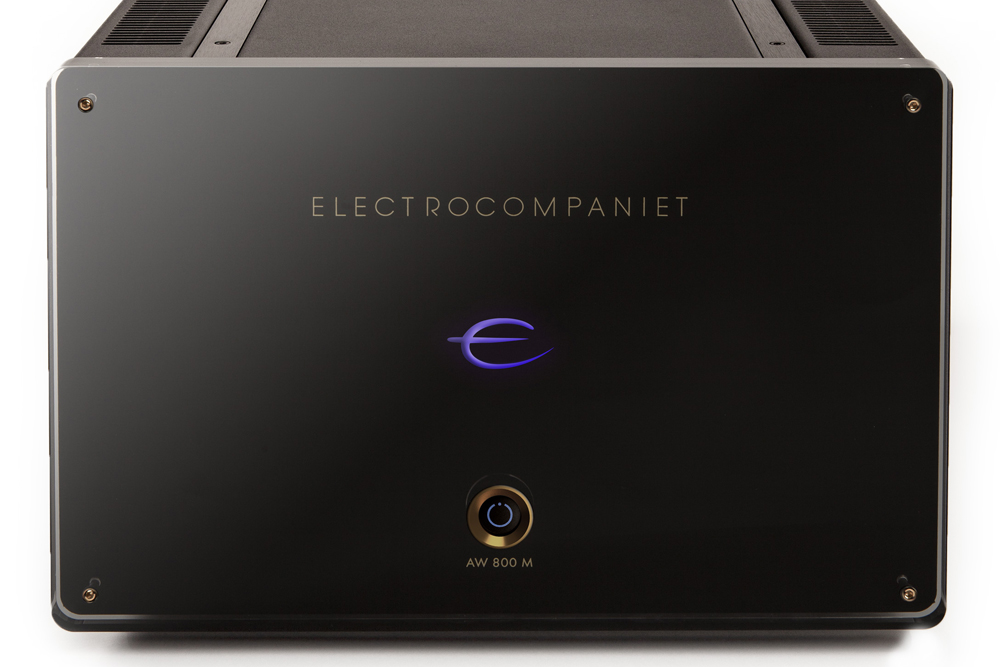 When I first setup the AW 800 M, I did it in my usual system, simply just replacing my reference amplifier. I closed the doors to the music room and let it play softly for a few hours before I came back for a quick listen. Due to spacing considerations, I previously had to reroute the analog cables to the AW 800 M. That movement of things apparently upset something and resulted in sporadic sync losses to my Trinnov Amethyst. I suspected the AES/EBU cable linking the music server to the Trinnov was at fault – likely just loose or dirty, or both. So, I replaced it with another just cleaned and similarly priced high-quality AES/EBU cable. That certainly fixed the sync-lock problem, but alas, something was now seriously wrong with the SQ. I cleaned the original cable and put it back into the system – thankfully, my life force balance was restored!
The take-away of this story is that you really must periodically clean your cables, even reseating them can help a bit to remove oxidization. The bigger lesson to take from this is that good and compatible cables really do matter and you need to experiment to see what sounds best. The AW 800 M seems quite sensitive (and revealing) to cabling, even cables up in the front-end of the chain. Lastly, AES/EBU is a digital cable but don't let the cable difference deniers tell you that it's just 1s and 0s and that they'll propagate through the cable just fine regardless of quality. The signal in that wire is not 1s and 0s – it's an analog voltage representation of the binary signal. And analog signals are very cable dependent.
By now you've probably figured out that I really like this amplifier. It's very easy to like. It's slightly "laid-back". Transients, sustain and decay sound life-like. It's very clean, full-bodied, resolving, tonally accurate, fast sounding and dynamic – and it does it all without a hint of harshness or glare. It's very difficult for a designer to get that perfect balance between full-bodied sound and high resolution. When not done right, often one overpowers the other, resulting in a sound that one person loves and another hates. There are always compromises in audio, but I have to say that, to my ears, the designers of the Electrocompaniet AW 800 M did a superlative job walking that fine line. I have only read about the amplifier it replaces (the AW 600 Nemo), I haven't heard it, but even Electrocompaniet says the AW 800 M is a considerably better amplifier.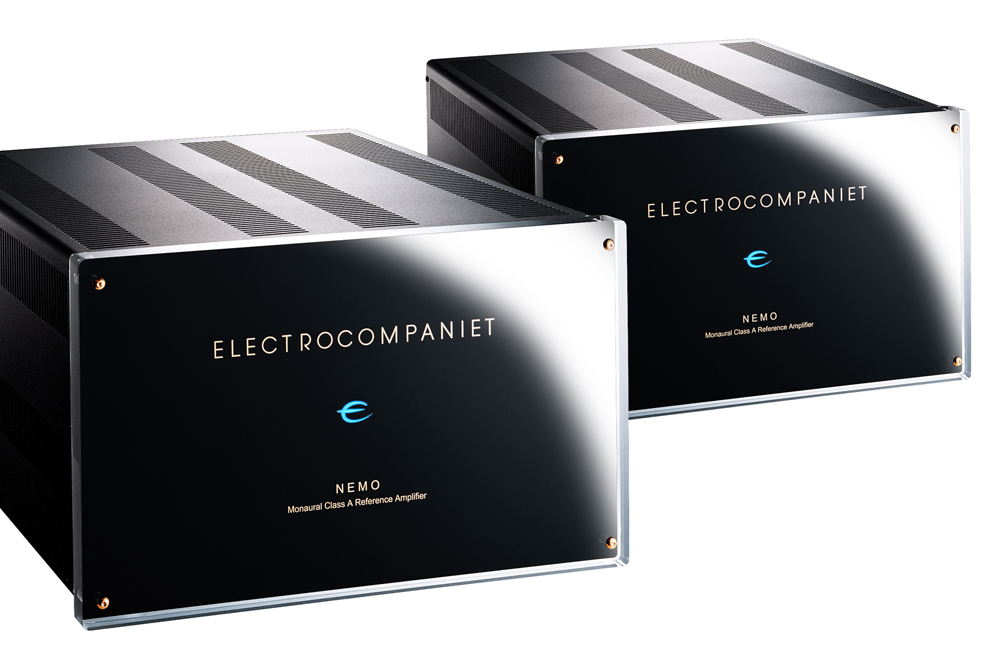 The famed Electrocompaniet Nemo AW 600 Monoblocks
People say that Electrocompaniet gear has a particular house sound, but when asked they have difficulty describing it. My impression is that the AW 800 M is very fast, exceptionally clean, even into the high treble. It is sweet sounding, definitely not clinical, with a slight upper bass and lower midrange emphasis that gives subtle glow, body and bloom to fundamentals in instruments and voices. In other words, it is a bit "laid-back" – some may interpret that as a lack of ultimate transparency. I see it as a pleasant effect and yes, it may mean it isn't strictly neutral, but then, what amplifier truly is? That said, the AW 800 M is not "dark" sounding or closed-in – it's full of vitality, it lets the music breath with subtle nuance.
I played "Nardis" from Patricia Barber's now classic album, Café Blue (96/24). The soundstage was slightly laid-back from the speakers' plane and was completely detached from them. It was also wide open and layered. Sometimes when you look at a speaker and concentrate you can hear instrumentation coming from that speaker. But everything was free of the speaker confines. It was very resolving, fast and dynamic. The drums, cymbal work and additional percussion was exemplary with power and weight. A truly wonderful performance.
I'm not a dedicated Diana Krall fan, but her earlier albums like Love Scenes (96/24) were very good. Playing "I Don't Stand a Ghost of a Chance With You", you could hear the sweet delicate laid-back handling of the smooth guitar placed well behind Krall with her airy soft vocals centre stage and forward. Some say big amps can't do tenderness or finesse. That may have been true years ago, but not today. The AW 800 M finessed the tune with tender softness and beauty.
Ralph Towner playing "Solitary Woman" on his album Anthem really shows his incredible virtuosity. It's a solo effort, he plays a 12-string acoustic guitar on this track. The AW 800 M allows the complex harmonics and delicate articulate finger action to shine through. It's a bit of a left-brain album, intellectually speaking, and can take a few listens to get into. But the creativity is most assuredly right-brain.
For something completely different, I queued up John Kaizan Neptune playing "Japanese Roots" on his album TakeDake (subtitled Asian Roots). Neptune designs and builds all his own instruments out of bamboo. He plays a bamboo Shakuhachi flute in a haunting but beautiful way, accompanied by a percussionist and bamboo drum set. The AW 800 M renders this track in a clear, convincingly real, resolving way. Instruments can startle you as they pop out of the sound stage.
Pieter Wispelwey playing Saint Saen's "Cello Concerto #1" on the album Tchaikovsky, Saint Saens, Bruch (192/24) really emphasised the beautiful sweet vibrant sound of Wispelwey's cello. The slight upper bass and lower midrange emphasis of the amplifier added body and depth into the instrument. And the violins, which can sometimes grate your nerves through lesser amplifiers, sounded clean and smooth with no stridency or piercing screeches.
I also tried the "tinkle test", where I play tracks that I know have brittle "tinkly" sounding piano. This is noticeable on many older piano pieces and is presumably caused by the microphones overloading or perhaps tape over-saturation. Such an example is "My Romance" from Waltz for Debbie (DSD256) by the Bill Evans Trio. The AW 800 M was a bit more forgiving than my reference amplifier.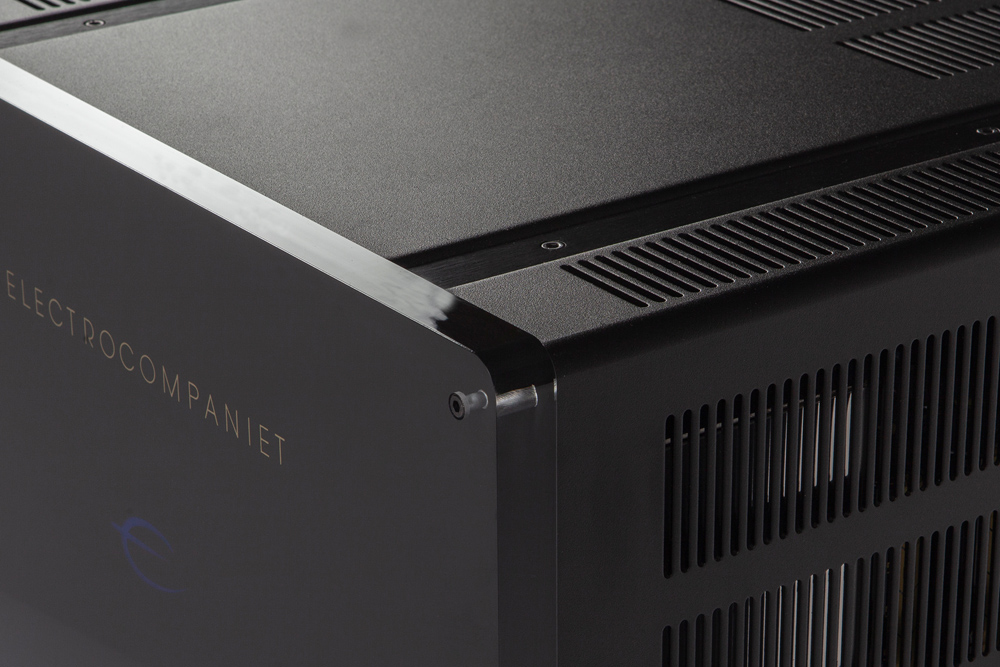 I tried to force the AW 800 M into harshness by playing "Hurt", the Johnny Cash version on American IV: The Man Comes Around. While I wouldn't exactly call the rendering of Cash's straining voice sweet, it was slightly more listenable than through my reference amplifier. The Johnny Adams song "One Foot in the Blues" on his album of the same name also has some harshness on crescendos, but that was also slightly more tolerable through the AW 800 M. It takes a lot to get the AW 800 M off balance.
So far, I haven't talked at all about bass performance. Without good bass, nothing above it will sound good – the fundamentals of bass permeate all above it. I'm a bass lover – any component to get accolades from me has to "do" tuneful, believable, tight, solid bass. Bass performance of the AW 800 M was excellent. There is assured power in the kick drum and the bass. I played a number of tracks known to cause amplifier and speaker conniptions. My speakers are not the easiest to drive, but the AW 800 M did more than survive at higher than normal listening levels for me (85dB to 90dB), it "took it on the chin" and sounded superb.
I played "Chameleon" by Trentemoller from his album The last Resort, "Angel" by Massive Attack from Mezzanine and "Limit to Your Love" by James Blake on his self-titled album. All sounded clear, articulate and solid, there was little evidence the AW 800 M was running out of puff. The only small foible was that the many notes in the strong deep repetitive bass line on "Angel" tended to blur together a bit. I don't notice this through my reference amplifier. Even at high volumes, the deep bass at 40 Hz and strong bass at 50-70 Hz on the James Blake track came through very solidly – it refused to wimp out. And as a bonus, the soft nuanced cymbal brushing at the end as the track winds down sounded very real.
Considering that the Australian RRP of the AW 800 M is a bit over half the price of my reference, it did a marvellous job. With the massive dollar difference, you could buy heaps of new music or a new preamp to mate with your new amp. Or, if you have exceptionally hard speakers to drive, you could chip in a bit extra and buy two AW 800 M amps to run them as monoblocks.
So, how does the AW 800 M differ from my reference amplifier? What do you get for the extra outlay? My reference leans to the warm side, enough to give voices humanity and instruments depth and bloom. It has a more forward soundstage. The AW 800 M is more warm sounding than my reference, but certainly not to the point where you wish for more energy, more vibrancy. It is sweet sounding but certainly not syrupy.
Conclusion
Obviously, the highest compliment one could pay the AW 800 M is to actually buy it. But I suppose the second highest compliment is to say that I never felt short-changed by the AW 800 M – I never felt the need to jump up and swap back to my reference amplifier, I never felt like I was missing something.
This was the first Electrocompaniet component I've heard in my own system. My speakers are the Bower & Wilkins 801 D4, a more balanced speaker than previous 800 series models. The Electrocompaniet amplifiers are said to be a good match for Bowers & Wilkins speakers. I suspect that that reputation came about back when the driver integration and cross-over in the earlier versions wasn't quite as "audiophile grade" as it is today. From what I understand, the older Electrocompaniet amps were somewhat sweeter and softer in their presentation, which likely married well with these older Bowers & Wilkins speakers.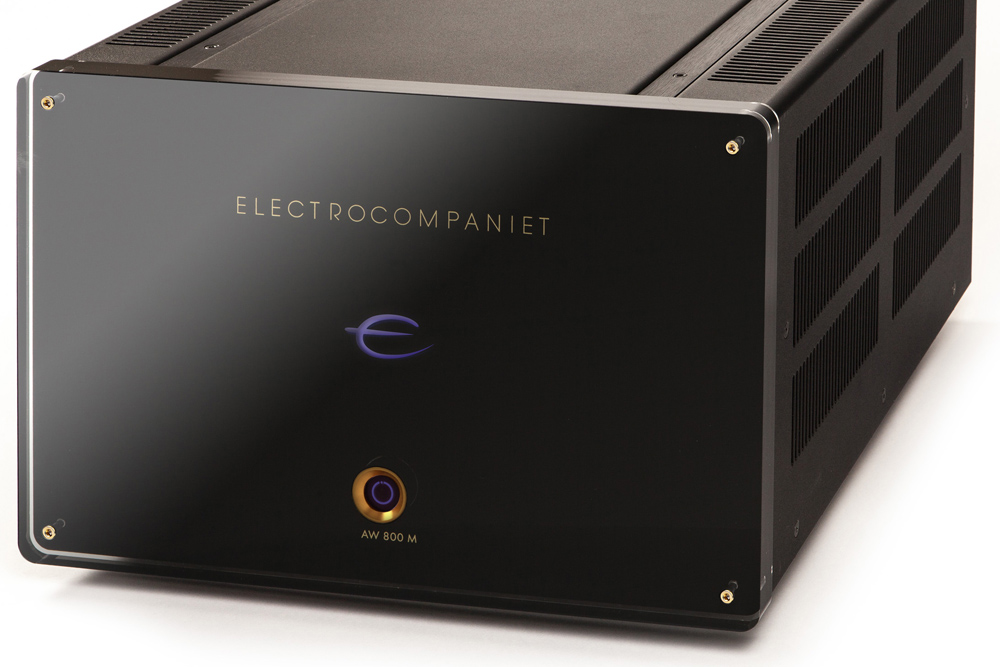 This new AW 800 M is a great match for my reference speakers. My only regret in this review is that I was sent only one AW 800 M! I would have loved to hear them as monoblocks in my system. Monoblocks' additional power and current tend to increase focus, control and solidity. I don't typically play music at mind-numbing levels, so in all honesty, I don't really need two AW 800 M amplifiers. But at crazy high SPLs, I know my speakers would appreciate/demand more power and current. For listeners playing music at moderate volumes with reasonably efficient speakers, a single AW 800 M should definitely be more than enough.
The AW 800 M is firmly into the more impassioned, clear, full-bodied and articulate style of modern amplifiers. Its slight upper bass and lower midrange emphasis and ultra-clean sweet treble gives it an inviting and very "musical" presentation. I hesitate to use that descriptor, "musical", but it seems to relay the right message to many people.
If you can afford the sticker price, then definitely give the AW 800 M a listen. If you can't, then don't, because you'll then know what you've been missing, and you'll definitely want to buy it. Yes, it really is that good.
… Tom Waters
www.soundstageaustralia.com
Associated Equipment
Speakers — Bowers & Wilkins 801 D4
Amplifier — Gryphon Audio Designs Antileon EVO
Preamplifier — Trinnov Audio Amethyst
Sources — Grimm Audio MU1 Music Server, Weiss Medus Reference DAC
Processor — Trinnov Audio Amethyst
Cables — ZenSati #1 interconnects and #2 speaker cables, ANTICABLES Level 5 Signature jumper wires, LA Sound AES-EBU, Nordost Tyr 2 AES-EBU, AudioQuest Vodka Ethernet cables, Trinity (DE) power cords, Synergistic Research Hologram A and D power cords, LA Sound Titan power cord, ANTICABLES Level 3 Reference power cords (into and out of Nordost QX4 line purifier), Nordost Purple Flare (Figure 8) power cord (for router)
Audio Rack — Schroeders and Schroeders, Symposium Ultra custom-made amplifier stands
Miscellaneous — Nordost Quantum QX4 line purifier, Nordost Quantum QB8 power distribution, Nordost Quantum QV2 AC line harmonizers, Nordost Quantum QK1 AC Enhancer, three dedicated 20 amp power lines, Symposium Rollerblock Jr isolation footers, Symposium shelves, Viablue UFO XL Absorbers, Vicoustics Super Bass Extreme traps, Vicoustics Cinema Round diffusers, Vicoustics Multifuser DC3 diffusers, Vicoustics Multifuser Wood MK2 diffusers, RealTraps bass traps
Electrocompaniet AW 800 M Power Amplifier
Price: AU$36,500
Australian Warranty: Two Years
Australian Distributor: Audio Dynamics
+61 (0) 3 9882 0372
www.audiodynamics.com.au
Electrocompaniet AS
Teknologiveien 2, 4120
Tau, Rogaland
Norway
+47 51 741 033
www.electrocompaniet.com