When it comes to cables, we've all seen products with gregarious designs, from ones approximating ornamental garden hoses to those resembling a python that has just devoured its prey. Bulky cables with a "bigger is better" mentality are often perceived as superior or essential for greater dynamics and powerful bass. Among other desires, having more bulbous-looking cables would be on most audiophiles' wish lists. Anything less might diminish their pride, with most believing diminutive cables would not suffice. In that case, they're disregarding the significance of substance over appearance, with the most critical factor being how cables sound and integrate within our systems.
Road to Music
I've always found cable upgrades incredibly beneficial and essential to my sound system. They've allowed me to tweak the system to reach my preferred sound. Whether seeking detail and transparency or body and warmth, the right choice of cable will play a vital role and influence your entire system. As an audiophile, I strive to get the most out of my equipment and often over-stretch my budget to get the best result I can afford. Since buying new speakers and amps, I've been reconsidering my cables, as what previously worked for my old gear is no longer adequate for the replacements.
So, when the opportunity to review the Crystal Cable Diamond Series 2 Reference cables (DS2 Ref for short) arose, I jumped at the chance. Connecting a complete loom of these cables has taken the synergy and sound of my system to a whole new level – not only aligning with my preferences but introducing me to new ones I wasn't even aware of.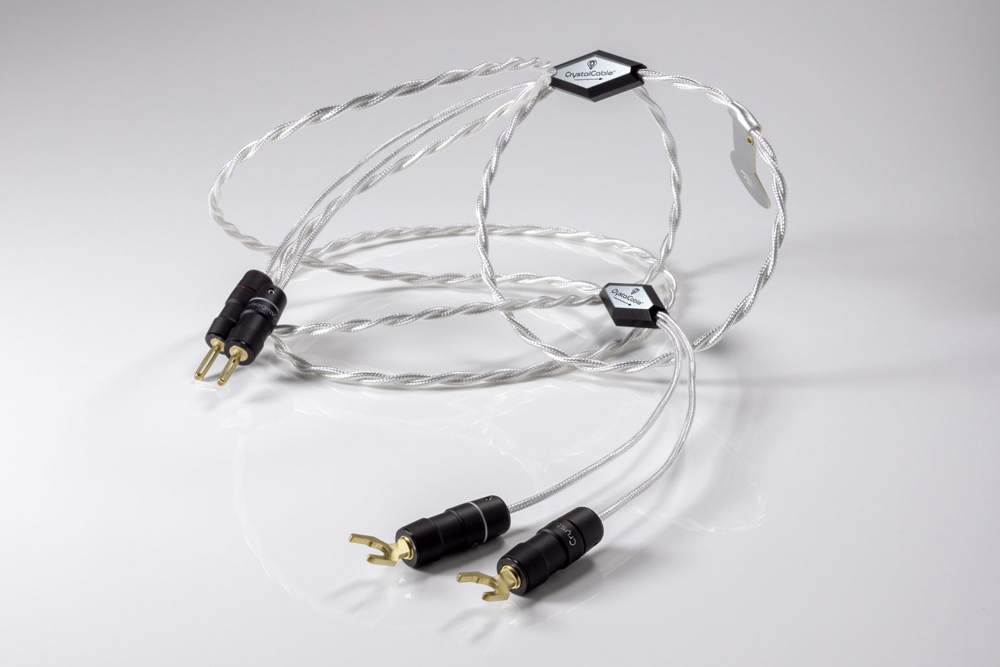 But can slender, attractive, flexible cables be taken seriously amidst a world of heavy-gauged, high-end cables? In 2004, Gabi Rynveld founded Crystal Cable, intending to challenge this prevailing trend. Through cutting-edge techniques in metallurgy and innovative design, Rynveld has created beautiful and compact cables that offer high performance and outperform their bulkier competition in numerous ways. The original Diamond Series has undeniably captured global attention since its groundbreaking release in 2009. I now direct my attention towards the latest Diamond Series 2, albeit with a sense of trepidation towards the potential impact on my wallet.
"Beauty to the ear and to the eye – that's the Crystal Cable difference".
Gabi Rynveld, a consummate music professional, started her career as a concert pianist at age nine. She has performed in concerts and recitals with orchestras and has competed in top-level international piano competitions. Her husband, Edwin Rynveld, the CEO and Chief Engineer of Crystal Cable and the internationally renowned cable brand Siltech (both under the umbrella of International Audio Holding B.V.), is an electrical engineer and metallurgist with a passion for audio. Together, they create the perfect unison of science, engineering, artistry and experience, forming the foundation of Crystal Cable. In the video interview here, Gabi talks with SoundStage! Editor-in-chief Jeff Fritz with a comprehensive insight into the roots of Crystal Cable and the distinctions between itself and Siltech Cables.
The new Diamond Series 2 has four performance and price levels – Piccolo2, Micro2, Reference2 and Ultra2. As you scale through the range, every model uses 1.5x to 2x as much conductor surface as the model below, supporting a better signal transfer and even lower distortion. All Crystal Cable products are hand-made in its factory in the Netherlands, with power cables, RCA, XLR, and Phono interconnects, digital cables, loudspeaker cables, and Network cables available throughout this series. The complete loom of the Diamond Series 2 Reference cables for review follows.
"Although the Diamond 2 series is the entry-level line of the Crystal Cable catalogue, its flagship Art Series innovations are used throughout the entire range to ensure the finest possible performance. It lets you buy into the Crystal Cable quality at a price accessible to a wider spread of Hi-Fi and music lovers", says Crystal Cable.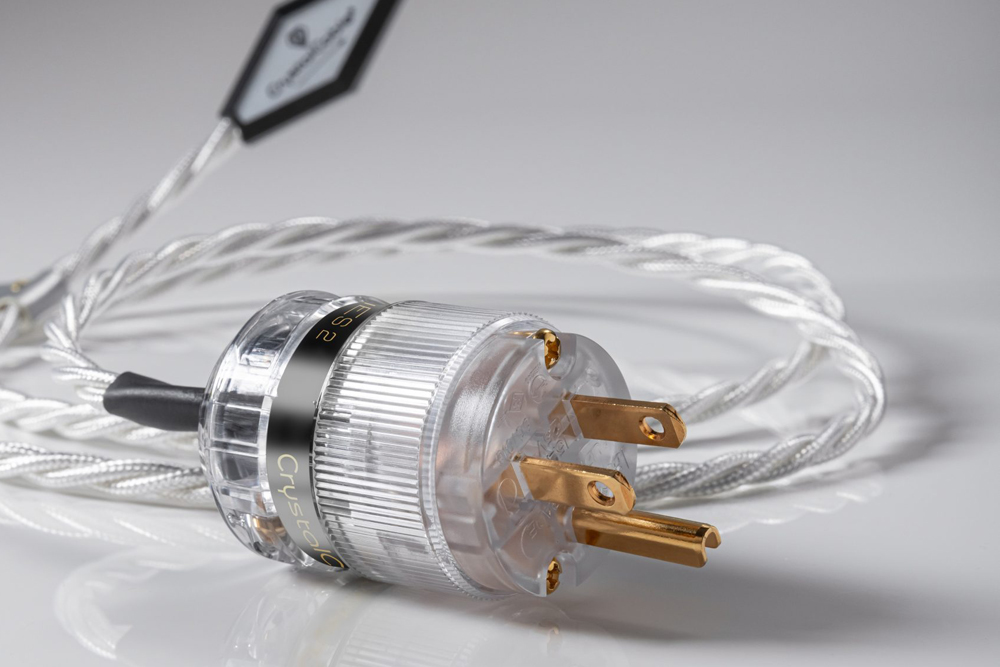 The Diamond Series 2 cables have been significantly enhanced due to the latest SG2 silver-gold metallurgy, Crystal Cables' most advanced alloy to date. This unique alloy is the culmination of 20 years of extensive research and development to create an alloy that exhibits the highest possible conductivity with the lowest possible impedance. The Diamond Series 2 marks the first product to incorporate this new, exclusive SG2 conductor.
The SG2 alloy helps to eliminate micro-cracks that can occur in the natural silver crystal structure. This technique involves the injection of gold atoms to fill the cracks, effectively reducing boundary distortion. Further developments in the annealing process have enhanced its conductivity, flexibility and strength. This ultra-pure formulation runs continuously from connector to connector in every cable, producing excellent conductance and enabling the thin wire to achieve the same capacitance as thicker conductors.
Each SG2 solid core conductor is expertly assembled into a coaxial cable, designed to shield and deliver optimal noise rejection, reducing ground impedance and dramatically gaining a better signal-to-noise ratio over the original Diamond Series. For wide-range shielding, the SG2 conductor is wrapped in DuPont Teflon and Kapton insulation, which is then encased in a silver-plated copper shield. Finally, a transparent Teflon sleeve is added to the assembly, giving its stunning appearance. This unique combination of materials and design distinguishes it from any other cable on the market.
Almost every property of this new Diamond series has been improved, from the metallurgy and shielding to the insulation and connectors. Different cable geometries, conductor thickness and even types of soldering wire were evaluated and tested. Once assembled, every cable is subject to special thermal treatment and comprehensive electrical measurements and tests. An NFC (Near Field Communication) tag attached to every product carries product and ownership information and authenticates each cable by scanning the tag in the Crystal Cable app. Creating an account in the app will provide a lifetime warranty once registered.
The power cable comprises a twisted geometry of triple coaxial cables with the two shields connected to the ground, offering the lowest possible ground resistance and includes Furutech FI-AU3112-N1 (G) 10A / IEGO 8085 CT-Au gold-plated premium power connectors, in a generous 2m length.
The analog interconnects include a twisted geometry of twin coaxial cables and ETI-CC premium RCA connectors with gold-plated contact and ground pin. The balanced XLR versions use a third coaxial cable to further lower ground resistance and ETI-CC premium XLR connectors with silver-plated contact pins in 1.5m length.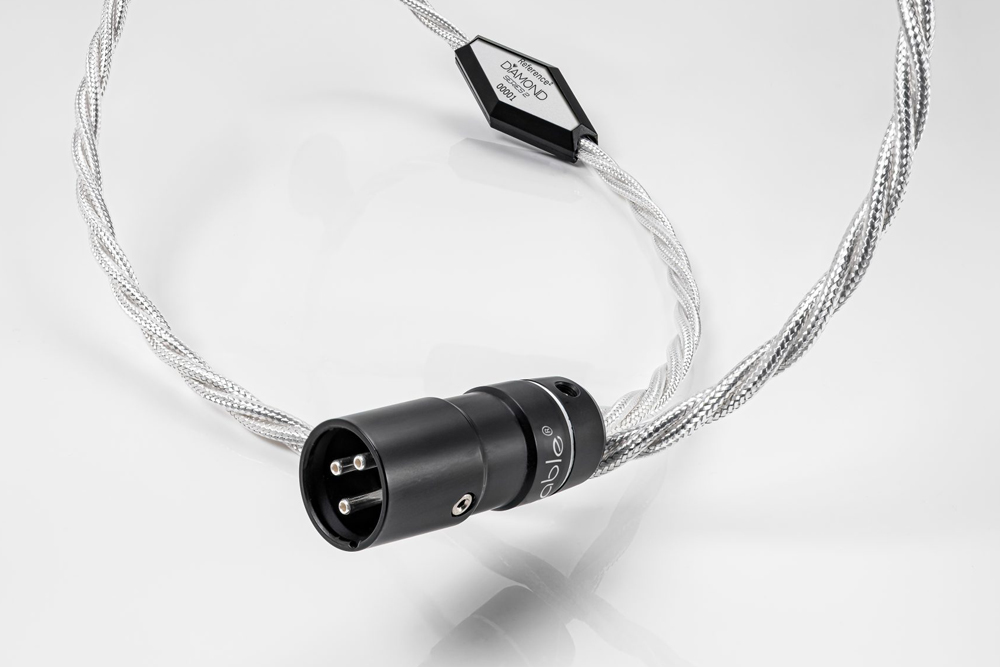 The speaker cables consist of twin coaxial cables in a special geometry, which features a continuous conductor from one end to the other with no connections in between. Either ETI-CC premium gold-plated spade or banana connectors are available. A length of 3m was provided. I would recommend checking with your local distributor whether jumper leads are available, as this would benefit those using bi-wire configurations to their speaker's high and low terminals to ensure consistency on all connections.
The Ultra2 RJ-45 network cable is a single coaxial cable with fully shielded connectors. It ensures a stable and noise-free data stream. This cable employs the 100BASE-TX specification and supports a maximum speed of 100Mbps in 1.5m length. Unfortunately, I didn't have any equipment to use it with.
Once unboxed, the Diamond Series 2 Reference cables come in a lovely black drawstring pouch as if storing a priceless necklace. Though not quite that type of jewellery, the design and looks arouse that charm. Gorgeous, sexy, and sleek are nothing I have ever said to describe audio cables. However, these exude style, sophistication, and elegance, resembling nothing like the usual bulky cable mantra. My own thicker and inflexible cables can be challenging to connect and can raise a sweat when trying to do so. I often worry I'm straining the internal wiring or termination points when applying pressure to my power and speaker cables.
I feel completely at ease and confident handling the DS2 Ref cables; their pliability means I can effortlessly route and connect them without diving in behind the cabinet. The flexibility makes it perfect for compact spaces and simplifies cable management tasks. The connection between my equipment is more direct, placing any excess hang onto small hooks on the back of my cabinet. I believe I've also gained around 300mm of length as they don't require large bends, unlike my firmer cables, which demand the cabinet sit further from the wall.
With that being way less stressful and quicker than I had imagined, I was ready for some lengthy warm-up music before settling in for some serious listening.
Listening Sessions
The first interesting observation that grabbed my attention is how the ambience in the Annie Lennox ballad "The Hurting Time" from her Bare album is well-controlled through the DS2 Ref cables. Although it stays expansive with various notes floating around the soundstage, the air and scale seem a little reticent until you realise, with less lightness, there's more presence in its delivery. This creates a more credible foundation to appreciate the track's ebbs and flow. At the same time, the emotion in Lennox's voice becomes more immediate, accentuating the essence of the lyrics and her emotionally poetic inclinations of inevitability, anguish and death. Her siren-like voice is strong, with outstanding clarity and focus amongst both the spare and dramatic music, allowing you to follow the complexity while keeping the sensitivity and soul of this beautifully constructed song.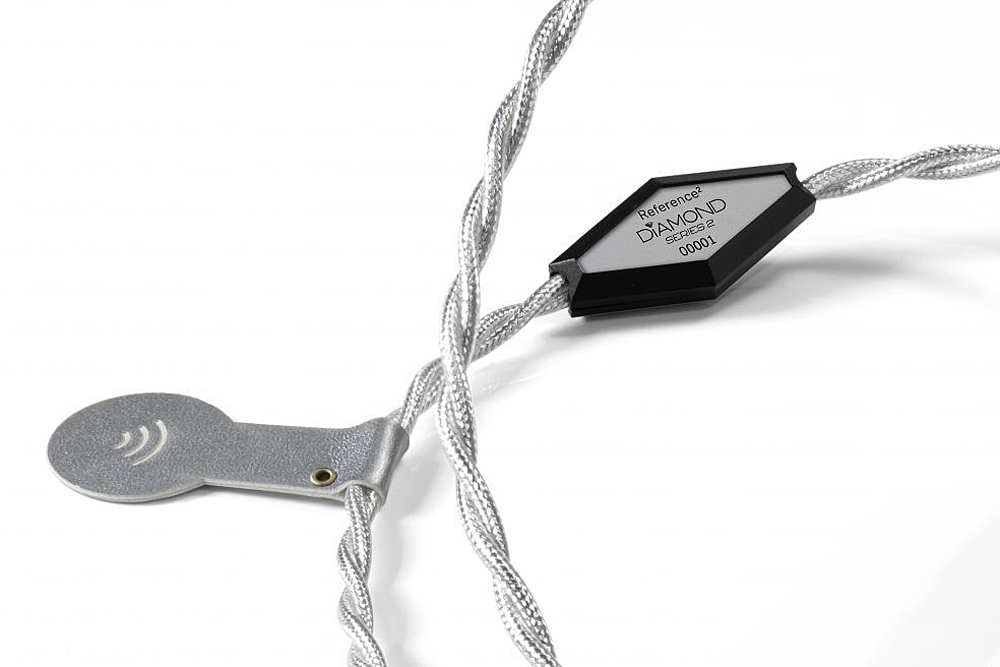 While I've always appreciated the extensive atmosphere my speaker cables create, I noticed that this particular song appears to be a tad hazier due to the prolonged reverb when compared to the DS2 Ref cables – it's a reminder that sometimes, less is more. I knew it sounded more transparent and precise, with less ambiguity in the surrounding environment. Still, it took multiple replays to adjust my preconceived notions of how this track sounded previously. I never thought such an adjustment was necessary or desired until hearing the DS2 Ref cables communicate the darkness and ache of this track with greater directness and sincerity – that's quite a remarkable feat for any cable to communicate.
Taking things to a more significant challenge, I switched to the debut single "City Limits" by the Kiwi alt-rock band I Am Giant from their I Am Giant/Neon Sunrise EP. There's a solid refinement to the presentation that still allows the raw, high energy of the massive guitar riffs and drums to dominate the song's drive and rhythm; in fact, it emphasises them. Both speakers have an equal measure of grunge during the anthemic chorus, highlighting the lead guitar's speed and attack, leaving nothing hidden. The separation appoints the band's positions while retaining their unity. The exceptional balance of frequencies ensures its peak dynamics are less congested, resulting in a higher quality production overall. The DS2 Ref cables' clean presentation delivers unmatched insight by unveiling imperceptible sounds and shows the tracks' full potential with matching heft and edge. This allows a more meaningful volume – crucial for the complete enjoyment of any outstanding rock anthem.
I'm thoroughly impressed by the DS2 Ref cables' impact on my listening experience. It's like I've moved my seating position forward, effectively dampening the room's acoustics, which gives the music and vocals a more responsive and prominent presence – yet the retrieval of information is not forced upon you. I've established a stronger connection with my speakers, though without any physical movement, they still seamlessly meld into the performance.
I pondered over the thought that the superior focus I'm hearing in the atmosphere while using the Crystal cables is what I have achieved with acoustic treatment on the ceiling; the absorption notably improves the concentration and imaging of the soundstage by purifying ambient resonances. Unfortunately, I can't install acoustic panels in my current room, but as the ceilings are higher, I felt it wasn't such a drawback. The DS2 Ref cables have a similar effect and seem to compensate for it. However, I'm not implying that cables can replace the importance room treatments have on the sound in your room, but the similarities are intriguing.
Next, I decided to play something far from subtle or polite. The Skrillex track "Kill Everybody" (Bare Noize Remix) on the Scary Monsters and Nice Sprites album exudes an otherworldly voice that instils a sense of unease of alien or AI world dominance. I immediately noticed the rhythm's thrilling blend of turbulent mixing and wobble effects is more straightforward and dynamic. The complete loom of the DS2 Ref cables is effortlessly facilitating the flow of electrons. Transients and attack are snappier and more precise, sharpening the bass beats with defined depth. This rambunctious track's density and congestion significantly decrease, resolving the audio spectrum with a touch of discipline. This is how digitally composed electronic music should sound, but often, it's not accurately reproduced, making it difficult to appreciate the artistry and pace.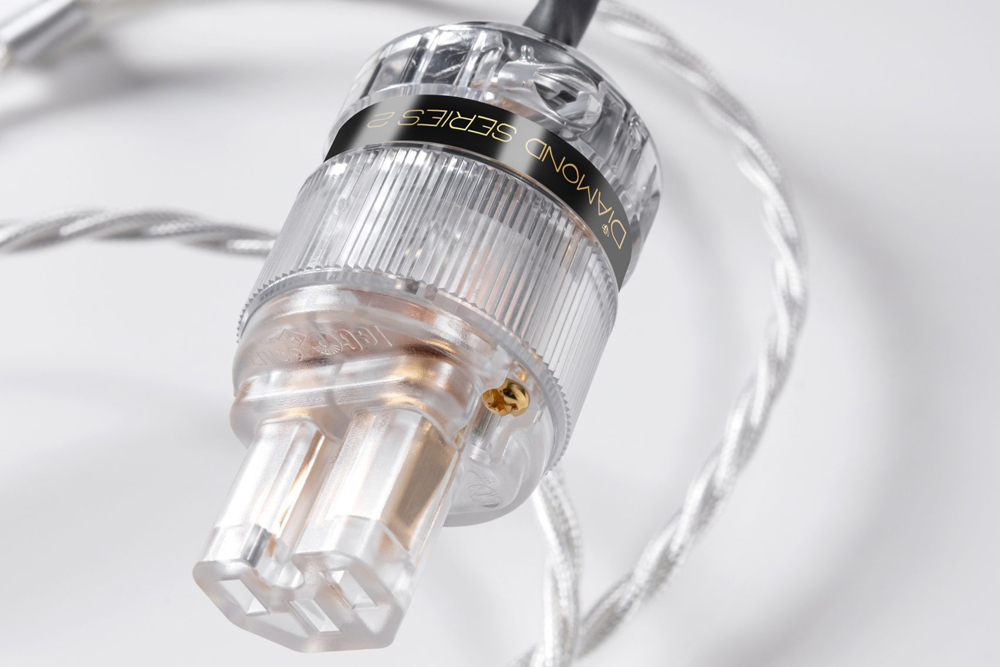 As I continued to listen to my extensive playlist, every note resonated with immersion and unwavering conviction. Another track that stood out is "I Don't Want to Change You" by Damien Rice on his album My Favourite Faded Fantasy. Damien's subdued and reflective voice is solid but still has enough tenderness to transcend his grasp on melody and bare his soul like no other. His vocals have an unguarded honesty as they become eloquently entangled with soaring strings, creating a horizon of sweet harmonies in the background that supports the lyrics without infringing on them. The natural harmonics enrich the depth of silence without being over-indulgent. The prominent side stick on the drum augments the holographic soundstage without being too forward, while the guitar notes are delicately textured, adding a timid yet refined appearance. The DS2 Ref cables genuinely shine in this song, proving outstanding qualities with a majestic and emotionally charged delivery. They flawlessly highlight everything that makes these cables so remarkable to my ears.
As a professional concert pianist, Gabi Rynveld possesses an acute sense of discernment regarding the subtleties of piano music, so naturally, all Crystal Cables would honour the reproduction of each piano key faithfully. Listening to various piano tracks from the Uncompressed World Vol IV - Solo Piano album, I am in her realm. The light touch of the felt hammer on a single string creates a crystal clear (pun intended) and sensitive tone, while multiple keys generate a complex yet refined harmony. Every piano tone, every note is rendered with beauty, precision and entrancement.
Conclusion
Without hesitation, I can affirm that my system has never sounded better or more engrossing. There's a formal touch that is more honourable to the source – a natural truthfulness to the tonality of voice and instruments. The timing is more precise and assertive in its delivery without any aggression. The soundstage stays consistently balanced, effectively minimising errant notes from being too prominent or obscured. I have never heard a background so quiet as what the DS2 Ref cables presented. The blackness permeates around every note, allowing micro details to be revealed naturally without illuminating the music to expose them. So, tonal richness is preserved and not bleached out, as some pure silver conductors can do.
The SG2 silver-gold alloy synthesises the sonic benefits of silver and infuses the slight warmth of gold for an exquisite, cohesive sound that is both complex and refined. Musically, I believe they have taken my system to a more faithful reference level.
The DS2 Ref cables allow all genres of music to be the focus without injecting artificial sweeteners, meaning they won't sugarcoat bad recordings. Still, annoyances like glare or harshness are not accentuated either. They won't provide a tonal tweak to your sound but enables your system to reveal its true identity, leaving no room for inadequacy. Each component's potential will be granted equality with the correct harmonious sum of its parts. The DS2 Ref cables, without a doubt, will continue to be a permanent fixture in your system, enduring generations of equipment upgrades. Like diamonds, these cables could truly be forever.
I was fortunate to encounter the Diamond Series 2 Reference cables' constructive collaboration, from the power cable to the speakers' output – I would not have heard their complete attributes otherwise. I am incredibly impressed by the impeccable signal fidelity, unparalleled synergy and exceptional sound they contributed to my system – a truly immersive experience.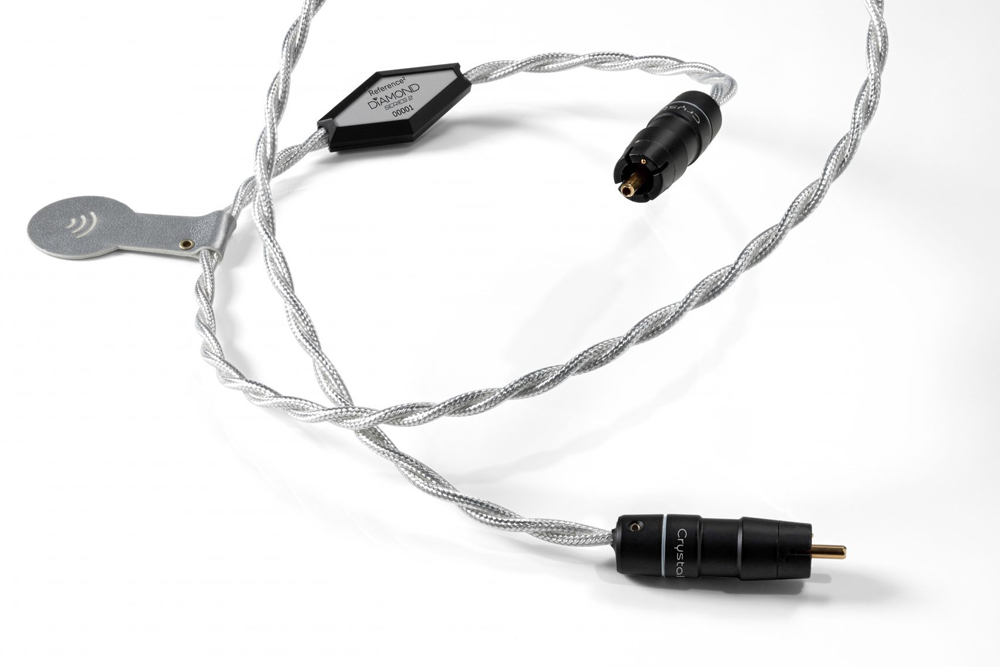 For some, the Diamond Series 2 Reference cable loom may seem unassuming in size. Still, it bears no compromise on its sonic ability and can easily manifest the bass and dynamics of larger cables. The exceptional performance in sound and handling is a testament to the product's materials technology, design and quality construction. They have become my personal favourite among premium cable options and are sure to impress both discerning and aspiring audiophiles.
Like other luxury items, the Diamond Series 2 Reference cables have a substantial price tag. However, they offer unequalled quality and performance at their price and grant a preview of the extraordinary sound of the flagship Art Series. If you can stretch your budget, the investment is well worth it.
Overall, the Crystal Cable Diamond Series 2 Reference cable is an excellent choice for anyone looking for superior sound quality in an alluring and compact package. It's this audiophile's preferred jewellery.
Now, please excuse me while I request a pay rise… or more overtime at work.
… Steven JM Polley
www.soundstageaustralia.com
Associated Equipment
Speakers – Hulgich Audio Ella Mk.II, B&W 801 S2 Matrix w/North Creek Xovers, KEF LS50, LSX II
Amplifier – Nord One SE NC500 mono blocks with Sonic Imagery buffer
Preamplifier – Denafrips Athena
AVR – Marantz SR7015
Source – Antipodes DX2, running Roon, Oppo 105
DAC – Chord QBD76
Cables – Synergistic Research Apex speaker cable, Vertere Pulse-B XLR cables, Analysis Plus Digital Crystal XLR AES/EBU cable, Power Oval 2 and Power Oval 10 power cords, IsoTek EVO3 Optimum power cord, Anti-Cable level 5 signature jumper cables
Room Treatment – Vicoustic Flexi Wood Ultra and Flexi A50 panels
Power Conditioner - IsoTek EVO3 Sigma powerline cleaner
Miscellaneous – IsoAcoustics Gaia II feet, Basalt speaker blocks
Crystal Cable Diamond Series 2 Reference Cable Loom
Price: 1.5m Interconnect AU$3860, 3m Speaker AU$8720, 2m AC Power AU$3090, 1.5m RJ45 Ethernet AU$2830
Australian Warranty: Lifetime Warranty
Australian Distributor: BusiSoft AV
+61 3 9810 2900
www.busisoft.com.au
Crystal Cable
Edisonweg 8
6662 NW Elst
The Netherlands
+31 481 374 783
www.crystalcable.com