According to a number of recent, credible reports widely aired online, the 'black circle' has outsold the silver disc for the first time since the 1990s. Both in terms of unit numbers and monetary revenue. By quite a clear-cut margin too. Having said that, in the music industry universe, streaming is by far (and I stress far) the most popular means of enjoying music. Be that as it may, vinyl has emerged from a full samsara cycle and its reincarnation is here to stay. Plus, in addition to its wider current availability, there's an infinite amount of it in past collections. Yes, a whole heap of vinyl out there. And it needs a regular bath.
True Grit
Indeed, we may keep our precious records in fancy static-free sleeves, we swipe them for dust prior to spinning, zap them with anti-static guns and go about all sorts of vinyl-protecting rituals. At some stage, however, your vinyl will need a deeper clean. A scrub behind the ears. If you're after optimum playback quality and even stylus longevity, there's no way around that really.
There are a number of ways to tackle this cleaning issue. In our experience, an option with high efficacy is via a physical adhesive skin which, when applied, cements itself to muck and dirt. The dried 'skin' is then pulled-off, resulting in a pristine record surface free from foreign particles. This method is proven to reach the grooves' deepest corners. An exceptional product of this type which we've used in the past very successfully at SoundStage! Australia HQ is the VRC system (read the story here).
As labour intensive as that may seem to some, for other more thrifty analogue lovers who don't mind getting their hands dirty (and clean at the same time), a careful manual wash-with-mild-soap, rinse-under-the-tap and pop on the dish rack hand method is also popular.
Alternatives exist with manufacturers offering a variety of machines, ranging from the simple to the very complex. They can combine any number of methodologies including cleaning with soapy solutions, vacuum cleaner-like suckers, wet or dry, and combinations of all of the above. These can be either motorised or manual. Arguably, the best machine-based record cleaning methodology is by way of the ultrasonic cleaner. And the Degritter is one of the newest of the type on the market.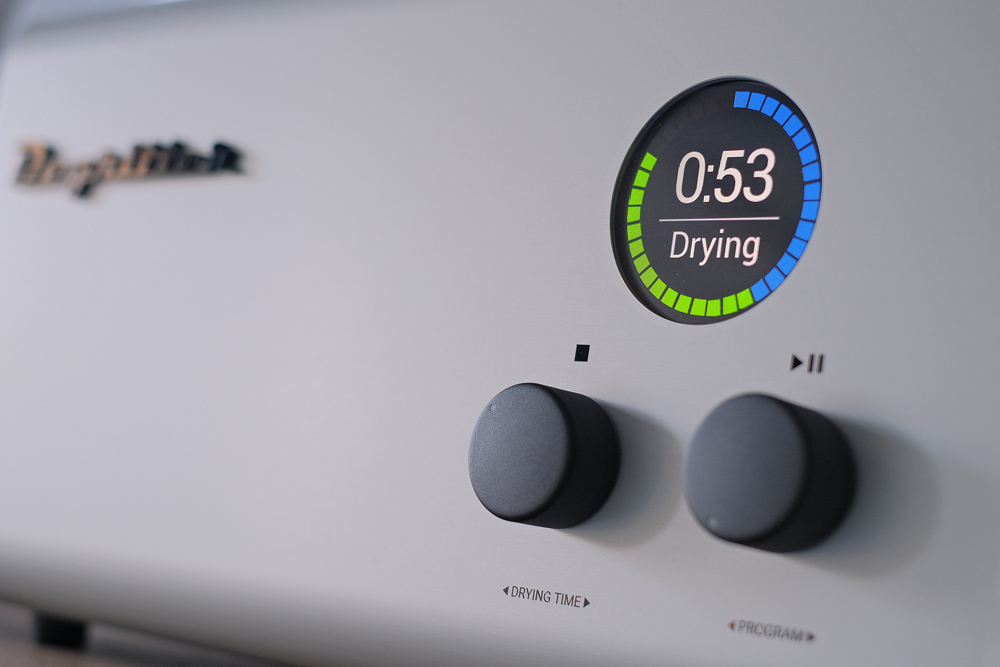 While the concept behind the Degritter is relatively simple, the execution required some cunning engineering. Basically, the attractively-designed Degritter is a desktop machine which is somewhat reminiscent of a vintage 'wireless' radio, a parallel which is reinforced by the Degritter logo font. That's not to say the machine is old-fashioned, on the contrary, the Degritter is built to exacting standards from modern materials, it looks quite cool and features a number of extremely clever engineering innovations. The quality of the entire package is further reinforced by the nicely-printed and well-laid-out instructions manual.
The concept behind the Degritter's cleaning methodology revolves around a 120 kHz high frequency amplifier which energises water contained within a removable tank. Cavitation is the term used for the high frequency pressure waves which run through the water bath creating innumerable microscopic bubbles. The pulse is initiated by a custom 300 watts amplifier as it excites a group of four ultrasonic emitters (two per side). Degritter claims its 120 kHz pulse amplification and associated 'Frequency Sweep' feature – which is said to provide more efficient cavitation energy and power distribution – are a first in this type of product.
The nature of the cleaning method basically ensures the water, and the bubbles carried within it, dislodge and remove dirt particles and contaminants around the groove and right down into its deepest and narrowest points.
Come Out in the Wash?
The Degritter's functionality is both simple and comprehensive. For starters, there's a removable opaque plastic tank which needs to be filled with distilled water (an integrated handle makes that an easy task). Degritter offers a bespoke cleaning solution which can be added to the water but it's not compulsory – the solution-free water will clean your records well. Extremely well. As a result, the filth and grime – or even just the regular detritus which accumulates after a number of spins – has to go somewhere.
To that end, the Degritter features a small porous foam filter which sits in a fine mesh cage. The assembly is removable and the filter itself can be simply washed or replaced. Degritter packages six filters with the machine, a 100 ml bottle of cleaning solution (AU$54 if purchased separately), an eye dropper for precise solution application, a cleaning cloth and a Degritter branding sticker. For an additional cost of AU$120 each, Degritter has available adaptors to cater for 7- and 10-inch records.
A bright and colourful display screen allows easy navigation through the various menus/functions. The two fascia rotary knobs are marked with a square 'stop' graphic which does just that at any stage of any cycle and it also serves to adjust the record drying time. The right-most knob with 'play' and 'pause' type graphics is used to scroll through the various functions/programs. Features are activated by pushing the button inwards while the same action mid-cycle pauses it or starts it. The rear panel features a mains switch, IEC cable socket and an SD card slot which serves to update firmware – clever.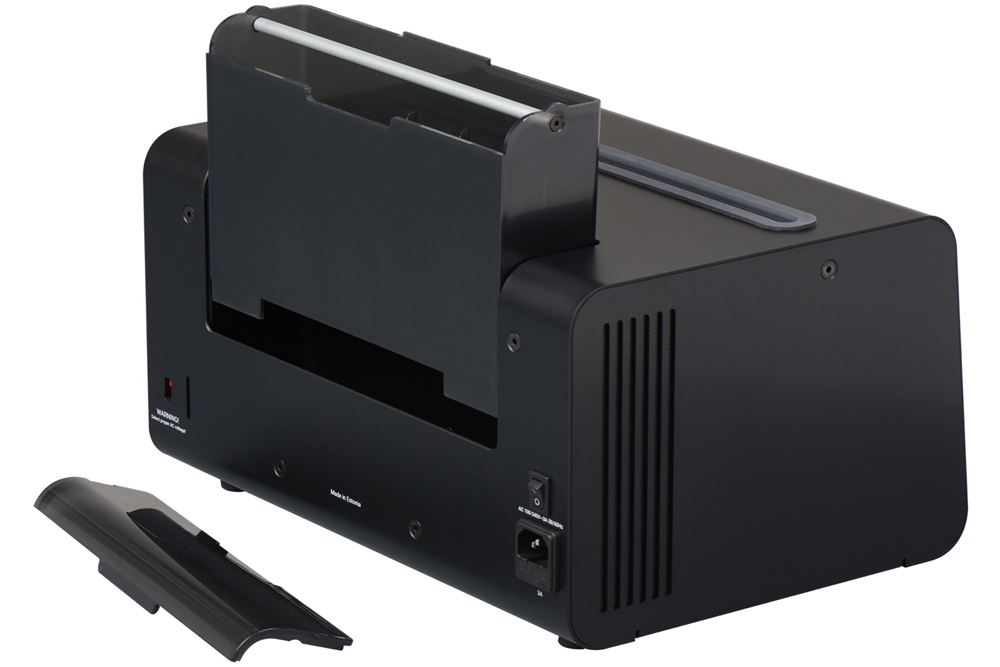 Degritter advises to 'Degas' the water upon using the machine for the first time and then subsequently every few cycles in addition to whenever you replenish the distilled water. Simply scroll through the menus to 'Degas' and press go. The process takes a couple of minutes.
The cleaning programs include 'Quick', 'Medium' and 'Heavy' depending on the degree of muck on your disc, with times ranging from just over two minutes to approximately seven minutes. Drying time is adjustable to a maximum of three minutes and this function is associated with a fan power/speed adjustment. Water level can be selected between 'Low', 'Medium' and 'High' with the starting point being 'Low' for 12-inch records and 'High' for 7-inch ones (fitted with adaptor). In my use, I found both the 'Low' and 'Medium' settings pleasingly avoided the record label.
I did experience a minor leaking issue when the water level setting was on 'Medium' and was told by the Australian distributor that was, of course, an anomaly. The many units sold around the country did not exhibit this issue and were fully water-tight. Apparently, subsequent to a few who got away, a small batch of rubber-sealed valves were removed from production after being found to not meet specification.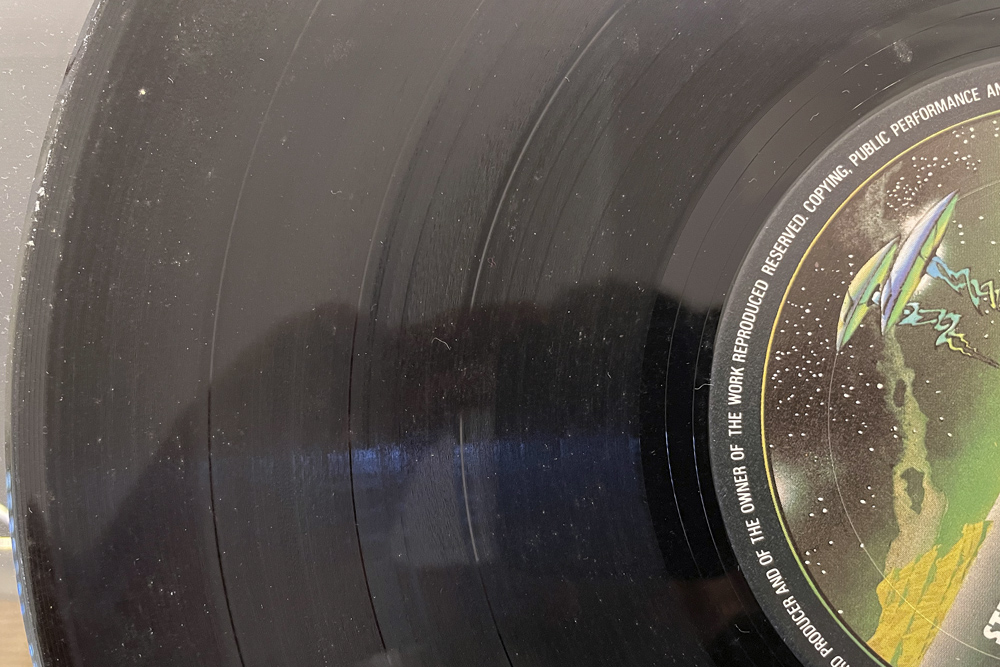 Lastly, an 'Info' screen on the display provides data on the unit's serial number, the current software version, the number of runs/washes and the ultrasonic tank's temperature. Operationally, the unit was faultless over the dozens of records 'Degritted'.
In fact, a vivid demonstration of the Degritter's cleaning powers is shown below. The 'Before' image shows one of my oldest records, which shocked me in terms of its poor state. Dirt, mould and deep groove crap all over it. The 'After' shot needs no explanation aside from a simple descriptive: crystal.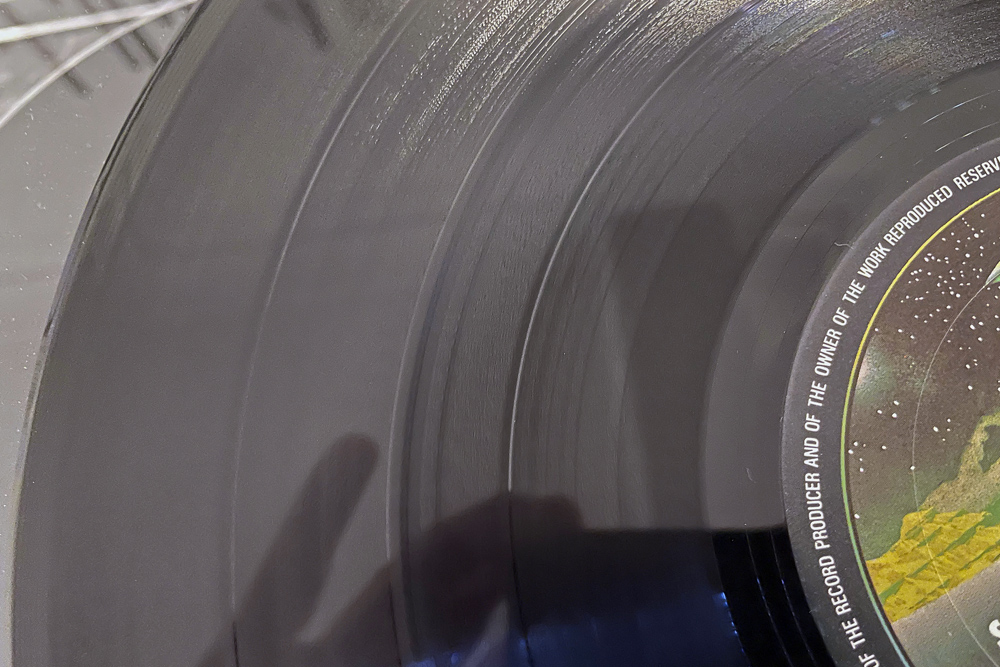 Proof in the pudding.
I appreciated the large numbers of the cycle countdown on the super-bright screen. I setup the Degritter in my garage and it was easy for me to see the remaining time from the entrance a few meters away.
The cleaning/washing cycles are not too noisy, however as you can expect, the drying stage's fan sound was louder. But I've heard louder… much louder. Measured from an operating distance of 1m away from the Degritter's fascia, I clocked an average 71.5dB during the washing and rinsing cycles and, naturally, a louder 75.5dB during fan drying with fan set to around 75% speed.
While in-situ, I appreciated the Degritter's cleanliness-is-next-to-Godliness way it handled all records at different stages of grubbiness. From the just dusty and finger-printed to the horror of mould and muck of LPs in conditions similar to the example above.
Post-cleaning, playback in my analogue rig comprising Shelter Harmony MC cartridge, Reed 1X tonearm, Transrotor Crescendo turntable via my reference electronics and speakers (see below) showed quiet, pop- and crackle-free music allowing appreciation of its full glory.
Conclusion
The Degritter is excellently-designed and nicely-built. Unlike many competing products, it doesn't look like it belongs in a school's science lab – it's an attractively-designed concept. Its software-based operation, the easy accessibility of all its menus/functions and its ability to upgrade firmware via the built-in SD card reader are all genius.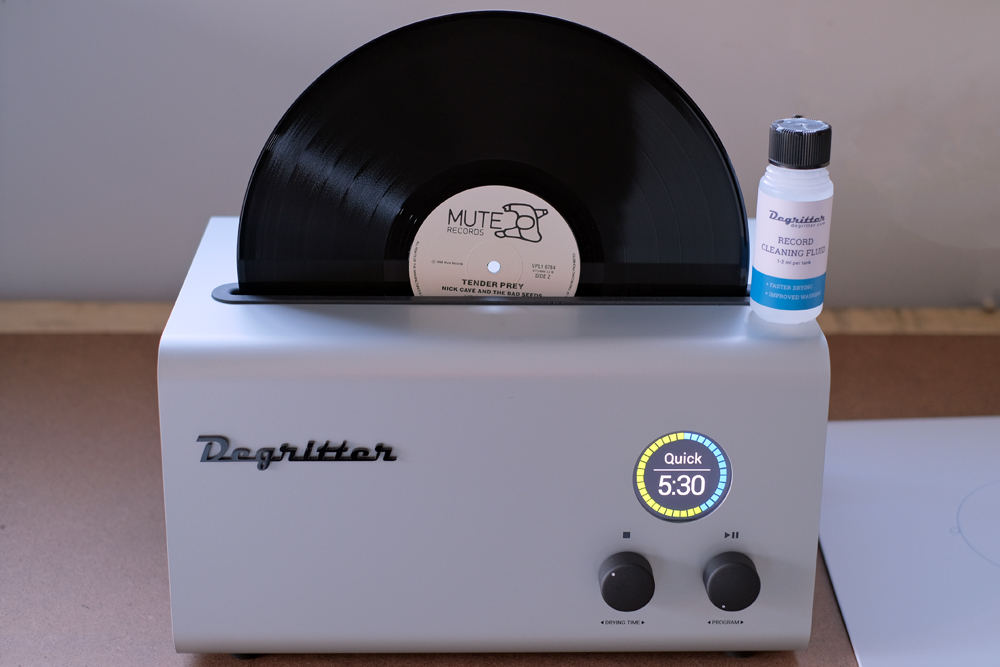 It's very efficient in its operation and the results are indisputably evident. Records will come out brilliantly clean. Not much more you can ask from a record cleaning machine other than to whip-up a love-heart-patterned crema coffee. Degritter indeed. Plan a regular maintenance schedule and your LPs will remain, as per the Sanskrit… akuntha.
… Edgar Kramer
This email address is being protected from spambots. You need JavaScript enabled to view it.
Associated Equipment
Speakers — Wilson Audio Alexia Series 2, Axis Loudspeakers VoiceBox S (nearfield monitor), Vermouth Audio Little Luccas Mk.II
Amplifier — Gryphon Audio Antileon EVO
Preamplifier — Supratek Cortese, Lightspeed Attenuator LDR passive
Sources — Digital: 432EVO High-End Music Server Roon Core, Yamaha CD-S2100 transport, Totaldac d1-direct DAC. Analogue: Transrotor Crescendo with Konstant Studio controller, Reed 1X Tonearm with upgraded internal wiring, Shelter Harmony cartridge, The Funk Firm Houdini cartridge decoupler, Supratek Cortese & REDGUM Audio RGPH2 phono stages
Processor — DEQX PreMate
Audio Rack — SGR Audio Statement Model V
Acoustic Treatment — Vicoustic Multifuser Wood, Wavewood Ultra, Cinema Round Premium and Super Bass Extreme
Miscellaneous — GigaWatt PF-1 EVO, Les Davis Audio Viscoelastic CLD discs, VRC Vinyl Record Cleaning systemplus miscellaneous accessories
Degritter Ultrasonic Record Cleaner
Price: AU$4900
Warranty: Two Years
Australian Distributor: Pure Music Group
+61 409 504 805
www.puremusicgroup.com
Degritter OÜ
Betooni 9, Tartu
Estonia, 50411
+372 5884 8839
www.degritter.com