Suddenly, as the large Advance Audio van edges up the driveway, I'm shrouded in a heavy blanket of déjà vu, my subconscious harking back to four years ago, when the same scene quenched my anxious anticipation as the Alexia speakers, then a totally new model in the Wilson Audio Specialties line up, were delivered. Subsequently, these most revealing instruments heightened this writer's reviewing exactness while increasing my listening pleasure and enjoyment of music to levels previously unattained. Alexia plugged the gap between the Sasha W/P (the splendid reinvention of the classic WATT/Puppy) and the large scale MAXX and, as befitting its stature within the line, it employed a number of technologies, drivers and time-alignment techniques trickled down from MAXX and Alexandria XLF. Alexia became an instant hit and, even back then, challenged the market penetration of the high-selling Sasha W/P despite the considerably higher ownership cost. In fact, in the conclusion of my Alexia review for Audio Esoterica magazine I wrote "Alexia will be a landmark product for Wilson Audio, of that I have little doubt, and may even outsell the smaller and less expensive Sasha." So, a pertinent question can understandably be posed; How to improve on such an advanced and philosophically-extended concept?
The years between then and now have seen Wilson Audio go through significant adjustments both in terms of line up and company culture, with the Sabrina, Yvette, Sasha Series 2, Alexx and the aspirational WAMM Master Chronosonic being the ensuing products. David Wilson, being occupied with his very demanding Magnum Opus WAMM project, further entrusted his son Daryl Wilson, whose extensive experience spreads across all aspects of Wilson Audio's product engineering, design and manufacturing, to develop the new speaker models, the most recent being the new Alexia Series 2.
Question Answered
Wilson Audio's product cycle is commonly between four and five years, with the intervening years between updates encompassing solid research and development into improvements on drivers, materials technologies, time coherence and general refinements. The Alexia Series 2's technical design improves on the superb original in a number of areas.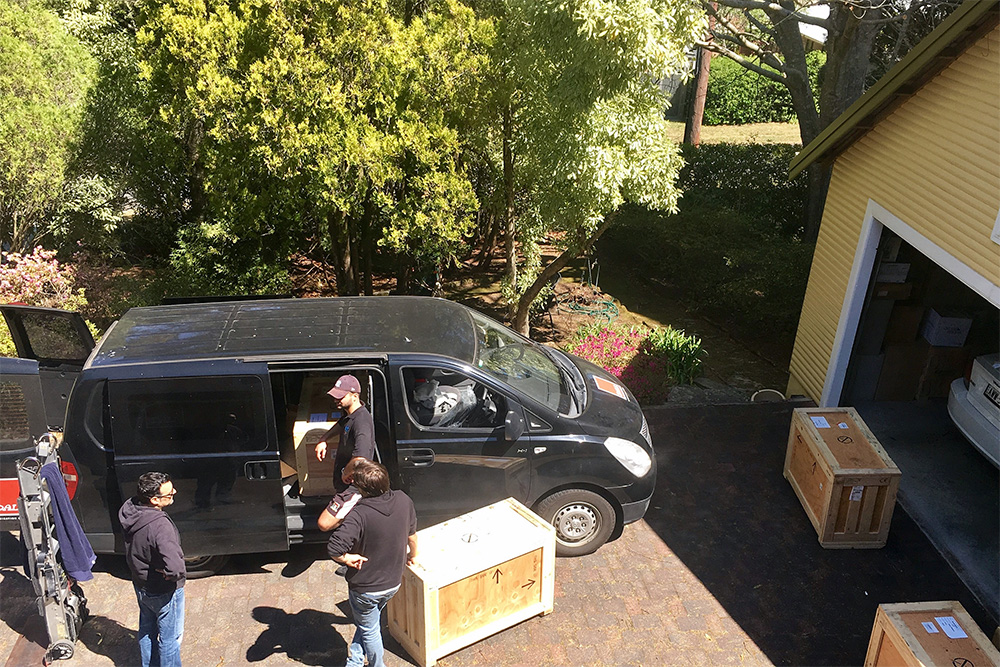 Starting at the top, literally, the X-Material sealed tweeter module's alignment is now further refined via the doubling of the calibration adjustments fore and aft. These added graduations are aimed at making the acoustic focus point between speaker and listener even more precise and are applied via a metal guide channel with numbered indentations which accept a small spike, solidly fixing the whole tweeter module at a specific point in relation to the listener's distance and height. This falls in line with Wilson Audio's philosophy of time domain accuracy with by-products being gains in soundstage width and depth with tighter, more focused, image stability. The tweeter itself is the new Convergent Synergy Mk. V unit as also used in the new WAMM. It's a 25mm silk dome transducer which has had its motor system reengineered in conjunction with a redesign of the rear-wave diffraction scheme and rear chamber in order to reduce distortion and resonance to vanishing levels. These refinements are said to wring a higher dynamic and overall performance envelope. Apropos, Daryl Wilson and the engineering team at Wilson Audio have compared many tweeter types – including very costly exotics – and have found this silk dome generally provided the best results in the context of the company's designs and, here, in terms of the Alexia Series 2.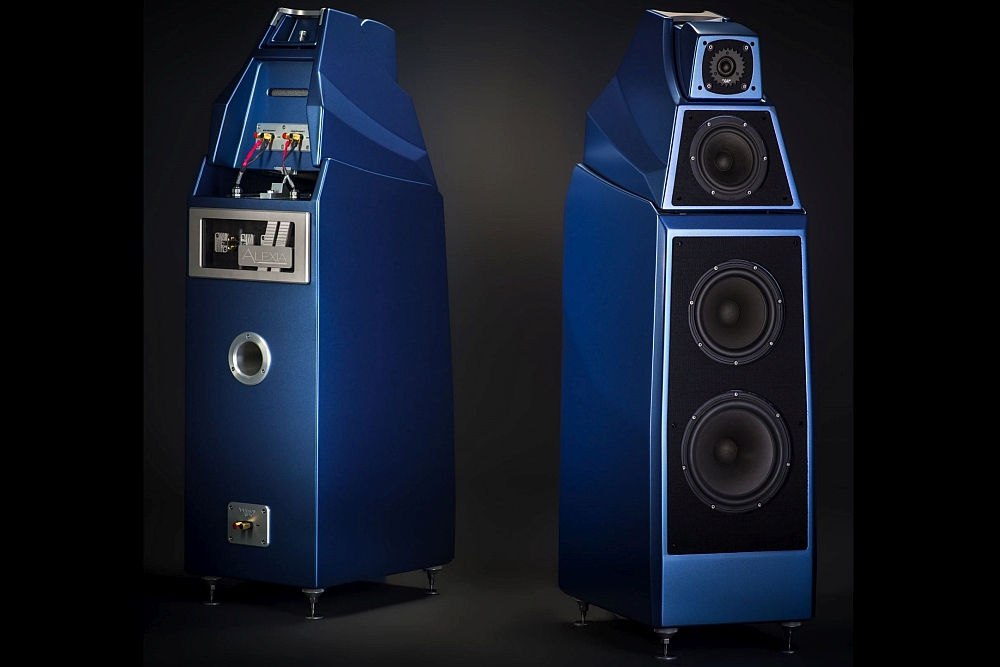 Wilson Audio's proprietary 177mm double magnet midrange driver has been carried through from the original Alexia. This is a superb Cellulose/Paper Pulp driver incorporating elements from SB Acoustics' top driver offerings and created to Wilson Audio's specifications. The midrange driver sits in a single horizontal slot-ported enclosure – the previous version featured smaller twin vertical slots – fabricated from Wilson Audio's S-Material for the baffle and X-Material elsewhere. Internally, the cabinet's panels have been milled with specific geometric patterns that provide superior soundwave diffusion while also dissipating panel resonances. Bracing has been revised and, in conjunction with a new wire management system (more on this later), this has allowed an increase in internal volume amounting to 26 percent.
The midrange enclosure's acoustic time alignment methodology is implemented via a choice of rear spike lengths (the owner's manual features a table which instructs the spike length relating to the seating height and distance from the speakers) while the front spikes are of a fixed length and slot into metal guides atop the woofers' enclosure. Further alignment refinement is adopted by placing the rear spike on a 'Block Step' system which adjusts the rake angle, further still, while also providing fore and aft adjustment. All this, of course, is inter-related to the tweeter's own enclosure placement (and the woofers for that matter) but these complex calculations relating to the speaker and listening distance relationships have been sorted by Wilson Audio's engineering team; all you do (or your dealer at the time of delivery) is follow the extremely simple set-up graph instructions for each of the different enclosure alignment methodologies. It really is a simpler-than-it-sounds exercise.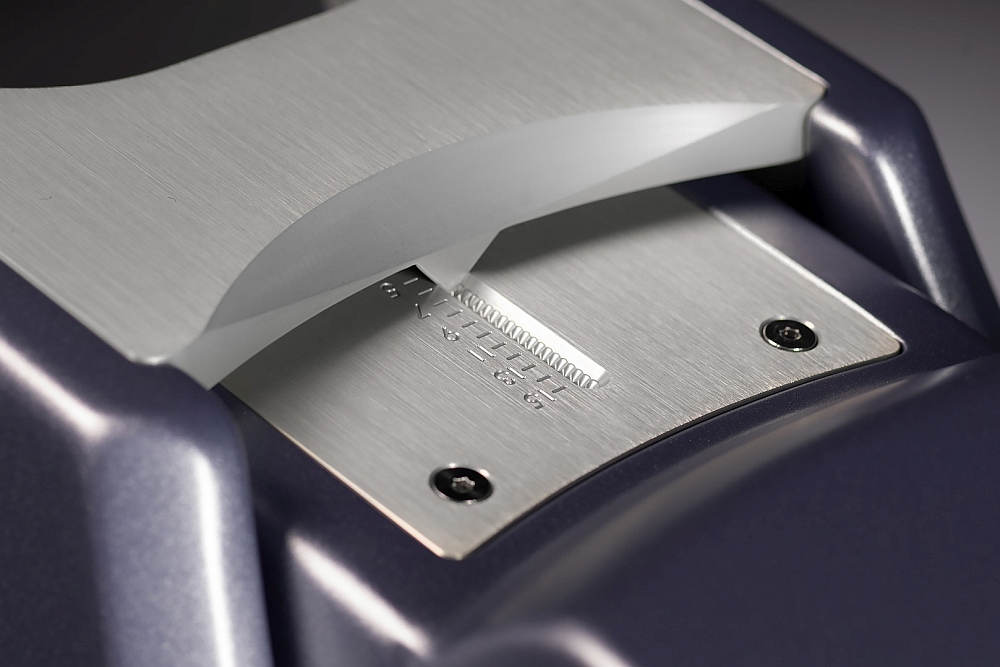 The large bass cabinet is now angled with a marginal tilt which is said to further improve inter-driver coherency. You could now trace an imaginary arc from the woofers to the midrange and tweeter drivers and conceptualise the transducer relationships and coherence of the system. The same high-power, low-distortion 200mm and 250mm Paper Pulp woofer drivers have been employed in the Alexia Series 2, however here, the aforementioned optimised wiring harness scheme has allowed a 10 percent increase in internal enclosure volume resulting in a variance in the low frequencies' tuning. The woofers' extremely rigid and heavy module is constructed from X-Material and the new W-Material, derived at after research for the WAMM project. To a further extent than the original, placing your hand on the Alexia Series 2 enclosure's side panels transmits almost zero vibrational phenomena confirming Wilson Audio's claim that the addition of W-Material, in conjunction with the revised bracing system, has provided further anti-vibration/resonance damping benefits. While Alexia featured an off-set port, the Alexia Series 2's centrally-placed machined metal port features a deeper flare profile – not that 'chuffing' distortion was ever an issue. Also on the rear, a new glass and anodised aluminium clip-on removable cover allows easy access to the in-set panel housing the high quality tweeter and midrange level resistor bank.
The new tweeter and larger internal cabinet volumes have necessitated a crossover reengineering. Wilson Audio does not disclose much detail regarding crossover design other than to say that the crossovers are encapsulated/potted, feature high quality components and the crossover-to-driver interfaces feature wiring of different gauges from the house of Transparent Audio. On the new WAMM-derived wiring harness management system, the interface between crossover and upper cabinets is now terminated at the woofer module's top surface via metal gas-tight hardware which, aside from the superior cable retention and support system, is said to have reduced the number of solder points while negating the need for a separate crossover sub-enclosure resulting in the stated increased internal volume.
On paper, the Alexia Series 2's specifications aren't too dissimilar to her predecessor's. Wilson Audio specifies the frequency response as spanning from 19Hz to 32kHz at +/-3dB (on paper 1Hz lower than Series 1) while sensitivity has been quoted as 89dB (1 watt, 1m, 1kHz) which is 1dB less sensitive than its predecessor. Physically, the height and width dimensions remain the same while the new speaker is approximately an inch deeper (depth is marginally less towards the top of the bass module due to its rake rearwards) while being a tad heavier at 118kg. During the Alexia Series 2's development the engineers at Wilson Audio strove to reduce the demand on the driving amplifier, somewhat, by increasing the minimum impedance. The company still rates the speaker to possess a 4 ohms nominal impedance, however, the new design rises the impedance minima from the arduous 1.9 ohms of Series 1 (effectively much lower when phase angle has been taken into account) to a quoted 2.54 ohms at 85Hz. Better… however I'd still recommend an amplifier with high current delivery for optimum bass control and dynamics, especially if the impedance minima is once again combined with a steep phase angle (not specified).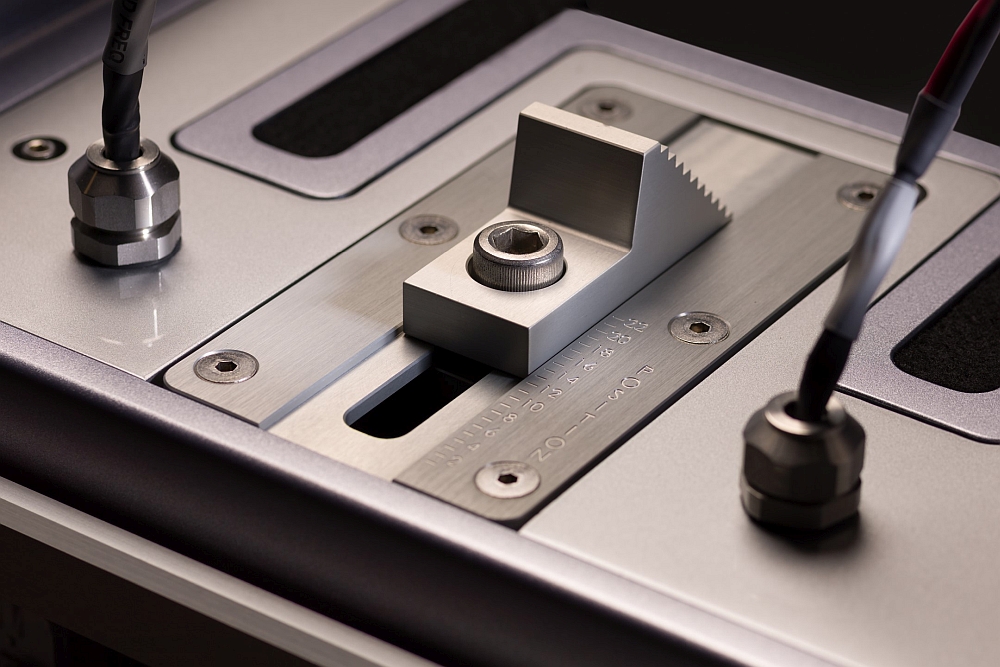 Wilson Audio provides two boxes containing a generous assortment of accessories including very high quality American-made dedicated tools (binding post, spike nut and roller wheels spanners, etc.), spare resistors, a selection of time alignment spike options and more. The floor diode/spiking system has also received an upgrade via a larger diameter/heavier gauge and the company now provides sizeable nicely-machined floor-protecting indented spike discs (spike 'Pad' in Wilson-speak) etched with the Wilson Audio company logo. Wilson Audio's owner's manuals are among the best in the industry and while the new manual style remains at the highest standards (extensive content such as speaker placement guides, measurement graphs, design background, etc.), this writer misses the former leather-bound-style version.
The Alexia Series 2 is built in Wilson Audio's modern facilities in Provo, Utah in the United States by experienced craftsmen, many of whom have been with the company for many years. And this shows in the end result; the standard of fabrication and fit-and-finish of the entire package is exemplary while the application of the WilsonGloss automotive paint is lustrous and flawlessly mirror-like. The speakers are delivered in three large wooden crates – there's very little chance of damage occurring during transportation unless it's an event of catastrophic proportions. This time, provided were a pair in gorgeous Argento Silver with silver metal hardware and black grilles (inside the crates, the speakers arrive with a protective plastic film skin 'frisk'). Once again, the overall attention to detail, presentation and owner experience is first-class.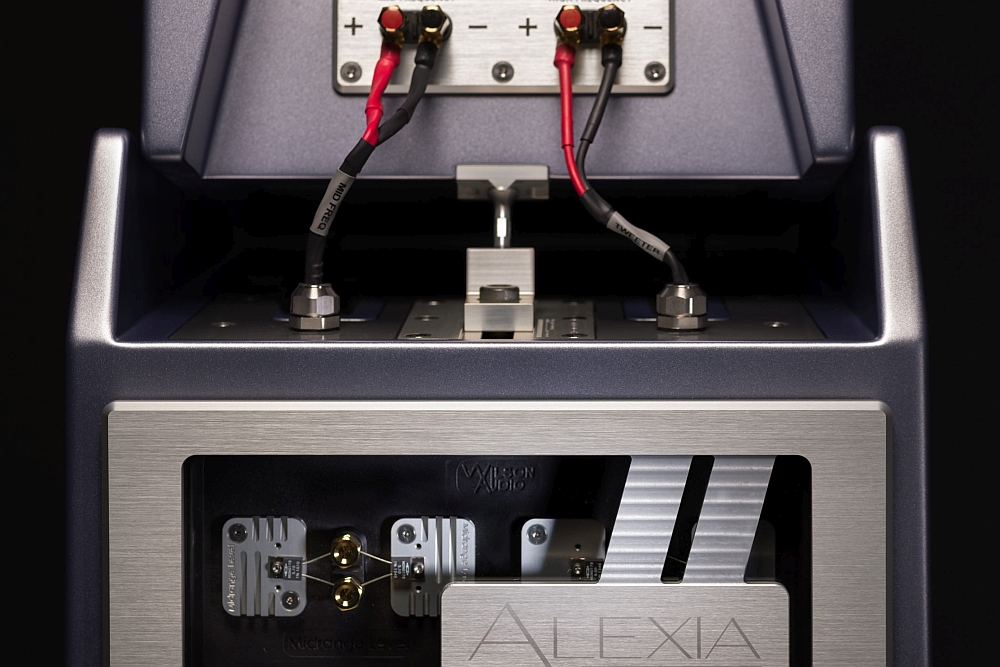 As an added customer service, Wilson Audio offers an online accessories 'Parts Store' with an expanding range of offerings. Available for purchase is apparel such as caps, and T-shirts while a variety of hardware is also available like bespoke speaker wooden crates should yours be lost or damaged, machined aluminium floor sliders, a low profile lift jack, spike sets, WilsonGloss polishing kits and more. Of particular interest to this writer – and highly recommended – are the custom Wilson Audio-embroidered soft covers which protect the beautiful finish from sun fade, accidental scratching and dust build-up.
An Invitation to Listening
The Australian Aboriginal people have a word which summarises the state of consciousness I was elevated to when deep into the first listening session – it's Dadirri. It's an inner-deep listening that allows immediacy, stillness… mindfulness. In the state of Dadirri, you accept and are engulfed in the experience of now. And that encapsulates my sensory state upon the first serious listening session with Alexia Series 2.
But beyond that seminal first session, I'll humbly attempt to convey empirical measures or descriptors in order to properly communicate Alexia Series 2's overwhelmingly beautiful sonic performance.
The new speaker draws you in. It plays music with soul and vibe and rhythm and life. You forget the issues of material worth, the pettiness of owner cachet and even of the undeniable science and technology behind the product. Instead, you just experience Dadirri… and music.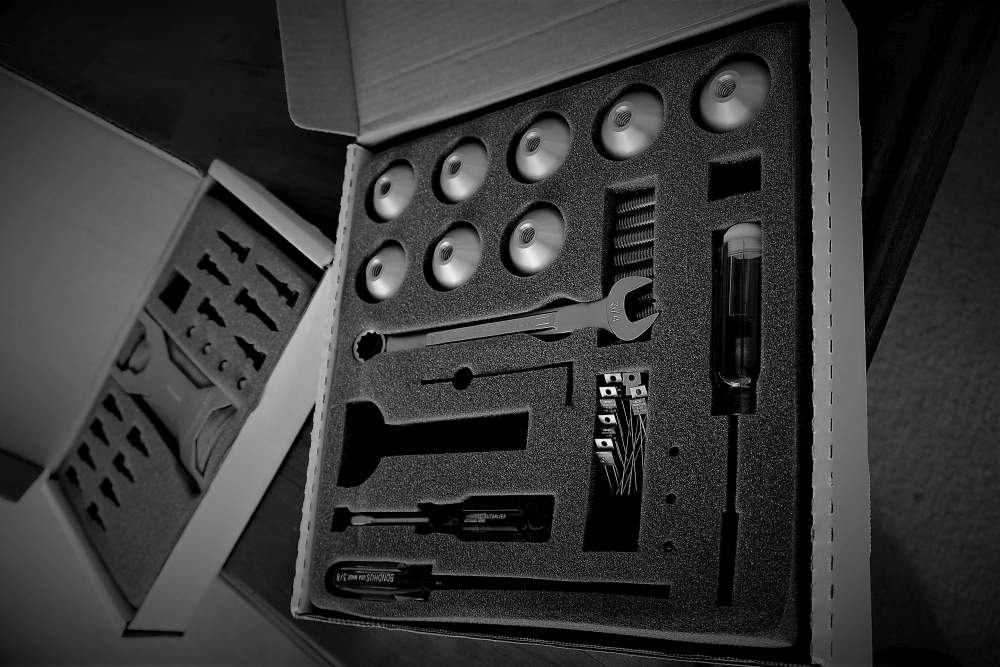 Back on a more practical level, my subjective impressions will sporadically be peppered with comparisons with Alexia, a reviewing reference and a speaker that also provided tremendous musical pleasure for four years. My grasp on that speaker's overall performance is deep so embarking on serious listening sessions with Alexia Series 2, after approximately 200 hours of running-in, allowed immediate appreciation of the differences between the two models. And indeed, there were important sonic variances.
Directly obvious is the new speakers' quite remarkable 'transparency' which makes for an immediate and very present sound presentation, even beyond what Alexia was capable of. In general, you can hear deeper into instruments (acoustic and electric) and vocals where there's an increased sense of authenticity… of reality. Forgive me for using a very effective but somewhat clichéd analogy: wipe your glasses with a microfiber cloth after not having done so for some time and clarity, sharpness and vibrancy become a revelation, even if prior all seemed, nonetheless, flawless. This level of insight into the recording is tied in with extraordinary tonal accuracy and density, of course, where timbrel information is exceedingly well-reproduced. Everything sounds like… it really does.
Wilson Audio speakers across the entire line have always excelled at recreating an enormous soundstage with accurately-focused imaging. No doubt due to the added level of calibration Alexia Series 2 provides, the soundstage has expanded to the widest and deepest ever produced in my room. It's an all-immersive sonic embrace that projects extremely deeply with image positioning in layers across, front-to-back and even on the vertical plane. The percussion rolls on Purcell's orchestral track in Focal's Musique are placed way deep but the Alexia Series 2 provided a soundstage so cavernous that it caused me to replay the track purely to confirm what I was hearing. This was always a reference track for soundstage depth but never have I heard the space behind the speakers stretch so far beyond the wall.
Live recordings tend to transport the listener to the venue. Peter McGrath's superb capture of Earl Wild's masterful performance in The Art of the Transcription Live from Carnegie Hall presents an enormous soundscape alive with ambience and live cues. The piano has presence and power while minor nuances both in Earl's playing technique and the audience's presence are communicated via Alexia Series 2 in a natural yet extremely insightful way. From the high to the low notes the piano plays as one grand instrument, a majestic power that fills the room and captivates the listener.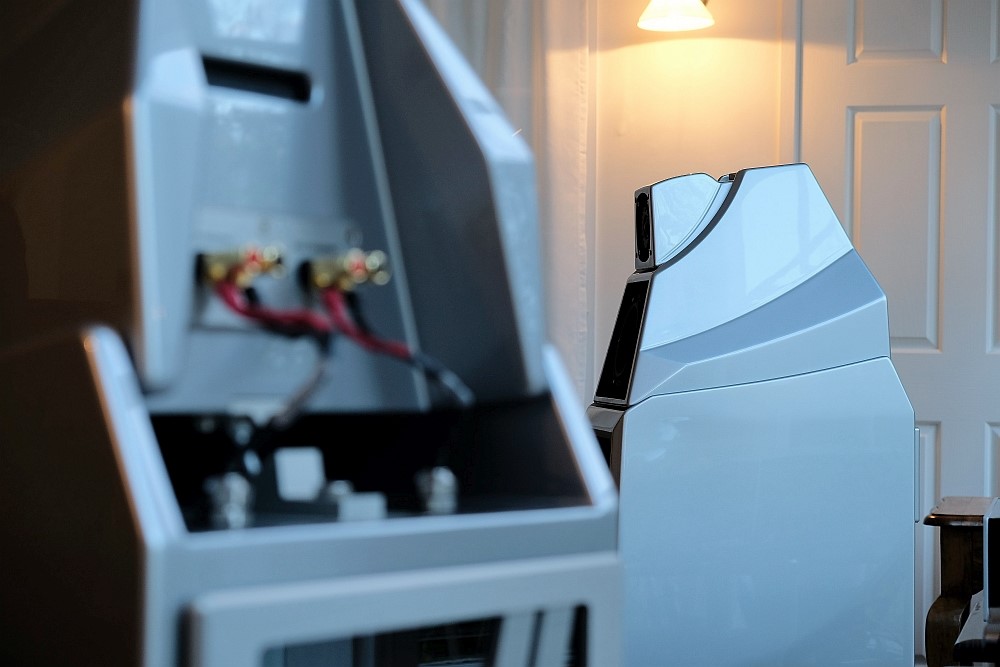 Ditto with Ryan Adams' Ten Songs from Live at Carnegie Hall where his guitar and close-mic'ed vocals soar in terms of dynamic authority. The songwriter's pain as Ryan recounts heartbreaks and losses is evident in his delivery of the songs, and is always touching, however now, with Alexia Series 2, a further emotive insight is revealed and then experienced – the speaker conveys music in the way the artist, surely, intends.
Artful indeed is the way Alexia Series 2 handled harmonic content in acoustic instruments such as violins, cello and piano. Note decay and the 'air' surrounding the leading edge and its eventual dissipation is handled beautifully via what proves to be an extraordinary new tweeter. It's an evolution of the previous version and a more nuanced, sweeter and, paradoxically, more revealing transducer. In Tango Jam Volume 1 (a celebration of compositions by Astor Piazzola) by the famed Australian Chamber Orchestra, Richard Tognetti masters the violin in "Concierto Para Quinteto" while Alexia Series 2 conveys superb detail of rosin and string while special mention must go to James Crabb's virtuosity with the bandoneon where its micro-dynamic nuance is remarkably retrieved. This new tweeter delicately separates these minutiae making them clearly discernible within the context of, and without distracting from, the overall communiqué.
The low-end is another area that has been improved upon. The Alexia Series 2's handling of bass, from way down low to its hand-off at the top, is tighter, bouncier, more balanced within the context of the speaker system, while being beautifully enhanced, once again, by the timbrel truth that encompasses the entire design. There's more texture, palpability and tonal information to kick drum and toms where there's, umm… a deeper appreciation of the intrinsic nature of those sounds. Attack is also more vicious, as illustrated by the two solos in Joe Morello's "Take Five" from Morello Standard Time where percussion is stirringly concussive and gut-socking-powerful while the depth charges in Marian Hill's "Deep" from her Sway EP dig as low as you'll expect from a speaker rated to 19Hz. In other words, authoritatively powerful stuff.
Interestingly, while the dynamic envelope has been expanded in the low-end, the upper midrange and lower treble are on par in terms of dynamic expression compared to Alexia. The new tweeter is sweeter, more refined but after my approximately 200 hour run-in period, I found it did not exceed, but matched, the previous version when it came to dynamic snap. The very well-captured snare drum in Ben Harper's "Like a King" from his Welcome to the Cruel World release sounds more real with Series 2 in terms of its tonality (real life confirmation of this via my nephew Ben's quality drum kit) but here, the new design equals the old's dynamic punch of wood on skin.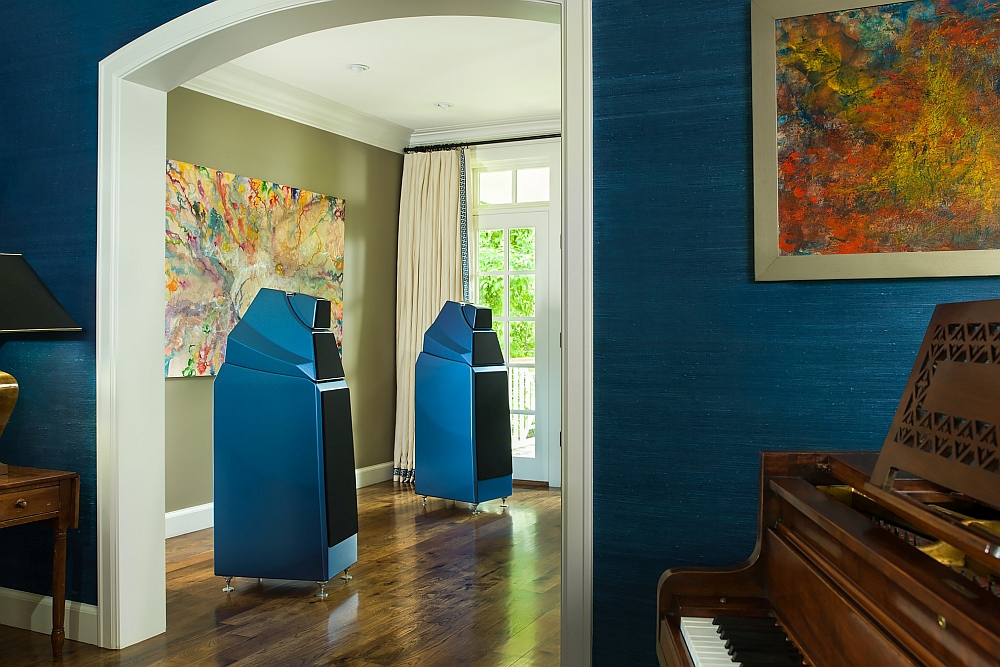 Inter-note silences are deeply opaque where notes are individualised within total stillness, post-decay and prior to the leading edge of the next note. This is also linked with superb separation of complex material without affecting the flow or integrity of the music. And there's a faithful articulation of musical strands in line with the musicians' emphasis. If a random hit on the snare or a pluck on a string are played as an accent, or a highlight over-and-above the flow of the music, the Alexia Series 2 puts that in its proper relief just as it is proposed and intended by the artist. It's the kind of natural delineation, or momentary spotlighting, you hear at live acoustic performances; but there – and now with Alexia Series 2 far surpassing its predecessor in this aspect – the absorption into the live event and the musicians' performance is almost unconscious, so it all forms part of the experiential event. Again, immersion.
Conclusion
Kudos to Daryl Wilson and the Wilson Audio engineering team! Alexia Series 2 improves on its predecessor in almost all performance aspects. It's more transparent, comprehensively digging deeper into the structural, tonal and rhythmic elements of music. The new Convergent Synergy V tweeter is a superb transducer capable of judiciously and successfully edging its way along the tightrope, balancing the chasm of analytical performance on one side and the dark abyss of low resolution on the other. Also triumphant is the new speaker's bass performance with the added weight and punch furthering the outstanding skills of the original.
Most notably, the speakers deliver music in a way that invites extended listening and emotional engagement… a deeper connection with the lyrics and the music. You are inspired, moved… a smile or a tear. These experiences are what I crave for, outside of critical listening for reviewing purpose. When I listen for pleasure, I need to feel. And Alexia Series 2 douses me with a pouring of emotions as it reaches into the listening space and resolutely grasps you in her beautiful embrace. For this reason alone – never mind the individual aspects of superiority over Alexia – this is my new reference speaker. This is where technology meets art. The beauty stays; she's a songstress. Dadirri indeed…
… Edgar Kramer
This email address is being protected from spambots. You need JavaScript enabled to view it.
Associated Equipment
Speakers — Wilson Audio Alexia Series 2, Axis Loudspeakers VoiceBox S (nearfield monitor)
Amplifier — Gryphon Audio Antileon EVO
Preamplifier — Supratek DHT Reference, Lightspeed Attenuator LDR passive
Sources — Yamaha CD-S2100 used as transport, Totaldac d1-core DAC, MacBook with BitPerfect software, AIFF files
Processor — DEQX PreMate
Cables – sILENzIO loom, Vermouth Audio Black Pearl loom (both in for review)
Wilson Audio Specialties Alexia Series 2
Price: AU$91,795
Warranty: Five Years
Australian Distributor: Advance Audio
+61 2 9561 0799
www.advanceaudio.com.au
Wilson Audio Specialties
2233 Mountain Vista Lane
Provo, Utah 84606 USA
+1 (801) 377-2233
www.wilsonaudio.com