If you survey classic CD players, the ones that were the format's leading lights in its golden age throughout the 90s, you'll spot a common theme. The ubiquity of multi-bit digital-to-analogue conversion using DAC chips which are now expensive and rare. In an alternate methodology, resistor ladder-based conversion (R2R) has taken the sonic performance of multi-bit DACs to a level which, by the zealous testimony of many astute audiophiles, crowns the technology as the ultimate glory of digital. In fact, some manufacturers are engineering proprietary modular ladder architectures while others achieve conversion by painstakingly aligning regiments of carefully-matched high quality resistors. French digital specialist Totaldac is in the latter camp. Here, we look at the company's recently introduced top single-box solution, the d1-direct digital-to-analogue converter.
To the Core
I've had the pleasure of owning Totaldac's ultra-reliable d1-core DAC with streamer board for many years. It operated faultlessly throughout that time while performing well above its station as Totaldac's entry point to the company's growing DAC portfolio. Granted, mine was an upgraded version with dual outboard power supplies and fitted with the streamer board option. But after a recent review of a sonically stunning DAC, I was left wondering what Totaldac's costlier choices could offer over and above the performance of the d1-core.
Discussions with company founder and chief designer Vincent Brient – an engineer with extensive digital design experience derived from the telecommunication electronics industry – led to the suggestion of his latest and proudest creation, the d1-direct. In tandem with the more conventional d1-seven, the d1-direct is Totaldac's top single-box solution. Topping the company's offerings is the d1-twelve which, in 4-box configuration rocks-out at over EU40K. Along with the d1-direct, the d1-twelve flagship is the only other model in Totaldac's range that feeds its output directly from the R2R ladder network.
Interestingly, being a music lover and self-confessed audiophile, Brient started-off by building the best possible DAC for his own appreciation of music. He chose the multi-bit resistor ladder network architecture for its inherent sonic performance and because it eschews the obligatory extensive filtering and digital manipulation of the cheaper Delta-Sigma chips. Brient's path is, of course, a more costly way of producing a DAC but one which he believes produces superior sound. Many astute listeners agree with him and the ranks of manufacturers using multi-bit technology are swelling. Just off the top of my head, and in alphabetical order, you have companies like Aries Cerat, Aqua, Denafrips, Holo Audio, Lampizator, LessLoss, Mojo Audio, MSB Technology, Schiit Audio and many, many more. Of course, there's more than one way to skin a cat. It's the sum of all parts and more than just chips and bits. Circuit layout, power supply and output stage design along with many other factors will determine the resultant sonic performance. In other words, there's superb sound also available from alternative Delta-Sigma methodologies.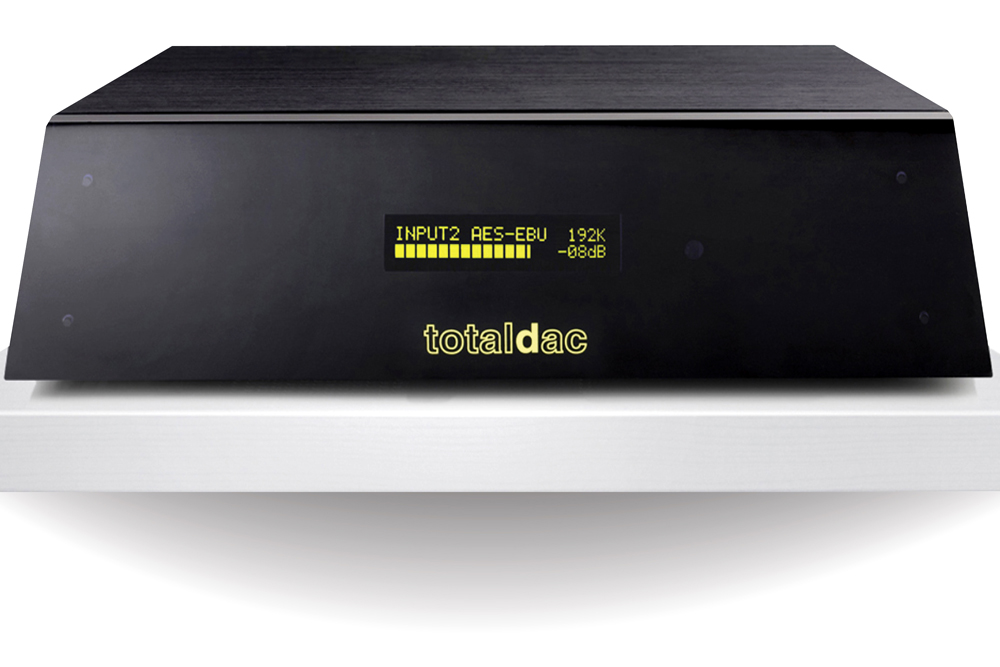 Brient's personal ladder network creation led to admiration from those who heard it and the escalation in demand motivated Brient to launch Totaldac. Since those early days, Totaldac has developed ever-improving, refined and evolved versions of the original component. Aside from work requiring specialist technologies, such as component surface-mounting and aluminium machining, which are locally-sourced, Totaldac products are entirely handcrafted by Vincent Brient and manufactured in France.
As you'll read below, Brient explained the core benefit of directly feeding the output via the ladder network, a technique that on paper alone promises a super-pure, ultra-transparent sound. As a result of the circuit topology, the d1-direct's voltage output is unavoidably somewhat low. So while most DACs output between 3-volts and 6-volts (unbalanced or balanced) the d1-direct outputs 1.6-volts (it's an unbalanced signal). System gain is important. Having said that, most modern preamplifiers and power amplifiers (integrated amplifiers too, for that matter) have plentiful gain to easily accommodate d1-direct. In addition, 1.6-volts can directly drive a modern power amplifier to outputs more than suitable to the most enthused volume knob twirler.
So, as mentioned above, the d1-direct achieves digital-to-analogue conversion via banks of matched resistors. In this case, we're looking at a total of 288 0.01% VAR Bulk Metal Foil and Vishay Foil Resistors. That's a hell-of-a-lot of componentry, soldering, circuit layout planning, etc.. It's worth noting that even though the power supply is an external unit, the d1-direct has a solid weight to it.
Brient builds Totaldac DACs in a somewhat modular architecture which allows any d1 unit to be upgraded to d1-direct. The d1-direct itself, for example, can be upgraded to the multi-box flagship d1-twelve.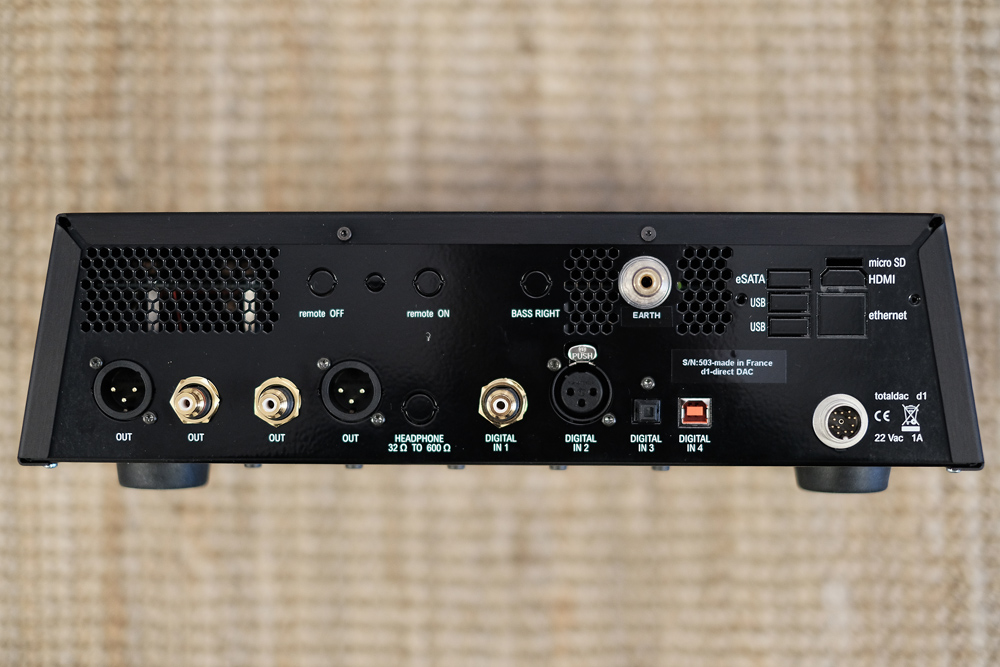 Available as extensions of the d1-direct architecture, Totaldac offers options such as the d1-streamer, d1-digital reclocker, the d1-player network UPnP/DNLA server and the d1-driver active buffer stage for very low gain systems and claimed general performance improvement. In addition, the Totaldac universe has expanded to include a solid state power amplifier, bespoke cables, large horn-loaded loudspeakers and a growing catalogue of high quality recordings.
Further options for the d1-direct include a DSD over DoP board, bass-boost and crossover options, the abovementioned live-power upgraded power supply and a thick and solid aluminium faceplate (as supplied) in lieu of the trademark black acrylic. So, it's evident that the d1-direct – or any other Totaldac DAC – has an extensive set of expansion options.
I asked Vincent Brient to provide some more detail regarding his configuration of the R2R network and how he achieved the direct output from the ladders.
Using three R2R ladders per channel gave the possibility to make a direct output, which means without the use of an electronic buffer. A voltage shift and a specific passive filtering allows to suppress the offset, with 0Hz bandwidth and without the use of an output transformer. This allows all the macro and micro details to pass through without noise or distortion added to the R2R ladder signal.
What's different about the custom clock you have employed for the d1-direct?
The d1-direct doesn't use a telecommunications clock like many other DACs. It uses a clock system optimised by listening tests instead of a clock optimised for radio communication, which has different needs. What we hear is not just a pico-second number but a jitter harmonic spectrum, a microphonics effect and so on. So this clock is not made to display a specification number but it is made from discrete components chosen by Totaldac to get the most natural sound.
Could you tell me a bit about the live power supply and the difference to the standard power supply?
The live-power power supply uses a completely different transformer topology. The first aim was to reject high frequency noise from the mains. Typical transformers let these radio frequencies come into the DAC with a negative effect on the sound quality. I call this new power supply 'live-power' because this is the feeling I got when listening to it for the first time.
The d1-direct's factory configuration covers the requirements for a modern DAC within the context of any system. The rear panel houses coaxial S/PDIF via RCA (BNC can be specified), AES/EBU XLR, Toslink optical and asynchronous USB inputs. The d1-direct supports up to 192kHz and 24-bit audio via all its digital inputs (all sampling rates in-between are also remote control selectable). My sample's DSD option presents DoP across all the d1-direct's inputs. Brient's specifically-chosen custom clock mentioned above is an "anti-jitter FIFO" design.
Analogue outputs are provided by unbalanced RCA, with the same unbalanced signal carried across to the XLR outputs. A speaker binding post is provided as a grounding point option. As standard, the d1-direct is shipped with a small outboard power supply which connects via secure screw collar DIN-style plugs at both ends. Our review unit was supplied with the externally identical-looking but internally very different upgraded 'live-power' power supply described by Brient above.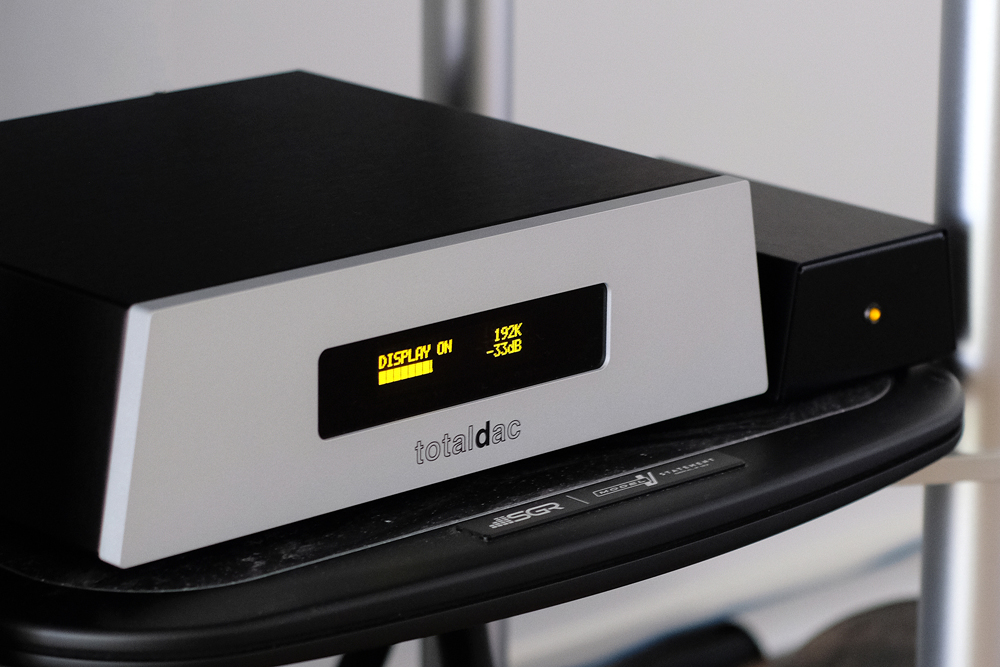 The fascia houses a central display screen with yellow OLED characters and is otherwise devoid of any buttonry or control. The display is useful in terms of data shown as it provides a bar graph for volume (also shown numerically), the output frequency and all other parameters which can be cycled through. In addition, the OLED display can be set to turn off a few seconds after a command.
The menu functions and features mentioned above are all navigated via the supplied remote control which, while being comprehensive, ergonomically well designed and easy to use, is plasticky at the d1-direct's price. Setup is a breeze and it's just a matter of hooking up your source via whatever digital input you require (in my case, I fed the d1-direct's USB socket via the superb 432 EVO High End music server and the S/PDIF coaxial input received the Yamaha CD-S2100 signal) and connecting the analogue outputs (I used both the XLR and RCA at different times) to my Supratek Cortese preamplifier. The last step involves configuring the menu options to your personal preferences.
As stated, navigating the menu is easily done via the remote. Aside from on/off, input switching and volume control up/down hard buttons (works across all inputs), accessing the menu presents options to configure 'Phase' (normal or inverted), 'Earth' (connected/unconnected), 'Display' (on/off), 'Treble FIR ON' (flattens the frequency response to compensate for non-oversampling treble loss) or 'Treble FIR OFF' (DAC operates as pure NOS non-oversampling with minor treble attenuation), 'DSD to PCM' when using the reclocker or streamer and 'Bass BW' which controls the optional high-pass filter.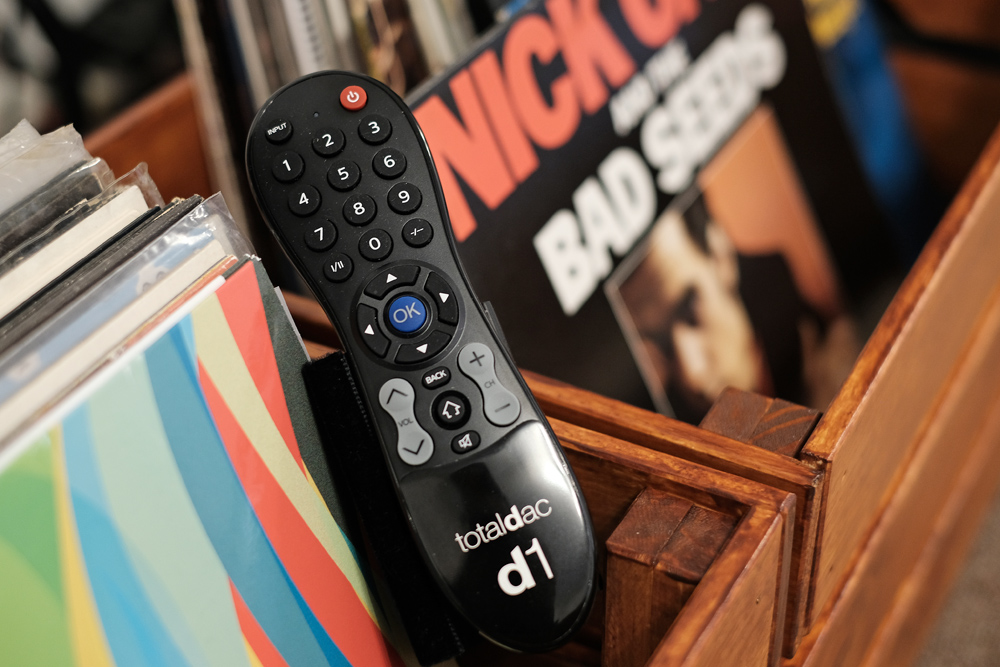 Aside from feeding the Supratek preamplifier, I also used the d1-direct, umm… directly feeding my reference Gryphon Antileon EVO power amplifier via long XLR cables. Connected this way, it's noteworthy that despite its low 1.6-volts output, the d1-direct drove the long XLR cable (close to 7m) and the Gryphon Antileon's balanced input effortlessly, always sounding dynamic, full-bodied and, as advertised, super-transparent. Regarding those aspects, direct-to-amplifier connectivity revealed a subtly more evidenced transparency. But as I say, the difference was subtle. In fact, the exercise served to illustrate the excellence of Mick Maloney's craftsmanship as implemented in the Supratek Cortese preamplifier – it over-performs and is super, super-quiet even with its high gain all-valve design.
In both scenarios, connected to the preamp and when used directly into the power amplifier, I used the d1-direct's volume control to adjust playback levels (preamplifier volume set at around midday position). Brient has confirmed that any volume setting with a number smaller than -25 will not bit-strip (eg. -23, -22,-21, etc.). I found that for my preferred listening levels – quite loud but not overtly so – the best setting was between -10 and 0, depending on the mastering level of a given album.
Speaking Directly
Brient notified me in an email that he had pre-conditioned the DAC for many hours prior to shipping, so after a few more hours of playback in-situ (a wide variety of background music at varying output levels), I was listening to a fully-run-in DAC.
Going from the excellent d1-core to the fresh-out-of-the-box d1-direct was revelatory. What I heard at the outset was an extraordinary level of purity and, yes, directness. In fact, as trite and stale as the cliché sounds, I was hearing small details and sharp transients in familiar recordings for the first time to a level of immediacy I had not experienced before. In those areas, such as the speed of attack of a scratched steel guitar string, the snap of a rim strike or guttural vocal inflections, the d1-direct was surpassing the previous all-round digital champ, the award-winning and rather special Berkeley Audio Design Alpha DAC Reference Series 3. In other areas, these two philosophically and engineering-wise very different DACs excelled to similar elevated levels; in other words, reference-level state-of-the-art digital playback.
Seldom have I heard digital give such true tonal purity as I heard on Le Trio Joubran's "Sama Cordoba" from the group's Asfâr on Tidal. The underlying percussion reinforcing the virtuosic oud-playing by the Joubran brothers is nothing short of spectacular. Given a well-balanced system, you'll marvel at the timbrel beauty and truth of all the instruments used in this magnificent recording. When the brothers strum with force, the snap and attack is illuminating.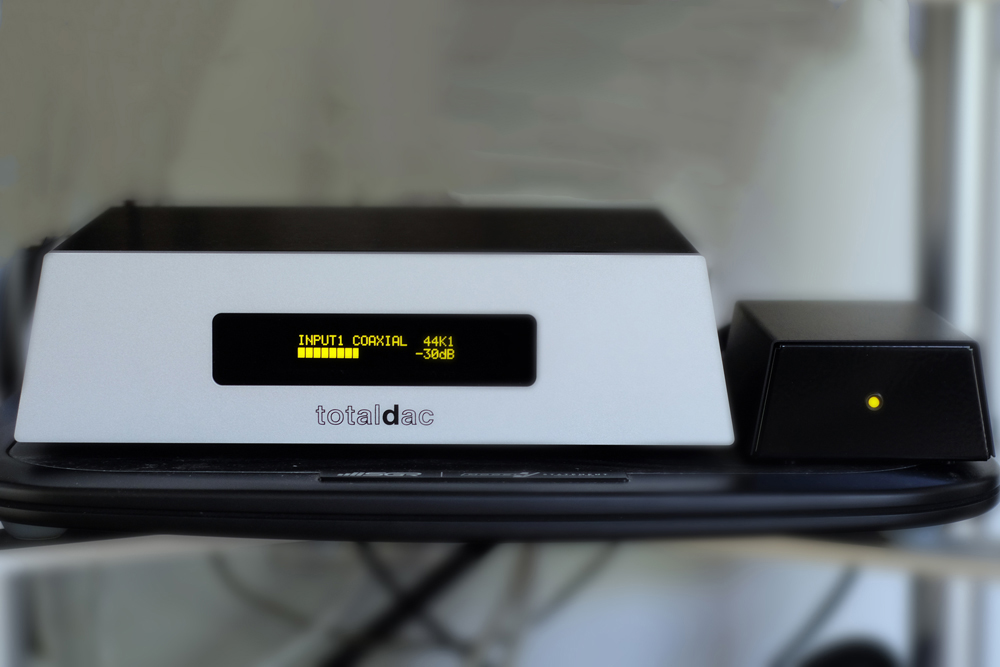 Don't let me start on the Nicolas Parent Trio's "Solo IV" from their Tori album on Tidal. Parent's guitar is astonishingly dynamic through the unusually-played guitar intro. In addition, the decay and harmonic richness through the track makes for a sense of realistic presence you need to experience. Again, on the title track, the purity of Guillame Arbonville's tabla (or small percussive instrument) is accuracy at its best while the separation between percussion, Kentaro Suzuki's acoustic bass and Parent's guitar allows you to follow each instrumental line without disrupting the musical flow. And when Suzuki, pinches and pulls the bass' strings, boy, you'll hear that with impulsive quickness and power. My advice: Stream. This.
The d1-direct's soundstage rendering is… generous to say the least. Play Agnes Obel's "Familiar" from her Citizen of Glass album and you'll know what I mean. This recording massively spreads across width, depth and height via d1-direct. Obel's central positioning within the soundfield is locked tight. Overall it's an open space populated by the vocalist – who is reproduced with palpable presence – and, through the chorus, with a supporting male backing appearing to be placed way beyond the wall behind the speakers. So, good.
Soundfield grandeur was evident to a most amazing extent via Musica Temprana's Misa Criolla, "Kyrie" segment. The vocals appear to float in a space of significant magnitude while the accompanying drum beat and rim strike are placed well beyond the wall behind the speakers. When the vocals fly, boy, does the d1-direct track them… it's an extremely exciting presentation and one that will test your system's dynamic and spatial qualities. The space and ambience of the recording venue was uncanny, seemingly tele-transporting me via a time travel wormhole directly to the recording venue. In fact, the extensive orchestral works I played all exhibited this massive open, airy and uncluttered sense of spatial enormity. Spooky.
I loved how the d1-direct handles all voices. Bat for Lashes' Natasha Khan's almost anxious, angsty voice is so realistically communicated on "Trophy" from the Fur and Gold album. Khan also plays the drums and, while not clear if she's doing so through the track as she simultaneously sings, the copacetic interplay between the percussion and the almost whispered lyrics is mesmerizing. On "Sarah" the bass intro plays tight and detailed and when the rim shots come in, they provide accents to Khan's vocals with terrific attack, once again. The d1-direct is super-fast in terms of rendering the quickest of level changes and the subtlest of micro-details.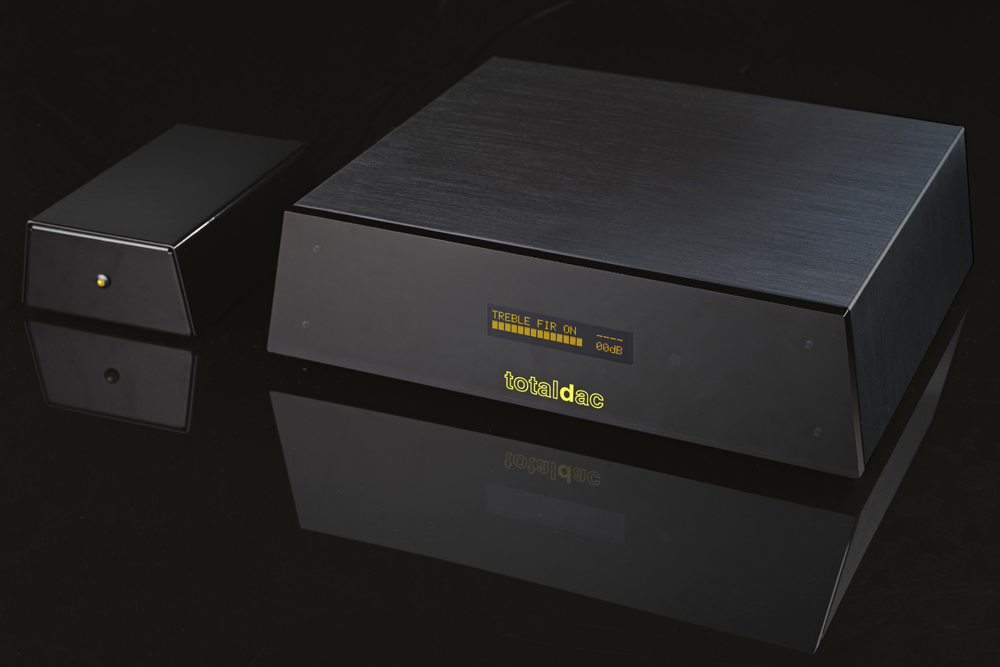 Can the d1-direct rock? Hell yeah! "Stardust & Diamond Eyes" from Brant Bjork's self-titled album from last year grooved and bumped along with that awesome semi-rock, semi-funk riff in a way that defies toe-tapping immobility. The bass groove is punchy and the guitar sounds super-present. The snare drives it all tightly too and all the instruments play with resolved separation without swamping Bjork's cool vocals. Heavier stuff like Tool, Samsara Blues Experiment and many others all played with satisfying power and often with goose-bump emotive involvement.
Conclusion
Comparing the last four very different DACs I've had the pleasure of living with for some time, my mind boggles at the, admittedly, small number of diehards who believe all digital is ones and zeros and therefore, for the most part, all DACs sound almost identical (power supply and other stages being equally well-designed). Coincidentally, in the few days prior to this review's publication, I received for evaluation another R2R ladder DAC from a European maker (at a lower price point) which presents yet another sonic flavour and a worthy one at that. So in other words, there's no shortage of alternative designs and technology options which all bring their own individual sonic capabilities.
In terms of the d1-direct, Totaldac has developed a solution for reducing the circuit complexity of digital-to-analogue conversion. As a result, managing the signal output directly from the resistor network places the d1-direct among the most detailed and transparent DACs available in the high-end.
So, take the d1-direct's abovementioned clarity and add dollops of exceptional transient attack, extraordinary dynamic expression, a complete tonal palette, an expansive soundfield, focused imaging and all-out openness and you have the makings of a powerful and insightful music maker. And a priceless reviewer's tool. It's staying at SoundStage! Australia HQ as the new DAC reference.
The d1-direct is not a cost-effective DAC. It's stationed at the top-shelf of converters where the technologies are sophisticated and the products are the most developed visions of talented digital specialists.
Yes, insert this DAC in your system and, I'll wager, you'll listen and desire it. Me? I love it. Intensely in the cœur. Totally.
… Edgar Kramer
This email address is being protected from spambots. You need JavaScript enabled to view it.
Associated Equipment
Speakers — Wilson Audio Alexia Series 2, Axis Loudspeakers VoiceBox S (nearfield monitor), Vermouth Audio Little Luccas Mk.II
Amplifier — Gryphon Audio Antileon EVO
Preamplifier — Supratek Cortese, Lightspeed Attenuator LDR passive
Sources — Digital:432EVO High-End Music Server Roon Core, Yamaha CD-S2100 transport, Totaldac d1-direct DAC. Analogue: Transrotor Crescendo with Konstant Studio controller, Reed 1X Tonearm with upgraded internal wiring, Shelter Harmony cartridge, Supratek Cortese & REDGUM Audio RGPH2 phono stages
Processor — DEQX PreMate
Audio Rack — SGR Audio Statement Model V
Acoustic Treatment — Vicoustic Multifuser Wood, Wavewood Ultra, Cinema Round Premium and Super Bass Extreme
Miscellaneous — GigaWatt PF-1 EVO, Les Davis Audio Viscoelastic CLD discs, VRC Vinyl Record Cleaning systemplus miscellaneous accessories
Totaldac d1-direct Digital-to-Analogue Converter
Price: EU17,450 ex VAT, EU19,250 as tested
Warranty: Two Years
Manufacturer Direct to Australia: Totaldac
Lieu Dit La Saigeais
35140, Saint Ouen Des Alleux
Bretagne, France
+33 6 18 03 14 08
www.totaldac.com