Back in August 2017 I had the pleasure of living with the Vermouth Audio Little Luccas Mk.II Limited Edition loudspeakers in order to assess them and, subsequently, formally review them on SoundStage! Australia here. I was thoroughly taken by these Indonesian speakers' engaging sound based on the superb RAAL ribbon tweeter, SB Acoustics mid-bass driver, high quality crossover componentry and solidly-built solid timber enclosure. I also admired the pleasing aesthetics, the world-class finish and a number of other design choices which served as evidence of a passionate and dedicated designer capable of thorough attention to detail. Move forward some time to the present and here, in situ for review, is the company's Black Pearl Mk.II loom which sits at the top of Vermouth Audio's cable line-up.
And, I must say at the outset, in-keeping with the standards of quality of the speaker I so enjoyed, the Black Pearl loom also strongly reflects Vermouth Audio's core principles of quality while providing extremely high value for your hard-earned.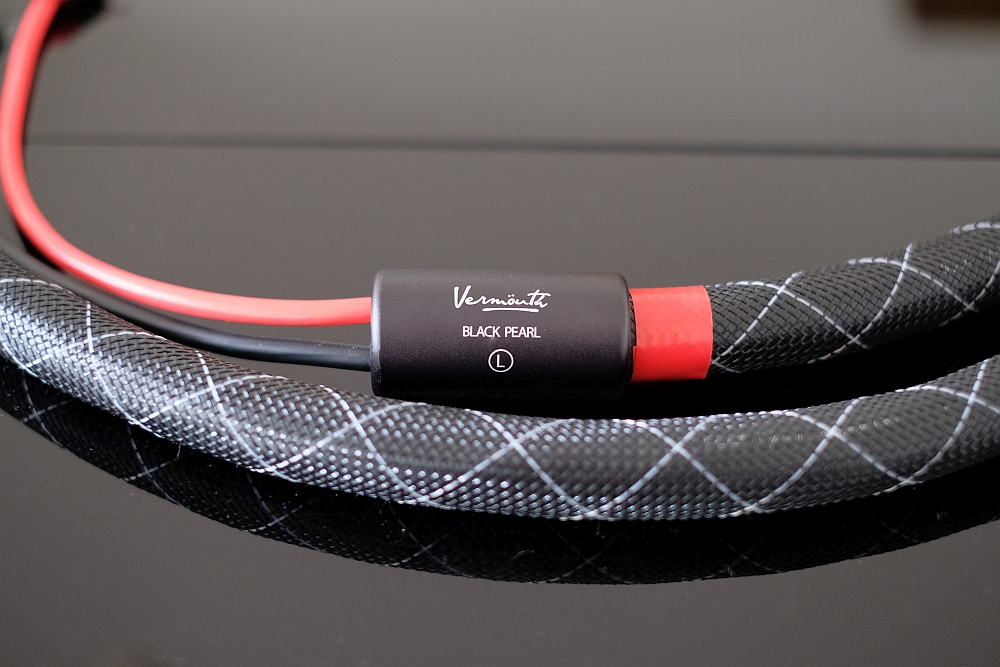 In the shell
As you unpack the Black Pearl cables from their classy boxes and protective cloth bags you'll likely be fooled into thinking they are perched well into the multi-thousands pricing levels. Alas, looks are certainly deceiving when it comes to these cables. They are strikingly well-built, contain generous conductor gauges and the sum of the construction elements adds-up to a substantial bill-of-materials.
In the case of the interconnect cables, Vermouth Audio has used high quality custom-designed RCA plugs featuring Tellurium copper connecting elements and aluminium and carbon fibre external cosmetics parts. The company has developed its own of multi-conductor geometry combining solid core and multi-strand ultra-pure OCC copper (UP-OCC). At this stage, as Hendry Ramli Vermouth Audio's main designer and founder explained:
The Black Pearl Mk.II is not available in balanced termination because the conductor cost is so expensive, so I just offer the unbalanced version. I use two different conductors, one solid core and one group of multi-sized OCC copper conductors, both with Teflon insulation. The shield used is braided OCC copper. The RCA connector is my own design. The contact is full tellurium copper rhodium plated. My goal in the RCA connector design is to utilize full tellurium copper while keeping an acceptable price in the market. My aim was to definitely provide a better all-round sound, more full-bodied, more accurate and transparent. I also aimed for better linearity, more depth in emotion and liveness.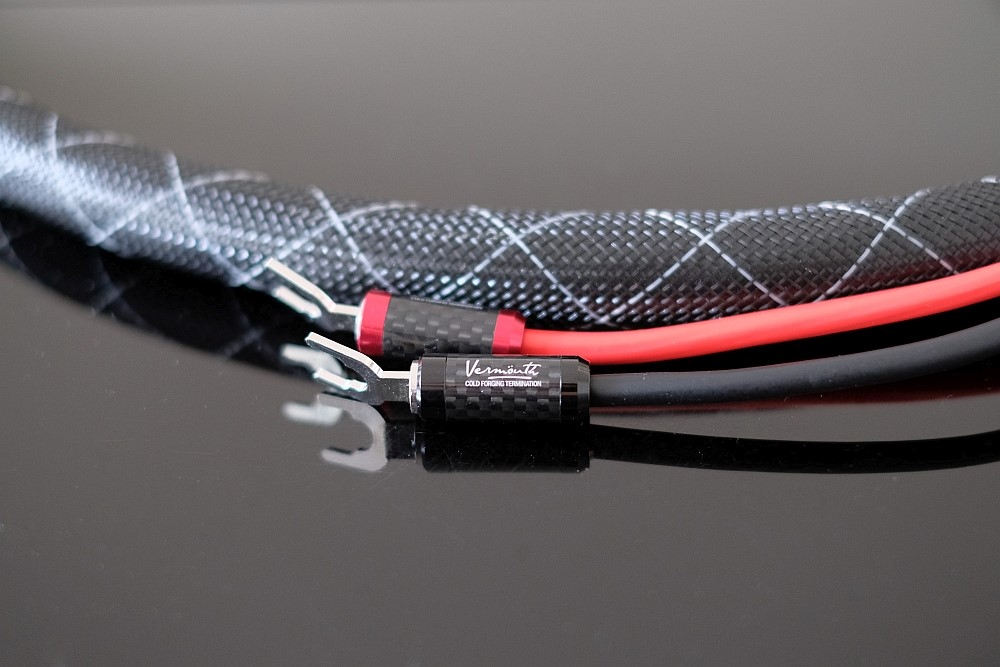 The heavy speaker cables – meaning lots of conducting material, this is a good thing – are also terminated via quality connectors, in this case, Rhodium plated copper spades with carbon shells, of the type catering to both large and smaller binding post diameters. The Black Pearl speaker cables feature an astounding 591 Ultra-Pure copper OCC (UP-OCC) multi-sized and multi-layered conductors separated via an optimised array of air-tube suspension separators which are then "wrapped in a premium non-woven fabric". The Black Pearl's construction amounts to a 10AWG-sized cable geometry per channel.
Finally, the AC power cables are also quite heavy and somewhat stiff. Ultra-Pure OCC copper conductors are, again, used and have also been separated and suspended by air tubing spacers. The entire construction is enveloped within a noise-rejecting Mylar wrap while connectors are high quality Cardas.
All the cables feature well-executed cold-forged solder points which have been further isolated from the elements and protected from accidental damage by being encapsulated in a semi-hard glue.
I must state once again that the overall presentation, construction and appearance of these cables is commensurate with products in far higher price brackets. Attention to detail is thorough, with all terminations being very well executed. The decorative – for lack of a better descriptor – accents are all aluminium or carbon (no cheap plastics here) and feature nicely-stencilled company logos and model denominations. The brilliance of a pearl may be concealed within a coarse outer shell but here the outward beauty hints at the impending inner splendour.
They're a 'Pearler'!
The Black Pearl cable loom was configured within the context of my system with an RCA interconnect from my Totaldac digital-to-analogue converter to the Supratek DHT Reference preamplifier and, via the balanced XLR outputs of the preamplifier to the reference Gryphon Audio Antileon EVO power amplifier. The amplifier fed the phenomenal and freshly-reviewed Wilson Audio Alexia Series 2, now the new speaker reference at SoundStage! Australia's headquarters. All electronics were fed via Black Pearl AC cables too. Yes, a full loom except for the digital cable feeding zeros and ones from the Yamaha CD-S2100 transport to DAC – that came courtesy of the soon-to-be-reviewed and very distinguished sILENzIO line.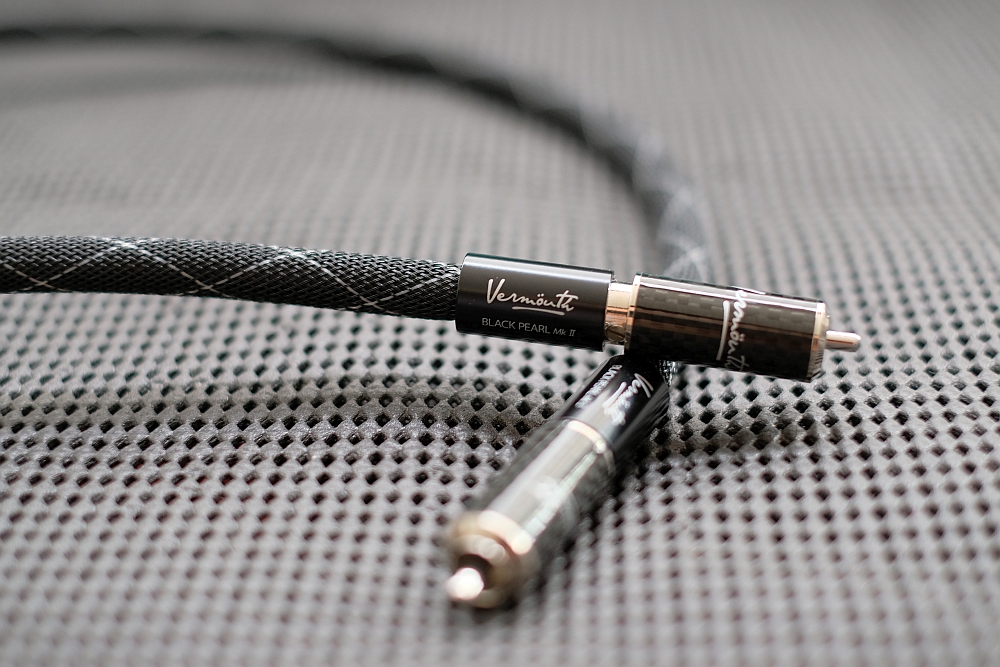 How does one explain the taste of water? Does it even have a taste? And in relation to what? These were some of the thoughts gurgling through my mind as I listened to the full Black Pearl loom. These cables are as neutral as you're likely to hear, at any price. Period.
The by-product of this level of neutrality, of course, is an illuminating insight into the details of a recording. The complexities unravelled, the nuances displayed in Ultra HD-like resolution. The Black Pearl loom's rendition of background low-level incidental sounds is quite remarkable and, while it's a presentation that maintains the integrity of the music, it's also extremely revealing (but never in a harsh way unless transmitting what's been handed to it) of the entire music-making chain – from source to speakers and on to the recording itself.
Yes, the Vermouth Audio cables generously present you with what's on the disc/file/groove and, given proper balance along the electronics and speaker signal path, all will be revealed in a most musically satisfying way. Take any vocal artist you enjoy and you'll hear into the intonation and vocal technique with a freedom of dynamic fluctuation that makes the singer an almost present entity in the listening space. It's a lively rendition of music that is especially intoxicating with live recordings such as my favourites from Carnegie Hall from Ryan Adams, Earl Wild and Harry Belafonte.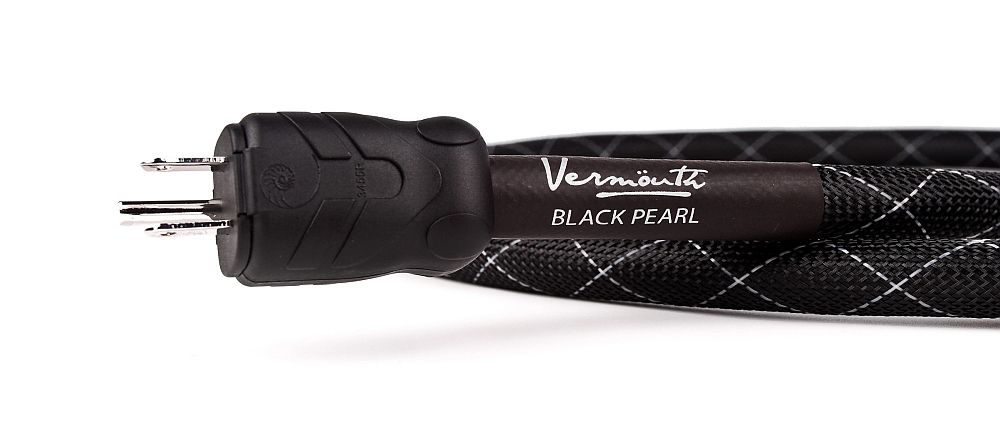 Within the context of my system, headlined by a current-demanding speaker design, a cable with ample conductor material will potentially allow good control and dynamic expression. The Black Pearl speaker cables' copper conductor content is plentiful. But other things are at play here; I'd say it's the combination of conductor arrangement and winding because bass-rich musical material is superbly handled. Acoustic bass always sounds tight and punchy, tonally rich, dynamic and totally believable. All is in balance within the bandwidth of the low frequencies and then upwards towards the very highest frequencies where the treble is detailed, extends with 'air' and is as sweet as a fortified aromatic wine.
These cables can resolve complexities with exemplary ability. Incredibly dense mixes, such as The Gladiator soundtrack, or its inspiration Holst's "Mars the Bringer of War", are disentangled with superb precision while retaining the overall musical arrangement. The performance remains intact and pleasingly enjoyable despite the extraordinary separation of musical strands.
Ditto for powerful Rock recordings such as A Perfect Circle's Thirteen Steps where the devastation of the closing minutes of "The Noose" slams you into the chair with snare and kick hits while the guitars soar and almost spin around you. The Black Pearl cable loom deciphers the complexities and density of the music in a way that allows discernment of all its aspects while maintaining the musicians' message.

The loom's accuracy with the frequency range is replicated by the superb presentation of 'space'. I'm fortunate that my room and the make-up of the reference system itself allow the reproduction of a huge soundstage and, recording permitting, extremely well-focused image placement is easily determined. Here the Vermouth Audio cables lock-in images that spread across and into a deep soundstage.
Conclusion
Due to prior review commitments and scheduling, the Vermouth Audio Black Pearl Mk.II cable loom remained in situ within my reference system for a longer period than is usual. Within that time span, I reviewed a number of electronics and speaker products at varied price points. Vermouth Audio's cable loom never even hinted at being the weakest link in the chain nor presented any form of limiting factor, no matter the component under examination. In fact, the cables provided a neutral signal conduit permitting an excellent evaluation for the electronics and speakers under assessment at the time.
Yes, there are cables that may provide a larger scale of presentation, or impart a fuller sense of body to some instruments but let me tell you, they'll cost you a whole wad of cash more. Yet these line-topping Vermouth Audio cables are as neutral and clear as any cable I've tested – that's how it should be too, for any competently designed cable loom – and will allow you to truly hear what your system is up to. That the Black Pearl Mk.II cables are superbly assembled with quality components, feature exceptional custom connectors and look rather jewel-like is but a very pretty olive in an oh-so-sweet Martini.
… Edgar Kramer
This email address is being protected from spambots. You need JavaScript enabled to view it.
Associated Equipment
Speakers — Wilson Audio Alexia Series 2, Axis Loudspeakers VoiceBox S (nearfield monitor)
Amplifier — Gryphon Audio Antileon EVO
Preamplifier — Supratek DHT Reference, Lightspeed Attenuator LDR passive
Sources — Yamaha CD-S2100 used as transport, Totaldac d1-core DAC, MacBook with BitPerfect software, AIFF files
Processor — DEQX PreMate
Cables – sILENzIO loom, Vermouth Audio Black Pearl Mk.II loom
Vermouth Audio Black Pearl Mk.II Interconnects, Speaker & AC Power Cables
Price: Interconnect AU$618 (1m), AU$1576 (1.8m), AC Power AU$921 (1.2m)
Australian Distributor: Redefy Audio
+61 405 837 332
www.redefyaudio.com
Vermouth Audio
Jalan Saridana VIII No.3
Cargo Permai
Denpasar Utara
Bali – 80116, Indonesia
www.vermouthaudio.com