In an audio enthusiast-invigorating return to Sydney, the Australian Hi-Fi Show staged its much-awaited comeback at the Novotel Central Hotel to eager crowds while presenting a medley of hi-fi from entry level to the high-end.
Crossing The Threshold
The show was spread around the hotel on four levels. I nearly went about my show's navigation in an arse-about way so back-tracked to cover the lower levels first. The sparser Lower Ground, Ground and First floors were conducive to a cruisier strut. Once covered, I'd jet up the tower to the mosh pit on level 9.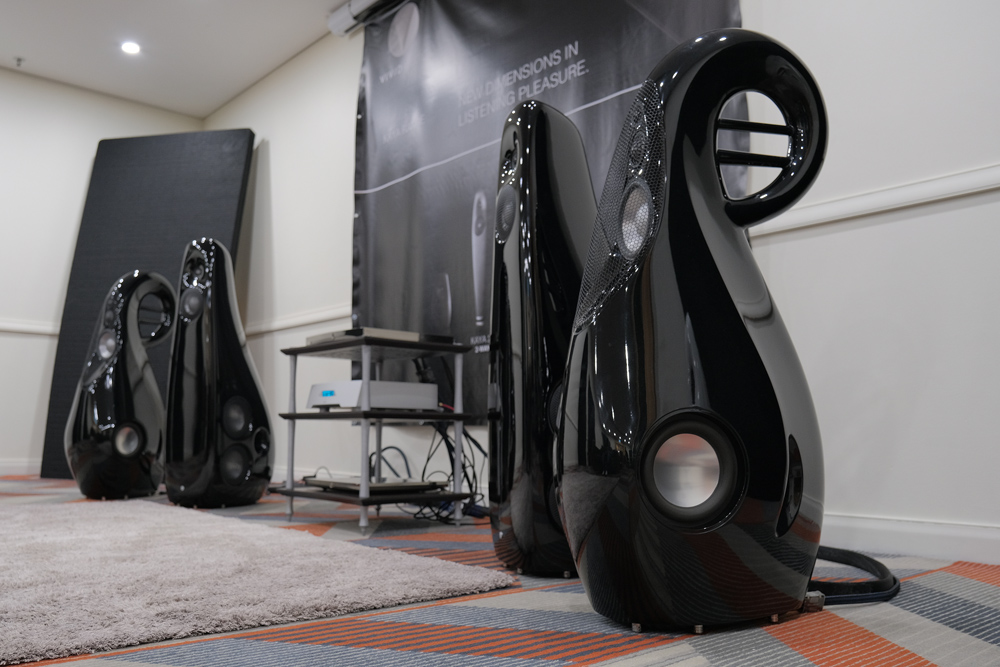 I entered the Avation room on the Ground floor where Laurence Dickie's much admired creations were shown in the full glory of their gloss-painted fluidly-organic form. On display were the Kaya 90 – that line's flagship – and the Giya G3 from the statement line. Source and amplification were by Lumin and Devialet with cable from Tellurium Q. Generously, at near knock-off time, Avation's Mark Hamilton hooked-up Kaya S12 in gorgeous lime green gloss for a quick listen. S12 is quite remarkable, playing with a dynamic expression belying its small form (Mad Season's "Artificial Red", a track I really like, really smashed). They are a favourite among several writers within the SoundStage! Network – after hearing them for the first time, I can now appreciate why.
Moving on from there, I landed in the Elementi room where the full-scale AV installation's projection system was playing a live Eric Clapton Bluray in rather sharp and contrasty fashion. The same went for the sonics which were deep and crisp with good dynamics.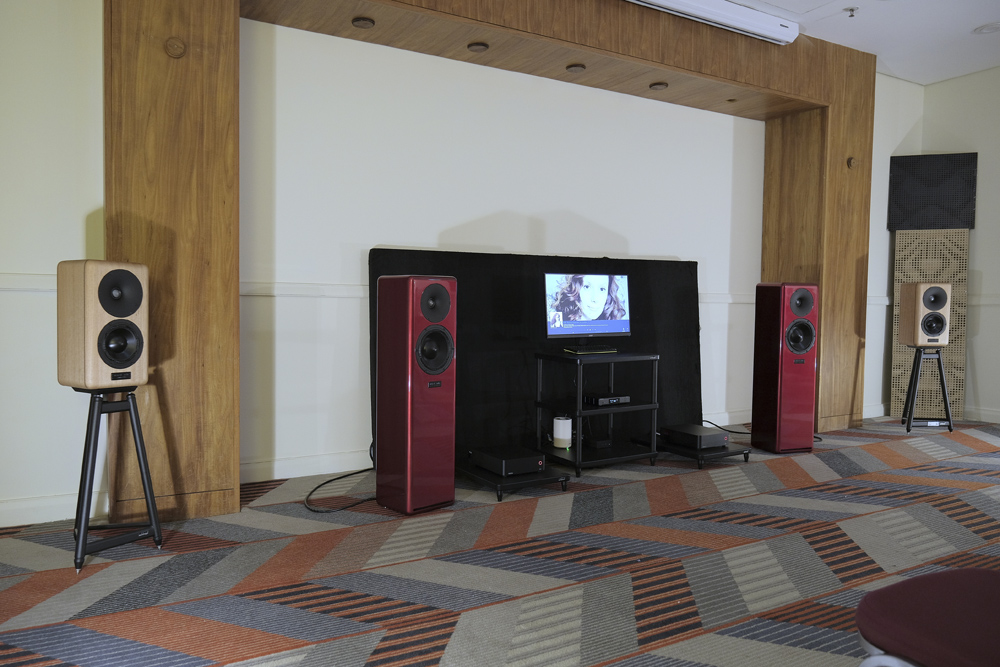 The last room on the Ground Floor was relatively newcomer, but fast growing, March Audio. Alan March engineers the company's Purifi-based amplification and a two-model speaker line. On show were the Sointuva WG standmount speaker and the very new Ukkonen floorstander driven by P421 monobloc amplifiers with a Topping DAC doing the ones and zeros. All was tied with March Audio's own Mogami/Canare-based cables. The sound was expansive (the large room was very helpful here), detailed and expressive with very powerful bottom end.
The Call to Adventure
The Lower Ground floor featured distributors Sound & Music and Indie Hi-Fi, each with two rooms, in large well-lit exhibits (at this reporting photographer's delight).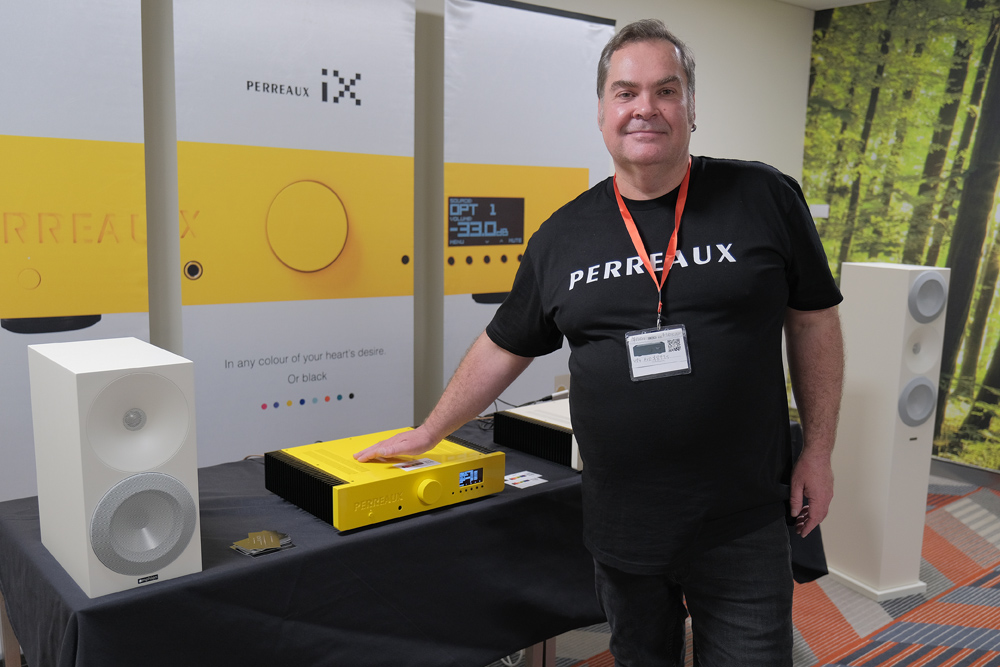 Perreaux's Paul Sammes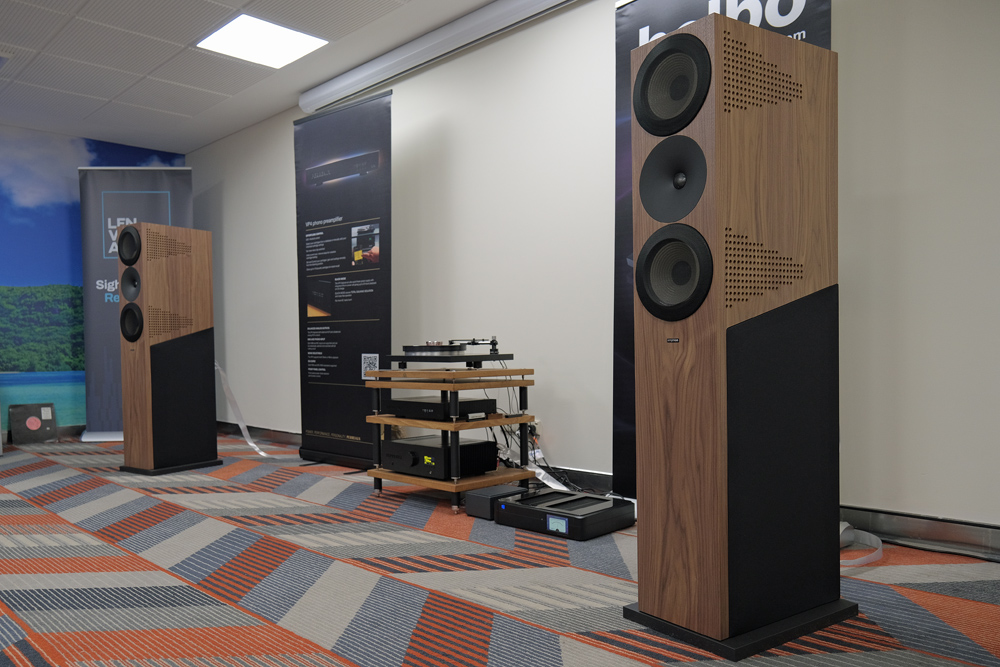 First-up was the Perreaux and Amphion exhibit where Kiwi Paul Sammes proudly displayed the 200iX integrated amplifier (review here) in gorgeous Canary Yellow hooked up to an all-white pair of Amphion Helium510 standmount speakers. Alongside, an even more stunning version in a creamy-white paint to match Amphion speakers sat in static display. Sammes is always good for a chat, ergo a bunch of punters getting a thorough intro to these great products while on a music pause. In the adjacent room, Amphion's flagship Krypton3 were driven via Perreaux's 300iX integrated. In this system, the super-featured VP4 phono stage made its debut teamed with the wonderful Holbo Airbearing Turntable System Mk II (review here) providing the tunes. I've heard the Krypton3s many times and they have never failed to impress with their fluid, tonally correct, yet incisive sound.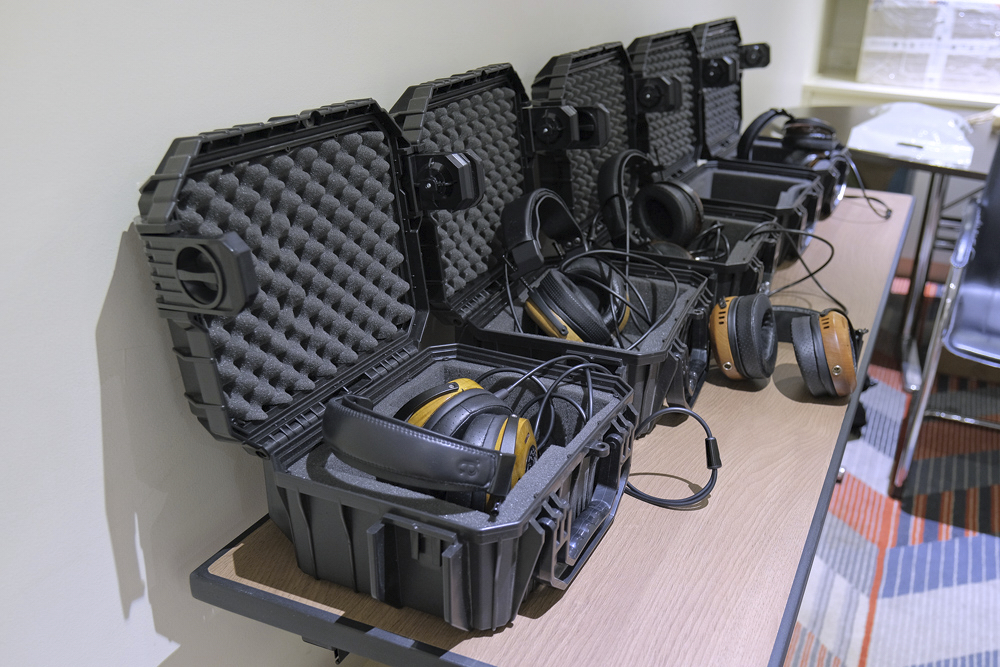 Moving along and down the corridor was Indie Hi-Fi with a multi-headphone display ranging from mid-to-high-end head gear exotica. A battalion of headphones were lined-up in military order in hard protective roadcases while a small annexe featured a variety of headphone amps and cans for auditioning.
The company's second room saw a single system showcasing Spatial dipole speakers driven by AGD Adante preamplifier with in-built DAC/Streamer and AGD Audion MK II GaN-based hybrid monobloc amplifiers hooked-up with Nordost cable.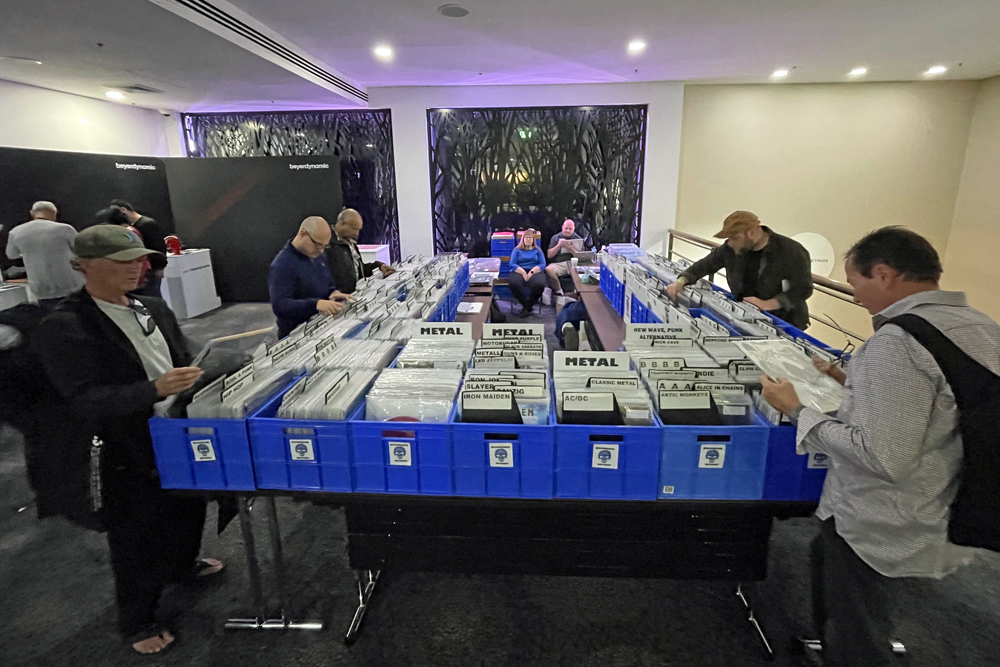 Running up the stairs to the First Floor, a large lobby area opened out to the show's reception and Vinyl Revival's pop-up retail space. Alongside a flanking side wall, punters could sample Beyerdynamic's headphone display which must have included just about every model in the company's line-up.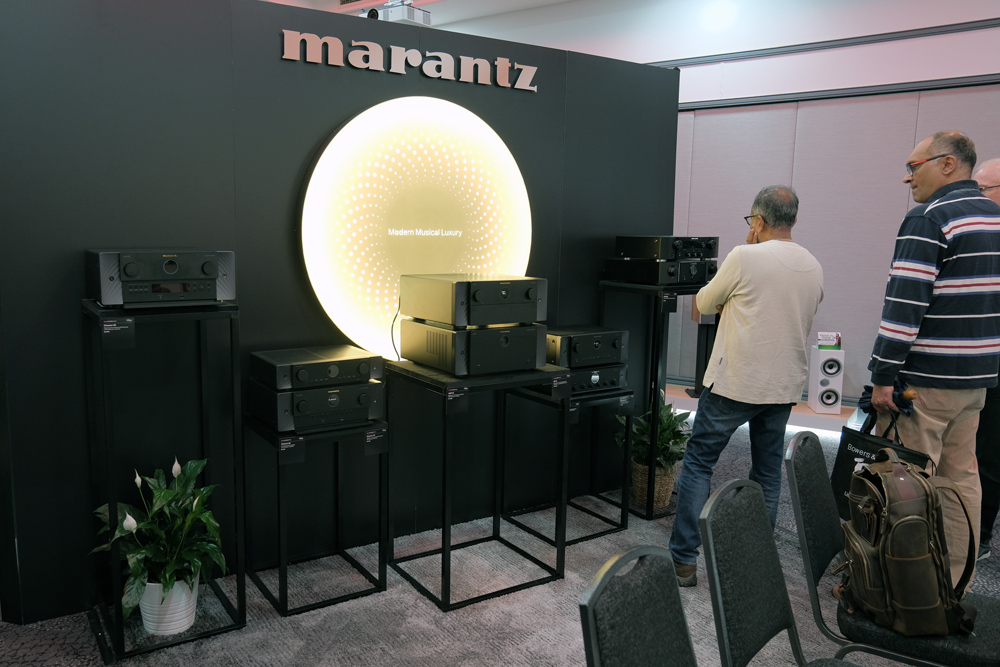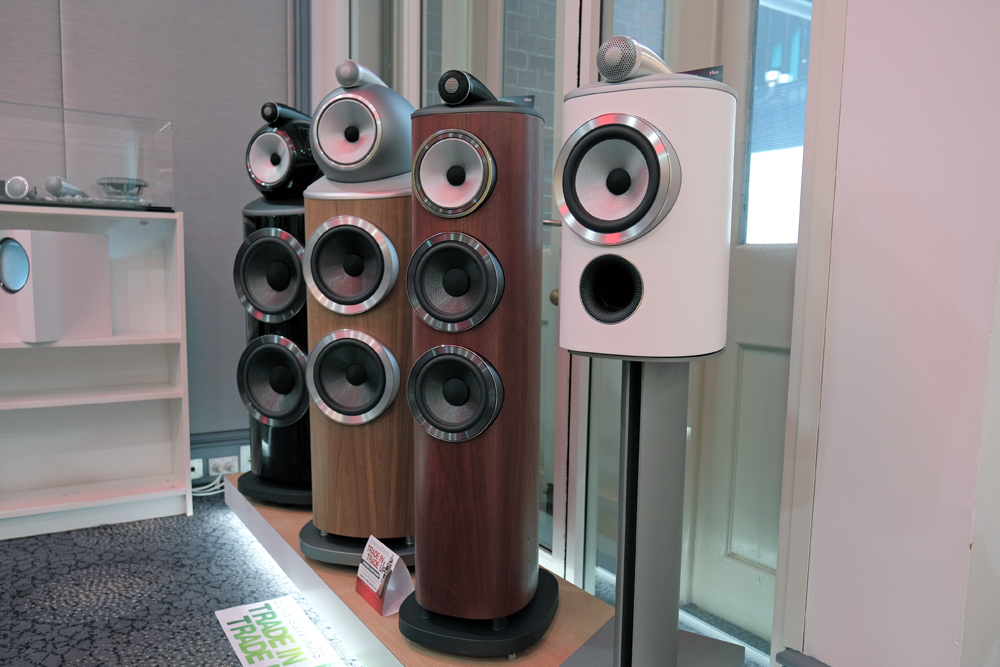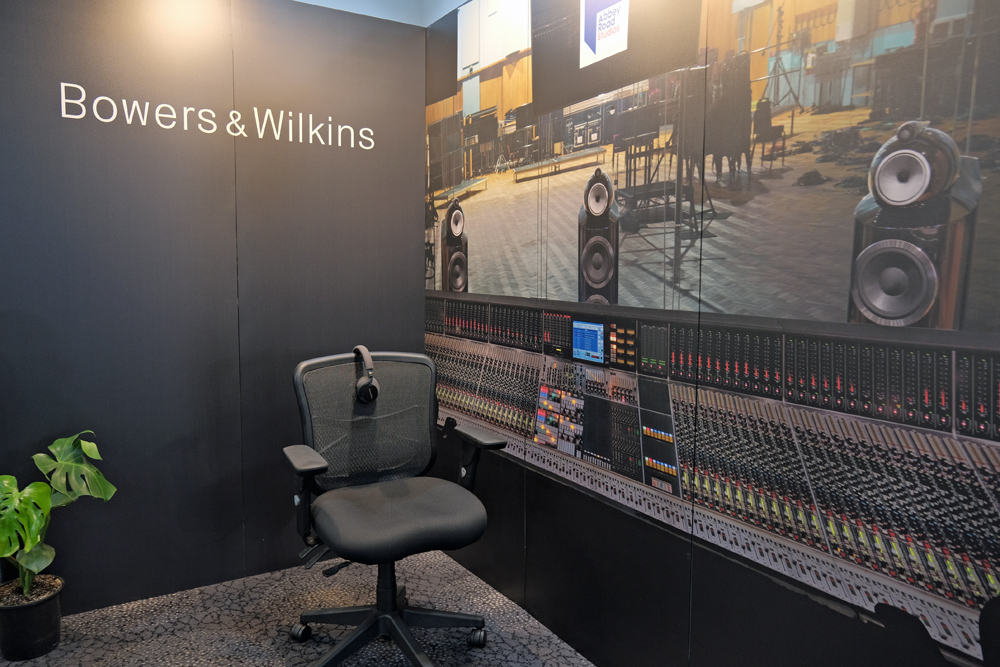 Masimo Consumer offered something a little different. Firstly, within its large main display area, the company showed a multitude of umbrella brands, with prominence from Bowers & Wilkins and Polk Audio speakers in both static and active display. The same goes for electronics from Denon and Marantz while cable giant AudioQuest featured across all system interfaces. Secondly, just outside the exhibit, there were two photo 'op' sets where punters could take selfies on mock-ups of the Abbey Road zebra crossing and one of Abbey Road Recording Studios' control rooms, of course complete with 800 series speakers.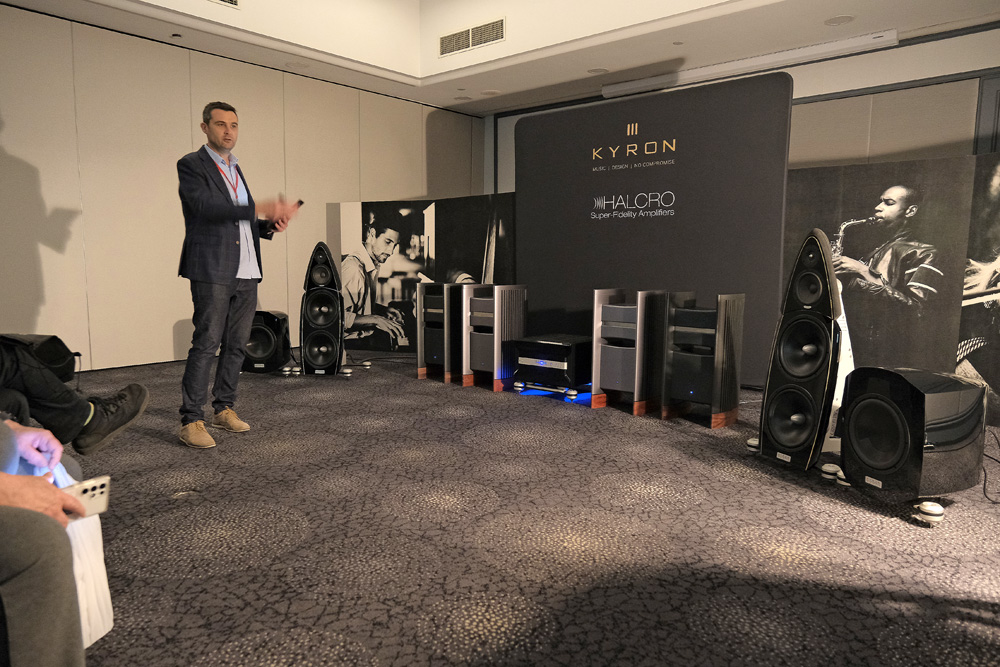 Lee Gray from Kyron
The last stop on this level. Australian high-end mavens Kyron secured one of the largest rooms of the level's floor plan. The innovative company chose to mate its Kronos active dipole speaker system (including two Mercury subwoofers) with fellow Aussies Halcro, for its outstanding multi-mono amplification, and Döhmann Audio's Helix One for an analogue source par excellence (streaming was also used as a digital music platform). Company heads Lee Gray and Leon Suter DJ'ed the varied music program and ran attendees through the many technologies featured in this system. Mark Döhmann was also at hand to provide analogue tips and tunes (Döhmann's music selections are always satisfying). The sound here communicated extraordinary dynamics and low-frequency control while the level of detail and overall resolution was excellent.
The Path of Trials
Level 9 here I come. For the purpose of this report, I'll write-up this busier portion of the show in accordance with the breadcrumb room plan, rather than my actual manic back-and-forth journey, which was often guided by appointments, chance encounters and the like.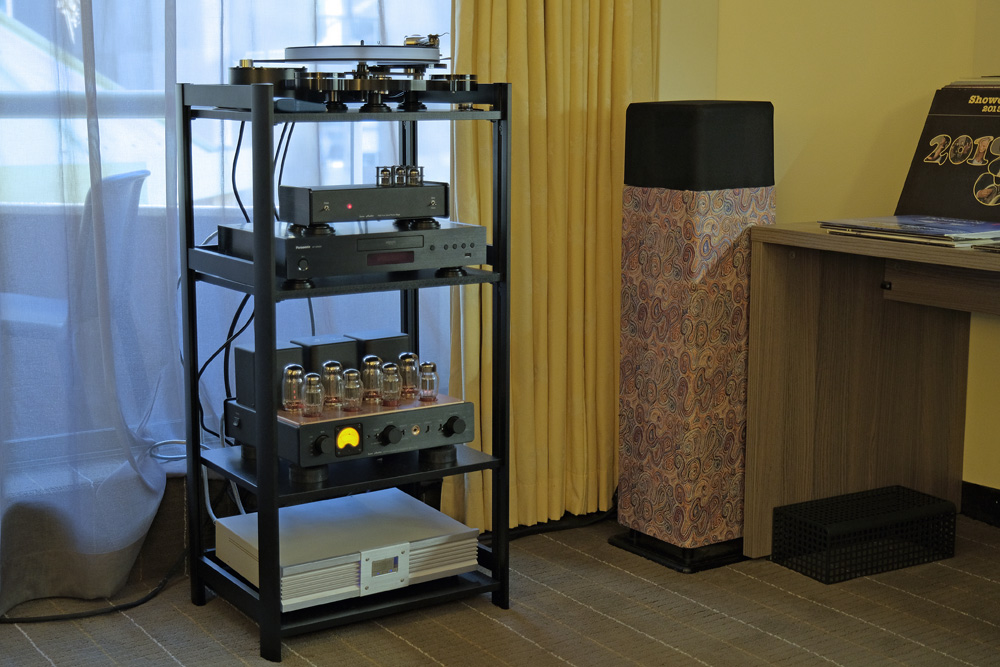 Decibel Hi-Fi had a simple set-up showcasing an Origin Live Calypso turntable supported by Icon Audio's Stereo 40 Mk IV integrated amplifier driving Ohm Acoustics' Australian Walsh 2000 speakers (note the beautiful Aboriginal artwork lining the speakers). At the time of my visit, the track being played sounded a little flat, or compressed, something that may have been due to the recording. The system certainly has potential.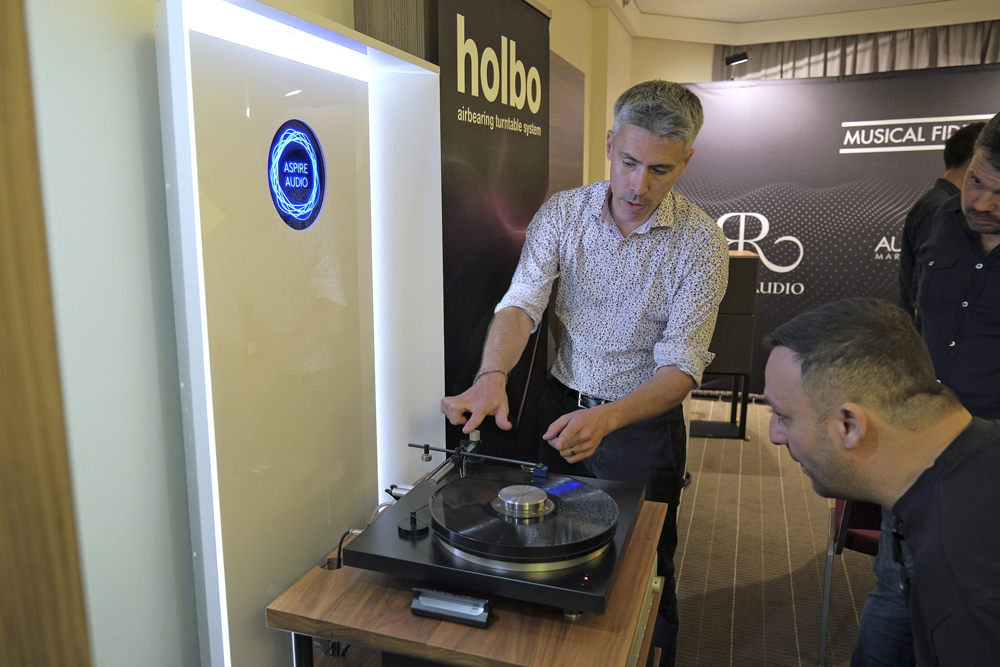 Tim Wallis from Audio Marketing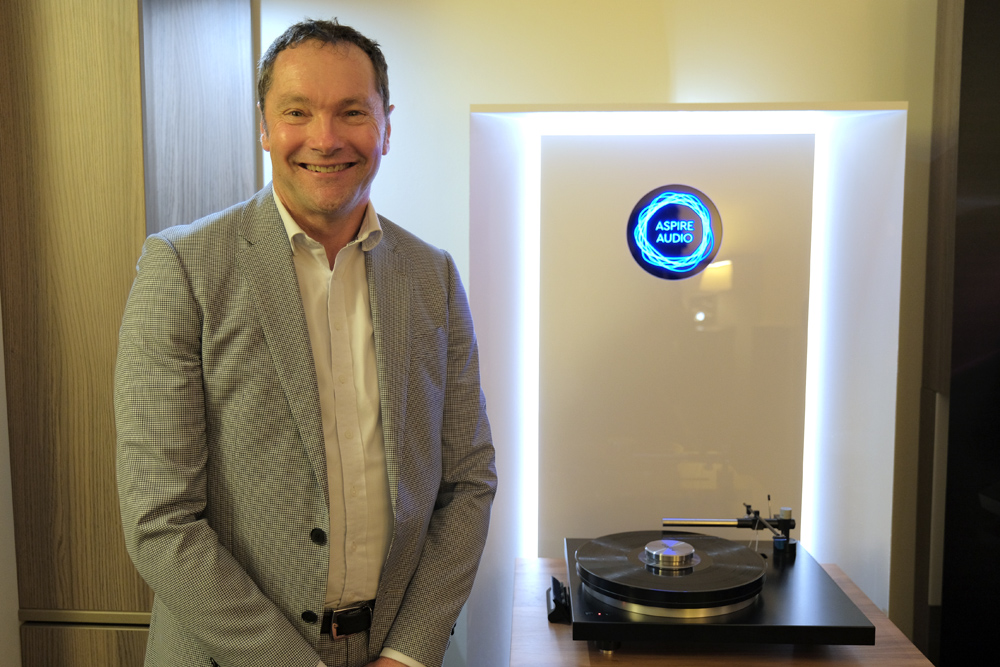 Aspire Audio's Richard Moore
Audio Marketing showed select products from its portfolio including Musical Fidelity electronics, Triangle and Revival Audio speakers (including the just-arrived SPRINT line) and the superb Holbo Airbearing Turntable System Mk II (review here). Tim Wallis was at hand to run through the many outstanding features of the analogue system in particular. Also in this room was new company Aspire Audio showing its superb audio racking systems (review here) featuring solid wood shelves and polished steel supporting framework.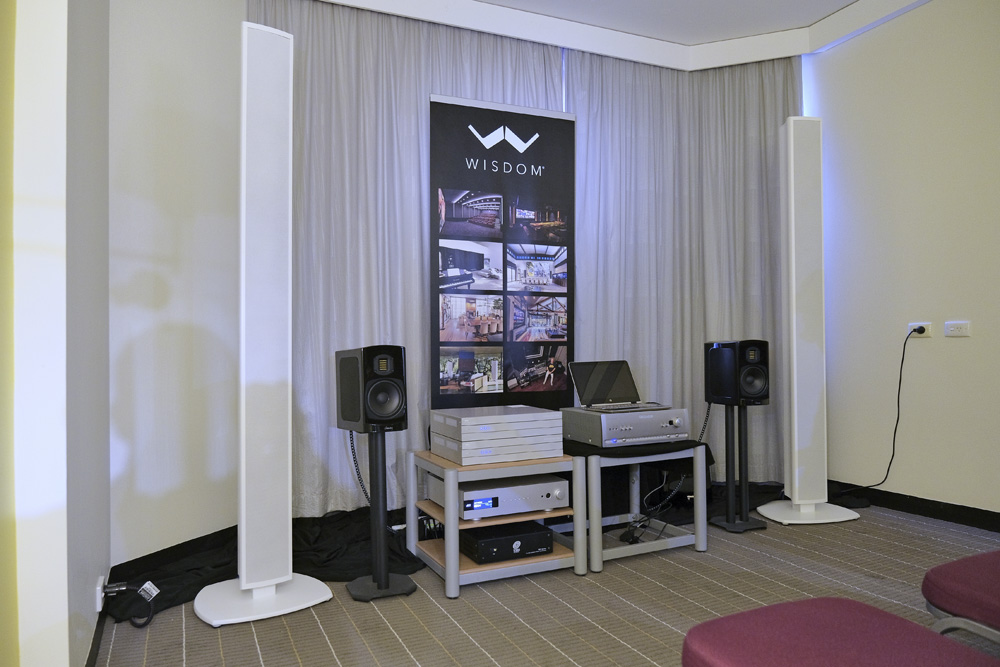 National AV Solutions showed two speaker models which could not be more different. The almost-ceiling-height Sage L75 Line Source speakers from Wisdom Audio (which sounded coherent and resolving) and GoldenEar's BRX standmounts. The small speakers were supported via a SuperSub X subwoofer. Both speaker types were driven by Parasound integrated and Wisdom Audio SA series amplifiers with a dCS Bartók DAC for music source.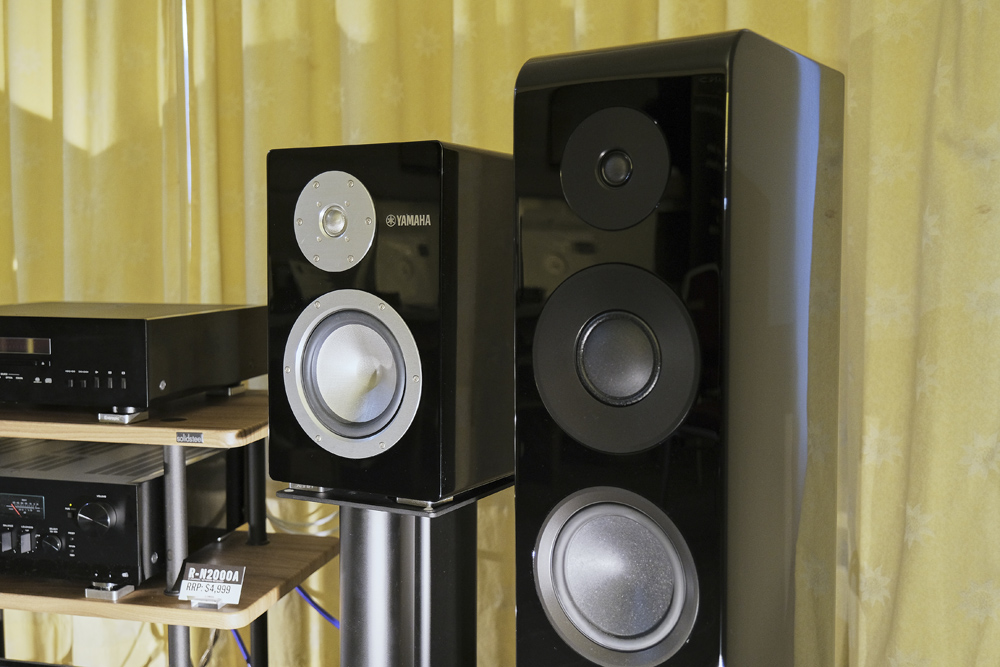 Yamaha Australia ran three rooms on level 9. I'll circumvent the road map and mention all three within this section. There was a mid-level system featuring the outstanding NS-3000 standmount (review here) flanking the brand new and just-arrived NS-2000A floorstander. While not employing its upper stablemate's Zylon dome/cone material, the NS-2000As nevertheless embody a set of bespoke drivers in a piano gloss cabinet of equal brilliance. A short listen showed the substantial virtues of the NS-3000s playing at the time so, alas, discovering the merits of NS-2000A will have to wait until we at SoundStage! Australia get our hands on the soon-to-arrive review sample for formal review.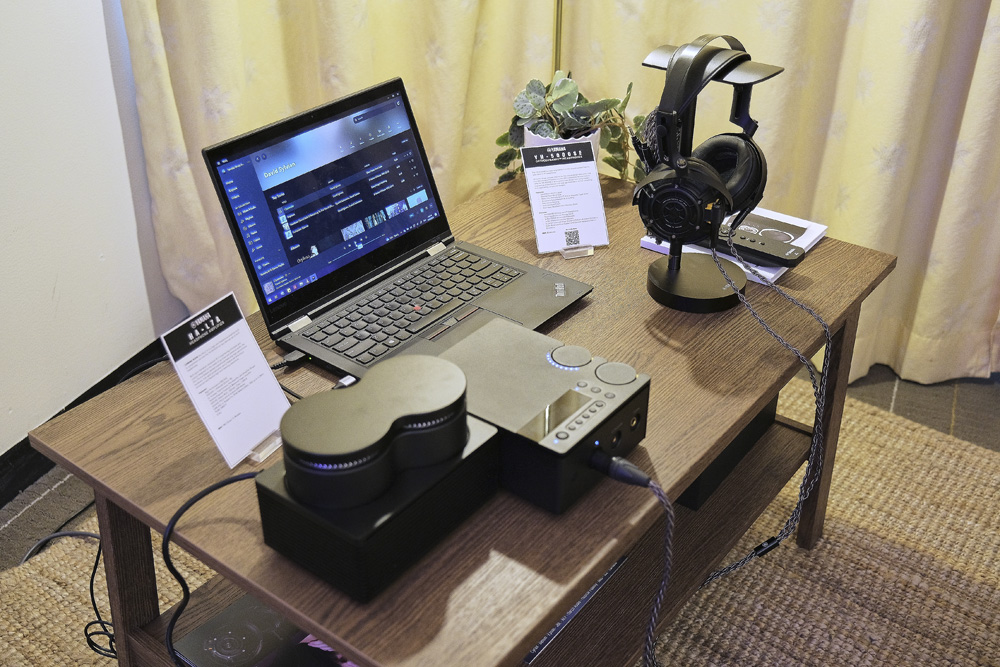 Another Yamaha room featured the newly soft-launched (hard launch at High End Munich 2023) flagship YH-5000SE Orthodynamic headphones and HA-L7A headphone amplifier/DAC. The former is a wonder of engineering while the latter's unique form factor is bound to make it a future classic. A short two-track demo showed the encapsulation of the 'Natural Sound' ethos of this distinguished Japanese powerhouse. This was pure music.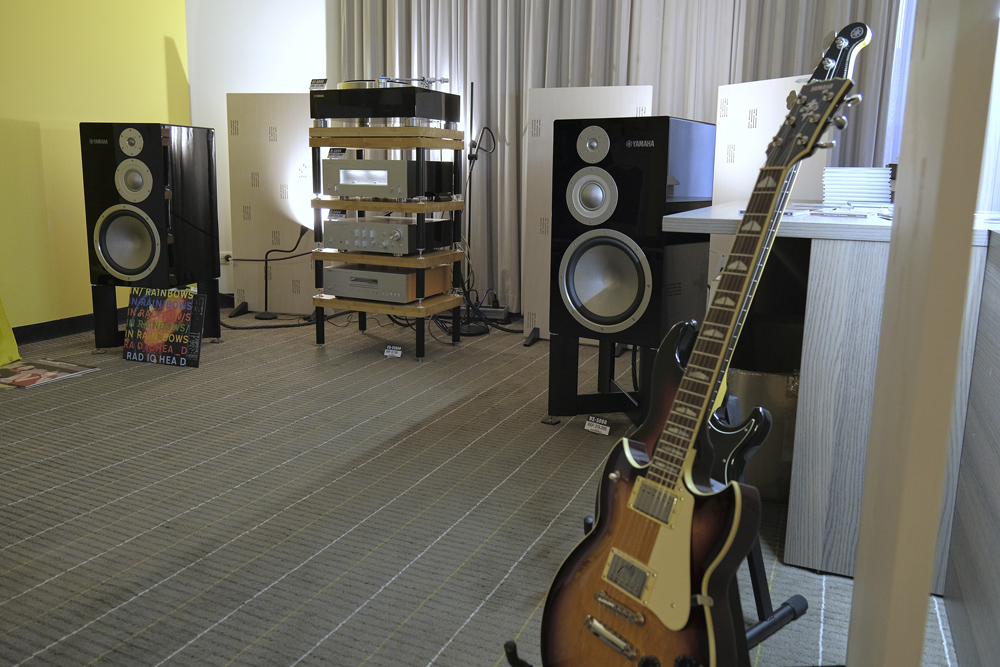 Yamaha's third exhibit showed top-of-the-tree 5000 series products. The full line consisting of GT-5000 Turntable (review here), C-5000 and M-5000 pre/power amplification (review here) and the gorgeous NS-5000 speakers (review here and editor's take here). I was pleased to gawk at a duo of stunning Yamaha electric guitars in the room – a reminder of the all-encompassing product range the company offers.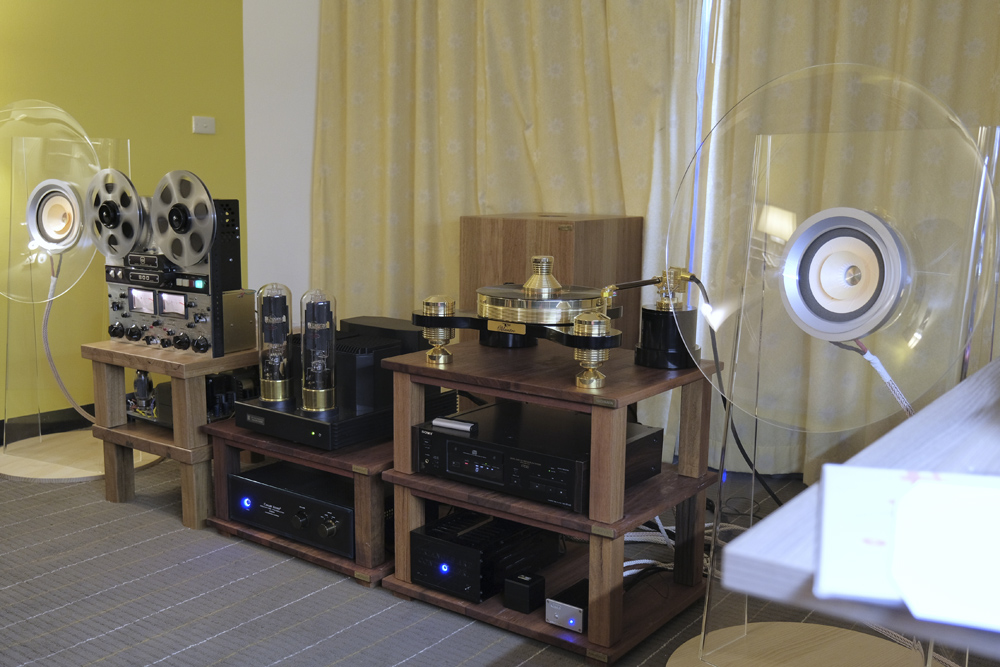 Bertrand Audio is a relatively new player in the Aussie distribution landscape. However, the company's product choice shows considerable wisdom, with the show system sounding smooth and very musical via a visually arresting set of components. On show were the Triangle Art Maestro turntable and what I'm guessing was a vintage Crown Reel-to-Reel player as sources, Canary Audio and KR Audio electronics and a set of uniquely styled see-through acrylic AER speakers.
End of Part 1
… Edgar Kramer
This email address is being protected from spambots. You need JavaScript enabled to view it.