Yamaha's near-one-and-a-half century-old heritage has seen the company evolve, from humble beginnings, to a multi-faceted constitution across the music and audio spaces. As the world's largest instrument maker, Yamaha creates the means by which to inspire artists' imagination, enabling the creation of music. The company's products encompassing studio technology also provide the conduit for art to be captured for perpetuity. Further, Yamaha also manufactures the pro gear used to replay music in live venues, from intimate club to massive arenas. And finally, via the company's consumer hardware, music lovers in homes around the world, are empowered to delight in the fruits of musical artistry. So when Yamaha presents the world with a new all-out effort aimed squarely at penetrating the high-end audio space, astute music lovers should, and do, pay strict attention. Enter, in all their lushly-designed glory, Yamaha's C-5000 and M-5000 flagship preamplifier and stereo power amplifier combo.
5000 Reasons
While I expected the C-5000 and M-5000 pre/power combo to mirror the retro beauty of Yamaha's extremely successful 'A' series – as well-executed and engineered as those components undoubtedly are – the entire 5000 line takes build quality and circuit engineering to a whole 'nuther level. Ergo, the luxuriously machined, massive gauge aluminium panels, the switches and controls also milled from solid aluminium, the immaculately finished black gloss side dress panels, the refined engineering and the high quality of socketry. In particular, the power amplifier's bespoke binding posts are superb. Overall as you unbox, the immediate impression is of components of lavish construction and outstanding design precision.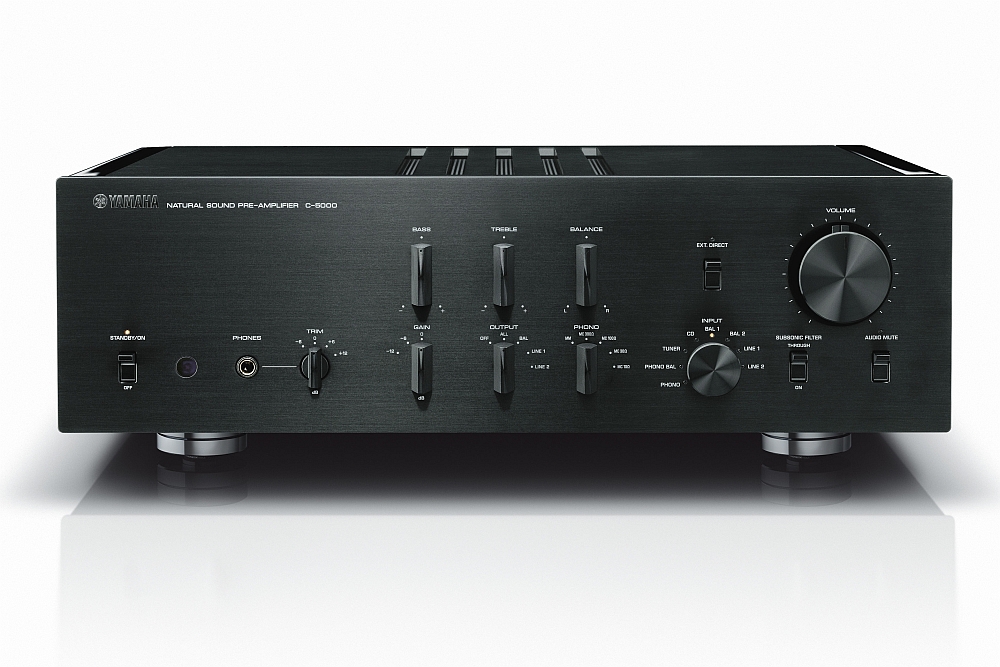 Aesthetically, Yamaha has expertly blended modern design with retro aspects, with the combination of these elements resulting in a timeless look. In a nod to vintage preamplifiers, the C-5000 has classically-styled switches and even features defeatable tone and balance controls while the M-5000 power amplifier's fascia proudly displays large backlit meters. Having said that, I'll restate here that Yamaha has made a serious commitment to penetrate the high-end audio space with both the C-5000 and M-5000. These are superbly built and solidly engineering products which are far from cookie-cutter-formulaic. With the company's GT-5000 turntable and NS-5000 loudspeakers, the C-5000 and M-5000 round out the series which, as a group or individually, have the high-end cojones to make powerful statements.
So, the true balanced/discrete C-5000 preamplifier features two balanced XLR (with switchable -8dB of gain and switchable inverted/normal phase) and five unbalanced RCA inputs. There's an on-board Moving Magnet and Moving Coil (MM/MC) phono stage with variable MC impedance loads of 300, 100, 30 and 10 ohms and a subsonic filter switch. Outputs offer a single balanced XLR and a duo of unbalanced RCAs. Remote triggers, an auto on/off switch and an IEC socket round out the socketry. In addition to the rear panel's input gain switches, the C-5000 features a front panel -8dB and -12dB global gain switch, a mute switch and a rather nice headphone amplifier with gain trim points at -8dB, 0dB, +8dB and +12dB. The C-5000 is a 'floating balanced design' applied across all the stages (including the phono stage) in order to properly cancel any ground noise issues.
Yamaha's engineers have really applied themselves as far as the circuit designs used on both the C-5000 and M-5000. The true balanced C-5000 uses what Yamaha calls a 'folding-book' circuit design which mirror images the circuit boards in order to maintain signal path symmetry and block potential ground loops and/or noise from connected source devices. There are dual left/right channel toroidal transformers, each enclosed in a copper plated flux-lowering case, with Yamaha's engineers stating the feature yielded positive performance attributes during extensive R&D listening tests. The power supply is wired with high quality cable which, in conjunction with screw-type connectors, provide a low impedance circuit path. The C-5000's chassis is copper plated with Yamaha's research said to have found, again, performance benefits such as superior low level detail and low frequency improvements.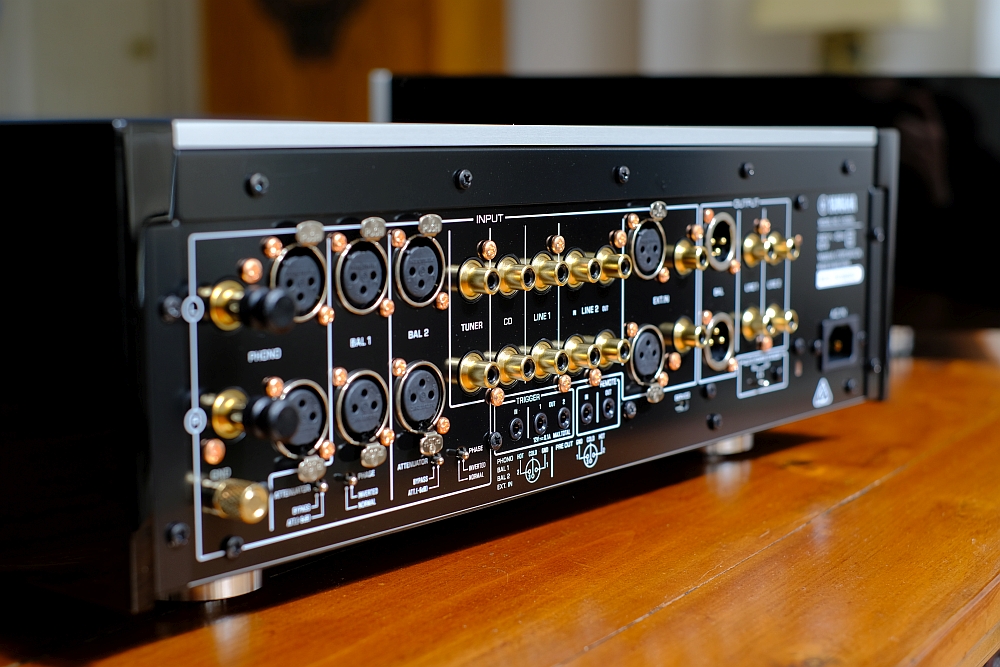 The C-5000 sports Yamaha's substantial bespoke machined brass feet which accept either a coupling spike or an isolating pad. The C-5000's precision machined aluminium volume knob is beautifully weighted and exudes quality (a ball-bearing system is used), however, a comprehensive quality remote control is also included (consistency in design meant that my CD-S2100 transport's equally well-built and comprehensively-featured remote control also operated the pre/power duo and vice versa). Without a doubt, the C-5000 preamplifier makes most 'full-featured' preamplifiers seem bare-boned. What's more, the solid overall construction is also evident in the C-5000's weight of over 19 kg.
Being a power amplifier, the M-5000 eschews a multitude of controls, however, on the front panel's left you'll find the on/off/standby switch and a speaker selector switch. On the right hand side are the XLR balanced/RCA unbalanced selector and a switch to control the operation of the absolutely gorgeous high precision twin meters which sit behind a 7mm Asahi glass window. When operating (they can be defeated), the meters are bathed in a warm backlit glow that, at night with the lights down low, is mesmerising. This is a truly attractive design aspect that mere images cannot properly illustrate.
Around the back are the balanced XLR and unbalanced RCA inputs and, further to the C-5000's own, there's also a phase inversion switch for the balanced input. Remote trigger in/out and auto on/off are present here too. The M-5000 also features a switchable normal/bridged feature which, of course, is linked to one of the XLR and RCA inputs. The gold plated speaker binding posts are superb bespoke numbers which sit on a thick supporting brass plate, have great connector grip and are easily hand-tightened. Power connectivity is via IEC. The M-5000 features the same custom isolating machined brass feet as used on the C-5000 preamplifier.
Simple is always best and the M-5000 carries this philosophy in its strictly symmetrical design featuring short signal paths. The left and right channels are, like the C-5000's, mirror images of each other. The symmetrical circuitry has been placed on either side of a sizable custom low impedance-design toroidal transformer and a quad of sizable capacitors, both forming the solid power supply which Yamaha describes as being directly connected to each positive and negative leg of the output stage. The transformer sits on a 3mm-thick brass plate which in turn is bolted to the heavy gauge chassis, both techniques designed to reduce vibrational distortions. The output devices are said to be high quality MOS-FETs which, from my touch of the M-5000, run moderately warm. This indicates to a degree of Class-A bias which, in my experience, is a good thing in terms of sound quality. The specific MOS-FET configuration and circuit design is said to allow low impedance drive, catering to demanding speaker loads. The heavy duty chassis construction has been designed to support the large toroidal transformer and other sensitive power supply components via coupling and mechanical grounding techniques. Overall, the M-5000 weighs a substantial 27 kg.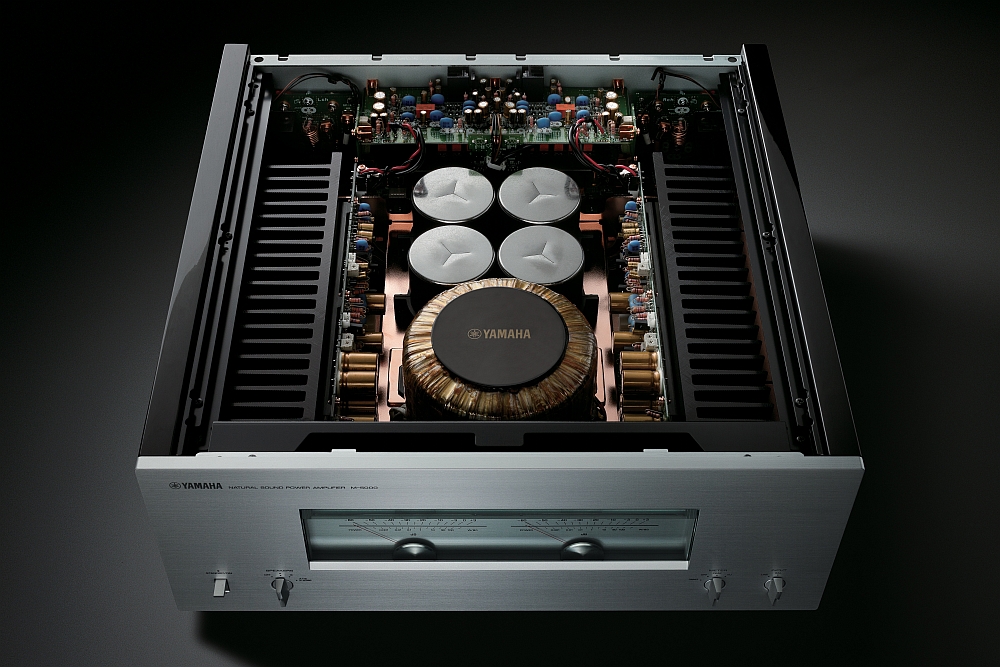 The M-5000 power amplifier is rated at 100 watts per channel into an 8 ohms load between 20 Hz and 20 kHz with a Total Harmonic Distortion (THD) of 0.07 percent. The power rating for a 4 ohms load has been specified as 200 watts per channel 20 Hz to 20 kHz with the same THD. When in bridged mode, the M-5000 is rated at 400 watts, 20 Hz to 20 kHz at 8 ohms and again is specified with 0.07 percent THD. Yamaha has provided an IEC rating of 125 watts per channel at 1 kHz into 8 ohms. Input impedance is quoted as 47 kohms for both the XLR and RCA options while channel separation is 90dB or higher at 1 kHz and 70dB at 10 kHz. A healthy damping factor of 300 or higher promises good driver grip although actual bass performance is also based on a number of associated factors.
In its Class
I ran the C-5000 and M-5000 via their XLR output/input with the balanced signal path maintained through my Totaldac d-1 core DAC balanced outputs. Cabling was either all sILENzIO or Crystal Cable's Future Dream, the latter also in for review at the time. So, in conjunction with my reference Wilson Audio Alexia Series 2, the Yamaha pre/power combo was in rather illustrious company.
Over the first few minutes of listening and then on to many weeks of regular auditioning, the C-5000/M-5000 combo performed commensurate with its exalted stablemates. I seldom state this so early in the piece but I will this time: the Yamaha C-5000 and M-5000 preamplifier and power amplifier are world-class-level and can mix it with the very best in the high-end audio space. Just saying.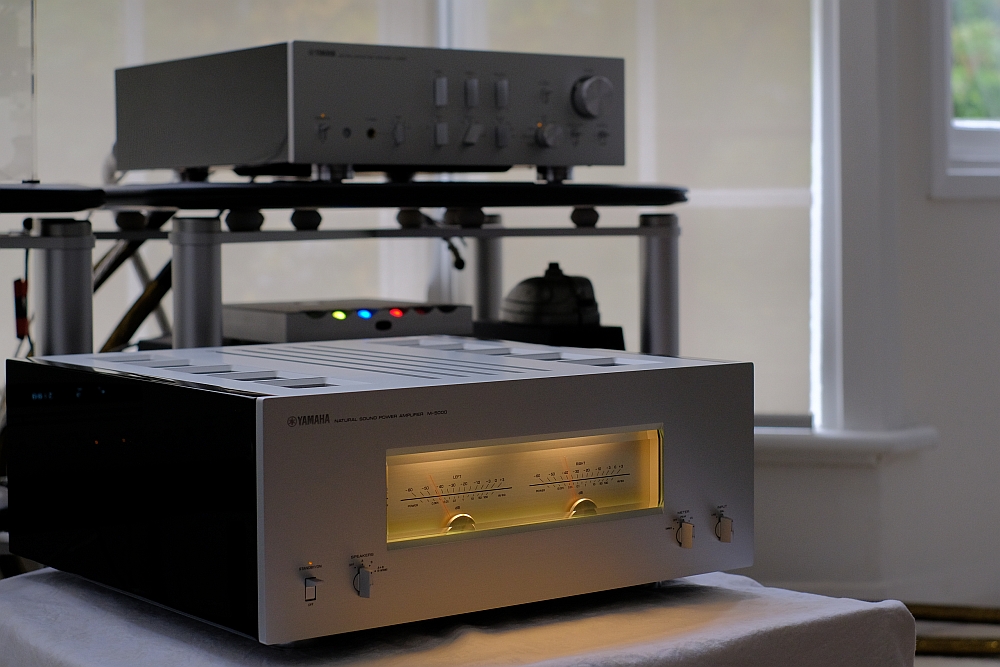 One of the early pieces I auditioned had the droning synth and rhythmic percussive sounds of Grace Jone's "Walking in the Rain" from the Nightclubbing LP expertly separated and contrasted against her vocals which sounded natural and real (without being overpowered or swamped by the underlying percussion complexity). And yes, natural is a key word here which coincidentally happens to be one of Yamaha's key catchcries. Mission statement accomplished.
Post-Punk band The Pixies' Doolittle is one of my all-time favourite albums. The track "Hey" sees a pouring of singer Black Francis' emotions, something that connects with my style of listening for pleasure, but what really hooked me via the Yamaha combo was the punchy solidity of the kick drum and the incisive snappiness of the snare, both of which are superbly produced and mastered by Gil Norton and Günter Pauler (now owner of Stockfish Records) respectively. The combo took no prisoners with its superb dynamic expression and its precise separation of the crescendo's musically dense mix which washes over you in the waves of guitars, Kim Deal's backing vocals and the pounding of the drums.
More subtle fare was reproduced equally impressively. Joël Grare's world music Paris, Istanbul, Shanghai CD was an example of beauty, purity and harmonic refinement (I have been using this wonderful CD in my last few reviews for the reasons described below). The bells, all-manner of percussive instruments and a traditional string instruments are all captured in an environment which was conducive to a great performance, in unison, but which is also placed in an acoustically appropriate setting. The 5000 combo managed to decipher the harmonic content of the natural decay, the tonal signature of the varied instruments and their micro-dynamic nuances while maintaining the integrity of the live recording.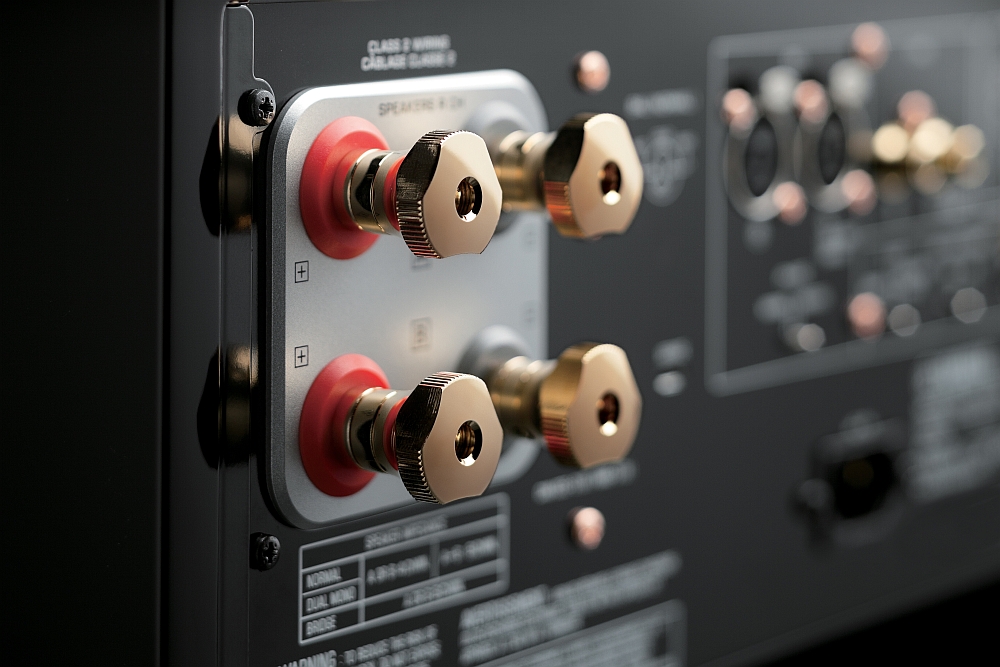 Similarly, the room-pressurising thunder from Yim Hok-Man's Master of Chinese Percussion CD was rendered with gut-pounding power, tightness and true tone. The skin of the drums, even its variance in 'stretch' across its diameter – closer to the frame for a tauter, leaner sound or within its central area for a fuller, more reverberant rendition – were clearly revealed by the C-5000/M-5000. As were the subtler low level drum stick and frame hits and the interspersed soft bells. This was truly excellent, powerful reproduction of extremely demanding music. And in the super-deep portion of the track "Poem of Chinese Drum", the M-5000's grip on the Alexia 2's double bass drivers was superbly controlled while also allowing an appropriately deep rumble.
Very pleasing was a just-off-centre sense of warmth and beauty to vocals which came across realistically chesty with male voices and accurately lighter with female singers. Detail throughout the high and mid bands was unforced and devoid of etch or artificial brilliance – again, natural sound. Intonation, vocal instrument interplay when closely-miked and those small gradations that make voices sound real, the vocal techniques, the oscillations of method, all were there to be heard without obstructing the flow, or the singer's intent. In the case of male vocals, no better example than Johnny Cash's "Hurt" from the American IV: The Man Comes Around where Cash's pain-filled repenting voice ebbs and swells along with the music like a slow moving tide – the communication powers of the Yamaha duo were clearly evident here yet again.
Also powerfully moving were orchestral works where the C-5000 and M-5000 combo relished the opportunity to reproduce the vast spaces and venues where such recordings are often captured. The combo is capable of expansive soundfields and accurate imaging – to be expected with precision electronics, your speakers and room permitting – with the harmonic richness of the MOS-FET design also bestowing the verisimilitude of small ensembles, whether Chamber or Jazz in style.
Full 5000 Series system as shown at High End Munich 2019
Conclusion
Yes, Yamaha is a mainstream electronics company. Yes, it's a multinational with what may be the widest representation network in the audio business. And yes, as far as audio, Yamaha's spread of categories crosses all areas of stereo and multi-channel products from the very lowest rung and up. This may be in conflict with the audio enthusiast who, by wanting to be different for the sake of it, is vainly attracted by the intangible mystique of a more alternative 'underground' cottage or boutique audio company. What a potential error that would be.
Make no mistake, the Yamaha C-5000 and M-5000 preamplifier and power amplifier duo, alongside its 'perfect match' GT-5000 turntable and NS-5000 loudspeakers, will provide the engineering excellence, the aesthetic splendour and the arresting communication of the musician's intent, in its purest form, on a par with the best of the high-end. These excellent components are worthy of my unreserved highest recommendation. Pure pleasure.
… Edgar Kramer
This email address is being protected from spambots. You need JavaScript enabled to view it.
Associated Equipment
Speakers — Wilson Audio Alexia Series 2, Axis Loudspeakers VoiceBox S (nearfield monitor), Vermouth Audio Little Luccas Mk.II
Amplifier — Gryphon Audio Antileon EVO
Preamplifier — Supratek Cortese, Lightspeed Attenuator LDR passive
Sources — Digital: Yamaha CD-S2100 transport, Chord Electronics Hugo M Scaler, Totaldac d1-core DAC, Asus PC as Roon Core. Analogue: Michell Engineering Orbe with Gert Pedersen Level 3 modifications and Origin Live Ultra upgraded motor, Trans-Fi Terminator air bearing linear-tracking arm, Shelter Harmony cartridge, Supratek Cortese & REDGUM Audio RGPH2 phono stages
Processor — DEQX PreMate
Audio Rack — SGR Audio Statement Model V
Miscellaneous — Les Davis Audio Viscoelastic CLD discs, VRC Vinyl Record Cleaning system
Yamaha C-5000 Preamplifier & M-5000 Stereo Power Amplifier
Price: AU$12,999 each
Warranty: Five Years
Australian Distributor: Yamaha Music Australia
+61 1800 805 413
www.yamaha.com.au
Yamaha Corporation
10-1, Nakazawa-cho, Naka-ku
Hamamatsu Shizuoka 430-8650, Japan
+81 (53) 460-2211
www.yamaha.com