"It's all about balance", said Nick Hulgich of Hulgich Audio. He'd just picked up my new Scotty Cameron golf putter and was giving it a few practice strokes. It seems he's a keen golfer too but has difficulty finding the time to play. He expressed he could feel the engineering and beauty in the blade on each stroke. When he said that, my mind was still revelling in what I'd heard earlier from his new flagship speakers, the Dukes, which we'd setup in my room. I was thinking that the Dukes too, are all about balance and beauty.
By Remote
Hulgich Audio is based in Adelaide Australia. Nick is originally from Bueno Aires in Argentina and has lived in Australia since 2005. He's an industrial designer by profession, and has been building speakers long before he left Argentina. Nick's partner in Hulgich Audio is Göran Niréus of Audio Excite based in Stockholm, Sweden (www.audioexcite.com). Göran has been designing and building speakers for over 35 years. For a new design, they jointly theorise on the speaker shape, driver configuration, materials and construction. Göran does the intricate audio engineering, measurements and modifications to mock-up cabinets. Nick does all the cabinet work and the voicing. Each partner has the mock-up and final speaker under evaluation at his location. This requires the shipping of cabinets from Australia to Sweden. The voicing by Nick is time-consuming and intricate, and rarely is either designer happy, right away, with the first cross-over attempts. But once finalised, Göran sends the final measurements and crossover diagram from Sweden to Australia so that Nick can build it.
I spoke with Nick about the process and he had this to say:
On each model, we extensively measure to successfully reach an optimum integration between drivers, cabinet and crossover design. Even though measurements give us an idea of the tonal balance of a system, it has to be later fine-tuned by ear. The level of transparency, the ability to resolve micro-details, the speed of the bass, etc., cannot be derived from measurements, and that is why our loudspeakers have been thoroughly auditioned to achieve an optimum balance and a sense of listening ease. When we design a loudspeaker our goal is to seek the most lifelike audio reproduction possible. That is why we spend months on testing and fine-tuning different components with the aim of finding that acoustic blend that reproduces music in the most natural and harmonious way. This is how we ensure a realistic and believable sonic performance.
As an Industrial designer, I do believe that the aesthetic aspect of a loudspeaker is as important as its audio quality. But this aspect is always conceived with the idea of obtaining the highest precision, quality and consistency which guarantees faithful and natural sound reproduction.
Of course, such a process requires repetitive and frequent communication via Skype calls, WhatsApp messaging and emails. Even 15 to 20 years ago, this arrangement would have been an impossible nightmare scenario, but with today's technology it's actually quite workable. And when you read on, you'll see that they have very much succeeded.
World-Class build quality
The Duke speaker is a 3-way front ported 2-piece speaker. The top cabinet houses the tweeter and midrange drivers; the bass cabinet houses the single woofer driver. The top cabinet sits separately in deep round dimples on top of the bass cabinet – the deep dimples ensure the cabinets align properly. The Dukes have a frequency range of 25 Hz to 23 KHz (at 15 degrees off-axis). The power rating is 200 watts. Sensitivity is 87dB at 2.83V/1m with impedance being 4 ohms nominal. Crossover points are 290 Hz and 2.3 KHz. You can bi-wire if you wish – the speakers are shipped with jumper plates should you wish to single wire.
The Dukes' height is 115.5 cm, width is 30 cm and depth is 54 cm (without outrigger feet). Weight is 65Kg each (again, without outrigger feet). The metal outrigger (included) extends the width to 45 cm and the height by an additional 3.5 cm, and overall weight increases by 5 kg. Each Duke is shipped in its own heavy duty wooden crate.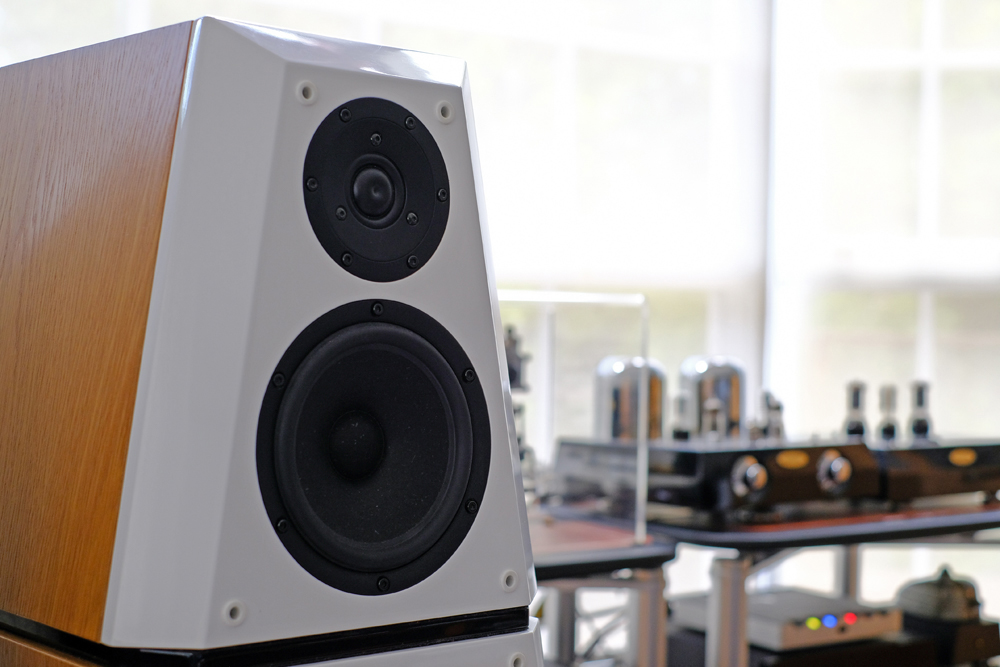 The cabinet walls are heavily braced 25mm MDF with a 44mm MDF baffle. They are beautifully finished in a thick veneer of either American Oak or American Walnut. The insides of the cabinets are veneered as well. The baffle can be finished in either piano black or piano white. Each speaker comes with two grills – separate for the top and the bottom. I didn't listen with the grills in place but I did fit them for a look at the aesthetics – they look very elegant and stylish. My review pair came in American Oak with the white baffle – the fit and finish was absolutely superb.
A pair of Hulgich Audio 'Feel The Music' (FTM) speaker cables connects the top cabinet to the bass cabinet. This is a silver-plated copper cable, factory terminated with rhodium plated plugs. The same FTM cabling is used inside the speaker as well.
The Duke has been designed using several in-house technologies developed over time for all Hulgich Audio speaker models. Two such technologies are Low Diffraction Baffle Technology (LDBT) and Coherent Sound Technology (CST).
LDBT offers low baffle diffraction which results in an even frequency response on-axis and off-axis, with a smooth power response as well. This results in a non-fatiguing sound, a large sweet spot and a large soundstage both horizontally and vertically. I found that the speakers sounded pretty much the same whether you were seated or standing, or walking around the room.
CST is a time and phase alignment technology whereby all speaker drivers appear sonically as one at a particular distance (optimally at 3 metres for the Dukes). CST is comprised of three separate technologies.
Driver Time Alignment (DTA) technology ensures that all drivers are time aligned when the sound reaches your ears.
Driver Phase Alignment (DPA) technology ensures the relative phase tracking is as close to zero as possible, not only at the crossover frequencies but also at least 2-3 octaves below and above those crossover frequencies.
Wide Dispersion Technology (WDT) involves choosing crossover frequencies that optimize each driver's dispersion characteristics. This allows each driver to operate within its comfort zone resulting in virtually no distortion or cone break-up while avoiding any beaming and suck-out issues.
All Hulgich Audio speakers use SB Acoustics drivers exclusively. SB Acoustics is a highly respected Danish company with tightly supervised manufacturing based in Indonesia. The drivers were selected after testing many drivers from SB Acoustics itself and also other manufacturers in order to obtain the requisite units for Duke. Given all the stringent requirements that Hulgich and Niréus stipulated, they eventually chose specific drivers from the top of the range Satori line.
The midrange and woofer drivers are made with Norex paper cones with a special coating of Egyptian papyrus and long fibres. This coating further stiffens the cone and alleviates severe break-ups and hence distortion. These drivers have a vented cast aluminium chassis for strength and low compression. They use a non-conducting fibreglass voice coil former for minimum damping and a copper sleeve on the pole piece for low induction and low distortion.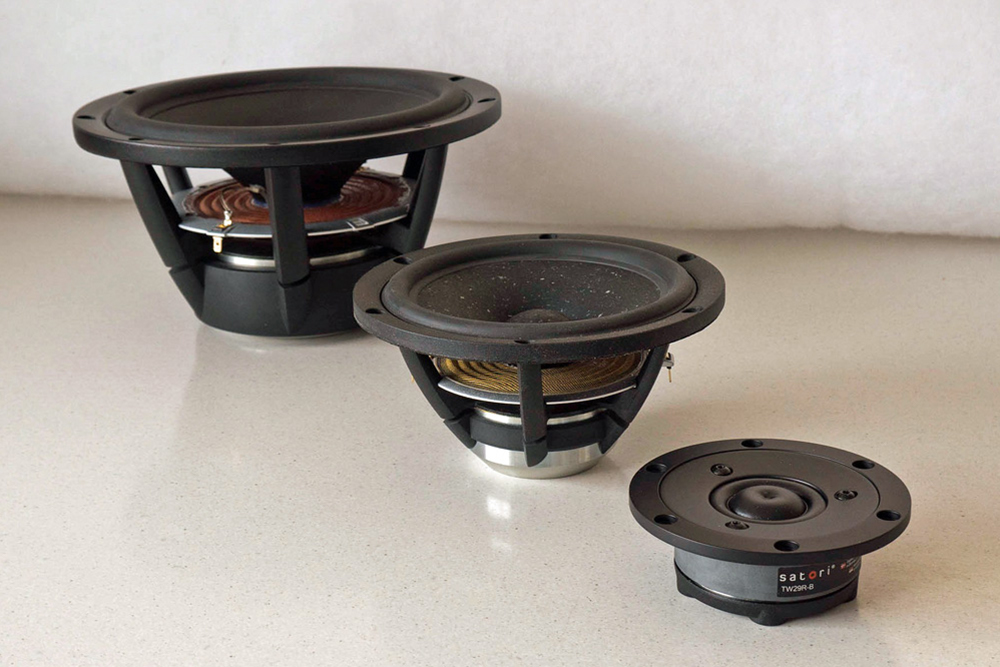 The tweeter is a 1.2 inch ring radiator type tweeter with 'Dimple Dome Technology'. The dimple dome features an inverted phase plug that ensures a smooth and linear frequency response on-axis and off-axis. Its on-axis frequency extension is well over 30 KHz. It has a non-resonant diaphragm for minimal break-up and a Copper-Clad Aluminium Wire (CCAW) voice coil for low moving mass. It is mechanically de-coupled with optimised compression chambers for improved dynamics. The motor system reduces saturation by utilising a T-shaped pole piece.
Note that if you wish to use the Dukes with tubed amplifiers, then an optional "Impedance Correction Circuit" (ICCT) device can be installed to ensure smooth linear impedance. This connects to the binding posts, so it can be retro-fitted to an existing pair of speakers later on if required.
Setup
Nick was in town for a special event and stayed with us (my wife and I) for a number of days afterward. This proved very beneficial because Nick helped setup the Duke speakers in my music room. In Australia it's not common to have the manufacturer setup his product in your own home. We were meticulous in our measurements for placement. We used a Disto meter to measure from the side walls and back wall. The speakers are engineered for 15 degree off-axis from the side walls with a listening distance of 3 metres and a speaker spread of 2.5 to 3 metres. This was exactly what we were able to achieve.
When we started listening, we used the components in my usual system, except my reference PMC speakers of course. Earlier we'd moved my reference speakers well clear to the back of the room such that their bulk wouldn't be an interfering factor in the sound quality. We listened in this configuration for a couple of days to get a complete handle on the sound of the Dukes in my room with my gear.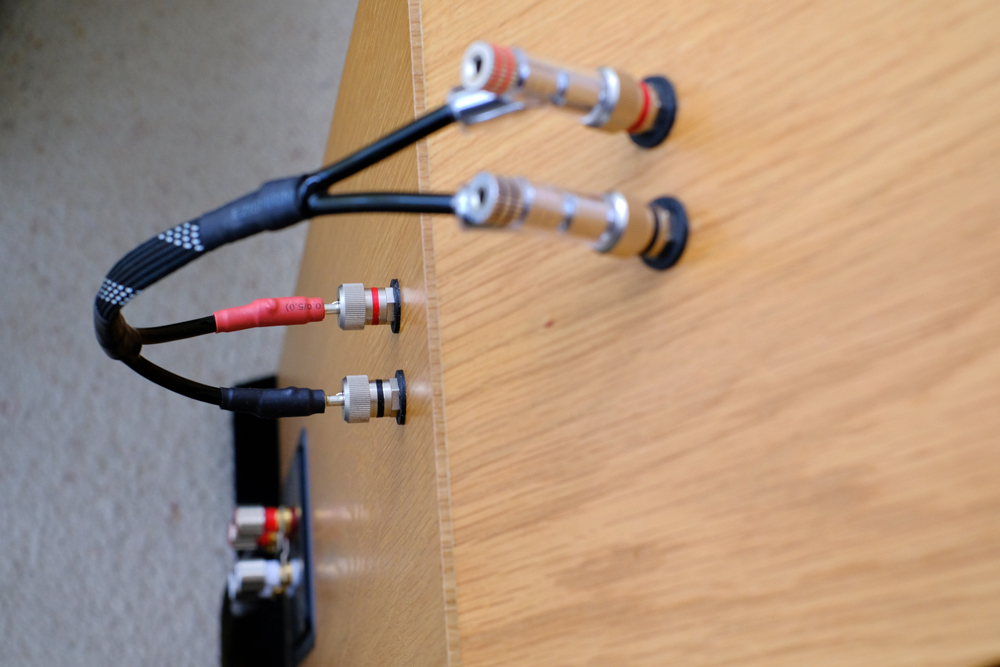 But with Nick's over-achieving AudioGD R8 DAC waiting in the wings, we were both keen and curious to hear it in my system (replacing my Bricasti Design M1). The M1 is a Delta Sigma DAC whereas the AudioGD is a R2R, or 'ladder' DAC. We both preferred the NOS filter (non-oversampling filter) on the AudioGD DAC and tended to leave it on that setting. There were subtle but meaningful differences in the presentation between the two DACs. I will describe that later on.
It Don't Mean a Thing (If It Ain't Got That Swing)
Some speakers are engineered bottom-up and some top-down – by that I mean respectively that their frequency spectrum is weighted from the bass upwards, or weighted from the treble downwards. Bottom-up speakers are often referred to as being "dark" because of the unnatural body they impart to the sound which in turn tends to mask detail in the all-important midrange. The Hulgich Audio Dukes are weighted evenly across the bandwidth – they don't favour any frequency, they illuminate an equal amount of light and energy into all frequencies. The result is a coherence and balance found in few other speakers in my experience.
Although named after a jazz legend, the Dukes are certainly capable of handling all genres of music. During my time with them I tossed everything from Classical to Techno at them, and they handled it all with equal aplomb. They proved to be very transparent to system changes. For example, swapping an S/PDIF cable out for an AES/EBU cable into the DAC was quite apparent.
As well as possessing an uncanny coherence, the Dukes portrayal of music was very clean, spatially accurate and believable. I think it was their balance and openness in particular that allowed me to really hear into the wide and deep soundstage they cast. They proved to be a bit addictive… I found myself playing many of the different genres and tracks that I use for evaluations just to see where faults or weaknesses may lie.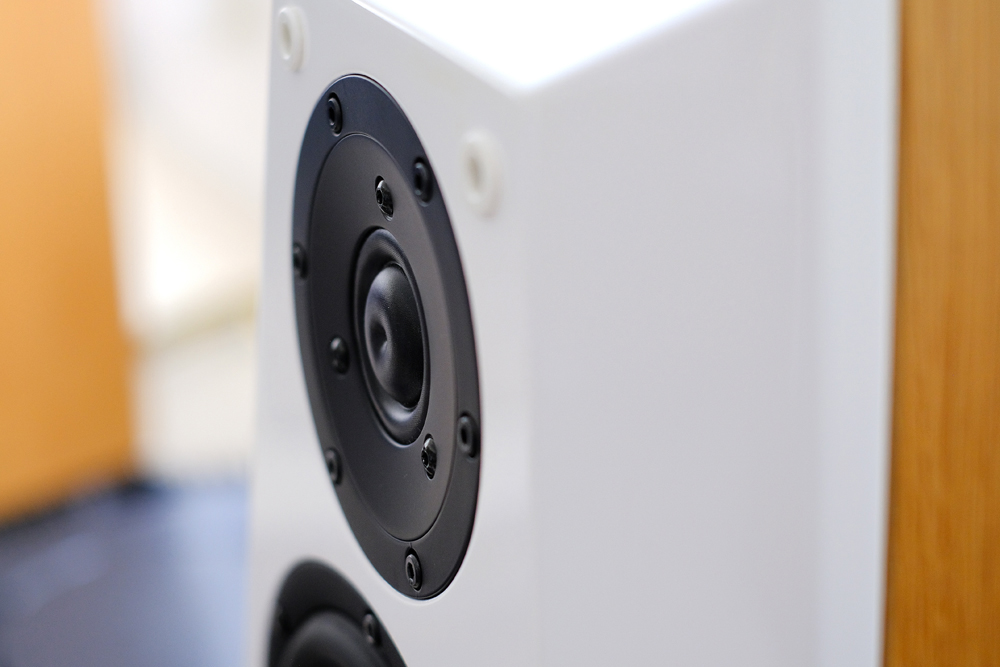 The Chris Jones' track "Roadhouses and Automobiles" from his album of the same name has been much overplayed at our house. But with good reason… tonality in the voices was superb, the bass was tight, the whole soundstage was wide open with very good resolution and detail. And his guitar possessed that realistic zing you hear after you've restrung with new strings.
That wide and deep soundstage was also tidily laid out in a believable and natural presentation, likely made possible by the previously mentioned diffraction LDBT baffle. Separation of instruments and voices was very good, with the right essential air around them, all laid out in believable layered images. A track called "Lonely Hands" from an early album titled Red Berries by Angus and Julia Stone had wonderful crystalline purity to the piano. The kick drum was solid although not prominent. Angus's voice was very open, clean and articulate with no sibilance. Vocals were portrayed across an imaginary front line between the speakers.
Difficult instruments to reproduce had realistic timbre and tonality. Piano had good weight in the left hand and brilliant purity and tonality in the treble on hard-struck notes. Violins have a knack of embarrassing even great systems when the totality of that system isn't copacetic and working in harmony. Fortunately, I heard some lovely believable string tones with the Dukes. For example take Rachel Podger playing "Concerto L'Amoroso in E Major" (24/192) from her album Vivaldi Le Quattro Stagioni (on Channel Classics). The balance of the violins was exemplary – there was beautiful tone with very little harshness in the strings. I was surprised to hear the background noise that came through especially at the close of some tracks – very unusual for Channel Classics. Realistic bass weight in piano could be heard in the Yevgeny Sudbin rendition of "Keyboard Sonata in D Minor, K.213" from Scarlatti 18 Sonatas (24/96). His piano also had beautiful clarity and tone.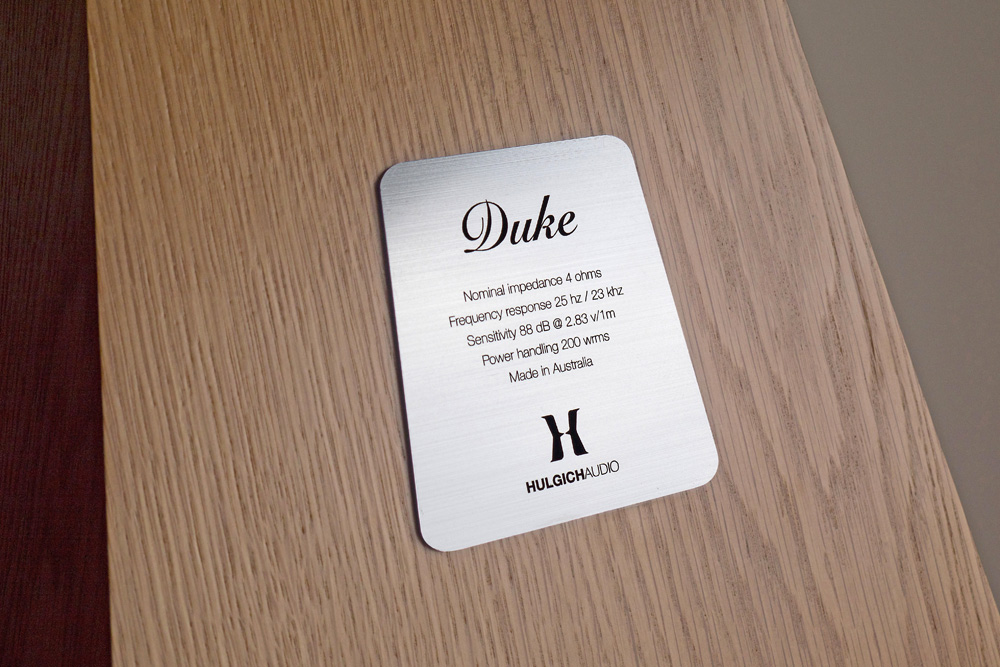 Detail retrieval and resolution was excellent. The midrange is very open and transparent – it allows everything to come through. On the track "The Lover of Beirut" by Anouar Brahem from his album The Astounding Eyes of Rita (24/44.1), you could clearly hear the bass clarinettist as he drew breath between long beautiful melodic tonal passages. You could clearly hear the sharpness of the drum thwacks and their reverberation deep into the soundstage.
In my opinion, one of the last great "traditional" jazz albums by Vince Jones was One Day Spent. It has many great tracks, but the slight lack of definition in the bass has always irritatingly prevented me from properly following all the bass lines in the track "The After Thought". With the bass clarity offered by the Dukes I thought that maybe, just maybe, I could finally sort it all out. Alas, the muddle at 3:18 remained largely a muddle – only just slightly better. It is now clear to me that this muddle is likely just a reflection of the quality of the recording itself. The bass aside, the track illustrated a lovely tone to Vince's voice and trumpet. There was a lovely bell-like crystalline quality to the piano highs.
The Dukes are anything but muddled in the bass. As I said earlier, no frequencies really stand out in the sound stage so, at first listen, you might think the Dukes are a bit unexciting and perhaps reticent in the bass. But you'd be wrong. When bass notes come along you definitely do hear them. The Dukes provide deep bass however, their bass extension, their gravitas and power is not as earth shattering as speakers such as my reference speakers. Running some tests I determined that, in my room, the Dukes were very solid and extended down to 40 Hz. At 31.5 Hz they were slightly rolled-off. At 25 Hz the roll-off was noticeable as was the reduced room pressure. However, the lowest note on a piano is about 27.5 Hz, so you'll still hear and feel that impact. Since most bass in the piano is well above 27.5 Hz it's not likely you'll be left wanting. And if you like jazz then consider that the lowest bass note on a 4 string double-bass is 41 Hz – you'll hear that just fine.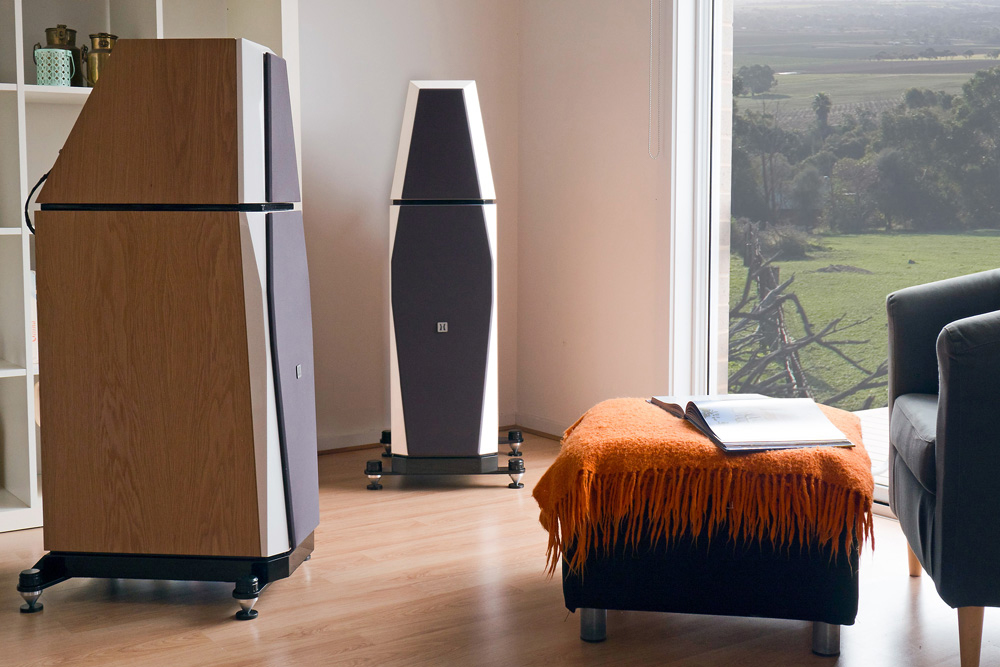 I didn't ask, but I suspect that Nick and Göran made a conscious decision to sacrifice some bass heft in favour of that marvellous clarity and articulation that they've achieved. To have both, you'd likely need larger cabinets and more bass drivers. And of course that means a more complex crossover with a whole new set of problems to overcome. I think that they got it right.
The kick drum at the start of the track "Take the Power Back" from the self-titled album Rage Against The Machine had bite, dynamics and clarity but wasn't quite as powerful as my reference speakers. I noted that the Bricasti Design M1 presentation was a wee bit more rounded and bloomy in the bass than the AudioGD. There was slightly better clarity in the kick drum with the AudioGD DAC. "Morph the Cat" from Donald Fagen's album Morph the Cat (24/96) showed control and punch in the mid and the kick drum, with nice air in the voices. Again, the M1 bass presentation was slightly more rounded, but overall it sounded cleaner and more pure in the treble.
Conclusion
I had a number of friends and guests come by the house to hear the Dukes. More than a few people commented on their resemblance to Wilson Audio speakers, in particular the Sasha. Consequently, some people asked how they compare to a Wilson speaker – that is something I couldn't comment on because I haven't heard any Wilson speakers in my new room. Perhaps SoundStage! Australia's Editor-in-Chief Edgar Kramer can add a comment on this as he has the Wilson Audio Alexia Series 2 and has heard the Dukes in his system. Nevertheless, that people should think the Dukes compare to such world-class speakers as Wilsons, well, Nick and Göran should really consider that a compliment. When you consider what the Dukes cost they must be seen as a real bargain. The only reason for the relatively low price is because they are available direct from the manufacturer in Adelaide – the low price is certainly not an indication of lower performance or value.
Reviewing the Hulgich Audio Duke speakers was an absolute joy. The words "balanced" and "believable" appeared in my listening notes a number of times. Their detail retrieval, tonality, imaging and soundstaging are all superb. They are terrifically open sounding yet never turned harsh unless provoked by a really poor recording. Are the Dukes world-class speakers..? That's not really for me to say, but if they aren't, they're damn close! Crikey!
… Tom Waters
Associated Equipment
Speakers — PMC MB2 SE speakers with ANTICABLES Level 5 Signature jumper wires
Amplifier — Mark Levinson 33H monoblocks
Preamplifier — Trinnov Audio Amethyst
Sources — Gryphon Mikado Signature CD Player, Mac Mini (running Roon Core), Bricasti Design M1 DAC
Processor — Trinnov Audio Amethyst
Cables — ZenSati #1 and #2 interconnects and speaker cables, sILENzIO S/PDIF, Nordost Tyr 2 AES-EBU, AudioQuest Vodka Ethernet cables, Nordost Tyr 2 power cords, Synergistic Research Hologram A and D power cords, ANTICABLES Level 3 Reference power cord, Nordost Purple Flare (Figure 8) power cords (for Mac Mini and router).
Audio Rack — Schroeders and Schroeders, Symposium Ultra custom-made amplifier stands
Miscellaneous — Nordost Quantum QX4 line purifier, Nordost Quantum QV2 AC line harmonizers, Nordost Quantum QK1 AC Enhancer, Nordost Quantum QB8 power distribution, dedicated 20 amp power lines, Stillpoints Ultra 5 isolation footers, Stillpoints Ultra SS footers, Symposium Rollerblock Jr isolation footers, Symposium shelves, Vicoustics bass traps and diffusers, RealTraps bass traps.
Hulgich Audio Duke Loudspeakers
Price: AU$18,600
Warranty: Five Years
Hulgich Audio
500 Andrews Rd
Andrews Farm SA 5114
Australia
+61 401 419 342
www.hulgichaudio.com.au