Lumin Audio burst onto the scene in 2012 with the first DSD compatible network audio streamer. Such a sophisticated and well sorted first product hinted at a longer engineering heritage. It turns out the parent company, Pixel Magic Systems Ltd, which was founded in 2003 with offices in Hong Kong and the United States, quickly became a market leader in video processing (they developed the first Linux based video processor). Rave reviews followed and Lumin went from strength to strength expanding their range of Network Players to include the U1 Mini reviewed here.
The Swiss Army Knife of Software Playback?
Lighter and smaller than I was expecting given the impressive engineering hidden within, the U1 looks modern and unassuming sitting amongst the rest of the playback gear. Reading the supporting playback file list reminded me of the potential minefield that is software playback post Redbook CD. Luckily with the U1 Mini you can concentrate on the music and not the codec.
From CD's 16-bit 44.1khz sampling rate through to 32-bit 384 kHz, DSD64, 128 and 256 the U1 mini has it covered. MQA is something I was really excited to explore having read so much about it.
The U1 Mini has a host of digital output options which include, from left to right, AES/EBU via the associated XLR connector, S/PDIF via both BNC and RCA, Toslink optical (DoP/DSD over PCM support for all the former) and two USB inputs for flash and NAS drives. The RJ45 Ethernet connector is provided for UPnP network connectivity and is alongside the standard IEC socket with spare fuse compartment.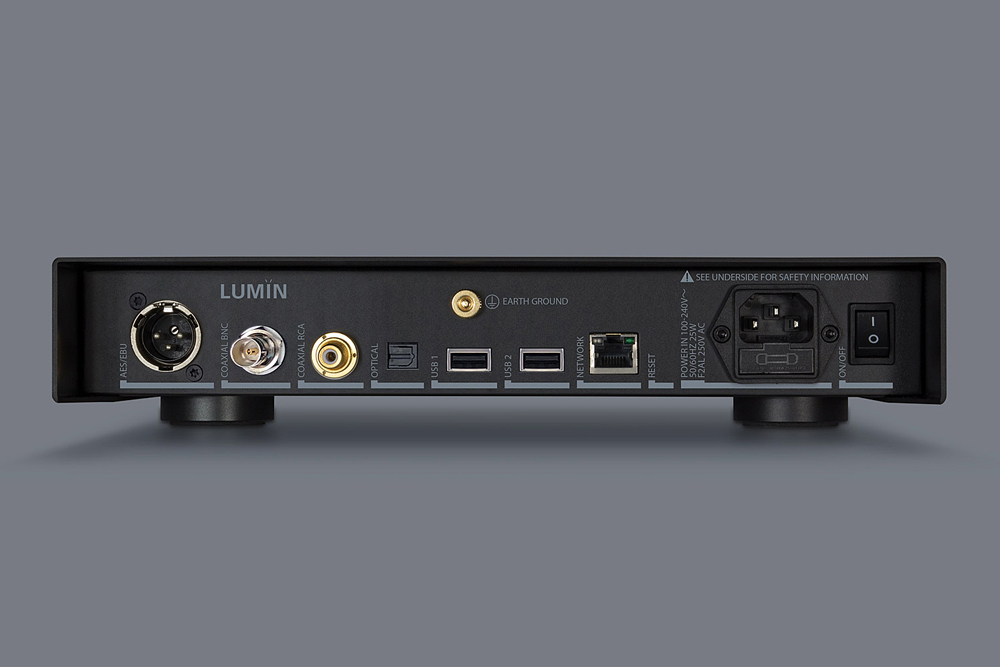 The U1 Mini is Roon Ready. There's onboard Tidal, Qobuz, Spotify, TuneIn and AirPlay support while file format compatibility is wide from FLAC to WAV and many in between. Lumin has created its own free App for full music control (the App also provides high-res artwork, multiple tag handling, etc.). Device support for control extends to both iOS (full Retina display compatibility) and Android devices. Playlist options for both saving and restoring include Tidal and Qobuz.
Finally, the U1 Mini is a well-built component which is available with a thick brushed aluminium fascia and steel chassis and is available in either black or natural aluminium.
Luminous Sound
MQA was of particular interest to me and some sound comparisons with a lossless FLAC via Tidal was illuminating. With one of my audio buddies and connected to his very lovely sounding system of JBL 4365, Audionote Kits Canada Mentor Pre and Audionote Kits Canada Level 4 EL34 n monoblocks with the Lumin playing Network and Transport duties into his Audionote Kits Dac 5.1 the improvements heard from the MQA selections were unmistakable and musically important.
Interstellar, the soundtrack to the great Christopher Nolan-directed and produced Science Fiction film was first. Playing "Afraid of Time" via MQA the music was suddenly deeply emotional. Instead of the mechanics of the music I started to think about the loneliness of space. Playing non MQA I kept losing interest in the music being played. The FLAC file also had more grain with shortened decay on the notes. It felt like there were slight timing and pitch variations similar to a slipping belt or motor issues with a well-past-its-prime turntable.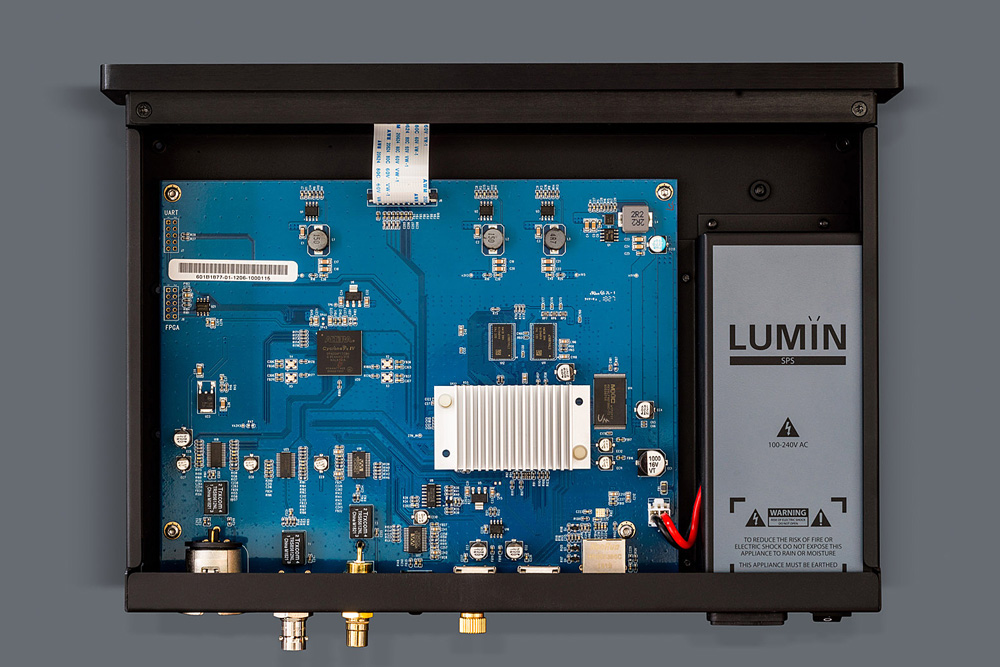 Tom Waits was next with Alice his 2002 album of songs for the play of the same name. As always with Tom Waits the album is highly original and interesting but it's not one of his better sounding albums. Playing the title track in MQA again made me feel more connected to the music. I started to think of Earth as a little like its portrayal in "The City of Lost Children" the masterpiece of French cinema from Jeunet and Caro and providing a totally different surreal version of reality. The regular FLAC sounded like bad early digital. That is grainy, harsh and flat. MQA made the music that much more listenable, relatable and enjoyable. Before the musicians seemed to be playing in isolation. MQA welded them together making them seem like they were playing alongside each other.
Niggles
In the three systems it was tried in, we encountered the same little niggles. The Lumin took quite some time for the hard drive to load each time a source is changed (hard drive to Tidal). To play music you have to create a playlist each time which can be a little annoying in this age of instant gratification. I called these issues niggles because they are very minor issues in what was otherwise a delightful experience. Hopefully a software update will fix some of these little issues (or perhaps there may have been some element of user error?).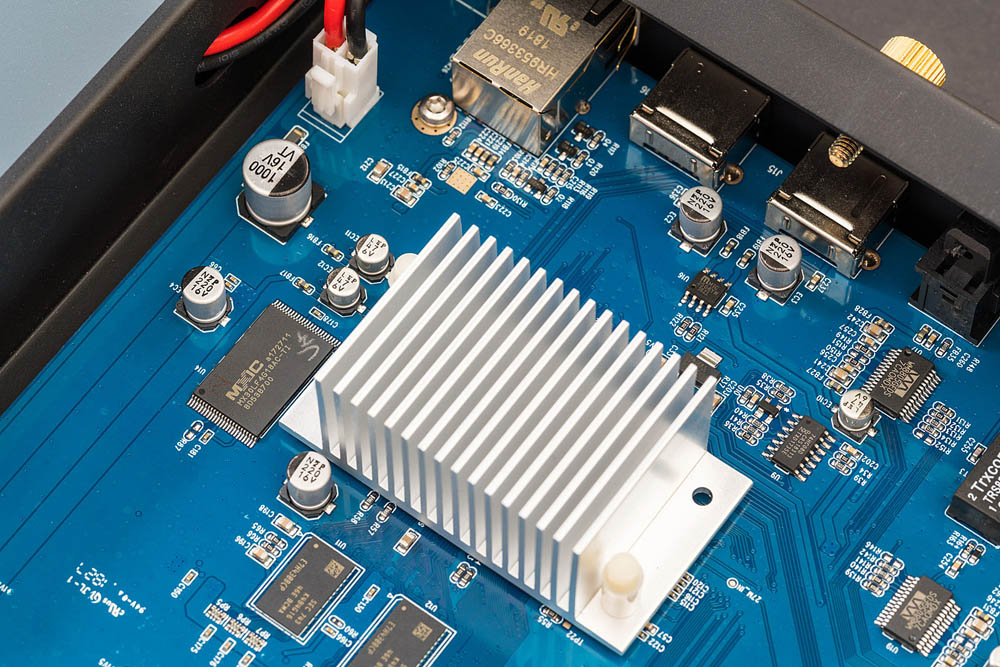 These minor issues aside, the Lumin was a wonderful addition to all the systems I heard it in. It played everything thrown at it and, just as importantly and rarer than I would like, it connected me and my buddies to the music that was playing in a way that made me focus on the emotional sweep of the music and less on the distractions of day to day life.
Conclusion
Using much of the same technology as the much dearer, very highly regarded Lumin Network Players I suspected the comparatively affordable U1 Mini would be an easy recommendation… and it was.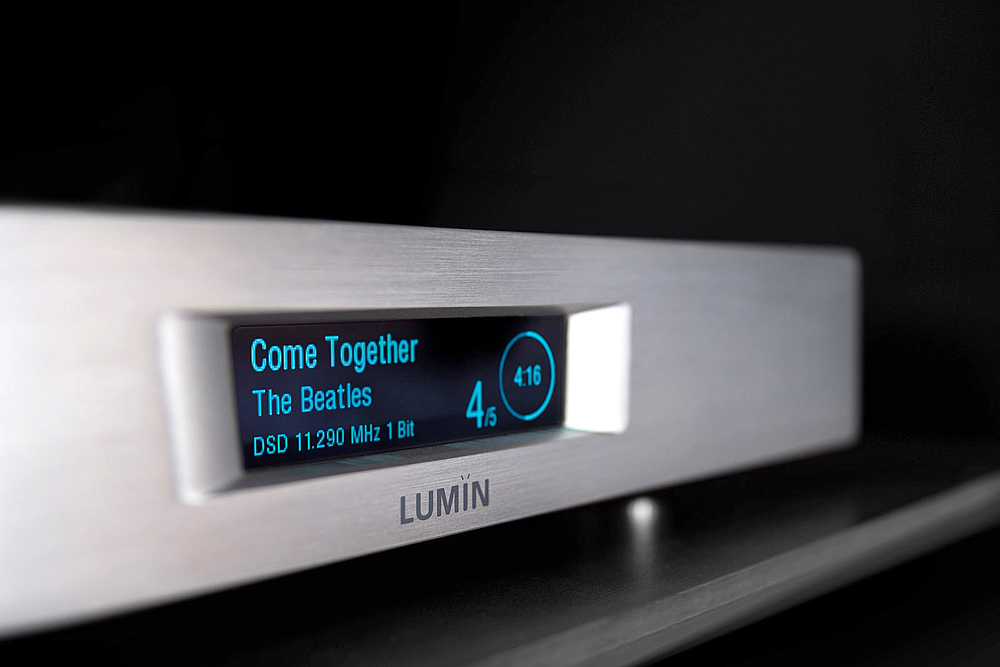 Lumin managed this by applying cost savings via its single chassis, a more modest power supply and removing the DAC section. Being able to play most formats and with great sound and ease of use I could see the U1 Mini being a perfect solution to someone who is content with his/her current DAC but who would like to play the file formats and streaming services available nowadays.
If this is how good Lumin's lower rung model sounds, I'd love to hear some of the company's dearer units…
… Bryan Moon
(Bryan Moon is the founder of the soon to be launched AudioLog.com.au personal audio blog)
Associated Equipment
Speakers — Michael Brown Sophera, Klangfilm project high efficiency system, Altec 32a/ 414 Alnico based system
Amplifier — Rethm Ganaam 6c336 2 chassis integrated, Sony NA7 VFET, Sony 4650 VFET, Metaxas Iraklis, Bakoon
Preamplifier — Slagle Autoformer Mki using transformer lead out wires into silver Japanese switches in a Gabon Ebony enclosure, Slagle Autoformer MKII
Sources — Oppo BDP105 with custom Chris Barnard mods
Cables — Cerious Technologies, Dual Connect Solid Pure Gold, Audience Au24, Duelund
Audio Rack — Ikea (lack compressed paper for low energy storage) with custom Audiolog vibration suppression platforms
Miscellaneous — Townshend Audio, Auralex and custom AudioLog vibration suppression platforms, Vicoustic Super Extreme Bass Traps, Carpets etc.
Lumin U1 Mini Network Player
Price: AU$3290
Warranty: Two Years
Australian Distributor: Audio Magic
+61 3 9489 5122
www.audiomagic.com.au
Lumin Music/Pixel Magic Systems
Unit 603-607
IC Development Centre
No.6 Science Park West
Hong Kong Science Park
Hong Kong
www.luminmusic.com