APL Hi-Fi is the brainchild of talented audio engineer and designer, Alex Peychev. He founded his company in his homeland of Bulgaria in 1988. APL Hi-Fi originally started as an award winning modifier of products, but soon after and presently, APL Hi-Fi solely designs and builds its own products. All APL Hi-Fi ILLUMI-FI products are unique and individually handcrafted with a build quality that surpasses typical boutique and achieves a new standard altogether. Alex's goal is to produce true and natural sounding products that fulfil his company's motto "No Boundaries".
Illuminate Me
Like all APL products, the DSD-SR Digital Analog Converter is a real all hand-made boutique product very different from mass market fare, regardless of price. It is designed and built without any budgets or other such constraints. A few examples are non-magnetic passive and active components, custom audio transformers by Lundahl and custom power transformers. All components on all boards are populated by hand and many of them are soldered that way too. The entire DAC is hand-wired using specially selected solid-core conductors for the digital and analogue signal paths.
From the massively oversized power supply to the MOSFET output stage, every passive or active component has been extremely carefully chosen from hundreds of possibilities in order to ensure the final sound character that Alex was after, namely, the closest possible to pure analogue. APL products are not only about the given technology and circuit topology, but also the chosen passive and active components used to ensure the best possible sound.
The DSD-SR DAC is within the ILLUMI-FI product range. It offers a no compromise digital audio reproduction based on an all solid-state design. It is engineered to provide a rich and spacious sonic character comparable to vinyl sound quality.
As the name suggests, the DSD-SR is a DSD DAC, meaning it encodes PCM to DSD and then converts to analogue (Peychev explains this a little later). The user can choose between encoding PCM to DSD64 or DSD128. A DSD input is converted straight to analogue with no intermediate encoding.
The DSD-SR offers the usual digital inputs: two S/PDIF coax with WBT NextGen 75 ohms connectors, AES/EBU, optical TOSLINK and asynchronous USB. The USB connector is Type-B and accepts up to 384 kHz 32-bit PCM as well as DSD64 and DSD128 in DoP format (Digital over PCM). There are also two proprietary DTR inputs for connecting to APL Hi-Fi digital sources. Ultra-low jitter is achieved through the use of Femto Master Clocks.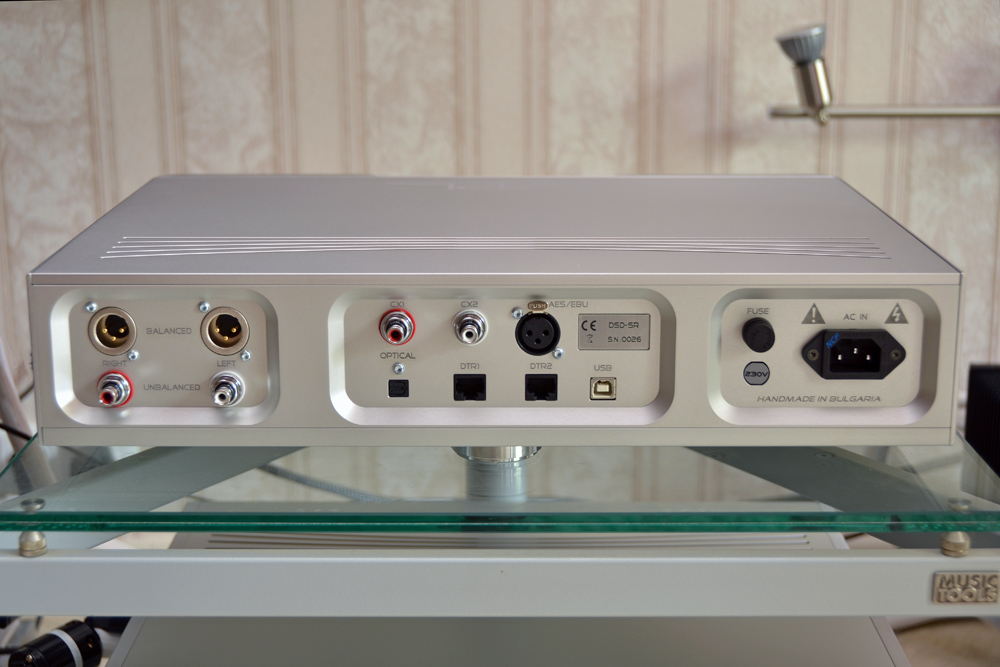 The analogue outputs include single-ended RCA with top quality Furutech connectors, and balanced XLR outputs with Neutrik connectors. The output level is factory set at 2.1V RMS at 0dbFS. The output impedance is set at approximately 15 ohms. The main power supply uses a 1A Gold fuse made by AMR.
The analogue output stage is a pure Class-A zero feedback design using MOSFETs. There are no capacitors and no mechanical contacts, relays or switches in the signal path. The hybrid attenuator offers a lossless volume control with 0.5 dB steps. It is capable of driving power amps directly with no need for a preamp. The power supply uses an oversized custom P-Core balanced power transformer and all wiring for the power supply is solid copper.
DSD-SR measures 450mm wide by 120mm high by 380mm deep. The height with the included feet is 140mm. The feet are quite special and are described more by Peychev a little later on. Weight is a substantial 12kg.
As a personal touch, you can order your DSD-SR with the FLD display in your choice of rose, blue or green colour. The unit is shipped with a special power cord designed by APL Hi-Fi in addition to a well-designed and solid milled remote, a User Manual and a Certificate of Authenticity. The standard parts and labour warranty is 2 years which is extended to 3 years upon registration. Lastly, the DSD-SR is based on a modular design allowing cost-effective future upgradability of any internal stage.
The Architecture
I asked Alex Peychev about the internal architecture of the DSD-SR DAC…
The architecture of the DSD-SR is similar to the flagship DSD-MR where a FPGA is used for digital filtering and PCM to DSD conversion. While the big DSD-MR has my own designed DSD to analogue conversion, the DSD-SR uses devices by Cirrus Logic in paralleled mono configuration. The D/A conversion devices work in DSD-only mode (PCM inputs are grounded) and our special output configuration achieves Class-A operation. DSD is processed without intermediate PCM conversion inside the DAC devices. Furthermore, a patented technology used only by Cirrus Logic allows for DSD filtering and attenuation without any sort of decimation so it preserves the integrity of the DSD stream. This allows for hybrid attenuation inside the DSD-SR where 48dB of attenuation is possible with only 12dB used in the digital domain.
I also asked if the FPGA could be re-programmed if improvements in the code were realized later on. Alex responded…
The FPGA-based DSD modulator and associated digital filtering were finalised long ago after many iterations. I am quite happy with the modulator performance and do not foresee any possible upgrades of this specific design. The USB module firmware can be upgraded using a PC, if necessary. However, we are quite happy with its performance as well.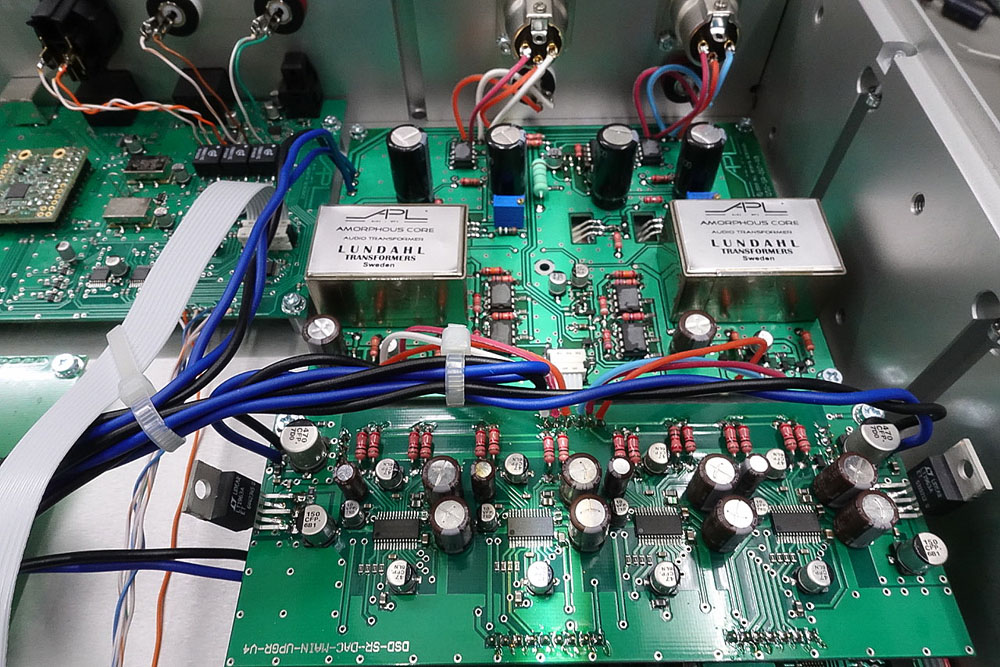 No doubt readers know all about the talk and multitude of opinions regarding the "flavour of the month" when it comes to DACs. At present, many people are touting that R-2R aka ladder DACs sound the best. Given that the DSD-SR is a radically different design, I asked Alex if he had any response he'd like to share…
More than 20 years ago just about every high-end audio manufacturer was using the 20-bit PCM1702, and then the 24-bit successor PCM1704, both R-2R devices. Then, Cirrus Logic came up with SDM devices that were more musical than R-2R. Analog Devices, Burr-Brown (later Texas Instruments), Asahi Kasei Microdevices (AKM) and some other companies also introduced SDM DAC devices that sounded more natural than R-2R. I used AKM in my older designs with great success. In my personal opinion, R-2R D/A converters are nice, especially on paper. Such designs offer one of the best THD+N and dynamic range measurements, as well as very nice bass, focus, air, imaging, etc. But to me, the old 16-bit TDA1541A is more natural, rich and musical than any R-2R I know of.
My agenda is different. I am not after the "latest and greatest", or what others might think is the best. I simply spin LPs on my Kuzma Stabi M turntable equipped with Kuzma 4Point arm and Dynavector XV1s cartridge, amplified by my own-designed RIAA stage and use it as a reference for my digital designs. What I am after is the soul of the music, the realism, naturalness and magic, which I feel pure analogue machines, such as vinyl and reel-to-reel best achieve. It takes a great deal of effort to approach the pure analogue sound with digital, but I believe we are close with the DSD-SR and even closer with the DSD-MR converter.
The DSD-SR has three specially designed feet that clatter when you move the machine. I asked if Alex had designed them himself or if they are they aftermarket which he decided sounded the best.
The feet on all of our products are made by Franc Audio Accessories. You can see the official announcement of OEM partnership here: http://f-franc.com/oem-partnership/ . Those are really nice products when it comes to finish and sound quality. However, the balls we use inside the feet (3 in each foot) are made from a different material, not ceramic as in the originals.
Given Alex's previous response on designing to his criteria and not that of others, I asked how important he thought measurements were.
I cannot understand why so many focus on measurements that can be totally meaningless, at least in my opinion. For example, even the best vinyl setup can hardly achieve 50dB of S/N ratio. The best reel-to-reel machines can probably do an "amazing" 72dB (which is equal to 12-bit resolution). This means that both the best vinyl playback system and the best reel-to-reel machine are far worse than even the cheapest CD player. That is true… but only when it comes to measured performance. Otherwise, analogue still rules and by a large margin. So while SDM or pure DSD converters have more noise and distortions when compared to R-2R converters, they sound much closer to analogue in my experience. We've recorded my vinyl setup into both PCM and DSD. On A-B tests the DSD always sounded much closer to pure analogue than PCM.
Filtering In the Good Stuff
The DSD-SR has three filters that the user can choose from. These filters are available only on PCM input with sample rates up to 96 kHz – the filters are automatically bypassed for sample rates higher than 96kHz. For native DSD, there is no digital filtering available. The DF-Zero filter looks like a pure analogue impulse response with no sign of pre or post ringing. The sound and frequency response with the DF-Zero filter is similar to non-oversampling DACs. According to Alex, most vinyl lovers prefer this setting.
The DF-Slow filter starts rolling-off after 16 kHz. It has minimal pre and post ringing. According to Alex, it gives the richness of the DF-Zero filter combined with a good top-end extension.
The DF-Norm (normal) filter does not roll-off the highs, but because of pre and post ringing, it sometimes might sound on the lean side. Both the DF-Slow and DF-Norm filters are linear phase.
Initially I listened to mostly the DF-Slow and DF-Zero filters. At first I found the DF-Zero filter to sound rather flat. I couldn't put a finger on exactly what I was hearing, but it seemed to reduce depth and reverb. But being a non-linear filter, it likely should have sounded the best. Near the end of my listening, I listened some more to the DF-Norm filter. To my ears, it didn't offer the level of sound quality of the other two filters.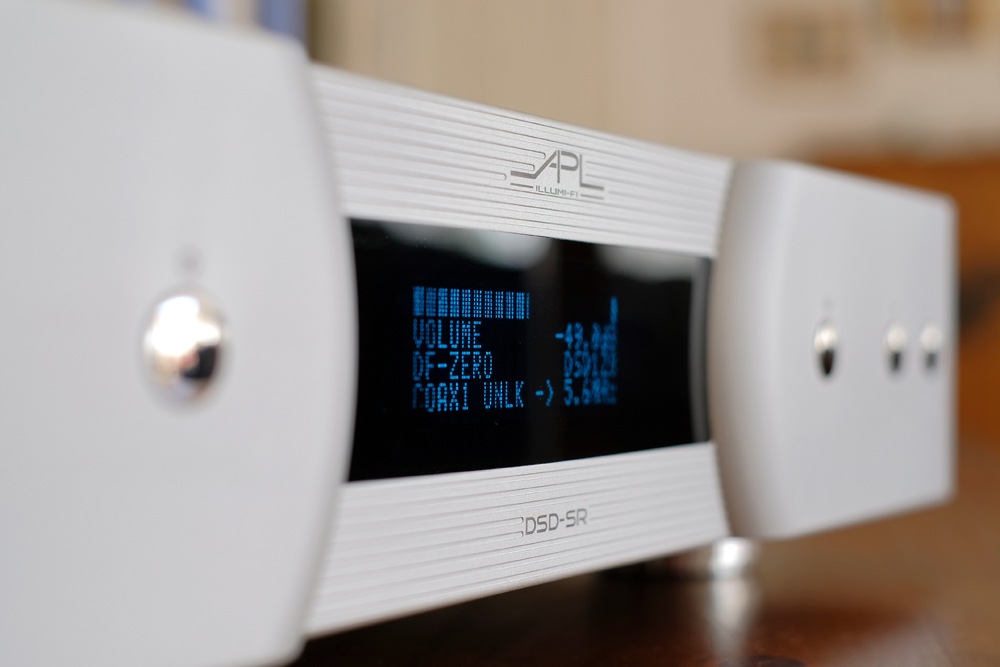 When I first received the APL DSD-SR the sound quality did tend to vary from day to day. At first I wasn't sure if it was the DAC running in, or if it was me (too tired, too much red wine, too grumpy!). It didn't take long to suspect that the DAC didn't have anywhere near the requisite number of hours on it (200-300 minimum according to the manual) when I received it. A friend suggested the fluctuation in sound quality may have been because the hefty power supply was still running in. Later on, I got a note from Alex in which he said that due to the use of audio transformers, APL digital products take some time to sound good again after being shipped around. He suggested that I allow at least 72 hours of non-stop playback before any critical evaluation. So my listening was hindered by more than just a DAC that had inadequate total run-in. In all truth, I felt that I didn't have the DAC long enough to allow me to fully run it in. But that said, day-by-day I could hear that the APL DSD-SR was improving and doing some pretty special things.
I opened my listening with an old Goldie… "The Touch of Your Lips" from Ben Webster Meets Oscar Peterson (24-bit/192 kHz). There was a sparkle in the highs, good reverb back into the sound stage, real energy in the high-hat and good separation between instruments. The spatial aspects and sense of depth were immediately obvious. For the first time I noticed that Webster shifts subtly to the left-centre at one point. The Ben Webster track is surprisingly clean and well recorded, so you can even hear the musicians talking softly in the background.
Being unfamiliar with the DSD-SR, I wasn't sure if it had perhaps too much energy. So I listened to "In My Secret Life" from Leonard Cohen's album Ten New Songs. Its presentation is full of prominent bass and generous full vocals. In some systems it can sound muddy and slow. In this instance, Cohen's voice was clear with good enunciation – the overall clarity and layering seemed good, and it wasn't as slow or overly saturated as I've heard it. I felt that the overall balance of the DAC was a bit lean.
Rather than concentrate on any one aspect of the sound too soon, I thought I'd let the DSD-SR run in more and warm up. So I played "Bid You Goodnight" by Keith Greeninger from the Blue Coast album Producers Choice Volume 1. The guitar work was fast and precise. I could hear the clicks on the fret board, the pull-offs, the little movements in the chairs, the parting of the lips – everything was clear.
After a short break, I played "Roadhouses and Automobiles" from the Chris Jones album of the same name. I was surprised that it sounded similar to my reference. Perhaps the bass was slightly more articulate; perhaps the birds chirping at the end were slightly clearer; perhaps. But the jury was out. So I listened to "Long After You're Gone" from Moonstruck, also by Chris Jones. The bass again seemed slightly tighter and articulate, but it wasn't as deep or powerful as I expected. I started to wonder if the DAC was fully run in, or if its character in my system was just different from what I'm familiar with.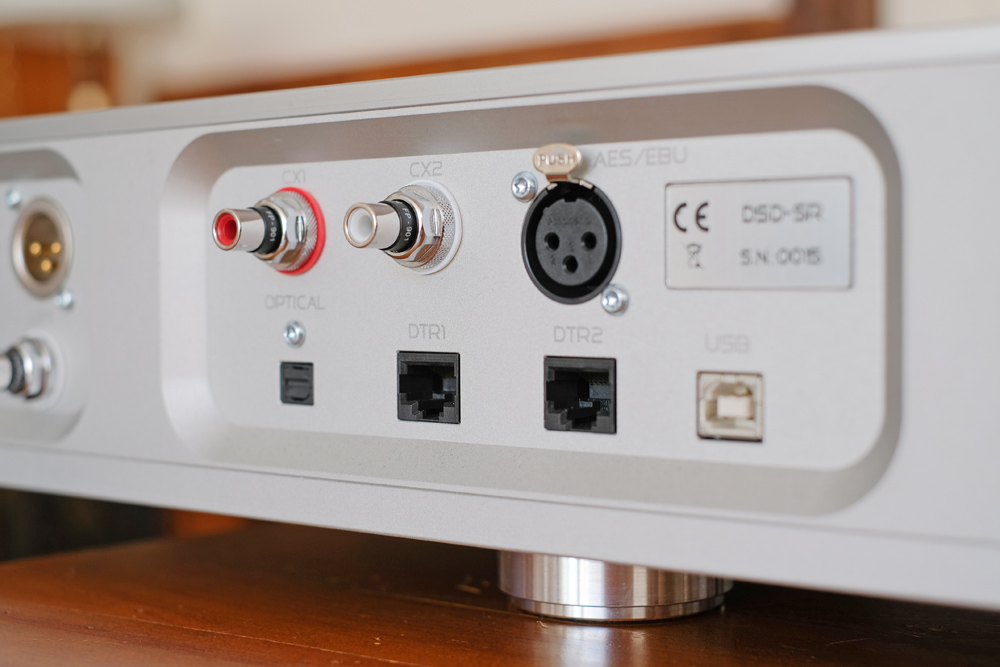 After a couple of days of running-in, I listened to "Mercy Street" from Peter Gabriel's album So (24-bit/48 kHz). The conga drums seemed better delineated, the background vocals were slightly more full and layered, the burbling of the organ in places was clearer, there was no excessive sibilance.
AC/DC's "Back in Black" from their album of the same name was dynamic, clear and punchy with good tonality. Its bass was a shade or two lighter than what I'm accustomed to, which in turn gave the impression it was faster sounding.
"When the Hurt is Over" by Sam McClain on his album Sledgehammer Soul & Down Home Blues was very coherent, tight, transparent and open. The brilliance of the piano shone through albeit with a bit of bite. The transients were very fast. But again, the bass was slighter less full than what I'm accustomed to.
"Ahlam" (24-bit/88 kHz) by NES on their album Ahlam sounded a bit too analytical through the DSD-SR. This is a beautiful sweet song but sounded less musical than I'm used to. Again, I chalked this up to the DAC not being fully run in.
Playing With The Filters
I did experiment with the filters on various tracks to attempt to improve the sound. I found that DF-Zero sounded better on some tracks than others. On the DF-Zero setting, the track "Imprint" on Manu Katche's self-titled album (24-bit/88 kHz) sounded less real in the cymbals and the piano sounded less pure and bell-like. I preferred the DF-Slow setting on this track. But on "Grizzly Bear" by Angus and Julia Stone on their self-titled album (24-bit/96 kHz), the DF-Zero settings won the day – the bass was tighter (albeit softer than my reference), and there was better delineation in voices and instruments.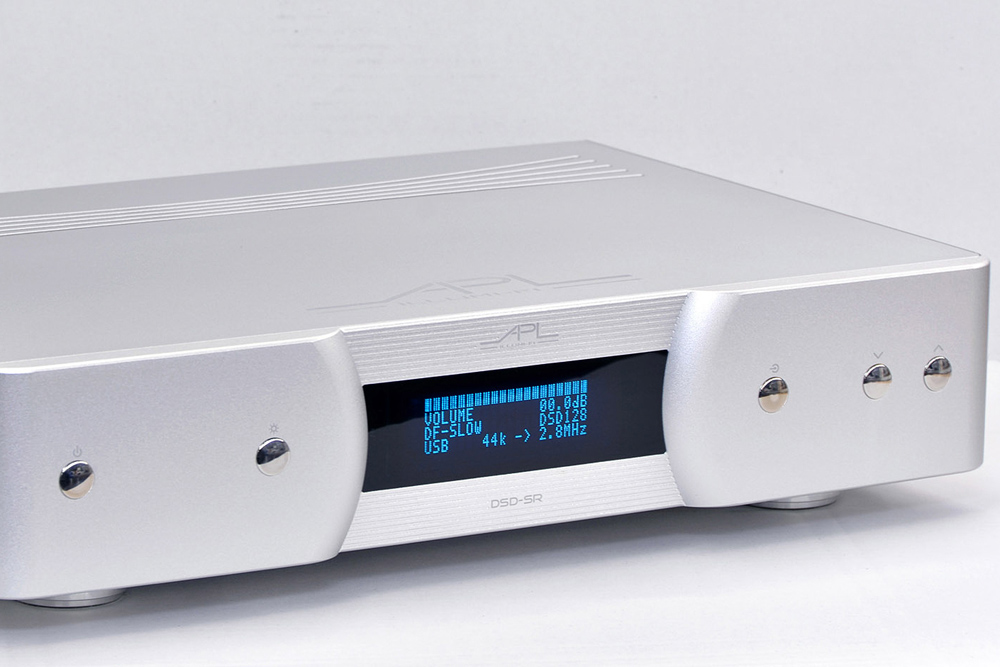 Overall, I preferred the DF-Slow setting. On DF-Slow, Mark Knopfler on his track "My Heart Has Never Changed" from Tracker (24-bit/96 kHz) had better chest and body than DF-Zero. In the end, I'd say that my least favourite filter was DF-Norm.
Conclusion
The DSD-SR's overall balance seemed on the lighter side of what I'm used to. This in turn meant the reduced mid-bass weight allowed small mid-range details to become more apparent. I sensed it was giving emphasis to transients, less to decay. I did temporarily tweak the mid-bass upwards a bit between 80-160 Hz to check if that slight leanness would disappear – and for the most part it did. Of course it's always best to have components that are as neutral as possible – it's a better approach than attempting to smooth the harshness of a solid-state amplifier with valves in the preamp. So to be sure you are getting a component you can live with, you really do need to ensure its run in – only then will you hear it at its real potential.
In the end, I wished I could have listened to the DSD-SR for another two or three weeks to allow it to really open up. But alas… it was sold and had to be shipped off. I suspect that I didn't get to experience its full potential. But given its day to day improvements, I think it's only fair to say that it is indeed a very special DAC worthy of your consideration.
… Tom Waters
Associated Equipment
Speakers — PMC MB2 SE speakers with ANTICABLES Level 5 Signature jumper wires
Amplifier — Mark Levinson 33H monoblocks
Preamplifier — Trinnov Audio Amethyst
Sources — Gryphon Mikado Signature CD Player, Mac Mini (running Roon Core), Bricasti Design M1 DAC
Processor — Trinnov Audio Amethyst
Cables — ZenSati #1 and #2 interconnects and speaker cables, sILENzIO S/PDIF, Nordost Tyr 2 AES-EBU, AudioQuest Vodka Ethernet cables, Nordost Tyr 2 power cords, Synergistic Research Hologram A and D power cords, ANTICABLES Level 3 Reference power cord, Nordost Purple Flare (Figure 8) power cords (for Mac Mini and router).
Audio Rack — Schroeders and Schroeders, Symposium Ultra custom-made amplifier stands
Miscellaneous — Nordost Quantum QX4 line purifier, Nordost Quantum QV2 AC line harmonizers, Nordost Quantum QK1 AC Enhancer, Nordost Quantum QB8 power distribution, dedicated 20 amp power lines, Stillpoints Ultra 5 isolation footers, Stillpoints Ultra SS footers, Symposium Rollerblock Jr isolation footers, Symposium shelves, Vicoustics bass traps and diffusers, RealTraps bass traps.
APL DSD-SR Digital-to-Analogue Converter
Price: AU$25,500
Warranty: Two Years
Australian Distributor: Absolute Hi End
+61 488 777 999
www.absolutehiend.com
APL Hi-Fi, Ltd
36 Raiko Daskalov Str.
Ruse, 7000
Bulgaria
+359 899 225 411
www.aplhifi.com