In Part 2, I continued the journey of discovery as I progressed along the long dual carriage corridor, going room-to-room, on level 9 of the Novotel Central Hotel Sydney.
Approach to the Inmost Cave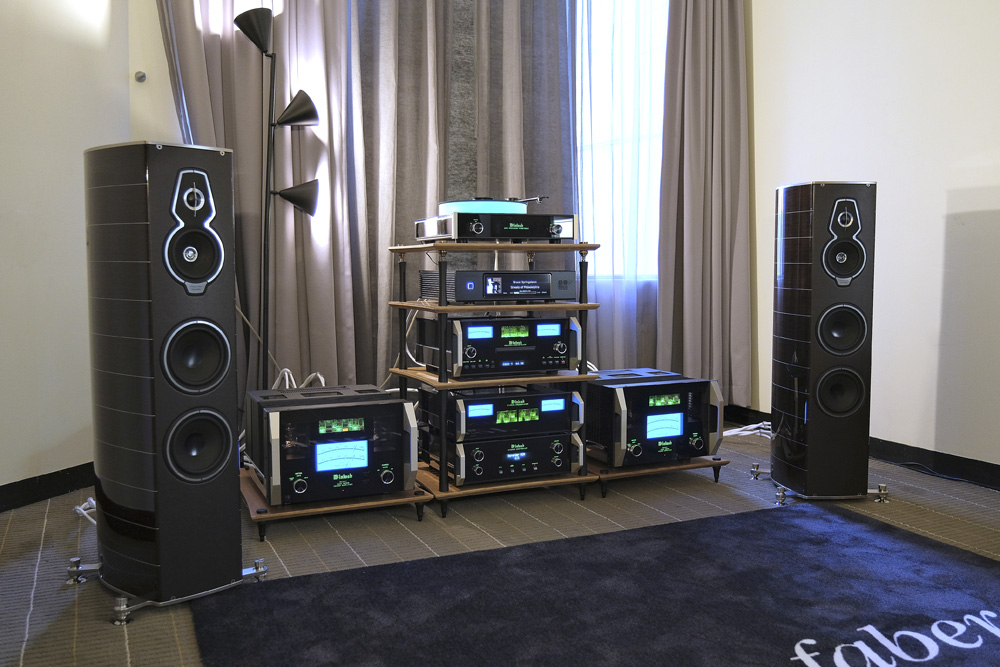 Synergy Audio ran two rooms with a solid sampling of the company's highly desirable products. A full-on Mc Intosh Laboratory system comprised the MT5 Turntable – with digital assistance provided by Aurender's superb N20 Server/Streamer – a big Mac MCD12000 SACD/CD Player and the C12000 two-box preamplifier driving two MC451 Dual Mono Power Amplifiers providing an iron fist to Sonus faber Serafino speakers. The sound reflected the components' pedigree – a refined performance with excellent detail and a layered presentation.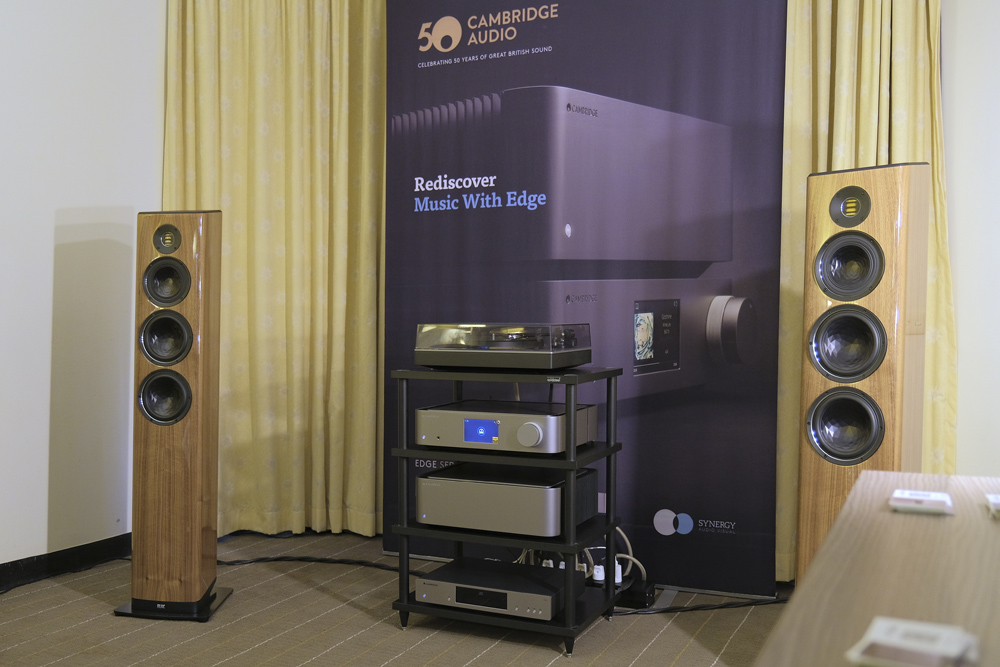 Across the way, the simpler system featured Cambridge Audio electronics (Edge NQ Preamp/Network player and Edge W stereo power amplifier) running Elac Vela FS 409 floorstanding speakers in a very attractive gloss light wood veneer. The famous Elac tweeter sounded extremely detailed and airy while the proprietary midrange and bass drivers punched hard.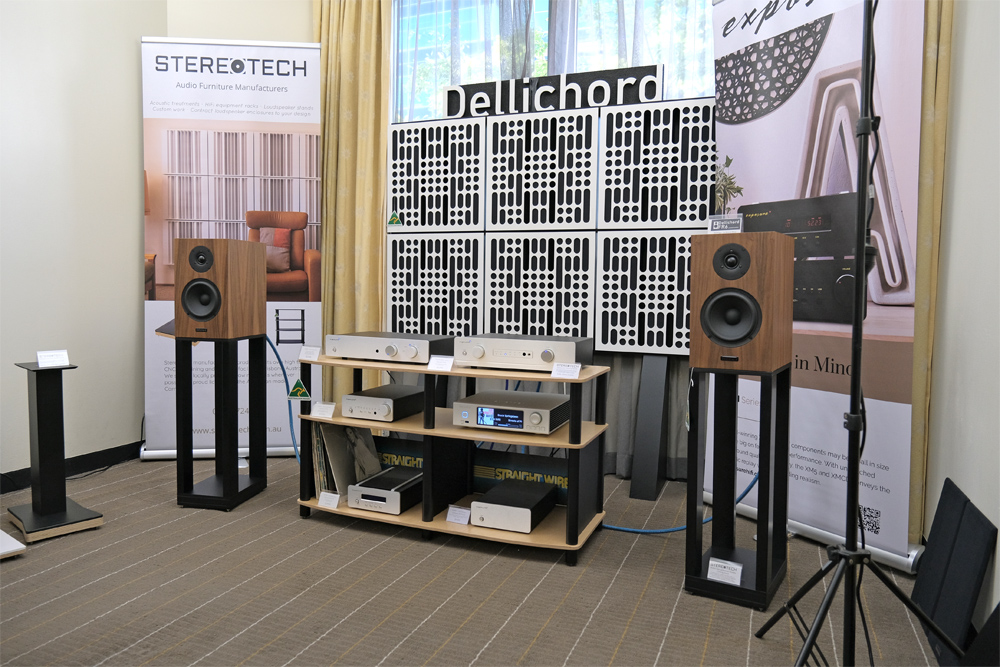 Stereotech and sister company Dellichord showed their wares which span from affordable audio rack systems, quality speaker stands, acoustic treatment panels and onto the highly recommended FR6 isobaric speaker system (review here). These are exceptional speakers, performing at a standard which could see them mated to much pricier electronics than their price would normally suggest. Backing electronics were from Aurender and Exposure. Samplings of Stereotech's speaker stands peppered around the room showed very nicely made units which were also attractive and seemed rather solid.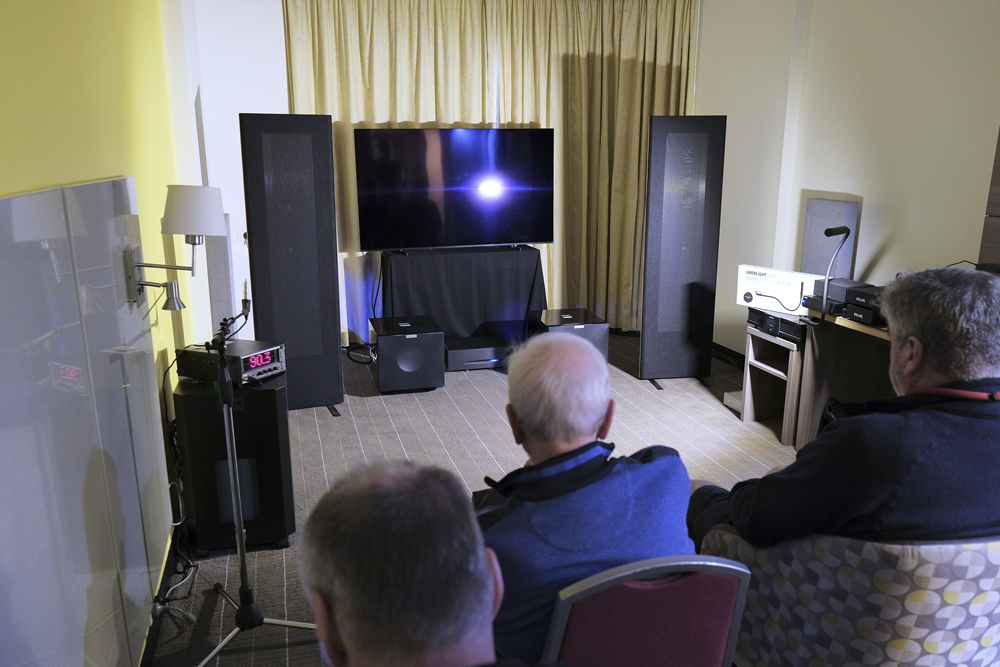 Bill McLean is an old hand at shows and always manages a great sound. With Magnepan MG1.7I speakers mated to REL S/510 subwoofers, the excellent blending communicated an engaging and powerful sound with excellent vocal presence and a big soundfield. Amplification by Sanders Sound Magtech. AURALiC Altair G2.1, via a Melco S100/2 Switch, provided the tunes. As per Bill McLean tradition, a digital SPL meter showed the sound levels in the room (excellent ear-saving strategy), which were just about spot-on for comfortable listening.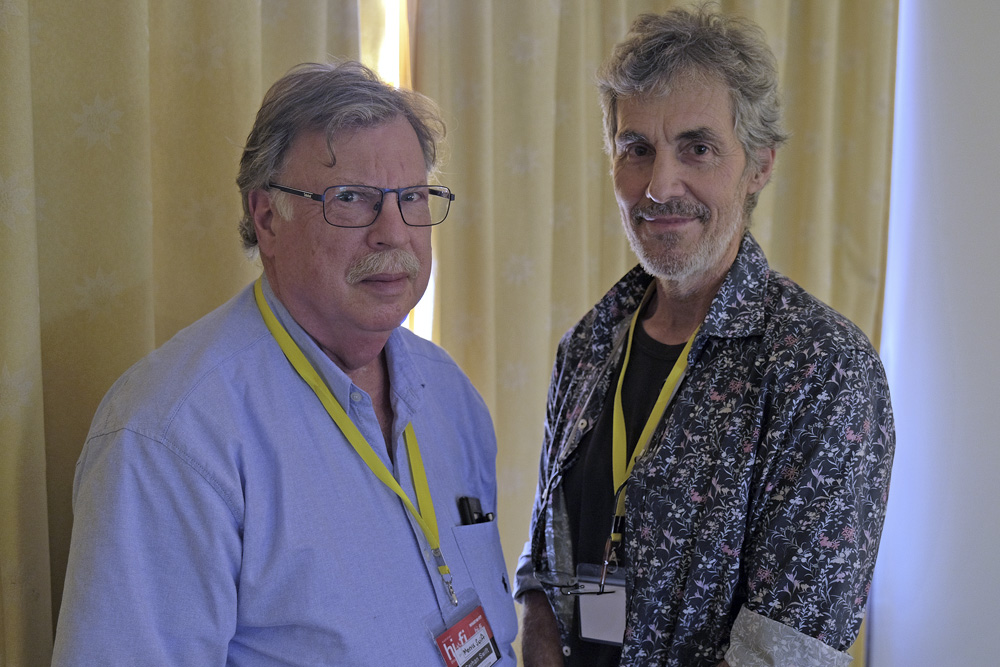 Morris Swift and Brad Serhan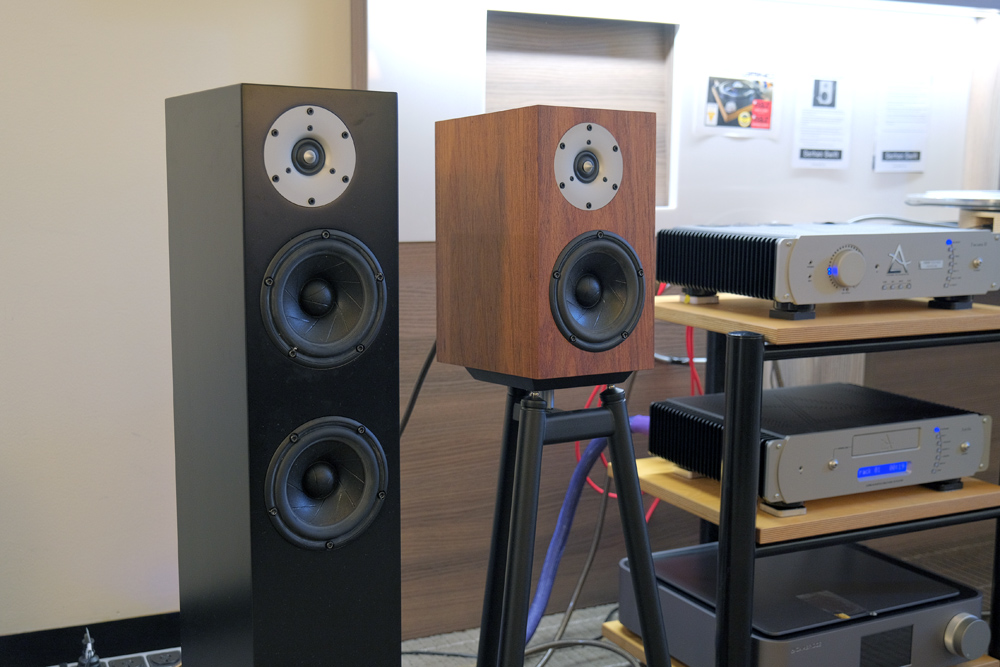 Brad Serhan and Morris Swift, the men behind Serhan Swift the company, showed their highly acclaimed Mu2 SE speakers driven by the Leema Acoustics Tucana II integrated amplifier. Refreshingly, at least while I was there for a few tracks, Swift played CDs on Leema's Antila IIS Eco CD player (a point of difference from the ubiquitous, yet troublesome streaming). The Mu2 SE, as always, sounded incredibly dynamic and full-bodied while also projecting a massive soundstage (leaning forward improved the performance even further, as I was hearing a reflection from the wall behind me). The company also showed a prototype of a floorstander – likely Mu3 – which had enough low-end to embarrass a decent subwoofer while maintaining the company's renowned refined sound. On a side wall, a pared-down system showed Mu2 MkII speakers (SE's little sister) driven by a prototype amplifier fed via a $50 DAC and Chromebook. That small system's sound was way, way beyond what you'd expect a standmount to sound like. Scale, power and deep bass… almost physics defying. An eye opener and crowd pleaser.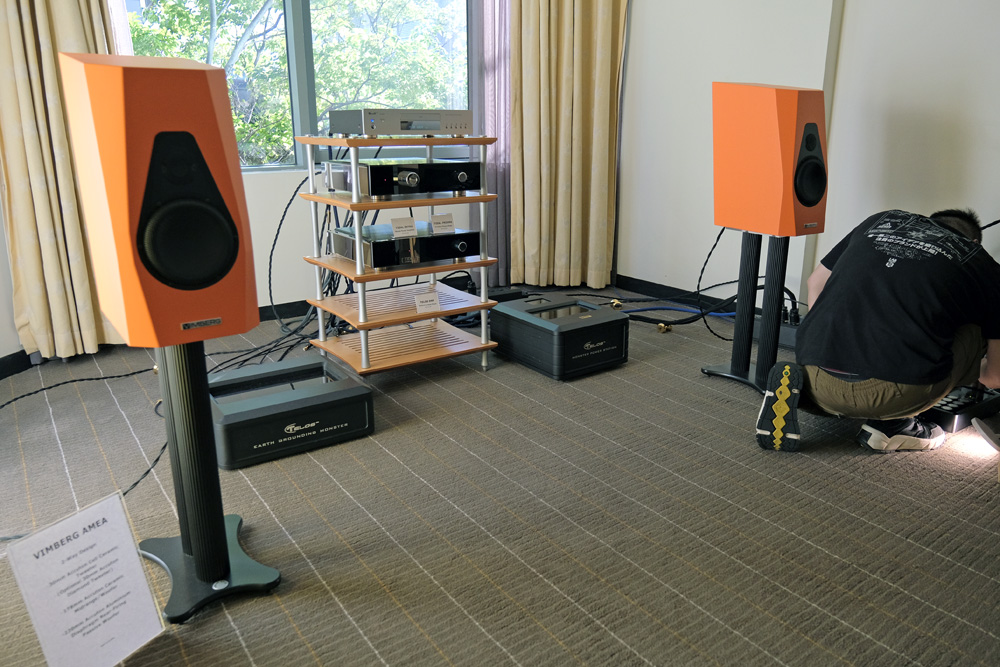 GrooveWorks showed with Tidal electronics driving sister company's beautiful-in-Lambo-orange Vimberg Amea speakers. AC treatment employed Telos' Monster series products which included the world premiere of the Telos Monster Power Station. Also there, was the same company's 'Earth Grounding Monster'. Telos' Jeff Lin was at hand to conduct A/B demonstrations with the assistance of Peter Woo. A brief A/B demo showed promise for the new products' influence on the sonic presentation which was a little more open and spacious with the Telos gear in active duty.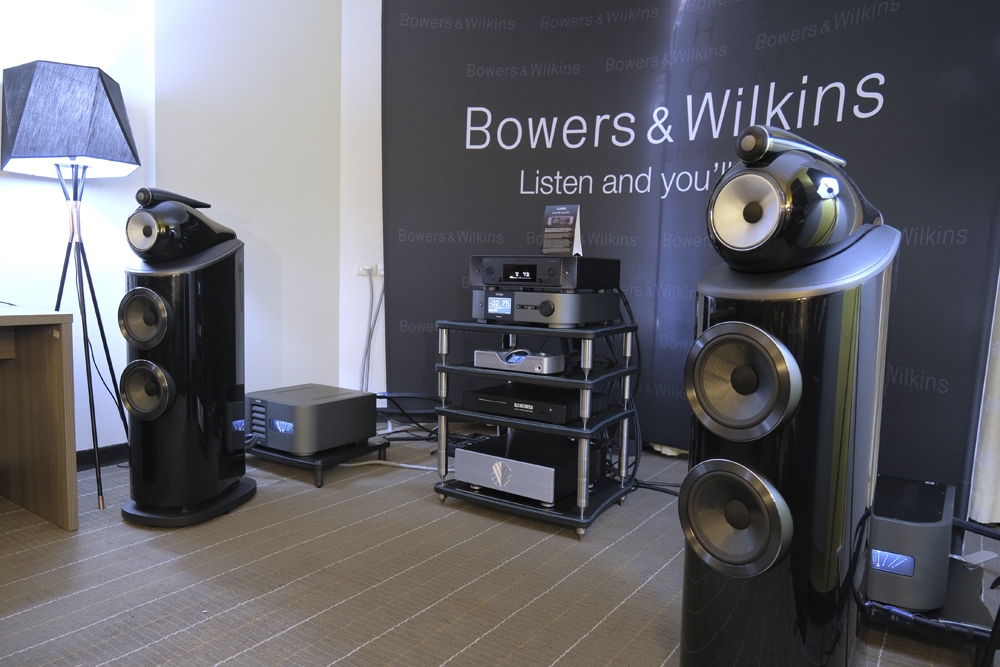 In yet another room for Masimo Consumer, a pair of Bowers & Wilkins 803 D4 (review here) was being driven by Classé Audio Delta PRE and Delta MONO amplification which were fed with ones and zeros from Marantz and 432 EVO digital players/streamers (review here). Cabling, of course, was via AudioQuest throughout. I came back a couple of times to this room. The music there was delicate, yet powerful, with startling dynamics and a very balanced, room-appropriate low-end. Another show star performer.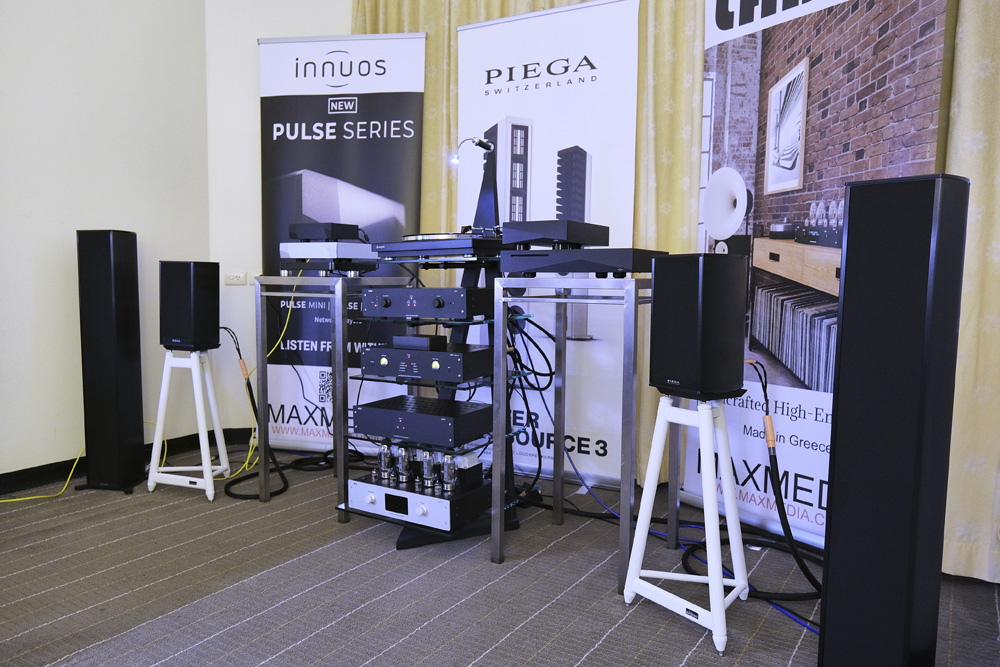 Maxmedia always pulls the crowds. This is in part due to the excellent products the company chooses to showcase and partly because of Cameron Keating's varied musical fare. In the first room I saw and heard a clean, resolute sound from Switzerland's Piega by way of the just-landed 501 Gen2 standmounts and 701 Gen2 floorstanding speakers. Electronics were from Greece's Lab12 Integre4 valve amplifier, pre1 preamplifier and dac1 Reference digital converter. Sources were Rekkord Audio, from Germany, for analogue and Portugal's Innuos for digital.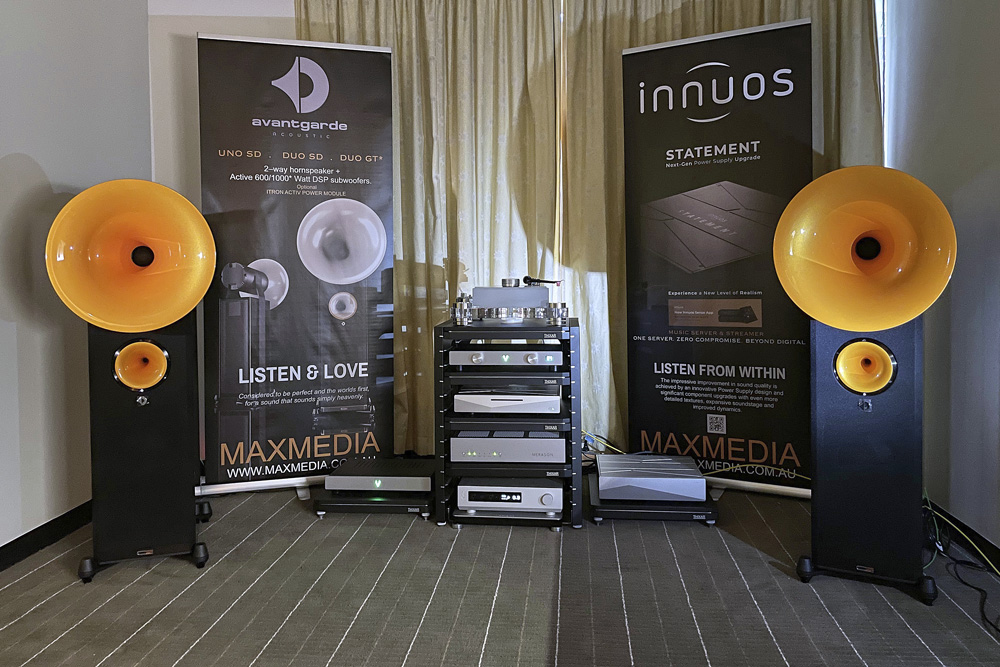 Next door, Maxmedia exhibited a bright orange horn-flared pair of recently launched Avant Garde Uno SD speakers which sounded very listenable indeed. Excellent separation, good bass and the typically excellent dynamic expression horn speakers are capable of. The Uno SDs were driven by a Valvet pre/power combo and Merason DAC-1 MkII and COS Engineering D10V2 converters. The beautiful analogue rig was from Germany's Scheu Analog while digital tunes were provided by the über classy Innuos Statement Music Server/Streamer. Count this one as one of the top 10 faves.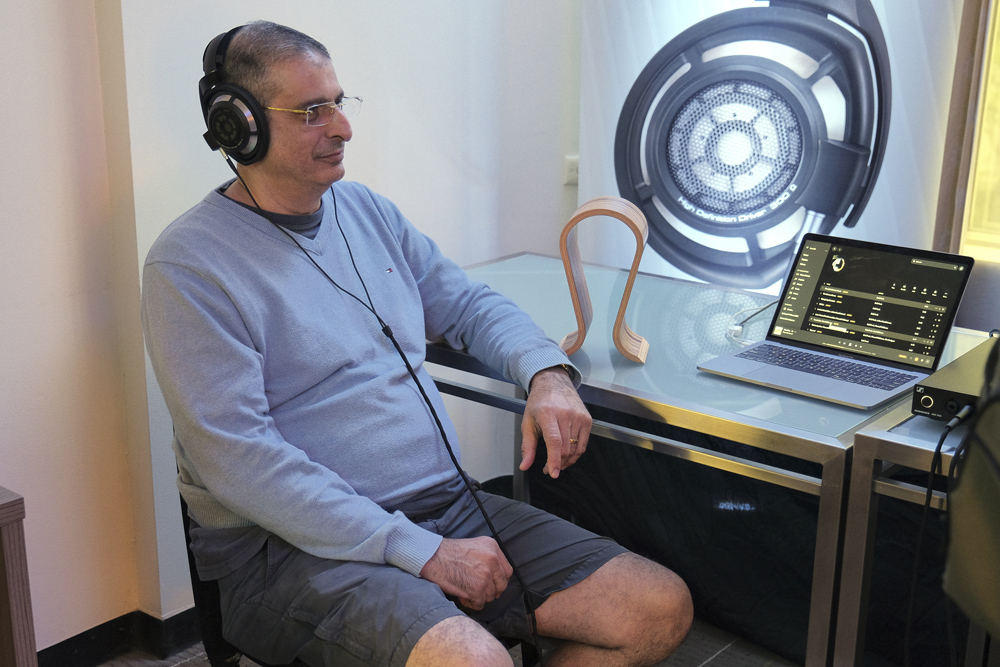 My next stop was at the Sennheiser exhibit where the company showed a whole host of head gear at all levels. Several 'stations' were allotted for careful listening with dedicated headphone amplifiers. The company's high-end HD 800 S continues to be a crowd favourite as shown by the attentive listener above.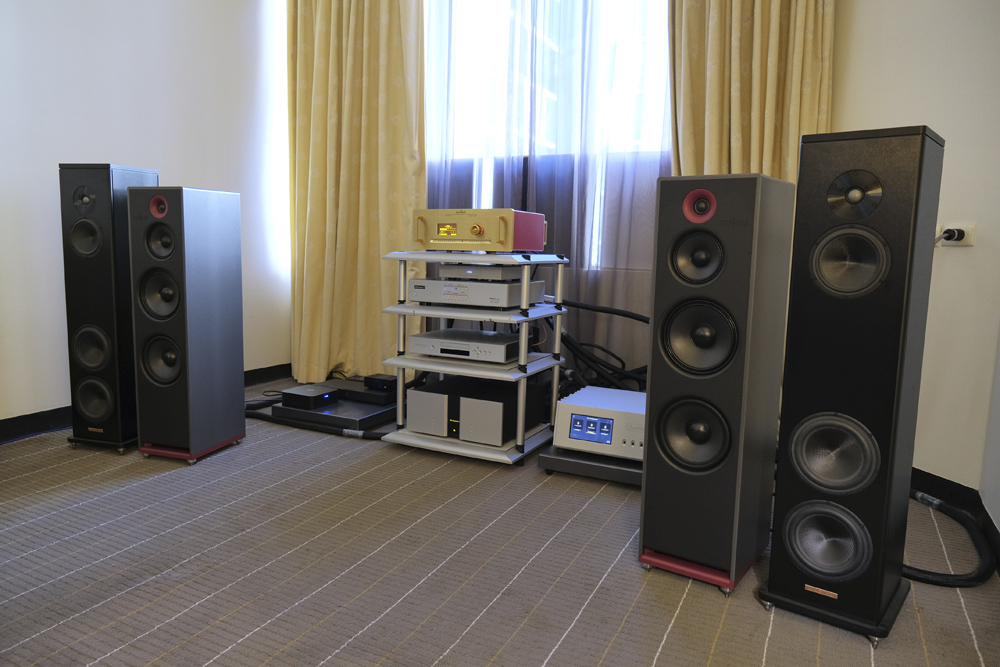 Hi End Audio showed with a neatly uncomplicated system featuring products from renowned high-end brands. Upon my visit, the superb darTZeel CTH-8550 Mk II integrated amplifier was sounding solid, sweet and spacious fed by an EMM Labs streamer/DAC and powering Stenheim Alumine 3 loudspeakers connected with a full VYDA Laboratories cable loom (review here). On standby were the Boulder 866 and Vitus RI-101 Mk II integrated amplifiers and Magico A3 speakers (review here).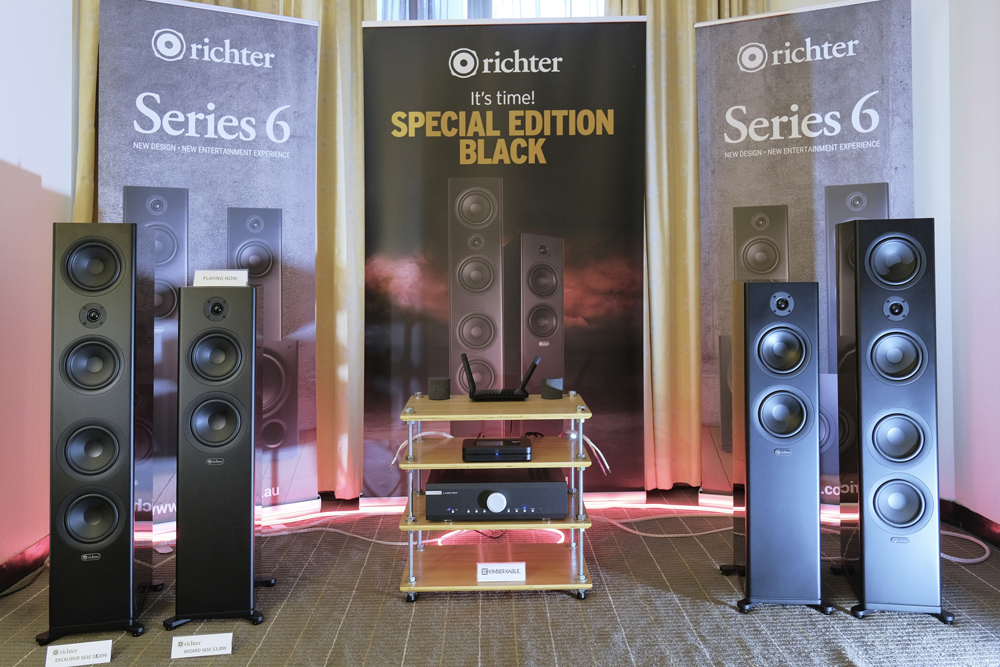 Australia's Richter Audio has always shown high value, affordable loudspeaker products that perform way above their price points. The company's Wizard S6SE, an unassuming three-driver floorstander (flanked by the more substantial Excalibur S6SE), sounded very refined and open while imaging like all Hell. Electronics support came via a Musical Fidelity M6si integrated and a Bluesound streamer. A simple system with big bucks performance.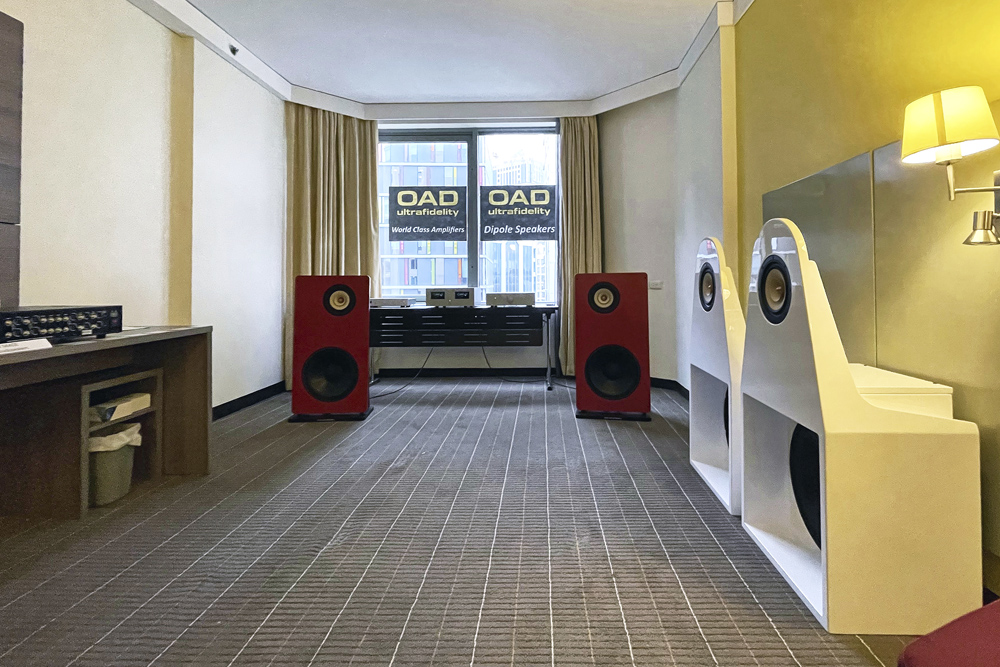 This next room was a surprise. Firstly, I'm not a super-fan of full-range Lowther-style drivers with whizzers. I've heard them sound shouty and overtly… midrangy. I do get they do some things really well. Well… mind changed. Walking into Australian manufacturer OAD Ultrafidelity's room, I heard sweet, tonally correct and a balanced sound with good punch and precise imaging. That came from OAD Ultrafidelity's own bright red Gem open baffle DIY loudspeakers featuring a custom full-range driver which is supported by a 15 inch woofer. Electronics were OAD's Padma preamplifier and Vajra power amplifier which are entirely handcrafted in Australia (the chassis quality was world-class too). Another one for the show's top 10.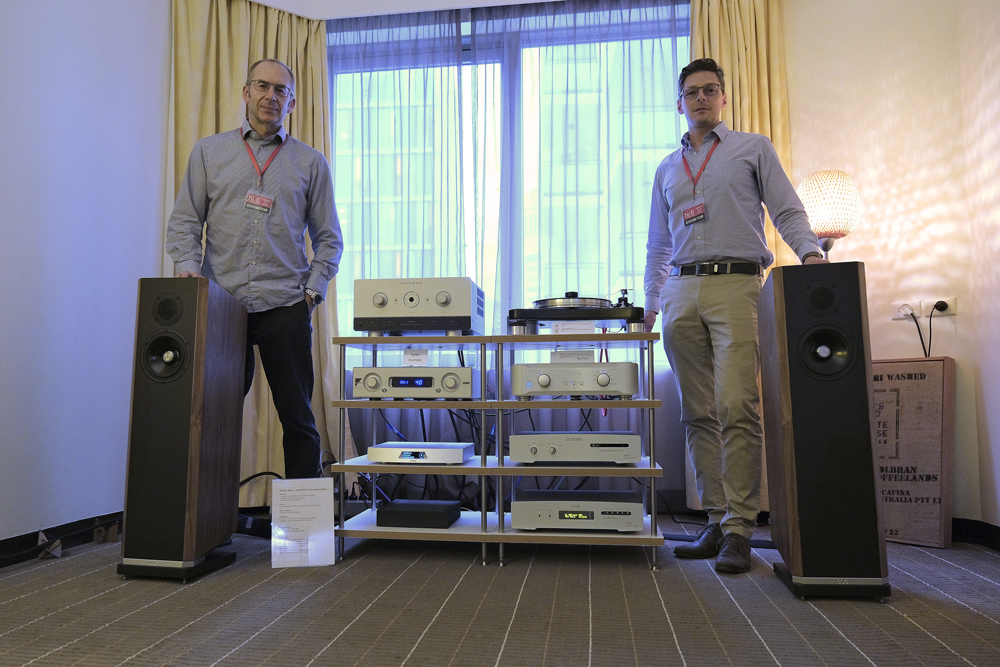 Audio Magic's Aleksandar Maksimovic and Peter Markovic
Audio Magic presented select products from this company's ever-growing quality portfolio. On show was a system comprising Lumin U2 Digital Player/Streamer, Aqua Acoustic Quality La Scala Mk II with Aqua LinQ Network Interface and VPI Prime Scout 21 turntable as sources and Ayre Acoustics AX-5 Twenty integrated (the gorgeous Copland CTA407 was on static display at the time of my visit). Speakers were Kudos Audio's Titan T606 which were sounding fluid, open and with tight, nuanced bass (Harbeth Super HL5+ HD were on standby when I landed in the room). Tellurium Q cables, Ton Träger and Bauer Audio racks completed the setup.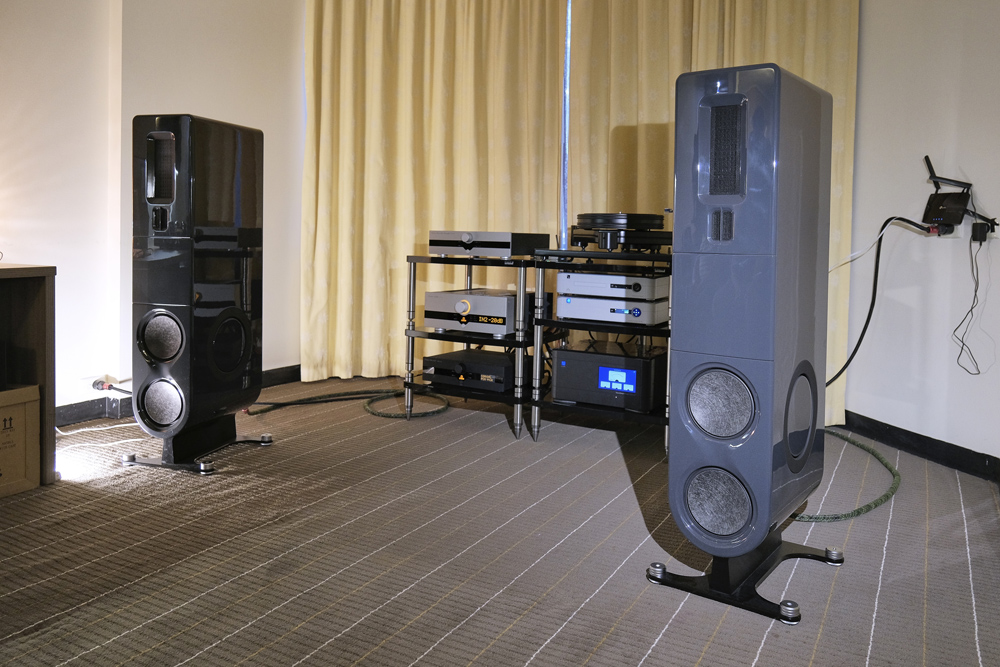 The towering presence of the new PS Audio FR-20 speakers in gun metal grey greeted me as I entered the Magenta Audio room. Similar presence struck me by way of the music, which sounded full-bodied, detailed and quite sweet. Bass was rhythmic while not overpowering the small room, even though the speakers would really shine in a bigger space, quite obviously. Supporting the PS Audio FR-20s were the very attractive Canor AI 1.20 Class-A integrated amplifier and Canor DAC 2.10 converter. Cables were Cables for Music Resonant (review here) while AC power management was provided by the massive PS Audio PowerPlant 15. A refined system and one of the show's favourites.
Return With Special Knowledge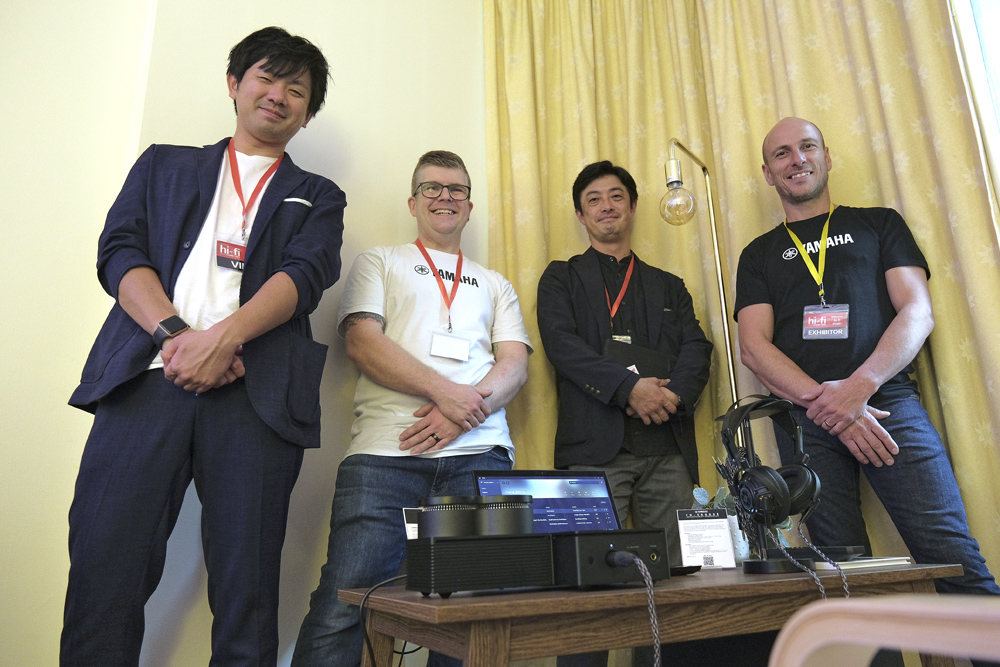 Yamaha's Tsutomu Takeshita, Boyd Gill, Ikuo Tanaka and Dale Moore
On a final note, it was great to spend some time chatting to Yamaha's Ikuo Tanaka (Marketing & Sales Group Manager) and Tsutomu Takeshita (Assistant Manager Home Audio Group) who were visiting from Japan in addition to locals Dale Moore (Head of Marketing & Sales Strategy) and Boyd Gill (Product Manager).
When discussing audio design at Yamaha, Tanaka-san explained the listening and tuning strategies employed at the company. "Of course, many companies have "Golden Ears" or "Ton Meister" personnel. At Yamaha we have a working group of Golden Ears. We have several studios dedicated to listening and tuning hi-fi, theatre products and home audio in general. We have a standard at Yamaha the working groups aim for: Sound Image, Dynamics and Tonality. With these elements in mind, we make reports and we score, always aiming for the highest, plus we have objective/subjective comments to summarise the listening."
Tanaka-san went on to say, "Each step is examined, from idea development to prototyping and then to mass production stage and, lastly, to final stage. We work as a team, in a working group, to harmonise and unify sound creations, as a family."
And that last line, indeed, would be the perfect way to summarise the entire ethos of community and the collective appreciation of music which, on this weekend, made us all a Golden Ears group. See you at the next one…
… Edgar Kramer
This email address is being protected from spambots. You need JavaScript enabled to view it.