Some truisms, of course, so encapsulate the described concept they become clichéd. But if any axiom totally captures the expression of Holbo's Airbearing Turntable System MK2, the most resoundingly precise would be Einstein's oft misquoted (as indeed I may have here too) "Genius is making complex ideas simple, not making simple ideas complex." Examine and engage the functionality of this remarkable design and you'll admire it, truly grasping the purity of that statement. Holbo may be a relatively new company, yet its singular creative expression screams maturity and is bound to run tingling goosebumps on music lovers' collective skin while raising the eyebrows of the competition.
"The True Sign of Intelligence is Not Knowledge but Imagination"
The Holbo Airbearing Turntable System MK2 ('HATS' for short from now on) embraces key aspects of high quality analogue playback and reconceives them. With both intelligence and knowledge. Each element of the turntable/tonearm may on the surface seem bare-boned yet, in fact, it's an amalgam of fine-tuned parts designed by skilled engineers headed by company Founder Boštjan Holc (hence the Holbo fusion). All fundamentals of this belt-driven design have been examined in order to simplify elementary parts which are then isolated from each other in order to control vibrational distortions, all with the ultimate aim of wringing maximum sonic performance.
The most evident feature of the turntable is the architecture of the included tonearm. It's a tangential/linear tracking airbearing tonearm of exquisite minimalism and, of course, it serves as playback which replicates the way the vinyl is cut in the first place. Makes sense, no? Superbly constructed and immaculately engineered, the tonearm is an utter pleasure to operate. It connects to the air pump/DC motor/power supply system which also drives the platter. I'll stress this: this pump thing is totally noiseless at the listening position only about a meter away. At least that's how my review sample performed. Air is administered at a steady pressure/flow via see-through tubing of about two meters in length (I imagine longer tubing can be supplied upon request). A multi-pin PSU cable of similar length connects to the turntable's rear panel while an IEC socket on the pump/PSU accepts your power cable to the AC outlet. Also on the back is a gold-coloured replaceable air filter.
For another take on all the details, check-out our 'Lead-In' video here.
Back to the tonearm. VTA (Vertical Tracking Angle) of +/- 7mm can be adjusted on the fly via a large aluminium knob atop the tonearm's housing structure. There are adjustment options for azimuth, SRA (Stylus Rake Angle) and tracking force. A set screw system allows shortening/lengthening the tonearm wand/tube in relation to its assembly while also allowing the wand to turn in order to align the headshell in parallel to the record.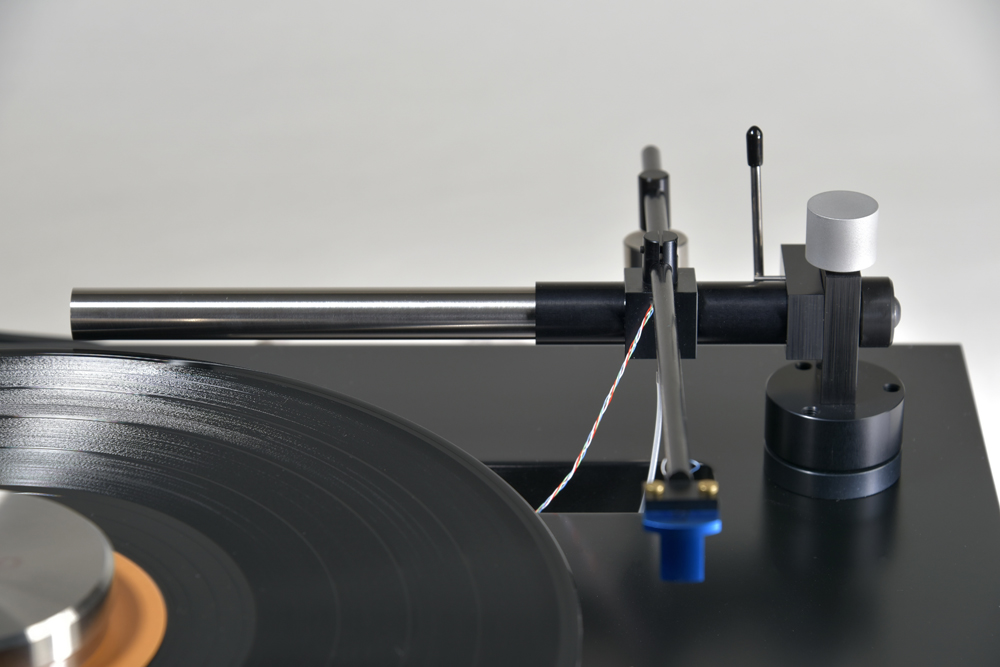 This baby glides across a polished aluminium airbearing shaft/guide (it's not a perforated air pipe like many designs), with the air pumping via a curved black aluminium 'airbearing housing' half-sleeve sitting (or floating) above the shaft guide. In other words, the air is pushed from above onto the guide bar. It all feels just about frictionless – it's quite the cool effect which is rather fun to use for its operational excellence. Just for the sake of it.
A thin bar below and behind the glide guide serves as a stopper so as to not over-lift the tonearm. The arm lift is only marginally damped so it requires gentle hand-braking support as it drops to the vinyl. The wand itself is a rather long 163mm, or 6.4 inches (effective length quoted) thin-diameter aluminium alloy/carbon construction. It's terminated via a secondary element, which is effectively the headshell, making the arm look like an elongated 'T'. Towards the arm's rear, you'll find the machined counterweight which, of course, simply slides and screws along the rear of the arm's body in order to adjust its balance. I lived with the turntable for several weeks and, in that time, the tonearm's parameters remained unchanged. So through that period, at least, it's a set-and-forget tonearm. Sweet.
A couple of years ago, prior to my current Transrotor Crescendo/Reed 1X, I actually owned a heavily-modified Michell Engineering Orbe SE with a Trans-Fi 'Terminator' airbearing tangential tonearm. As phenomenal as that combination was (and it truly was spectacular), the fish tank pump (requiring a large ancillary pressure-equalising container) had to be placed in another room in a cupboard, such was the noise level. It wasn't like a Harley idling in my room but it was easily heard from seven meters away if not locked-up. The rugged, yet superb Trans-Fi tonearm worked on a much cruder guide/air support system which, while a very clever design and quite the smooth operator, came nowhere near the Holbo's own feather-light, comparatively refined, floating-on-a-bed-of-air marvel.
Your disc will sit on a precision CNC-machined 6082 aluminium airbearing platter weighing in at 5kg and it sits above a simple matte black 30mm MDF plinth. The platter is coupled to the motor pulley via a thick-ish black rubber belt. The motor itself is a DC type made in Japan and its speed is electronically controlled. The bearing's centre pin is made of POM thermoplastic and "hard steel". Holbo provides a logo-emblazoned, rather weighty and nicely machined stainless steel pop-on puck, or weight, which will pressure-flatten the disc onto the platter.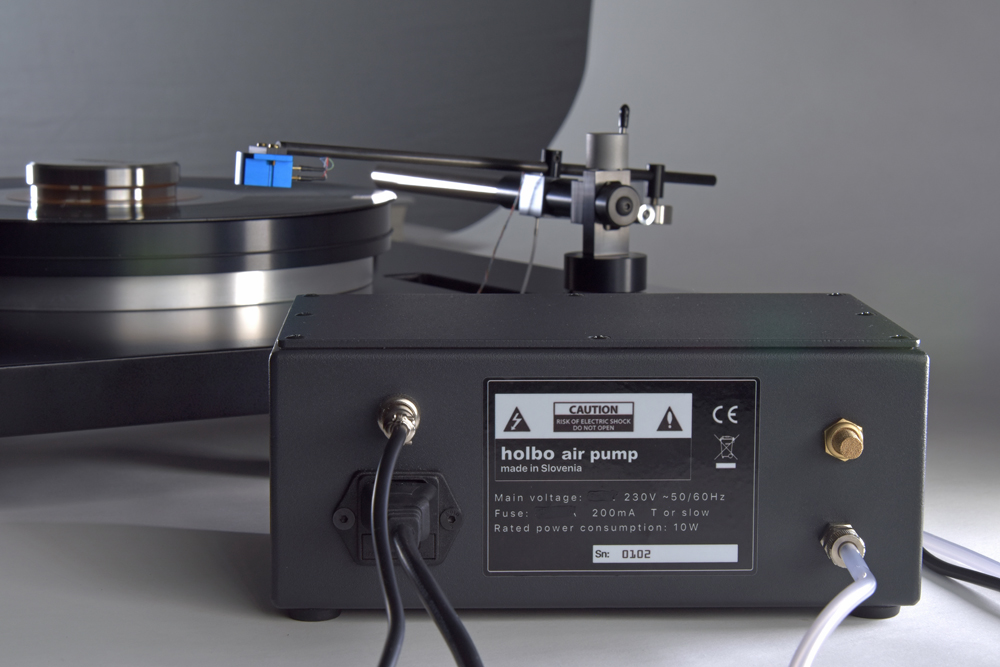 Operating the HATS is in-keeping with the overall theme of simple is best. Atop the plinth on the left-hand-side you'll find two small buttons flanking an LED. One button each for 33 rpm and 45 rpm and a corresponding LED colour for operating mode. The buttons function as on/off controls too so it's just a matter of pushing on the relevant one to activate the platter at the required speed and then simply pressing the same button for 'off'.
Levelling the turntable is critical here because, with the tonearm's level of frictionless fluidity, even a small imbalance can potentially cause tracking issues. Again wisely, Holbo includes a trio of independently adjustable feet (two on the turntable's left hand side and a central one on the right) which allows precise levelling. Having said that, an embedded spirit level would be appreciated. Or there's an app for that, should you not own a bubble level. Each footer also features a small, pin-sharp coupling spike which, fortunately for your rack's surface, sits on a supplied small aluminium puck with a tight-tolerance spike point indentation. Also in terms of accessories craving inclusion: a cover of some sort to stop air-borne grub from intrusion and build-up, particularly between the sleeve and glide guide.
The HATS rear panel features, from left to right, a ground post, a set of stereo RCA outputs, a metal-collared air inlet for the air pump tubing, 33 rpm and 45 rpm screw controls for fine pitch adjustment and a multi-pin/collared input for the DC power supply.
The Holbo Airbearing Turntable System MK2 is handcrafted in Slovenia and it exhibits high levels of finish. Provided are a protractor, a strobe disc and ancillary accessories and tools for setup and maintenance. The succinct yet informative user manual is exemplary and a model for other manufacturers to note.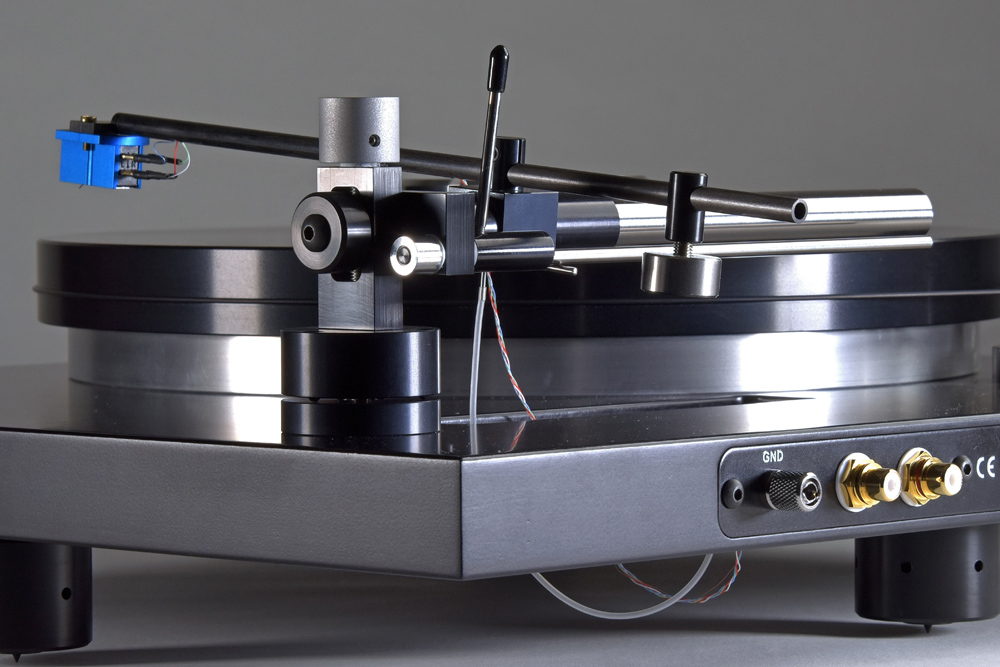 However, it's in its inherent design that the Holbo really shines – it bears repeating that the turntable's deceiving simplicity conceals sophisticated engineering and construction skills. What's more, at the price of what, in the high-end, may get you into just a tonearm, or a cartridge, or a set of interconnecting cable, you get a tonearm and turntable package of a very high ilk. And performance-wise… well, read-on…
"All Generalisations Are False, Including This One"
Yet… I'll make a hard call right here. Given the hardware on offer, this turntable is an extraordinary value and no less than a resounding bargain. It would be a challenge to find such a superb linear-tracker with an effective and silent air supply mated to a high-precision turntable at around the price point of AU$12K. And sonically, the Holbo Airbearing Turntable System MK2 can proudly spin with high performers at the upper echelons. Its super-refined engineering will escalate in harmony with any cartridge you care to whack on – from mid-level (which is the minimal starting point such a quality design deserves) to costly cartridge exotica.
Supplied with the Kiseki Blue Moving Coil (MC) cartridge, playback was almost as silent as digital – CD, streaming or files (of course, vinyl surface quality permitting). And you best get your toes ready to get a-wigglin' to a funky Holbo big boy boogaloo. If 'PRAT' is your thing, you'll love this turntable package. It grips on to rhythmic flow like a locked-jaw Pitbull.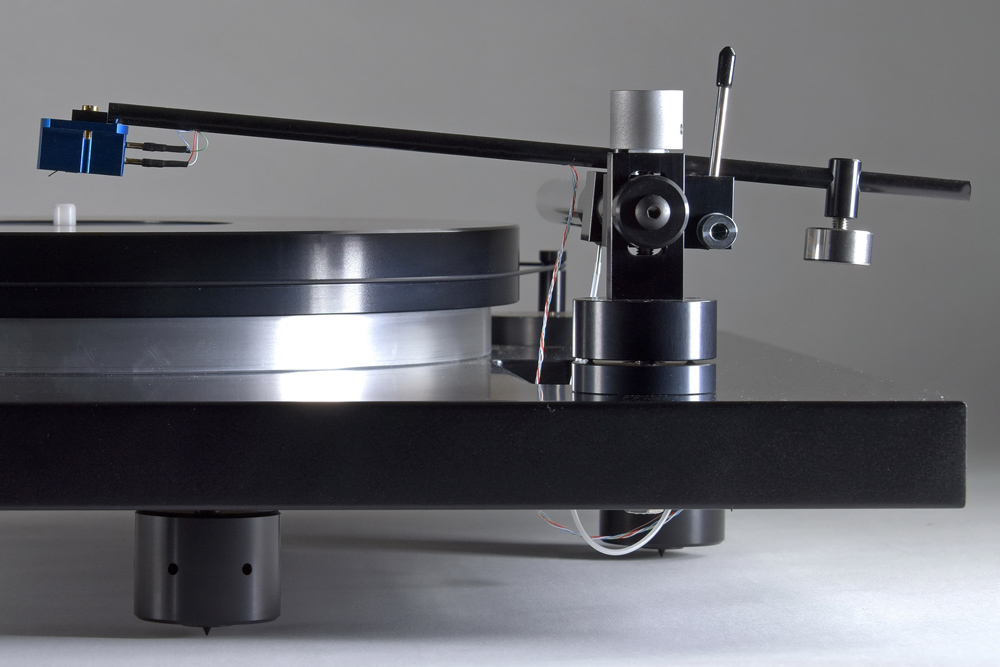 Through the middle section of "Dirty Boots" from Sonic Youth's Goo album, I felt almost compelled to jump up like a mosh-pit tragic as I revelled in the exploding guitars and drums through that oh-so-cool crescendo. There was excellent clarity all-round and the separation between manic instruments and the vocals was expertly dissected. Similarly, on the band's Dirty album and the track "100%" again the drums and bass where spectacular in terms of punch and dynamics while the busy mix was skilfully resolved.
The guitars, percussion instruments and the three Latino ladies' vocals on the Trio Palabras' beautifully-produced and gloriously-packaged Lo Que Dice Mi Cantar album (artisan label Muxía Music) on the track "Pensamiento" all sounded spectacular in terms of the tonal and nuanced presentation. Recorded in Cuba and strongly reflecting its culture, the track demonstrated the HATS' subtle handling of fine detail and presence through the mid-band in particular. This excellent recording also displayed a tremendously large soundstage, a heavily underlined pointer I made when taking listening notes on the fly early in the piece. Muy Bueno.
So the Holbo turntable offers a soundfield which spreads quite remarkably across width, depth and height. Imaging within the space was well-focused and placed as my mint copy of Harry Belafonte's Live at Carnegie Hall exhibited. Belafonte's movements across and down the stage were precisely tracked, as were his microphone placements in relation to his position. Ditto for Frank Sinatra's The Main Event – Live From Madison Square Garden. "I've Got You Under My Skin" is Sinatra at his sassiest and the HATS transmits his voice and the stylistic delivery faithfully.
Having strong familial connections to orchestral/classical music, I've been motivated for some time to steadily adding to my analogue collection in this genre (now no longer lagging but surpassing what I own on CD). Over the last couple of years, I've amassed an excellent vinyl collection. I was also so fortunate to be generously gifted a number of pristine box sets complete with all the accompanying booklets and artwork (thank you Mr Crisp). There are many, but I explored the HATS' qualities with some of my favourites. Puccini's Madama Butterfly, a stupendous box set from Decca, with Karajan at the helm of the Vienna Philharmonic Orchestra and Pavarotti, Freni, Ludwig and Kerns as the central characters is a highlight, as was Beethoven's Symphony № 9 conducted by Karl Böhm with the Vienna Philharmonica on Deutsche Grammophon.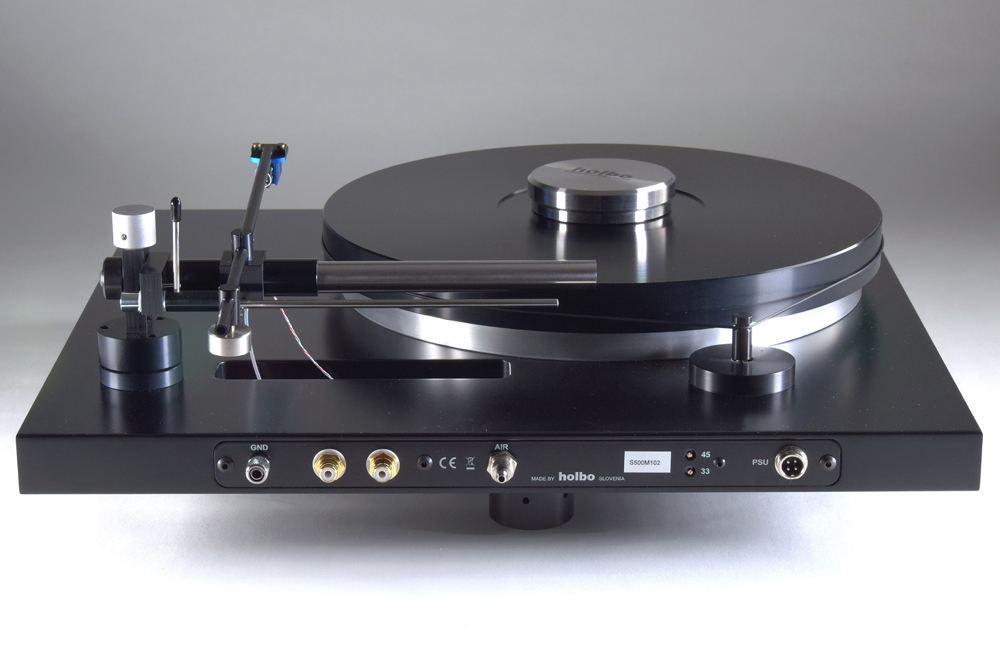 Holbo's strengths with these grandiose works were displayed by the enormous spread of the instrument sections and the power, the ebb and flow, of the orchestras' dynamics. Vocalists were deeply-set and focused in space in seemingly enormous stages (the Decca recording was exceptional here). The overall presentation was natural in terms of the large venues' acoustic representation while also demonstrating tonally realistic and lifelike performances. All these qualities combined to evolve listening sessions from analytical examinations into abandoned joyful pleasure. I was lost in those moments captured so long ago, yet also so convincingly in the here and now.
Conclusion
After living with the Holbo turntable package for some weeks, I was just as delighted with its functionality and performance at the end of its tenure as the day it arrived. It's well made and expertly engineered, motivating confident and pleasurable day-to-day use while indicating to reliable longevity. There's nothing flimsy – or bling – about it. It just gets on with the job at hand – the spinning and tracking of records with a self-assured matter-of-factness.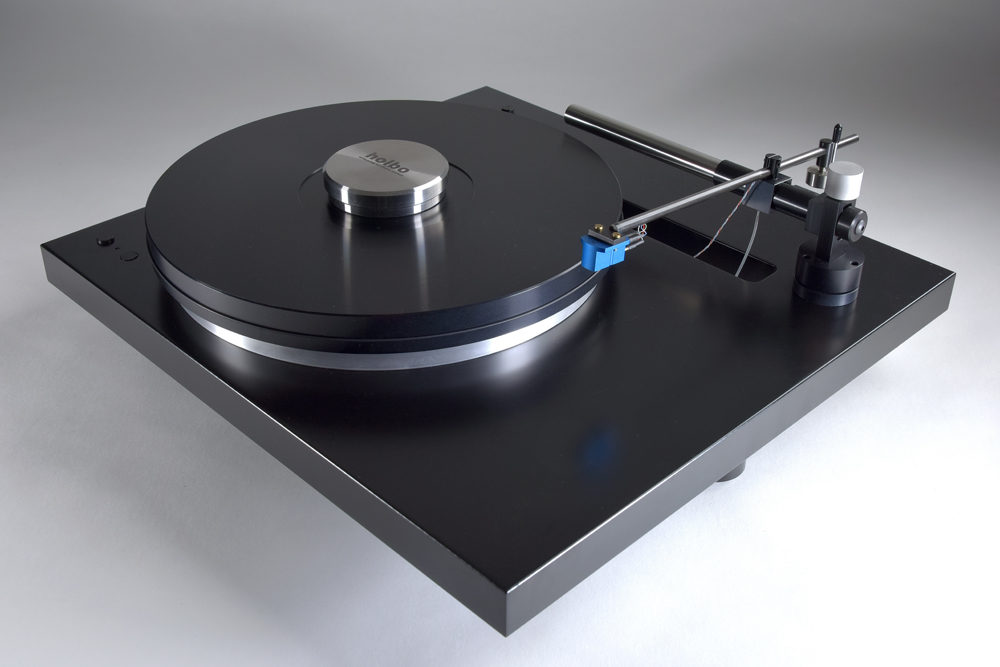 What's more, the tonearm is pure genius in terms of simplicity and super-effectiveness. It's a suitable support for any quality cartridge, no matter the price. As provided for review, the Kiseki Blue was a befittingly high performer. Of course, your mileage will vary depending on your cartridge of choice while further variables will be introduced via the downstream phono stage and accompanying electronics and loudspeakers. Oh, and did I mention that ultra-quiet air pump system? Wow! I challenge you to detect its presence from a meter or so away in a quiet room.
The Holbo Airbearing Turntable MK2 is a cement-solid platform for wringing the most out of your vinyl collection. This is, truly, an outstanding vinyl-spinning system.
… Edgar Kramer
This email address is being protected from spambots. You need JavaScript enabled to view it.
Associated Equipment
Speakers— Wilson Audio Alexia Series 2, Axis Loudspeakers VoiceBox S (nearfield monitor), Vermouth Audio Little Luccas Mk.II
Amplifier — Gryphon Audio Antileon EVO
Preamplifier — Supratek Cortese
Sources — Digital: 432EVO High-End Music Server Roon Core, Yamaha CD-S2100 transport, Totaldac d1-direct DAC. Analogue: Transrotor Crescendo with Konstant Studio controller, Reed 1X Tonearm with upgraded internal wiring, Shelter Harmony cartridge, The Funk Firm Houdini cartridge decoupler, Supratek Cortese & REDGUM Audio RGPH2 phono stages
Processor — DEQX PreMate (part of arsenal/casual use)
Cables — PSC Audio Custom design XLR, Vermouth Audio Reference loom,Cables for Music Songbird loom + MasterPro/OnEarth grounding system
Audio Rack — SGR Audio Statement Model V
Acoustic Treatment — Vicoustic Multifuser Wood, Wavewood Ultra, Cinema Round Premium and Super Bass Extreme
Miscellaneous — GigaWatt PF-1 EVO, Les Davis Audio Viscoelastic CLD discs, VRC Vinyl Record Cleaning systemplus miscellaneous accessories
Holbo Airbearing Turntable System MK2
Price: AU$12,000
Warranty: Two Years
Australian Distributor: Audio Marketing
+61 2 9882 3877
www.audiomarketing.com.au
Holbo s.p.
Gornji Rudnik cesta IV/11
1000 Ljubljana
Slovenia
+386 31 578 518
https://holbo.si