As culture evolves, language also changes. The lexicon can be shaped by societal movements, fashion, the media. Or, as we're seeing, global events. Pfizer. AstraZeneca. Lockdown. Jab. Words previously with near-zero collective meaning are now ubiquitous. In the audio world there are also entrenched terms. Brand names. JBL, Tannoy, Marantz. There's another definitive name which, uniquely and literally, can express the essence of music across an entire arc from instrument to the home and the stages in between: Yamaha.
Since 2017, I've put every flagship 5000 series component through the wringer. The framework for these evaluations has been within the context of a reference system with associated gear priced way beyond the Yamaha flagships. And you know what? The 5000 components shone with individual brilliance and in harmony with its pricier in-situ collaborators. Not a bead of sweat. In terms of contextual potential, that in itself speaks volumes – especially in juxtaposition with a $60K amplifier and near-$100K reference loudspeakers. Given their individual excellence, how would the 5000 series perform as an all-out system? What revelations could such synergistic relationships offer?
5000 Reasons
As stated in the intro, I've reviewed every 5000 component. From the stunning battleship-build GT-5000 turntable package to the iron-fist-in-velvet-glove C-5000 and M-5000 pre/power amplification and onto the high-tech sophisticated beauty of the NS-5000 loudspeakers (you'll find a short review excerpt along with the links to the full reviews including key specifications and design details for each product, at the end of this article – no point repeating them here for each item).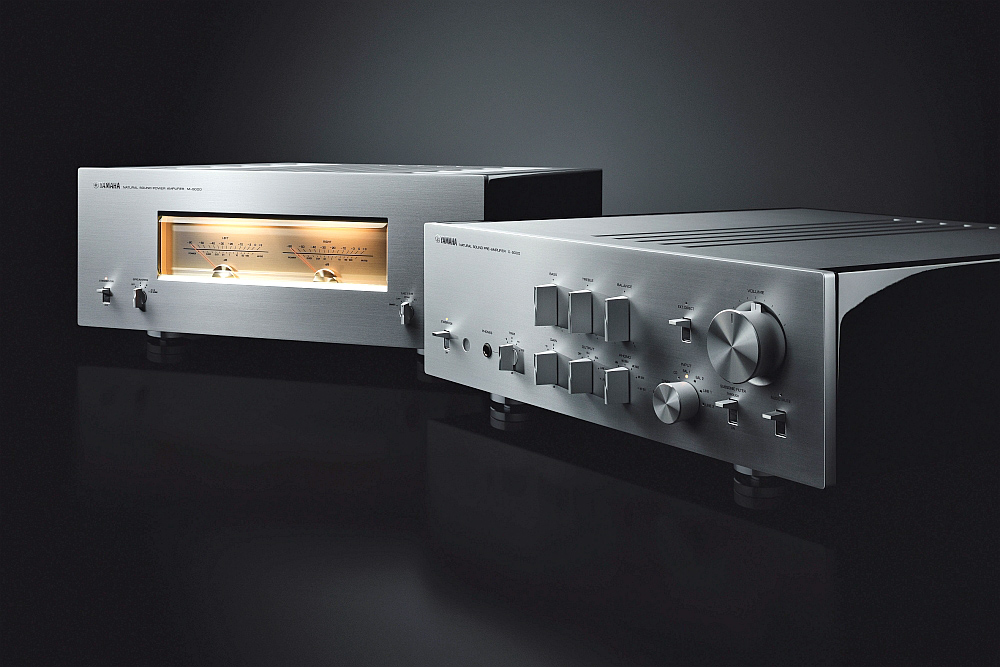 So excellent individual performance in my own well-treated room has been strongly evidenced. But I was keen to understand the 5000 system concept within the realms of an alternate universe. How would it all stack-up in the parallel reality of a different acoustic environment? Enter Len Wallis Audio.
This whole-system assignment came about after discussions with Yamaha Australia's senior marketing executives Dale Moore and Shaun McMahon. Moore piqued my curiosity by waving a tantalising opportunity to acquaint myself with a full-system universe context, in contrast to my singular galactic understanding of individual items. And they are stellar. No, I haven't taken-up cosmology but I found the analogy somewhat applicable. Yamaha has had great acclaim with a variety of upmarket standalone products but, with the 5000 series in completion as it stands now, the company has cultivated a remarkable high-end eco-system capable of providing… a Big Bang (did it again).
That ensemble of flagship components was assembled for an audition within the context of Len Wallis Audio's main high-end room (see the 'Equipment List' below for entire system and ancillaries details). I'm thoroughly familiar with the acoustic signature of this room where it's been the store's focus point of countless auditions and events I've attended. And that spans, quite literally, decades.
It's also worth mentioning the 5000 components' overall excellent design and outstanding aesthetics. Every item is assembled with precision employing heavy gauge materials and bespoke parts. Finish quality is on par with the very best in high-end audio. You won't spot a mark in the piano gloss of the GT-5000s' plinth, you'll not find a misaligned plate on the immaculately brushed and finished aluminium chassis of the C-5000 or M-5000 and the NS-5000 speakers' entire construction and finish is flawless (the multi-stage gloss finish is derived from Yamaha's piano factory). Pure visual and functional pleasure.
As always, a trip to Len Wallis Audio stirs both anticipation and excitement. What will I discover? Will it be a yet unheard hi-fi morsel or will it be a musical encounter? You enter the store via a wide, open main showroom tastefully sprinkled with a rich buffet of audio and AV. Off to both sides are smaller studios, some showcasing multiple comparator-switched components, others featuring wisely-selected standalone single systems. As I walk further into 'the gallery of temptation', I'm greeted at the front desk by store head Tim Wallis who, after a catch-up chat, points me to my station in the main high-end room for what is to be a lengthy audition. There, the 5000 system is warm-at-operating-temperature and at the ready. (Len Wallis Audio feature link here).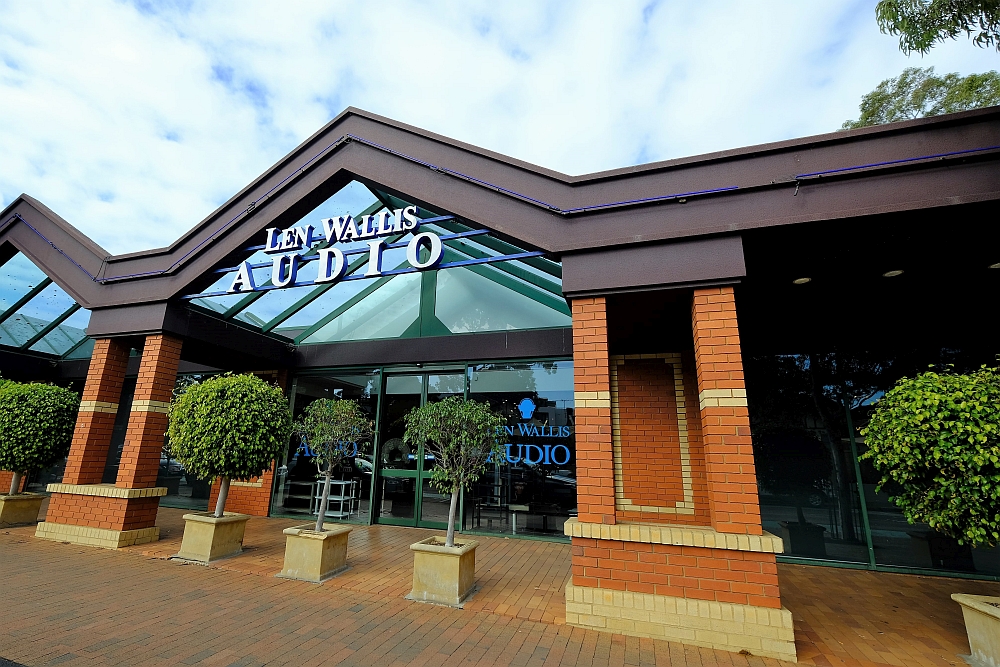 My Peak Design messenger bag is packed with the trusty Fuji X-T4 and a couple of lens options. The back-up iPhone 12 Pro bulges my back pocket. A Doc Martins cloth bag swells with black and silver discs. Prepared earlier is a listing of sweet Tidal music picks. Ears are pricked-up. Coffee is strong and hot. Ready… go!
Event Horizon
I want to examine the entire 5000 experience within this room context so that meant vinyl was to be the first cab. The familiar 'Natural Sound' signature Yamaha has fine-tuned over so many generations of product is evidently present here in spades. Despite the obvious differing room acoustics, the sonic signature is holistically consistent. I hear very similar tonality, the same effortless resolution and perhaps a tad more dynamic expression coupled with added bass prominence than I experienced in my own room context when assessing each product individually.
I'm spinning selected tracks from my, umm… high rotation LPs such as the punchy, rocking The Pixies' Doolittle and Sonic Youth's Goo, Grace Jones' funky, bass-driven Slave to the Rhythm, Elgar's Cello Concerto graced with Du Pré's masterful and achingly beautiful playing, the majestic Holst's The Planets' and many more.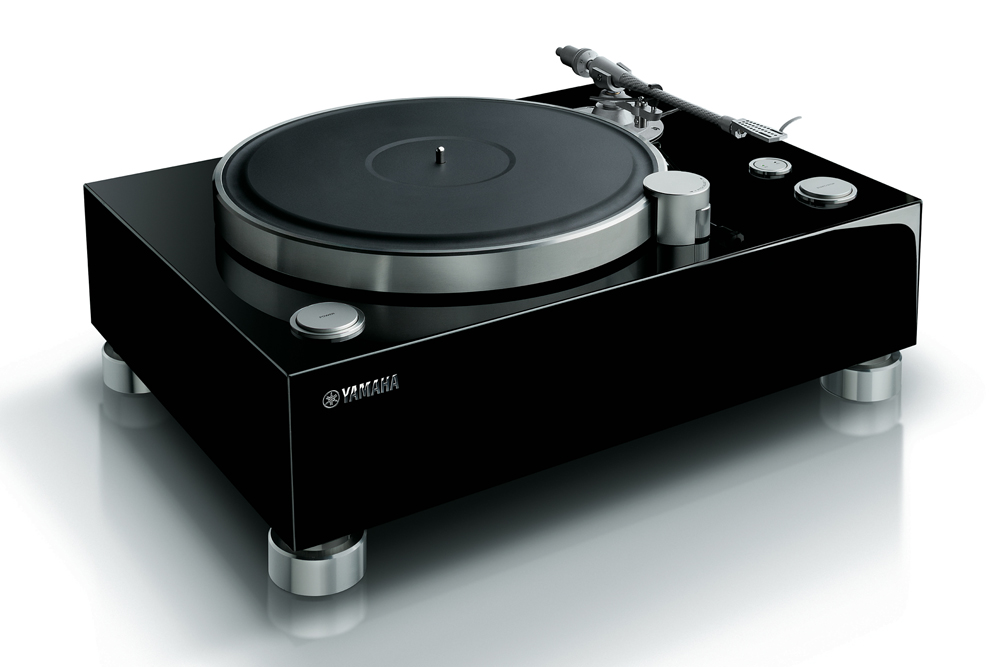 On "Hey" from The Pixies' Doolittle, the system shows speed in its handling of transients, allowing David Lovering's well-captured snare to cut with incisiveness without swamping Black Francis' sometimes fragile, other times manic, vocals (this last observation also a testament to the system's resolving and separation powers). Joey Santiago's undulating guitar buzz plays along simpatico with Kim Deal's agile, driving bass guitar. The entire assembly of instruments coalesces, making for full enjoyment of this killer track.
The same goes for the system's skill at separating and juxtaposing Kim Gordon's and Chuck D's mid-song vocal interchange on "Kool Thing" from Sonic Youth's Goo. The system's deft timbrel resolution provides believable vocal tones from the, obviously, very different voice characters. The 5000 components' alacrity with sudden rhythmic changes provides a terrific sense of pace with rock music.
You can transpose these qualities to Elgar's Cello Concerto (Barbirolli conducting the London Symphony Orchestra). There's no suppression of Du Pré's often passionate technique, with the cello digging deep while also sounding refined and superbly detailed at its upper reaches. The sheer beauty of Du Pré's expressive playing (her tragic backstory makes it all the more poignant) is superbly resolved here, with the resonance of the strings' vibrato and the instrument's hollow structure interplaying with extraordinary clarity. The soundfield is enormous and spreads wide, deep and with appropriate height. Instruments are placed realistically and in proportion with each other. And as the music swells through the stunning crescendos, the 5000 system tracks along with massive scale and effortless dynamics adding to the emotive power of this most beautiful of compositions.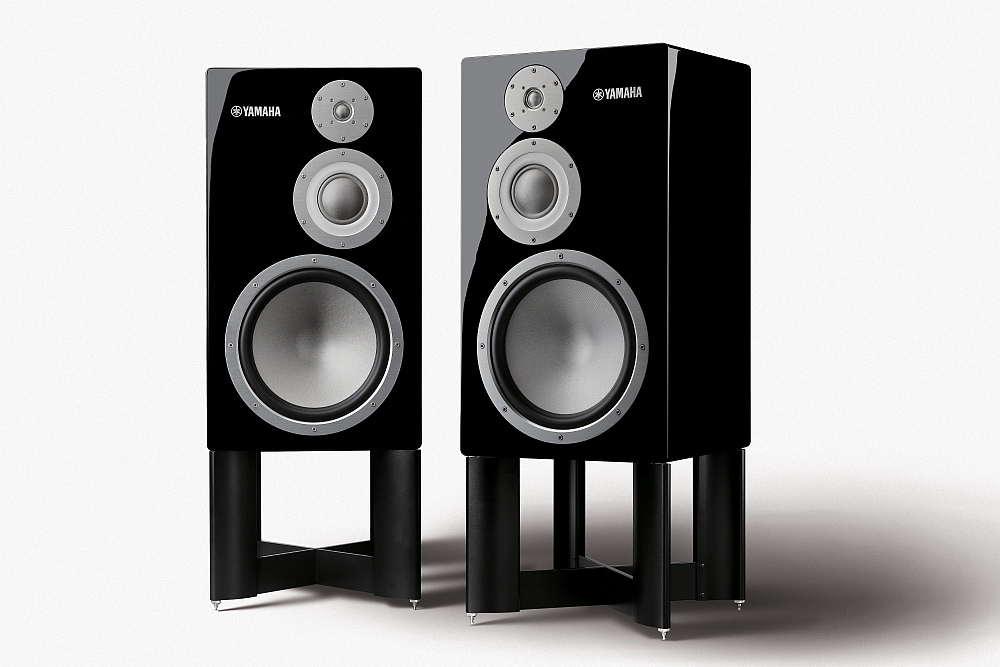 The other genres offered equal snap to snare drums, grunt and rumble to low bass, clarity and air to the upper reaches of cymbals and overall excellent tonal quality. While the Kiseki Blue cartridge would, of course, play an important part here, the mark of the excellent GT-5000, the C-5000's brilliant phono stage, the power and delicacy of the M-5000 and the NS-5000s' precision are the main act here. Bear in mind however, the system's first-rate accuracy and neutrality will reflect the quality of the source material and the all associated components including cables, of course.
Switching to the Yamaha flagship CD-S3000 player and AURALiC streamer offers more of the same with, of course, a digital sonic signature. Having said that, both vinyl and digital proponents would be surprised with how much the analogue and digital formats share in terms of sonic performance. Sure, vinyl's inherent characteristics – potentially, record surface noise (although playback was very quiet) and a reduced response in the deepest frequencies – are there when the source material exposes these elements. Ditto for digital's potential congestion and digititis etch with poorly-mastered material. Notwithstanding these aspects, there's a sonic homogeny between analogue and digital here, especially evident in simpler material such as small ensembles and acoustic music.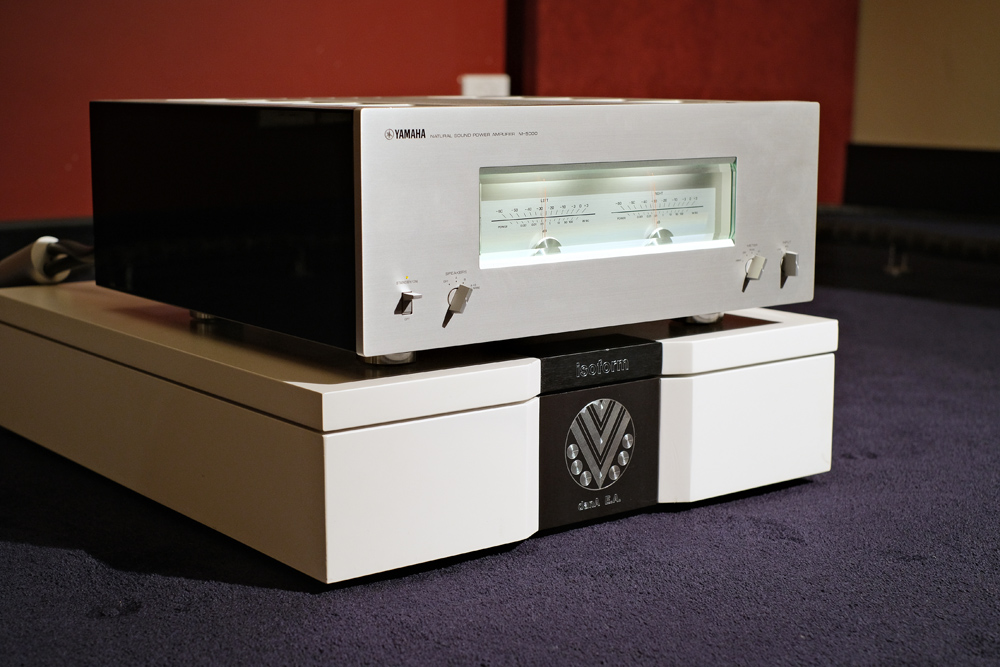 The Nicolas Parent Trio's "Desért Blanc" from the album Mirage (via Tidal) is a phenomenal recording with extraordinary levels of nuance and detail which are all preserved and beautifully presented via the 5000 system. Parent's rapidly abrupt guitar picks have a jump factor mixed with excellent timbrel qualities, and these aspects are carried through to the percussion which shines with tonal textures and natural decay. This fidelity to dynamic and transient swings motivates engagement and toe tapping. Once again, these qualities, coupled to the 5000 system's superb timbrel accuracy, heighten the music's authenticity.
"All That Jazz" from Parry Ray's Out of the Shadows album showed excellent piano tones from left-to-right keys. Ray's confident vocals project forward while the track's potent kick drum and realistically-bony finger clicks, in unison, provide engaging propulsion. There's a sweetness to her voice via this very good recording and the 5000 system places her image locked in centre-stage and in clear separation from the instruments' locations.
The rhythmic boogaloo of Brant Bjorn's "Stardust & Diamond Eyes" from his self-titled album is a hold-your-toes-from-tapping challenge which the 5000 system preserves to its hip-wiggle best. The bounce of the attacking bass and kick drum interplay is addictive, displaying superb pulsating power – and man, that guitar riff…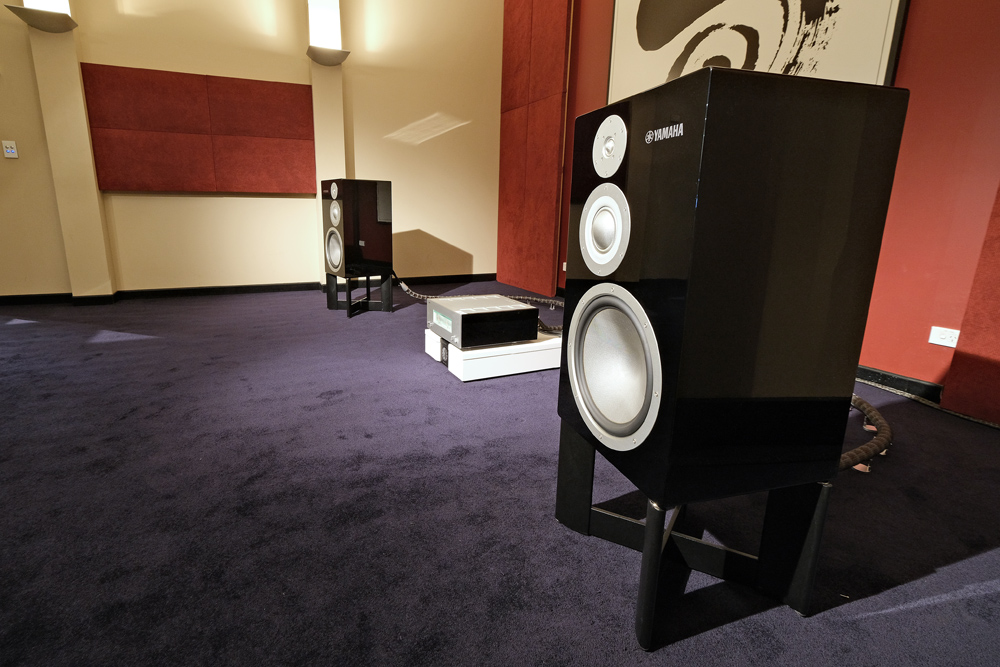 Conclusion
As much as this out-of-the-usual-context evaluation of the full Yamaha 5000 series aimed to inform you, dear readers, it was also deeply revealing for this writer. Both in terms of the combined components' potential as a system – outside the vagaries of audio show conditions – and its performance within the context of an alternate acoustically treated space juxtaposing SoundStage! Australia HQ's own.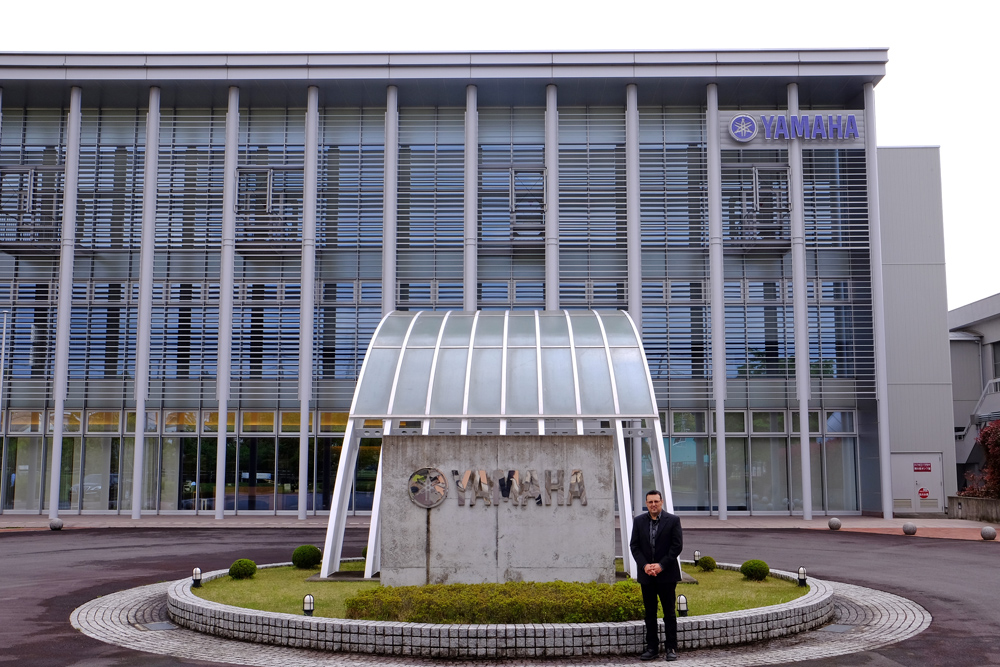 Having twice visited Yamaha's Hamamatsu Headquarters (Shizuoka Prefecture) and being informed of the company ethos of 'Excellence', 'Authenticity' and 'Innovation' as expressed across all the company's products, the marketing words do carry truthful weight. This is no more evident than in the 5000 line.
Coincidentally, further cementing of the three terms is exemplified by a unique Yamaha flagship bespoke piano stationed at Underwood Studio, a five-minute drive from SSA, which is being used by high profile musicians from around the globe. Few, if any audio company, can boast of technical excellence via products spanning from the artist's instrument, to the studio and/or the performance venue to, finally, offer the gear that sits in your room and provides your listening pleasure. Each link of the entire chain provides a crucial association of respect to the artistic process.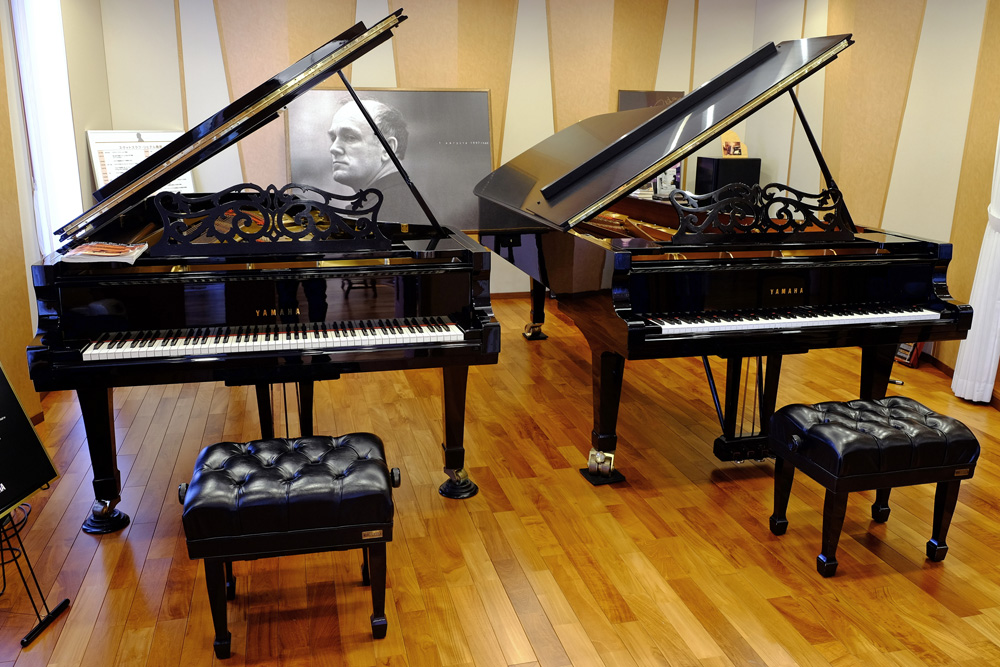 As far as personal experience outside of these flagship offerings, I've derived pleasure from a wider variety of the company's products. I've not forgotten the stunning Soavo NS-F901 speakers I reviewed a few years ago. Almost on a daily basis, I enjoy my own solid-as CD-S2100 transport and even my kitchen's bewilderingly-good and oh-so-fun TSX-B235D all-in-one. So yes, humbly, I'm in an authentic position to assertively endorse the company ethos of 'Excellence', 'Authenticity' and 'Innovation'.
The 5000 series components are superbly engineered, immaculately assembled, gorgeously styled and high performing products which, whether individually or as a synergistically cohesive system, compete with the highest-profile brands in the high-end space.
Yes, on that day at Len Wallis Audio, I struggled to reach escape velocity…
… Edgar Kramer
This email address is being protected from spambots. You need JavaScript enabled to view it.
Links to our 5000 components' published reviews:
SoundStageAustralia.com - Yamaha GT-5000 Turntable & Tonearm
"The GT-5000's princely stature presents a generous soundfield and an overall natural, balanced performance. Its physical robustness reflects in the way it actually sounds – it's a big and boldly dynamic analogue playback system which does not skimp on low-end power and depth. Yes, it's Gigantic and Tremendous… but it's also resoundingly Gorgeous and Tuneful." Edgar Kramer
SoundStageAustralia.com - Yamaha C-5000 Preamplifier & M-5000 Stereo Power Amplifier
"The Yamaha C-5000 and M-5000 preamplifier… will provide the engineering excellence, the aesthetic splendour and the arresting communication of the musician's intent, in its purest form, on a par with the best of the high-end. These excellent components are worthy of my unreserved highest recommendation." Edgar Kramer
SoundStageAustralia.com - Yamaha NS-5000 Loudspeakers
"The NS-5000s offer exceptional value for money and undoubtedly affirm Yamaha's dedication to the production of truly high-end products that preserve their market-leading reputation and to the reproduction of music." Josh Givorshner
SoundStageAustralia.com - Follow-Up: Yamaha NS-5000 Loudspeakers – Editor's 2nd Opinion
"Given the NS-5000s' exemplary performance, advanced design and engineering, subjectively beautiful aesthetic, superlative piano finish and the asking price packaged with the SPS-5000 bespoke stands, I would have to reiterate my past verdict and call the NS-5000, once again, "a new icon worthy of veneration."" Edgar Kramer
Yamaha Flagship 5000 series Audition at Len Wallis Audio
Equipment List
Speakers— Yamaha NS-5000 Loudspeakers & SPS-5000 speaker stands
Amplifier— Yamaha M-5000 Stereo Power Amplifier
Preamplifier— Yamaha C-5000 Preamplifier
Sources— Analogue: Yamaha GT-5000 Turntable (Kiseki Blue cartridge) Digital:Yamaha CD-S3000 CD Player, AURALiC Aries G2.1 Digital Music Player via Berkeley Audio Design Alpha DAC Reference Series 3
Cables— PSC Audio custom design XLR, inakustik NF2404 AIR interconnect, LS4004 AIR speaker, AC2404 AIR Power Cables
Audio Racks— SGR Audio
Miscellaneous— PS Audio PowerPlant 20, DanA Amplifier Support Platform, etc.
Yamaha GT-5000 Turntable, C-5000 Preamplifier, M-5000 Power Amplifier, NS-5000 Loudspeakers
Price: GT-5000 AU$12,999, C-5000/M-5000 AU$12,999 each, NS-5000 AU$19,999 (inc. SPS-5000 stands)
Warranty: Five Years + Additional Five Years with Online Registration (All Products)
Australian Distributor: Yamaha Music Australia
+61 1800 805 413
www.yamaha.com.au
Yamaha Corporation
10-1, Nakazawa-cho, Naka-ku
Hamamatsu Shizuoka 430-8650, Japan
+81 (53) 460-2211
www.yamaha.com