It's near-winter mid-May and the Blue Mountains are now splashed with hues of red and covered in brittle tree-fall. It's conducive to calm, cosy music listening. In able assistance is the latest Mark Levinson pre/power combo in for review. I'm immersed in its analysis. Through that time, I ponder on the genesis of high-end audio, what products and personalities were responsible for its most forceful bloom in the early 1970s. Also in my thoughts are the joys of my own experiences with the brand and, just as joyfully, my many engaging conversations with Mark Levinson the man so many years ago now. Then, as I conclude an engaging four hour listening session, in as unexpected a way as fate could muster, a WhatsApp notice pops up on my iPhone. After so many years, the man himself, Mark Levinson is on the line…
Fate… with a Twist
The spooky synchronicity of ML's phone call and conversation that night has little to do with the subject under review but I found its associative synchronicity astounding. This parallel permeated my thoughts, taking me on time loops while the gear was in-situ. This had no conscious influence on my qualitative findings and conclusions re the N° 526 preamplifier and N° 534 power amplifier, of course, but it brought on lengthy reflection on the importance of the brand to the dawning of the high-end as we now know it.
Mark Levinson eponymously launched the brand back in the early 1970s, heralding an era which, somewhat concurrently with contemporary and compatriot Dan D'Agostino from Krell, shaped the high-end audio space into what it is today. Certainly in terms of solid state amplification. But they weren't alone. Audio Research Corporation's Bill Johnson, Saul Marantz and McIntosh Laboratory's Frank McIntosh were also creating tracks on fresh ground via highly-acclaimed valve-based products. As was Asia with Yamaha, Pioneer and Denon. Europe of course, had its own luminaries in Germany, Italy and Denmark, among others, while the UK trailblazed loudspeaker products by John Bowers from Bowers & Wilkins', KEF's Raymond Cooke, QUAD's Peter Walker and Tannoy's Guy R. Fountain among others.
On to more recent history. Subsequent to machinations outside the scope of this review, Madrigal became the Mark Levinson brand custodian, going on to produce outstanding products under the famous moniker and leading to audio industry giant Harman International procuring the business in 1990. Now, since 2017's acquisition of Harman International by colossus Samsung, Mark Levinson forges ahead with promising new products which revisit the beauty-in-design of yesteryear's offerings while elevating them with first-rate engineering comprising the latest audio technologies. From this spate of excellence, we examine the N° 526 Preamplifier and N° 534 Power Amplifier.
Past & Present Memories
This writer fondly recalls owning the superb little over-achiever that the N° 29 power amplifier indisputably was. Running it with an Audio Research SP-9 Mk.II at the time, the Mark Levinson 50 watter was killer. Killer I tell you. While in-situ over a few years of blissful ownership, it effortlessly controlled the loudspeakers I cycled through, from the smooth-as-butter fellow-'Harmanite' Infinity Kappa 6i (man that was a good tweeter and midrange team), to the scarily dynamic and coherent Duntech Statesman to the challenging but superb all-rounder Thiel CS 2.3.
Back then, I also recall lusting after the gorgeously-styled Mark Levinson 300 series power amps but, alas, that was not to be. And don't even start me on the N° 31.5 Reference transport… man, if I could get my mittens on one of those now…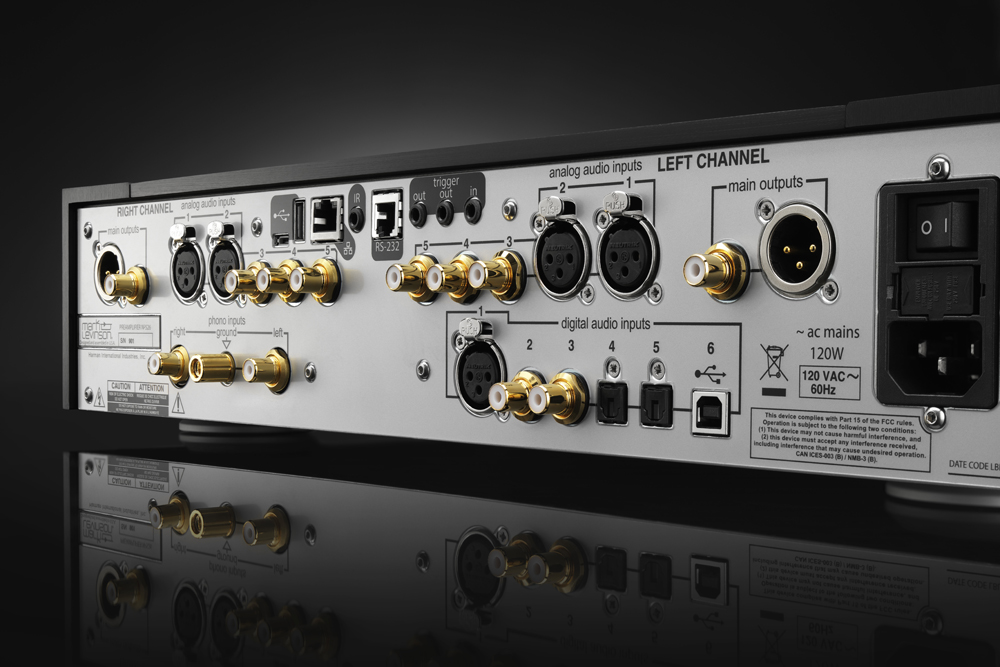 But it's not all about what was. This is more about what is. And that's a segue to the current N° 526 preamplifier which bears more than a passing styling cue to the iconic 'Reference' N° 32 and the subsequent N° 326S preamplifiers, all sharing an industrial design theme that, in this writer's humble opinion, is among the most attractively luxurious in the high-end industry. The N° 526 is a full-function single box 'Pure Path' discrete, direct-coupled, fully balanced, dual-mono design which in this version adopts an on-board Digital-to-Analogue Converter as an add-on feature to the fully analogue N° 523 preamplifier stablemate. Mark Levinson engineers, led by Lead Engineer Todd Eichenbaum, concocted a cascode circuit which combines the strengths of JFETs (low noise, high gain) and BJTs (low input impedance, very high output impedance resulting in "excellent bandwidth and linearity").
So when I wrote full-feature/full-function, I meant it. Let's go through this extensive feature offering. For starters, there are five analogue inputs two of which are balanced XLR with the remaining three being unbalanced RCA. The built-in Class-A MM/MC phono stage offers unbalanced RCA only, rounding-out the analogue options. Then, we have a total of six digital inputs featuring an AES/EBU via XLR, two S/PDIF coaxial RCAs, twin Toslink optical inputs and finally an asynchronous USB Type B socket using a CMedia module. Outputs are balanced XLR and unbalanced RCA. In addition, the N° 526 features USB Type A (storage option), a Micro USB which can be used for control, setup via webpage and firmware updates, RS-232 RJ-12 socket, Ethernet RJ-45, 3.5mm mini-jack IR socket and programmable 12V trigger input/outputs. A built-in headphone amplifier offers a 6.5mm jack output on the N° 526's front fascia.
A comprehensive menu/sub-menu listing offers a whole stream of setup and personalisation options. As I did, you'll discover all sorts of alternatives which can have you exploring the menus for quite some time after acquisition… or you can just fire it up and go. The choice is yours, let's just say that few preamplifiers offer this level of customisation and setup alternatives. For example, there are a number of gain structure options (Normal, High Gain, Fixed Normal and Fixed High Gain) to match any power amplifier on the market. Options are there too for the output impedance of the headphone amp (under 3 ohms or 75 ohms). There's a staggering number of alternative functionality offered via the phono stage with selectable input capacitance between 50 and 680 pico-farads, ten selectable input resistance settings for MC between 20 ohms and 47 kohms and a multitude of gain options for both the Moving Magnet (MM) and the Moving Coil (MC) phono alternatives.
The built-in DAC offers PCM resolutions up to 32-bit 192kHz while DSD is catered both natively or via DoP to 5.6 MHz double DSD128 (USB input). Mark Levinson has adopted its Precision Link DAC technology using an ESS Technologies DAC chip (no chip model stated) which is powered via five independent power supplies for extremely low noise performance. Individual linear power supplies are used across the left and right channels to supply power to the discrete current-to-voltage converter and antialiasing filter circuits. The Precision Link DAC has a choice of three digital filters – 'Fast' for a steep roll-off, 'Slow' which offers a more gradual roll-off and 'Minimum Phase' which has a steep roll-off on high frequencies.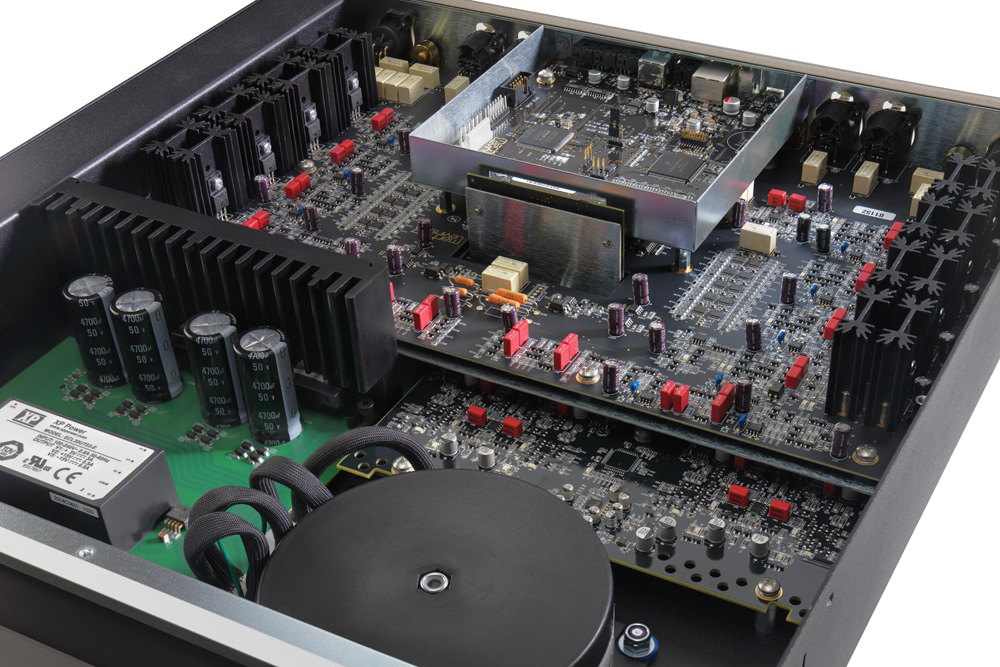 Mark Levinson presents a whole host of specifications which reflect the excellent engineering behind this superbly-designed component. Frequency response is quoted as being 20 Hz to 20 kHz at ±0.02dB and between 0.4 Hz to 370 kHz +0.1/-3dB. Total harmonic distortion plus noise (THD+N) at 1 kHz (2VRMS single-ended or 4VRMS balanced output) is said to be under 0.003 percent while being under 0.005 percent at 20 kHz. Wide band, unweighted Signal-to-Noise Ratio is quoted as 97dB 20 Hz to 20 kHz while the A-weighted figure is 100dB. The all-important volume control is Mark Levinson's balanced, current mode, discrete 15-bit R-2R ladder design using closely-matched resistors. It's a smart design, with slow turns on its lower range making appropriately-considered dB steps while in its higher range fast spins represent smaller dB steps in order to protect from disastrous over-volume. Thoughtful. A full-function rounded and small-ish, yet solid brick of-a-remote-control is provided.
Trust me when I tell you that there is a whole lot more to be discovered through the N° 526's feature set and menus map. Did I mention the fourth-order, 80 Hz high-pass filter which will allow integration of up to two subwoofers? Or the 'SSP Mode' which will integrate the preamplifier into a home cinema context? Or the input naming option? Or the phono stage's infrasonic filter? Oh I could go on… but then you'll not discover stuff yourself, would you? Plus, I best get on to the stunning N° 534 power amplifier, right?
Team Work
While the features and functions list of the N° 526 Preamplifier was exhaustive, the N° 534 dual mono power amplifier is a much simpler device. Not so many features required but the same level of heightened engineering. Having said that, its features list is far higher than most power amps. While the front panel only exhibits a central silver standby button with a tiny red status LED above it, like the preamp, the rear has some fun of its own.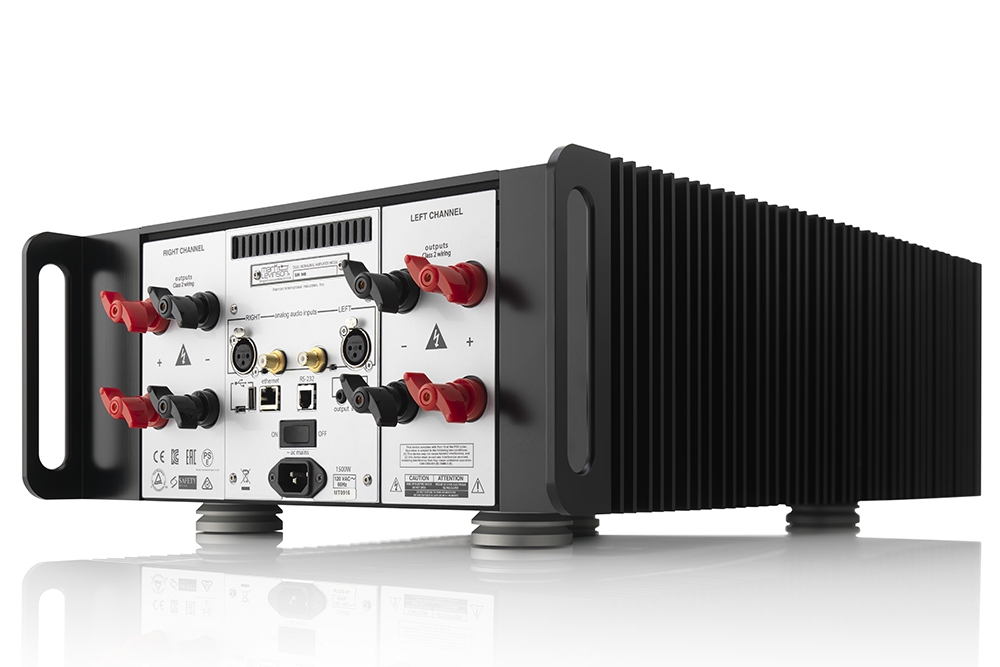 Inputs are via balanced XLR and unbalanced RCA (with independent matched ground circuit) while the dual set of loudspeaker outputs sports Mark Levinson's own terrific 'Hurricane' binding posts. The Micro USB socket makes another appearance for control, web-based setup and firmware updates, as does a USB-A socket for control. To allow all that of course, there's an RJ45 Ethernet socket alongside a control RS-232 port and input/output 12V mini-jack trigger sockets. Finally, we have an IEC socket below a mains on/off switch.
The N° 534 is a fully differential, fully discrete 'Pure Path Folded Cascode' power amplifier with a direct-coupled signal path with low-feedback circuitry and Class-A voltage gain and driver stages. The gain stages use JFET devices while the output devices are bipolar transistors. The N° 534 is peppered with high quality and 'Military Grade' components throughout.
Mark Levinson Lead Engineer Todd Eichenbaum clarified with me the robustness of the N° 534's power supply which will make it capable of driving any loudspeaker. The N° 534 sports "a 1.8 KVA transformer, 59,400 uF per channel capacitor bank and 12 output devices (6 complimentary pairs) per channel with each being rated to 200 watts, 15A continuous and 260V." The N° 534 is rated at 250 watts per channel into 8 ohms, 20Hz to 20kHz, at under 0.3% Total Harmonic Distortion (THD) with Mark Levinson quoting 500 watts per channel into 4 ohms and "2 ohms stability". The amp certainly cruised while driving my reference Wilson Audio Alexia Series 2's tricky impedances around the low frequencies. The frequency response has been quoted as 10Hz to 20kHz +0/-0.2dB. Input impedance is 60 kohms (XLR balanced) and 30 kohms (RCA unbalanced) while the Voltage Gain is 26dB, these figures making the N° 534 compatible with any preamplifier. The N° 534 weighs a hefty 46.7kg.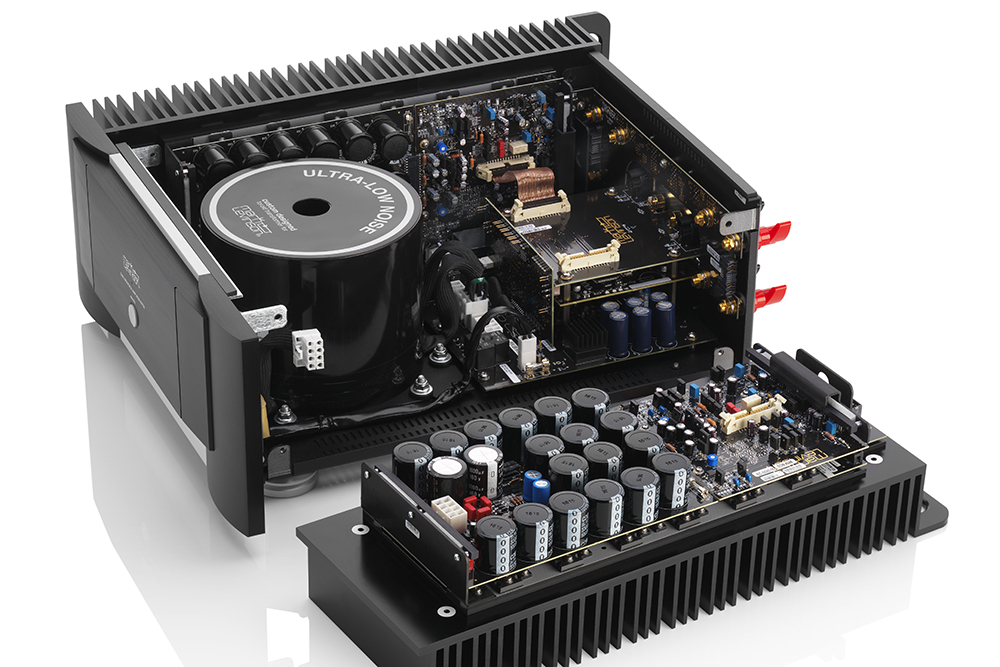 Both the preamplifier and power amplifier are fully handcrafted in the USA. While both components' engineering is of very high standards, I'll comment again that in terms of aesthetics, the two components are things of beauty. The anodising on the 6000-grade aluminium is excellent, sporting super-smooth and semi-glossy surfaces, the panels are assembled with fastidiously close tolerances and the buttonry works flawlessly and solidly – the N° 526's volume control is silk-on-rails…
New Order
I started off by feeding the N° 526 preamplifier with my own digital source components, alternating between the newly-acquired 432 EVO High-End music server and Yamaha CD-S2100 CD transport plugged into my Totaldac d1-core DAC. This allowed me to assess the combo within the context of my reference sources. The evaluation of the preamp's built-in DAC took place soon after I got my head around what the combo was doing. And it was doing some cool things…
The first word: Order. The Mark Levinson combo presents the music in a highly organised way where all seems in clear balance. Some components may excel at most things but you subsequently discover a pimple, a deficiency or two, which blemishes the sound in some way. Once heard, it's something you can't un-hear. The ML combo's all-round balance and purity, however, is like breathing mountain air. There's an astounding amount of detail that is offered in a non-clinical way which leaves you assured that what is in the recording is also being reproduced. In terms of transparency, the analogy 'a straight wire with gain' could not be more appropriate – this combo transmits the full info packet to your loudspeakers.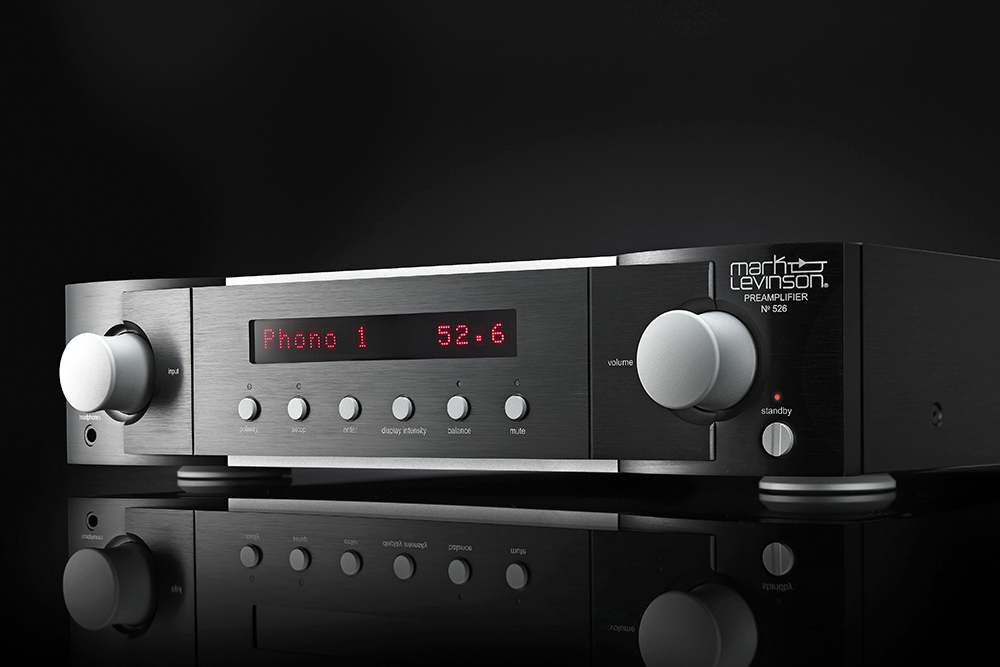 This orderly presentation extends to a remarkable separation of complex material. It's incisive, scalpel-like in its precision but without sacrificing the music. Sure, some really good valve gear may give a higher sense of 'musicality' and tonal complexity but the ML combo is truthful, accurate and precise without colouration. It's not cold or… soulless either. Take Dave Grusin's multi-instrumental compositions on Migration, in particular the drum-powerful and appropriately-named "TKO", where the combo showed its stunningly resolute abilities – nothing is too difficult in terms of separation with these two components. And the drums' power, tonality and thump come across superbly, demonstrating the total control the amplifier exerts over the speakers.
On the nicely produced Blood album by super-prog-rock band OSI (Office of Strategic Influence), the title track is an example of moody prog-rock densities which the ML combo unravelled to provide profound insights into the production and composition. The snare is well-placed in the mix in terms of its impact and drive, in clear relief of the visceral kick drum. The whole track sounds meaningful, powerful and robustly punchy.
Jamie Saft Trio's Trouble: The Jamie Saft Trio Plays Bob Dylan is a wonderful homage to the great man and the title track's often discordant but somehow also harmonised piano solo (yes, I know that's a paradox but listen to the track through persuasive gear and you'll know what I mean) is superbly reigned-in via the ML pre/power. Again, that sense of order… Many components have turned this difficult – but super-enjoyable – track into somewhat of a mess. Not here. Tonally, the forceful piano notes sounded accurate, the acoustic bass rhythmical and the overall transient attack was tracked effortlessly via the two components.
The ML combo's handling of string instruments is pure pleasure. Boris Belkin's masterful playing of Tchaikovsky's Violin Concerto (conducted by Vladimir Ashkenazy on Decca) is textured and appropriately lively. The maestro's oscillations, technique and dynamic control of the instrument is communicated via the N° 526 preamp and N° 534 amp with profound detail retrieval of rosin on string while Belkin's spirited fluctuations are never smeared nor homogenised into an indistinct amalgam. And when the music swells and the full orchestra enters, the ML duo's dynamic tracking is breathtaking. It makes for captivating listening.
Staying on this superb recording, the production's venue, London's Kingsway Hall, is reproduced with realistic scale with very good lateral spread and excellent depth and height. Imaging is super precise, with Belkin positioned firmly within the soundfield while behind him, the orchestra's various instrumental sections are accurately located across the soundstage. The Kingsway Hall's ambience is well recreated with excellent 'air' providing a great sense of the venue's size and acoustic signature.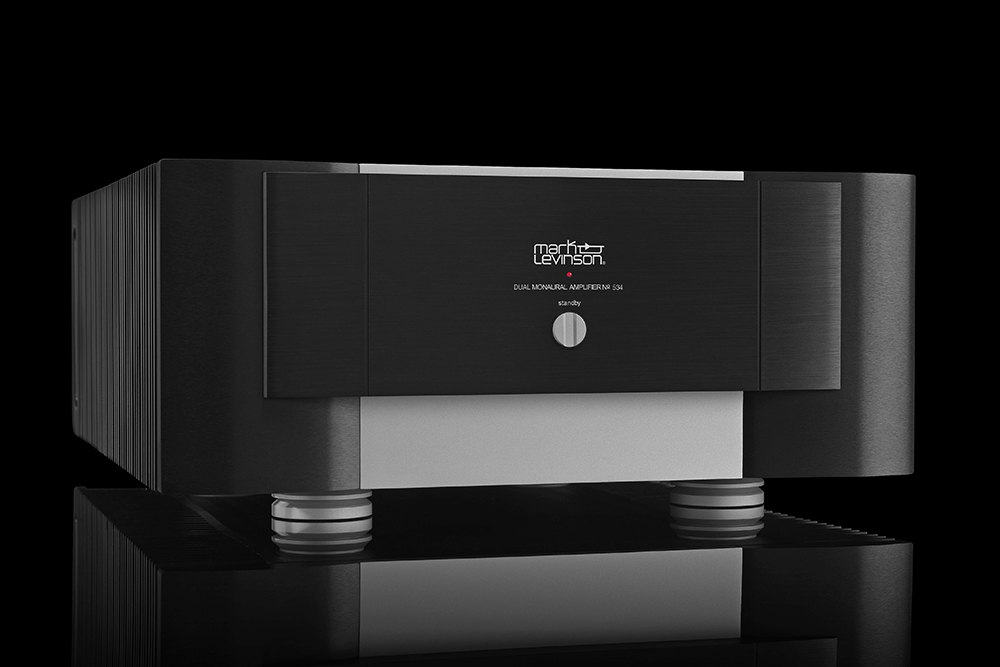 This was confirmed via another 'go-to' track which superbly illustrates venue ambience and scale – "Amazing Grace" from Ani DiFranco's Living in Clip, where the ML duo beautifully expresses the live performance's immediacy, the dimensions of the large venue, the distant crowd noises and whistles and the positioning of the band within the stage. DiFranco's sometimes manic and jarring guitar work is shown with its full attack and presence while the well-recorded snare and kick drum express their dynamic contrast convincingly. This last, of course, is dependent on the physicality of your loudspeakers – in this case, the bigger, the better.
Swapping over to the N° 526's in-built DAC gave more of the same resolution, detail and accuracy. My reference DAC is somewhat softer-sounding, more focused on midrange body and an overall more sweetly romantic presentation. The N° 526's DAC, while also smooth across the mids and highs, is more truthful and accurate. It's also slightly more attacking and tighter across the lows, with bass notes sounding more rhythmic, nuanced and percussive via the N° 526. Worth mentioning here is the fact the DAC operated faultlessly, did not require driver-loading shenanigans (with my sources) and locked-in to whatever it was fed in an instant.
Conclusion
The Mark Levinson N° 526 Preamplifier with DAC and N° 534 Power Amplifier are, without doubt, outstanding products in what is a crowded high-end pre/power category. A lot has changed since the earlier days of the brand when some of its products resided in the reference-level space. There are now many, many companies inhabiting those stratospheric summits. Über products priced way beyond that of this current duo's bottom line. Two or three times more even (new 'Reference' products from the brand, a la N° 33, etc. would be very interesting indeed…). With that in mind, given the pairing's performance, the N° 526 and N° 534 would almost seem somewhat of a bargain. Yes, strangely, even at AU$70K…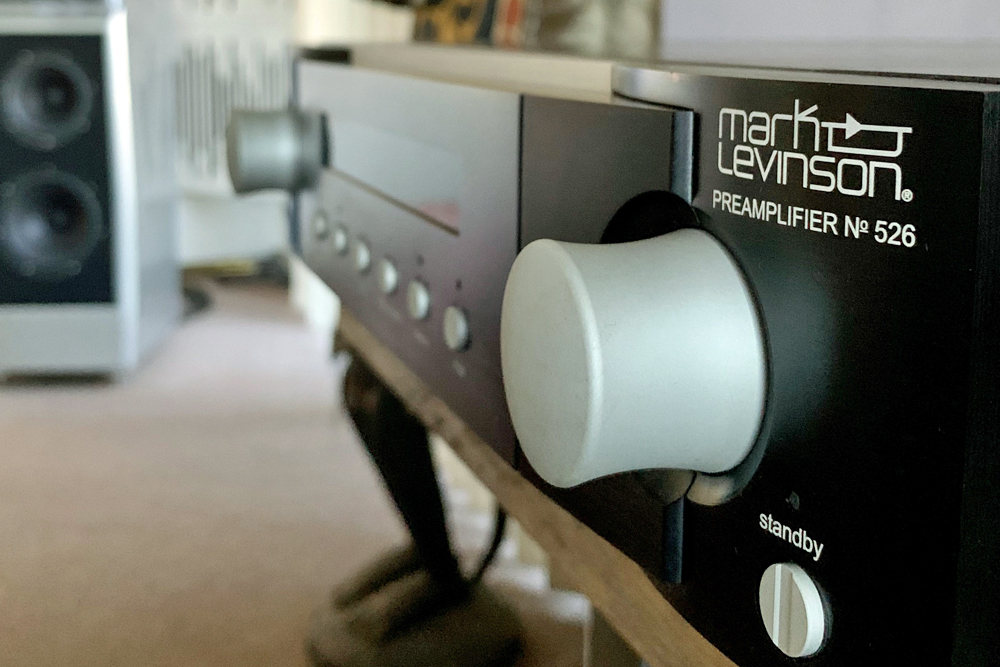 Individually, each component stands out for its superb resolution, utter neutrality, convincing dynamics and accurate tonality. As a duo working in unison, all those qualities are maintained while others are built upon. Yes, the pre/power union extends dynamic power while providing added dimensionality to the soundstage and sharper, more pinpoint image focus. Sonics aside, for owner or potential purchaser, additional elements worthy of consideration are the iconic American high-end audio brand cache, the overall superb engineering and the luxurious build.
My time with the Mark Levinson N° 526 Preamplifier and N° 534 Power Amplifier was filled with fuss-free musical enjoyment. Yes, their performance was on a whole 'nudder level; no comparison to the superb N° 29 power amplifier I owned all those years ago. The new duo's music-making powers revealed purity, precision and control by way of their grander engineering and higher-specification modern componentry, condiments which elevated my cognitive assessment and confirmed their undisputable superiority.
Plus, as if in an inescapable time loop, the Twilight Zone element of that distinguished voice from the past reminded me that true excellence is nigh eternal.
… Edgar Kramer
This email address is being protected from spambots. You need JavaScript enabled to view it.
Associated Equipment
Speakers — Wilson Audio Alexia Series 2, Axis Loudspeakers VoiceBox S(nearfield monitor), Vermouth Audio Little Luccas Mk.II
Amplifier — Gryphon Audio Antileon EVO
Preamplifier — Supratek Cortese, Lightspeed Attenuator LDR passive
Sources — Digital:432EVO High-End Music Server, Yamaha CD-S2100 transport, Chord Electronics Hugo M Scaler, Totaldac d1-core DAC, Asus PC as Roon Core. Analogue: Michell Engineering Orbe with Gert Pedersen Level 3 modifications and Origin Live Ultra upgraded motor, Trans-Fi Terminator air bearing linear-tracking arm, Shelter Harmony cartridge, Supratek Cortese & REDGUM Audio RGPH2 phono stages
Processor — DEQX PreMate
Audio Rack — SGR Audio Statement Model V
Acoustic Treatment — Vicoustic Multifuser Wood, Wavewood Ultra, Cinema Round Premium and Super Bass Extreme
Miscellaneous — GigaWatt PF-1 EVO, Les Davis Audio Viscoelastic CLD discs, VRC Vinyl Record Cleaning system plus miscellaneous accessories
Mark Levinson N° 526 Preamplifier with DAC and N° 534 Power Amplifier
Price: N° 526 AU$35,000, N° 534 AU$35,000
Warranty: Five Years
Australian Distributor: Convoy International
+61 2 9774 9900
www.convoy.com.au
Mark Levinson by Harman
8500 Balboa Boulevard
Northridge, CA 91329
United States of America
+1 888 691 4171
www.marklevinson.com