I once had the attitude – not that long ago – that life was too short to compare, let alone strictly A/B, AC power cables. After all, given a well-designed cable featuring good amounts of copper and appropriate shielding, AC power should be delivered to your device in a way that would suit its function. Especially in the case of good amplification where astute engineering makes full use of inherent elements such as extensive filtering, regulation and massive supporting power supplies. But in fact, it may be because of these design elements that I subsequently discovered (after finally spending some time comparing AC cables) the sonic differences AC power cables can make. Yes, often subtle but present nevertheless. Sharing the point of view that AC cables can indeed make a noticeable difference is Australian cable specialist EGM Audio. We take a look at the company's high value flagship offerings in the new Black ML Reference AC cables.
I see AC
To arrive at the final design and configuration of the Black ML Reference AC cable, EGM Audio started with its base platform and subsequently embarked in a prolonged experimentation regime. Then, company Principal Joel Massey began a series of extensive listening sessions, in conjunction with collaborator Mike Lenehan of Lenehan Audio (hence the ML denomination), with further fine-tuning via yet more lab testing. This way, Massey arrived at what he says is EGM Audio's best AC cable solution to date. The fact that EGM Audio offers the Black ML Reference cable as its flagship is quite interesting in itself, given it's placed at a more affordable price point than many other companies' entry level products.
In fact, Massey told me that, for the time being, he doubts he could top the 'Black' (for short) in terms of its material content and overall design for the resultant sonic performance. Massey and Lenehan listened over extended periods across a number of high-end systems to arrive at the Black's formulation. Given the intense scrutiny during development, the conductor generosity and quality and the excellent connector spec, I thought it all worthy of further clarity so I prodded Massey for insights into the ideas behind his cable designs.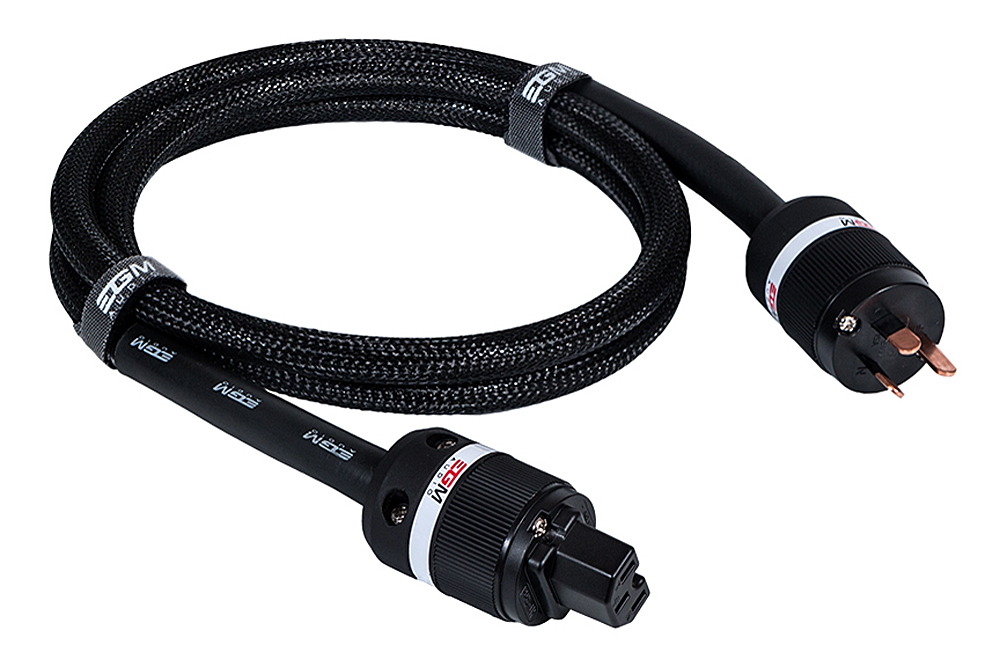 I asked Massey how long did the process of design, testing, tweaking and then finalising the Black AC cables take and, aside from himself and Lenehan, were there other assessors brought in?
It's been over 12 months of design work and sourcing correct materials. We sent the cables to Hi-Fi shops and audio clubs for a variety of opinions.
What were your aims in terms of the Black's design?
We aimed for a great performing cable at an awesome price point.
Are there proprietary construction and/or technology aspects to the cables and what are they (as much as you're able to tell me)?
The cable is sourced from the UK, the plug top from China. The cable is fully constructed in Australia. Construction is 7 Core, 1.5mm², parallel wiring and shield. Plug features copper pins.
With the Red, Grey and Blue V2 cables taking care of the entry point, are you looking at designing further upmarket cables?
Yes we have a few design in that are in design and should be in testing phase very soon.
Given two well designed AC cables, like for example your Blue V2 and Black cables, in your view, what are the aspects that differentiate them in terms of sound quality and overall performance?
We have found that the Blue Power cable loves power, so it works great with power amps. Black Power cable is best for source and have had great success with AV Receivers, Projectors and TVs. But each system is different, we offer customers a trial pack which includes 2x Black & 2x Blue Power Cables so customers can choose what works best for theirs systems.
Black is the New Black
The Black ML Reference cables are plainly wrapped in a… yes, black external sheath. The quality all-round is perceptually high – the cables are very neatly constructed and use quality materials throughout. The connectors are excellent, with the male end being an EGM Audio exclusive design featuring copper/tellurium pins. Plug availability spans a wide variety of options including IEC C19, IEC C15, IEC C17 "plug top" and Australian standard, European Type-F and USA Type-B.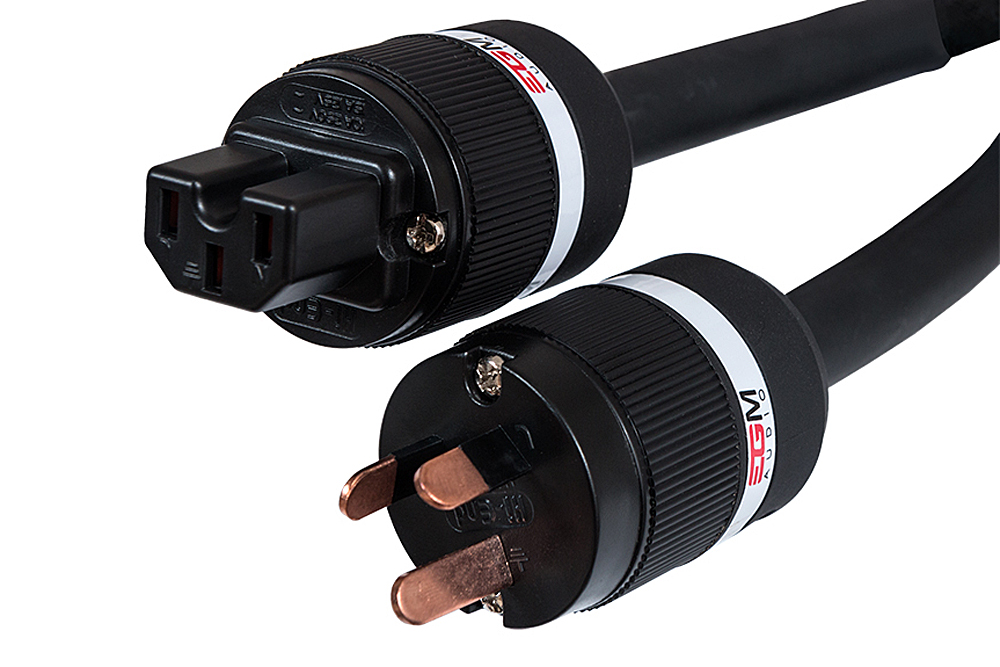 The Black ML Reference cables feature a seven core 16AWG conductor arrangement resulting in a 13AWG overall cable gauge. Conductors are 99.999% OFC pure electrolytic/high purity copper. EGM Audio has incorporated heavy EMI/RFI protective screening while the entire construction employs six layers of components from conductors, through to shields and protective PVC jackets.
All EGM Audio cables are handcrafted in Australia and carry a five year manufacturer's warranty. Wisely, EGM Audio is conscious of branding opportunities, placing the company logo not only on the plugs – at both ends – but also on the neatly-applied heat shrink and on the supplied Velcro ties which, at time of purchase, hold the cable in a neat coil inside its carry bag (which also features a large company logo). I mention this branding issue because I've found that some Australian companies tend to bypass branding opportunities. So, get yourself a cool logo and position it in as many vantage points as possible. Well done EGM Audio…
Do No Harm
Routing the reasonably flexible Black cables was easy enough and I used the cables on power amplifier and preamplifier. The Black cables were straight off the bat a very neutral and transparent design (subsequent to running signal through for many hours prior to listening proper). In my very revealing system, the differences between AC cables have been noticeable but never "chalk and cheese", "that cable blows that other one out of the water", "Wow! It's like a new system". None of that malarkey. Yes, differences… but subtle-ish to varying degrees dependent on the cable design and connecting component.
The EGM Audio cables are well-designed and competently-built so I was expecting unhindered sound. And that's what I got. A free and unconstrained output, from all the connected components, one of which was my own over-$50K reference power amplifier. Based on paper specs, you may decree, "Whaaat? A $400 cable on a $50K amp?" Well, there may be a financial divide, more of an abyss actually, between the Black cables and my Gryphon Antileon EVO amplifier but their accuracy was immediately perceivable while performing with more detail and transparency than many competing products at its level.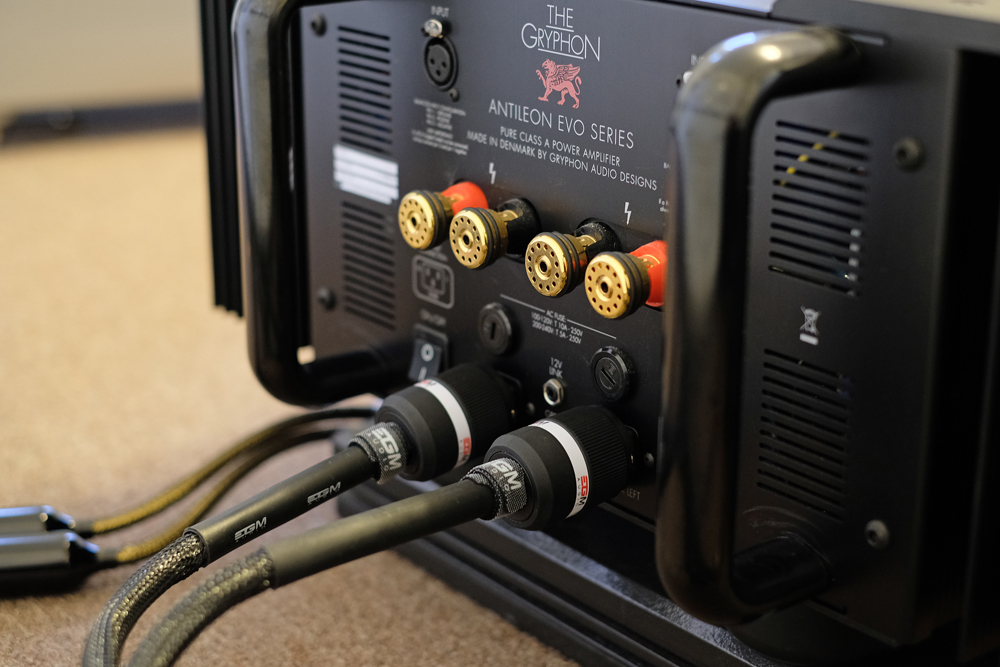 The Black cable also excelled at providing a powerfully deep bass register which, aside from sheer wallop down low, delivered tight detail and tonal textures. Where the kick drum lives it was subtly less gut-shaking but it made up for it in the registers below 100Hz or so. There was plenty of rumble on recordings by engineers who goosed-up the low, low-end. Illustrative of these low-frequency studio fireworks, over the last few years I've used a number of select titles highlighted by tremendous bass. What's more, I also enjoy these powerful extravaganzas on a personal level. Titles such as Jackson Browne's The Naked Ride Home ("Sergio Leone" in particular), Chris Jones' Roadhouses & Automobiles ("No Sanctuary"), Bèla Fleck & the Flecktones' Flight of the Cosmic Hippo (Title track), Yim Hok-Man's Master Of Chinese Percussion ("Poem of Chinese Drum") and many others. Black cables provided the requisite nuance and texture to the bass while being thoroughly neutral up the frequency range. What more can you ask for? In fact, that should be the strict mandate of any cable design, to provide the most damage-free, most unimpeded signal transmission possible, whether AC, interconnect, speaker cable or whatever.
The Black cables deliver neutral, tight and clean across the midrange and highs. There are no enhancements, no colourations or syrupy-sweet deviations here. You just get a thoroughly methodical – in a good sense – offering of any music you care to throw at your system. At no stage will you find yourself thinking "Could there be more… music on offer, potentially?" No, the Black cables handle all manner of music complexities with thorough proficiency and clear definition. It's also fast in the sense that there are no blunted or, in any way, a weakening or softening of transients, whether it's the violent snap of a hard-hit snare or the subtler nuances of nail-on-steel-string.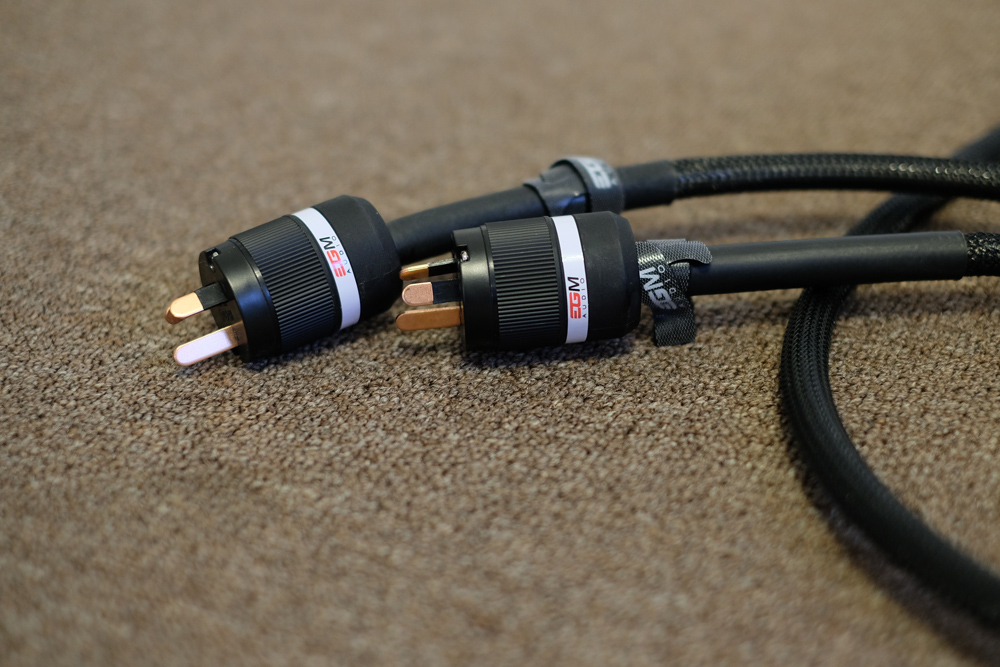 These are immediate cables when it comes to vocal reproduction, where the sense of presence is as realistic as the recording – and your ancillary equipment – allows. They are truthful cables which won't hide compressed production or bright too-close-to-the-microphone technique. If you're after pleasant falsities, or music through pretty rose-coloured glasses, then look elsewhere (EGM Audio does offer several other models that may just fit into that sweeter-flavoured presentation). Ditto for the conveying of dynamic expression and contrast elasticity. Often used as rhythmic accents to the underlying beat, tom-tom hits on well recorded drums stood out in powerful relief, showing the skills of both drummer and recording engineer in select tracks from Opeth's Damnation, or OSI's Blood or, in stark musical contrast, Dave Brubeck's Take Five or John Cowley Trio's Touch and Flee, or even Curandero's softer, moodier Aras.
Conclusion
While EGM Audio is a relatively young enterprise, the company has hit the market with a number of cable offerings spanning analogue audio, AV (HDMI and Toslink fibre optic cables) and a bespoke range of quality connectors available for DIY'ers. There's a view to expand into higher quality loudspeaker and interconnect cabling at some stage soon-ish, with the company conducting thorough R&D at the time of publication.
Commendably, EGM Audio's Founder Joel Massey is determined to provide audio enthusiasts and music lovers with cable solutions at the affordable end of the scale while aiming to offer high levels of performance. These are no-nonsense products encompassing clever and solid design which eschew overt flair, unobtanium materials and colourful marketing sales-speak.
In terms of the Black cables, your cash or plastic will buy you a product which is a reflection of the integrity of the people behind the brand. EGM Audio's Black ML Reference AC cables are handcrafted in Australia featuring high standards of construction, generous material content, quality conductors and proper connectors in a very affordable package. They perform to a neutral standard devoid of blatant errors of addition or commission. Highly recommended.
… Edgar Kramer
This email address is being protected from spambots. You need JavaScript enabled to view it.
Associated & Reference Equipment
Speakers — Wilson Audio Alexia Series 2, Axis Loudspeakers VoiceBox S(nearfield monitor), Vermouth Audio Little Luccas Mk.II
Amplifier — Gryphon Audio Antileon EVO
Preamplifier — Supratek Cortese, Lightspeed Attenuator LDR passive
Sources — Digital:432EVO High-End Music Server, Yamaha CD-S2100 transport, Chord Electronics Hugo M Scaler, Totaldac d1-core DAC, Asus PC as Roon Core. Analogue: Michell Engineering Orbe with Gert Pedersen Level 3 modifications and Origin Live Ultra upgraded motor, Trans-Fi Terminator air bearing linear-tracking arm, Shelter Harmony cartridge, Supratek Cortese & REDGUM Audio RGPH2 phono stages
Processor — DEQX PreMate
Audio Rack — SGR Audio Statement Model V
Acoustic Treatment — Vicoustic Multifuser Wood, Wavewood Ultra, Cinema Round Premium and Super Bass Extreme
Miscellaneous — GigaWatt PF-1 EVO, Les Davis Audio Viscoelastic CLD discs, VRC Vinyl Record Cleaning system
EGM Audio Black ML Reference AC Power Cable
Price: AU$399 for 1m
Warranty: Five Years
Australian Distributor: EGM Audio direct
+61 7 3841 3718
www.egmaudio.com.au
EGM Audio c/o QSR
9 Lindeman Place
Eight Mile Plains QLD 4113
Australia
+61 7 3841 3718
www.egmaudio.com.au