As an expansion of the highly acclaimed Hugo family of products, UK digital specialist Chord Electronics has announced the Hugo M Scaler, a standalone upscaler featuring proprietary FPGA digital technology.
The Hugo M Scaler can be used in conjunction with other brand Digital-to-Analogue Converters (DACs) but really shines via its mating with Chord Electronics' own DACs via their twin BNC connectivity option. The M Scaler will, however, elevate standard 16-bit 44.1kHz data to 705.6kHz when using an appropriate non-Chord Electronics but when combined with the superb Hugo TT 2, DAVE or Qutest (see our review of the Qutest here) via the twin BNC connectivity, you can obtain up to 768kHz rates from a 96kHz input. Of course, the M Scaler's proprietary FPGA technology can provide sonic improvements to devices such as streamers, smartphones, laptops, computers and of course CD players and other disc spinners. In other words, the M Scaler can accept a digital signal and provide an upscaled FPGA-based signal to a suitable DAC.
Digital specialist Rob Watts has been designing DACs for Chord Electronics for a number of product generations in conjunction with John Franks and the Chord Electronics engineering team. The goal has been one of refining and advancing digital technologies.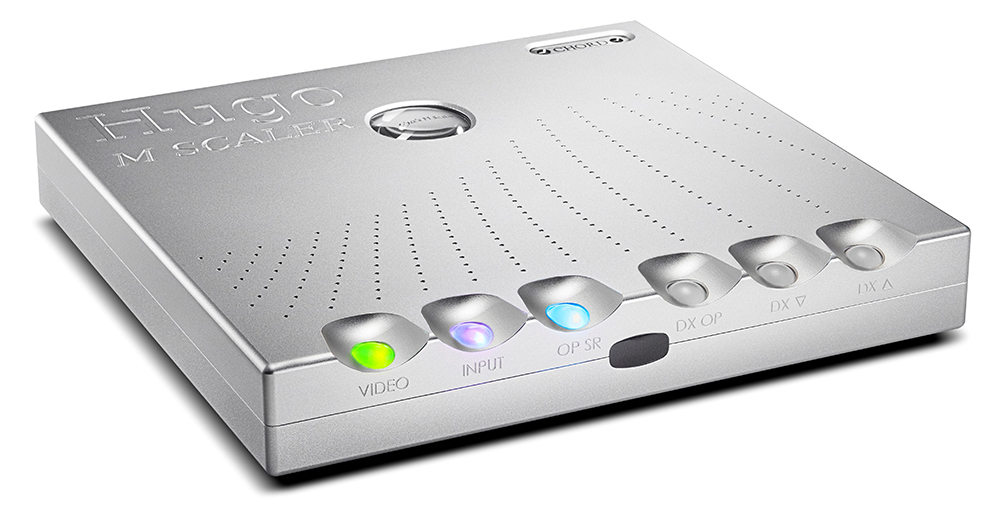 "The Hugo M Scaler is based around the powerful new Xilinx XC7A200T FPGA, which benefits from 740 DSP cores" SoundStage! Australia was told, "The enormous processing power of the device has enabled a key breakthrough in tap-length, the technical indicator of how complex the interpolation filter is. Digital specialist Rob Watts has eclipsed a lifetime goal of over 1 million taps (Hugo M Scaler has 1,015,808 WTA taps or coefficients) in the latest version of the WTA, Watts Transient Alignment, filter." And as Rob Watts puts it, "The ground-breaking figure of over 1 million taps, I first conceived of back in 1981 as being essential for digital to sound good, as this allows 16-bit interpolation accuracy."
The Hugo M Scaler features ample input socketry by way of galvanically-isolated USB and double BNC inputs while also sporting two optical inputs – these last providing wider connectivity options for DVD players, etc. (a 'Video Mode' deals with any latency/lip sync issues that may occur with digital conversion schemes). A pair of BNC outputs allow seamless connection to Chord Electronics' DACs extending resolution capabilities to 768kHz while standard S/PDIF BNC output is offered for universal use.

The Hugo M Scaler is entirely engineered and built in the UK. It comes with a remote control, its chassis is precision-milled from high grade aluminium and it features Chord Electronics' 'light sphere' filter, data and sampling rate information scheme.
Australian Distributor: Radiance Audio Visual
+61 (0) 2 9659 1117
www.radianceav.com.au
Price: AU$7500