It's an exciting time to be an audiophile. Digital technology is continually evolving and bringing with it a multitude of features and the possibility of serious improvements in the quality of signal handling and processing. Today we can see base level functionality in many audio products which, less than a generation ago, either never existed or may only have existed in the highest echelons or recording studios.
When I was a lad (as my Dad was fond of saying), I recall trying to compensate with graphic equalisers, loudness and tone controls among other assorted inventions and being never quite satisfied at any turn. Not only were adjustments on those analogue devices time consuming and fiddly, but they almost always 'took away' from the musical experience by introducing losses in detail and dynamics and by increasing the noise floor. Today adjustments are simple, fast and easily repeatable thanks to flash memory and in the case of the Qutest, whatever adjustments you chose to make, the music still sounds great.
Mirror, Mirror on the Wall, Who's the Qutest of them All?
Chord Electronics' latest DAC weighs in at 770 grams and measures 41 x 160 x 72 (mm), the appropriately-named Qutest, replaces the award winning 2Qute. As a frequent enjoyer of a Chord Mojo, I was eager to get my hands on the Qutest for review.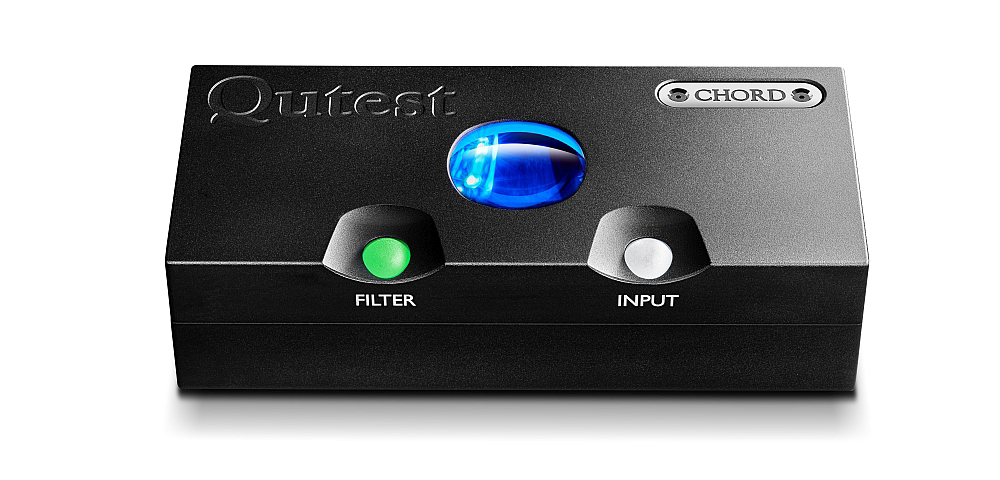 The Qutest, Chord says, is based on its award-winning proprietary FPGA technology developed for the Hugo 2 DAC, so from the get-go its DNA comes from class-leading performance. FPGA, the acronym for Field-Programmable Gate Array, is an integrated circuit that can be programmed after manufacture and can exceed the computational power of digital signal processors (DSPs). The FPGA employed in Qutest, according to Chord, has up to 500 times more processing power than conventional DAC chips.
Featuring galvanic isolation (a method of eliminating stray currents, such as differences in ground potential or currents induced by AC power) across the USB input, optical and coaxial digital inputs, and user selectable output voltage, the Qutest is assured compatibility with a wide range of digital source components. The USB input supports sample rates up to 32-bit 768kHz while the coaxial inputs (two via BNC) support sample rates up to 32-bit 386kHz (when used in dual mode in conjunction with Chord's Blu Mk.2 the frequency escalates to 768kHz) while the optical input is capable of up to 24-bit/192 kHz. DSD support is up to DSD512. Also present are proprietary user-selectable frequency shaping filters (as in the Hugo 2: Incisive neutral, Incisive neutral HF roll-off, Warm, Warm HF roll-off) and input selection controls via two translucent polycarbonate spheres (as seen in the Mojo) which change colour to indicate the selection.
A distinctive design, the Qutest allows you a glimpse of its internal PCB via what I would describe as a 'port-hole' through which a light on the PCB shines through changing colours to indicate the sample rate of the incoming signal. All this is contained within a compact, vibration resistant case, precision machined from a solid aluminium billet, which suggested to me, that the Qutest, may just be the cutest of them all.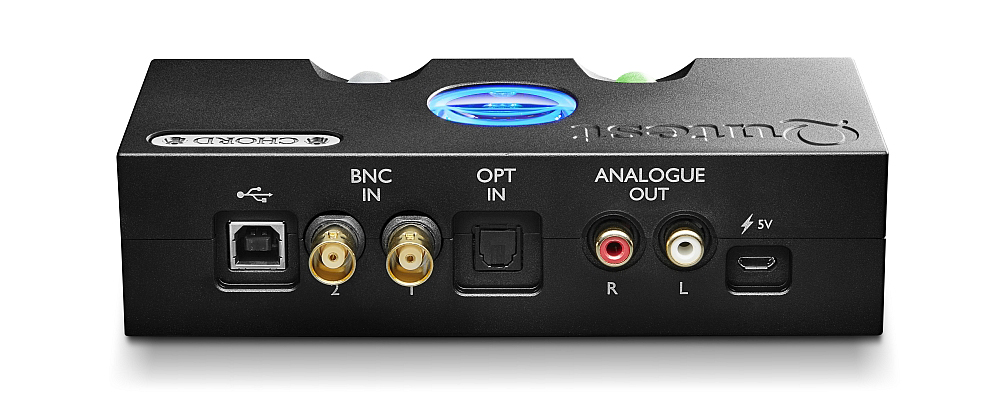 Before diving into the sound quality commentary, let me just say that the attention to detail Chord provides with the high quality packaging and variety of adapters for different countries' AC power outlets is fantastic. Such things may not seem that important, but as an expat working overseas and travelling to different countries, there's nothing more frustrating than trying to find a box or a way to pack-up and safely transport your gear because the one that was supplied fell apart shortly after unpacking your device. Or, at the end of a tough day, you sit down to listen to a few tunes and realise you don't have a spare AC converter nor any idea where to buy one at this time of night.
I did however find myself wishing that the Qutest came with a remote control. It would have made switching inputs and adjusting filters so much easier, but after my experimentation had run its course and I had finally settled on the "Incisive Neutral" filter as my preference, it may have become mere table clutter. Also not present are balanced outputs, not an unreasonable desire for a standalone DAC, however this is Chord's entry level DAC… moving up the ladder to a Hugo 2 will get you the remote and the Hugo TT also the balanced outputs at an obvious price point hike.
Listening Tests
Thanks to a peek into the Tidal Masters catalogue, I happened upon bass player Marcus Miller's new album Laid Black streamed in 24-bit/48 kHz MQA. The opening track "Trip Trap" immediately impressed. Miller's bass was clearly defined as he alternated between traditional playing style and the slap style for which he is renowned. The piece was delivered with such a sense of surety (not typically a word to describe SQ but relevant because it adds to the sense of 'you are there' realism) that you could get a sense of the musician's confidence in manipulating his instrument as a master of his craft. Superior musicianship aside, the Qutest (in the words of Gordon Gecko – Wall Street) "clarifies, cuts through, and captures the essence" of the performers in front of you. I was expecting great things from the Qutest, and I was not let down. I enjoyed what I heard so much that before moving on to other music, I listened to the album in its entirety.
Next in the Tidal Masters section was Ry Cooder's latest album Prodigal Son. This is a fabulously well recorded album streamed in MQA at 24-bit 88 kHz resolution. The opening track "Straight Street" confirmed the Qutest's ability to provide a robust level of realism. Cooder's vocals emerge with lifelike clarity and warmth amongst a gentle and repeating mandolin and banjo melody, eventually to be joined by bass and drums. The precision in placement of the percussion on the track "Gentrification" was very impressive. At a realistic volume level the bass energises the room yet does not overpower or otherwise obscure everything else that is going on, lending more credibility to my initial impression of the primary virtue of the Qutest, which is its ability to provide focus. On "I'll Be Rested When the Roll Is Called" there was a surprising sense of space between musicians – I felt very much like I was in the recording room. Being a gospel song I could easily imagine it being performed in a church. Cooder's vocals on the track "Nobody's Fault but Mine" are large and soulful, reproduced by the Qutest with a sense of unrestrained dynamics. Quite impressive to think that the Qutest is Chord's entry level DAC.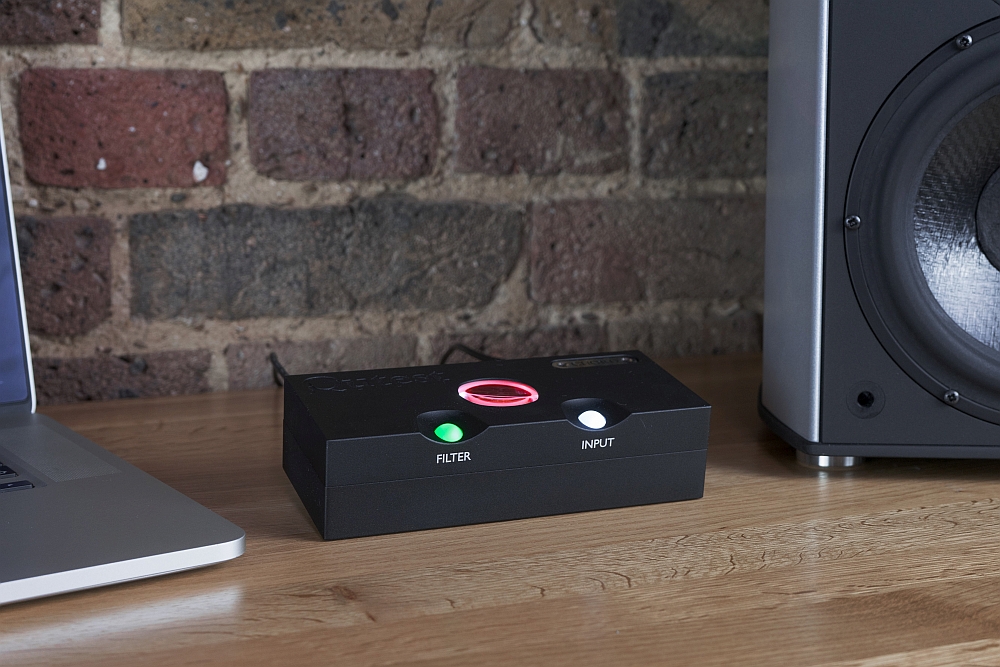 Joshua Redman's debut album Still Dreaming (featuring: Ron Miles, Scott Colley & Brian Blade) showed the same traits previously observed – i.e. precise and solid placement within the soundstage. On the track "Unanimity" percussion was crisp, cymbals had a realistic attack and decay without ever sounding splashy. The sax and trumpet are tightly integrated and the strings of the bass were presented clearly.
Snow Patrol's Wilderness (Deluxe) album opens with the track "Life on Earth" which starts slowly with the guitar gently repeating a series of chords. Soon joined by Gary Lightbody's vocals and then the drums, at first played softly before thundering in as the song achieves its momentum. Compared to what I'm used to on my system the Qutest delivered a more polished performance that laid bare the arrangement and allowed each performer their own space within the soundstage. Vocals were smooth, guitar was precise and remained very much present throughout the piece.
Ayna Tsuji's Violin Concerto in D Minor (Live in Montreal) begins with a very sweet and full bodied sounding violin. On lesser components (and recordings) I have found the violin to appear somewhat thin or flat compared to what I experience at a live performance. On this piece the horns, tympani and bass define the breadth and depth of the soundstage. The horns and tympani, although a long way back, are portrayed clearly and with tremendous power. Again I'm drawn to the attack and decay and the sense of space within the venue. Such details when available in a domestic environment can really enhance the listening experience.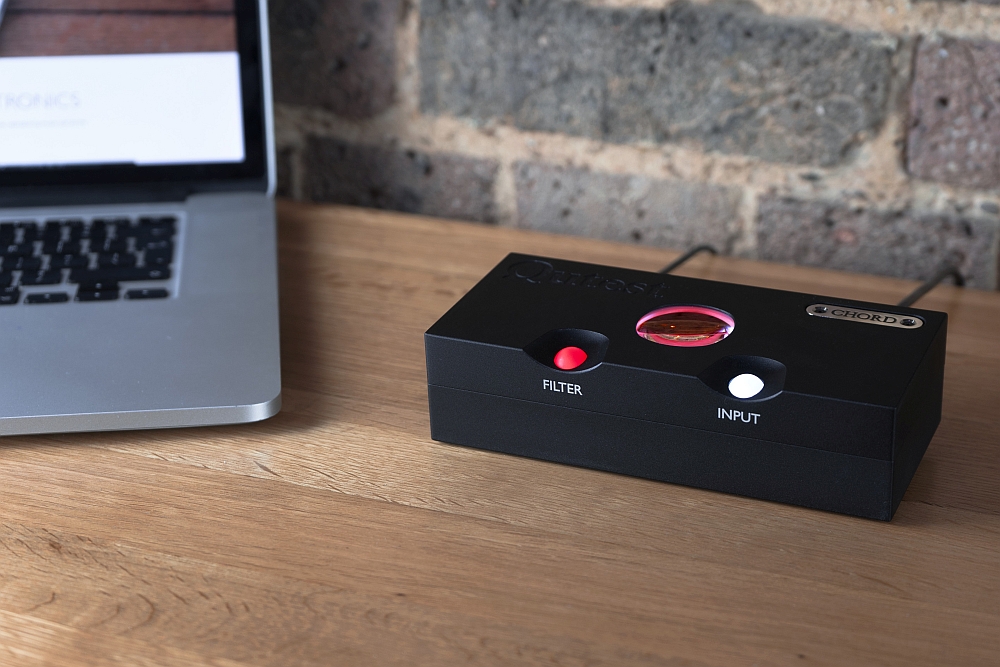 Finally, I decided to try some Joe Bonamassa. I chose his Live from Nowhere in Particular album from within my music library. It was difficult to not get sucked into the vortex of extreme guitar and remain attentive to the task of reviewing. On the track "Django Just Got Paid", Joe's guitar floats ethereally while the bass lays down a solid foundation. When played loud (as Joe's concerts are), at around 11 minutes in, the guitar takes on an edge and almost seems to be free from the confines of my speakers. Drums are explosive, and I could hear the venue adding its depth to the kick drum. Again, very impressive for such a moderately priced DAC.
When I hear the likes of Bonamassa and others with similar talent it can go one of two ways – either I get inspired to pick up my guitar and start practicing, or it makes me want to quit playing altogether and stop torturing myself, the instrument and those around me… well that happens every time I pick up my Strat, but don't tell anyone I said so.
Conclusion
I've seen it written before, but it's worth reiterating, the price sticker on a particular component does not always correlate with how well it may perform. For me, good audio doesn't have to cost a fortune. Some of the most enjoyable systems I've heard haven't cost mega-bucks, but rather have been quite moderately priced, which makes them all the more impressive. Sure, with an unlimited engineering budget it's easy (knowledge and skill notwithstanding) to make equipment with superior reproduction, but what's not so easy is to make superior sounding gear that doesn't cost a fortune, and the Qutest fits this measure easily.
Most of my listening was done using the Incisive Neutral filter, but there were other pieces I listened to (not noted in this review) that I found I preferred while using one of the other filters. The warm filter, in particular, seemed to work well with some early digital recordings. I expect that the use of the filters will be system and personal preference dependent. It's worth noting that they appear to be of the 'do no harm' type. There were some occasions where the filters seemed to make minimal difference, and others where the difference was more significant, but in no case did they make things sound worse.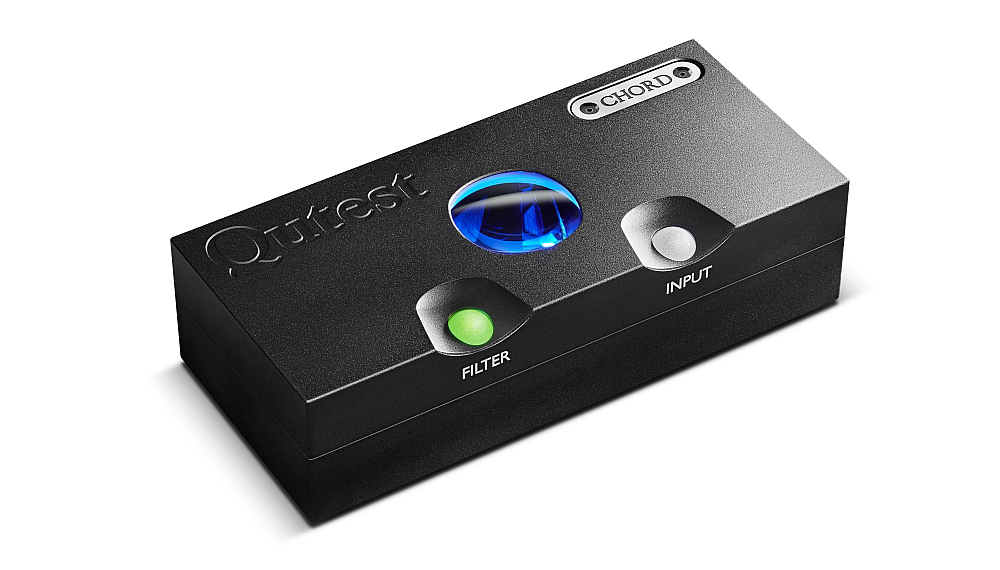 Compared to the DAC module I have factory installed in my Perreaux e250i amplifier the Qutest was on a whole new level. This is not surprising given the difference in design and the recent advances in digital technology. The Qutest made music so much more involving that I had to resist the urge to listen to entire albums. For me, with digital, it's not so much 'is everything there?' but more about whether the reproduction has a measure of the 'organic' feel of a live acoustic performance.
At this price I'm hard pressed to find any negatives. Sonically, the Qutest is further confirmation of Rob Watts' prowess as one of the preeminent digital audio designers on the planet today. Aesthetically, it's the sort of device I would want to put in a prominent position within my equipment rack. The fact that its footprint is so small yet the sound is so big does make me wonder…
…Barry Jones
NOTE – This review was made possible via a review sample kindly provided by Dubai Audio, www.dubaiaudio.com
Associated Equipment
Speakers — MartinLogan Spire
Amplifier — Perreaux e250i 40th Anniversary Edition integrated amplifier
Sources — Digital: Lumin T1, Oppo BDP-105D, Sonos ZP90. Analogue: Rega RP6 turntable, Rega Exact-2 cartridge, Rega Aria phono stage & Rega Couple interconnects
Processor — DEQX HDP-5
DAC/Headphone Amplifier — Chord Mojo DAC
Headphones — AudioQuest Nighthawk
Cables — Nordost White Lightning, Kimber Cable Timbre balanced and Van Den Hul D-300III unbalanced interconnects, Atlas Compass Digital Coaxial Audio Cable, QED Performance Graphite USB
Miscellaneous — Isotek Sirius Power Conditioner, custom made bass traps in front wall corners
Chord Electronics Qutest DAC
Price: AU$2400
Warranty: Three years
Australian Distributor: Radiance Audio Visual
+61 (0) 2 9659 1117
www.radianceav.com.au
Chord Electronics
The Pumphouse, Riverside Park, East Farleigh
Maidstone ME16 9NB
United Kingdom
+44 1622 721444
www.chordelectronics.co.uk