While many manufacturers are making valiant attempts at simplifying the multi-facetted computer audio playback methodology, there's little doubt that barring those somewhat narrow choices, drawing the most out of 'CA' entails embarking on a steep learning curve in terms of computer language, culture and the methodology's general machinations. To the uninitiated audio enthusiast the entire methodology presents a daunting task – to varying degrees, of course, depending on your general computer knowledge and navigation skills, with some gear requiring near-IT expertise. No wonder there's a strong movement back to physical media. Oh, the simplicity of Compact Disc… But then, products like the REDGUM Audio RGDAC8 and RGMP8 digital playback system come along and may just change the playing field.
What REDGUM Audio has done is tag-teamed a well-designed affordable Digital-to-Analogue Converter, the RGDAC8, with an all-rounder of a Media Player in the RGMP8 – the combo thus mated is termed the 'Aggregata Stack'. While either item can be purchased individually and inserted within the context of any audio system, the two work simpatico with each other not only in styling but also in terms of functionality.
Dynamic Duo
The RGDAC8 is a Delta-Sigma 'chipped' DAC – using the Texas Instruments PCM1502A DAC chip – of ultra-simple design. The diminutive yet well-built enclosure features just an asynchronous USB-B socket and high quality RCA analogue outputs. That's it. Not even AC power connectivity as the unit derives its juice from the RGMP8's large power supply and the supplied dedicated 2m USB cable (which is said to flow enough power to "… supply 60 REDGUM Audio DACs together!"). Further, REDGUM Audio also includes a 1m RGAP1 OFC RCA interconnect cable.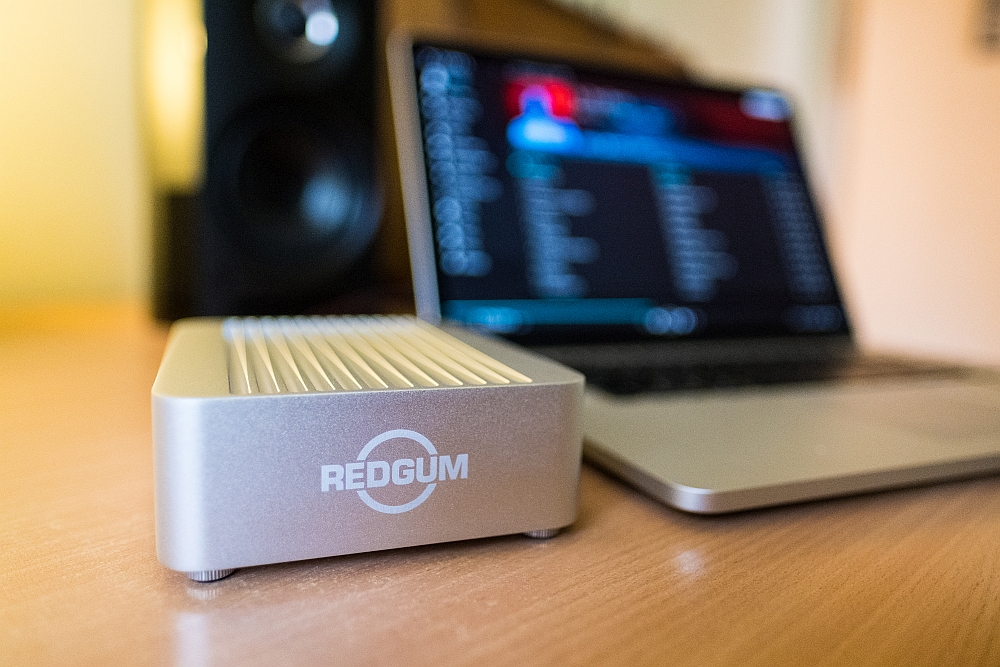 The RGDAC8 is capable of high-resolution playback of up to 32-bit/384kHz with all the rates in between (the RGMP8 Music Player is capable of up to DSD512 but the RGDAC8's DSD capability stretches to DSD256). The Total Harmonic Distortion (THD) is a low 0.005 percent while the Signal-to-Noise Ratio (SNR) is quoted as 95dB and dynamic range as 112dB.
As simple as that is, the RGMP8 is in concept equally simple yet it provides comprehensive connectivity for a number of music-delivering options. What's more, REDGUM Audio claims super-easy set-up. "The core idea behind this system design is that as a Media Player, it requires no infrastructure, i.e. it can quickly and easily be set up and operated by someone who has no computer knowledge whatsoever! Or Internet connection!" REDGUM Audio's website spiel enthusiastically declares. And indeed they are accurate in that claim.
For starters, the RGMP8 – which is a fan-less mini-computer – has a built-in Wi-Fi transmitter configured to create its own network. Tick there for being self-contained and not having to go hunting and pairing to networks and other devices and for not employing Bluetooth or wireless streaming technologies with their potential losses and limitations. If you wish, your LAN can be attained via either Wi-Fi (twin antennae provided) or Ethernet (the unit features two RJ45 sockets with status lights). Access to your music files is then obtained via Daphile software accessed through your web browser of choice on any smart device or any computer.
The RGMP8 also features an in-built 32GB solid state drive which is obviously useful albeit somewhat limiting in terms of storing an abundance of high-res files. But the unit more than deals with this issue by providing six, yes six, USB inputs for connectivity to outboard storage devices such as portable hard drives, computer-type hard drives (an internal cable is supplied for this) or even thumb drives. Internal wiring is also supplied (the rattle inside was, at first, alarming but it's harmless) for connectivity to PC-style hard drives of up to 2TB. Tick there too. On this subject, REDGUM Audio's Founder and Chief Designer Ian Robinson also explains that, "RGDAC8 has been designed so that the output stage filter can be adjusted by the user, if wished. As standard, each unit includes a matched set of small capacitors to adjust the filter shaping, thus covering a range of carefully-determined sonic options. To make any adjustment is as simple as removing the base plate of the RGDAC8 to reveal these caps in a cellophane bag! (And yes, the bag does rattle gently if the unit is shaken, but that should not intrude whilst it sits on a shelf.) The existing caps can easily be removed by hand from their gold-plated machine-pin push-in socket and replaced with the paired alternatives provided. (However, if preferred, these caps can safely be ignored for the rest of the product's days!). N.B. Making these adjustments does not void the warranty unless there is clear evidence of a lack of care." One more tick there for user adjustability in terms of sonics. Further connectivity features a HDMI input, RS232 control D-connector, VGA D-connector, 3.5mm mini-jack audio output and a socket for the outboard 12V power supply. Oh, and the USB sockets can charge your smartphone or tablet too. Big tick there.
On a practical level, because the RGDAC8 does not require direct to AC power and thanks to REDGUM Audio's provision of a 2m USB cable, the unit – which is diminutive and light enough as it is – can be placed anywhere, even behind your main audio rack, therefore saving rack space and reducing clutter. Ditto for the RGMP8 with its small power pack. Yet another tick.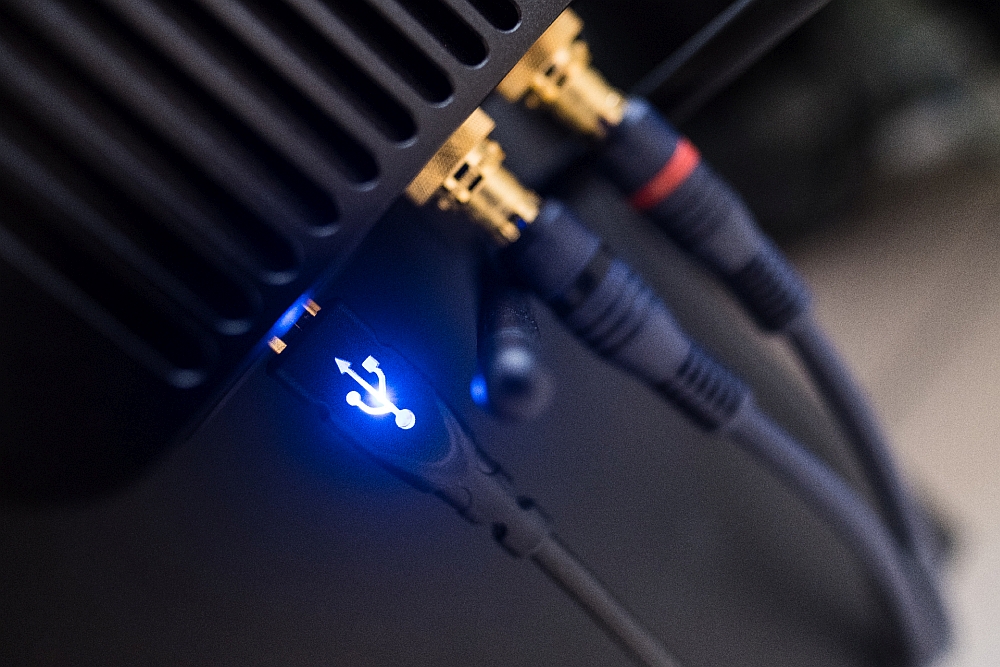 So all this sounds easy enough on paper. But what was the set-up experience like?
Daphile for Da Audiophile
My setup experience lived up to the claims on paper. Given REDGUM Audio's easy-to-follow YouTube instructional videos and downloadable instruction manual, you have plenty of informational fire power so you'd be hard-pressed to go wrong even with very modest computer know-how.
Hook-up is easy too. And that's where you'd start, of course. So screw in the antennae on the back of the RGMP8 and, for music access, hook-up your music hard drive, thumb drive or use the internal storage. Then, feed the RGDAC8 (which, you may remember from the description above, does not require its own power) with a USB signal (output from any of the RGMP8's six USB ports), connect the DAC to preamplifier – or integrated amplifier – with REDGUM Audio's or your preferred RCA interconnect and you're good to go connections-wise.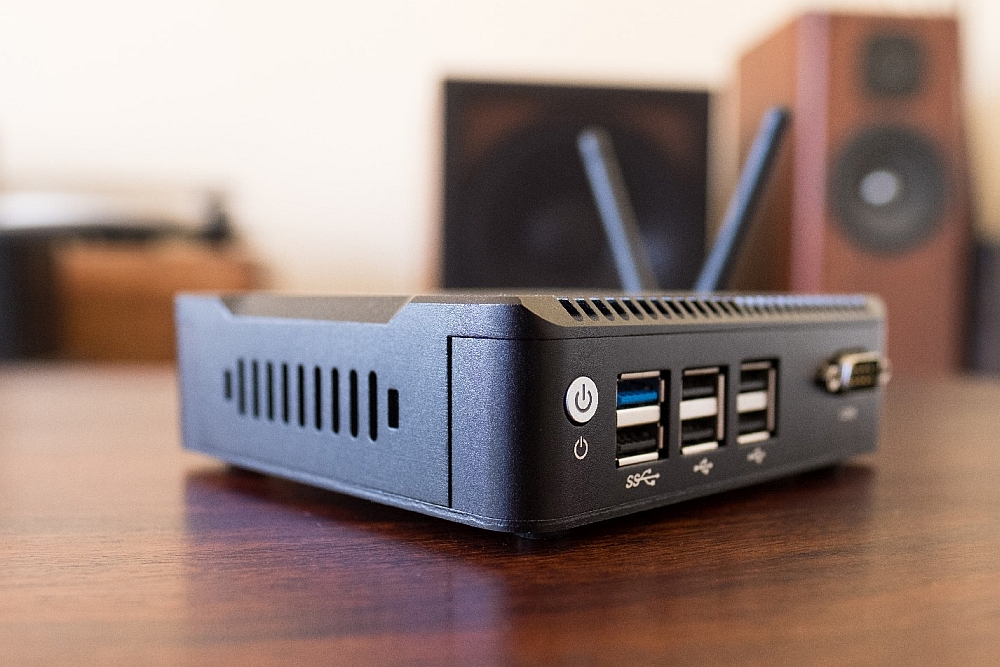 The RGMP8 creates its own Wi-Fi network and it appears on your device as 'Daphile', which is also the name of the playback platform used via this device (your own playback software can also be used should you wish to) and simply enter 'secret1234' as the password to pair your device. Next, you simply open your usual browser (Safari, Firefox, Chrome, whatever) and enter the Daphile URL 192.168.128.1. This will take you to Daphile playback software and manager. From there you can play your files via the aforementioned connected USB drive, a thumb drive, or via the internal RGMP8 drive. You can also easily manage your files and copy your music from any drive across to the internal RGMP8 solid state storage. Simple! And really, this is as easy a solution as I've seen to get you playing computer audio in a totally painless way.
There are added benefits to Daphile too. Apps can be managed and there's provision for Spotify and Tidal playback. Daphile allows multi-zone playback via additional DACs, has a built-in EQ function, filtering options and also includes AccurateRip software for excellent CD rips which can be managed on-board. For the inclusion of this platform within RGMP8, I bestow further ticks and kudos to REDGUM Audio!
I connected my Corsair Voyager Air 1TB hard drive to one of the USB ports and I also tried a number of USB thumb drives with music I've been collecting or have been presented with at shows. Access to files is simple enough by selecting the source and simply pressing play. Of note was the fact that at no time with these devices did I experience any audio glitches, pops, clicks or any form of anomaly.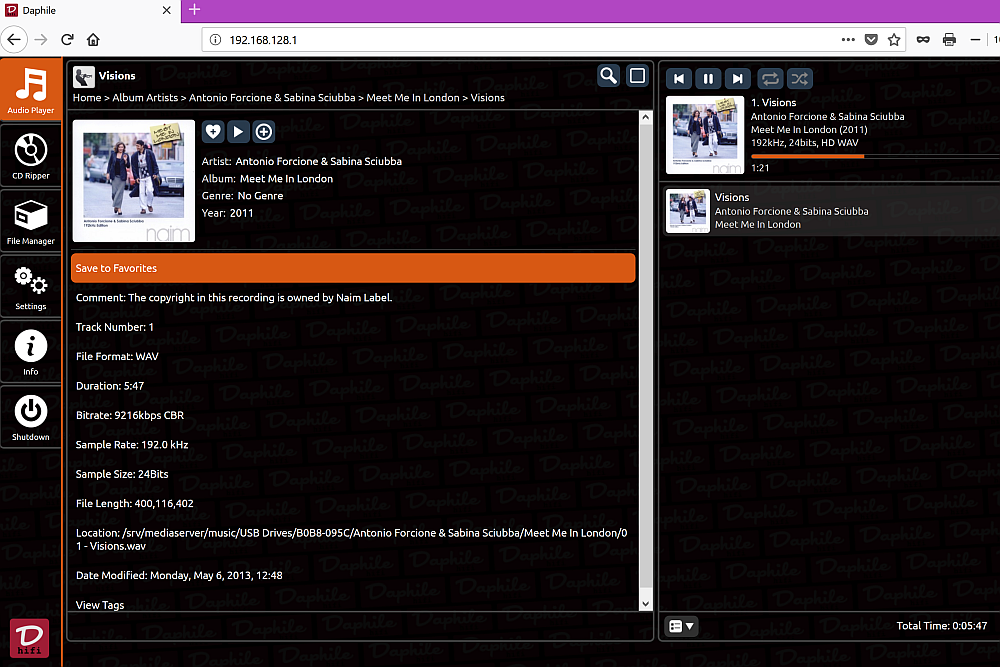 Sonically, things were rather clean and detailed. I believe the RGMP8 does no harm and simply provides the RGDAC8 (or your DAC of choice) with a simple platform for the playback of files without a negative influence. It is specified as being capable of playing bit-perfect gapless audio. The on-board processing power of the RGMP8 seems adequate too as file playback was quick and seamlessly-applied.
The RGDAC8 sounded along the lines of Delta-Sigma DACs I'm well familiar with and have also compared many times with my own R2R reference DAC, France's Totaldac D1-core. While comparing an AU$900 DAC with my own multi-thousand reference would hardly be fair, it must be said that in terms of detail, separation and mid-bass power the RGDAC8 was on the ball park and not embarrassed in any way. Where the Totaldac outshone it (and I reiterate, it is many multiples of the RGDAC8's price) was in terms of overall dynamics, ultimate finesse and the lowest bass. To put it in a more apples to apples way however, the RGDAC8 performed spectacularly at its price point, and beyond, on up to DACs at AU$2k-3K. That in itself is some achievement. Of course this combo, although solidly-made, saves cost in its architecture where full-sized milled-from-solid aluminium has been eschewed for neat and small chassis that are well-assembled and well-optioned with design and cost resources steered towards usability and performance.
So sonically, the RGDAC8 greets you with very punchy and detailed mid-bass and superb detail resolution throughout the bandwidth. Antonio Forcione & Sabina Sciuba's "Visions" from Meet me in London on Naim's label (24-bit/192kHz WAV) rendered the acoustic guitar with astonishing detail and good sense of body while Sciuba's vocals were present, nuanced and smooth. Intonation shading stood out as being easily discerned even when the vocals were juxtaposed against enthusiastic guitar strumming.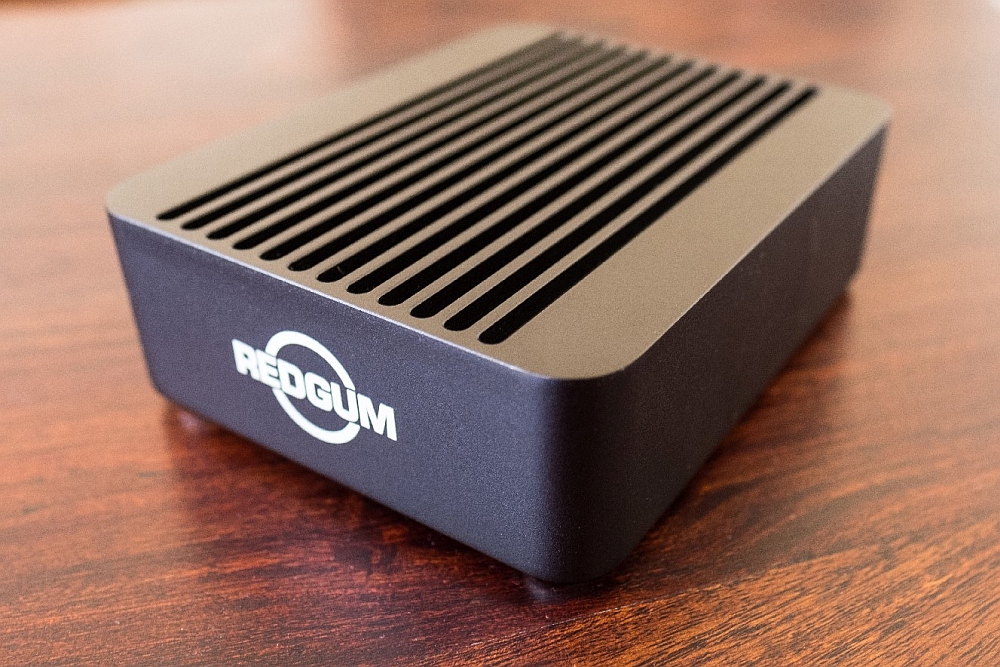 Jim Gailloreto's Split Decision's Shadow Puppets release (24-bit/96kHz FLAC) is a terrific example of well-produced modern Jazz. The track "So Sari" features excellent percussion which the REDGUM Audio combo played beautifully. The skin and tone of drums and the accompanying smaller percussive instruments all beared the trademark of live music: tight attack and timbrel qualities that played in line with more expensive digital hardware. Gailloreto's tenor saxophone improvisations throughout this album always sounded true and never wearing or brash while being accurately placed in a large sound stage.
The low-end on "Momma Said" from Puscifer's V is for Vagina CD rip was punchy and textured even if not the deepest I've heard. This track is renowned – maybe even infamous – for its devastating depth and slam. While the Aggregata Stack provided satisfying punch and tightness to the low-end it was not quite as deep as I've heard it. But I'll take a tight and detailed bass that does not go to the most profound depths any day over a full-sounding yet ill-defined mass of bass mash. Quality over quantity very time, says I. And yes, the almost surround sound perspective of this recording is comfortably maintained by the Aggregata Stack where some of the sounds on this track seemed to emanate from well outside the speakers, left and right.
Tok Tok Tok's "50 Ways to Leave Your Lover" from the group's I Wish CD rip had vocalist Tokunbo placed dead centre and locked-in tight without drifting across to the speaker positions. Morten Klein's saxophone was accurately placed on the wide sound stage and it played true in terms of tonality. Towards the end of the track, Klein lets loose with his trademark mouth percussion excursion and every intonation and lip movement is clearly discerned and resolved. The RGDAC8 is, really, an exceptional detail retriever.
Conclusion
As the state of Computer Audio stands right now it's somewhat of a minefield for the less computer savvy. The list of variables is quite extensive, with each aspect requiring thorough assessment, resolving and, finally, adoption. That can be quite daunting. What hardware in terms of storage, back-up and DAC? What playback software? What file types? What resolution? Which music provider? How to incorporate within existing contexts?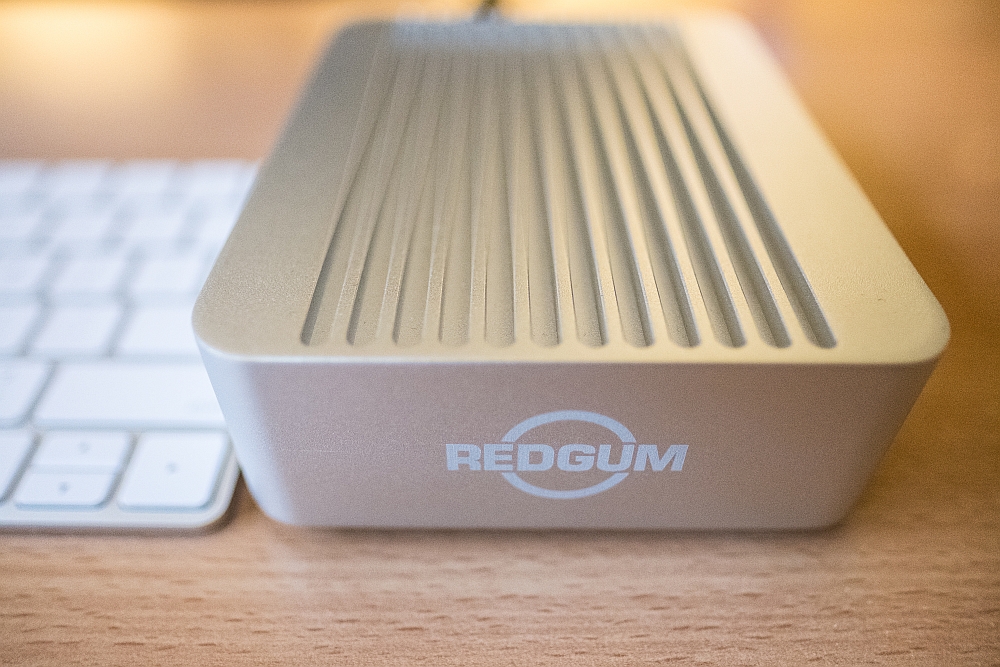 The Aggregata Stack of RGDAC8 and RGMP8 tackles most of these aspects head-on. It provides as close to a plug 'n play solution as is practicable while playing a wide variety of file formats via a free and well thought-out browser-based player in Daphile. It does not require profound systems knowledge for its setup and, in fact, modest familiarity with the machinations of computers will get you by and up and running… in no time, as they say.
The added bonuses come by way of affordability, its solid platform without the oft-experienced glitches and its very competent sonic performance, the latter aligning it with digital players at a higher price point.
For an easy to set-up just-about-all-in-one solution that performs very well both technically and sonically, the RGDAC8 DAC and RGMP8 Music Player 'Aggregata Stack' is highly recommended.
Tick with indelible ink.
… Edgar Kramer
This email address is being protected from spambots. You need JavaScript enabled to view it.
Associated Equipment
Speakers — Wilson Audio Alexia Series 2, Axis Loudspeakers VoiceBox S (nearfield monitor), Vermouth Audio Little Luccas Mk.II
Amplifier — Gryphon Audio Antileon EVO
Preamplifier — Supratek Cortese, Lightspeed Attenuator LDR passive
Sources — Digital: Yamaha CD-S2100 used as transport, Totaldac d1-core DAC, MacBook with BitPerfect software, AIFF files. Analogue: Michell Engineering Orbe with Gert Pedersen Level 3 modifications and Origin Live Ultra upgraded motor, Trans-Fi Terminator air bearing linear-tracking arm, Shelter Harmony cartridge, REDGUM Audio RGPH2 phono stage
Processor — DEQX PreMate
Cables — sILENzIO loom, Vermouth Audio Black Pearl Mk.II loom
Audio Rack — SGR Audio Statement Model V
Miscellaneous — Les Davis Audio Viscoelastic CLD discs
REDGUM Audio RGDAC8 Digital-to-Analogue Converter & RGMP8 Media Player
Price: AU$990 each
Warranty: Two years each
Australian Distributor: REDGUM Audio
+61 3 9001-6788
www.redgumaudio.com
REDGUM Audio
401 Belgrave – Gembrook Road
Emerald 3782, VIC, Australia
+61 3 9001-6788
www.redgumaudio.com