After a product conference in Bangkok, I landed directly in Melbourne for the first of October's dual-audio-event marathon (which coincided with the actual Melbourne Marathon international event) and promptly dove head first into 'show mode' for the latest SoundStage! Australia reporting assignment. Hitting the Pullman Mercure Hotel's show floor in the late afternoon after a long red eye flight was… an interesting acclimatisation exercise. Once in modus operandi however, it was re-energising to sample the audio fare on offer and invigorating to catch up with interstate industry colleagues I don't get to see that often.
The International Hi-Fi Show Melbourne 2018 had plenty to check out. As always, exhibitors' efforts to put on superb high-content displays, combining the unique flavour of our local industry with strong product representation, was impressive. The audio smorgasbord this year included über high-end exotica never seen before in this country, a world-first exhibit of a monster cinema system out-channelling Amsterdam, the sizable and always popular Record Fair, live music and much more.
The proximity of the two audio events dictates, at least in this writer's thinking, a somewhat different coverage approach in order to avoid repetition, partisanship, etc. To this end, the reportage will be mostly a medley of images – they do, after all, paint a thousand words – with some supporting information and, where possible, Australian pricing.
Consistent with last year's extremely well-organised event, this year saw similar efficiencies in terms of crowd handling at the welcome booth, assistance to the exhibitors in terms of logistics and product handling and much more. The marketing of the International Hi-Fi Show 2018 was once again a strong virtue with the 'tangerine' coloured posters present in abundance throughout key locations in Melbourne, reinforced by an equally strong campaign online via a variety of channels. These marketing cues and the visual presence were manifested in the strong overall attendance resulting in consistently packed rooms, some with standing room only. Kudos to organiser Marc Rushton and his team.
As far as the progression attributed to this reportage, it will follow my way around the natural flow of the exhibits – with minor random detours, sometimes – so the coverage will, mostly, follow the crumb path taken on the day. So, without further ado, lets' fire the starting gun…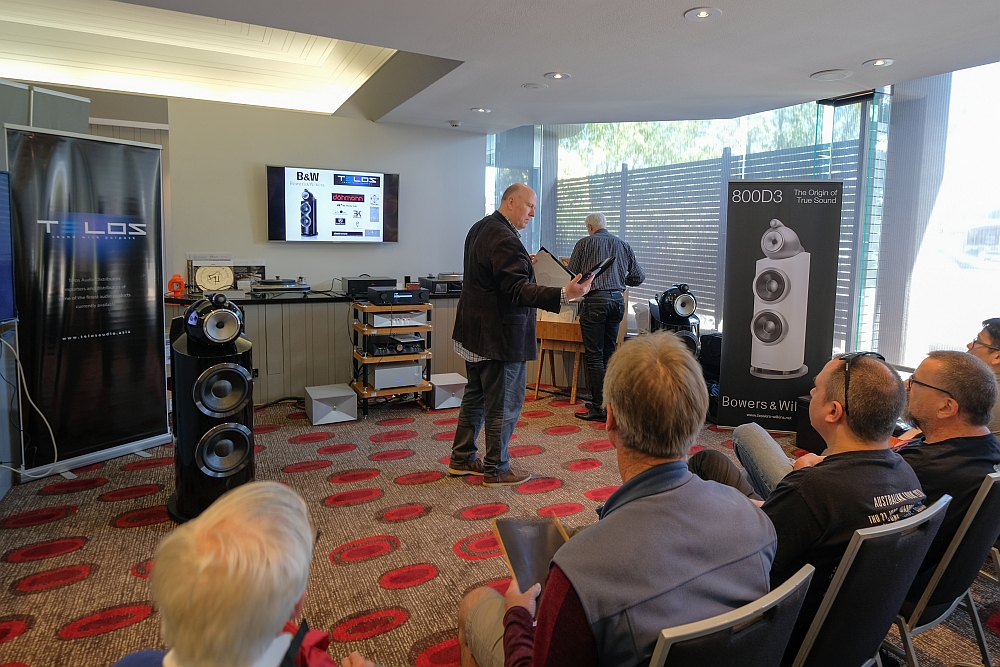 The 'Welcome' area featured a system comprising Döhmann Helix 1 turntable supported by Thrax Audio, Ypsilon electronics and Einklein cables all driving Bowers & Wilkins 800 D3 speakers. The inimitable Mark Döhmann informed and DJ'ed via his superb personal vinyl collection which always – no exception – contains a treasure to be discovered. Dynamics and resolution by the bucket loads here. Also on display was the Kirmuss Audio KA-RC-1 ultra-sonic record cleaner in demonstration via Sound Station's Blair McCosker. www.audio-union.com www.telosaudiodistributors.com www.bowers-wilkins.net www.lesdavisaudio.com www.sshifi.com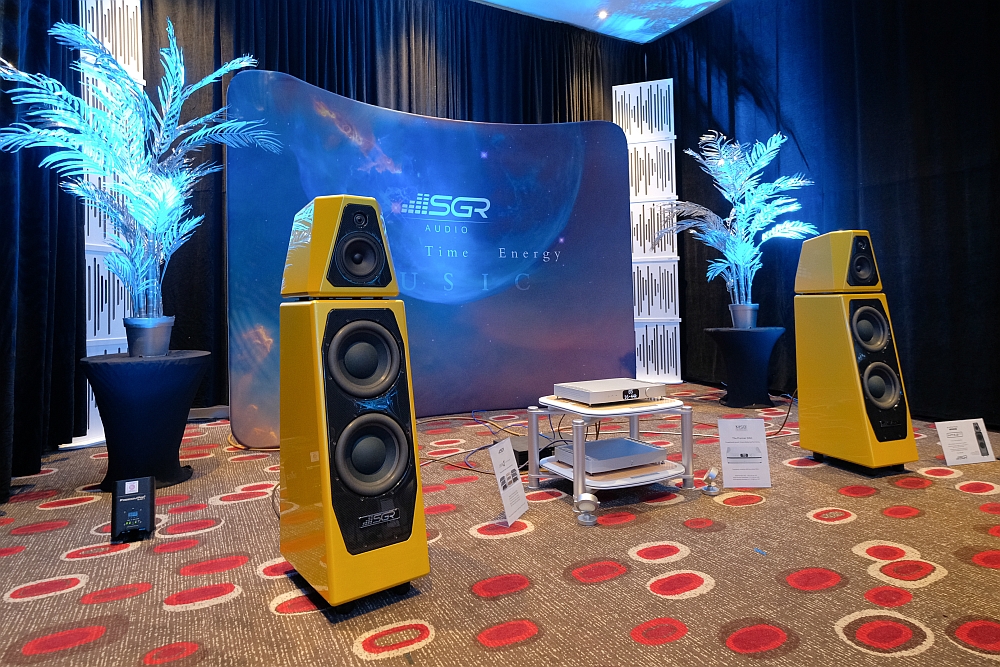 All-new, simple and effective. MSB Technology's Premier DAC (AU$30,150) with Powerbase (AU$11,550) and Network Renderer (AU$3080) sit on SGR Audio's Statement rack (AU$9592) – our review here – while driving SGR Audio's stunning Maestro MT3.2 Mk.II active speaker system (AU$80,000) which sounded very refined and super expressive. A quick listen to the new Voyager VR4 showed a very capable speaker with intelligent design. We're slated to review VR4 in the coming months. www.sgraudio.com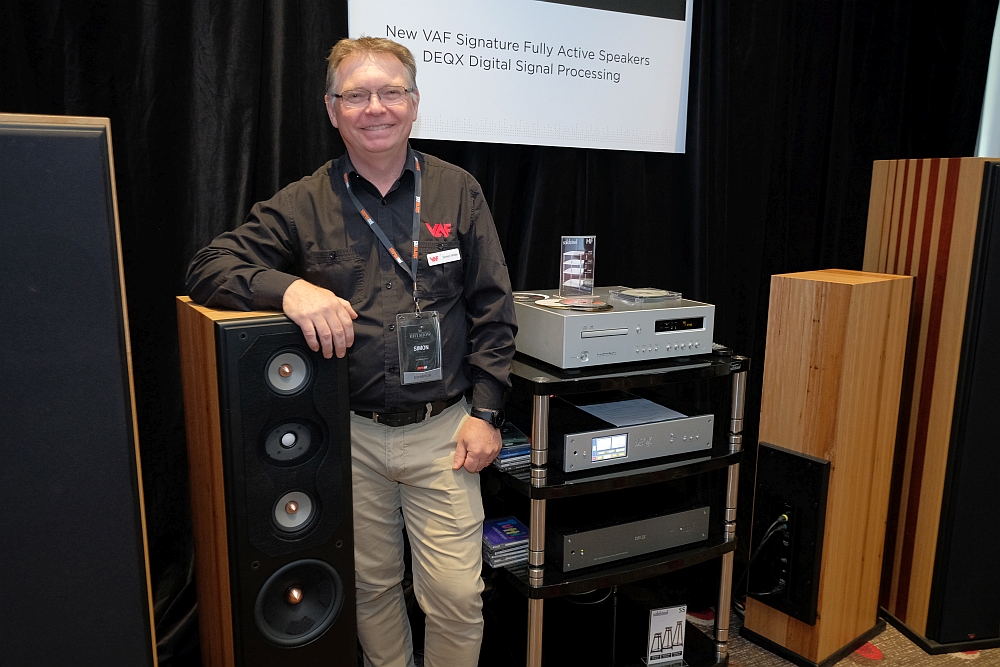 VAF's Simon Wilde showcased a new DEQX-controlled active speaker system using bespoke amplification. Among many other things, a new speaker featured VAF-designed magnesium composite coaxial drivers of the highest quality. This was one of the largest exhibits at the show and numerous systems were featured using VAF's highly-evolved speaker engineering. www.vaf.com.au www.deqx.com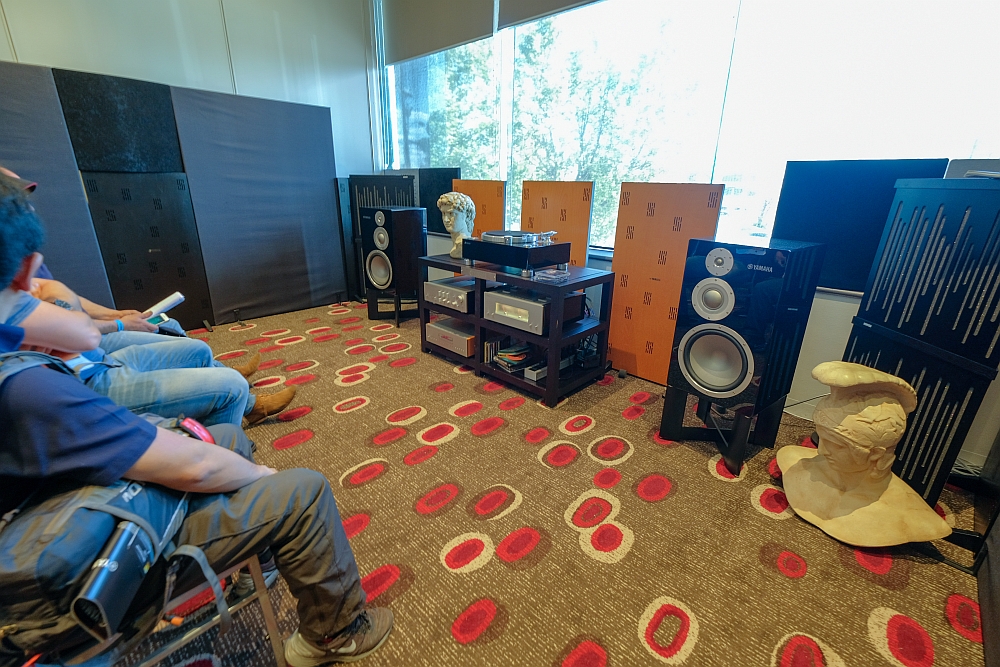 The Australian debut of Yamaha's new high-end GT-5000 turntable, C-5000 preamplifier and M-5000 power amplifier (AU$12,999 each) driving one of our favourite speakers, the extraordinary NS-5000 (our review here & Editor's follow-up review here). Juxtaposition was provided by a passive-display vintage system crowned by the immortal beryllium-clad NS-1000 speakers. The new components sounded extremely promising. We'll be reviewing these 5000 series beauties very soon. www.yamahamusic.com.au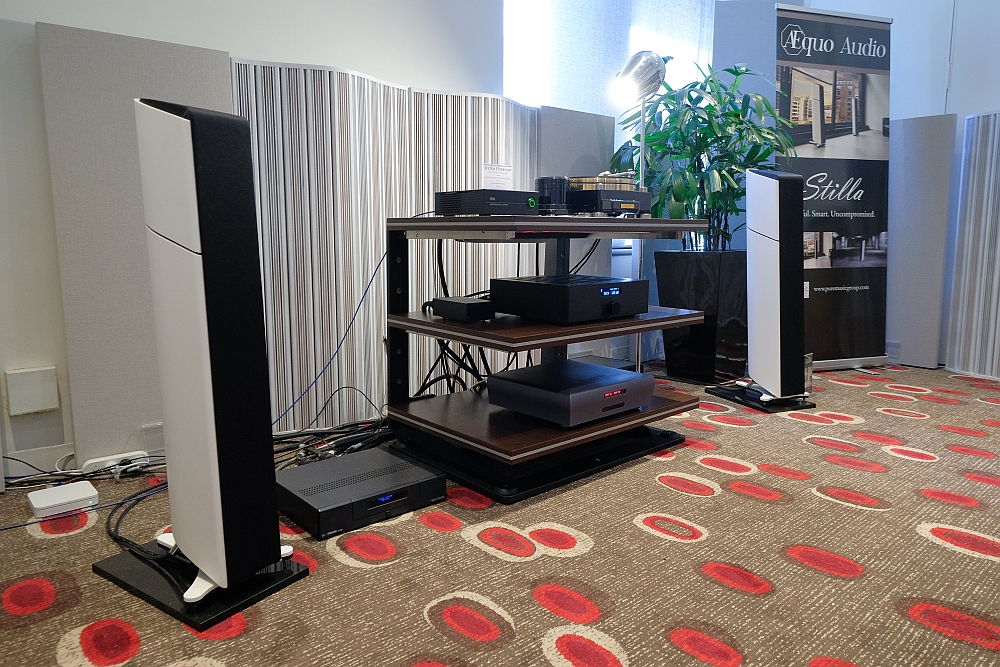 Usually among our favourite rooms (no exception this time), Pure Music Group showed the new-to-our-shores Aequo Audio Stilla loudspeakers (AU$28,000) supported via TechDAS Airforce Three Premium (AU$36,400)/Thales Statement (AU$27,600)/Lyra Etna (AU$11,450), RCM Sensor 2 phono stage (AU$5200), Antipodes EX Music Server (AU$4650), Playback Designs MPD-8 DAC (AU$31,200), Audionet Watt integrated amplifier (AU$20,900). www.puremusicgroup.com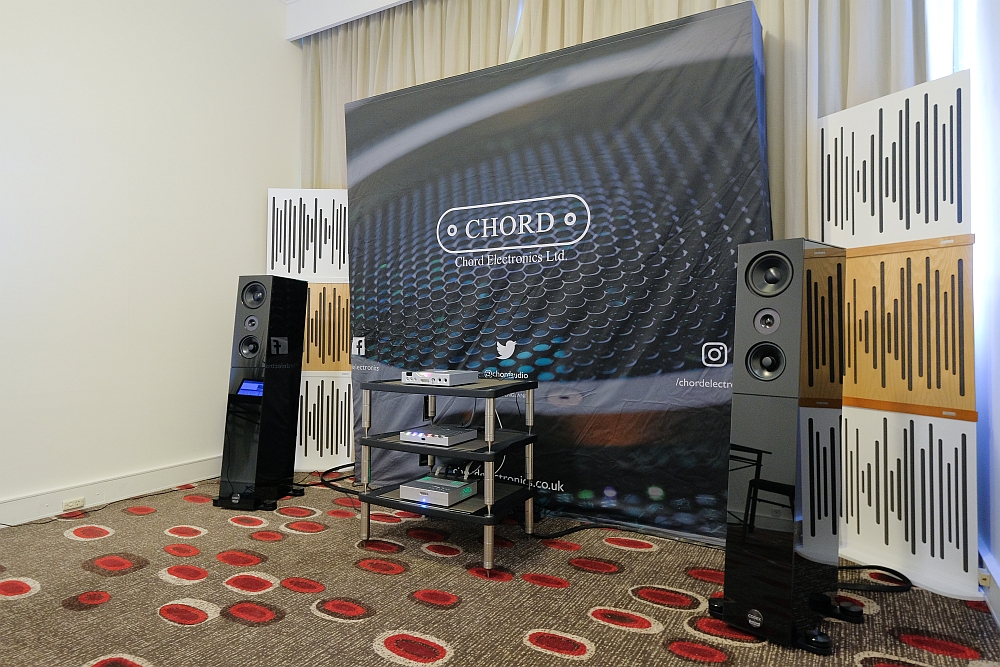 Radiance AV debuted Chord Electronics' M Scaler (AU$7500) fed via Hugo TT 2 (AU$8500) with amplification by TToby (AU$5900) driving Audio Physic Codex speakers (AU$19,500). The very promising M Scaler is in for review as I write this and will, no doubt, provide for a stimulating review process. www.radianceav.com.au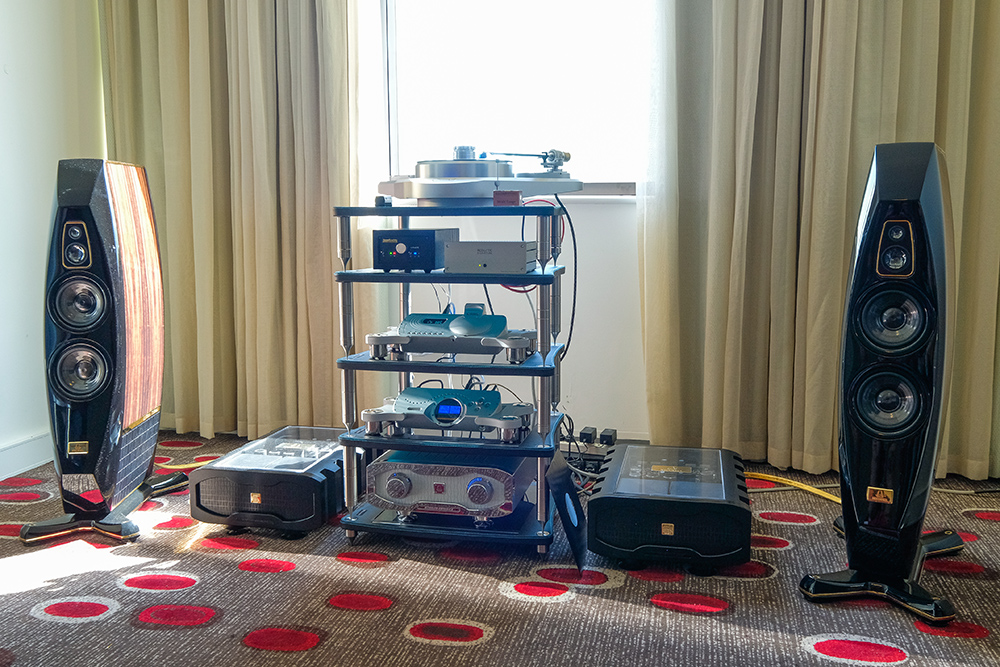 In a second room (with further Radiance AV kit spread around the show via other exhibitors), and seen for the first time in Australia, attendees were treated to something quite special. In a system costing above AU$600K, we saw the following audio treasures: Acoustic Signature Novum and TA2000 arm (combo AU$34,200) with Soundsmith Straingauge (AU$15,000), a full suite of Chord Electronics digital playback via Chord Blu2 (AU$16,000), Chord Dave (AU$17,000), Chord Etude (AU$8,300) within Chord Ensemble Racks (AU$2,600 each). The system then went on to the gorgeousness of Kharma Exquisite Reference preamp signature (AU$140,000), Exquisite Reference mono amplifiers (AU$70,000), all supported via Basso Continuo racks (AU$2500/level). The piece de resistance: the stunning Enigma Veyron EV-5D speakers (AU$262,500). Analysis Plus cable throughout. A show highlight indeed both sonically and presentation-wise. Post-show, this system will be available for audition in Sydney at Sydney Hi-Fi Castle Hill. www.radianceav.com.au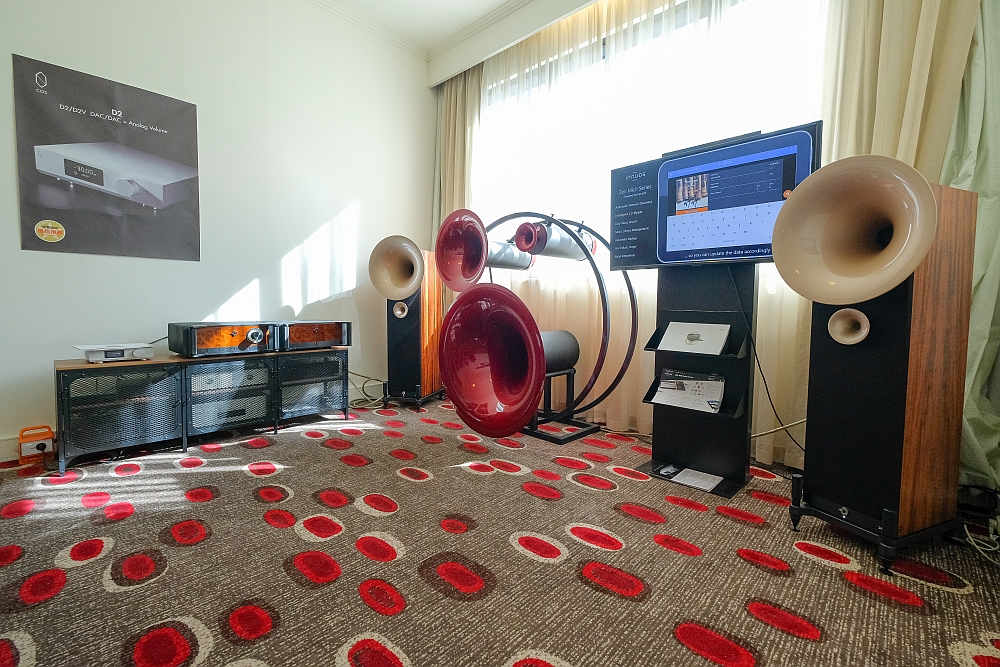 Avant Garde has been distributed via Maxmedia for some time now. The company displayed the Uno XD via its own preamplifier/power amplifier electronics and Innuos front end. One of the best sonic performances I've heard from these speakers at a show. www.maxmedia.com.au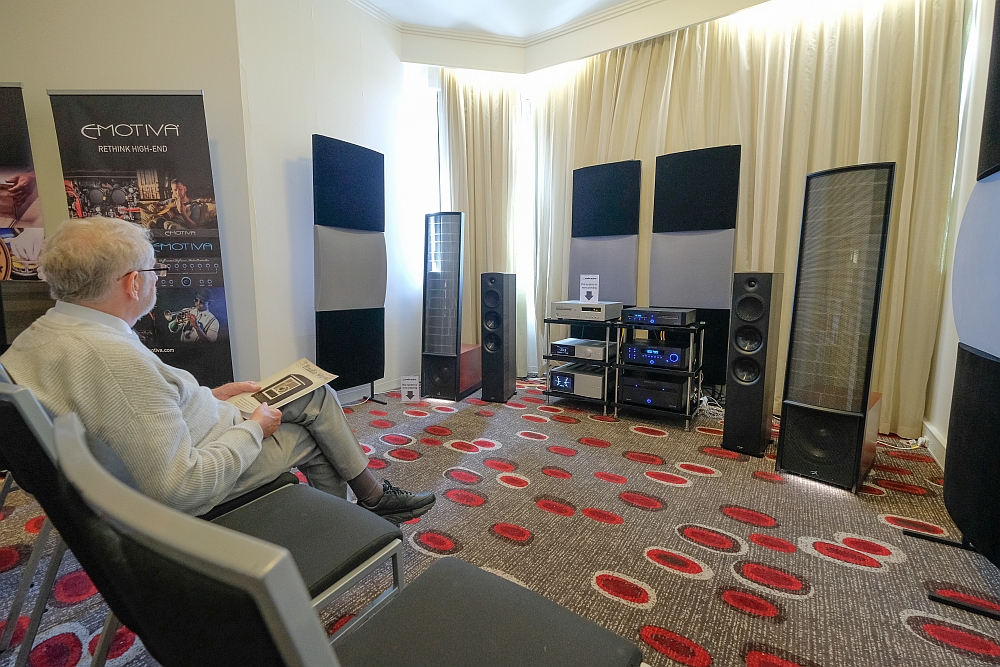 Audio Active showed a suite of electronics via Luxman, Anthem and Emotiva while speakers were represented by Paradigm and MartinLogan. Transparent sound there, as is the trademark of these excellent speakers – both the electrostatics and the conventional design – and the high standards of the electronics. www.audioactive.com.au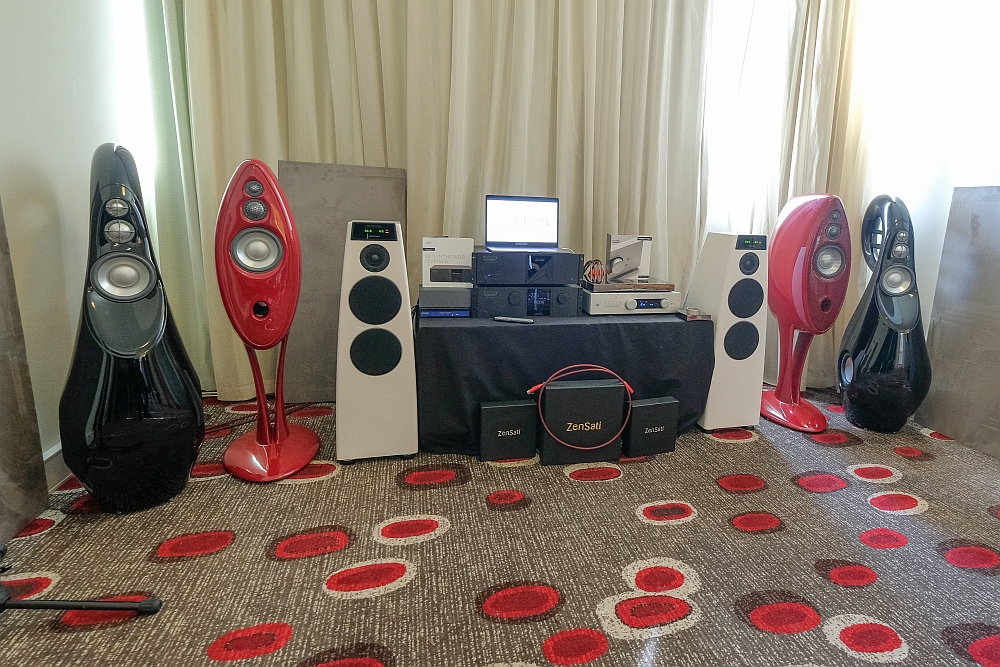 We've reviewed several of Vivid Audio's speakers and have always been thoroughly impressed with both the levels of engineering and sonic performance. Alongside them, distributor Cogworks showed a Meridian DSP5200 digital active speaker while also showcasing Trinnov electronics and ZenSati's new Zorro cables. Classy choices all-round. www.cogworks.io www.zensatiaustralia.com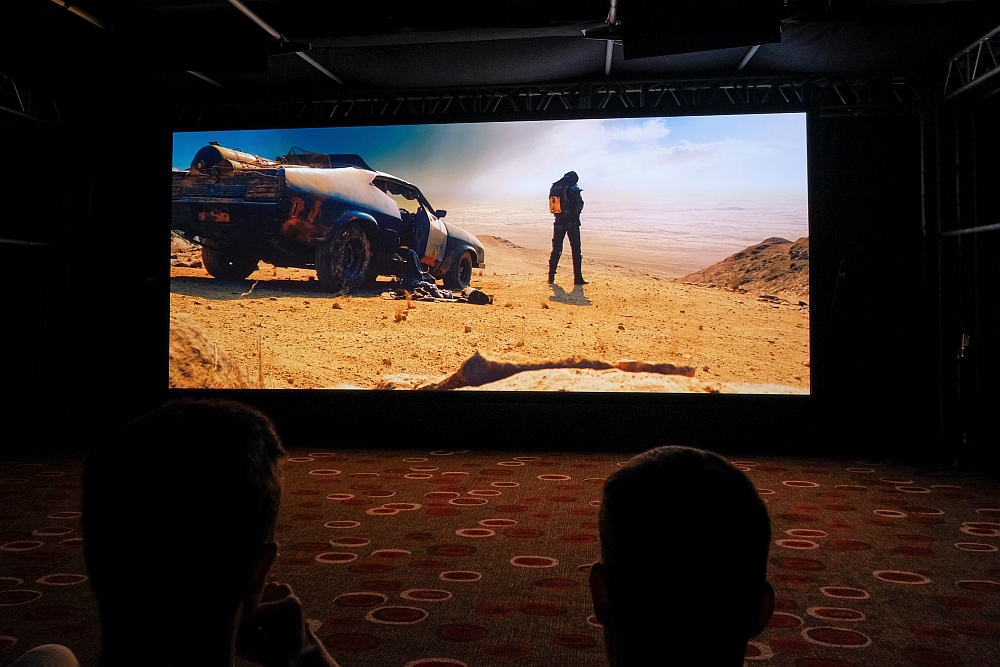 In what certainly was the biggest and best cinema demonstration I've ever had the pleasure to witness, Krix in conjunction with Trinnov, Elektra Audio and Barco (Wodan) put on a world first never-before-seen-or-heard 24.10.10 Atmos system to blow your socks off. Almost literally. But in a good way. An over AU$500,000 system with 44 speakers including 10 massive subs. State-of-the-art. www.krix.com.au www.trinnov.com www.networkav.com.au

To be continued in Part 2.
…Edgar Kramer
Editor-in-Chief
This email address is being protected from spambots. You need JavaScript enabled to view it.