In the photo above, Little Wise is performing live in the 'Welcome' area.
Here in Part 2, I continue the reportage as I meander along the Pullman Mercure Hotel's differing exhibit spaces, from the standard hotel room-sized, to small conference rooms, to the larger open spaces such as the Record Fair's.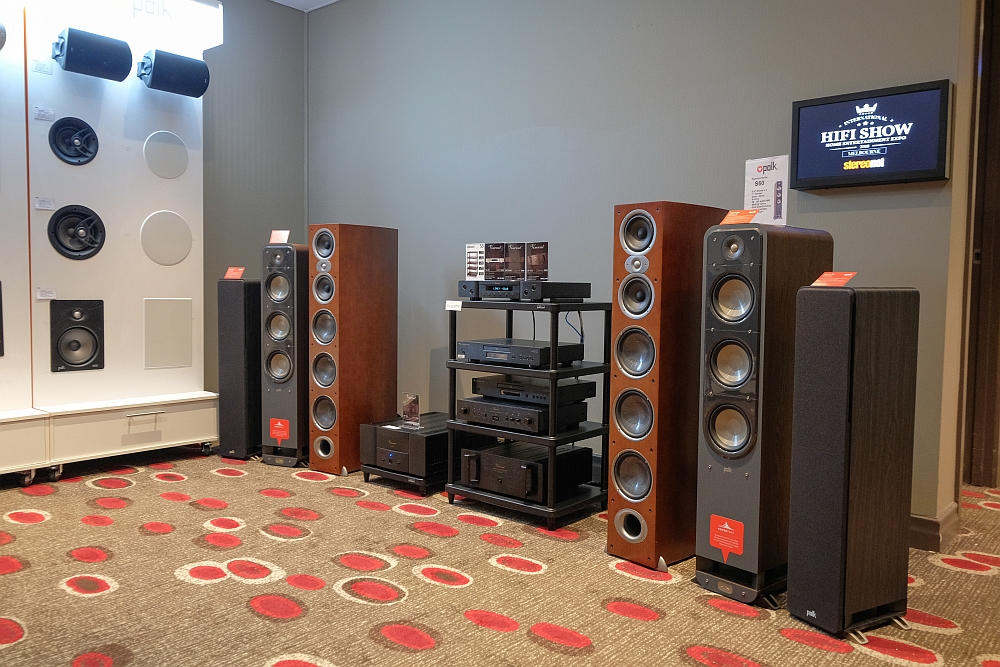 Westan Distribution showed a range of Polk Audio speakers, select commercial products, Vincent electronics and an impressive home cinema system which looked good (Epson) and sounded excellent at a very reasonable price of AU$7000 for the package. Kudos. www.westan.com.au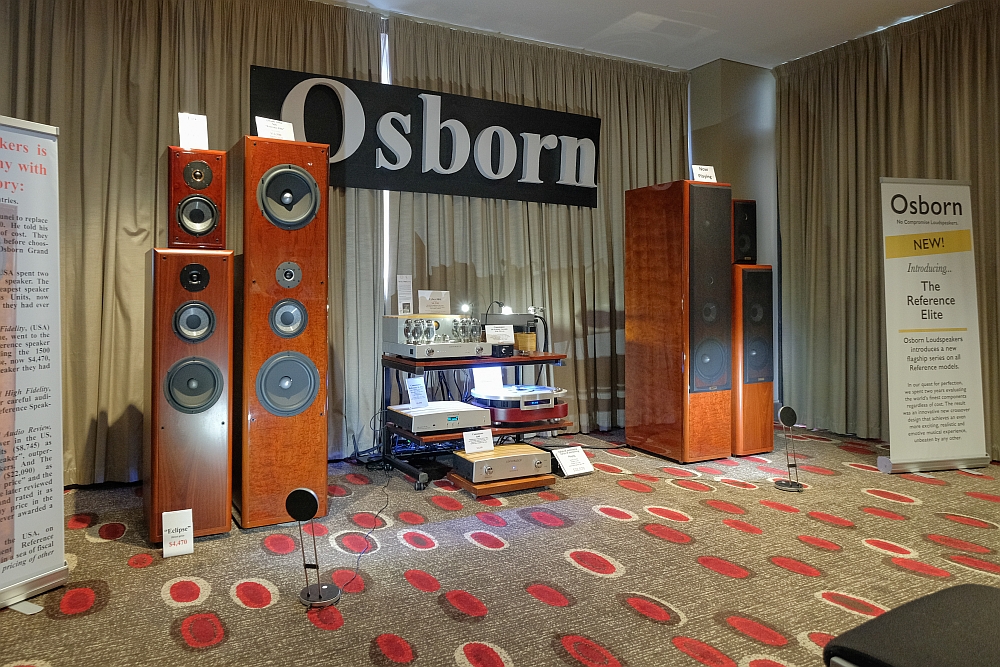 Osborn showed its new Eclipse Tower Reference Elite (AU$14,500) sporting high quality drivers and supported via Consonance electronics. In an appropriately-sized room, this occasion presented one of the best sonic performances I've heard from this brand. www.osbornloudspeakers.com.au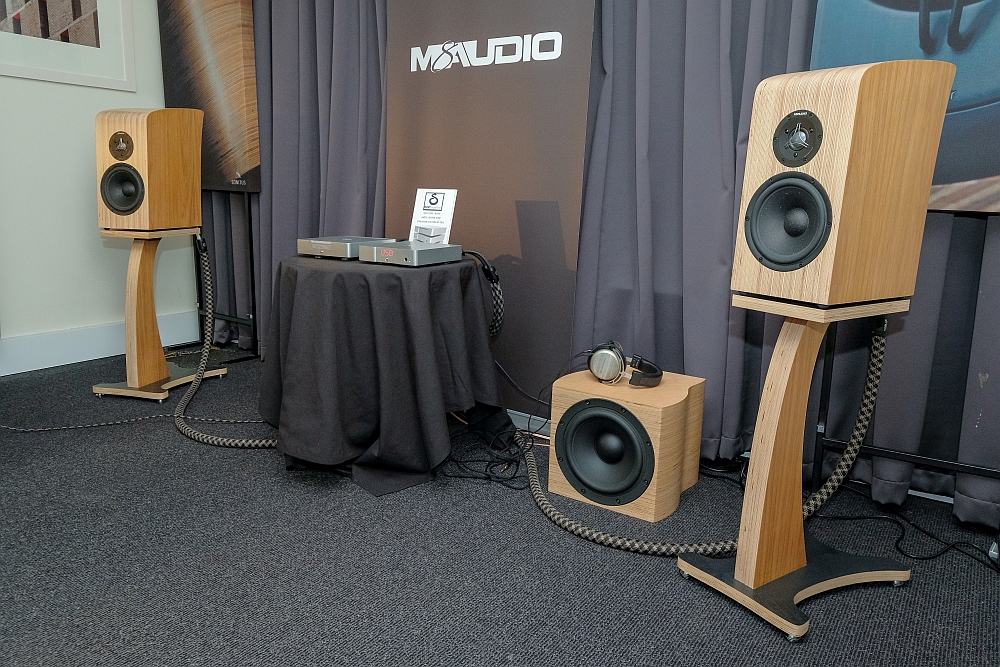 Once again, sound filling room – especially via Rage Against the Machine – from M8audio's Sweet Maxwell speakers (AU$6500, stands AU$1500) supported via new-to-Australia-from-the-Netherlands DiDiT's DAC212SE DAC and AMP212 proprietary ultra-low distortion Class-D amplifier (projected RRP AU$6500). Sweet, dynamic and full-bodied sound. www.m8audio.com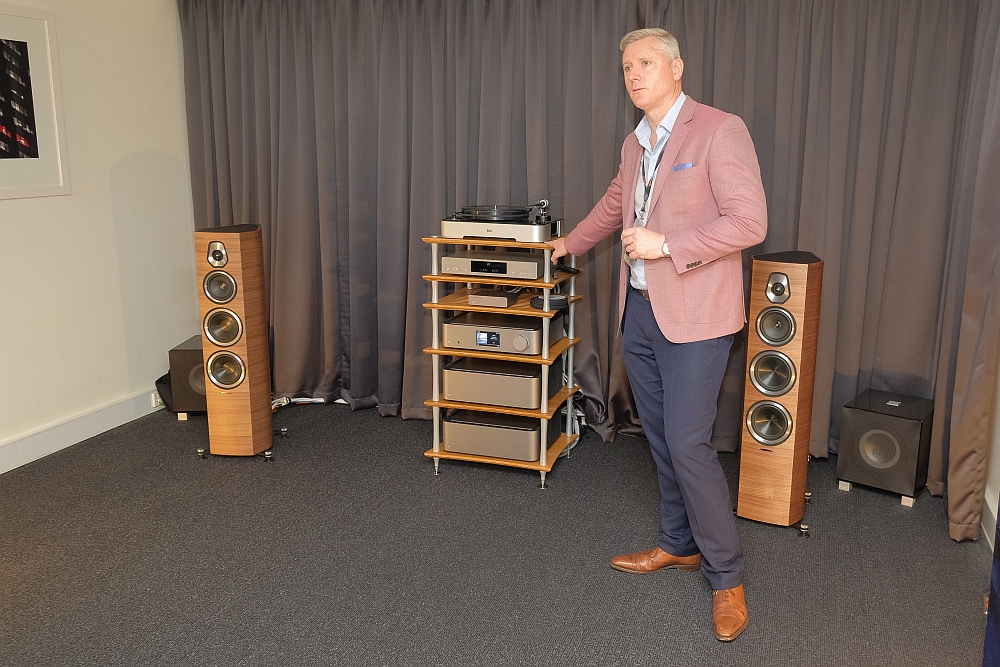 Synergy Audio's affable Phil Sawyer demonstrates Cambridge Audio's superb Edge electronics (which made such an impression on me at Munich this year) powering the just-arrived Sonus faber Sonetto V loudspeakers. Refreshingly, in light of the usually mundane musical fare at your typical audio show demo, playing as I walked in was AC/DC belting out Back in Black. Powerful sounding and raucous as it should be. Review negotiations are imminent re Sonetto… www.synergyaudio.com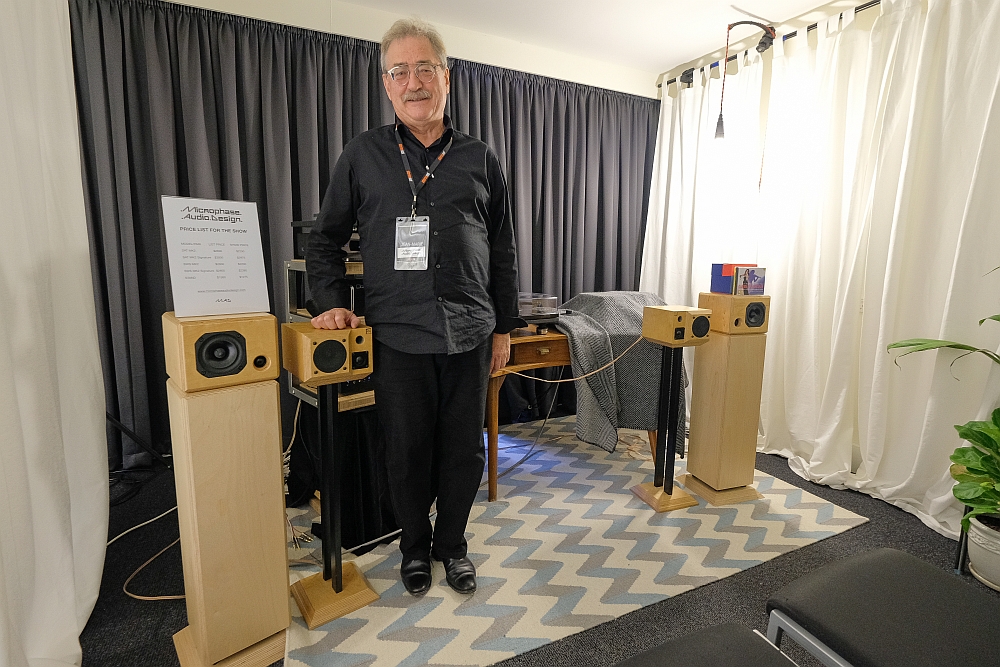 Microphase Audio Design exhibited the extremely capable SAT Mk.II Signature monitor (AU$3500) with its dedicated subwoofer (AU$2800/pair). Big sound, small form factor. Designer extraordinaire Jean-Marie Liere proudly stands by his creations. Newcomer Lucie Audio shared the room and showed ...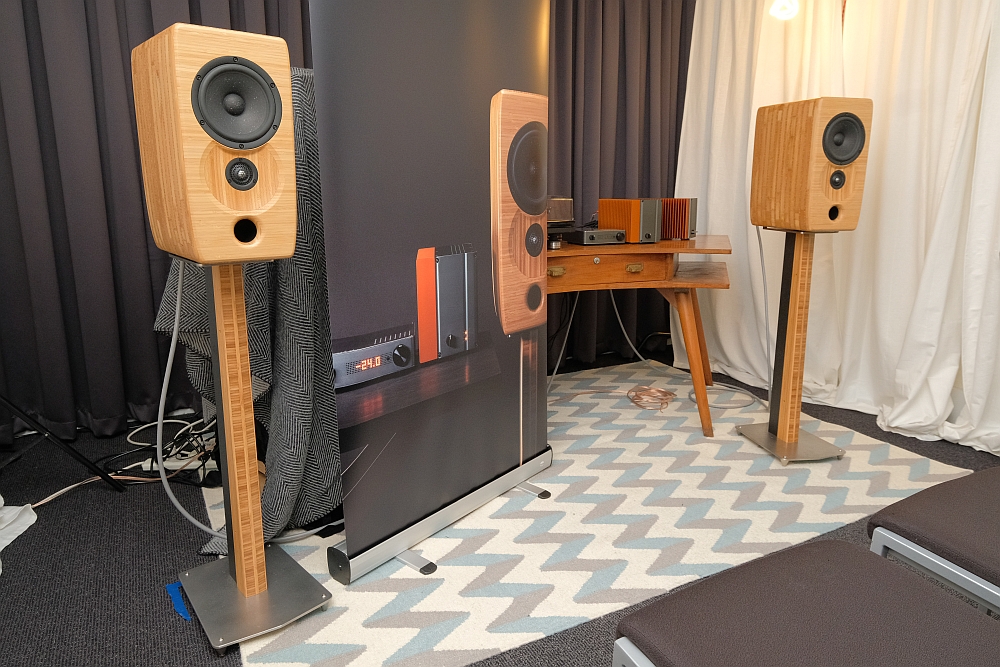 ... its very detailed and dynamic fully active system using Lucie DSPre preamplifier with on-site or remote room calibration (AU$4600), Lucie Ncore multichannel power amplifier (AU$4200 for this channel configuration) and solid bamboo-clad Studio One (AU$4400, stands AU$1900). www.microphaseaudiodesign.com www.lucieaudio.com.au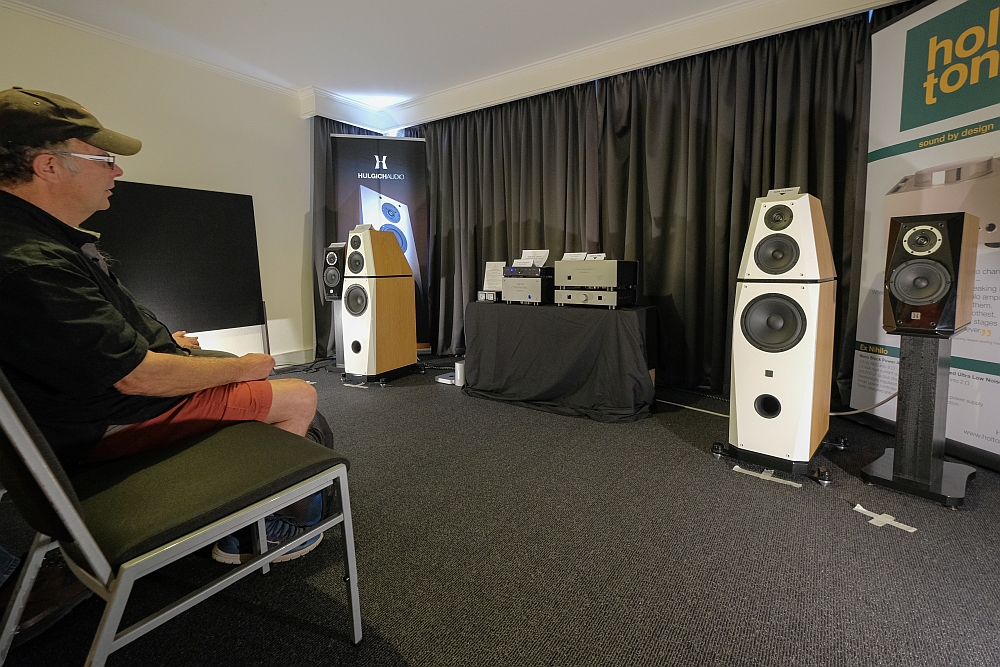 Hulgich Audio debuted two designs that, even under show conditions, sounded very good indeed. The piano tone via the Nina (AU$7200) standmount was excellent, and while I never got an opportunity to hear the large and beautifully-built Duke (AU$18,000), reports from around the traps are that they sounded as classy as they looked. The new Holton Precision Audio One-Zero-One preamplifier (AU$5000), Five-Zero-Zero Supreme and One-Zero-Zero Mini Supreme amplifiers (AU$8990 and AU$3200 respectively) provided the driving power (source via Metrum Acoustics Jade DAC) and the aforementioned sweetness – no mean feat for powerful solid state designs. Stay tuned. www.hulgichaudio.com.au www.holtonprecisionaudio.com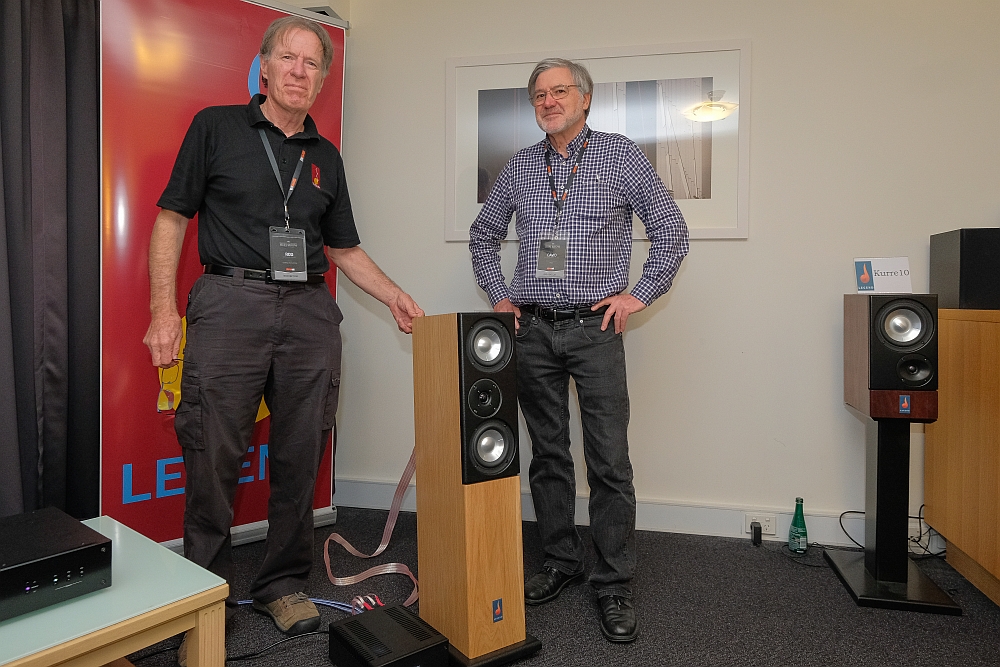 One of the last rooms I visited and one of the few oases of excellent music playback. The DEQX processor was used only as a DAC/preamp (no room correction used) in order to feed the DEQX High Definition amplifiers driving passive Legend Acoustics' Kama 10 which sounded smooth, yet detailed and did not overload the room with excessive bass. Pictured here are Legend Acoustics' Dr Rod Crawford and DEQX's David Higginbottom. www.deqx.com www.legendspeakers.com.au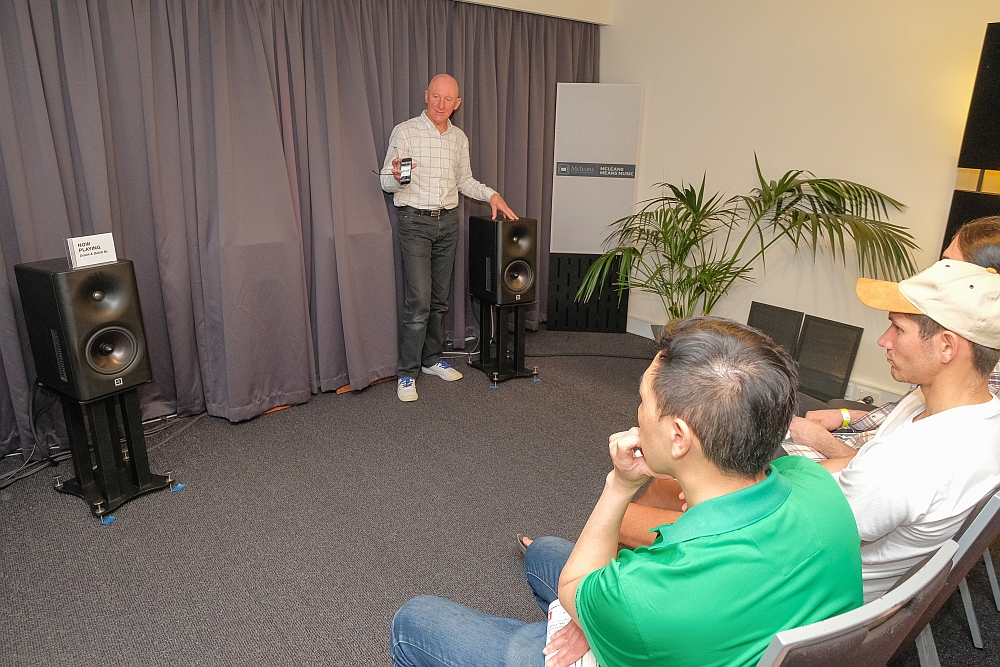 Recently launched in Australia, the Dutch & Dutch 8c (AU$15,999) audio system solution only asks for a source and it'll do the rest for you, including DSP smartphone-controlled adaptation to your own room acoustic signature. Here the sound was deep and dynamic belying the size of the speakers which hide twin bass drivers on the rear panel. Bill McLean from McLeans Smarter Home Entertainment eloquently presented the 8c's considerable powers. www.mcleans.info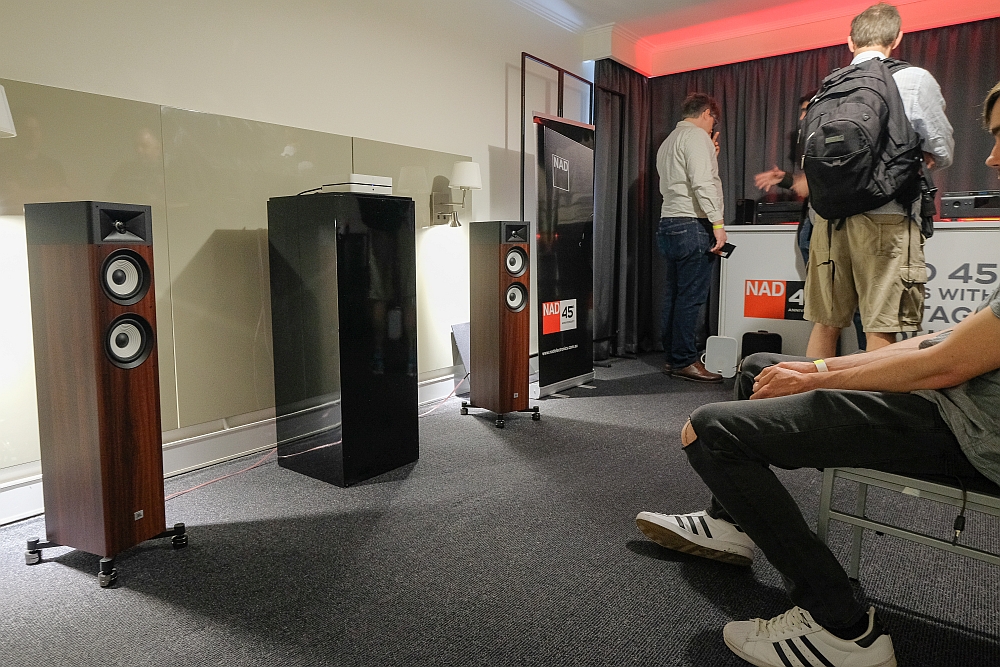 A couple of years ago I was privy to a very convincing demonstration of the IsoAcoustics speaker support systems as used on a mid-priced pair of PSB speakers. This time, Convoy's Steve Burton conducted comparisons with JBL speakers supported via IsoAcoustics Gaia I. Captivated is what I would call the state of the demonstrations' subjects. www.convoy.com.au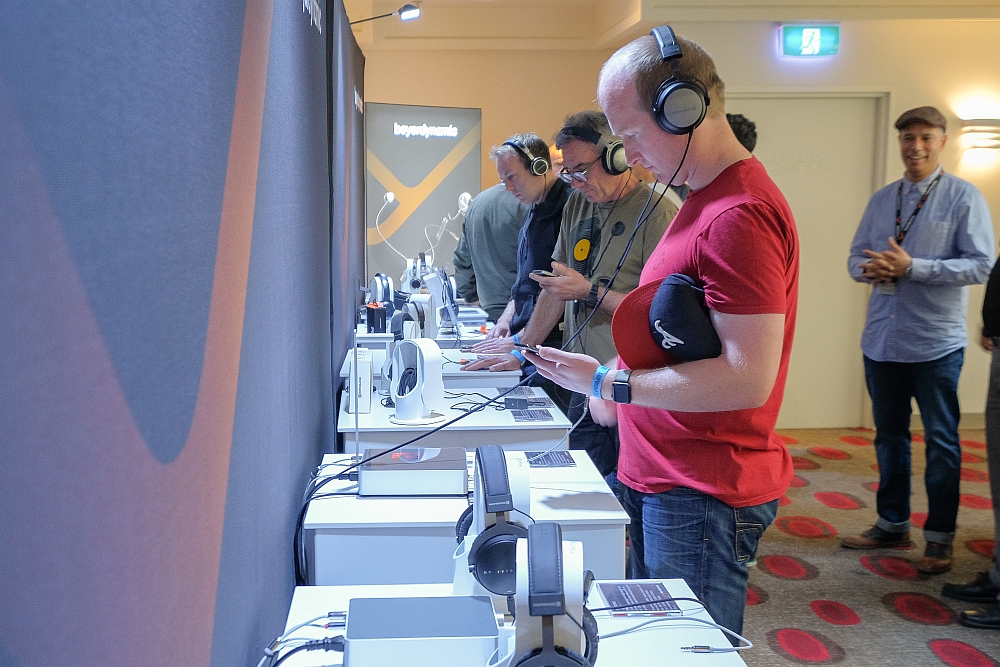 Headphones as always are a popular attraction. Beyerdynamic was here in force with a wide range of listening options. Syntec's Wayne Farran led the personnel team which were there to guide and provide assistance. www.syntec.com.au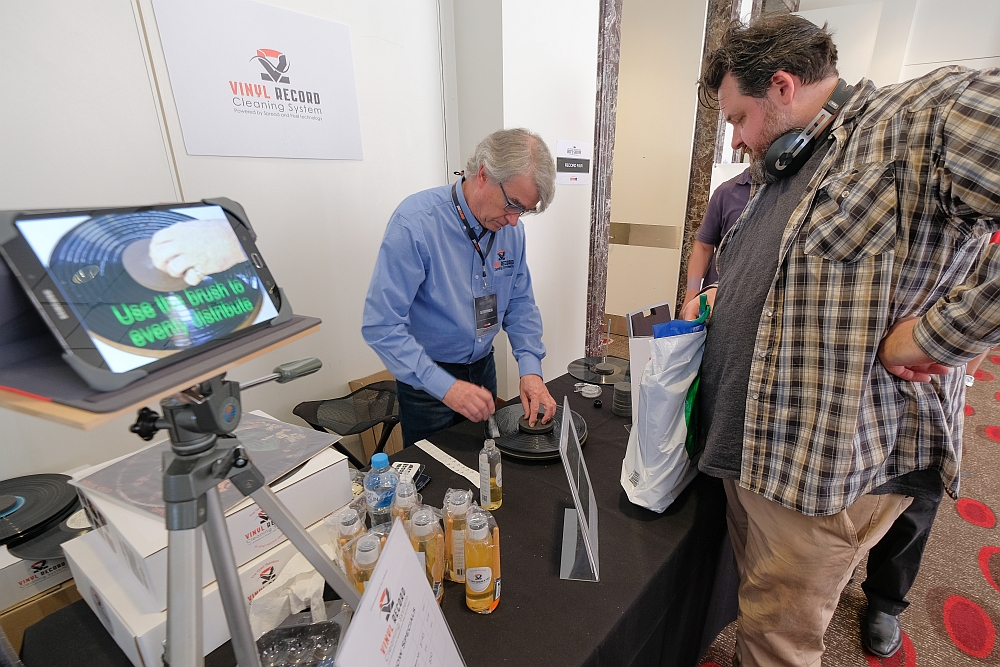 On a final note, the Record Fair was a massive success once again this year. Aside from the wide selection of analogue available for purchase, Vinyl Record Cleaning System's Stephen Price was at hand to demonstrate the efficacy of the spread n' peel film which turns the noisy and unplayable into the quiet and supremely playable. The hands-on demonstrations provide the physical proof and this writer can certainly attest to the super effectiveness of this record cleaning methodology. www.vinylrecordcleaningsystem.com.
…Edgar Kramer
Editor-in-Chief
This email address is being protected from spambots. You need JavaScript enabled to view it.