Hey, they say there's something about a name. When an audio company chooses 'Soulnote' for its branding, it's making a powerful statement right from the outset. Soul… Note… Conjuring expectations, right? The company name hints at products aiming for the ethereal core of music, connecting art, the artist and along the creative chain to the music lover. Will the Soulnote S-3 Reference SACD Player and X-3 Clock Generator under review here fuse the spirit of music with the fundamentals of sonic performance?
Funk Soul Brothers
Yes, that intro considered some esoteric ideas. Nevertheless, with such branding, Japanese company Soulnote have asked for it (I could have inserted a smiley face here). The company was actually started by ex-Marantz top brass and has a main European office in Germany. And as relatively new as Soulnote is, it has garnered interest from audiophiles and music lovers around the world due to, foremost, its products' performance, but also their innovative circuitry, superb build quality and pleasing aesthetic design. In addition, the company has been expanding its line-up with components which cover a wide range of electronics at differing price points. From the entry-point Series 1 to the mid-level Series 2 and culminating with the flagship Series 3, one thing seems to be a common thread across the lines: barring performance differences, the innovation and build quality are consistent throughout.
I'm tackling the S-3 Reference SACD Player and X-3 Clock Generator from the top echelon Series 3. The combo is made for each other in terms of target performance, build quality and aesthetics. A perfect match. My review plan was to extensively audition the player as a standalone component – the initial configuration for many owners – and then to introduce the clock component in order to gauge its contribution.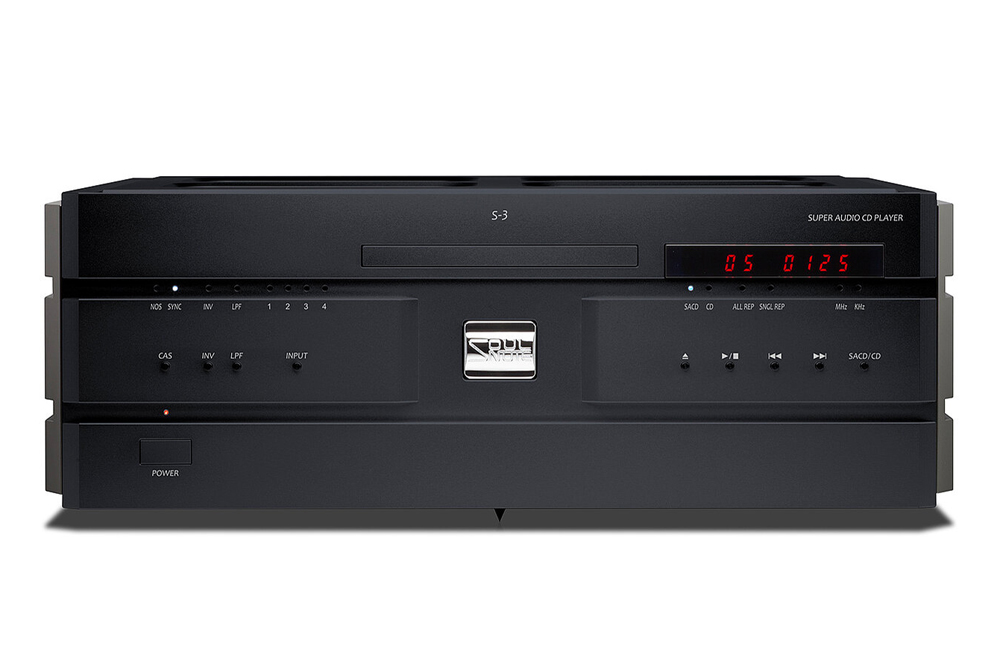 As an aside from Panzer-like build quality, both components feature a rather quirky element to the design which is a Soulnote trademark across its Series 3 components. The IEC receptacle is directly mounted onto a panel which is 'floated' by being totally decoupled from the chassis. As you unbox the components, you'll hear and feel it rattling against the chassis' rear panel. Soulnote claims that form of decoupling avoids transference of vibrational distortions within the chassis (even though said chassis is battleship-solid). Similarly, in terms of coupling this time, there's a three point mechanical grounding scheme which employs either a system of sharp spikes (no surface protectors provided) or flat footers. In the case of the S-3 Reference, the entire disc transport mechanism is formed from a single machined aluminium platform with its own grounding spike at its bottom. The unit is immaculately assembled and weighs in at a substantial 27kg.
The S-3 Reference is a tour-de-force of electronic design. For starters, Soulnote employs four ESS Technology ES9038PRO digital-to-analogue converter chips (two per channel) in a "discrete non-NFB DAC" arrangement which then passes over to Soulnote's 'Type-R non-NFB' analogue circuits. The company explains these are balanced voltage amplifier circuits comprising only four "high-frequency" bipolar junction transistors and eight resistors. Circuitry is tied together via proprietary reference-level relays designed by Soulnote, quoted as being RSR-2-12D models.
The S-3 Reference SACD player features dual-mono power supplies… and they're massive. Each power supply features a large toroidal transformer the size of a small amplifier's and is fully floated via a titanium spacer. The transformers are supported by a massive bank of 14 (yes, 28 in total) large, high-quality "low magnification" electrode foil capacitors which are accommodated directly below the SACD mechanism. Internal cabling is Soulnote's own Teflon-enveloped reference copper wiring which is directly soldered onto the circuit boards.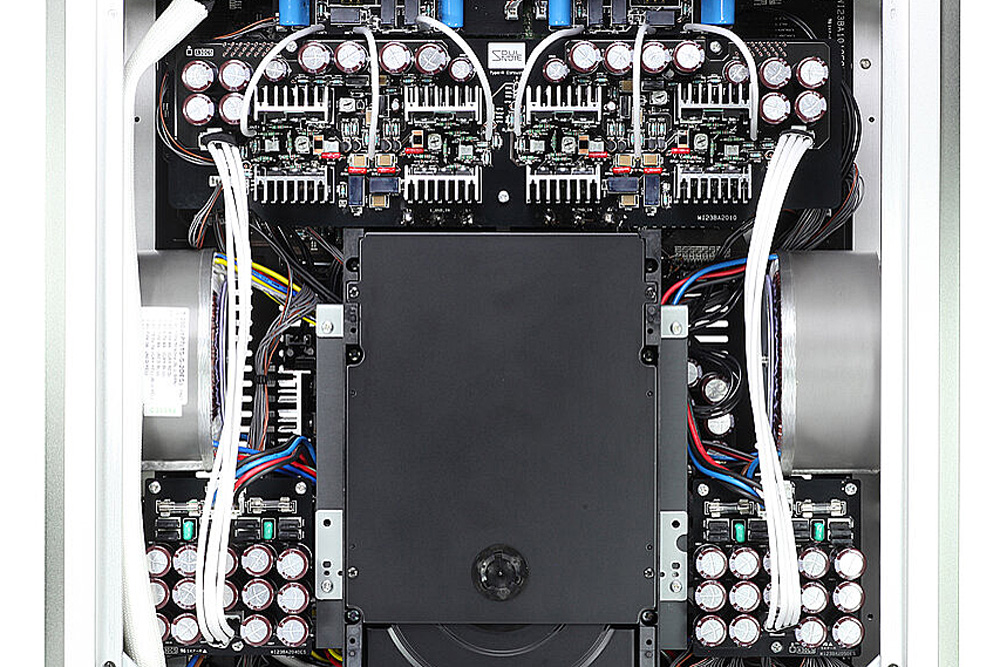 Soulnote makes a big statement regarding the use of NOS (Non-Over Sampling) mode aimed at maintaining time, pulse and transient response accuracy. The company claims this results in a more natural sound with more life-like tonal qualities, something I'd wholeheartedly agree with in terms of my own experiences with NOS DACs and, indeed, with the S-3 Reference (but more on that later).
The S-3 Reference plays SACD and CD (also CD-R and CD-RW). There are both XLR balanced and RCA unbalanced analogue outputs while the digital input bank comprises of AES/EBU via XLR, coaxial S/PDIF RCA and two USB-B ports. A synchronous 'Zero Link' developed in conjunction with Sforzato Corp. is said to provide ideal clock synchronisation between network players/transports and the S-3's DAC. A small panel on the unit's rear offers a small switch and a screw-type 50 ohms socket to activate and connect the signal to the X-3 clock (10 MHz signal).
The S-3 Reference caters to resolutions up to 768 kHz and DSD512 via the USB port while the AES/EBU and S-PDIF coaxial options offer 192 kHz PCM and DSD64 via DoP v1.1. The unit's Signal-to-Noise Ratio (SNR) is quoted as 110dB while Total Harmonic Distortion (THD) is stated as 0.008%.
Natural Selections
I have a small number of SACDs and close to 2000 CDs, so I was able to play music to the S-3 Reference's full disc-spinning capabilities. I also tested its DAC section via the USB-B connection to my superbly musical 432 EVO Aeon Mk.III digital streamer/server. I noted right at the start the S-3's (for short) tremendous tonal precision and utter refinement. The sound was expertly balanced and lifelike-natural. Nothing stood out as etched, or even bright, unless the recording has those inaccuracies implanted.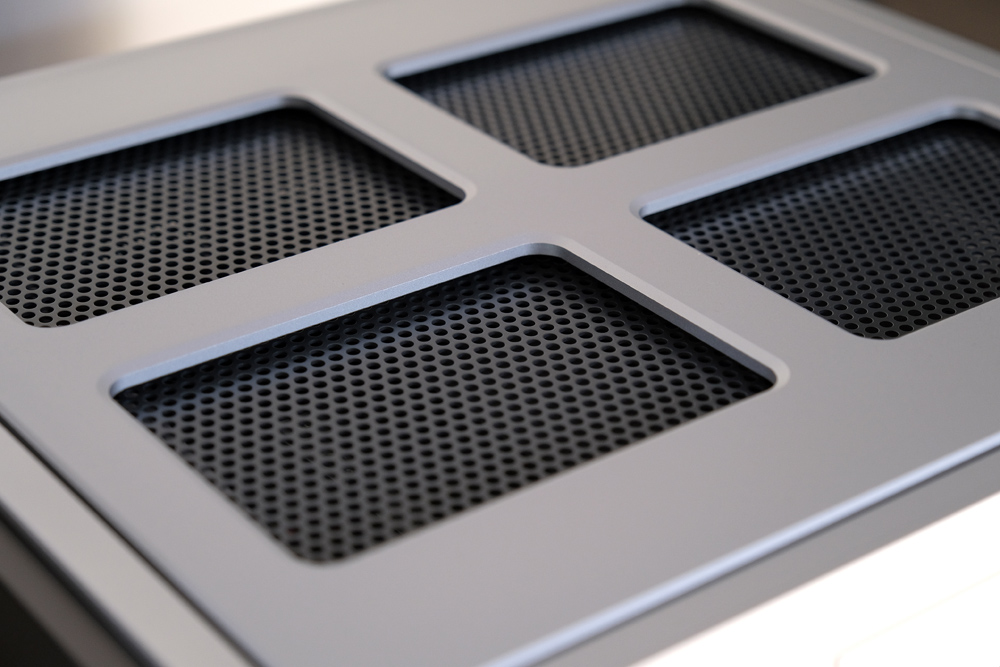 Listening to "Field of Mars" on Chad Wackerman's Legs Eleven album, I also heard a tight and textured low-end, crisp and fast-attacking transients from snare and toms and good dynamic expression all-round. So as refined as the S-3 is, it does not lack punch and drama when required. I especially delighted in the tightness and whack of the mid-bass where a lot of the electric bass guitar and tom toms dwell, there was satisfying solidity there, that's for sure.
While on the subject of bass, the Neil Crowley Trio's "Winterlude" from the Touch and Flee album had the acoustic bass' image flung way beyond the right-hand-side speaker. This is quite the feat, considering that speaker is about 800mm from the side wall, yet it seemed as though the bass was a little beyond that. Eye- and ear-opening soundfield reproduction.
Malian Tuareg group Tinariwen's Tassili album is a clear demonstration of African music which, in conjunction with other African influences, eventually led to what became American roots Blues. On the "Ya Messinagh" track, the S-3's resolving capabilities were also exhibited. There was separation of the guitars and various percussion instruments against the vocals while the horns, which provide a deep swell below the music's surface, are clear and driving.
I often test a component's high frequency qualities with the track "My Favourite Things" from Youn Sun Nah's Same Girl album. The start of the track features beautifully-recorded bells which, with a good tweeter and the requisite qualities from electronics and cabling can sound amazingly real, extended and airy. This player shone with high frequencies which were superbly rendered. This is as close as you'll get, with current digital technology , to hear bells and the triangle almost as if in your room.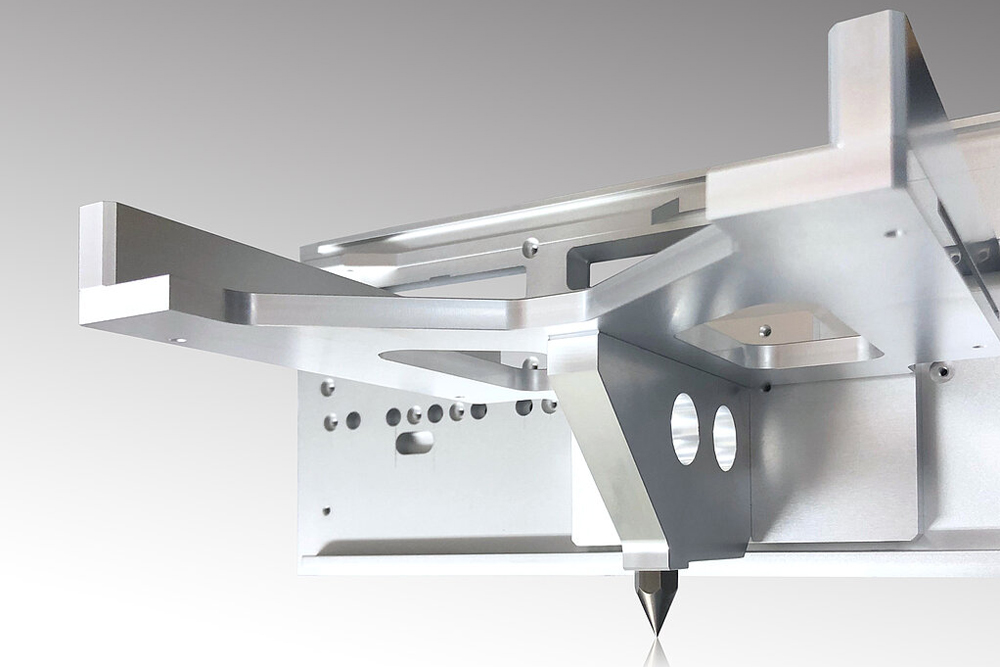 The level of profound detail resolution the S-3 is capable of is quite stunning. It's seldom I hear such a resolving player, especially in the lower-level subtleties which offers such deep insights while remaining grain and etch free. Take any of the tracks on Sarah Nemtanu's Gypsic album. The nuances and textures, both tonally and detail-wise, are clearly discerned via the S-3's refined retrieval of recorded information.
Yes, tonal textures are something the S-3 does oh so, so well. Sylvain Luc's "Gangui" from his album Joko had all the tonal truth of the real instrument, the artist's beloved, and so well mastered guitar. There was a super-rich shade of textural complexity the S-3 effortlessly offered. I know the sound of the instrument, as a fumbling guitar player myself, and the S-3 delivers truth as close as I've heard. Digital playback disputants who see the format as an abomination of analogue music recreation will be persuaded – those who are open minded enough – by the naturalness and tonal perfection the S-3 is capable of delivering. It has been among the best I've tested.
There's a natural flow to the music across the crucial mid-band and onto the top-end which allows a sense of ease and encourages involvement in the music. I savoured Johnny Cash's touching, and should I say almost beautiful, version of "Hurt" from his album American IV: The Man Comes Around, where Cash's, umm… hurt vocals are touchingly communicated by S-3. There are many details and sub-threads of music running through the track which enhance the experience and the S-3 told the story like a polished truth-sayer.
Time Bandit
Introducing the X-3 Clock Generator is a simple matter of running the provided cable between the two components and then switching the S-3's rear control to the 'External' position. The two units sync-up pretty much straight away and consistently. By the way, I was also sent the RCC-1, a more sophisticated clock cable which can be purchased as an option.
I won't tell you that the X-3 will transform the sound of what I think is a top-shelf disc spinner. You won't be getting more, fuller low notes, nor will dynamics become more expressive. Neither will the world-class high frequency reproduction of the S-3 Reference be transformed.
What I can tell you, however, is that spatially the X-3 Clock Generator provides a slight expansion of the overall soundfield. I may have also noted this as a strong point in my other player/clock reviews. In my opinion and system context – which I think is revealing enough to show any component or cable variation – clocks are an enhancement worth the coin if you value soundstage dimensionality in particular.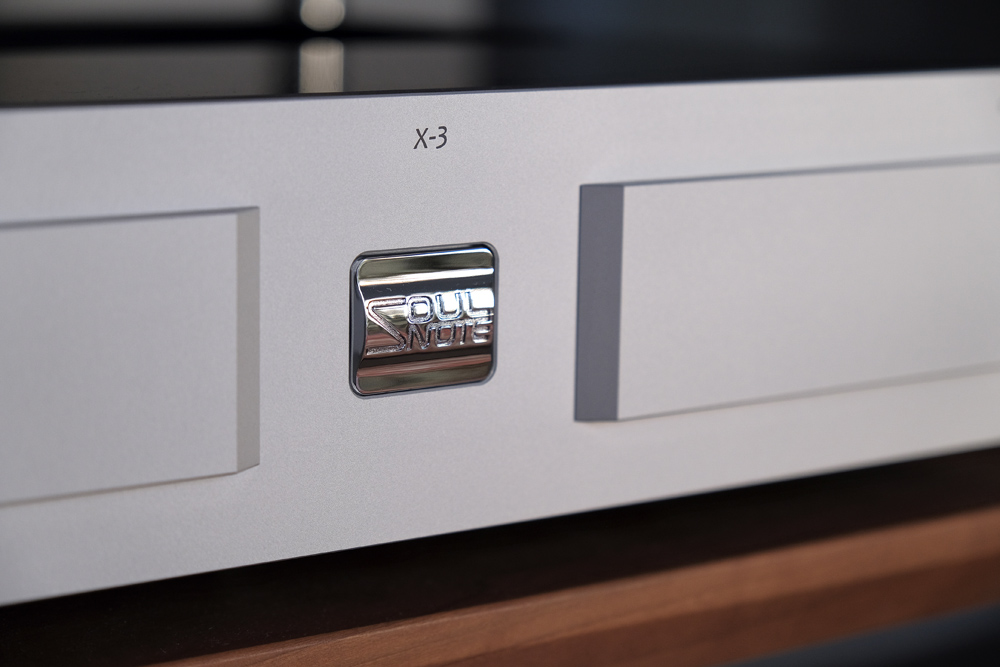 What's more, in the time I had both components in-situ, I went back and forth trying to establish whether the X-3 Clock Generator was also uncovering subtle low level minutia. It was a hard exercise to perform effectively due to the time it takes to switch both products off, unscrew the connecting clock cable, switch back to 'Internal' on the S-3 and fire it up again. Within that space of time, and in carrying out the manoeuvre several times, I found the S-3's subtle detail resolution was so good in the first place, that there was little room left for the X-3 to show its mettle in that area. Sometimes I thought "yes, X-3 is revealing more micro-detail" and other times I thought "mmm… not so sure about that…". Given a less capable player, the outcome may have painted an entirely different picture.
So, my usual live recordings with generous soundfields (you know, the ones if you read my reviews, but in the main they're from Harry Belafonte, Ani DiFranco, Ryan Adams and others) sounded a tad more spacious, a little deeper and taller, images spreading wider across. Even the sense of acoustic space ambience may have been slightly enhanced, creating a slightly more believable 'live' presentation.
Conclusion
I was struck by the Soulnote S-3 Reference's superb tonal faithfulness and its overall refinement in the way it handles micro-detail. It's an engaging player that invites long listening sessions free of listener fatigue and the dreaded digititis syndrome. The S-3 Reference's sonic elegance, by no means, is a descriptor of a somewhat lifeless player lacking in ultimate dynamics. Au contraire, it can be quite surprising when sonic violence is called for and it's also quite the separator of studio mix complexity.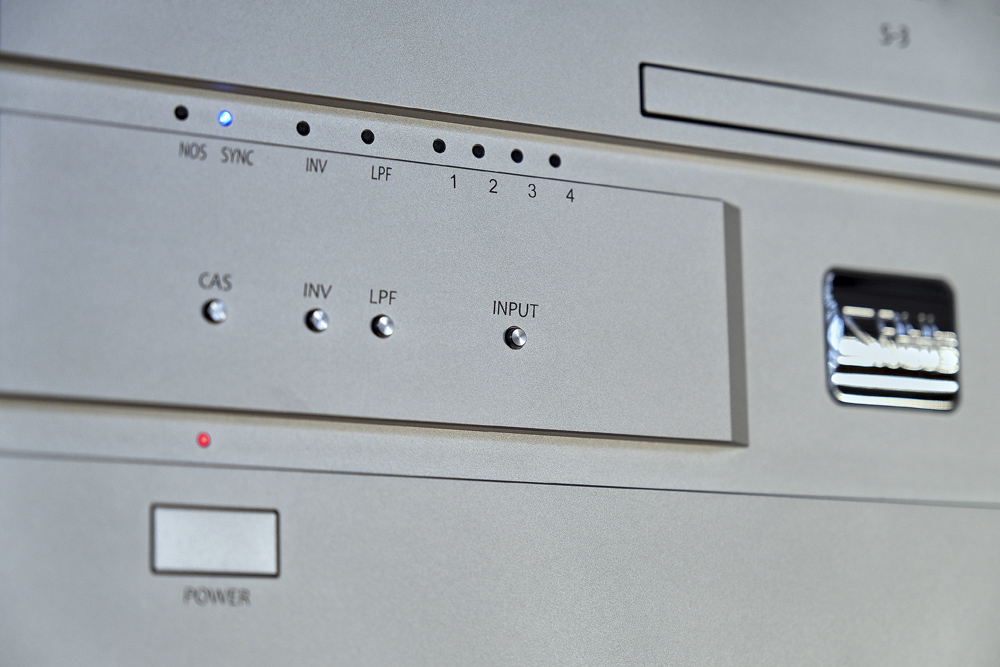 Adding the X-3 Clock Generator provided a subtle but discernible spatial enhancement in terms of soundfield depth and height in particular. There may have also been some very low nuance retrieval over and above what the extraordinary S-3 Reference offered. My jury is still out on that one. Yours may come to a different verdict.
There's no doubt however, that the two products are like hand in glove in terms of working together to bring forth what could be a sonic performance on par with the very best of digital at just about any price point. Soulnote indeed.
… Edgar Kramer
This email address is being protected from spambots. You need JavaScript enabled to view it.
Associated Equipment
Speakers — Wilson Audio Alexia V, Axis Loudspeakers VoiceBox S (nearfield monitor), Vermouth Audio Little Luccas Mk.II, Atacama stands
Amplifier — Gryphon Audio Antileon EVO
Preamplifier — Supratek Cortese, Totaldac d1-triunity (direct to amplifier)
Sources — Digital: 432 EVO Aeon Mk.3 Reference Music Server/Roon Core, Yamaha CD-S2100 transport, Totaldac d1-triunity DAC. Analogue: Transrotor Crescendo with Konstant Studio controller, Reed 1X Tonearm with upgraded internal wiring, Shelter Harmony cartridge, The Funk Firm Houdini cartridge decoupler, Supratek Cortese & REDGUM Audio RGPH2 phono stages
Processor — DEQX PreMate (part of arsenal/casual use)
Cables — VYDA Laboratories Orion Silver Reference HFC IC and speaker cables, PSC Audio custom design XLR, Vermouth Audio Reference loom,ZenSati Zorro, Tubulus Concentus USB
Audio Rack — SGR Audio Statement Model V, Aspire Audio Belgravia amplifier platform (customised for Gryphon Audio Antileon EVO), Stereotech Aluminar Dark 3-tier rack
Acoustic Treatment — Vicoustic Multifuser Wood, Wavewood Ultra, Cinema Round Premium and Super Bass Extreme
Miscellaneous — Silent Angel Bonn N8 Pro network switch, GigaWatt PF-1 EVO power strip, Les Davis Audio Viscoelastic CLD discs, VRC Vinyl Record Cleaning systemplus miscellaneous accessories
Soulnote S-3 Reference SACD Player & X-3 Clock Generator
Price: S-3 Reference AU$34,250, X-3 Clock Generator AU$6500, RCC-1 Optional Clock Cable AU$2500
Warranty: 12 Months on Laser, 24 Months on Components
Australian Distributor: Absolute Hi End
+61 488 777 999
www.absolutehiend.com
Soulnote
IAD GmbH
Johann-Georg-Halske-Str. 11
41352 Korschenbroich
Germany
+49 (0) 2161 617 830
https://www.soulnote.audio/soulnote-en