The high-end audio industry has been shaped by companies hatched as a result of aspirations and achievements from creative engineers. Often, these engineering artisans have firstly been music lovers, who sought to manifest their passion by bringing to fruition the audio objects of music lovers' desires. In the case of new entity Alexandria Audio, two music-loving audiophiles with engineering chops pooled their skills and shared zeal to bring to market Bali-designed loudspeakers which are far removed from cookie-cutter me-too-ness. Of the two models on the company's speakers catalogue so far, The Monitor appears on the surface, as the more conventional offering. Yet, The Monitor offers its own distinct twist on the classic high-end two-way standmount.
Bali High
In the "two music-loving audiophiles" mentioned in my opening, I'm referring to Henry Kristanto and Kenneth Lin who share not just a love of music in general but a desire to produce loudspeakers which bring out sound aspects they both value. In The Monitor's development stages, Kristanto and Lin aimed at producing a large standmount with near-full-range capabilities, a wide dynamic window and true tonal qualities. Those subjective targets, reached after exhaustive tuning, were to be coupled to extensive measurements and tests. The technical excellence needed to reflect low distortion, controlled directivity and linear frequency response. For ease of drive (even for low power SET designs), the duo sought an even impedance plot coupled with moderately high sensitivity.
The R&D road led Kristanto and Lin to design proprietary drivers which would reflect the duo's agreed target performance parameters. Once the R&D task was signed-off, a major driver manufacturer was employed to produce the transducers to specification. This manufacturing methodology of tight driver design and subsequent outsourcing of actual production has been increasingly adopted among loudspeaker designers due to a number of factors. Needless to say, that the number of true driver manufacturers – the ones that have all the engineering capabilities, tooling and production systems – is limited to companies you can count with your two hands. This is compounded by the high cost of the whole driver manufacturing endeavour in general in terms of R&D, tooling, financial resources, factory real estate, economies of scale (or lack thereof) and many, many other factors. So it is that the scenario of driver production outsourcing makes both technical and economic sense.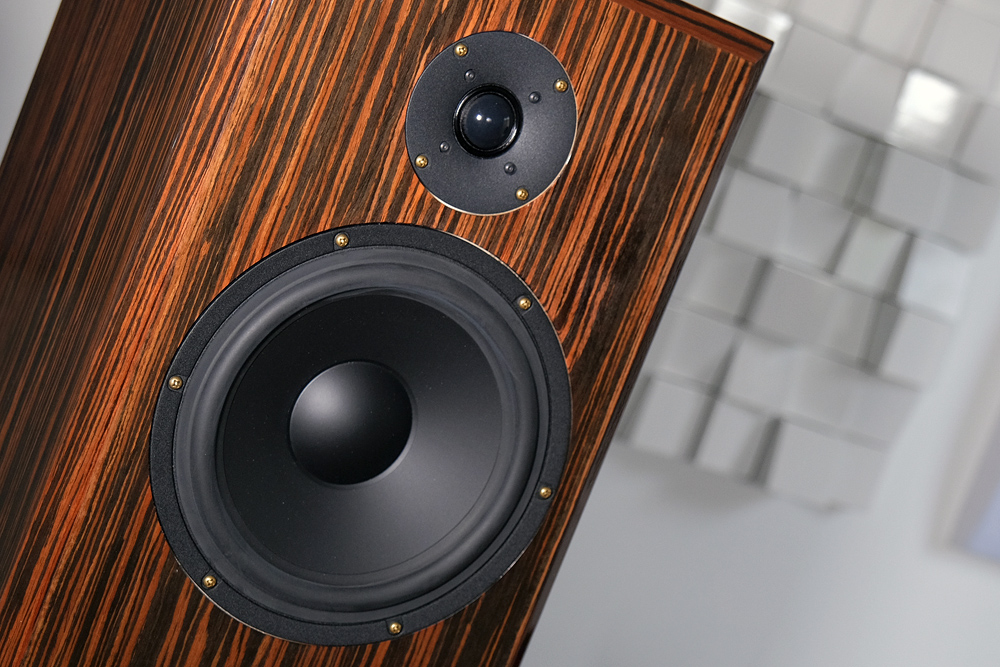 Pertinent to the above, I asked Henry Kristanto re the source of the bespoke drivers in The Monitor loudspeakers:
The 8 inch (220mm) woofer is made by Sinar Baja Electric (all Indonesian team), it is not SB Acoustics, as SBA has a team in Denmark. Although they are all made in the same factory, with the same manufacturing SOP (the lower-end brand by SB doesn't follow the same SOP). We aimed at unique electrical and mechanical properties. We targeted a balanced dynamic contrast, harmonics, macro and micro detail extraction with excellent bass capability. The electrical properties are low inductance, a strong magnet and B/L and the mechanical properties are high compliance, healthy Xmax and a vented voice coil and spider. There's no 8 inch driver (DIY nor OEM) on the market that has these parameters, specs, frequency response and sensitivity.
The 28mm tweeters are made in Italy. It's a 94dB, 120 watts tweeter with a powerful neodymium motor and, more importantly, it has a shallow waveguide to allow the speaker, as a whole, to have a controlled directivity from 2.5 kHz and above. This means the off-axis roll-off is uniform compared to the on-axis response. The overall controlled directivity from 2.5 kHz and above allows easier setup, even in a reflective room, and will project a stable and distinct spatial imaging.
The specifications of The Monitor could be compared to a floorstander. In other words, there's a fairly wide frequency response spanning from 35 Hz to 20 kHz (no parameters given, although it would appear from the graph as a -6dB point at the low-end). Sensitivity is a healthy 90dB while the impedance is 8 ohms (minima of 6.3 ohms at 140 Hz) making for a reasonably easy drive for low-powered valve amplification, as targeted. The crossover point has been given at 2.1 kHz, with high quality 'Kenkraft Labs' cable being the connecting interface to the drivers. Kristanto states the cable employs "aerospace grade materials with conductors designed to achieved low inductance, minimum phase shift and ultra-low dielectric."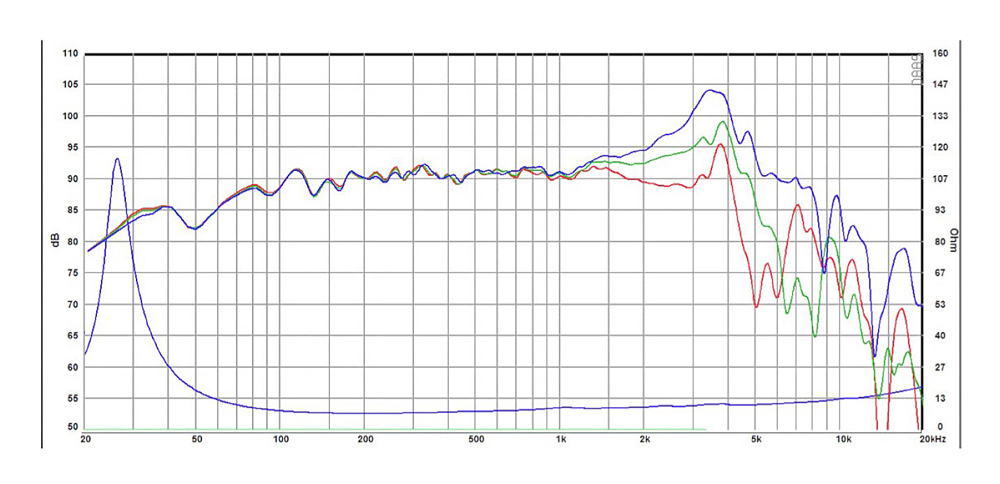 Frequency graph showing wide and linear response (provided by Alexandria Audio).
The Monitor is a reflex port design (rear panel). Its cabinet is somewhat stout, measuring 280mm wide by 450mm high by 230mm deep. The enclosures are well-built employing Birch plywood, are adequately braced and feature seamless chamfered edges on the front baffle's panel. Embedded magnets do a good job of fastening onto the grilles without visually marring the veneered beauty. The gloss finish is nicely applied and I found the review sample's Ebony veneer rather attractive. I asked Kristanto where the cabinets were produced, "The cabinets are made for us in China at a piano factory."
I asked about the gestation process and the time it took for development, fine-tuning and then to finally producing The Monitor.
The Monitor was first developed in 2014. That was a process of selecting drivers, followed by the custom mid-woofer, then finding the right tweeters to mate to it, (which included the famous RAAL Ribbon from Serbia). The very first public appearance was at the Melbourne Audio Club in 2016 (with the initial proto cabinet made in Australia). That version used a series crossover.
Then followed an appearance at the Sydney Audio Club in 2017 with parallel crossover. The Monitor has had a number of revisions and iterations. As far as I can remember, it went through at least eight revisions with built crossovers and an additional 12 with simulated crossovers. All prototypes and production cabinets were using Birch ply.
We brought in many audiophiles through the early stages. Many pointed out that the speakers had too much bass. We corrected that and tested it in different rooms to find the right balance. We auditioned in rooms with suspended and concrete flooring, in large open plan rooms, apartment sized rooms, small bedrooms and in our acoustically-controlled room. The room was built in 2021 and has allowed development of the product as it can reveal many aspects of The Monitor that were overlooked. We feel that the current fine-tuning is the most mature version of The Monitor with its latest (2022) crossover.
Kristanto wanted to reinforce some of the design principles Alexandria Audio aims at, not just with The Monitor but also with the large floorstanding Praetoria:
We aim for a blend of engineering and understanding the Art of sound. We make a conscious decision and execution with a goal for "Extraordinary Musical Experience". We place the highest priority for reproduction the 'original musical' aspect of the sound. We believe that The Monitor conveys closer the true musical fundamental that includes accurate key tone and pitch, an engaging pace, a tuneful melody with proper attack, decay, sustain, release and harmonious timing (among multiple tones from instruments). We hope that music lovers can have an enhanced listening experience through The Monitor that is soulful, musical and extraordinary.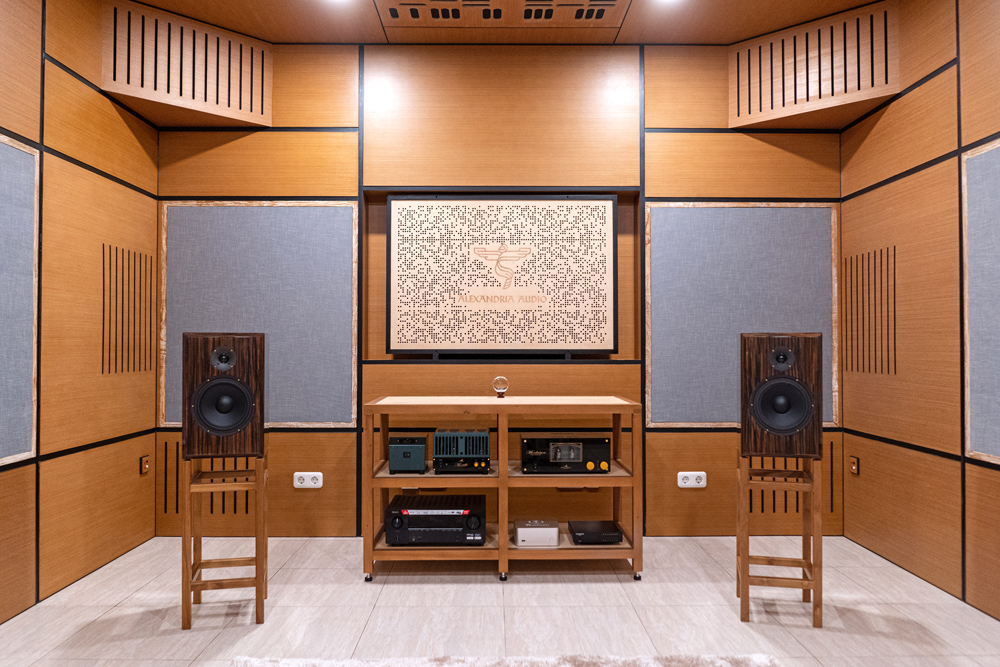 The Monitor in Alexandria Audio's purpose-built, acoustically treated auditioning studio
Mustering a Monitor
It's no mean feat to move my reference Wilson Audio Alexia V out of the way when reviewing speakers. Thank Goodness for the company's speaker sliders. One man job done in less than five minutes. With them no longer in-situ, I was able to experiment with The Monitor's position once placed atop solid Atacama sand-filled stands.
As Kristanto mentioned, The Monitor is capable of powerful and extended low-end so placement is important, especially in light of the rear port configuration. The speakers sounded very good in most locations (a sign of not being too demanding in terms of setup), however, experimentation brought out the best in the bass department. I ended-up with them in the approximate position inhabited by my own speakers. This gave The Monitor plenty of space around it, allowing the port to breathe appropriately while giving the speakers a modicum of front wall reinforcement.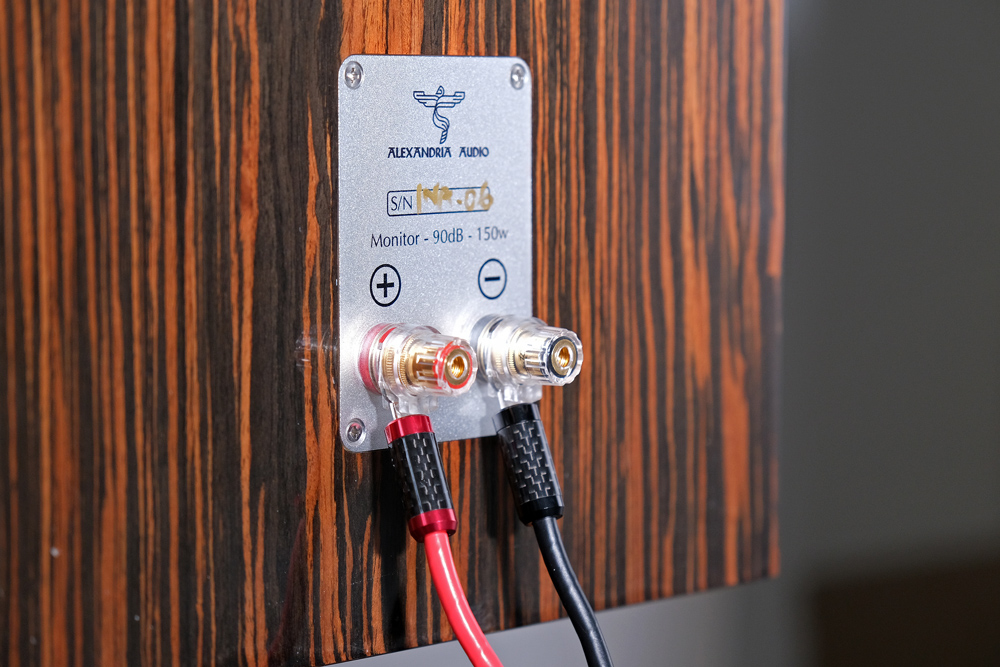 Firing The Monitor, you'll first notice the excellent level of detail and low-level nuance. The tweeters are indeed agile, with very good transient attack and punchy snap to the snare drum (something I personally enjoy – it provides great rhythmic flow). It's a responsive and revealing little critter, this tweeter, requiring a sympatico arrangement of electronics and cabling support. That done, you'll be rewarded with excellent information retrieval, vocal presence and overall resolution. It's an incisive sound which provides tremendous insights into the music and recordings – as it should be in a true monitor. I attribute that to the sum of high quality tweeter, a well-designed wave guide and astute engineering.
The above taken care of, the overall voicing is skilfully handled. Yes, there's plenty of bass there too, yet it's expertly balanced in benefit of the music. You get the sort of weighty performance which would have small floorstanders shaking in their woofers. Ray Brown's intro to "The Real Blues" on Ray Brown Trio's Live at the LOA had very good weight, depth, attack and detail nuance. The live recording's crowd sounds and laughter-inducing mid-intro telephone ring came through amazingly clearly too, pointing to excellent low-level resolution.
I was also impressed with the way The Monitor rendered space, given appropriate recordings. My staple music for testing soundfield – in terms of imaging precision and soundstage width, depth and height – such as Harry Belafonte's Live at Carnegie Hall (any track), Ani DiFranco's Live in Clip (specifically the track "Amazing Grace") and many others showed the speakers' strengths. I heard large soundstage perspectives across all dimensions while image placement and separation were exacting and tightly-focused. It's evident that in spite of the baffle's width, the tweeters' wave-guide and the cabinets' chamfering is effective at controlling refractive artifacts – the imaging was very good indeed.
The Monitor's big sound played very well with well recorded Rock and Blues. Respect. On "Bullet in the Head" from Rage Against the Machine's self-titled album, Tim Commerford's short bass solo provided a weighty facsimile of the instrument while Brad Wilk's drums, be it kick, tom or snare, punched with power and rhythmic integrity. Zack De la Rocha's sharp vocals cut through the mix with terrific intelligibility over-and-above Tom Morello's incisive guitar licks and jabs, something that is so important given the politically-weighty and culturally-poignant lyrics throughout this album.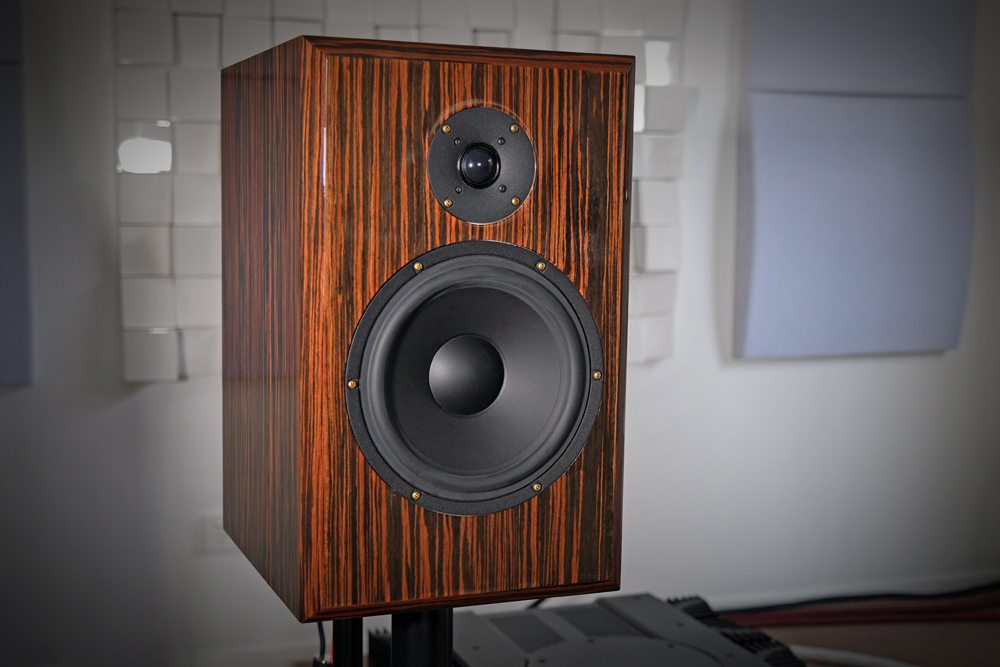 Again, the speakers' generous soundstage, wide dynamic expression and excellent tonality provided enjoyable orchestral and acoustic instrument reproduction. The finessed musicianship on Luciana Elizondo's Cantos de Amor y de Ausencia was very well communicated via The Monitor. Elizondo's viola de gamba showed very good tonal precision while the transient speed of her instrument, whether plucked or bowed, had tremendous resolution of inner detail (that elusive rosin-on-string vibration sound).
On big works such as Bruckner's Symphony № 9 with Zubin Mehta conducting the Vienna Philharmonic Orchestra displayed all the power and grandeur you'd expect – certainly beyond the reach of most standmounts I've heard. The sense of scale was appropriate for the music genre while the various sections of the orchestra were accurately positioned within a large soundfield. There's no doubt The Monitor plays BIG, something quite remarkable from a 2-way standmount.
Conclusion
In general, there's something quite special about a well-engineered standmount speaker, mainly in terms of driver summation, overall cohesion and that ole' disappearing act. Combine those qualities with a standmount like The Monitor, which can also present scale and bass power like a small floorstander, and you've got something very exciting.
Alexandria Audio is a new company from a part of the world not normally associated with high-end audio loudspeaker design. Having said that, I can think of a couple of other entities which do that beautiful region proud too. Never mind the excellence coming out of OEM specialist driver manufacturer SB Acoustics which, both independently and in conjunction with Danish engineers, is a provider of high quality drive units to some of the world's best loudspeaker manufacturers.
Indeed, in its proprietary mid-bass driver, The Monitor makes hay with that large company's specialty driver technologies. Yet it's Alexandria Audio's overall design skills, with the Kristanto and Lin partnership at the helm, which capitalises on the excellent ingredients at hand. The Monitor is well made, attractively finished and plays with scale belying its stature. As an early effort in an as yet modest catalogue, The Monitor paves the way for what may just be a niche stronghold by Alexandria Audio.
… Edgar Kramer
This email address is being protected from spambots. You need JavaScript enabled to view it.
Associated Equipment
Speakers — Wilson Audio Alexia V, Axis Loudspeakers VoiceBox S (nearfield monitor), Vermouth Audio Little Luccas Mk.II, Atacama stands
Amplifier — Gryphon Audio Antileon EVO
Preamplifier — Supratek Cortese, Totaldac d1-direct
Sources — Digital: 432EVO High-End Music Server Roon Core, Yamaha CD-S2100 transport, Totaldac d1-direct Analogue: Transrotor Crescendo with Konstant Studio controller, Reed 1X Tonearm with upgraded internal wiring, Shelter Harmony cartridge, The Funk Firm Houdini cartridge decoupler, Supratek Cortese & REDGUM Audio RGPH2 phono stages
Processor — DEQX PreMate (part of arsenal/casual use)
Cables— VYDA Laboratories Orion Silver Reference HFC IC and speaker cables, PSC Audio custom design XLR, Vermouth Audio Reference loom, ZenSati Zorro loom
Audio Rack — SGR Audio Statement Model V, Aspire Audio amplifier platform (customised for Gryphon Audio Antileon EVO)
Acoustic Treatment — Vicoustic Multifuser Wood, Wavewood Ultra, Cinema Round Premium and Super Bass Extreme
Miscellaneous — Silent Angel Bonn N8 Pro network switch, GigaWatt PF-1 EVO power strip, Les Davis Audio Viscoelastic CLD discs, VRC Vinyl Record Cleaning system plus miscellaneous accessories
Alexandria Audio The Monitor Loudspeakers
Price: US$6500
Australian Warranty: Five Years
Manufacturer Direct: Alexandria Audio
Bali, Indonesia
+62 8 1252 221 688
www.alexandriaaudio.com