What makes a pair of speakers a great pair of speakers? The purists would say absolute accuracy and the ability to faithfully reproduce the original source material. And they would be right. But absolute accuracy comes with 'baggage'. The primary baggage being size and cost and, even when this baggage is accommodated, the speakers then have to work within the confines of the physical listening environment (rarely can a pair of 6-foot-tall speakers perform well in an average sized Australian living room). Then there are the limitations of the associated equipment in order to achieve full potential. But how would a mid-sized standmount speaker like the Kudos Audio Cardea C10 perform in real-world home environments? We shall see…
Kudos
If you manage to get all of the above right, then the magic will surely follow. However, I believe there can be varying degrees of great, or at least a version of great for each of us. I would propose that for many of us one reasonable definition of a great pair of speakers might be (my take):
Speakers that integrate physically well into a wide variety of listening environments and can perform close to their full potential in a variety of locations within that environment. Speakers that also work at or close to their full potential on a wide range of associated equipment allowing the owner maximum freedom for system building. Speakers that do minimal harm to the sonics of the original source (not only will they sound better but they may also be partnered with subwoofers to fill in the gap – it's pointless doing this if what's outside the gap sounds like crap).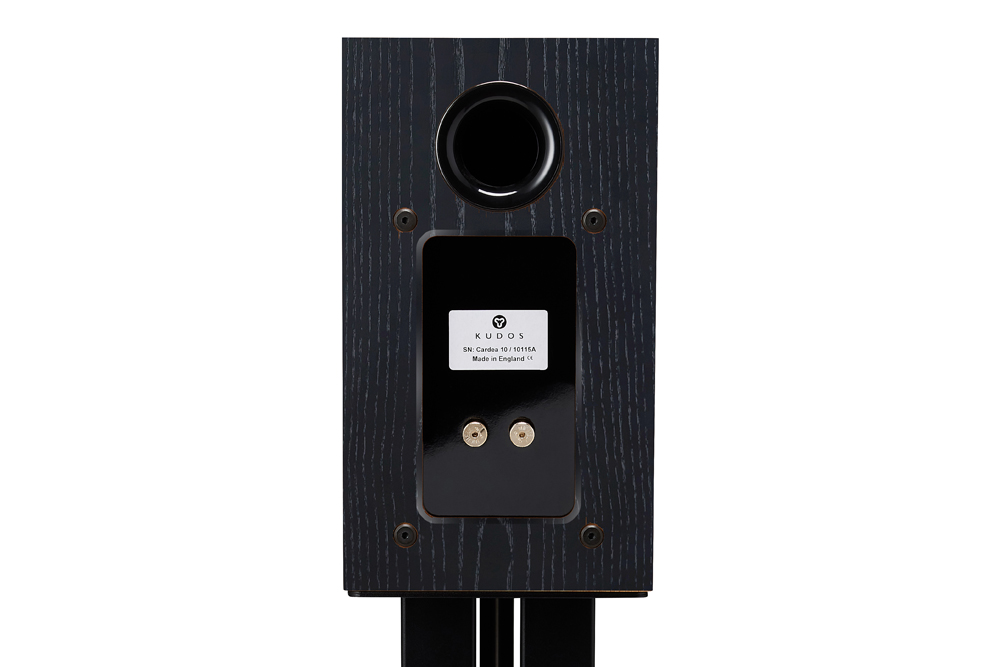 Smaller speakers can have distinct advantages in that they are more likely to satisfy the first two components of my proposed definition. This is why I have always enjoyed owning a pair of small stand mount speakers including, for several years, a pair of the legendary Sonus faber Guarneri Homage speakers. For me, they were the pivotal point in illustrating just how enjoyable reproduced music can sound at home. Since then, I've always had the utmost respect for what a well designed and built pair of small speakers can do.
Until asked if I'd like to review them, I'd not heard of Kudos. A look on the company website reveals that Kudos Audio is a relative newcomer to the audio scene and is one of the fastest-growing high-performance loudspeaker brands in the UK. All Kudos speakers are hand-built in England and use the highest quality components customised to specific requirements.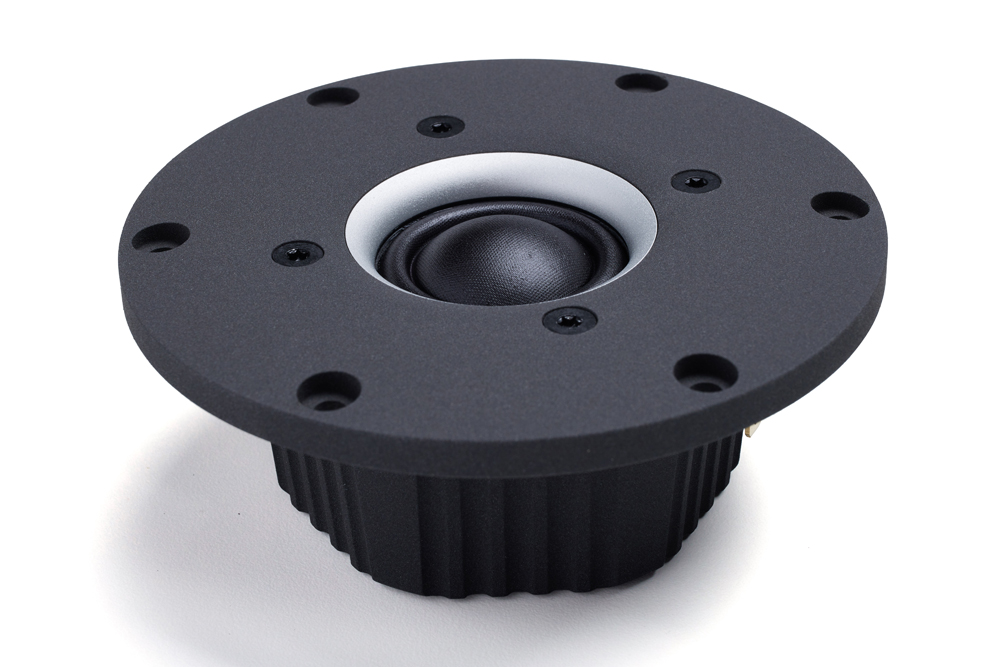 The Kudos C10 is part of the penultimate Cardea range. Although well-constructed, aesthetically they are unremarkable in that they are a simple box design not employing any chamfering on the corners or any lute shaped cabinetry. Nor are they made from solid wood, aluminium or other more exotic materials. However, Kudos has used the superior HDF, rather than the almost ubiquitous MDF, which is then veneered with high quality timbre finishes of which there are several varieties including black oak, natural oak and walnut. The fabric grilles have chamfered edges and are rounded at the bottom to enhance the overall aesthetics. The grilles do a nice job of concealing and protecting the drivers, but it was my preference to remove the grilles and leave these bad boys naked.
The C10 uses bespoke custom-made drivers from Norway's SEAS and features the same 'Crescendo K2' fabric dome tweeter used in other models within Kudos' Cardea range. Lower frequencies are handled by a 180mm mid-bass driver with a die-cast chassis and large open area to minimise back wave pollution and a 26mm voice coil for low distortion, high linearity and which Kudos claims assures low crossover modulation. The crossover is a low-order, minimalist design using high-end components including Mundorf inductors and resistors and ClarityCap capacitors all tailored to Kudos' stringent tolerances.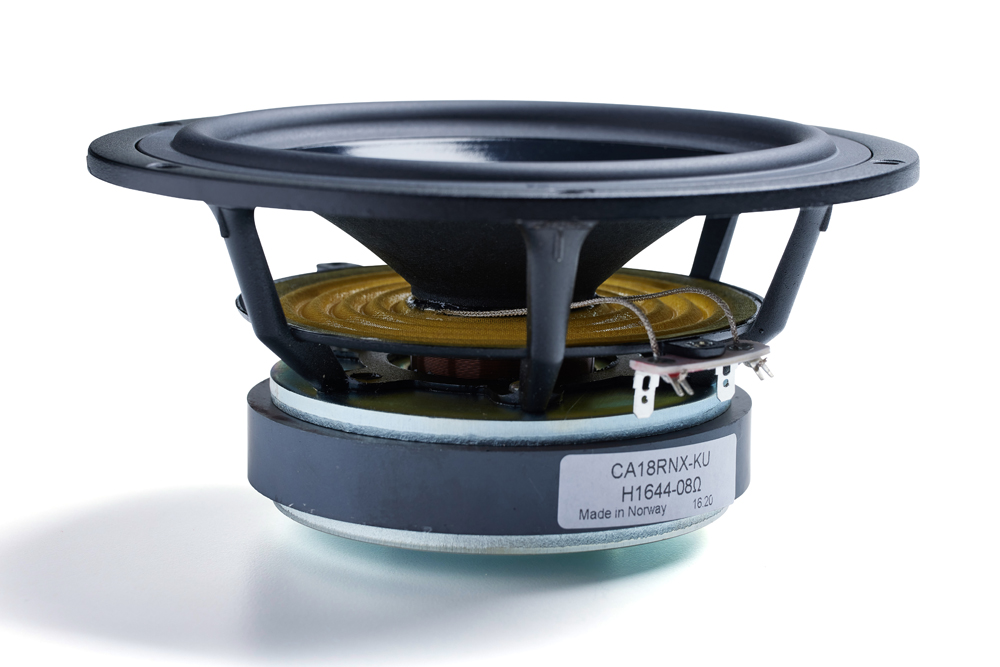 The result are speakers with a claimed efficiency of 87dB (@1W/1m), a frequency response of 40Hz to 30kHz (in-room) and power handling capability suitable for partnering with amplifiers delivering between 25 and 250 watts per channel. With dimensions of 350mm (H) x 200mm (W) and 270mm (D) and weighing-in at just under 10kg they are a relatively compact stand mount design which should work well in tandem with a wide range of stands.
Setup
Contrary to some You Tubers who seemingly take great delight in the ritual of unboxing, one of my favourite tasks is experimenting with placement and seeing how far from my initial visual estimation the actual sonic magic happens. After a little experimentation I settled on siting the C10 at a distance of 95cm from the front wall, 1m from the side walls, 2.3m apart and 3.2m from my listening position. This positioning was also quite satisfactory visually – nothing standing out or being obtrusive in any way. My room is relatively lively despite corner bass traps and ceiling absorber tiles above the listening position. I have a large space behind my listening chair which introduces a gap of approximately 4m to the wall. It's definitely not like a Hi-Fi store listening lounge but, hey, my life also has to happen here.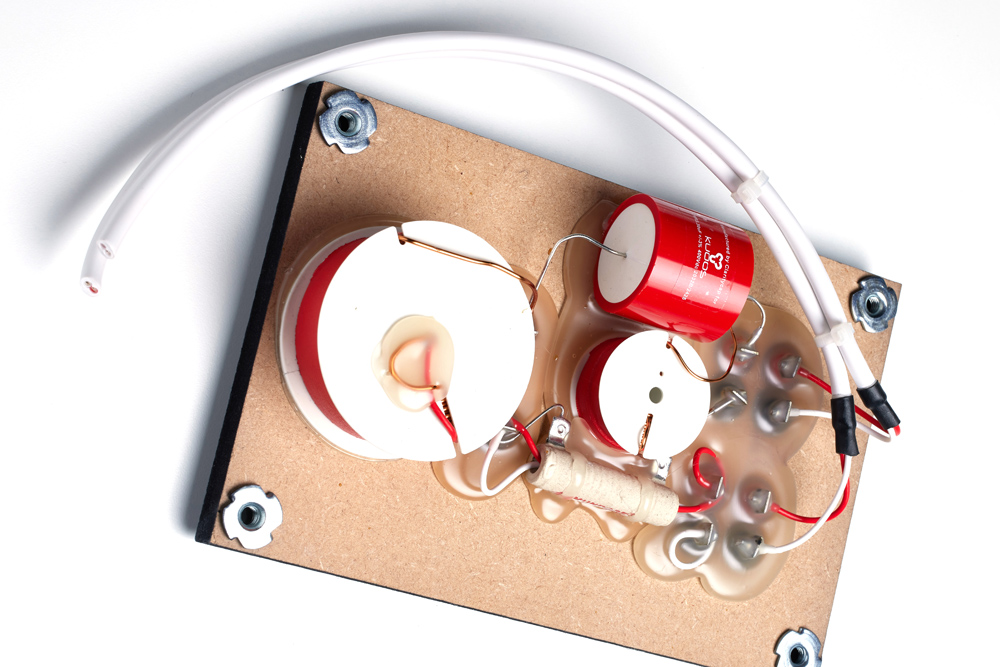 While I found the placement is reasonably forgiving everything suddenly snaps into focus when you have the right isosceles triangle configuration within your room.
So, with my recently coined definition and my personal sonic observations, it's time to get down to business and hear how this all plays out.
Lounging Around
Being a Saturday and with some friends on the way over for some afternoon refreshments, I decided to ease into things with a little "Something More (Hot Toddy Disco Redux)" from Crazy P just to get a feel for the overall tone, room filling and rhythmic abilities. I should also mention (for additional context) that when I do have said lounge music playing, I like it to remind me of being 'out and about' say, at a high-brow beach club like the Ku De Ta or Potato Head. Being a compact stand mount design as opposed to a top-end Funktion-One PA system (which was in use during my visit to Ku De Ta), I was of course preparing to lower my expectations somewhat, however, in the confines of my living room and my smallish courtyard the C10 sounded pretty damn decent!
"But why stop there?" (Said my inner voice). I decided to wire up my SVS SB3000 subwoofer for some additional lower octave reinforcement and see how things evolved. A rough and ready 'ear-tuned' calibration led me to a 44Hz crossover with a 24dB slope which, with some faffing around with the phase and gain controls using some sub 100 Hz test tones produced a satisfactory result given the music and the background nature of the listening.
New day, new tunes… This time, I removed the SB3000 and I selected a set of tunes to allow me to focus on the finer details and ascertain if in fact Kudos is really due…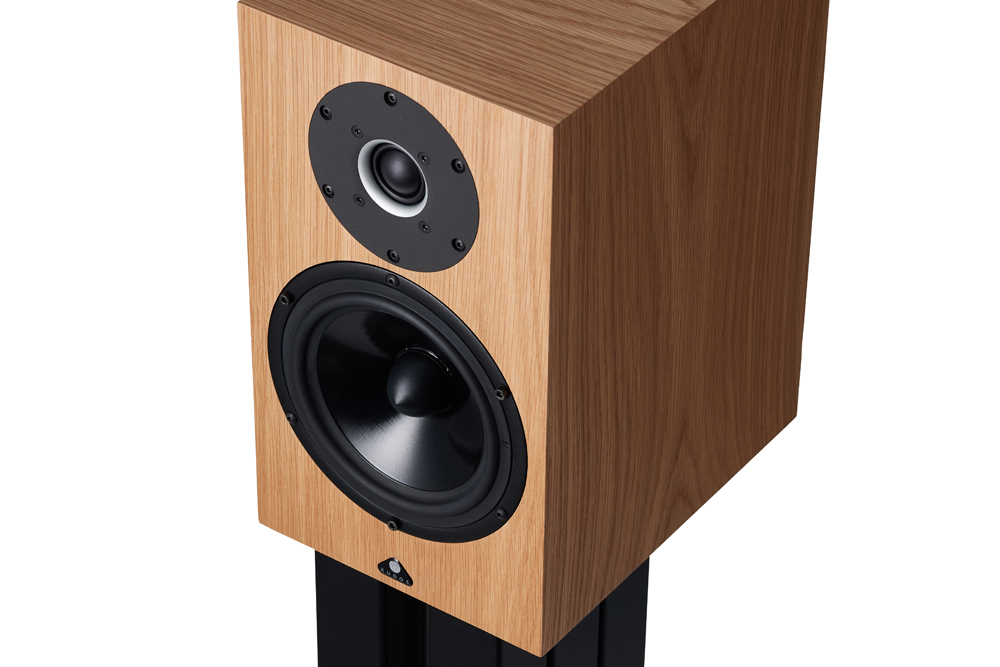 The Waifs' Ironbark album seemed a good starting point and also a great way to begin a Sunday morning. On both the tile track and on "Important Things" Donna Simpson and Josh Cunningham's vocals stood solidly amidst the complex instrumentation which was unravelled with ease by the C10 allowing the mandolin, banjo, and harmonica to blend almost seamlessly with the steel pedal guitar and drums. Nice.
On acoustic music the Kudos are gorgeous. On "My Angel" from Adrianne Lenker's Songs album the acoustic guitar is crisp and resonant – if you close your eyes, you can really imagine she's there in the room with you. Vocals are sweet, full-bodied and free from any obvious colouration.
From there, I moved onto Aimee Mann's "Save Me" from her Nothing is Good Enough album. This song is an absolute delight with its emotive lyrics and flowing melody. Mann's vocals were captivating as they oscillated from soft and gentle to raw and slightly edgy. The C10 had more than enough resolution to make obvious her articulation. The guitars and drums were clearly distinct in their own space amid a soundstage that swelled and contracted to accommodate the placement of the accordion and tambourine.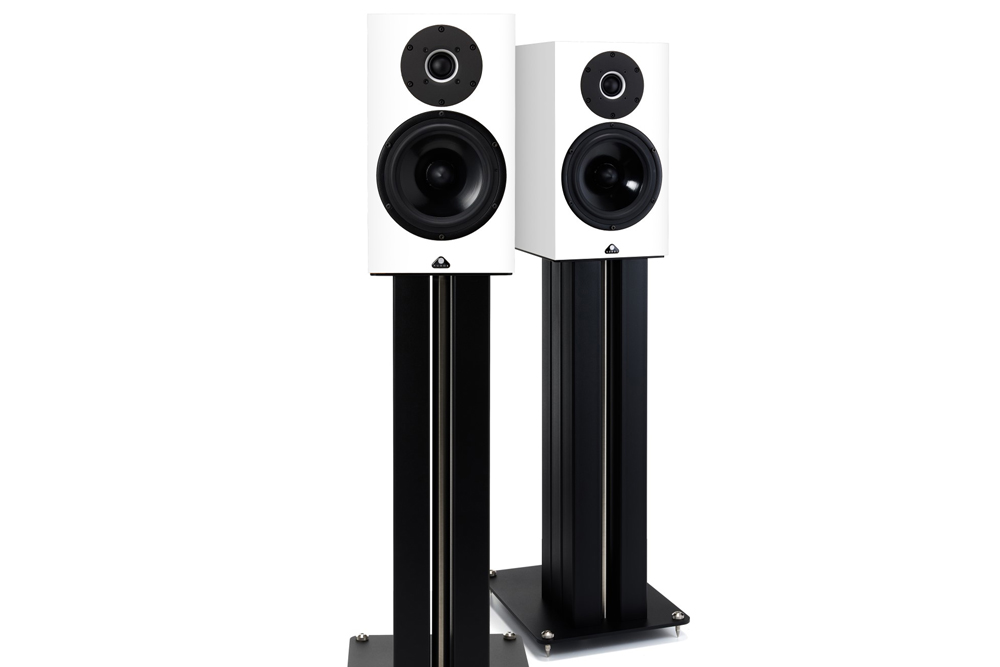 One of my all-time favourite jazz musicians is Ben Sidran. The stand-out track (and my favourite) on his latest album Swing State is the mesmerising "Laura". The double bass at the beginning is taut, powerful and wonderfully resonant, the C10 capturing with ease the sliding of fingers across the strings. The C10 creates a sense of space within the soundstage from which Sidran's piano emerges, vibrant and with surprising attack. The drums were crisp with good impact, and the texture from the brushes was incredibly lifelike. The cymbals shimmering with crystal like clarity showing just how capable the customised Crescendo tweeters are. This is one fine recording of a sophisticated and elegant tune. I'm glad to have Laura in my life!
In contrast to my Amphion Argon 1s, which I praise highly particularly for the price, the C10's were simply more transparent, more energetic and more true to life in the higher frequencies. Their bass was both more extended and well defined and able to fill even a relatively large living space with a balanced big sound that belies their physical stature.
Switching gears to a little electronica I played the Art of Noise's Seduction of Jean Claude Debussy. Consistent with previous impressions the soundstage was large, detailed and expansive. I noted excellent use of port tuning to extend the lower frequencies with a gradual roll-off, yet maintaining quite a good level of punch. There were enough hints of real bass to be satisfying. The level of 'attack' was impressive for a small speaker due, I believe, to the decent efficiency and the simple crossover presenting an easy load for the amplifier to drive. The bass was deep and taut on the track "Born on a Sunday" and again on "Dreaming in Colour" which was spectacular! The sense of pace, energy and the ability of the C10 to articulate John Hurts' deep voice and separate it from the driving bass was excellent.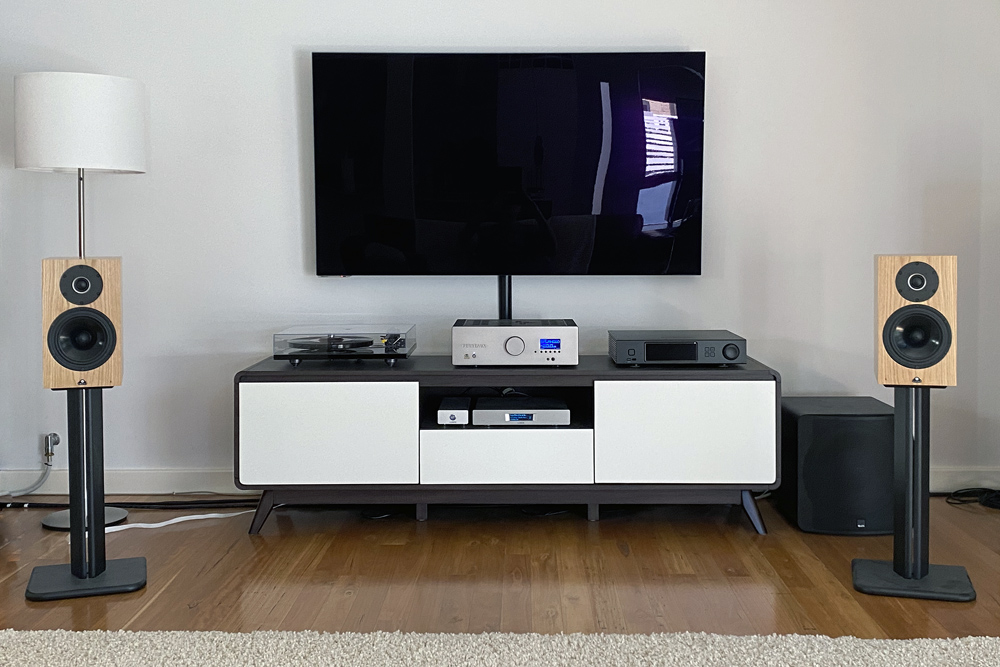 The bass guitar had surprisingly realistic 'bite' on Djabe's "Lava Lamp" while the piano illuminated the room beautifully. The resolution of fine details such as sticks on cymbals was further testimony to the capability of the C10 tweeters. I really loved on this recording how the drums occupied their own space within the soundstage. The C10s really are quite spectacular. This is a fantastic recording as well as musically intense – I decided to replay Lava Lamp with the SB3000 sub connected and wow! Now we are talking. The bass was deep and now with power enough at the right volume to energise the room. There was minimal loss of agility and the drums now snapped and kicked like they do in an acoustic setting. I would have loved to have had another SB3000 so that I could have run one for each channel.
Conclusion
As a standmount speaker at a moderate price the Kudos C10 are remarkable. They sound larger than life and are able to perform well in a moderately sized open plan room. The voicing is well balanced and the bass is still a substantial part of the equation even at low volumes, something quite rare in smaller speakers.
Kudos. They are indeed aptly named. I could live with these!
… Barry Jones
www.soundstageaustralia.com
Associated Equipment
Speakers — Sonus faber Amati Homage
Amplifier — Perreaux e250i 40th Anniversary Edition integrated amplifier
Sources — Digital: Lumin T1, Oppo BDP-105D Analogue: Rega RP6 turntable, Rega Exact-2 cartridge, Rega Aria phono stage & Rega Couple interconnects
Processor — DEQX HDP-5
DAC/Headphone Amplifier — Chord Mojo DAC
Headphones — AudioQuest Nighthawk
Cables — Nordost White Lightning, Kimber Cable Timbre balanced and Van den Hul D-300III unbalanced interconnects, Atlas Compass Digital Coaxial Audio Cable, QED Performance Graphite USB
Miscellaneous — Isotek Sirius Power Conditioner, 8 x Auralex SA8600 bass traps in front wall corners, 12 x Sound Acoustics MP700-40 ceiling acoustic panels
Kudos Audio Cardea C10 Loudspeakers
Price: AU$6900
Australian Warranty: Five Years
Australian Distributor: Audio Magic
+61 3 9489 51 22
www.audiomagic.com.au
Kudos Audio
Harvey Court, Low Willington Industrial Estate
Willington, County Durham DL15 0UT
England
+44 (0) 138 841 7177
www.kudosaudio.com