Wilson Audio subwoofers. Yes, envision those… edifices and you'll be manifesting monoliths worthy of Clarke and Kubrick. In this context, a different influence on the human psyche, an alternate generative force… music can evolve the species. You could say the first Wilson Audio subwoofer was the WAMM companion piece, a monumental supporting pillar for the famed design. More recently, the Subsonic and Thor's Hammer surpassed even the original's grandeur. Both are examples of an elevated ambition, the Subsonic hinting at intense energy and Thor's Hammer at legendary might. If you can call it downsizing, the smaller-scale yet unquestionably powerful WATCH Dog offers a more room-compliant alternative. All are passive designs coupled to bespoke crossovers or controllers and requiring high quality external amplification. Now, Wilson Audio Special Application Engineering, a sub-division responsible for a growing stable of complimentary products, has produced Lōkē, Wilson Audio's newest low-registers transducer... fully downsized.
Rogue Brother
The smallest Wilson Audio subwoofer it may be, yet Lōkē is anything but petite. A somewhat downscaled WATCH Dog mini-me is a more apt description. Nevertheless, it's a substantial unit conceived as the ideal companion to the company's own TuneTot, SabrinaX and Sasha DAW loudspeakers. Of course, it'll work with any suitable speakers. My own Alexia Series 2 is the probably the ceiling for Lōkē but that's not to say there aren't benefits there to be had, as indeed I found. Any model above the Alexia really demands WATCH Dog and up.
Aside from size, another differentiator and a first for Wilson Audio subwoofers, is Lōkē's built-in amplifier. Yes, Lōkē is a mischievous disrupter provoking its stablemates with a built-in weapon. Lōkē's dagger. Much has been said about this element of Lōkē's design. You know, forum presumption from speculators who'd never seen Lōkē, let alone heard it, questioning and second-guessing Wilson Audio Special Application Engineering's decision to incorporate a unit sourced from a supplier known for excellent, yet low cost products.
To be considered here is that, when searching for an appropriate amplification module, Wilson Audio Special Application Engineering (WASAE from now on) went through a scrupulous selection process involving a number of contenders. They found that, as inexpensive as it may be, the chosen module demonstrated remarkable levels of reliability through strenuous tests (the word "abuse" was used to describe the types of stress the amplifier was subjected to), while presenting an excellent features list and also satisfying the high performance requirements befitting a Wilson Audio subwoofer.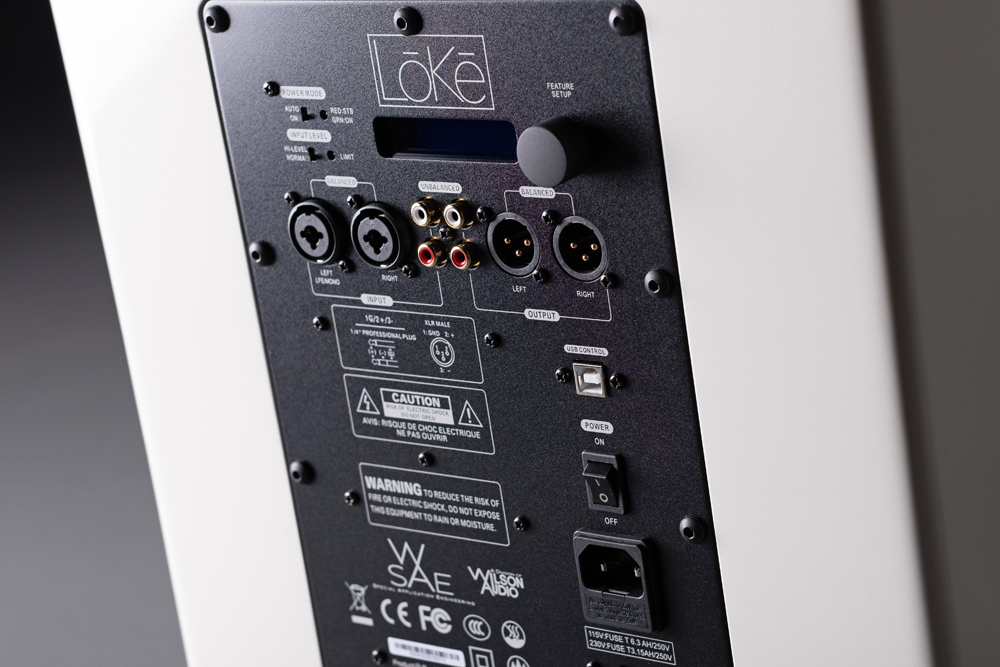 While the amplifier met the engineering team's stringent criteria, it just so happened to be a reasonably-priced unit. One of the key take-aways here is that it's no plain Jane amp. It features a powerful on-board DSP which offers wide placement options and a potential for straightforward integration. In addition, field replacement of the amplifier can be carried out within 15 minutes in the unlikely case of a catastrophic issue. Reliability assurance, however, is provided by the five year warranty on offer.
The amplifier's cost then presented WASAE with an opportunity to employ its deep materials and enclosure design expertise to Lōkē's cabinet architecture. Ergo, WASAE specified a full X-Material construction with substantial stiffening provided by an internal bracing system consisting of HDF and additional X-Material. The super-solid enclosure circumvents the resonance pitfalls of standard cabinet construction. It provides an extremely inert, non-resonant platform for the driver's launch of bandwidth-appropriate amplitude and depth. Further enclosure stability – and bass 'tightness' – is provided via a revised 'Diode' and spike floor-coupling system (floor-protecting discs provided).
On to the 250mm (10 inch) driver. Wilson Audio tells me the woofer is a custom designed-and-built heavy duty driver. It's engineered specifically for Lōkē with a view to providing controlled, high excursion at low distortion levels. Unusually, in terms of subwoofers in general but not so for Wilson Audio offerings, the Lōkē is a front slot-ported design. With the enclosure's inertness controlling peripheral resonances, the ported topology is applied in order to maximise low frequency extension from the mid-sized driver, as housed in a mid-sized box, down to a low and tight +/-1dB at 20 Hz.
So, said on-board amplification offers 500 watts (4 ohms) with a control section mating the in-built DSP with Wilson Audio's own ActivXO technology (the original of which was designed by the legendary John Curl). Connectivity is ample. Inputs are via sockets accepting XLR in both stereo and LFE options and dual RCA (low and high level). Outputs allowing subwoofer daisy-chaining include dual RCAs and dual XLRs. A switchable power mode provides signal-sensing auto operation (20 minutes to standby with no signal) and full-time on/off. A USB-B 2.0 service port allows factory control via PC.
As mentioned above, Wilson Audio quotes Lōkē's frequency response specification to span from 20 Hz to 250 Hz at +/- 1dB. Signal-to-Noise Ratio (SNR) is quoted at 98.4dB while the Total Harmonic Distortion + Noise (THD+N) at 100 Hz at rated power (20-20 KHz Filter) is said to be under 1%. The built-in amplification features extensive protection against short circuit and thermal overload plus power supply faults.
The amplifier features an LCD display which provides settings information and allows navigation – via a rotate-and-double-click knob – to a host of menu and set-up options. Available for set-up via the display are a number of crucial functions such as filters (frequencies, 12dB/24dB slopes, etc.), phase, etc. A Parametric Equaliser (PEQ) is also available on-board with Low-Q/High-Q options and a wide -12dB cut to +6dB gain adjustment in fine 0.1dB steps. The overall volume level spans between 0dB and 99dB in fine 0.1dB steps. So yes, there are lots of tools in the toolbox for performance and integration optimisation.
While I experimented with a variety of settings – especially the filters in order to adapt to Alexia 2's own FR – my experience with Lōkē showed it to be a master integrator. Of course, I set the crossover point reasonably low in light of Alexia S2's low-end extension, a fact that provided even further ease of integration. I also experimented with the crossover point set a tad higher than I would normally in order to gauge Lōkē's performance in the upper bass region. Yes, the balance was overdone (maybe not so for bass freaks) but there was never boom nor the one-note bass phenomenon – things were always tight and precise.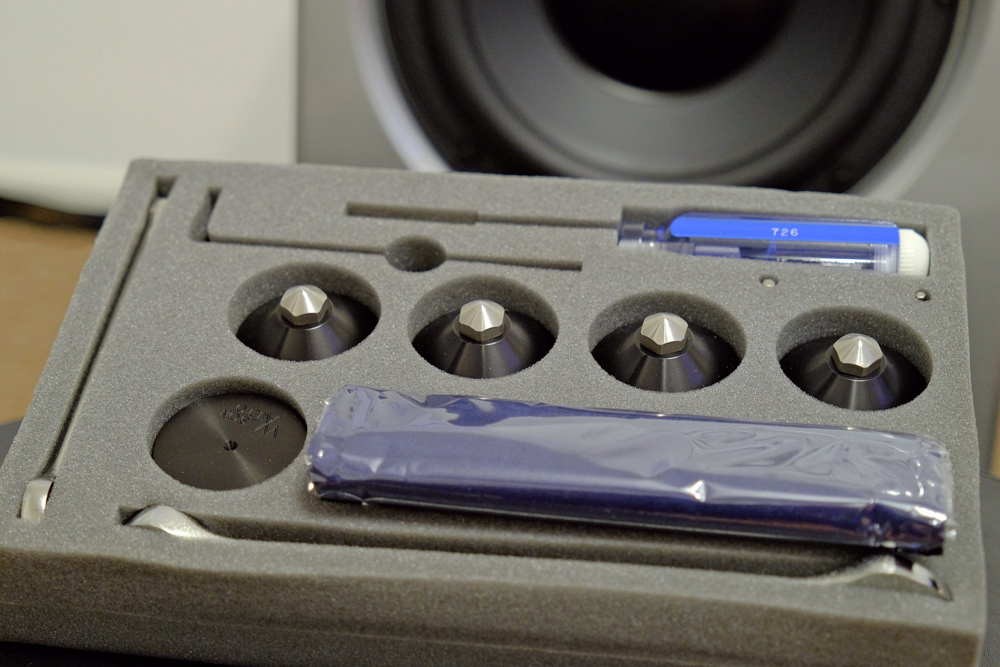 Through a relatively short span of room location fine-tuning, I ended-up positioning Lōkē just behind the left-hand speaker and about 200mm from the wall. This location allowed Lōkē to truly disappear. No mean feat for a mid-sized subwoofer.
An unusual feature of Lōkē is its front slot-ported design at a time where the majority of active subwoofer systems are sealed designs. One advantage of a sealed design is the slow roll-off which tends to provide the perception of added bass depth. However, the other side of the coin – at least in my experience – is the manifestation of a somewhat reduced output/amplitude in the mid-to-upper bass registers where, for example, the kick drum and electric bass live. I suspect Wilson Audio engineers aimed to cover both aspects of performance with a subwoofer which, after all, is targeted at high quality stereo augmentation (although nothing stops Lōkē from being an excellent home cinema performer too if you're seeking accurate bass). What's more, the low-frequencies' tonal signature would be simpatico with the ported architecture of all Wilson Audio's loudspeaker systems – so the potential integration synergies are there right at the outset.
Launching Foundation
What to fire-up to first test Lōkē's bass powers? Well, first port-of-call was the devastatingly powerful Blade Runner 2049 soundtrack. The track "Blade Runner" showed Lōkē to be capable of excellent extension coupled with a tightness which revealed a wide gamut of textural colours. One note bass this is most definitely not. This was punchy, percussive bass which blended seamlessly with Alexia S2's own rather capable low-end. The bass pulses on this superb soundtrack were deep and powerful… your room best be free of rattle-and-shake furnishings.
Mogwai's cinematic adventures into mood and ambience often showcase the atmospherics low frequencies can imbue the music. From the album Atomic, the tracks "Weak Force" and "Little Boy" permeated the room with a mood-enhancing tide of precise bass. There was zero boom. Neither was there musically-disruptive bass overhang nor an amplification of enclosure resonance excitation. On that last item of cabinet distortion, some subwoofers augment an inherent resonance within a narrow frequency band, the excitation manifesting itself as an exaggerated colouration or distortion to the music. Never here.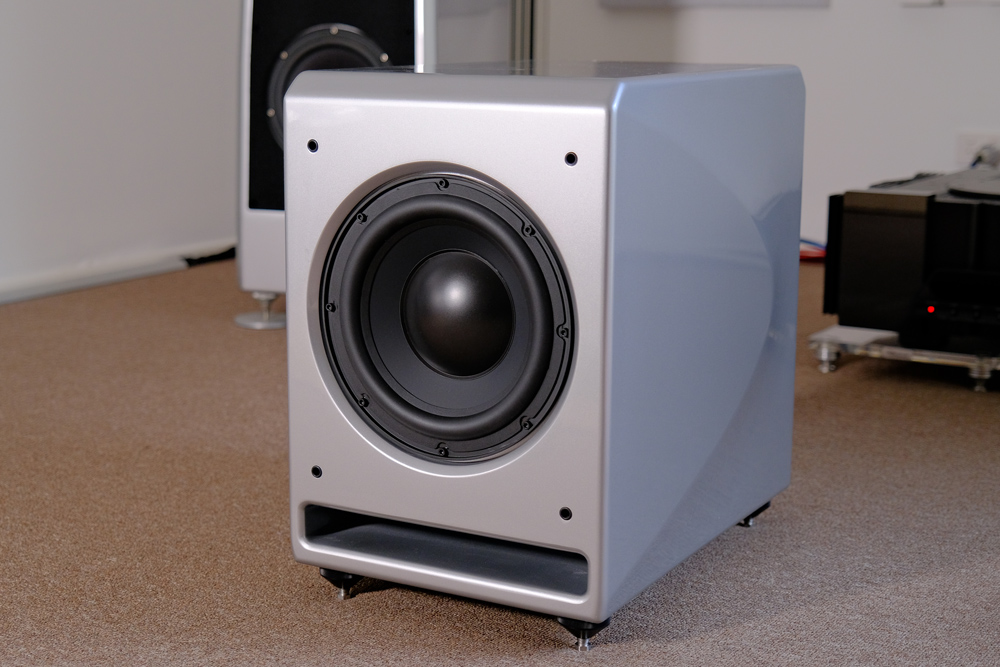 Again from that most excellent of bands, Mogwai, this time from the album Young Team, the bass notes which launch "Like Herod" ever so flawlessly blended into the fabric of the system's presentation. When the guitars explode into a cacophony of discordant power a couple of minutes into the track, again, there's just an onslaught of music which negates deconstruction into frequency bands. It's all just one homogeneous low-end presentation which preserves the integrity of the music. The Alexia S2's superb coherence, of course, being a major contributing factor here too.
The track "Desert" from Felice Del Gaudio's stunning album of the same name, sees the vibrations and resonance of the master's acoustic bass clearly communicated with excellent tonal accuracy. It just sounds like an acoustic bass… an instrument which I've heard live and unamplified so many times. Fidelity is the key word. The main speakers' integrity through the bass regions is left untarnished by Lōkē's accurate output – in my opinion, that's no easy task for a subwoofer, not just in terms of reproduction but, importantly, in its ability to reproduce tonal parallels. From the same album, the track "U Cupi Cupi" shows the same level of faithfulness to the instrument while also providing a great sense of uniformity through the low percussive beat at the track's intro.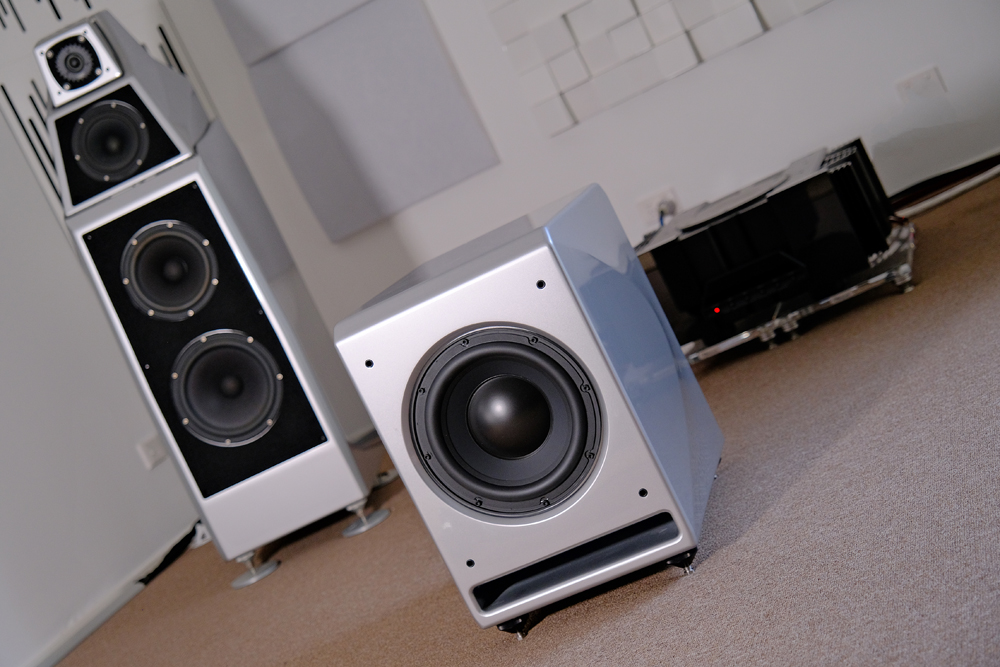 Large orchestral works exhibited an enhanced sense of space and a slightly more open soundfield with the Lōkē in-situ. At the risk of having my observations misinterpreted, the Alexia S2 is more than capable of providing extraordinarily powerful bass. In fact, the slightly lossy nature of my room, in conjunction with Vicoustic's corner bass traps, makes for a very balanced bass register which bass freaks may consider ever so slightly… light for want of a better word. The Lōkē just subtly filled-out the low-end to make it a touch more overt without tipping, or indeed ever approaching, artificial pyrotechnics territory. Nice and accurate as I like it. Yet, music was delivered in a way which engulfed the listening position allowing emotional engagement while moderating outright analysis.
Conclusion
Fact 1: The Lōkē is Wilson Audio's baby sub. It's an entry point into the company's loudspeaker augmentation offerings, amalgamating a quality bespoke low-end transducer with powerful feature-rich amplification.
Fact 2: Lōkē benefits from the proprietary materials and super-inert construction that are synonymous with Wilson Audio enclosures. That, of course, enhances the value formula. By the way, knock on the side of the cabinet and all you'll hear is your bony knuckles.
Fact 3: Simply put, Lōkē sounds freakin' good. While it's certainly capable of being a dinosaurs-bombs-and-jets thumper, its design mandate was for a stereo-centric, consummately easy-to-integrate subwoofer to augment Wilson Audio loudspeakers. Ideally up to Sasha DAW level, mapping an upgrade path for those seeking extended low-end. In my case, it was surprisingly efficacious with Alexia S2.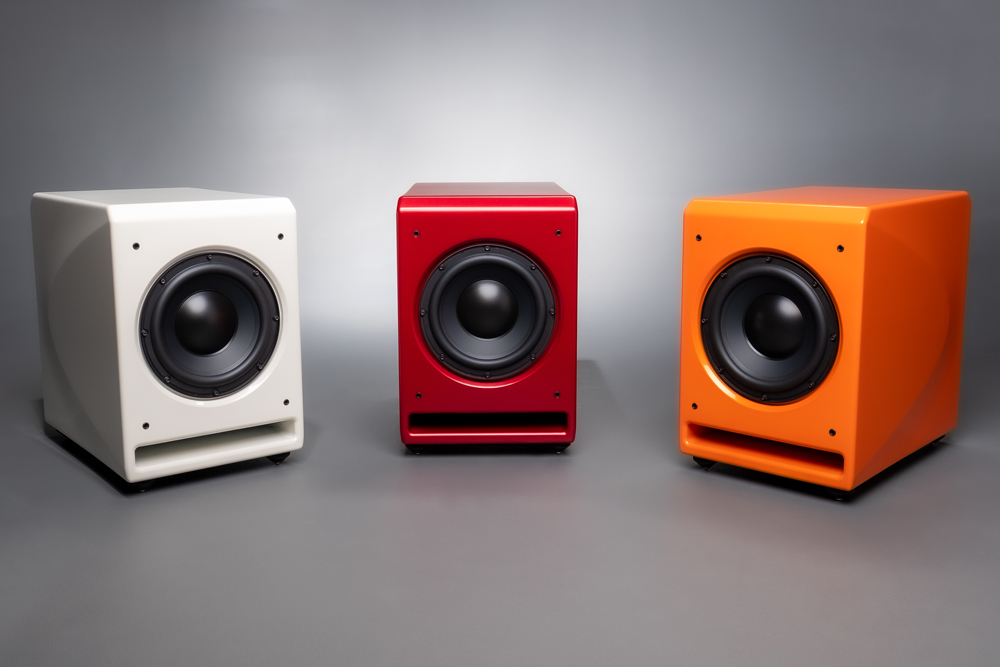 Finally, build quality and finish is peerless and, to reiterate, sonic performance is firmly in the rarefied air of proper music subwoofers. It's tight, deep, textured and coalesces in solid partnership with your mains. Hand-in-hand. This is a sub with high quality stereo in its DNA.
Within its exalted familial clan Lōkē, God of Mischief, is the renegade… the positive disruptor.
… Edgar Kramer
This email address is being protected from spambots. You need JavaScript enabled to view it.
Associated Equipment
Speakers — Wilson Audio Alexia Series 2, Axis Loudspeakers VoiceBox S (nearfield monitor), Vermouth Audio Little Luccas Mk.II
Amplifier — Gryphon Audio Antileon EVO
Preamplifier — Supratek Cortese, Totaldac d1-direct DAC
Sources — Digital: 432EVO High-End Music Server Roon Core, Yamaha CD-S2100 transport, Totaldac d1-direct DAC. Analogue: Transrotor Crescendo with Konstant Studio controller, Reed 1X Tonearm with upgraded internal wiring, Shelter Harmony cartridge, The Funk Firm Houdini cartridge decoupler, Supratek Cortese & REDGUM Audio RGPH2 phono stages
Processor — DEQX PreMate (part of arsenal/casual use)
Cables — PSC Audio custom design XLR, Vermouth Audio Reference loom,ZenSati Zorro loom, Cables for Music Songbird speaker cables
Audio Rack — SGR Audio Statement Model V
Acoustic Treatment — Vicoustic Multifuser Wood, Wavewood Ultra, Cinema Round Premium and Super Bass Extreme
Miscellaneous — GigaWatt PF-1 EVO, Les Davis Audio Viscoelastic CLD discs, VRC Vinyl Record Cleaning systemplus miscellaneous accessories
Wilson Audio Lōkē Subwoofer
Price: AU$13,995 (Standard Colours), special/custom colours available at extra cost
Warranty: Five Years
Australian Distributor: Advance Audio Australia
+61 2 9561 0799
www.advanceaudio.com.au
Wilson Audio Specialties
2233 Mountain Vista Lane
Provo, Utah 84606
United States of America
1 801 377-2233
www.wilsonaudio.com