While evolving technologies have changed the electronics space, notably in developments across Class-D amplification, through to streaming software/hardware platforms and in music delivery, innovation in dynamic loudspeaker design has been more about progressive refinement rather than transformation. Fundamentally, a magnet, coil, spider, cone/dome, etc. have been the transducer's consistent core elements since its invention by Kellogg and Rice in the 1920s. What's more, the benefits of advanced diaphragm materials over 'Ye Olde' plain paper or cloth have been fervent fodder for subjective and empirical debate by engineers and audio enthusiasts alike. Nonetheless, the team of designers at Wilson Benesch has refined the concept, enhancing aspects of the company's revolutionary first-gen product to position the new A.C.T. One Evolution at the cutting edge of loudspeaker design.
No Mere ACT
Part of the technology-driven British company's comprehensive Geometry flagship series, which spans across 10 models including the unique and multi-award winning Torus subwoofer, Wilson Benesch's A.C.T. One Evolution is the line's second floorstander sitting above the Vector model. The company also produces the more conventionally-styled, yet still advanced Precision series, the Analogue Collection which offers the innovative Circle 25 turntable along with a choice of carbon fibre tonearms, plus a high-end equipment rack in the Furniture series.
The A.C.T. One Evolution is a direct descendant of Wilson Benesch's foundational loudspeaker product, the now classic A.C.T. One. The A.C.T. moniker adopted for that landmark product stands for 'Advanced Composite Technology', a term that entirely encapsulates the very essence of Wilson Benesch's materials design philosophies.
Back in the early 1990s, Wilson Benesch, then a fledgling company, was granted government financial assistance as a push-along to bring to fruition its first highly advanced loudspeaker design. The UK government obviously saw the potential (also evidenced by the success of Wilson Benesch's launch product, and recipient of the UK government's first financial grant, the A.C.T. One turntable and tonearm), matching the company's R&D funds effectively doubling its budget and expediting development. And indeed, the design lived up to expectations, with the A.C.T. One garnering high critical praise, scoring a number of awards and, importantly for the company's future, achieving commercial success.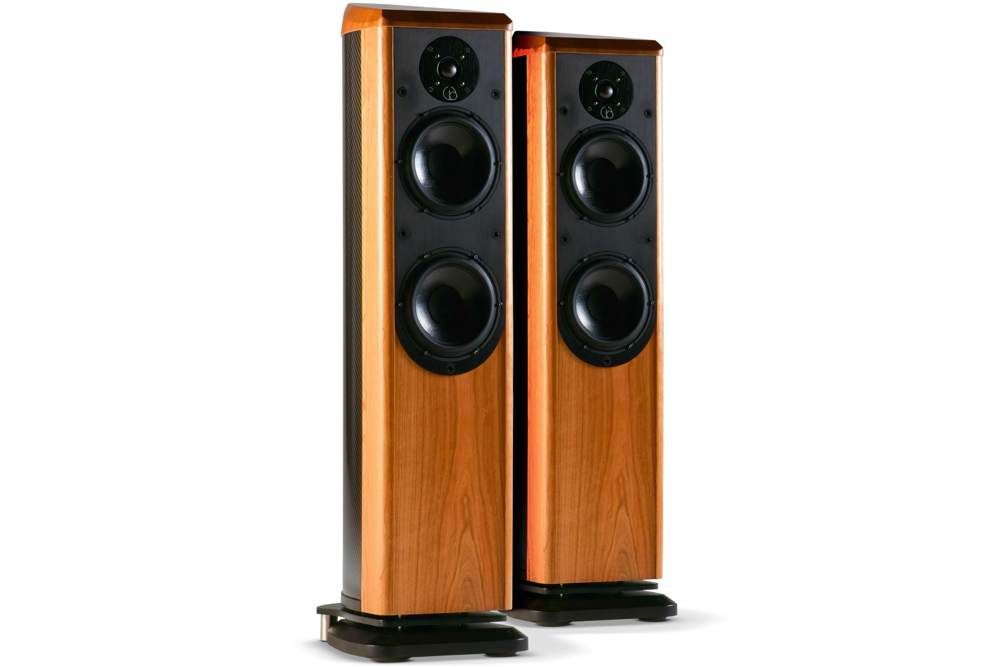 The original landmark product: Wilson Benesch A.C.T One
That first effort by Wilson Benesch provided enough inspiration for the UK government to support the company with further projects. It's relevant to state that at the time, in the UK, Wilson Benesch's adoption of carbon fibre in loudspeaker construction was pioneering and, until then, had only been used in high-tech F1 racing and the military. In fact, Wilson Benesch claims the A.C.T. One was the first loudspeaker to feature curved carbon fibre composite panels and "… a sloping top and a solid metal baffle that had also never been seen in any loudspeaker previously." So the A.C.T. One Evolution is a direct descendant of what can be regarded as a landmark design. It has a lot to live up to.
As a company, Wilson Benesch has grown exponentially and now employs a reasonably large workforce led by a skilled team of designers and engineers. What's more, the company has made substantial investments in advanced CNC and carbon fibre Resin Transfer Mould technology (VRTM) machines, bespoke 3D modelling and acoustic software. So Wilson Benesch is a highly sophisticated manufacturing concern dedicated to designing state-of-the-art products – the A.C.T. One Evolution being a key design which, as stated above, is the archetypal embodiment of the company's core philosophies.
High Fibre
Befitting the flagship Geometry series, the A.C.T. One Evolution features extensive carbon fibre enclosure construction supported by a massive anodised aluminium alloy baffle housing bespoke driver technology. The A.C.T. One Evolution is a 2.5-way featuring four custom drivers optimised for their respective duties within ported sub-enclosures tuned to provide the adequate loading.
The drivers are Wilson Benesch designs, with the 25mm 'Semisphere' hybrid tweeter being the result of extensive research into materials technology. The tweeter's dome is constructed from a composite of… you guessed it, carbon fibre and silk, a unique blend which the company claims has a more natural and cohesive sonic performance than the more commonly used hard domes. The driver sits within a shallow and smoothly profiled waveguide designed to provide the target dispersion characteristics.
The tweeter shares its sub-enclosure with a Wilson Benesch Tactic II 180mm midrange driver featuring a powerful neodymium magnet system. The driver is derived from the company's Cardinal über flagship loudspeaker. The rear ported sub-enclosure has been volume-optimise to provide a natural acoustic roll-off. Directly below is another optimised rear ported enclosure housing yet another 180mm Tactic II driver, this time tasked with providing coverage for the lower midrange. The volume of each enclosure – 12.9l for the tweeter/midrange sub-enclosure and 7.1l for the lower midrange sub-enclosure – has been specifically tuned to provide smooth transition between drivers therefore simplifying the crossover network design.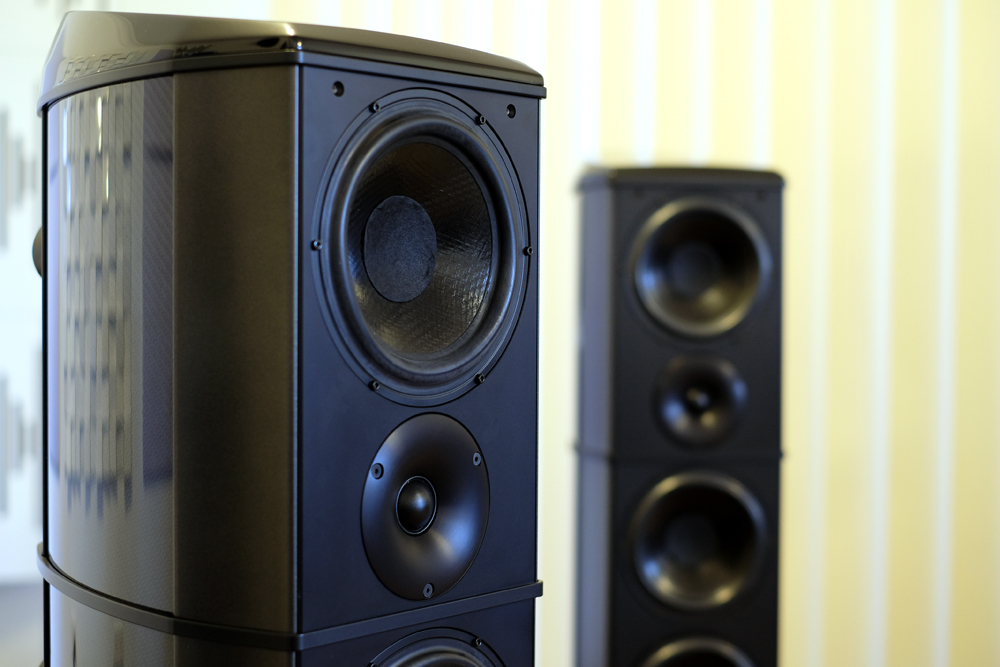 Within its own 25.7l sub-enclosure, the 180mm Tactic II bass driver features a maximum flux large neodymium magnet motor system designed in conjunction with Sheffield University. The diaphragm is constructed from Wilson Benesch's 'Isotactic Polypropylene' cone material also used across the midrange drivers. The bass sub-enclosure features a widely-flared bottom-facing port.
The A.C.T. One Evolution speakers sit on a massive steel outrigger system which provides stability by widening the bottom surface width while also allowing manual rake angle adjustment simply by turning the rear wheel grip (the importance of this adjustment was discovered through the listening sessions – read below). Wilson Benesch has designed a cunning 'kinematic' coupling system which is height adjustable and is an integral part of the outrigger. A threaded bolt tipped with an embedded 6.75mm metal round ball screws into receptacles at the front of the outrigger while similar ball-terminated bolts screw in from above at the rear. The four bolts are then sit coupled upon a machined metal puck platform/floor protector. The puck itself houses three 6.75mm metal ball bearings which are grouped to support the round-tipped bolt in order to manage and/or drain mechanical vibration and energy through 'kinematic' coupling.
Of course the entire construction is crowned by a superb enclosure which has been designed using various materials chosen for their heightened stiffness and vibrational distortion control. It's an A.C.T. (Advanced Composite Technology) monocoque design with alloy and carbon fibre sandwich walls, a curved carbon fibre composite top panel and a precision-machined alloy baffle. Minimal volume-robbing bracing has been employed aside from the mechanical stiffness provided via the sub-enclosures mentioned above. To the inherent stiffness of the composite material cabinet walls, further solidity is provided by an external alloy ribbing system. To sum up, the cabinet is extremely inert.
The speakers' binding posts provide for bi-wiring (high quality cable links are provided) and are now positioned on the lower rear panel. I believe the previous version's binding posts were located not-so-conveniently on the bottom panel. The binding posts are nut style and require a spanner in order to loosen/tighten. Said spanner and all the machined parts and accessories such as spikes/bolts and kinetic coupling system are all neatly presented within shaped foam inserts in a good quality plastic flight case.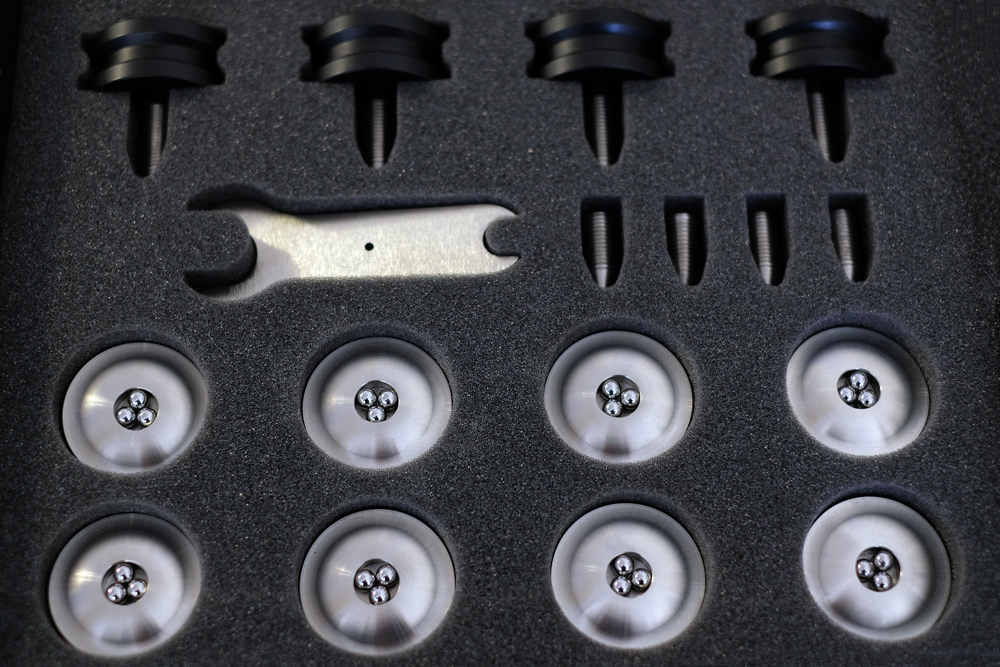 The A.C.T. One Evolution is available in a variety of gloss carbon fibre side panel colours which combine 'cheeks' in anodised aluminium. For a more natural look, a variety of beautiful gloss timber veneers are also available. The ribbing system mentioned above is also matched to select finish options. The review sample came with immaculate natural carbon fibre side panels, a perfect mirror-like black gloss top, dark anodised alloy cheeks and matching ribs. The cabinet construction, finish and the outrigging system are all finished to the highest standards. Yes, the fully handcrafted in the United Kingdom A.C.T. One Evolution are among the very best constructed and finished speakers I've reviewed.
The A.C.T. One Evolution has been specified with a frequency response spanning from 34Hz to 30kHz at +/- 2dB while the system impedance is stated as 6 ohms nominal with a low of 4 ohms. Sensitivity is quoted as 89dB at 1 metre on-axis for a 2.83V input. Crossover points are stated as 180Hz, 500Hz and 5kHz. While seemingly easy to drive on paper, Wilson Benesch recommends amplification of at least 100 watts.
ACTing Up
Over time, I've pretty much mapped-out the best locations in the room for loudspeakers of varying types and the somewhat different requirements of both sealed enclosures and front or rear ported designs (within reason and the compromises of my system layout). The A.C.T. One Evolution speakers were easy enough to position and sounded very good from the get-go. But something was not 100 percent…
While most parameters of music reproduction were being reproduced extremely well – and I'll get on to those soon enough – there was a hollowness, a midrange suck-out which made vocals and midrange-heavy music seem distant and detached from the rest of the spectrum. For example, Sarah Jarosz's gorgeous vocals were deep-set, with a somewhat 'honky' nasality while also being buried within the instrumentation. Thomas Blug's often searing guitar fireworks were dynamically diminished and lacked presence. And so on…
I once experienced a similar trait – but to a lesser extent – with a pair of Thiel CS2.3 speakers I owned, and loved, for several years. Back then I found after some experimentation that by tilting the speaker backwards marginally (either by extending out the front spikes or further inserting the rear ones) I would get a more filled-out, fuller-bodied, more dynamically engaging midrange presentation.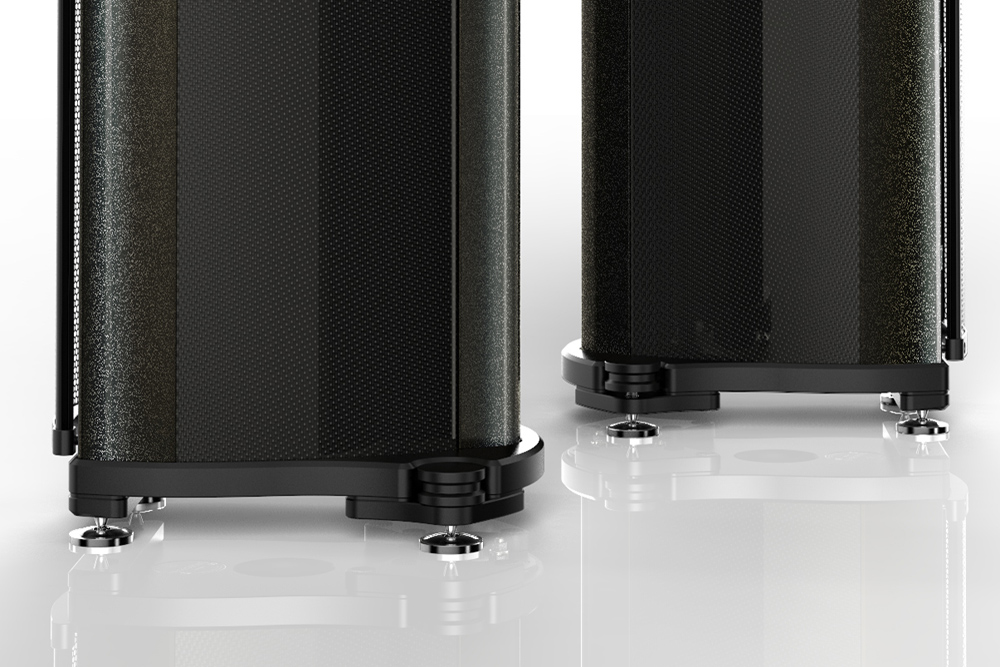 Going through the same motions with the A.C.T. One Evolutions via a few degrees of backwards tilt, followed by careful listening, sorted things out. This was an easy strategy to administer due to the loudspeakers' rear outrigger grips which, by turning in either direction, can raise or lower the tilt angle. In this case, further embedding the rear spikes and raising/extending outwards the front ones, for an effective difference of approximately 15mm between front and rear, did the trick. In the examples talked about above, Sarah Jarosz's voice took on a marked sense of presence and neutrality while projecting a tad forward of the speaker plane, as I know it should. Blug's guitar was now attacking, dynamic and cut through the mix.
Having sorted that one concern, I moved on to auditioning a variety of material and genres. Nicolas Parent Trio's "Solo IV" from the album Trio was handled beautifully in terms of the micro-detail and harmonic structures of the tightly-picked guitar strings. The A.C.T One Evolution's tweeter is a very revealing and extended transducer which is capable of reproducing thorough amounts of information. It's 'fast' too, which rendered the notes with excellent separation and transient attack, coalescing beautifully with the midrange driver even if overall 'body' through the mids was a tad leaner-sounding than I'm used to.
A bass killer, the track "Tranceportation" from the Tranceportation Vol.2 album by Sonar with David Torn showed-off the A.C.T. One Evolution's low frequencies prowess. This album's bass registers are recorded at '11' but in the context of good loudspeakers and corresponding room coupling, the bass will be generous while simultaneously being tight and nuanced. No problem here. The Wilson Benesch speakers properly reproduced the depth, volume and overall immensity of the low-end without a trace of boom, overhang or distortion. Clean, accurate and expressive would be describers of the A.C.T. One Evolutions across the bass.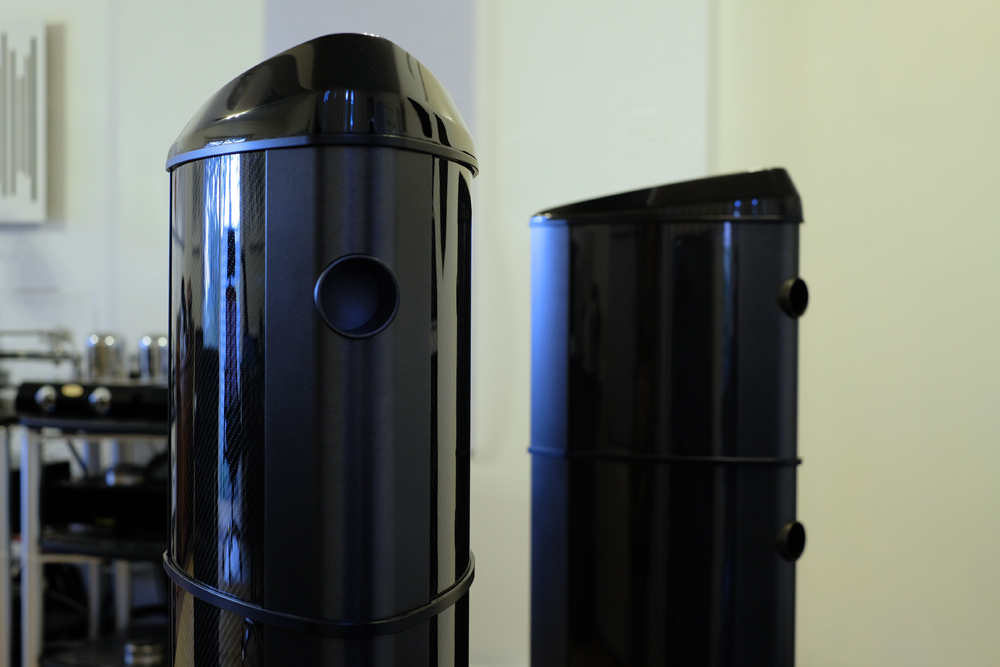 They are not shy when it comes to dynamic impact either as shown by the handling of Nenad Vasilić's stand-up bass on "For Luis" and "Gavilo's Prinzip" from the maestro's Bass Room release. The speed of attack, general depth and attention to rhythmic flow via the A.C.T. One Evolution speakers was extremely satisfying and, in all but the most cavernous of rooms, it will be appropriately substantial.
The same tidiness, order and accuracy applies to the midrange spectrum. There was clarity and delicacy in addition to startling presence to Lina Nyberg's voice on "Where Flamingos Fly" from her Aerials double album. It's a lively sound – the tweeter and midrange combo is never shy but balances that without sounding overtly forward. Excellent timbre, accuracy and attack were shown on the track's multitude of percussive effects, each separated in a way that neither distracted from the vocals nor compromised the 'vibe' of the unusual and interesting track. Tonally, just a tad of brilliance skews some instruments ever so subtly into the higher frequency range. Noteworthy is the deep silence in-between the notes which accentuates separation and micro-detail rendition. The interplay between the snapped guitar notes and the percussion was a pleasure to hear, either through the standalone passages or when the interplay simultaneously supported Nyberg's vocals.
The beauty and sheer aural splendour of Masaa's Rabih Lahoud's emotive vocals on "Sara" from the exceptionally beautiful Irade album was communicated in a most engaging manner by A.C.T. One Evolution. The recording venue's ambience is expertly conveyed with extension and 'air' placing the group in a large soundstage populated with sharply-focused images.
In fact, imaging was one of the A.C.T. One Evolution's most alluring strengths. The speakers totally disappear, leaving just the music. When the recording permits, you can wallow in a massive soundstage with extraordinary width and height while the depth perspective is exceptional. Localising instruments to the speakers are a challenge you're likely to come second best at – these speakers are exemplars of soundfield reproduction.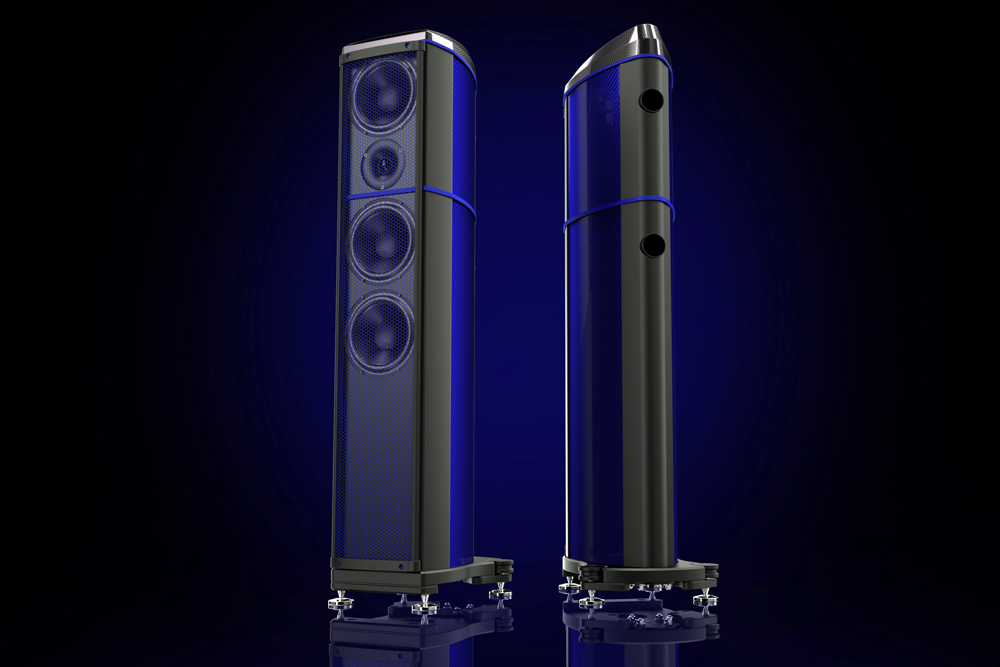 Given the enormous soundstage I was able to obtain in the context of my treated room, I visited some of my favourite orchestral works. From Beethoven to Brahms, Debussy, Vivaldi captured in a variety of studios and venues. Orchestras spread large and wide, as they should, with the various sections precisely localised according to their traditional positions. Always, the soundstage impressed in terms of size and the loudspeakers' pinpoint image placement accuracy.
Ditto for Jazz ensembles such as Yuri Honing Trio, where the track "Some Unexpected Visitors" from the Star Tracks album presented the three protagonists expertly recreated via highly-focused positions within the large soundfield. "Walking on the Moon" from the same album sounded powerful and dynamic, especially through the thunderous percussion intro. Later towards the final parts of the track as it builds and the complexities of the players' interplay accumulate, the sax cuts through sharply individualised from the banging drums and low undertow bass. Excellent resolution/separation shown here.
Soundfield and imaging accuracy is attributed to a number of basic elements requiring wise design and skilful engineering foundations. Cabinet architecture in terms of controlling diffraction anomalies, baffle contour design and driver position/placement are important measures (decoupling the drivers via gaskets, baffle isolation, etc. can provide further enhancements). Equally crucial in order to obtain soundfield size and image specificity are tight driver manufacturing tolerances, strict driver matching at the development and design stages, exacting assembly tolerances, strategies for enclosure isolation or coupling system and, most significantly, thoroughly engineered crossover design. This latter aspect requires both comprehensive measurements and testing combined with proficient listening/voicing. On all those counts – and more – the Wilson Benesch designers achieve the highest scores. The A.C.T. One Evolution is an engineering wunderkind.
Conclusion
The Wilson Benesch A.C.T. One Evolution is an intellectually stimulating loudspeaker. I mean that both in terms of its intelligent engineering across all aspects of its design and in the way it presents music. It has a way of engaging you in a manner that makes you think about what you're listening to. Other designs may draw you in and engulf you in sheer emotive bliss. The A.C.T. One Evolution is capable of that too, however, it also engages your neurons on a cerebral level. At least that was my experience.
Exceptional engineering aside, it's also an aesthetically attractive design which has been meticulously constructed and flawlessly finished. The A.C.T. One Evolution loudspeakers force you to take notice. That is a lot to think about. And feel. Go on, engage your senses…
… Edgar Kramer
This email address is being protected from spambots. You need JavaScript enabled to view it.
Associated Equipment
Speakers — Wilson Audio Alexia Series 2, Axis Loudspeakers VoiceBox S (nearfield monitor), Vermouth Audio Little Luccas Mk.II
Amplifier — Gryphon Audio Antileon EVO
Preamplifier — Supratek Cortese, Lightspeed Attenuator LDR passive
Sources — Digital: 432EVO High-End Music Server Roon Core, Yamaha CD-S2100 transport, Totaldac d1-direct DAC. Analogue: Transrotor Crescendo with Konstant Studio controller, Reed 1x Tonearm with upgraded internal wiring, Shelter Harmony cartridge, Supratek Cortese & REDGUM Audio RGPH2 phono stages
Processor — DEQX PreMate
Audio Rack — SGR Audio Statement Model V
Acoustic Treatment — Vicoustic Multifuser Wood, Wavewood Ultra, Cinema Round Premium and Super Bass Extreme
Miscellaneous — GigaWatt PF-1 EVO, Les Davis Audio Viscoelastic CLD discs, VRC Vinyl Record Cleaning system plus miscellaneous accessories
Wilson Benesch A.C.T. One Evolution Loudspeakers
Price: AU$39,990
Warranty: Five Years
Australian Distributor: Nirvana Sound
1300 988 366
www.nirvanasound.com
Wilson Benesch Ltd
Falcon House, Limestone Cottage Lane
Sheffield, United Kingdom
+44 (0)114 285 2656
www.wilson-benesch.com