River Red Gums are very large, fast-growing, spreading trees with huge trunks that can extend more than five metres around. As the name implies, they grow along rivers and their wood when freshly exposed is a bright red, almost blood-coloured. Apparently Red River Gum trees can live for up to 700 years. I dare say that might be longer than today's REDGUM Audio electronics products would last but you never know – the company's Articulata looks pretty indestructible too. And both are quite unique and native to Australia.
Nice people
REDGUM Audio is based in Emerald Victoria, an outer suburb of Melbourne Australia. The company was founded by Ian Robinson and Lindy Gerber around 27 years ago. Robinson's experience is extensive and I can only scratch the surface here. He re-conditioned Hi-Fi gear for about 10 years before opening his own shop-front where he was an Authorised Service Agent for many international brands for 25 years. After many years' of listening and service experience with various amplifiers, Robinson was confident he could do better so he took the step of founding REDGUM Audio P/L.
REDGUM Audio (herein simply called REDGUM) released its first product in 1993 and was incorporated with its legal name in 1995. Ian and Lindy are still the driving force behind REDGUM Audio. Ian is the chief designer – together they design and build all REDGUM products in their factory in Melbourne. The company has long since expanded into designing and building REDGUM line preamplifiers, phono stages, monoblock amplifiers, DACs, CD players and speakers. And of course, they make the subject of this review, the top-level Articulata Integrated amplifier within their Amplifolia range of integrated amplifiers.
Our Editor-in-Chief at Soundstage! Australia told me in advance that the people at REDGUM were some of the most friendly and nicest people in the business. Well, he was absolutely spot on. Ian Robinson and Lindy Gerber are never too busy to take your phone call or answer your email. And when they do, it is always prompt and with real interest, consideration, politeness and caring. You can easily understand why REDGUM customers stay with REDGUM products, and why you seldom see REDGUM products offered for sale on the used market.
Why the name 'REDGUM Audio'? Well, Ian has always loved the majesty of the River Red Gum tree – it is quintessentially Australian. The products in the Amplifolia range show off a beautiful solid one-piece Red Gum face plate, harvested from plantation timber. He sums up his admiration when he says "Like our products, each piece is outstanding and unique".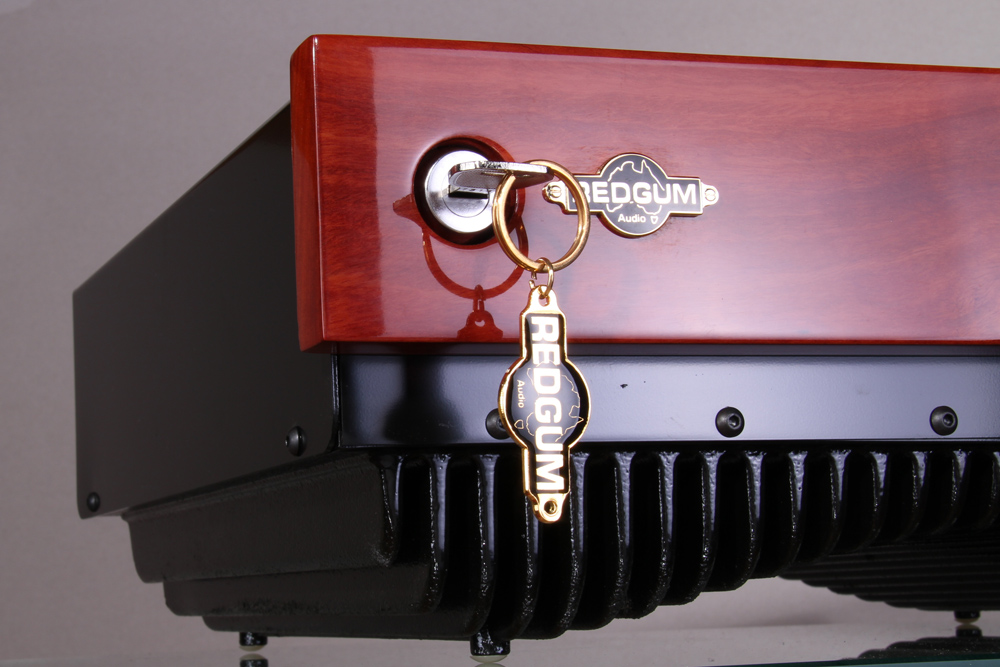 As well as that famous face plate, the REDGUM Articulata has a rather quirky way to be turned on/off. It requires a key, yes a key! Once the key is in the 'On' position, this enables the codes from the remote to be acted upon. The key can be then removed while in the 'On' position, leaving the amp permanently enabled. The idea is that parents can lock out their kids from using the amplifier if they wish, and of course, thieves can't use it or easily sell it (unless you've left the key in place or activated in the 'On' position, of course!). The keyring features a metal REDGUM badge which is also replicated as a plaque on Articulata's fascia.
The other quirky thing that people no doubt immediately notice is that the heatsink is on the bottom of the amplifier. Some people may like to think this is so because it's from "down under"; REDGUM is happy to allow free rein on that thought. But the truth of the matter is that this beefed up 7kg 'SignWave' heatsink was introduced in 2005 to meet expected changes in the market, in particular, the trend to lower speaker impedances and hence higher thermal temperatures inside the unit. The high-powered output devices are direct-coupled to the body of this heatsink casing. Although it might seem contrary, it works – neither chassis nor sine-wave-shaped heatsinks ever got hot.
Built to last
After some deliberation and testing, Ian chose audiophile-grade, high powered and extremely tough MOS-FET output devices – four per channel which are direct-coupled to the "SignWave" heatsink using silicon conducting sheets. These silicon conduction pads also provide improved longevity over the old 'mica and paste' type mounting which can dry and crack with age.
The available power is 200 watts per channel, with approximately the first 8 watts in Class-A. However, what's more important than watts per channel is how the amplifier generates those 200 watts. In the high-current Articulata, the novel 'Ultraflex' power supply provides ample current to ensure the voltage doesn't drop in tough demanding passages. It holds the charge for transient purposes, and helps compensate for any magnetic sag within the 300VA transformer itself. This combined stiff power supply provides the highest possible peak current and rise time to ensure there is virtually no congestion plus providing powerful bass and clarity. There are multiple caps of 400uF value which are mounted directly under the output PCBs and right next to the output devices – again to ensure the shortest possible path. Ian has designed the amplifier to drive tough impedance loads, but it is equally adept with high sensitivity speakers.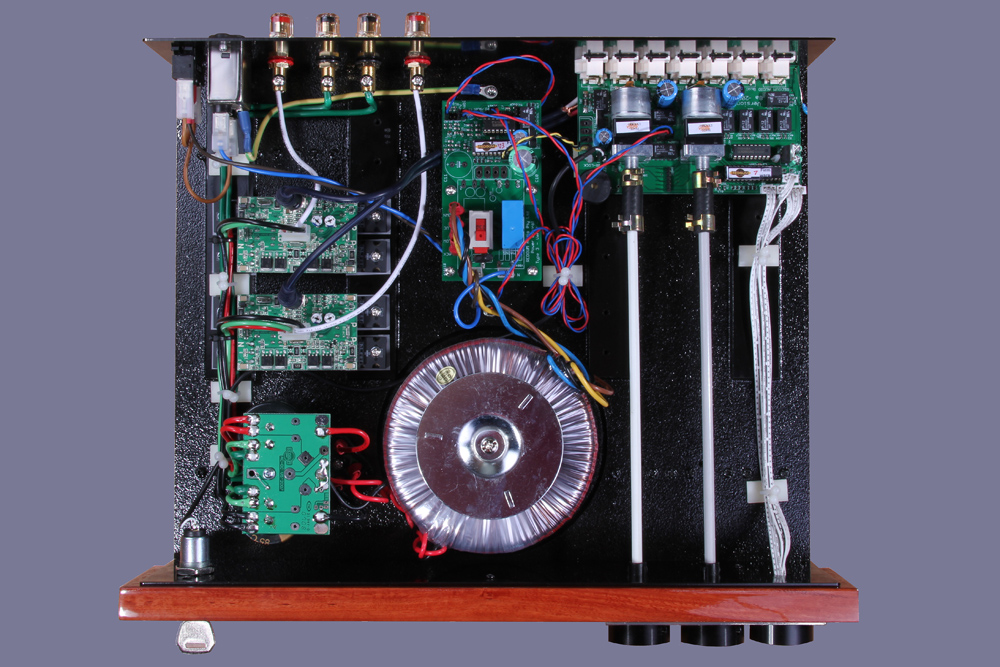 The circuit is designed to minimise processing of the signal and ensure the shortest signal path. The amplifier is stable into capacitive and inductive loads and no current limiting is used. There are no valves and only two transistors in the signal path. The circuit appears simple. It is unbalanced internally ("but in a good way" says Lindy, her sense of humour shining through). One of the design goals was to provide the best sound possible with the fewest required components. When you look inside the box, you may be astounded at their success.
A very small amount of feedback is used. REDGUM says it is less than a fifth of what most would consider normal/acceptable in most standard amplifiers. Ian made the decision of how much feedback based on the "Goldilocks Principle" – in other words, what sounded best to him.
All REDGUM amplifiers are stable driving speakers into impedances as low as 0.7 ohms, although you will start to hear some degradation of sound quality below 1 ohm. It's quite safe to say it'll drive any real-world speaker out there. All REDGUM amplifiers have high-current output stages. They are Australian designed and hand-built and are burn-in-tested. All REDGUM amplifiers offer a 7-year warranty. Input and output connectors are gold-plated, and silver solder is used exclusively.
Although specifications alone won't give you a good idea of how good a product might sound, they may suggest how it performs in a given context. No worries here, everything in the Articulata specifications looks excellent. The Articulata has harmonic distortion of less than 0.009%. Intermodulation distortion is less than 0.005%. Signal-to-noise is greater than 100 dB. Frequency response is 3Hz to 80kHz (-3dB). Damping factor is high at over 800. Input impedance is 10K ohms. Peak current is greater than 150 amps. Each and every Amplifolia amplifier, like the Articulata, is shipped with its own Test Report page. My review unit says its transient power is 325.51W.
The Articulata integrated provides five inputs (RCA only) – all inputs have the same sensitivity and there are Home Theatre bypass/Record-Out and Preamp-Out options. The weight of the amplifier is specified as being 18kg. Dimensions are 420mm (W) x 360mm (D) x 145mm (H). The case work is very solid, however the all-steel 1.6mm-thick top lid could use some damping to stop it from ringing when tapped.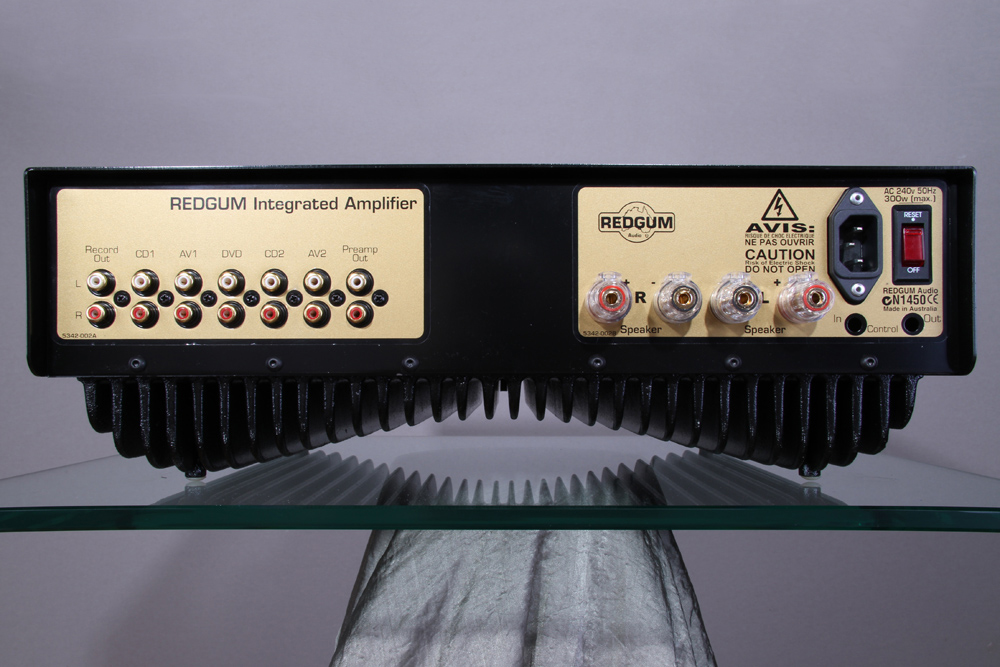 REDGUM added remote control to its amplifiers' features list in 2007. However, before it could do so, Ian had to figure out the best way to implement volume control. The ingenious REDGUM remote-controlled Dual Mono volume keeps the adjustment of each channel completely independent. The volume signal passes through only one control/potentiometer. The remote control remembers the volume level along with the left/right balance setting for each input, even after being turned off. If the volume is set to an excessively high level when powered-up, then it will be automatically decreased to a safer level … don't forget to thank Ian after you reprimand your kids. To ensure you're never without a remote, REDGUM provides you with two identical remotes, although only one has batteries. Lastly, the remote control allows you to control both your REDGUM amplifier and REDGUM CD Player.
The 'Mute' button reduces the volume by about 15dB so it isn't a total mute. The 'Bal' button matches the volume level in both channels. The 'Magic' button did nothing for many years, other than psychologically convince people they could hear a difference when pressed! Now, it effectively tests the battery in the remote by causing the amplifier unit to acknowledge each press (the 'Mute' LED on the amplifier will flash-and-click continuously while the 'Magic' button is pressed).
Aging relays are a common cause of amplifier failure, so the Articulata is designed to use no relays in the speaker line. Such intrusive relays are typically used to mask the noises that are inherently generated when an amplifier (any amplifier) is turned on and off. Since the Articulata does not use these relays, you can expect to hear a soft 'pop' when the amplifier is powering up. When powering down, you will hear multiple low 'thunks' from your loudspeakers. The 'thunks' are the sound of the Articulata dumping stored power into the speaker lines. The REDGUM website and their manual gives an elaborate explanation of how this works so I won't go into it further here. Suffice to say that these sounds are the by-product of the amplifier increasing and decreasing energy – they are totally normal, not excessive, and are not cause for any concern.
REDGUM amplifiers have many features that improve their longevity. So much so that Ian and Lindy know of amplifiers that have been handed down from father to son! [Editor – We're told there are reports of pending and expecting third generation inheritors…]
Allow Me to Articulate…
I connected the Articulata into my usual system, replacing my reference amplifier. On powering up, the amplifier does an elaborate self-test. After a couple of seconds of being turned on, you'll hear a beep which indicates the MEPS (Minimum Energy Performance Standards) power supply has stabilised. This is followed by a fast "ooee-ooee" sound (similar to "coo-ee", how Australian), then a series of beeps to indicate the firmware version. The volume is then automatically adjusted to quarter, and a series of clicks and lights eventuate as things are further checked. Once done, you'll hear a "ta-dah". Although it sounds lengthy, the whole process takes maybe 15-20 seconds. You then use the remote to turn the amplifier on/off, which is an entirely quicker process.
I allowed the Articulata to warm-up for about 12 hours (over two days) before doing any attentive listening. When I sat down to really listen, I could quickly sense that this amplifier was punching well above its modest price bracket.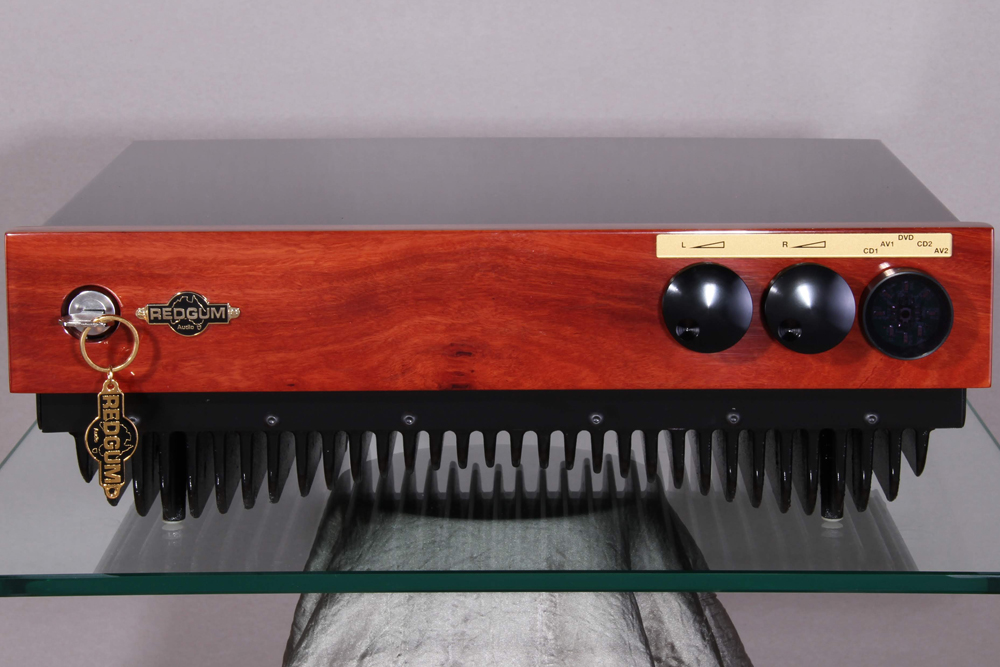 My first "go-to" review track was the title track of Roadhouses and Automobiles by Chris Jones. I know this track so well that it immediately allows me to sense what a review component is doing. The important elements (speaking for myself of course) include aspects like tonality, resolution, dynamics, soundstaging, imaging and depth. Often it takes a bit more listening to put a finger on other important aspects like ultimate transparency and micro-detail, veiling, poor linearity, bass tightness and noise levels.
On this Chris Jones track, the tonality was very good, the sound was open and quite transparent. I did notice that the resolution was very good, but I had to listen closely to hear his gentle foot-taps, occasional soft zings in the guitar, the gentle bird song at the end of the track. The reverb trails didn't extend back into the soundstage quite as much. There's a soft airy and illuminating sound as guitars play off each other in the two channels – I couldn't hear that as much either. The imaging was quite expansive and extended to just outside of the speakers. Placement of the voices and instruments within the soundstage was accurate. The bass was good and tight, solid and deep. This track relies heavily on bass and guitar to make its statement, the deep bass anchors the overall impact. The Articulata was more than happy to tell you all about it.
At that point, I wondered if the unit was new and needed to be run-in more. I decided to carry on and return to this track (and others) near the end of my review to see what improvements time had wrought.
The Jennifer Warnes track "The Nightingale" on her album The Well has a strong emphasis on the inter-play of various vocals. The tonality of Warnes' and the background vocals was very good, and each was delineated cleanly within its own space. The guitar licks that let loose in places sounded very real.
Oscar Peterson playing "C-Jam Blues" on Night Train (24-bit/96kHz) emphasised the rhythm and beat in the track, rather than getting edgy and overly-detailed. Everything was there, just ever so slightly restrained – cymbals were a bit laid back, piano had slightly less percussive bite with a slightly less bell-like quality. (The bass on all tracks in this recording is too soft for my tastes – to my ears this reduces the dynamics slightly, it's not the system.) Overall, the track had a nice tonal and dynamic balance to it. Balancing all linearity aspects of a recording is something the REDGUM Articulata does especially well.
For maximum impact, it's best to really crank up "Angel" from Mezzanine by Massive Attack. And we're in luck here, because the Articulata loves to be cranked up! It doesn't turn harsh or edgy at high volume levels, and it certainly generates loads of power to tell you all about macro-dynamics. The track has strong repetitive bass with quick distinct notes that, with lesser amplification, can tend to sound less articulate at high volumes. I did notice this a very tiny bit, but really you have to get to pretty insane SPLs before you really hear this. Even at sane volumes, the bass came through convincingly, clean and with good impact.
Not only is the REDGUM Articulata great for head-bangers, but it is absolutely lovely with classical music. Celloist Pieter Wispelwey on the album Die Deutsche Kammerphilharmonie Bremen (24-bit/192kHz) playing Saint-Saens' "Cello Concerto No.1" was sweet and mellow with good dynamics. The albums by Anne-Sophie Mutter titled Tchaikovsky, Korngold: Violin Concertos (24-bit/88.2kHz) and Anne Akiko Meyers' titled Air: The Bach Album (24-bit/96kHz) are both good albums musically speaking, but both are recorded with edgy brittle violin tones. With the Articulata you can play these at a realistically appropriate level and really enjoy them.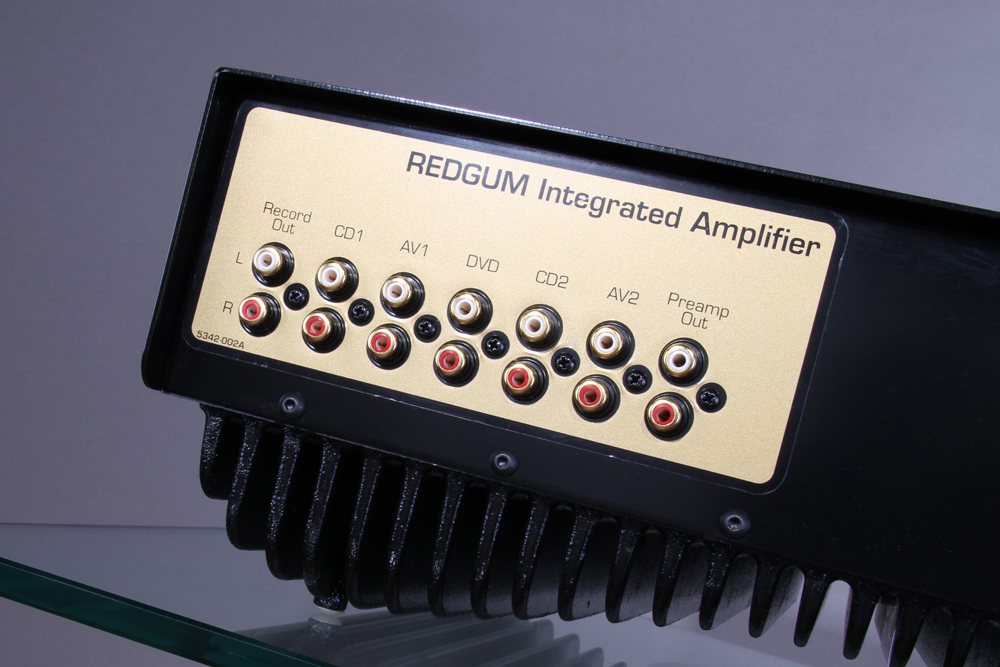 Yevgeny Sudbin playing "Sonata in D minor, K213" from the album Scarlatti: 18 Sonatas (24-bit/96kHz) was very relaxing. The piano had lovely tone although not quite as percussively bell-like, nevertheless the music flowed effortlessly and convincingly. The left-hand bass was good – you could sense the sound board working.
The title track to One Foot in the Blues by Johnny Adams projected a good soundstage. Cymbal crashes sounded real with somewhat softened transient brashness. There is a passage in the track where the Hammond organ of Dr Lonnie Smith gets pretty intense – the Articulata tamed it nicely giving good detail and transparency yet remained dynamic so you could feel the impact.
I would be remiss if I didn't mention that throughout my listening I experienced a soft low buzzing sound in my speakers. Ian and Lindy were both puzzled by this, as was I. I tried different power points, different power cords, different interconnects, with and without a power purifier but the buzzing persisted. It wasn't so obtrusive that I couldn't listen properly and intently, and was not noticeable when music was playing. It appears that something in my setup was causing the problem, although that said, I hadn't experienced it before with other amplifiers. After discussing it a few times, we decided the Articulata was otherwise functioning properly and that I should continue the review. Subsequently, once the Articulata was back at REDGUM, it was found to have a "noisy bridge rectifier" an isolated event that has not happened for over 20 years (REDGUM keeps a strict record of faulty parts).
Conclusion
About mid-way through my listening sessions I learned that my review unit was brand new. Amplifiers (like most Hi-Fi gear) benefit from extended break-in time. My belief was that it might require up to 200 hours to sound its best. Unfortunately, I couldn't easily let it run-in for that much time, but I did manage to listen for at least 30 to 40 hours. As planned, I returned to many tracks to re-listen once there were more hours on the Articulata – I did notice a slight improvement in the resolution level and transparency. I've no doubt the Articulata will improve even more with further break-in.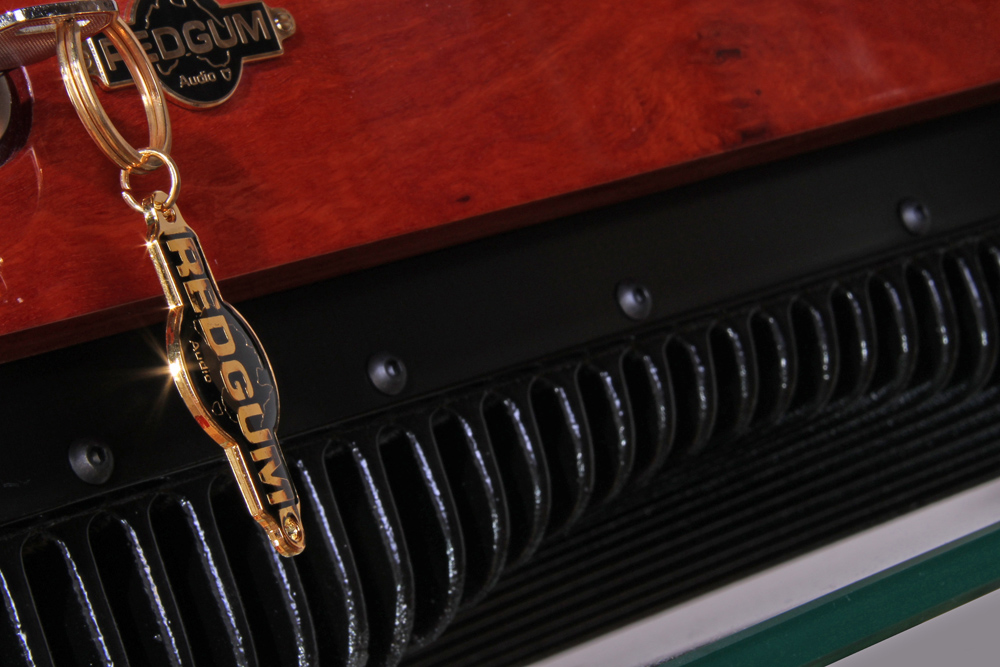 My time with the Articulata may have been curtailed too much for me to learn precisely how good it truly is. But when I packed it up for its return journey, I couldn't help but think that what I felt the Articulata missed in absolute transparency and minute micro-detail, it made up for with an easy enlightened portrayal of the musical event – and accurate and beautiful soundstage, with natural tone, great macro-dynamics and bass.
Yes indeed, the REDGUM Articulata offers outstanding value for the money. It offers more than what you might expect for the modest outlay of hard-earned cash. Rather than hammering your ears and brain with "Hi-Fi-histrionics", it simply plays music and plays it very nicely at that. Its overall presentation is ever so slightly warm with good detail, and never strays to the hard and strident even when pushed hard. I felt I could listen for hours even at high volumes.
The REDGUM Audio Articulata is an all-round great integrated amplifier for all music genres, and is made in Australia by great people offering great service. You can't go wrong. Highly recommended!
… Tom Waters
www.soundstageaustralia.com
Associated Equipment
Speakers — PMC MB2 SE speakers with ANTICABLES Level 5 Signature jumper wires
Amplifier — Gryphon Audio Designs Antileon EVO
Preamplifier — Trinnov Audio Amethyst
Sources — Gryphon Mikado Signature CD Player, Mac Mini (running Roon Core), Weiss Medus Reference DAC
Processor — Trinnov Audio Amethyst
Cables — ZenSati #1 and #2 interconnects and speaker cables, sILENzIO S/PDIF, Nordost Tyr 2 AES-EBU, AudioQuest Vodka Ethernet cables, Nordost Tyr 2 power cords, Trinity power cords, Synergistic Research Hologram A and D power cords, ANTICABLES Level 3 Reference power cord, Nordost Purple Flare (Figure 8) power cords (for Mac Mini and router)
Audio Rack — Schroeders and Schroeders, Symposium Ultra custom-made amplifier stands
Miscellaneous — Nordost Quantum QX4 line purifier, Nordost Quantum QV2 AC line harmonizers, Nordost Quantum QK1 AC Enhancer, Nordost Quantum QB8 power distribution, Townshend Seismic Podiums, dedicated 20 amp power lines, Symposium Rollerblock Jr isolation footers, Symposium shelves, Vicoustics bass traps and diffusers, RealTraps bass traps
REDGUM Audio Articulata Integrated Amplifier
Price: AU$7200
Warranty: Seven Years
REDGUM Audio
401 Belgrave – Gembrook Road
Emerald 3782 VIC
Australia
+61 3 9001 6788
+61 44 88 33 091
www.redgumaudio.com