I'm a man of many wants. One of them was a decent listen in my own man-cave to a nice tube amp, 'musica uninterruptus'. But not just any tube amp – one that exists in the realms of mere mortals but that wasn't an entry level type where the design trade-offs are more significant. Enter the Line Magnetic LM-845 Premium – a Chinese-designed and built single-ended triode integrated amplifier.
The Hardware
Line Magnetic, a young company by traditional high-fidelity standards, was founded in 2005 by two brothers, both audiophiles, who are passionate about tube electronics. It was known originally as a specialist repairer for, and a producer of replicas of, equipment from the first golden age of loudspeakers and electronics, such as Western Electric, Altec, Jensen etc. Today, Line Magnetic products are the result of a team of experienced audiophile engineers.
The LM-845 Premium is a large two box affair, one of which is the amplification unit while the other houses the high-quality output transformers. Distributor Line Magnetic Australia's principal Campbell Nun explained that the LM-845 Premium was originally a one box amplifier which was split into two because of its sheer weight! Both boxes combine to a hefty 62kg. Unless you're Luke Cage or The Rock, it's unlikely to be an easy experience moving them from within the box to a shelf on your rack.
The LM-845 Premium is a single-ended Class-A design using Line Magnetic-branded 845 output tubes, obviously, and 300B Shuguang tubes as drivers, along with two 310As and two 12AX7s tubes for preamplification. These can be substituted for equivalents from other manufacturers, should you desire, which may bring a different sonic signature. Output power is quoted as 30 watts per channel Class-A with 1% Total Harmonic Distortion (THD) at 1 kHz while frequency response spans from 10 Hz to 50,000 Hz (-1.5dB). Input impedance is given as 100 kohms.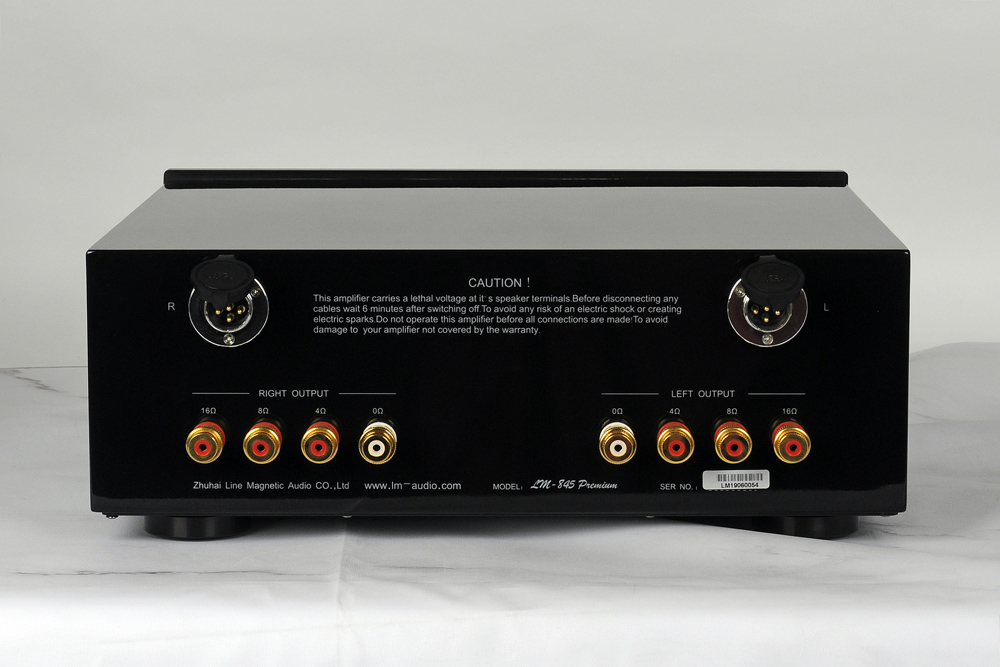 There are two user adjustable bias controls for the 300B and 845 valves. Bias adjustment is made easy, with two very nice meters on the front plate to allow you to monitor bias and make adjustments. A negative feedback switch is also available on the front plate so you can choose between two levels of NFB to experiment with different sonic flavours and possible changes in bass performance.
The LM-845 Premium uses a total of eight transformers for power supply, filtering, coupling and output. According to Line Magnetic these are specially designed EI transformers made of Z11 Core for the power supply and Japanese Audio grade EI types for output. All transformers and chokes are encapsulated and installed separately to reduce the disturbance between each other. The LM-845 Premium also employs a Japanese ALPS volume potentiometer, American MIT and German Mundorf MCap coupling capacitors and the finest quality point to point wiring.
Interestingly, the LM-845 Premium comes equipped with Preamp Inputs (RCA) and can thus act as a power amplifier in an appropriate system. Also included is a substantial remote control fashioned from aluminium rather than plastic. The overall build quality is bonkers and, with a beautiful high gloss black finish, it's one sexy beast.
Setting Up
The LM-845 Premium arrived in two large, heavy-duty cardboard boxes. Packaging was high quality EPE foam, designed to withstand the heft of the units and durable enough to cope with re-packing and re-shipping should that be necessary (after living overseas as an expat for several years and moving around countless times, I appreciate quality packaging).
After careful setup, and making sure the 4 ohms Sonus Faber Amati Homage speakers were driven from the correct speaker tap, I connected my Kimber Cable Timbre Balanced XLR cables between the LM-845 and my Lumin T1 streamer, powered up and went to fix a cup of coffee during the warm up.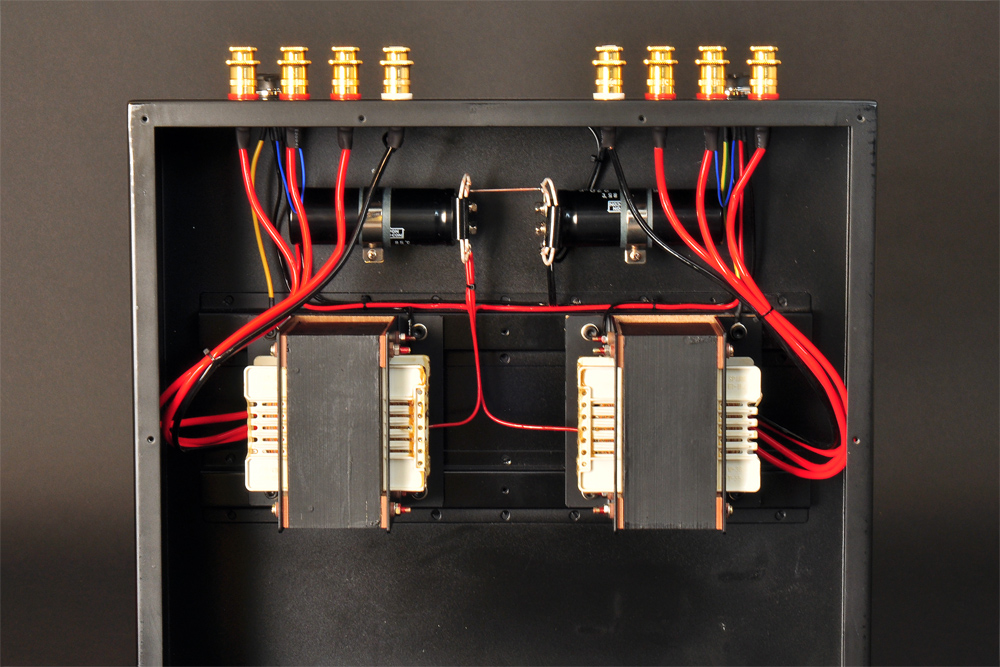 Half a shot of decaf, lukewarm low-fat milk in a plastic cup is not how I like my morning coffee, neither was the sound emanating from my Amati Homage, after almost 30 minutes of warming up, how I like my music. From around 200Hz up it was all there, but below the sound was wafer thin. I checked the phase, the taps, the bias, the connections but nothing stood out as being out of place. So, I waited, and waited, and waited. After a couple of hours things were exactly the same. I changed out the Amati for a pair of Amphion Argon monitors that I use upstairs in the study to see if it was a compatibility issue but I got same result. I called Campbell Nunn who was equally perplexed. Damn!
When Campbell arrived to re-pack the unit – we thought there may be something not right somehow – he asked if I had tried another interconnect. I hadn't, but I remembered that I had a pair of old VdH unbalanced RCA cables in house, so we tried them. Hey presto! We had a result. I'm still perplexed as to why the balanced XLR cables weren't successful, since I use them in my usual set up without issue. On with the review.
Listening to The Tubes
No, not 'The Tubes' but the valve tubes. I kicked-off with Diana Krall's debut album, All for You, thinking that it might be a good place to start and might perhaps be representative of the taste for some tube aficionados. Certainly, there are a couple I know of who are fans and I assume it's about the music. It's also a style and arrangement befitting of the charismatic virtues of tube electronics.
And I was not wrong... on the track "The Frim Fram Sauce" The Line Magnetic LM-845 Premium (hereafter referred to as LM-845) easily conveyed the tune's sense of rhythm, capturing every nuance in the melodic bass line. The sense of space in the venue also stood out. Moving onto "The Boulevard of Broken Dreams", Diana's voice was centred firmly between my speakers and retained an almost lifelike solidity, rather than what through lesser equipment sounds slightly diffused. Most certainly, the Sonus faber Amati Homage are capable of this but as with most things, there are varying degrees of 'good'. Staying with Diana a little longer (you're a lucky guy Elvis) I enjoyed the same tightly focused breathy vocals on the track "Baby Baby All The Time". On "Hit That Jive Jack", as with the other tracks, Krall's piano illuminated the room with a richness that drew me in and made me long for more.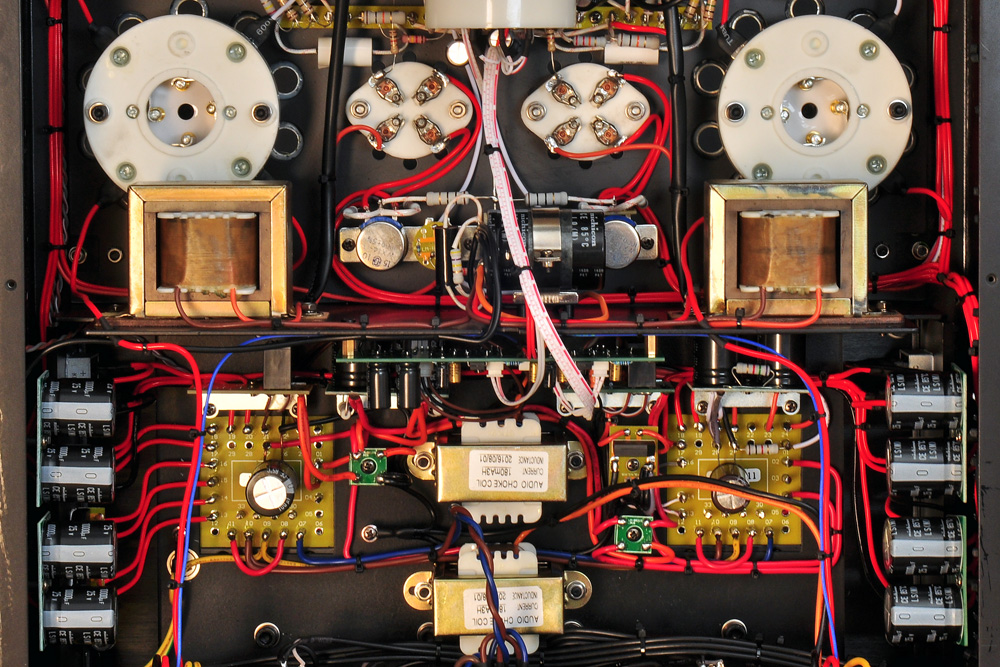 The LM-845, like all tube electronics, needs a good 30 minutes or so to really warm up. Once it does, everything comes together. The soundstage solidifies, instrumental textures mature and it establishes a sense of drama, revealing its prowess in accurately purveying the rhythm. The longer I listened, the more I wanted to listen.
Ben Sidran has long been a favourite of mine, since first hearing his On the Cool Side album many years ago at a friend's place on his LP12 (my first real Hi-Fi experience). Today, I chose the title track from his most recent album Picture Him Happy (Sisyphus Goes To Work). Wow! Ben's voice really came to life, with a significantly more tangible in-room presence than I expected. Like-wise with the saxophone – it's just that little bit more 'there' than what I was used to with my e250i. Percussion was also well served and appropriately sized. It's a very sophisticated sound.
"I Might Be Wrong" from the same album won me over with similar appeal. The saxophone being the real standout on this track. When it comes to the details, the LM-845 is certainly no slouch. Though it's definitely leaning into the lush end of the spectrum, ambience is well preserved and the minutiae unobscured. I could clearly hear the room within the recorded soundstages. If I had any criticism it was that the bass didn't quite have the force I was used to, so the 'boogie factor' was somewhat diminished.
I wondered if that might be down to speaker matching. I know that many single-ended triode amps are paired with highly efficient horn speakers, and while my Sonus faber Amati Homage are not exactly inefficient at 92dB and are not difficult to drive, they are still a far cry from a Zu Audio or Klipschorn. I'd love to try the LM-845 on the Klipsch Forte III's that I played around with last year.
Roon radio took me from Sidran to Quincy Jones' Mellow Madness album and the track "Listen (what it is)" – the production showing its age a little, but nonetheless super enjoyable on this combination and, while I usually have some idea of which tracks I want to use to test out a new piece of kit, sometimes I like to have the choice made for me. In this way you get to listen to all sorts of different quality recordings and get a sense of just what the equipment is bringing to the table in terms of overall enjoyment factor. After all, great recordings tend to sound great on almost all decent systems.
Some time into the review, my good friend Paul showed up mid-afternoon sporting a fine bottle of red, knowing that I had the LM-845 in for review. Audiophiles are a sneaky lot, never wanting to miss a chance at hearing a new piece of equipment and, I ask, what's wrong with that?
While our red had a chance to breathe, we listened to Kiri Te Kanawa's sublime Chants d'Auvergne Vol. 1 (Decca, Jeffrey Tate, English Chamber Orchestra). The LM-845 did all but transport us to the venue, immersing us in a musical expanse of soprano, violin, oboe and clarinet. The sense of distance and spaciousness was recreated with perfection. The gorgeous midrange doing particular justice to the violin and cello. It wasn't larger than life but as large as life.
Impressed by the LM-845's ability to conjure ambience from those recordings which contain it, I searched for an old favourite of ours – Arne Domnerus', Jazz at the Pawnshop (Remastered 2014, 24-bit, 88kHz). It had been a long time since I listened to this album, and while the sense of 'you are there' was every bit as good as I recall as on the first audition, it was the xylophone that blew me away. I was getting a sense that the LM-845's strength was making everything a little less mechanical and a little more relaxed than my typical solid-state experiences.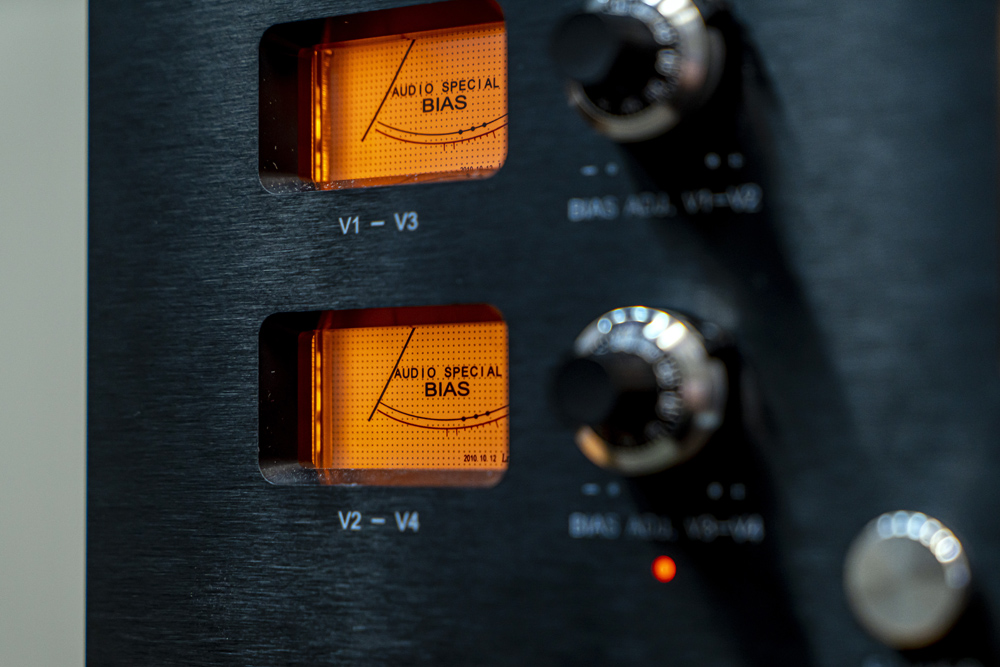 Having a part-time 'metalhead' on the sofa with me meant that we had to go down that rabbit hole. And what better way to go than with Dio's fabulous Holy Diver album (Remastered, 2015, 24-bit, 96kHz)? Not that I had high expectations for this combination of music and equipment, however it was interesting – no, make that exciting to hear the result. At 30 watts per channel it wasn't able to shake the walls, however, it produced a decent level in my room, and what really stood out was the additional lustre of the electric guitar and the energy and dimensionality of the vocals (which in most metal to my ears usually sound flat, as in 'pancake flat').
Since most metal has very solid drums and bass, I found myself wanting the LM-845 to pack just a little more punch, but on this genre, I found that it's a case that the amp giveth and the amp taketh away.
We lost track of time streaming a number of our favourite tracks and, as the afternoon drew to a close, Paul summarised thoughts which had accumulated from the past two-and-bit hours to, "Baz, this this is a late night amp – one more song, one more song and before you know it it's 3am the following day". Breaking for sustenance and continuing on through the evening, this was indeed true. Even at modest to low volumes, the sonics hold up so well that it does in fact become a game of 'just one more tune'...
Nursing a somewhat 'woolly head' from the night before, I attended to some minor housework while waiting for the Hydralyte to kick-in before settling in for a few more tunes. First up this time was Steely Dan's Two Against Nature. The sound on "What a Shame About Me" oozed class emerging as very liquid, Becker's guitar sounding super smooth without sacrificing the occasional bite and Fagen's Rhodes piano floating nicely in the mix.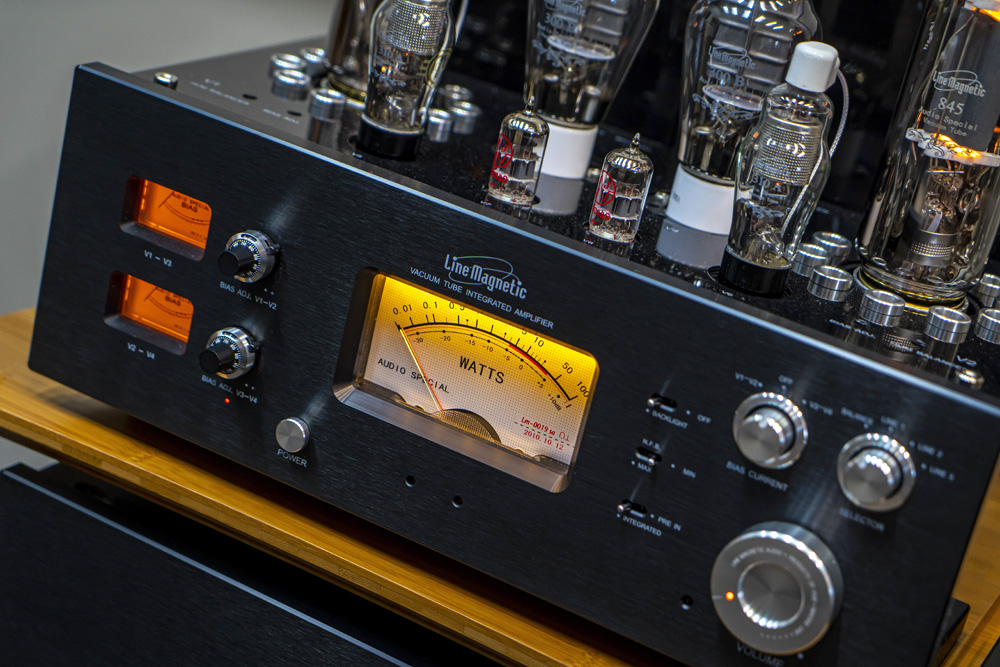 Tame Impala's latest synth pop album The Slow Rush sounded spacious and warm, allowing Kevin Parker's melodic vocals to work their magic with the lyrics. The LM-845 is a bit like taking your Dad's Caprice for a lap around town – you know you're riding luxury; the bumps and the road noise are gone but it won't hug the corners like your 3 series Beemer.
The midrange, in particular vocals and strings, were among the best I have heard but the lack of punch in the bottom end was for me a showstopper due to the types of music that enjoy listening to. Personally, with my speakers, I would favour an amp where the performance may not be equal in the midrange but is more consistent across the entire audio spectrum. However, if you listen mostly to jazz, vocal, or classical music where there the need for high impact bass is less, then the LM-845 Premium would be a compelling option. This observation may be totally different when the LM-845 is mated to a high efficiency horn-loaded speaker with a benign and stable impedance load, the preferred scenario for single-ended Class-A tube designs.
Conclusion
So, what's the verdict? Guilty! The LM-845 Premium is truly a damn fine amp in almost every sense. It's a whole lot of amplifier for the money. Its capacity to provide end-to-end enjoyment over a diverse range of musical genres is surprising. Its ability to put you in a headspace where what is going on around you becomes irrelevant and you actually focus on the music you are playing is remarkable.
The limitation in the bottom end is only apparent when in direct comparison to a solid-state behemoth that happens to excel in that area. Without comparisons you may not even be aware of that restriction. But I'm hesitant to belabour these points, especially without hearing the LM-845 Premium paired with more efficient speakers. Perhaps, in that scenario, you really could have it all.
… Barry Jones
www.soundstageaustralia.com
Associated Equipment:
Speakers — Sonus faber Amati Homage
Amplifier — Perreaux e250i 40th Anniversary Edition integrated amplifier
Sources — Digital: Lumin T1, Oppo BDP-105D, Sonos ZP90. Analogue: Rega RP6 turntable, Rega Exact-2 cartridge, Rega Aria phono stage & Rega Couple interconnects
Processor — DEQX HDP-5
DAC/Headphone Amplifier — Chord Mojo DAC
Headphones — AudioQuest Nighthawk
Cables — Nordost White Lightning, Kimber Cable Timbre balanced and Van den Hul D-300III unbalanced interconnects, Atlas Compass Digital Coaxial Audio Cable, QED Performance Graphite USB
Miscellaneous — Isotek Sirius Power Conditioner, 8 x Auralex SA8600 bass traps in front wall corners, 12 x Sound Acoustics MP700-40 ceiling acoustic panels
Line Magnetic LM-845 Premium Integrated Amplifier
Price: AU$11,999
Warranty: 12 Months (6 Months on Valves)
Australian Distributor: Line Magnetic Australia
+61 8 6371 5088
www.line-magnetic.com.au
Line Magnetic Audio Co. Ltd.
L4 Building No.2 Ping Xi Road
No.6 Nanping Industry Park
Zhuhai, Guangdong Province
China
+86 0756 391 1922
en.lm-audio.com