Bass. We all love it. Come on, you know you do! You can muse audiophilic to your heart's content on "accuracy" and "neutrality" but when you're cranking Led Zep or Yello to 11, all talk of "balance" goes down the gurgler in an intense sensory wave of low-end pleasure. Fun so it Hertz. But what if I told you about a low frequency generator which is capable of both supreme accuracy and all-out visceral joy? All in a pretty and small package. Well, I be talking JL Audio Fathom f110v2. Yes, it will play nice and audiophile-like with your super-precise high-end mains and, should you desire some outright fun, it'll also test the construction integrity of your house… and your neighbour's house.
No Daisy Driver
So you have large speakers with plenty of bass wallop. On paper, say they dip down to the high 20Hz mark or just above. It would be fair for you to think a subwoofer unnecessary. Especially for music playback where most instruments are well above the lowest piano note's 28Hz. All well within the capabilities of a floorstander, right? Yet, a high quality well-integrated subwoofer can bring worthwhile enhancements to your musical experience. And I don't mean just for the pipe organ's proper 20Hz low note.
In this writer's experience, several high-end systems have benefitted from having a subwoofer – or ideally two – even with 'main' speakers specified with low 20Hz capabilities. Yes, even in scenarios such as those, a subwoofer set to a low crossover point can enrich the ambience of live recordings and augment the overall scale while subjectively providing sweeter highs… yes, really.
More obviously, in order to convey the entire musical spectrum and the full-range sound in all its glorious power, a standmount loudspeaker needs a subwoofer. Simply compulsory. The qualifier however, is that a subwoofer with a ponderous bass – an inadequately-controlled or poorly designed transducer – will only make for a seemingly slower rhythmic drive, blunting transient attack across the bandwidth and compromising the overall performance of sub and mains. In my opinion, a good monitor speaker deserves a high quality subwoofer driven with oodles of power via either an in-built or outboard amplifier with high damping factor. That, or no sub at all.
JL Audio is one of a few select subwoofer specialists with a comprehensive range of products extending out to the super-high-end. The company's car subwoofers are highly regarded in both the crazy windscreen-popping 'SPL' and the music-loving automotive 'SQ' competitions. As far as home audio, JL Audio specialises in manufacturing only subwoofers of high pedigree for stereo, home cinema and CI applications. JL Audio adopts bespoke drivers and amplification technology (likely derived from the highly-acclaimed car audio amplification systems) in addition to DSP acoustics manipulation by way of the proprietary Digital Automatic Room Optimization (DARO) system – more on this anon.
Hands-on-wise, the connectivity of the Fathom f110v2 is straightforward. The rear panel of the subwoofer features Left/Right and Mono (or LFE) XLR and RCA inputs. JL Audio, of course, recommends XLR "balanced" inputs over the RCAs for their inherent noise suppression over long cable runs. Of less importance in home audio contexts, the XLR sockets are also capable of accepting TRS 6.5mm jack plugs. Further, there are two switches, one allowing the f110v2 to operate as 'Master' or 'Slave' (using XLR output for multi-subwoofer setups), the other toggles between 'Isolated' or 'Grounded', with the latter dealing with ground hum situations. An IEC socket rounds out the connectivity round back.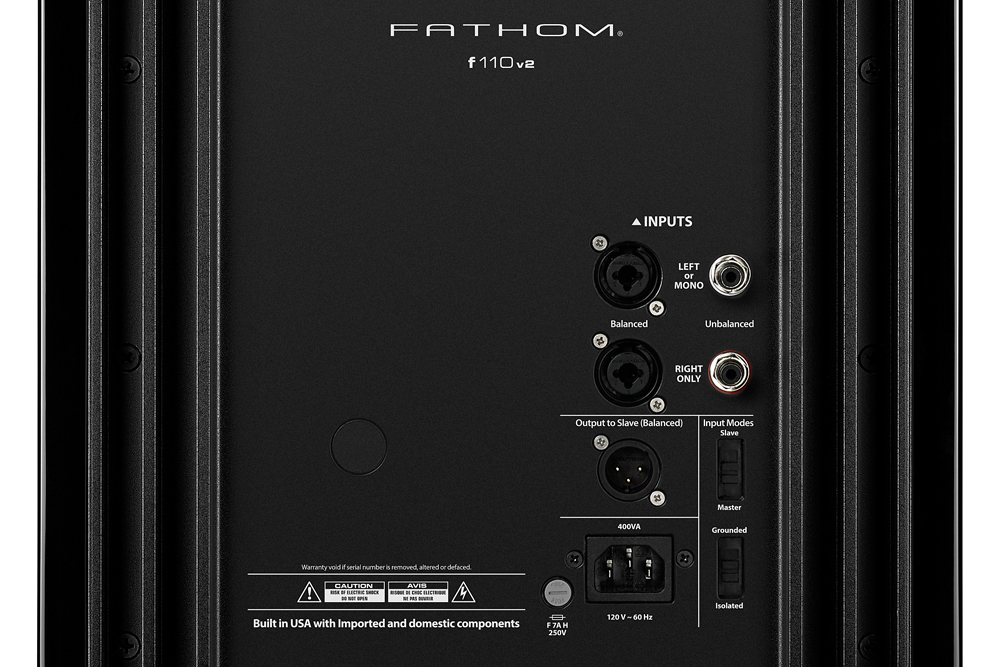 The top of the front baffle features a decoupled bay with a whole stream of controls which will allow the f110v2 to adapt to any room and system situation. We start with an On/Off/Auto switch, the DARO input and three associated spring buttons, 'Input Mode' (Master/Slave setup), 'Level Mode' (Reference or Variable), a larger 'Master Level' rotary knob, an LED dimmer, 'LP Filter' (selectable Off, 12dB and 24dB), three further rotary knobs for 'LP Frequency' (30Hz to 130Hz), 'ELF Trim' (-12dB to +3dB) and a 'Phase' adjustment (0 to 270 degrees). Finally, there's a 'Polarity' switch which toggles between 0 and 180 degrees.
Now on to the driver. Oh my, what a driver it is… JL Audio has engineered a tour-de-force of a transducer to work optimally in the f110v2's sealed box design. For starters, back in 1997, JL Audio developed Dynamic Motor Analysis (DMA), FEA-based analytics to examine driver distortion factors in order to reduce them significantly in the company's proprietary drivers. DMA studies the nature of a driver's power-to-distortion ratio, its suspension travel and voice coil behaviour, magnetic field variations and much more. With DMA as a powerful engineering tool, JL Audio has since been able to design superb drivers which perform in a more controlled manner and feature improved distortion characteristics and superior transient behaviour.
The f110v2's 250mm driver features a massive motor system supporting JL Audio's proprietary 'unit-body' cone which consists of two lightweight mineral-filled polypropylene skins. The way the two 'skins' are bonded resembles a W, leading to the company's W cone technology denomination. The W bonding provides extraordinary rigidity and torsional stiffness while still maintaining low mass. The rear profile of the diaphragm also alleviates distortions which can potentially arise from the rear wave bouncing back towards the driver. Effective piston area is maximised via an 'OveRoll Surround' design where the surround roll overlaps the driver's mounting flange therefore maintaining adequate surround gauge (for proper extended excursion) while not encroaching on cone surface area. That design is rare, if not unique.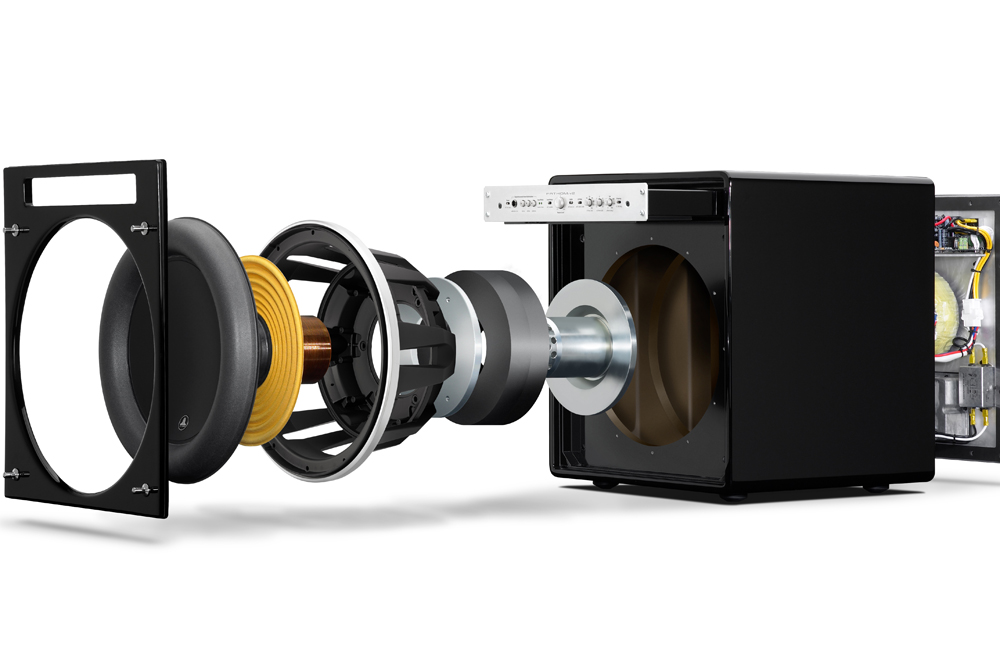 JL Audio specifies the f110v2's in-built amplifier as being capable of outputting 1100 watts RMS "short-term". Frequency response is down 1.5dB at 27 Hz, 3dB at 25 Hz and 10dB at 19Hz. It's a solid unit which despite being quite compact (but not a mini-sub by any means) weighs in at a hefty 31kg. The f110v2 is beautifully finished in an immaculately-applied high gloss black. JL Audio proudly exclaims that its subwoofers are "Built in USA with Global components". All-round, this is a classy product which worked flawlessly while in situ at SoundStage! Australia HQ.
Dare to DARO
In order to apply DARO, the f110v2 is supplied with a calibration microphone and cable which plugs in to a mini-XLR front panel input. DARO setup requires the microphone to be placed at the listening position. DARO then generates a series of tones which last for a few minutes. Having completed the measurement procedure, the system applies the powers of its in-built 18-band 1/6 octave equaliser to calibrate frequency response. It compensates for room modes where the bass output either excites or nulls the acoustic environment at the listening position. Of course, DARO also opens the door to a much more flexible set of positioning options. DARO requires no software downloading nor the use of interfacing laptops, special programs, etc. Just position microphone. Press DARO button. Wait. Done.
While I tested the DARO system's efficacy, which indeed adapted the sub's output to my room's acoustics very precisely, the position in which I placed the sub had it superbly-well integrated to start with. Based on experience in the room with other subwoofers, I positioned the f110v2 up against the side wall and about a couple of metres forward of the listening position. Kind of two thirds of the way from my ears to the speakers but off to the side. Integration city.
My mains dip to around 25Hz, or just above in my room, so crossing the sub at around 30Hz blended it seamlessly. I attribute this to its position, obviously, but also to the f110v2's extensive adjustability options and the limitation of room interactions due to the low crossover setting. I listened to a number of bass-heavy tracks in order to adjust level, phase, etc. coming to a point where the differences between my settings and the DARO calibration were practically moot. This sub integrates damn well.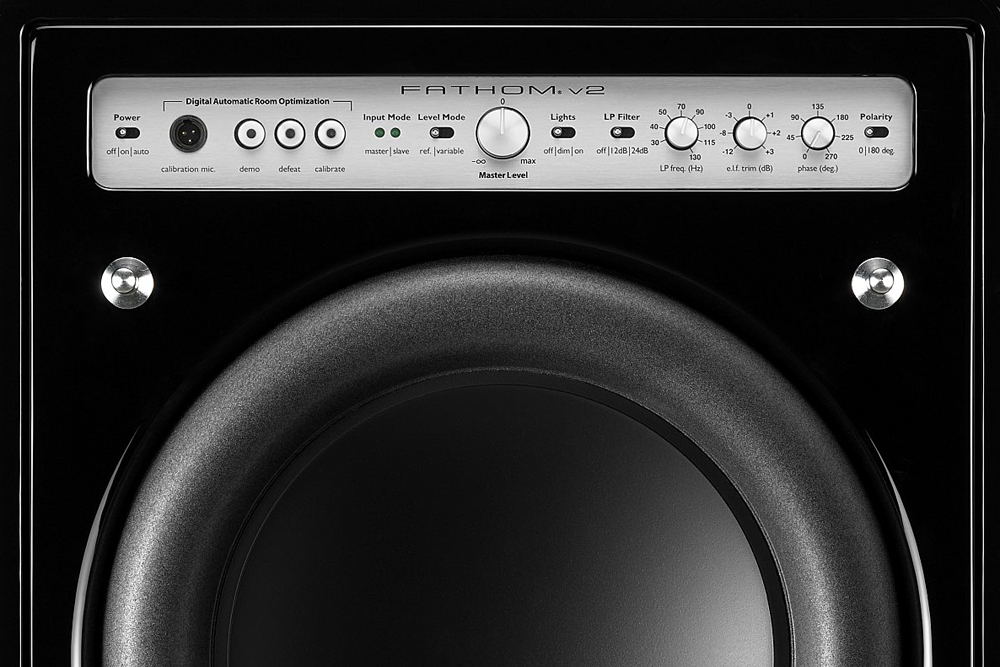 So you may ask, what does a subwoofer crossed-over at such a low point, in a system with large full-range floorstanding speakers bring to the party. Well, what the f110v2 did add to the sonic picture was a sense of ease to the music and a subtle sweetness – very subtle I should add – which freed the tweeters to extend with delicate ambient detail. Ambience, of course, is also what the subwoofer provided at the opposite end of the frequency spectrum in the low registers where the 'sound' of a venue in live recordings was communicated with added verisimilitude.
In a spacious live recording like Ani DiFranco's Living in Clip where the track "Amazing Grace" seemingly places DiFranco and the band in an arena-sized venue, the f110v2 enlarges the sense of space. It's a bigger soundfield where crowd noises and the band's placement within the stage are magnified to more realistic levels. Given a system with good soundstaging capabilities, this track (but not the rest of the album so much for some reason) is literally enormous-sounding. With the sub, even the sense of stage depth and height are enhanced while the inherent venue acoustics take on an even larger dimension.
Billie Eilish's When We All Fall Asleep, Where Do We Go? album is a perfect way to test a subwoofer's low-end extension and mid-bass power. Via the f110v2 "bad Guy" and "Xanny" will compress your sternum and flex your rib cage. But it's a tight, fast attacking bass with good detail; it's not just a one note pulse bass facsimile. By being accurate in that way, the sock-to-the-stomach bass power does not influence the vocals or other instrumentation, therefore not retracting from the overall musical experience. And as far as the artist's intent, I'd be confident that if was Eilish to hear her treasured art through an f110v2-supported system, she'd be damned pleased. This album demands a full-range setup.
Similar deep bass acrobatics and pyrotechnics were evident in Marian Hill's appropriately named "Deep" from her EP Sway. Again the f110v2 presented effortless depth and control to the ridiculously deep bass notes on this track. And when the mix goes almost "surround", the Q Sound-style effect is evident and unperturbed by the subwoofer.
Listening to more delicate music (up until the drums kick-in), like any well integrated quality subwoofer, the f110v2 is not heard at all during normal playback. Only when things get heated in the low-end like when Yim Hok-Man hits the large (Dagu or Tanggu) drum throughout his Winston Ma-produced Master of Chinese Percussion album, does the f110v2 come into play with solid power which again literally pressurises the room. Throughout the more subtle passages where, for example, the xylophone takes centre stage supported by the smaller bell-type percussion instruments, the subwoofer is unheard. Just as it should be.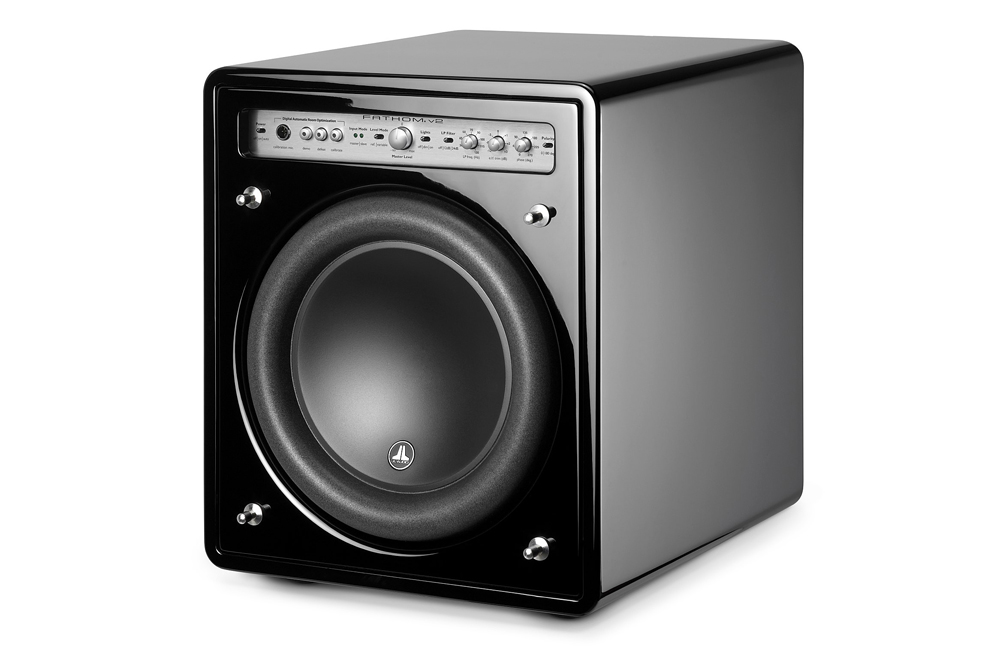 Large orchestral works benefit from the f110v2 as much as any modern bass-heavy music. There's that increased sense of space, scale and ambience. The orchestra is positioned in a larger soundfield, more deeply placed behind the first violins and cellos (celli). And watch out for the tympani's wallop which will thump, even if it's perfectly placed as stemming from deep behind the speaker plane.
For a 10-incher, this subwoofer can pack a deep and powerful punch along the lines of most 12-inchers. There's no doubt – the DMA-tuned driver really kicks beyond estimation. Mind you, this is with the f110v2's Master Volume set quite conservatively. There was a lot more output available should you be so… masochistic. Or your system's in a very large room. What JL Audio's larger subwoofers – like the gargantuan g213v2 with its twin 13.5 inch W drivers – would be capable of kind of really scares me.
Conclusion
The JL Audio Fathom f110v2 indisputably confirmed the viability of a good subwoofer within the context of any system. Yes, its addition within my system, where the main speakers are rated down to 20Hz, was not what I'd call chalk and cheese. But it was noticeable in the way it expanded the soundfield and improved ambient information retrieval. However, tested with a great set of monitors was a real revelation (I had the wonderful Axis VoiceBox S and Vermouth Audio Little Luccas Mk.II Limited Edition for that purpose, both endowed with high quality fast ribbon tweeters). Ditto for larger speakers over and above monitors such as medium-sized floorstanders – in those situations too, the f110v2 would be mandatory should you seek full-range sound in order to properly represent all sorts of music.
Having said that, if you expect fireworks of the type you get in over-the-top high-end home cinema systems, your configuration of the f110v2 will have to be different. The sub will certainly more than deliver in those scenarios with just a modest Master Volume wick-up. The Fathom f110v2 is a true audiophile subwoofer with a bonus – it has dual potential in a boom-crash-bang context too. And while here, in-situ in my new listening room, I deeply wallowed in its unfathomable power.
… Edgar Kramer
This email address is being protected from spambots. You need JavaScript enabled to view it.
Associated Equipment
Speakers — Wilson Audio Alexia Series 2, Axis Loudspeakers VoiceBox S(nearfield monitor), Vermouth Audio Little Luccas Mk.II
Amplifier — Gryphon Audio Antileon EVO
Preamplifier — Supratek Cortese, Lightspeed Attenuator LDR passive
Sources — Digital: 432EVO High-End Music Server Roon Core, Yamaha CD-S2100 transport, Chord Electronics Hugo M Scaler, Totaldac d1-core DAC. Analogue: Michell Engineering Orbe with Gert Pedersen Level 3 modifications and Origin Live Ultra upgraded motor, Trans-Fi Terminator air bearing linear-tracking arm, Shelter Harmony cartridge, Supratek Cortese & REDGUM Audio RGPH2 phono stages
Processor — DEQX PreMate
Audio Rack — SGR Audio Statement Model V
Acoustic Treatment — Vicoustic Multifuser Wood, Wavewood Ultra, Cinema Round Premium and Super Bass Extreme
Miscellaneous — GigaWatt PF-1 EVO, Les Davis Audio Viscoelastic CLD discs, VRC Vinyl Record Cleaning system plus miscellaneous accessories
JL Audio Fathom f110v2 Powered Subwoofer
Price: AU$6995
Warranty: Two Years
Australian Distributor: Advance Audio Australia
+61 2 9561 0799
www.advanceaudio.com.au
JL Audio Inc.
10369 North Commerce Parkway
Miramar, FL 33025-3962
United States of America
+ 1 954 443 1100
www.jlaudio.com