Austere, stark, unembellished… yet aesthetically truthful, functionally honest. They're the terms which came to my mind as I unboxed the matter-of-fact SLI-100 integrated amplifier from Cary Audio. The design seems non-superfluous, stripped of excess and devoid of unnecessary decoration. But with a purposeful, regimented functionality to provide music. Does the SLI-100 deliver on its direct, straightforward promise?
What's Needed and No More
In my experience, well designed valve amplification often exhibits a certain purity of tone combined with musical ease, especially amplifiers in the 50-to-100 watts per channel range. Such units generally provide plenty of power for most requirements – unless your speakers are horrendously inefficient, a rare thing these days – while making rather sweet music. In 'Room 2' at the new abode with a mix of quality standmount speakers, the SLI-100 was living up to the "sweet" descriptor.
However, first things first. Despite its simple appearance – for a valve amplifier, that is, considering the required output transformers and multiple valves – the SLI-100 offers a number of conveniences in addition to a not-so-common feature (albeit not super-rare by any means). Said feature is the SLI-100's on-board headphone amplifier with the associated 6.5mm jack being easily accessible from the amplifier's fascia.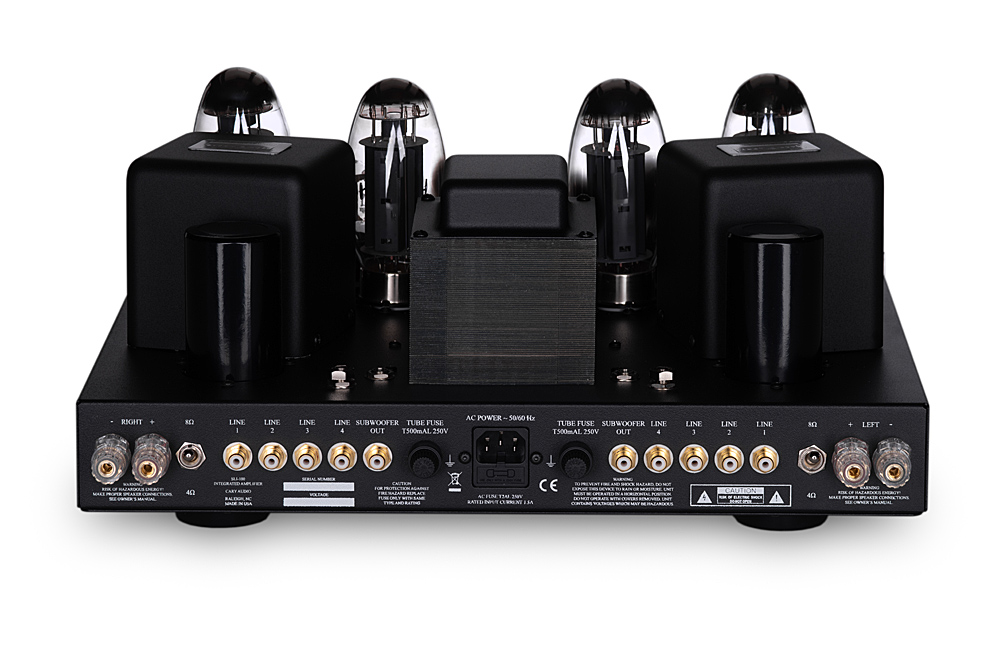 Conveniences start at the valve bias circuit where the factory setting is said to be good until the KT150s need replacement, upon which a 75mA to 85mA setting is recommended. Further, the non-inverting speaker-level outputs cater for 8 ohms and 4 ohms designs, with a good quality toggle switch per channel allowing output selection (no need to physically swap speaker cables to alternate binding posts). For the 100 watts per channel SLI-100, Cary Audio has provided four line inputs (RCA) and a subwoofer output (RCA) while a 'Tube Fuse' per channel and a standard IEC socket (with spare fuse) complete the rear panel essentials.
So the solid and nicely-brushed aluminium fascia sports the aforementioned headphone socket with its own dedicated activation button, while from left to right we have a high quality on/off switch with a blue light surround, the input selector, a large central volume knob and a balanced control. A remote control rounds out the amenities at hand. Simple. Done.
Cary Audio provides some insights into some of the circuit details implemented in the SLI-100. For starters, the company has gone to some lengths in the parts selection process and has implemented a dual mono power supply rail separating left and right channels – this is also evident in the way the input/output and fuse layouts have been arranged in the SLI-100. The power supply is crowned by a bespoke "200 percent duty cycle EI laminate power transformer". The output transformers are in-house proprietary designs. We're also told "Power transformer, power supply layout and output transformer design and careful shaping of the overall frequency response curve all play a very important part in the ability of the SLI-100 to recover quickly when overloaded. The high voltage rail will fluctuate no more than a volt between soft and loud passages."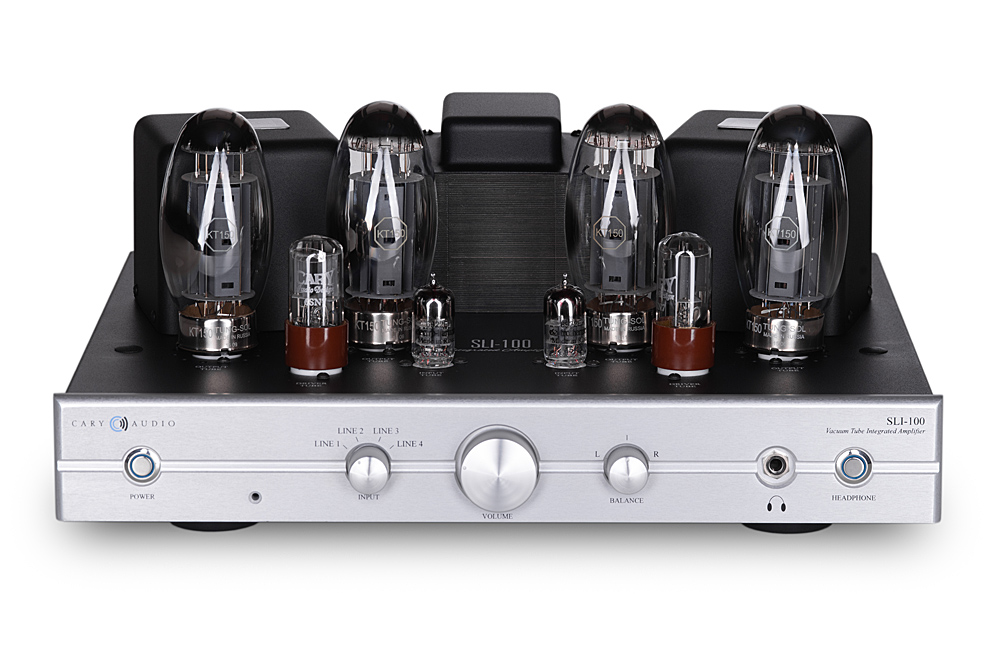 The input signal, as it passes across the volume control, is direct coupled to the input buffer's dual 6922's first grid while there are no coupling capacitors in line with the input signal. The preamplifier section of the SLI-100 is a Class-A triode design in a Series Regulated Push-Pull (SRPP) configuration.
The amp itself operates in Ultra-Linear push-pull Class-AB1 featuring a carefully-designed feedback scheme. Cary Audio's feedback circuit applies only 4dB of feedback for an optimised balance between bass control and distortion. A duo of 6SN7 valves are used in the phase inverter/pre-driver circuit in a "self-balancing split-load configuration". A quad of KT150s provides the rated 100 watts per channel. The SLI-100 is specified to provide 100 komhs input impedance with Noise and Hum being at approximately 82dB below the rated output. Frequency response is stated as being from 19 Hz to 23 kHz +/-0 .5dB at full power output.
Thermionic Tantra
As advancements in electronics parts and circuit design surged in the last few years, so has changed the sound of the stereotypical valve amplifier – to a degree. Valve amplification has become progressively neutral and the common ground with the very best of solid state amplifiers is currently a somewhat more conjoined space. Having said that, there are many valve amplifier designs which strive, as much as is technically possible, to combine the well-known strengths of both technologies. Enter Cary Audio's SLI-100 soundstage left…
SoundStage! Australia has recently moved headquarters and our reference room is in the process of an extension by way of removing two walls flanking a doorway (stay tuned for a feature on acoustic room treatments as the process of tuning the room is embarked upon in early 2020). In the meantime, a secondary room, which is just as spacious and has good natural acoustics, was used for the purposes of this review. For the SLI-100, the review process itself was somewhat extended in order to familiarise myself with the new room.
Once rockin' along, literally, the SLI-100 defined its character plain and clear. With The Tea Party's "Sun Going Down" from the album Splendor Solis the SLI-100 shook da house with a powerful and rounded – ever so slightly full – bass driver-kick-drum-beat while presenting electric guitar with dynamic incisiveness separated from Jeff Martin's potent vocals. The last portion of the track is a massive attack of drums, guitars and Martin's wailings which the SLI-100 handled superbly in terms of the separation of musical complexity, lack of aggression (aside from the requisite bite inherent in the recording) and in dynamic expression.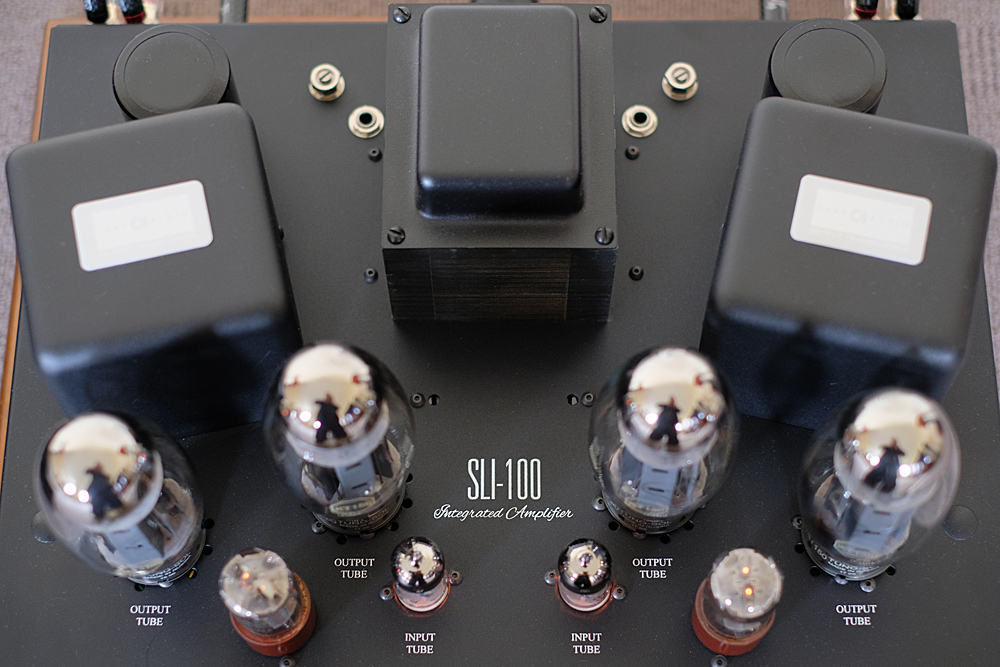 Given the excellent handling of power-music shown with The Tea Party, Tool's brilliant new Fear Inoculum, Horsehead's bar-stomping Shine and much other rock spun via Roon's new and rather tasty 1.7 update, I went on to explore more subtle fare in order to discover the subtleties at hand (and there were many as hinted at already).
Now an almost clichéd audiophile fixture but nevertheless a superb recording with substantial worth for audio evaluation (and I actually enjoy the music too, despite its overuse in audiophile circles and shows), Patricia Barber's Café Blue via the SLI-100 revealed subtleties in the songstress' vocal technique, the delicate oscillations and undulations across her range. The SLI-100 (aided by the superbly accurate speakers used for this review) placed Barber in a massive soundstage, locking her front-and-centre while positioning her just forward of her excellent backing band. The tonal purities of Barber's piano were superbly rendered via the SLI-100 which truly made the best of the renowned valve sound in this wide frequency spectrum. There was also flesh and true bone-on-bone finger clicks on "Ode to Billy Joe" while the accompanying stand-up bass sounded generous and considerably deep.
The soul-jarring beauty of Gidon Kremer's violin in his Piazzola El Tango homage to the great Argentinian composer, was nothing but tonal beauty while revealing micro-detail that made the instrument sound wonderfully believable. That rosin on string thing. The same level of verisimilitude applied to the SLI-100's handling of the texturally intricate and, for this writer, emotionally quite moving bandoneon as played by Per Arne Glorvigen. It's not an easy task to wring true tonality and detail from this instrument's fluctuating air-and-keys inflections and the associated timbrel complexities. Ditto for the classical guitar where Piazzola's own oft-used duo of Sergio and Odair Assad, Vadim Sakharov's majestic piano and Alois Posch's lavish acoustic bass all demanded tonal attention from the SLI-100. Other chamber-style music showed equal delicate handling of textures and spatial acuteness. Always, the sense of the recording venue was strong and live…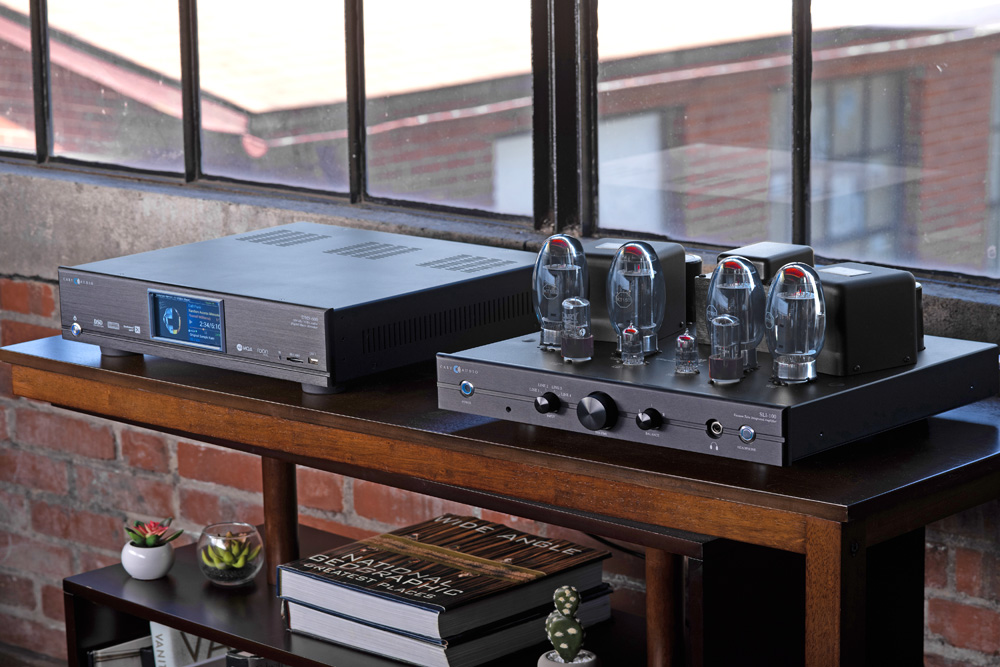 Take "Gimme What You Got" from Keb' Mo's The Door album and you'll hear a pacey, driving rhythm, a satisfying energy that challenges you to stay still. The track is propelled along with the snare and kick drum groovin' in tandem with awesome electric bass boogaloo. Mo's vocals are discernibly clear – there's humour in the lyrics – even against the mix-cutting but oh-so-musical horn section. The horns' non-aggressive musicality is consistent with valve amplifiers of the Single-Ended Triode (SET) type – that 2nd order harmonic distortion that some engineers, by design, apply even on solid state amps with calculated moderation in order to realise a richer, sweeter sound. It's a balancing act the SLI-100 performs very well indeed.
Large orchestral works benefitted from the SLI-100's great powers of recreating a room-filling soundfield. Bach, Beethoven, Sibelius and Tchaikovsky concertos reflected the grandeur of the music in a way that only truly excellent amplification (and synergistic audio companions) can display. Massive width, depth and height perspectives allowed the sonic mirage of transporting one to large concert halls where widely-spread orchestras play to captivated audiences. I was in them and them in me…
Spending a little 'can' time revealed the SLI-100's headphone performance to be very good indeed. It actually mirrored the amplifier's sonic signature by replicating much of its fullness and mild warmth throughout the midrange and upper low frequencies. The competence of the sonic aspect is cream on a very sweet pie and a considerable money saver if requirements are for both an integrated and headphone amplifier. 'Nough said.
Conclusion
I had quite the fun time with Cary Audio's SLI-100. Yes, it steers into moderate midrange warmth while also exhibiting a modest fullness in the bass region. Lab coats aside, both those qualities – when done judiciously as it has been here – make for near-universal musical enjoyment on a subjective level. Rock and contemporary popular music, which are often (but not always) mediocre recordings, are somewhat tempered and made more enjoyable via the SLI-100's generous full-bodied tonality. Ditto, orchestral fare which is presented with expressive dynamism and soundfield grandeur in all dimensions, again, providing musical enjoyment par excellence.
Given its considerable qualities, if straying only just off-centre of neutral into textured and full-bodied presentations be the food of music love, SLI-100 do play on…
… Edgar Kramer
This email address is being protected from spambots. You need JavaScript enabled to view it.
Associated Equipment
Speakers — Wilson Audio Alexia Series 2, Axis Loudspeakers VoiceBox S (nearfield monitor), Vermouth Audio Little Luccas Mk.II
Amplifier — Gryphon Audio Antileon EVO
Preamplifier — Supratek Cortese, Lightspeed Attenuator LDR passive
Sources — Digital: Yamaha CD-S2100 transport, Chord Electronics Hugo M Scaler, Totaldac d1-core DAC, Asus PC as Roon Core. Analogue: Michell Engineering Orbe with Gert Pedersen Level 3 modifications and Origin Live Ultra upgraded motor, Trans-Fi Terminator air bearing linear-tracking arm, Shelter Harmony cartridge, Supratek Cortese & REDGUM Audio RGPH2 phono stages
Processor — DEQX PreMate
Cables — sILENzIO loom, Vermouth Audio Black Pearl Mk.II loom, Vermouth Audio Reference loom
Audio Rack — SGR Audio Statement Model V
Miscellaneous — Les Davis Audio Viscoelastic CLD discs, VRC Vinyl Record Cleaning system
Cary Audio SLI-100 Integrated Amplifier
Price: AU$9999
Warranty: Four Years
Australian Distributor: Convoy International
+61 2 9774 9900
www.convoy.com.au
Cary Audio
6301 Chapel Hill Road
Raleigh NC 27607
United States of America
+1 919 355 0010
www.caryaudio.com