While the approach a designer adopts in the making of a loudspeaker may be different to piers from around the globe in terms of components used, differing priorities, construction methodologies, etc., the core engineering principles are a converging factor no matter the designer's country of origin. Physics and electroacoustics laws are universal. Having said that, a designer's own aural biases, his/her interpretation, may differ and therefore diverge a speaker's sonic tuning, sometimes dramatically. This is far less so nowadays than a few decades ago when the 'British' and 'American East/West Coast' sounds were at discordant cross-purposes, splitting audio enthusiasts into tribal camps. Has British loudspeaker maker Harbeth Audio, with its new Compact 7ES-3 40th Anniversary Edition, made a valiant shot at bridging the divide between the analytical and the musical?
All Dressed-Up
Loudspeaker specialist Harbeth Audio celebrated its 40th Anniversary in 2018 so the British company took the opportunity to release a selection of special edition models kitted with special veneer finishes and sporting a number of additional tweaks. The 'Anniversary' Compact 7ES-3 is the beneficiary of a gorgeous 'Tamo Ash' veneer as the most obvious visual distinction from its standard stablemates. However, the story of the 40th Anniversary does not stop there.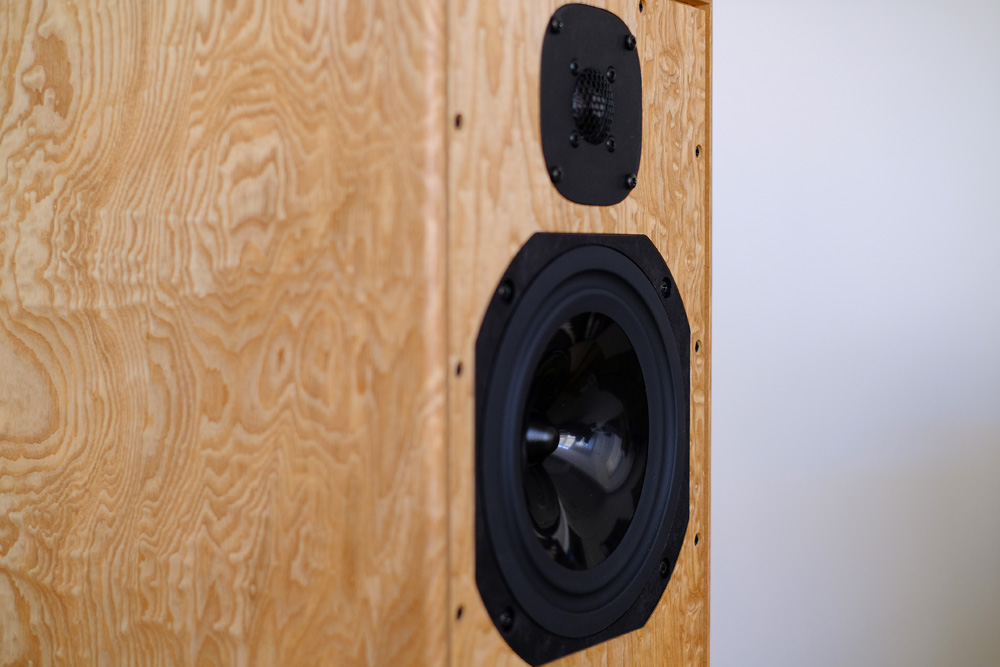 For the celebratory version of C7ES-3, Harbeth has substituted the standard crossover components with upgraded UK-manufactured poly-capacitors. In addition, high quality 'ultra-pure' OFC copper internal cable interfaces the crossover to the speakers' bespoke drivers. Substitute binding posts are now the excellent WBT nextgen types (a small badge alongside the posts marks the fact) which are superbly designed for easy hand-tightening and solid cable-clasping – whether bare wire or spade – and which also accept banana plugs. The milestone achievement is further proudly announced via metal badges on the front panel, rear panel and on the cloth grille. Inside their individual shipping boxes, the speakers are safely nestled in foam and further protected within an 'Anniversary' Harbeth-branded cotton bag which can also be used in-situ for protection from harsh sunlight and dust intrusion.
Harbeth has acquired an enviable reputation for the quality of its proprietary 'RADIAL' mid-bass driver, now in its RADIAL2 version. With UK government assistance, MD and Head Designer Alan Shaw engaged in an extensive R&D program to develop his ideal highly engineered cone driver. After an extended process of perfecting the polymer cone material, the powerful motor systems, the diaphragm curvature/profile and the required production processes, the RADIAL (Research And Development Into Advanced Loudspeaker) driver was finally a reality.
The bespoke 200mm RADIAL2 driver used in the Compact 7ES-3 speakers features a precision moulded liquid polymer cone construction (the mix of which produces the unusual mirror-like surface finish), a massive magnet system, an inverted rubber roll surround and a bullet-shaped phase plug protruding from its voice coil entry. The driver itself – and indeed the overall contextual voicing – has been designed to produce an accurate midrange, with Shaw describing the precision and beauty of the vocal range as being paramount for the carry-through of excellence in other aspects of music reproduction. Get the voice right and all else will follow…
In the C7ES-3 2-way front reflex-ported design, the RADIAL2 driver is supported via a 25mm ferro-fluid cooled soft dome tweeter which sits behind a fine metal mesh protective grille. The cabinet itself harks back to BBC monitor days (Harbeth's Founder H.D. Harwood was a senior engineer at the BBC's Research & Development department) by way of its wide baffle with exposed fastening hardware and its simple rectangular design. By the way, the baffle is attached to the main cabinet in this way in order to allow easy access to the internals for the purpose of servicing, parts replacement and/or repairs. Harbeth keeps comprehensive data on each of its speakers going back decades (should driver matching be required) despite the company's record for ultimate reliability being second to none.
Using CAD design, considerable efforts are spent on the crossover networks through multiple configurations which are then eliminated, one by one, down to the final fine-tuned version. As Shaw puts it, "Hi-Fi listening is a grand illusion. To turn the physical loudspeakers into a curtain of sound wider, taller and deeper than the cabinets and to conjure performers on command to your home, the sonic contribution of the drive units has to be absolutely precisely blended." Indeed.
Harbeth specifies the C7ES-3 as having a frequency response spanning from 45 Hz to 20 kHz +/-3dB with the design having a smooth off-axis response. Sensitivity is an average 86dB/1 watt/1 meter while the impedance is a nominal 6 ohms, both aspects making for a speaker that should be easy to drive as far as current demands, albeit possibly requiring a bit of grunt in terms of watts. On this last point, Harbeth suggests a minimum of 25 watts while the speaker is rated at 150 watts of program power handling. I tested the C7ES-3s with my reference Gryphon Antileon EVO Class-A behemoth and a high quality Class-A/B Integra receiver.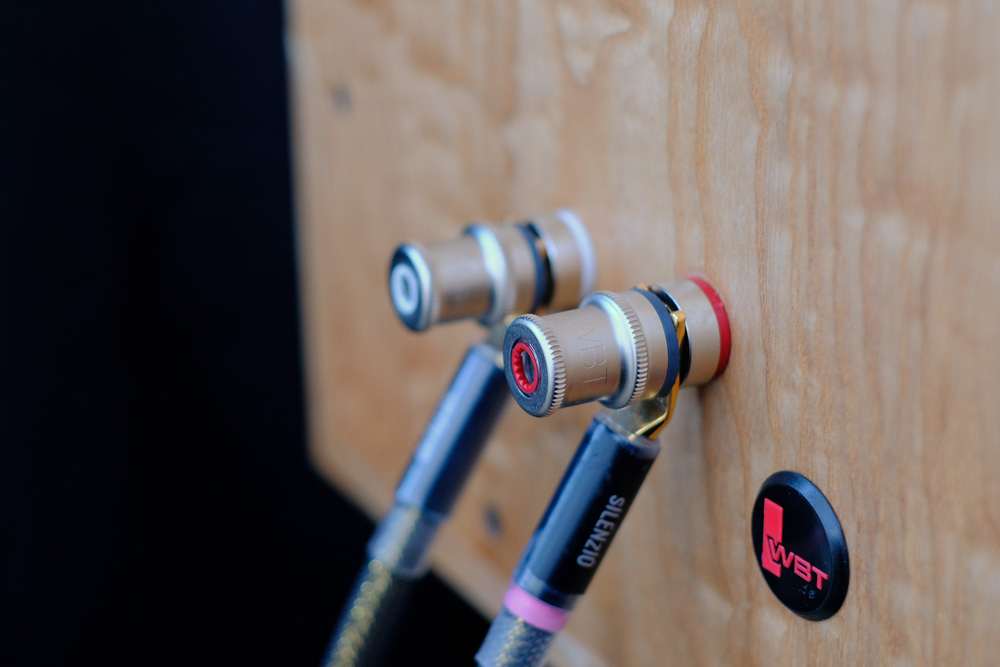 As mentioned above, this 40th Anniversary edition of the C7ES-3 sports a beautifully-applied Tamo Ash veneer rich in complex grain patterns making for a striking appearance. The speakers require quality stands with several aftermarket specialists offering dedicated options.
As with all Harbeth speakers, the Compact 7ES-3 is manufactured in England at the company's environmentally mindful and sustainable factory in Lindfield, West Sussex.
Heavenly Voices
Shaw's mandate to produce loudspeakers which do vocals to his strict standards has been fulfilled clearly via the C7ES-3. In fact, going through my listening notes I found the words "vocals, vocals, vocals" heavily underlined. There's a spooky sense of realism to both male and female voices via these speakers that makes well-recorded fare simply addictive. My usual favourites from Chan Marshall, AKA Cat Power, Ani DiFranco, Patricia Barber, Ryan Adams, Jackson Browne, etc. got regular spins while the C7ES-3s were in-situ at SSA Review Central. This vocal verisimilitude was combined with surprisingly accurate image placement and image density. This 'denseness' being a sense of 'body' and present solidity to vocal recordings. By the way, I say "surprisingly accurate image placement" because, despite the relatively wide untreated baffle with its potential dispersion, reflection and diffraction issues, Shaw has managed to draw-out excellent spatial qualities. Both in terms of soundstage dimensionality (depth, width, height) and in terms of precise imaging – that is no mean feat when dealing with a form factor such as C7ES-3's and confirmation of tight driver construction tolerances and pair matching.
Cat Power's "New York" from the Jukebox CD placed Chan Marshall dead centre and present within a large soundfield. Her vocals remained separated and intact – high lyric intelligibility – despite the barrage of guitars and powerfully-captured drums, both strong and most enjoyable features on this track. Said drumming was played with good weight and reasonable depth given the 2-way standmount design.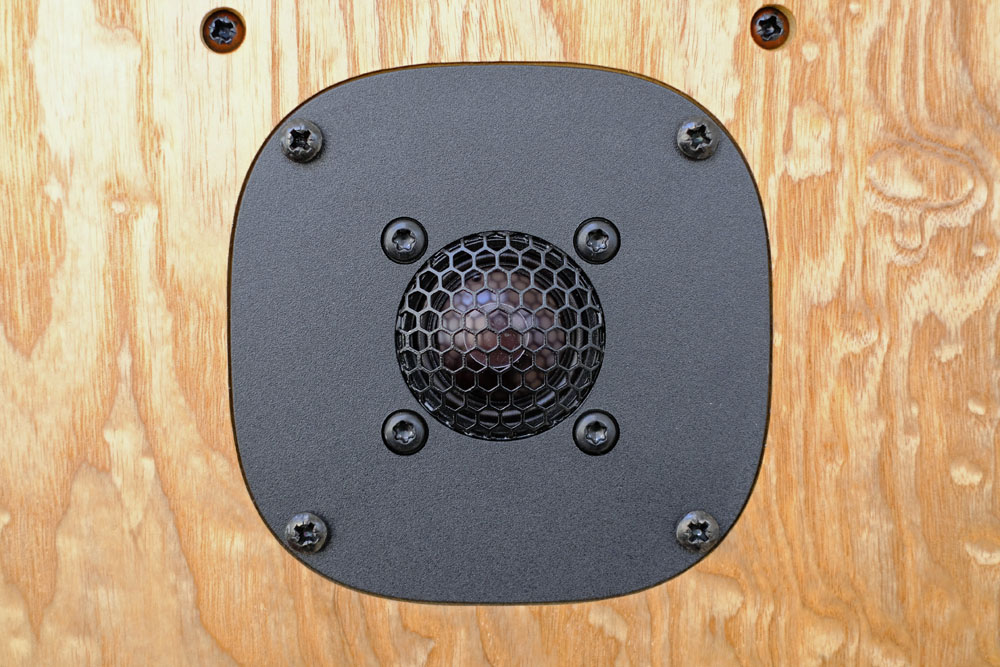 It's this midrange clarity and authenticity that also provide the conduit for the anger, rage even, which is such a captivating and emotive element of DiFranco's song writing and vocal delivery through some of her work. "Willing to Fight" from the live Living In Clip, or "Not a Pretty Girl" from the studio album of the same name, were communicated with involving tenacity, grabbing your attention and drawing you into the music. When DiFranco rams the guitar strings, C7ES-3 tracks well with the swing in dynamics, perhaps not to class-leading standards but certainly in a satisfying way that does the music justice.
Combined with the excellent reproduction of the midrange band, the delicate highs which are expertly, and subtly, laidback provide frequency response assistance in the truthfulness of the vocal range. Cymbals, bells, high percussion and all manner of treble-rich music information have a clear tonal purity… it's a sophisticated upper range presentation that makes for listening ease, a sound that will never, ever, be grating or fatiguing.
Charlie Hunter and Leon Parker's Duo album features a myriad of expertly-captured percussive sounds playing in cahoots with heavy electric bass, both guiding the music along, sometimes in a measured way while at other times it's toe-tappingly driven. Parker's kick drum stood in relief as a powerful rhythmic guide, with the tonal quality being a tad coloured via box and driver interface correlations. It's a subtle tonal deviation, perhaps a cabinet resonance which masks transparency within the upper bass. But it's not easy to pinpoint – therefore I wouldn't count it as an absolute negative – being of very narrow bandwidth, consequently seldom heard.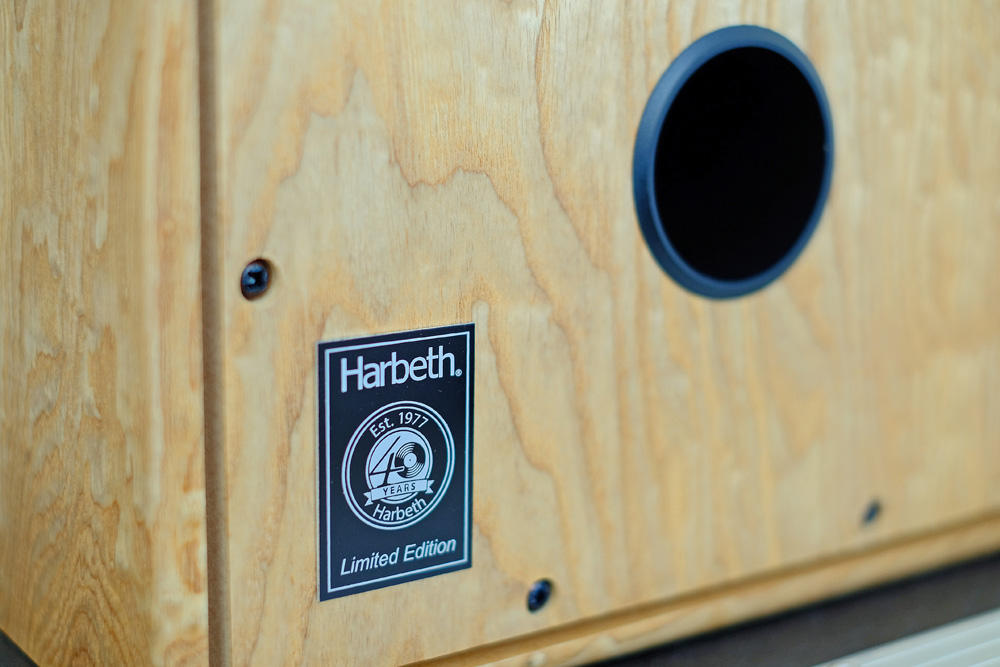 That aside, Hunter's electric bass sounded fast, tight and nuanced. Lesser speakers playing Duo's "Mean Streak" can sound bloated and boomy when reproducing the low, sustained bass note that opens the track. The Harbeth C7ES-3s played that tough test with good grip, excellent tonality and without a hint of boom or overhang. Ditto when Parker intros the bongo drums (or are they conga drums played towards the edge…), where the hand strike and skin of the drums are immaculately reproduced with good transient attack, precise separation and an excellent tonal signature.
Another super-enjoyable title is Ryan Adams' Live at Carnegie Hall where the C7ES-3s placed the singer songwriter smack in the centre of a massive soundstage. Adams is close-miked and on "Gimme Something Good" he oscillates his vocals from soft to powerful and everything in between. The C7ES-3s never harden or compress his loudest moments while also beautifully rendering the singer's softer, more heartfelt passages. And when the artist is at the piano, the grandeur of the instrument is communicated faultlessly.
Conclusion
While large manufacturers may have a team of engineers who work on different aspects of speaker design, be it driver development, crossover topologies, cabinet form and materials, etc. with the result being outstanding loudspeaker products, it's equally valid in terms of potential brilliant sonic performance, when speakers are the product of a single visionary person. As far as I know, Alan Shaw may indeed enjoy the assistance of engineers for certain aspects of design but, ultimately, Harbeth speakers are his vision materialised via his own tuning ear, musical biases, etc.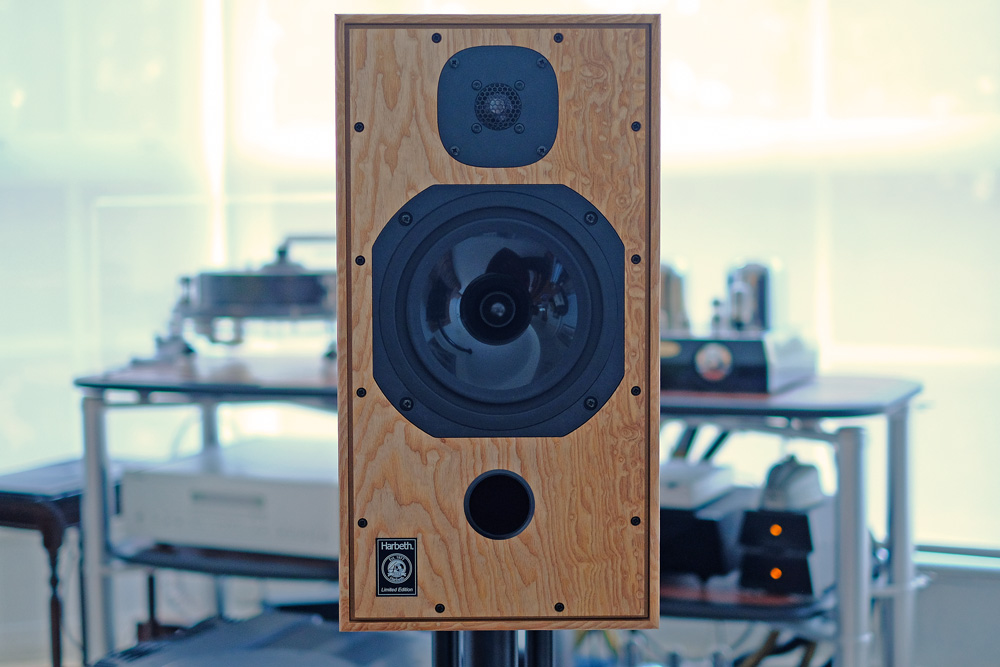 What Shaw has most definitely achieved with the C7ES-3s is the quintessential 'musical' sound I'm certain he was ultimately aiming for. It may indeed be the Harbeth 'house sound'. In my opinion, he has unquestionably succeeded here with the Compact 7ES-3 speakers…
… Edgar Kramer
This email address is being protected from spambots. You need JavaScript enabled to view it.
Associated Equipment
Speakers — Wilson Audio Alexia Series 2, Axis Loudspeakers VoiceBox S (nearfield monitor), Vermouth Audio Little Luccas Mk.II
Amplifier — Gryphon Audio Antileon EVO
Preamplifier — Supratek Cortese, Lightspeed Attenuator LDR passive
Sources — Digital: Yamaha CD-S2100 transport, Chord Electronics Hugo M Scaler, Totaldac d1-core DAC, Asus PC as Roon Core. Analogue: Michell Engineering Orbe with Gert Pedersen Level 3 modifications and Origin Live Ultra upgraded motor, Trans-Fi Terminator air bearing linear-tracking arm, Shelter Harmony cartridge, Supratek Cortese & REDGUM Audio RGPH2 phono stages
Processor — DEQX PreMate
Audio Rack — SGR Audio Statement Model V
Miscellaneous — Les Davis Audio Viscoelastic CLD discs, VRC Vinyl Record Cleaning system
Harbeth Audio Compact 7ES-3 40th Anniversary Edition Loudspeakers
Price: AU$6250
Warranty: Two Years
Australian Distributor: Audio Magic
+61 3 9489 5122
www.audiomagic.com.au
Harbeth Audio
3 Enterprise Park
Lindfield
Haywards Heath
West Sussex
RH16 2LH
England
+44 (0)1444 484371
www.harbeth.co.uk