Swiss digital maven Weiss Engineering recently announced its latest high resolution creation in the new Helios flagship digital-to-analogue converter.
Weiss Engineering calls Helios a "professional-level" no-compromise Reference DAC design. However, company founder and Chief Designer Daniel Weiss and his engineering team have adapted the unit to encompass features more suited to its target consumer market. To that end, the Helios DAC features a built-in preamplifier, headphone amplifier and a UPnP Roon Ready streamer. What's more, Helios incorporates a new and improved DAC circuit to the one used in the company's highly acclaimed DAC501 and DAC502 components.
On the input front, Helios' rear panel houses XLR for AES/EBU, S/PDIF via RCA sockets, Toslink optical, USB-A for storage device, USB-B for audio and an RJ45 for UPnP/DNLA network connectivity (all Helios features can be controlled via web interface). Outputs are via stereo RCA unbalanced and XLR balanced which can be optioned for line out to an amplifier or for headphone connectivity (output gain can be trimmed independently to suit each option).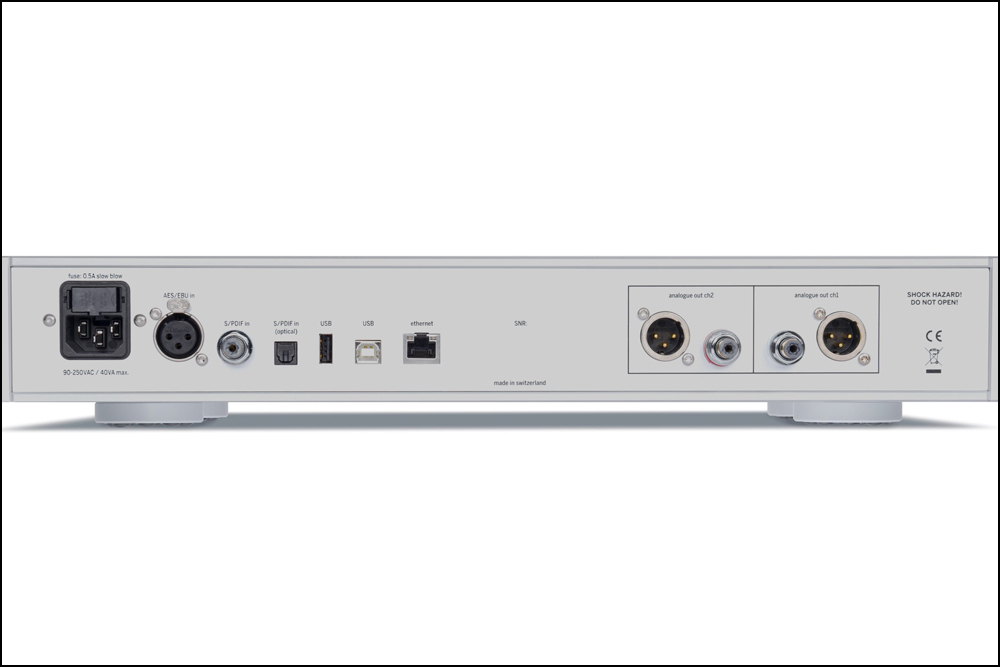 Weiss has used a high quality eight-channel 32-bit digital-to-analogue converter scheme configured in four parallel channels into each stereo channel. The AES/EBU and S/PDIF inputs can accept sampling frequencies from 44.1 kHz to 192 kHz while the USB and RJ45 inputs can extend that to 384 kHz and DSD128. Optical is limited to 96 kHz.
Helios features a very powerful DSP engine which provides a number of functions. It can be used as a 'Room Equalizer' in order to control in-room bass modes while the 'Creative Equalizer' and parametric equaliser's highs, mids, bass cut/boost allow meticulous user preference tuning. A 'de-Essing' feature serves as a sibilance cut for overly bright vocal recordings while a 'Vinyl Emulation' function creates a pseudo analogue sound with a further Stockfish Records profile. 'Crosstalk Cancelling' (XTC) is used to emulate 'dummy head' recordings onto a loudspeaker system. The DSP also provides other additional and unique (for a DAC) digital manipulation features.
The Weiss Engineering digital-to-analogue converter is expected to arrive in the country in early April. For general enquiries and auditioning locations, please contact the Australian distributor Sound Gallery.
Weiss Engineering Helios DAC
Price: AU$36,000
Australian Distributor: Sound Gallery
+61 3 9578 8658
www.soundgallery.com.au