Launching at the Toronto Audiofest being held this weekend (our American comrades will file a full show report), the C 3050 LE integrated amplifier is NAD's first 50th celebration product.
Slated as the first of more announcements to come (with product releases culminating at High End Munich 2023), the C 3050 LE 'Stereophonic Amplifier' launches NAD's 50th Anniversary celebrations. The company started in 1972 and, in accordance with that landmark, NAD will only be producing 1972 C 3050 LEs (each with an individual production number) as part of a limited production run. A non-limited-edition version is on the cards too.
While the unit may be styled in a super-attractive retro look, it nevertheless includes a whole stream of up-to-the-minute features. Regarding its styling, the C 3050 LE's look is enhanced by retro touches such as the twin Left/Right LED-backlit VU meters (switchable for input or output signal) and a timber-clad chassis finished in satin walnut veneer. Ditto for the large conventional knobs and buttons for the various functions which populate the front panel.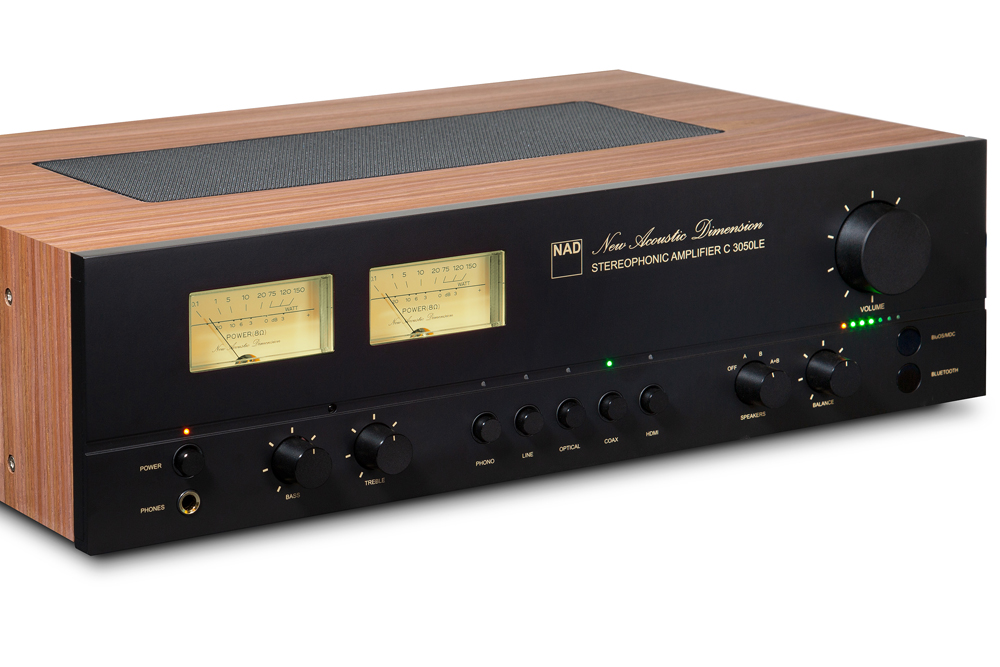 NAD has employed the latest version of its DigitalHybrid amplifier technology which offers 100 watts per channel into 8 and 4 ohms (135 watts per channel Instantaneous Power) in what the company calls "Full Disclosure Power". Full Disclosure Power aims to provide a real world amplification power rating versus the less realistic conditions of a laboratory scenario. The C 3050 LE has a "high-resolution audiophile-grade" differential digital-to-analogue converter (DAC) based on the highly regarded Texas Instruments PCM5242 DAC chip which is capable of 32-bit/384kHz resolutions.
Features-wise the C 3050 LE is more than generously endowed. The C 3050 LE offers multi-room streaming and Airplay 2 and two-way aptX HD Bluetooth streaming capabilities. The integrated amplifier will also offer MQA Studio Master Recordings decoding, Amazon Music Ultra HD, Spotify Connect and Tidal Connect, Dirac Room Correction coupled to the included BluOS-D MDC2 module, HDMI eARC, Voice control via Amazon Alexa, Google Assistant and Apple Siri (coupled to Airplay 2) and much more.
There are sufficient connectivity options by way of a line level RCA input and provision for using the C 3050 LE as either a dedicated preamplifier of additional amplifier via Pre-Out RCA and Main-In RCA while it also offers a single RCA subwoofer output. A built-in 'ultra-low noise' Moving Magnet (MM) phono stage allows connection to a turntable with MM cartridge. Digital inputs include S/PDIF coaxial via RCA and Toslink optical. IR and 12V mini-jack sockets and a USB Service port round out the socketry.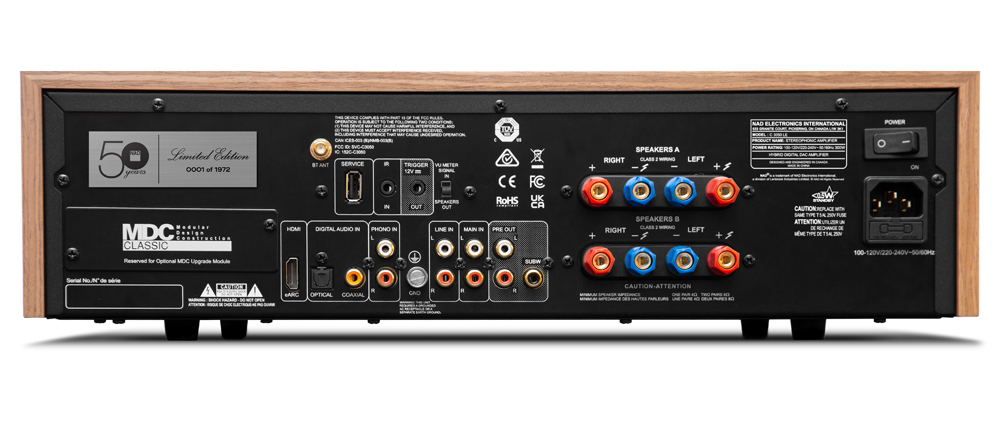 Product Manager for NAD Electronics Cas Oostvogel stated, "The C 3050 LE is based on a 1974 industrial design of the original 3030 stereophonic amplifier which, in its day, produced 30 watts per channel using a class A/B design and offered audiophiles and music lovers an affordable performance-oriented amplifier option versus its contemporaries."
The new limited edition C 3050 LE integrated amplifier will be available in Australia via importer Convoy International's Australia-wide specialist audio dealer network.
NAD C 3050 LE Integrated Amplifier
Price: AU$3299
Australian Distributor: Convoy International
+61 2 9774 9900
www.convoy.com.au