In an extensive evolutionary development from the unique Gaia design launched in 2011, the new Kyron Audio Gaia Evolution introduces both aesthetic refinements and substantial technical enhancements.
The new Gaia 'V2' embodies advanced design principles making it an engineering tour de force and an advanced complete system solution only requiring source connectivity. While the original's basic form is maintained, the Gaia Evolution takes its predecessors' 3-way configuration to a meticulously-engineered 5-way concept. As per the design mandate, the Gaia Evolution is a system solution including companion components housing powerful Class-D amplification and a 'Control Unit' preamplifier (line and phono stage) with in-built high quality digital-to-analogue conversion and DSP optimisation.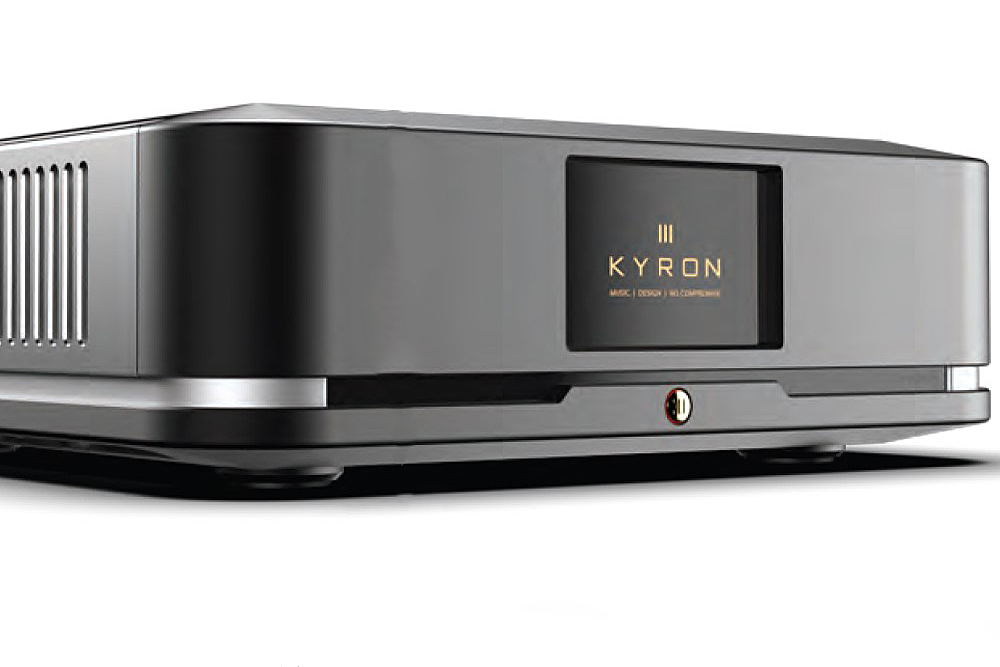 Every element of the original Gaia has been re-evaluated. Refinements have been engineered to just about every aspect and component. Aesthetically, the skeletal framework of Gaia Evolution can cater to bespoke paint finishes and also features enhancements via Nappa leather, Alcantara and "precious metals".
Starting with the drivers, the front-firing 26mm Scan-Speak Illuminator ring radiator tweeter (there's an additional rear-firing high frequency driver) now features a custom-designed waveguide with a specifically-machined profile said to provide smoother response and controlled directivity.
The twin Scan-Speak Illuminator 180mm midrange drivers are configured in a D'Appolito (MTM) dipole array and feature SD-3 (Symmetrical Drive 3) technology with massive underhung neodymium magnet motors allowing superbly linear excursion characteristics. They feature a new patented "sandwich cone" while Kyron Audio's redesigned mounting scheme, enhanced cable loom and improved interface connectivity has resulted in claimed enhancements to midrange clarity and tonal and transient accuracy.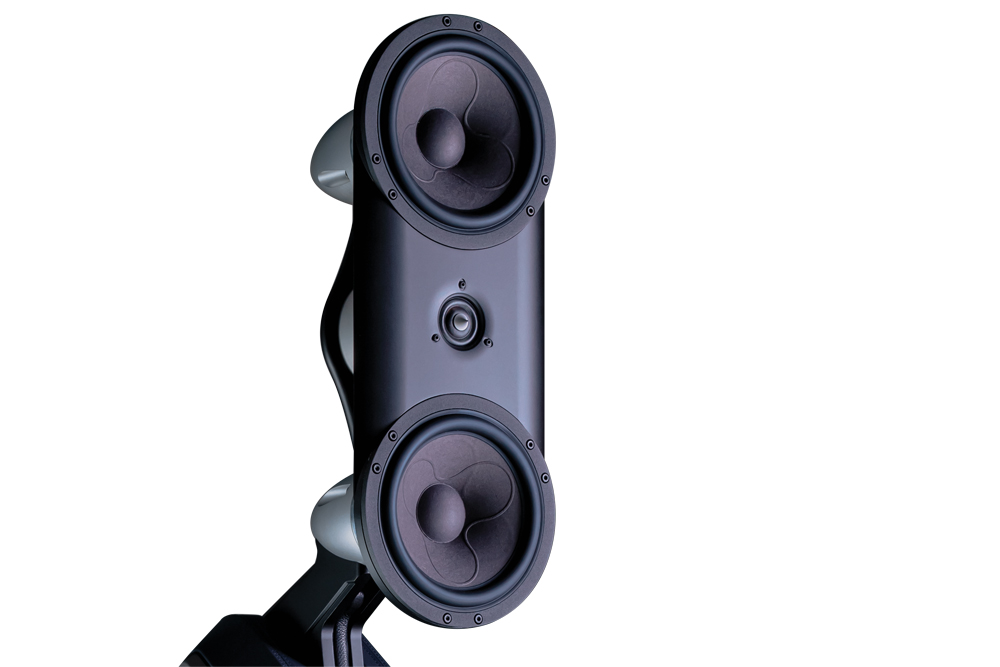 The six 300mm (12 inch) bass drivers per speaker (three front- and three rear-facing woofers) are custom-designed for Kyron Audio and feature V2 enhancements adopted to the suspension system which has resulted in reduced distortion. A new cable loom features silicon coated wiring while new binding posts are silver plated solid copper.
In order to provide extended low-end frequencies to the 20Hz octave, the Gaia Evolution features twin Special Edition Mercury subwoofers. Each sub features a high-excursion, low-distortion 300mm driver and is, of course, driven by the system's amplification (two 2500 watts amplifiers). Including the Special Edition Mercury subwoofers, the Gaia Evolution loudspeaker system features a staggering 16 300mm drivers in total.
Large diameter 'Open Box' woofers require massive power to provide both appropriate low-end output and unwavering driver control. The Gaia Evolution's Ncore 10 channel amplification system is housed in a newly-styled enclosure milled from solid aluminium and has received thoughtful engineering attention. The important distortion aspect has been reduced "to a level less than 1/20th of the original design" while Kyron Audio has designed a new power stage said to provide extremely low-noise and "musicality". In addition, the preamplification stage has been further isolated from the power stages in order to further lower the noise floor. The various amplification stages and the power supplies have been further isolated via separate multi-compartment chassis design.
The 'Control Unit' is the heart of the Gaia V2 system. It houses the preamplification with its built-in phono stage and balanced/unbalanced line level inputs. The Control Unit has an on-board multi-input DAC which accepts asynchronous USB with support for resolutions up to 192 kHz. Also in-built is a twice-as-powerful DSP (Digital Signal Processing) engine which provides access to extensive features and settings such as adjustability for the linear phase crossovers, overall frequency response (within +/- 0.1dB SPL) and group delay correction. Functions are accessible via a high quality touchscreen display.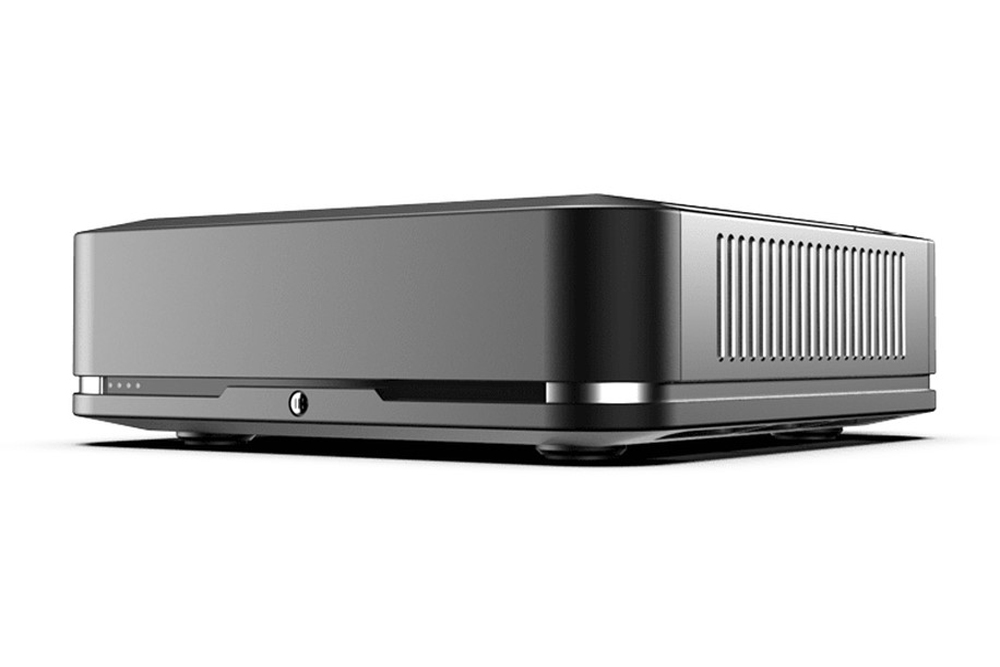 Kyron Audio's Chief Systems Architect Leon Suter told SoundStage! Australia, "Almost exactly 10 years since the launch of the original, Gaia Evolution is the culmination of an intensive research, design and testing program to improve on what was already one of the world's great speaker systems." Suter went on to say, "Gaia creates a completely new class of sound system, where startling 3D, holographic sound meets luxurious and harmonious style. The Gaia Evolution is the result of a combined 18 years of dedication to the art and science of audio reproduction and is the ultimate in accuracy, musicality and musical enjoyment."
Kyron Audio Gaia Evolution Loudspeaker System
Price: AU$289,000
Kyron Audio
Adelaide, South Australia
Australia
+61 1800 976 211
www.kyronaudio.com