The new MODEL 40n amplifier is a showcase of Marantz's latest amplification circuit design and digital technologies combined with the company's stylish aesthetic language.
The newest Marantz amplifier houses a comprehensive list of technologies aimed at providing superb sound quality and the latest music-playing capabilities. The MODEL 40n provides a one-box solution for the music lover by simply requiring a set of loudspeakers – all else is on-board.
For starters, the multi-input integrated amplifier features a healthy 70 watts per channel at 8 ohms based on Class-A/B topology. Challenging loudspeaker impedance loads are handled easily via the improved power supply design. The MODEL 40n features a larger toroidal transformer than its predecessors while four output transistors per channel, discrete proprietary Hyper-Dynamic Amplifier Modules (HDAMs), short signal paths and low internal circuit impedance provide high current and appropriate impedance driveability.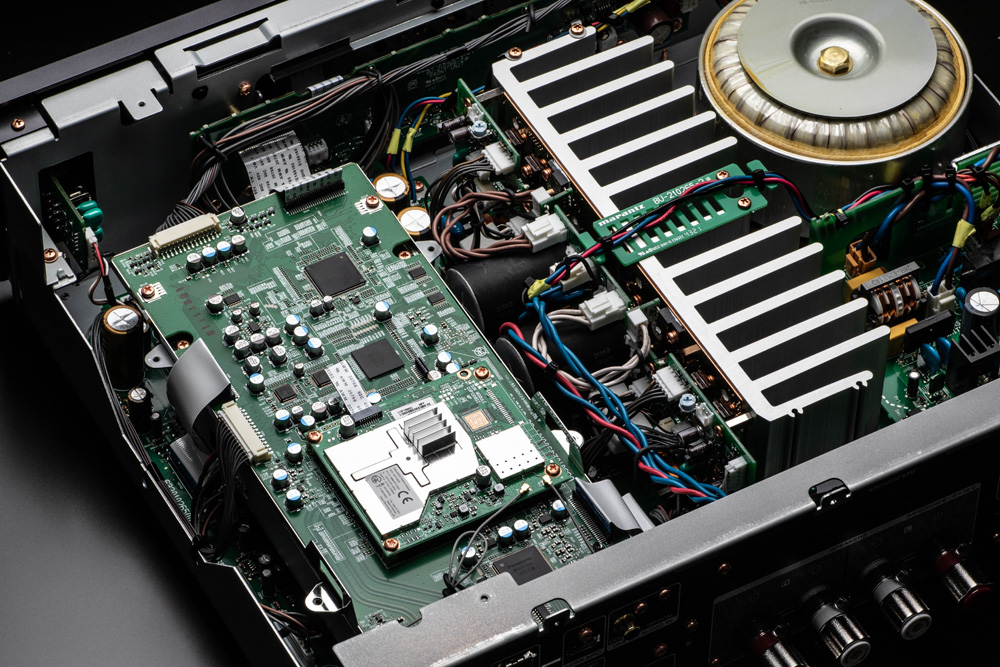 The on-board digital-to-analogue converter is compatible with files of 24-bit/192 kHz resolution for PCM and DSD at up to 5.6 MHz (DSD128). Built-in music streaming provides accessibility to Tidal, Spotify Connect, Amazon Music, TuneIn and countless internet radio services. Wireless streaming is provided via Bluetooth (antenna supplied), Wi-Fi (with HEOS Built-In for multi-room entertainment) and Apple AirPlay 2.
Input and output socketry is extensive. Digital inputs include S/PDIF coaxial via RCA, Toslink optical, ethernet RJ45 and a USB-A port for a storage device. In an unusual option, Marantz has provided a HDMI ARC (Audio Return Channel) allowing digital audio playback from suitably-featured smart televisions (opening possibilities for great sound from movie streaming services, Apps, computer games, etc.). The MODEL 40n is provided with its own dedicated remote control handset plus it is compatible with Siri, Alexa and Google voice command.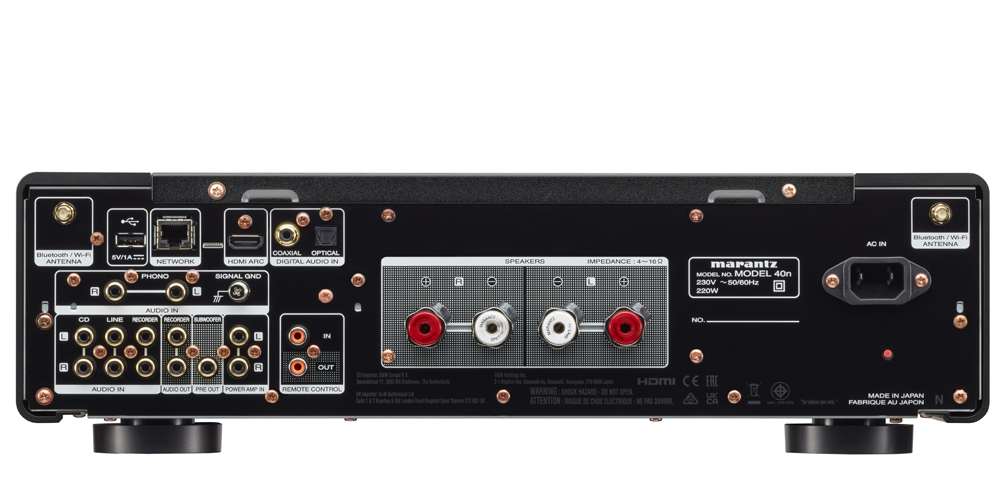 There are a stream of analogue inputs including three line-level RCA, an RCA power amplifier input, a stereo record output and a subwoofer output with crossover adjustments allowing comprehensive bass frequency room adaptability. There's a built-in phono stage catering to Moving Magnet (MM) cartridges via RCAs plus a coupled ground screw-type terminal. Marantz provides a set of their own proprietary loudspeaker binding posts. The MODEL 40n is available in silver and black finishes.
Marantz president Joel Sietsema stated to SoundStage! Australia, "I strongly believe you don't have to be an audiophile to enjoy rich, warm sound. With our MODEL 40n we've further perfected the balance between what we're known for – our sound – with added simplicity, gorgeous design, modern upgrades and power. This product is truly ideal for those who require excellent performance yet find elegance in simplicity and ease of use."
The new Marantz MODEL 40n integrated amplifier is due to arrive in Australia in May 2022 and will be available throughout the country via authorised specialist audio dealers.
Marantz MODEL 40n Integrated Amplifier
Price: AU$4499
Australian Distributor: Sound United
+61 2 9196 8990
www.bowerswilkins.com/en-au