In a 'Mk 2' re-invention of the company's top-shelf digital player, Japan's Melco has announced its new flagship N10/2 'Digital Music Library'.
Melco claims the new Digital Music Library is its best-performing digital player to date. The company has engineered the half-sized two-box tier-topper to outperform its predecessor and features a number of refinements aimed at improving sound quality and overall performance. Melco claims it's an audio-specific design engineered "from the ground up" for its purpose, with the designers avoiding IT- or PC-based components and adopting higher grade audio-centric ones.
For starters, each box has a specific role. The 'head' unit houses all the digital processing and accurately handles data connectivity while the second unit contains the dedicated high quality linear power supply. The power supply has been engineered to provide very low noise and features a quality toroidal power transformer.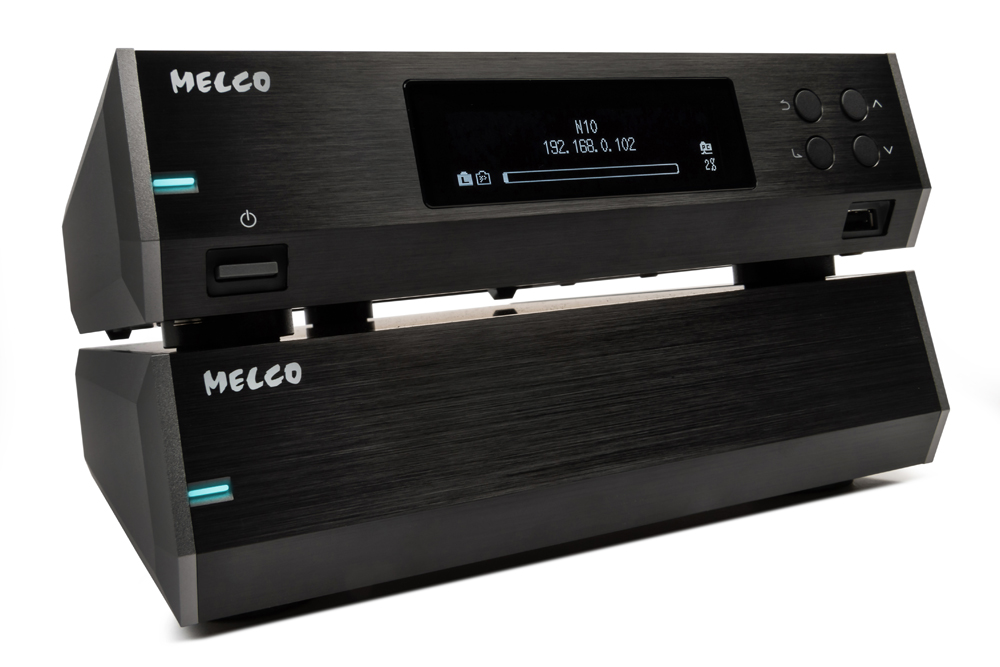 The head unit's rear panel features dual Ethernet ports labelled 'LAN' and 'PLAYER'. The former's role is self-explanatory while the latter being a dedicated port for direct-to-network-streamer connectivity in order to bypass data switches and their inherent timing inaccuracies. Also on the rear are a pair of USB 2.0 sockets (there's a further USB port on the unit's fascia), with one serving as an additional storage port (can accept a CD drive and is also capable of playback, back-up, importing, etc.) while the other can connect to a USB digital-to-analogue converter (DAC).
The N10/2 can be controlled via the free Melco Music HD dedicated App while music playing can be conducted with Melco's reliable software architecture and 'Intelligent Music Library' suite which includes MinimServer and SongKong. In addition, the N10/2 is Roon Ready. The Melco Music HD App supports TIDAL, Qobuz and vTuner streaming via DLNA/UPnP in USB DAC mode. Eight times DSD and PCM at up to 32-bit/384 kHz is supported.
The N10/2 is available in two variants. The N10/2-H50 incorporates a 5 TB HDD while the N10/2-S38 features a 3.84 TB SSD, with both drives being selected at the factory for optimum performance. The N10/2 can be ordered in either a silver or black-anodised high quality finishes.
The new Melco N10/2 Digital Music Library will be available in Australia via importer HiFi Collective's established specialist audio dealer network around the country.
Melco N10/2 Digital Music Library
Price: N10/2-H50 AU$12,995, N10/2-S38 AU$15,495
Australian Distributor: HiFi Collective
+61 3 9013 4334
www.hificollective.com.au