As part of the upmarket Masters Series from NAD, the M23 features the best of the company's amplification technology in its Eigentakt Purifi-derived topology.
The new M23 is a 'Hybrid Digital' stereo power amplifier which carries over the NAD Eigentakt (licenced by Purifi) technology first introduced by NAD on the highly-regarded M33 BluOS Streaming amplifier. The Purifi amplification circuit, in conjunction with NAD's expertise in switch-mode power supply design, is said to be capable of driving just about any loudspeaker without compromising frequency response for even the toughest impedance load demands.
Eigentakt technology is also said to control harmonic and intermodulation distortion and noise to extremely low levels. In fact, the company claims these are "virtually immeasurable". NAD does provide an impressive specification for Total Harmonic Distortion (THD) of 0.00069% (XLR) and <0.0013% (RCA). Promising for bass duties is the damping factor of >800 (reference 8 ohms, 20 Hz to 6.5 kHz).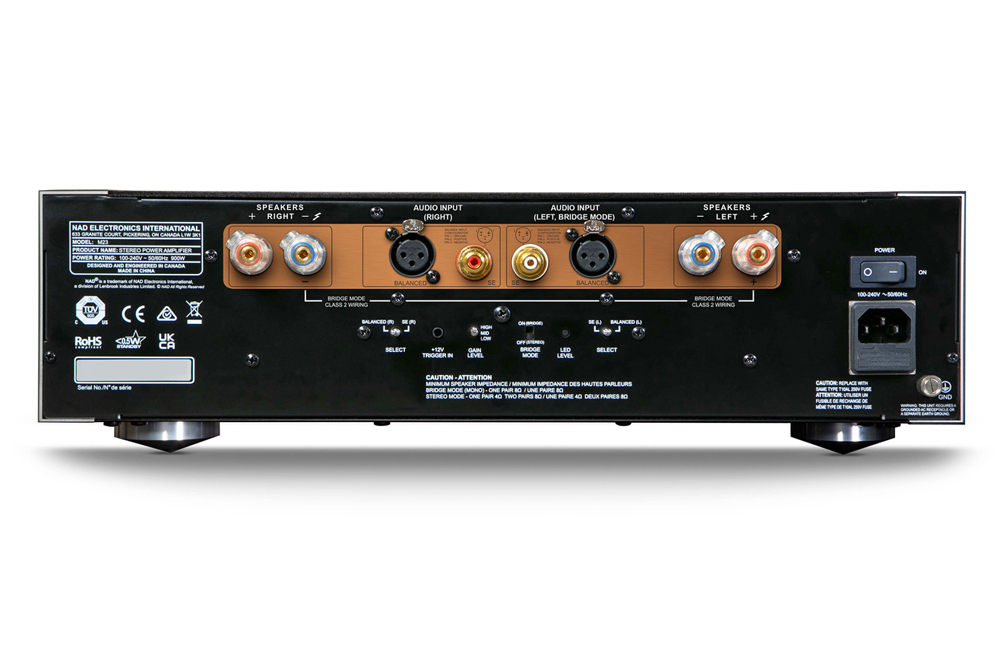 NAD's Eigentakt circuitry differentiates itself to the more common types of Class-D amplification by way of a claimed massive dynamic power reserves at low impedance loudspeaker loads. The M23 offers 200 watts continuous power per channel into 8 ohms while a 4 ohms load sees the amplifier's output capability at 380 watts per channel. Those figures are evidence of strong current capabilities which are much needed with low impedance loudspeaker designs. Bridged power output jumps to 700 watts at 8 ohms but with the universally-common small sacrifice to lower impedance drive.
The M23 features auto-sensing input signal circuitry, balanced XLR and unbalanced RCA inputs (switch selectable per channel), a gain control with three available levels (low, medium, high), a switch for the bridging circuit mentioned above, a 12V trigger socket, an LED dimmer control and high quality loudspeaker binding posts.
In-keeping with Masters Series styling, design language and overall quality, the M23 features superb chassis construction employing heavy gauge aluminium panels and a bespoke magnetic 'iso-point' footer system aimed at combatting deleterious vibrational distortions.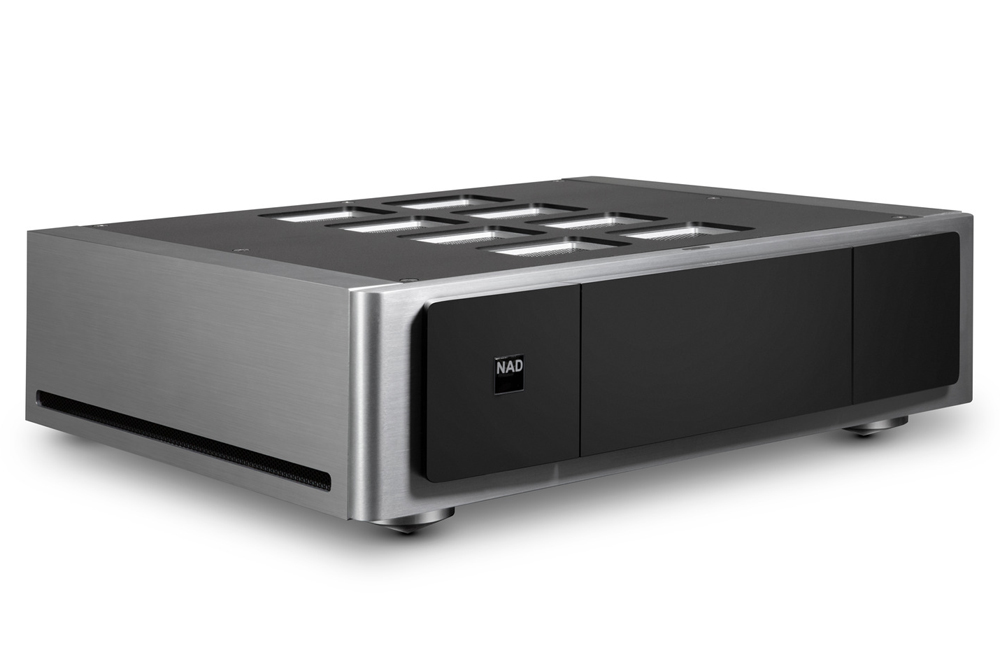 NAD's Product Manager Cas Oostvogel told SoundStage! Australia, "The sonic character of the M23 is reinforced in the story told by the numbers. This is an amazingly powerful and transparent amplifier bringing new levels of refinement and dynamics at any level and sets a new benchmark for performance and value in its category."
The new NAD M23 will be available in Australia from March 2022 via local distributor Convoy International and its country-wide audio specialist dealer network.
NAD M23 Hybrid Digital Power Amplifier
Price: AU$5999
Australian Distributor: Convoy International
+61 2 9774 9900
www.convoy.com.au