Iconic brand Mark Levinson celebrates reaching a major milestone deserving of much festivity by launching the ML-50 Limited Edition Monoblock Amplifiers.
Marking Mark Levinson's 50th Anniversary, the ML-50 amplifiers will be limited to 100 pairs globally and are "packaged" as a pair of monos with distinctive aesthetics and unique functional features differentiating the new amplifiers from the company's regular and highly-acclaimed amplification line.
The fully-balanced ML-50 monoblocks further evolve the circuits and overall engineering of Mark Levinson's own award-winning № 536. The new amplifiers are now capable of outputting 425 watts per channel in Class-A/B into 8 ohms while offering 20 watts of pure Class-A into the same impedance. An increase in the high voltage supply in the voltage gain and pre-driver circuits from 8,800 mF to 13,200 mF has resulted in a lower noise floor. The capacitor bank in the high current power supply has also been increased from 169,200 mF to 206,800 mF resulting in extended headroom with potentially superior dynamics and low-end control. Doubling the output stage bias has lowered distortion while a lower impedance path is a result of a reconfiguration of the Schottky rectifiers.
As mentioned above, the ML-50s are fully-balanced amplifiers, therefore, the input option is balanced XLR (single-ended RCA inputs are also provided) while two sets of Mark Levinson's proprietary 'Hurricane' binding posts are the loudspeaker signal outputs. The package includes a bespoke pair of high quality AC power leads.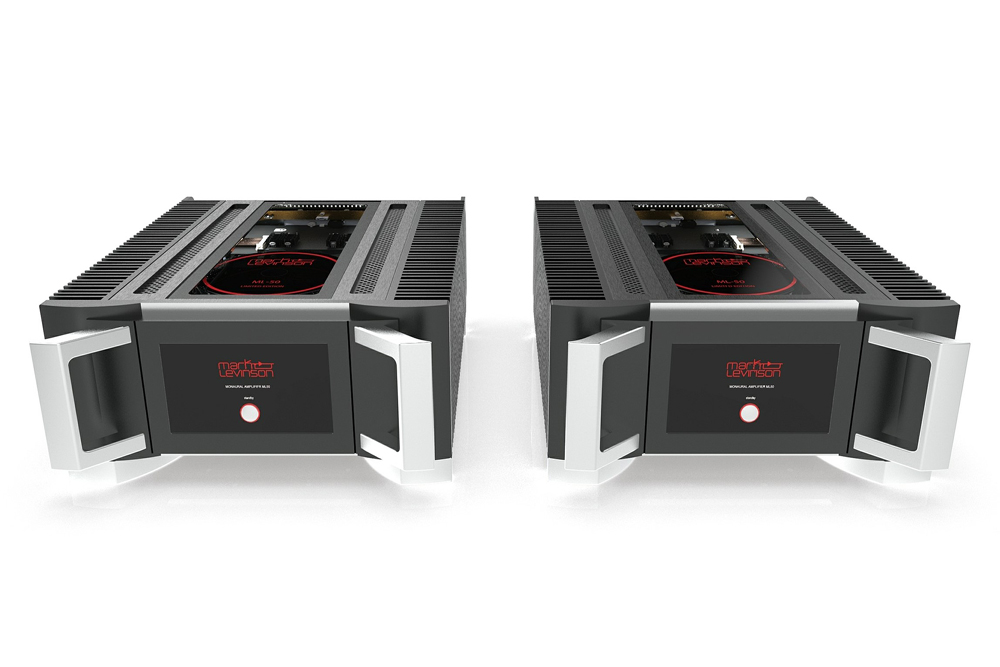 The ML-50 convergences a number of previous design aspects which made Mark Levinson amplifiers truly enviable legacy products. In fact, many years ago, this publication's Editor enjoyed the fruits of the superbly engineered and oh-so-sweet sounding № 29 stereo power amplifier. The ML-50 monos adopt that amplifier's (and its stablemates № 20, № 20.5 and № 20.6) distinctive angled front handles while its model denomination goes back to the ML-2, Mark Levinson's first and full Class-A low power amplifier. Further inspiration is derived from the outrigger feet as used in the legendary № 33 and № 33H reference amplifiers and the uniquely-engineered № 53's front glass panel. A bespoke styling cue is a window on the amplifiers' top panel which provides a clear view, via in-built LED lighting in red and white (also 'off'), into the superbly-designed internal layout and circuits.
Of further interest is our SoundStage! Network's Jeff Fritz interview with Jim Garrett, Harman International's Senior Director of Product Strategy & Planning, Luxury Audio (link here).
Garret told SoundStage! Australia, "The ML-50 is a celebration of the 50 years of products and performance that have made Mark Levinson the benchmark for no-compromise audio that it is today. With only 100 pair to be offered globally, this statement amplifier package is an heirloom investment in the finest luxury audio equipment available."
Mark Levinson ML-50 50th Anniversary Limited Edition Monoblock Amplifiers
Price: Australian Pricing TBC (US$50,000 for Package)
Australian Distributor: Convoy International
+61 2 9774 9900
www.convoy.com.au