Copenhagen's audio specialist Copland opens-up a new entry-point to its highly acclaimed integrated amplifier offerings in the freshly-launched CSA70.
The new integrated amplifier shares much of the technology and features list of its bigger brethren while, however, eschewing the others' valve hybrid design usually embodied in the preamplification stages. The CSA70's input stage's circuitry is pure solid state rather than valve-based. Having said that, Copland has incorporated a single 6922 valve for the built-in phono stage.
The amplification stages offer the same technology as the upper tier models with a reduced output power rating. So, on offer is a still-solid 70 watts per channel into 8 ohms while the 4 ohms figure is quoted as 130 watts with the inclusion of Copland's proprietary "feedback structure" which is said to provide wide frequency response and minimal distortion. Input options are rather generous, with a selection of three line level inputs, a Moving Magnet (MM) phono input and a line and pre-out outputs (all unbalanced RCA). In addition, the CSA70's fascia houses a 6.3mm headphone jack output with 22dB of gain and 100 ohms load impedance.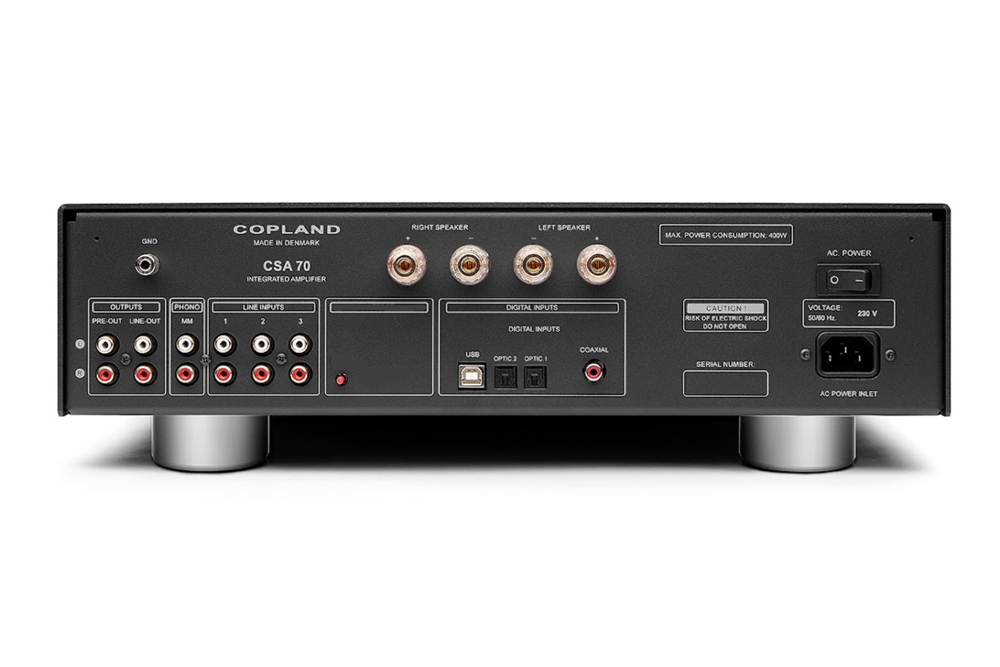 On the digital side, the CSA70 provides a wide choice of inputs including a USB socket, an S/PDIF coaxial (RCA) and two optical Toslink sockets. Copland is also offering an optional aptX Bluetooth module which is capable of accepting wireless streams at high quality rates.
The entire audio circuitry is carefully incorporated into a single PCB in order to maintain the shortest possible signal paths while also minimising RFI and noise. The high precision "audio-grade" analogue volume control requires no additional associated electronics, unlike digital volume control architectures, confirming the 'simple is best' audio mantra. The CSA70 features protection schemes catering to possibilities of DC offset, overcurrent conditions and thermal overload.
Copland told SoundStage! Australia, "Created for the dedicated music lover, the CSA70 is designed to provide exceptional audio performance that belies its power rating and price… For the vinyl enthusiast we have included an excellent phono pre amplifier." The company representative went on to say, "The amplifier is ruggedly constructed and designed to deal with the most awkward of dynamic loads that may be presented by the loudspeakers, and this contributes to the amplifiers excellent transient handling capability."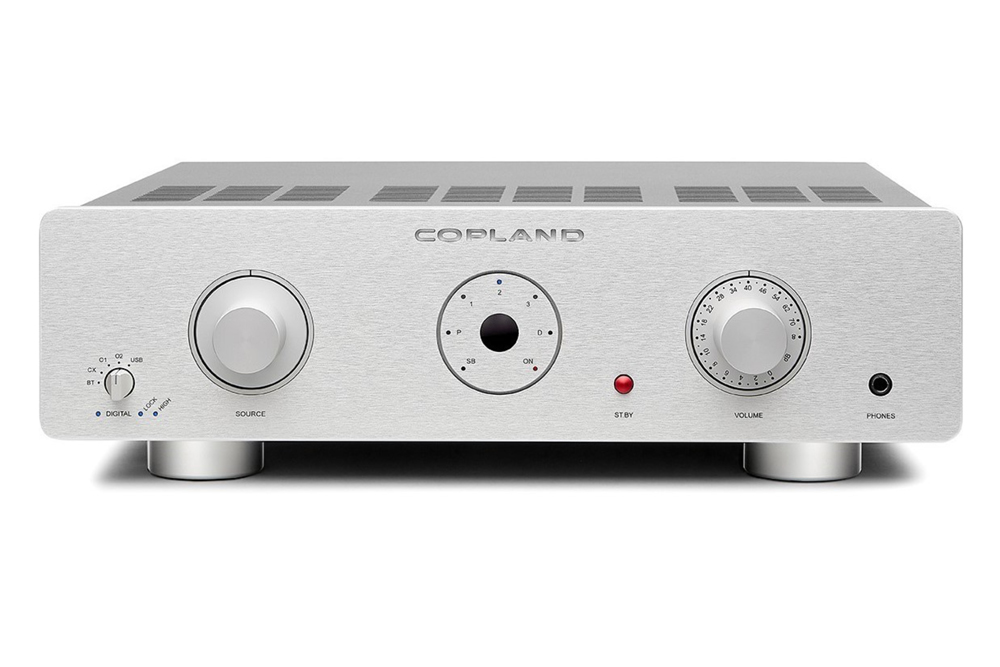 The new Copland CSA70 is available now via Australian importer Audio Magic and its country-wide dealer network.
Copland CSA70 Integrated Amplifier
Price: AU$4900
Australian Distributor: Audio Magic
+61 3 9489 51 22
www.audiomagic.com.au