Venerable JBL, a division of the giant Harman International's Luxury Audio Group, has announced the new 4309 loudspeaker which rounds-out the Studio Monitor series with its smallest offering.
Indeed, the retro-styled 4309 fills big shoes with a small stature. The new loudspeaker joins Studio Monitor series brethren 4349 12-inch (300mm) and 4367 15-inch (380mm) in replicating the 2-way architecture and aesthetic while now adopting a 6.5-inch (165mm) driver to support JBL's acclaimed horn-loaded tweeter.
Said tweeter is the patented JBL 2410H-2 1-inch (25mm) 'Teonex' polymer low-distortion compression driver which is loaded via the company's latest High-Definition Imaging (HDI) horn flare and is also derived from JBL's D2 series of Professional Monitors. JBL's highly evolved and refined horn flare design has been engineered to provide controlled directivity resulting in excellent on/off-axis accuracy. Further, the flare is said to feature linear frequency response and seamless crossover blending to the 165mm driver.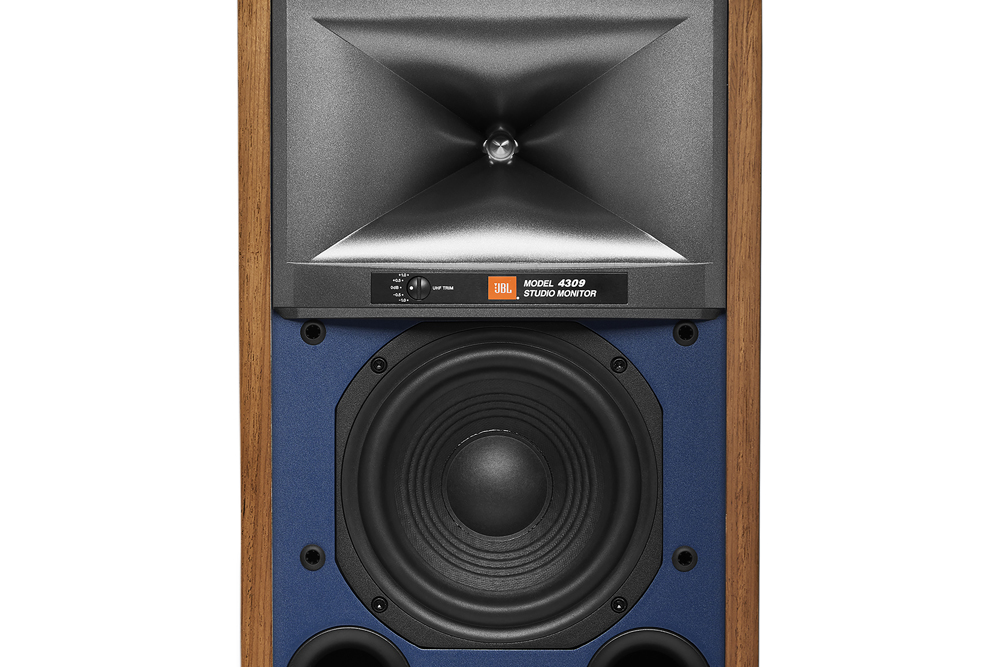 Room matching is provided by a subtle UHD "Ultra-High frequency adjuster" front baffle trim control which tunes the tweeter in 0.5dB increments from -1dB to +1dB. The UHD Trim control is part of a high quality and carefully-tuned crossover system featuring air-core inductors, cast wire-wound resistors and low-ESR metallized film capacitors.
The high power 165mm mid/bass driver features a 'Pure-pulp' paper diaphragm is said to be very stiff, lightweight and pistonic throughout its frequency band, all properties that promise detailed, dynamic and natural sound. The driver is powered via a massive 'Symmetrical Field' motor magnet system encapsulating a long-throw voice coil. A motor ring maintains stable magnet flux throughout the voice coil while a further copper shorting ring is said to guarantee maximum output with low distortion. Low frequencies are supported via a "computer-optimized" twin flared reflex port system on JBL's 'traditional blue' baffle.
The 4309 is specified as having a frequency response spanning from 42Hz to 30kHz at -6dB while sensitivity is quoted as 87dB (2.83V/1m) and being 4 ohms nominal in terms of impedance load. The drivers are crossed-over at 1.6kHz while the high frequency drivers' coverage angle is quoted as -6dB at 100 degrees horizontally and 80 degrees vertically from 2kHz to 17kHz.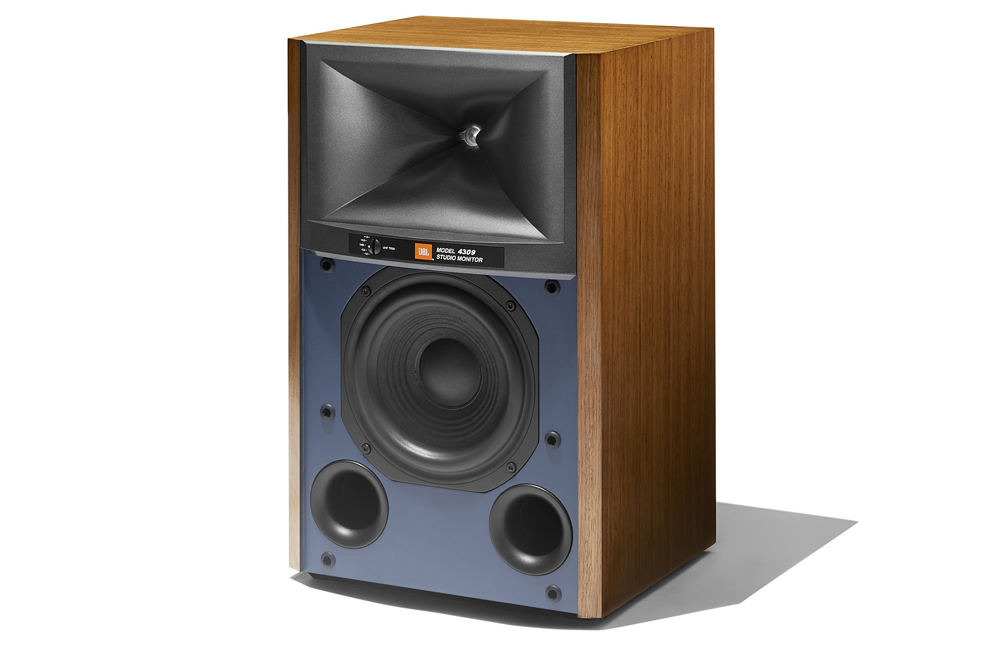 Jim Garrett, Senior Director, Product Strategy and Planning, HARMAN Luxury Audio told SoundStage! Australia, "Our Studio Monitor series of high-performance loudspeakers are some of our most popular models globally as there simply isn't anything else like them. The combination of the heritage pro-style aesthetics and state-of-the-art acoustic technologies packaged together in the small form factor of the 4309 results in a fantastic loudspeaker discerning listeners will love."
The JBL 4309 is scheduled to arrive in Australia in September 2021 and will be available for audition at importer Convoy International's wide network of country-wide specialist audio retailers.
JBL 4309 Studio Monitor
Price: AU$3999
Australian Distributor: Convoy International
+61 2 9774 9900
www.convoy.com.au