Hailing from the picturesque rolling hills of Tuscany, Gold Note's new super-featured PH-1000 flagship phono stage exclaims advancement and sophistication in technical design.
Entirely designed and handcrafted in Italy, the PH-1000 represents Gold Note's most comprehensively featured phono stage. The company has poured considerable R&D into the development of this top-shelf phono stage which, in addition to catering to a complete variety of cartridges, also houses an on-board headphone amplifier, micro-processor controlled functionality, wide equalisation curve options and much more.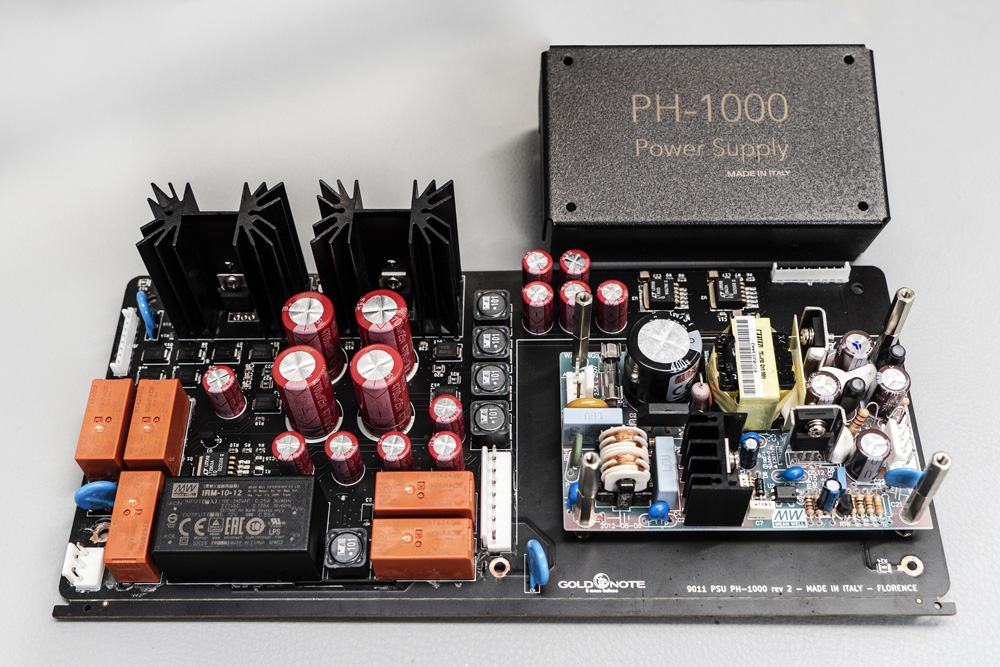 For starters, the short signal path PH-1000 caters to both Moving Magnet (MM) and Moving Coil (MC) cartridges of any gain and impedance design. No dip-switching here, the PH-1000 is micro-processor controlled, making it a breeze to change any functional/operational parameter via the fascia's high quality digital interface display and/or provided remote control. The display itself is usefully packed with data pertaining to just about every one of the PH-1000's functions.
So, as far as cartridge settings, the PH-1000 can be adjusted in terms of equalisations, gain, load and capacitance for appropriate cartridge matching while you can select an astonishing 40-plus equalisation curves and independently adjust each one in stereo, mono or 78rpm records (options are Capitol, Columbia/CBS, Deutsche Grammophon, Decca London USA, Decca London UK and Decca Mono 78rpm, Epic, HMW, Mercury, RCA Victor, Philips, Elektra, L'Oliseau-Lyre, Parlophone, and more). This level of adjustability allows the replicating of EQ curves used at the pressing stage. There are 12 load options between 10 ohms and 100 kohms, 14 gain levels from 31dB to 74dB and seven adjustments for capacitance from 'off' to 1000pF.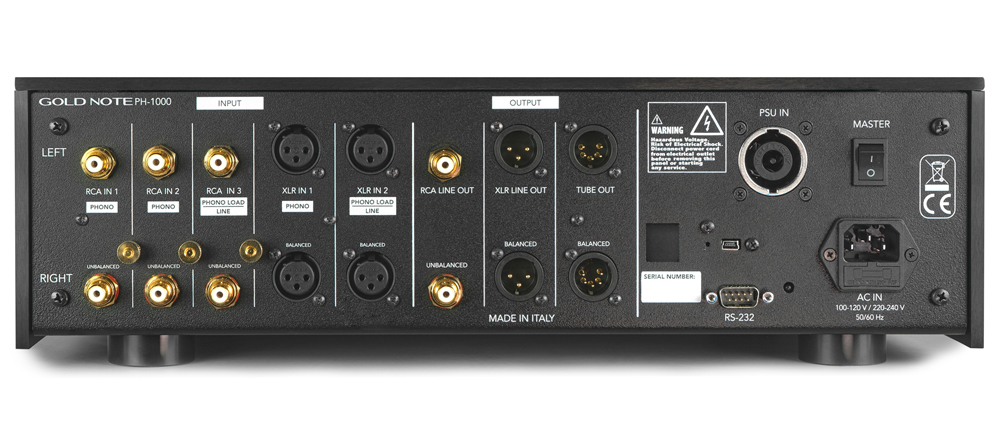 Connectivity is also extremely generous. The rear panel houses options for three RCA connections (one can be configured as a line level input for the Class-A PH-1000 LINE version which also features line level outputs and variable output for direct connection to a power amplifier), two XLR inputs (again, one can be configured for line level) and both unbalanced RCA and balanced XLR outputs. There's a 4-pin connecting socket for an optional outboard power supply and an RS-232 comms port.
The PH-1000 also features global EQ with up to four presets, rumble filter on/off (10Hz/36dB octave filter) while the Stereo/Mono switch allows settings for 'Stereo', 'Stereo 180°', 'Mono', 'Mono 180°' and 'Mono L'. The four EQ presets also feature a Gold Note proprietary 'Enhanced' function derived from the Neumann Cutting Lathe project and is said to provide superior dynamic and high-frequency extension.
In addition to the above-mentioned high quality visual display, the fascia features a control/volume knob and the 6.5mm jack headphone output socket. The headphone output can be configured for low or high gain in order to cater to varying headphone sensitivity.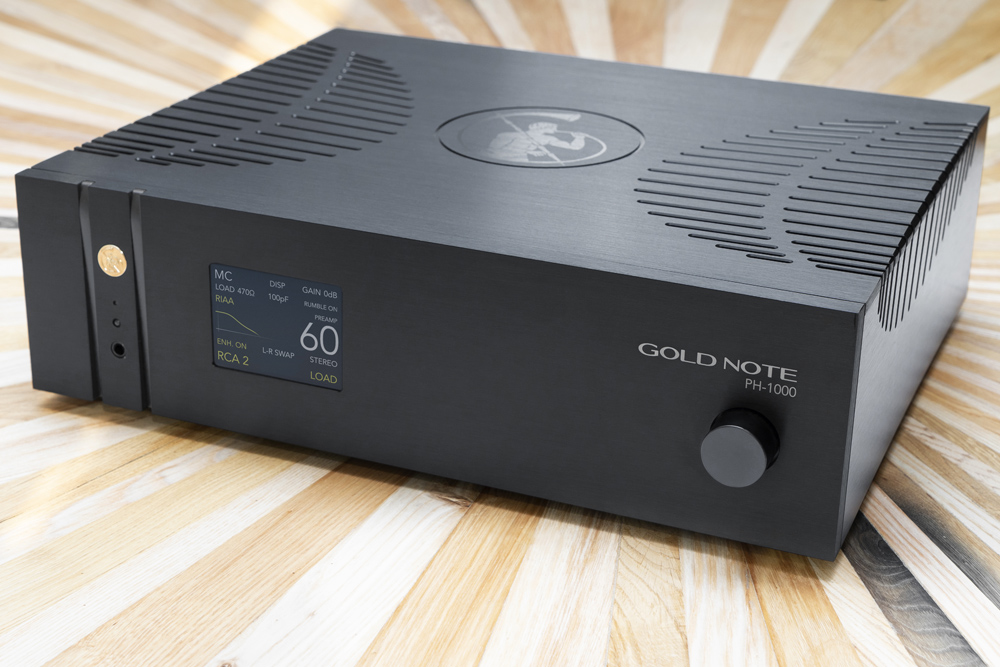 Gold Note told SoundStage! Australia, "As always, the level of quality meets the highest standard throughout the entire production: from the precisely machined aluminium to the audio-grade components and circuitry, each part undergoes strict QC computer-controlled tests."
The new Gold Note PH-1000 has arrived in Australia and can be auditioned via importer Absolute Hi End's established network of specialist audio dealers around the country.
Gold Note PH-1000 Phone Stage
Price: AU$15,900 (AU$6800 additional for LINE version)
Australian Distributor: Absolute Hi End
+61 488 777 999
www.absolutehiend.com