With a new creation progressing the arc of the 'Chronosonic' concept to a newly-refined level, Wilson Audio introduces the new Alexx V.
Alexx V has evolved from a complete re-examination of key aspects of its predecessor, the highly-acclaimed Alexx. Wilson Audio's team of engineers embarked on a study with the aim to further scrutinise the driver alignment architecture as employed in the company's Chronosonic XVX flagship. Of course, this meant introducing the 'gantry' design on a scale suitable to the Alexx's smaller stature. It's a deceptively complex skeletal framework – which can be dressed with grilles via an embedded magnet system – allowing very tightly-controlled adjustment of each midrange driver and the tweeter in order to align acoustic output to the listener's ear height and sitting location (in conjunction with the bass drivers' angled baffle). A by-product of the gantry's structure is a more robustly inert overall upper construction with further stability provided via a cross-brace incorporating the Sono 1 lighting system from Coolfall which provides enhanced setup and module alignment ease.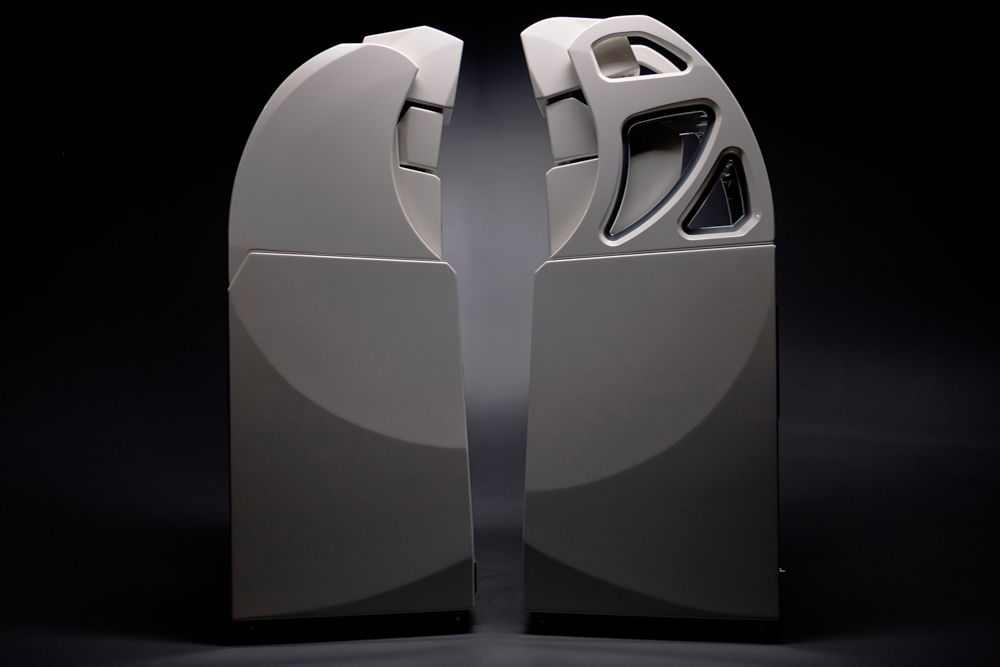 The Midrange/Tweeter/Midrange (MTM) driver array is made-up of Wilson Audio's latest transducer technology with the midrange drivers trickling down from Chronosonic XVX while Alexx V debuts a brand new bespoke tweeter design. The new 25mm (1-inch) Convergent Synergy Carbon (CSC) doped silk tweeter uses several elements inherited from XVX's own, however, Wilson Audio has re-engineered the magnet system and developed, in-house, a new 3D-printed carbon fibre chamber enveloping the entire rear section of the tweeter (directly behind the machined steel face plate). The result is said to offer "far greater and more linear high frequency extension while providing unprecedented ambient retrieval and superior harmonic detail."
The midrange drivers are distinguished by their differing design which splits them into handling lower and upper midrange portions of the frequency range. A bespoke version of the renowned 150mm (5.75-inch) ScanSpeak scorched cone doped paper pulp driver – as used in Alexx, SabrinaX and TuneTot – is tasked with the upper midrange while Chronosonic XVX's new 180mm Alnico (Aluminium, Nickel, Cobalt) QuadraMag paper pulp composite driver is employed across the lower midrange. As the name suggests, four Alnico magnets are arranged in a specific 'quadrature geometry' devised, we'd say, to maximise magnetic flux, control voice coil/diaphragm movement and more. Internal wave diffusors have been machined directly behind the midrange drivers in order to reduce back-wave distortions, with the resulting sonic enhancements said to be higher accuracy and a more life-like tonal presentation.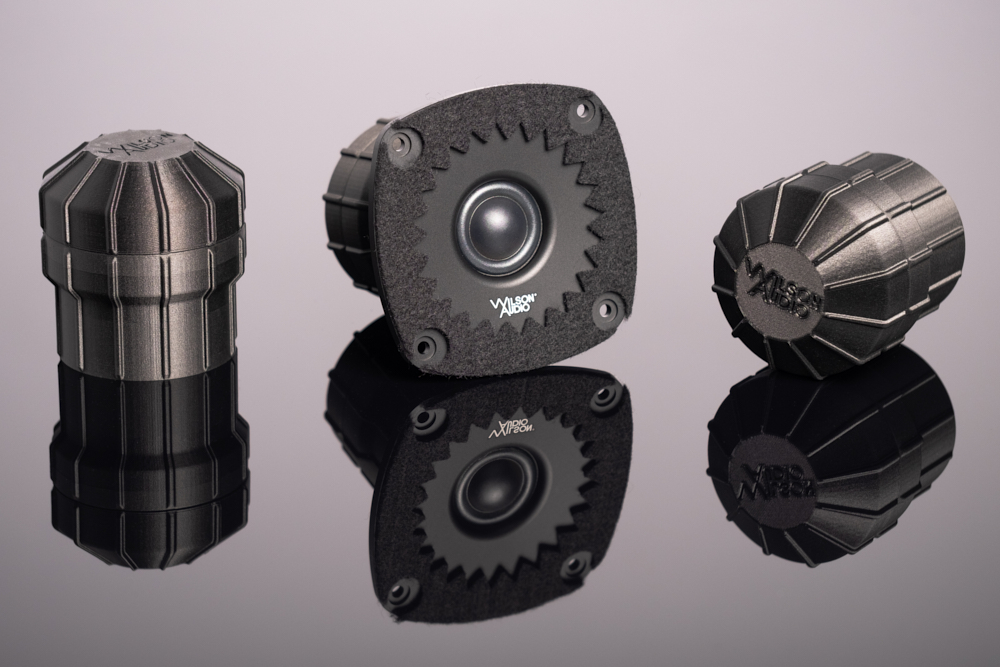 The crossover design exclusively uses Wilson Audio's new AudioCapX-WA custom capacitors. Cable interface between the crossover and drivers is provided by a new cable management system as developed for the WAMM Master Chronosonic. The crossover's re-engineering and deliberate simplification has resulted in a slightly easier impedance load and a 1dB improvement in sensitivity.
As is common with all the Wilson Audio models above the Sasha DAW, the Alexx V features two bass drivers of differing diameters. Compared to its predecessor, the Alexx V's bass enclosure is 16% larger (approximating the internal volume of the WAMM Master Chronosonic's bass enclosure) and houses 265mm (10.5-inch) and 320mm (12.5-inch) hard paper pulp drivers with large magnet systems. These drivers are said to provide fast transients, increased resolution and deeper reproduction. The drivers were developed alongside the Master Chronosonic's own and share many technologies. As first introduced with the Alexandria XLF, the reflex port is interchangeable to exit either via the cabinet's front or rear allowing room-tuning alternatives.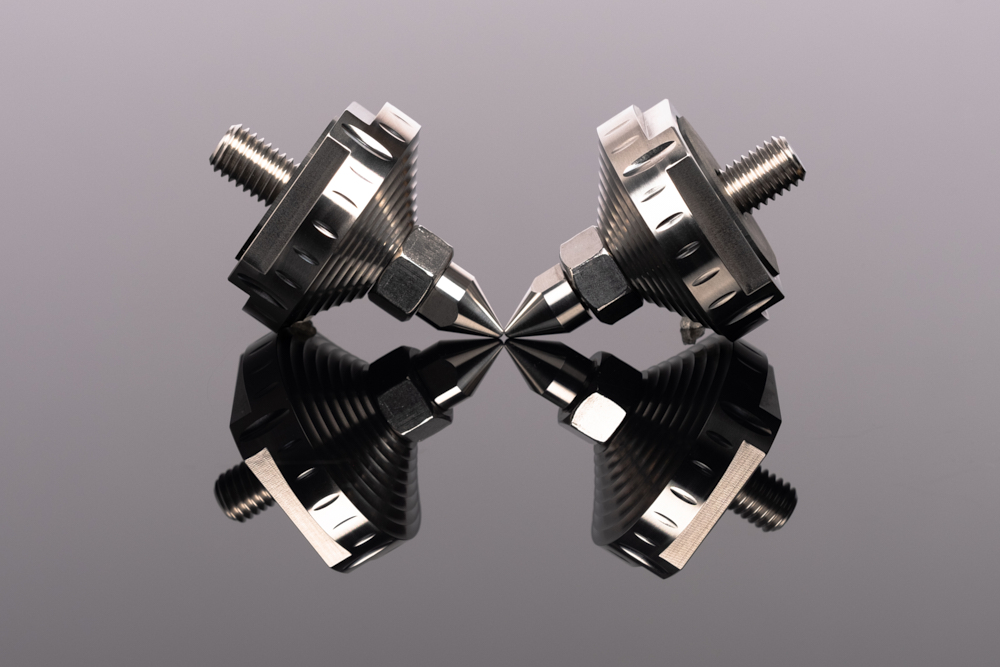 Alexx V's enclosure is constructed from a revised, strengthened and further damped version of Wilson Audio's proprietary X-Material is used in the woofer cabinet, upper modules and the gantry construction. The midrange driver cabinets also employ S-Material and the tweeter enclosure features X-Material. The new V-Material – first introduced in Chronosonic XVX – is strategically implemented as reinforcement in cabinet interface locations. The Alexx V speaker weighs in at over 220 kg.
Introduced for the Alexx V and soon to be available as an upgrade for the entire Wilson Audio loudspeaker range (and indeed for any loudspeaker design), the new Acoustic Diode spike system is designed to provide vibrational distortion control. Developed by Wilson Audio's Special Applications Engineering (WASAE) division, the Acoustic Diode's construction combines proprietary materials such as S-, V- and X-Material compounds with carbon fibre, austenitic stainless steel and aerospace grade aluminium.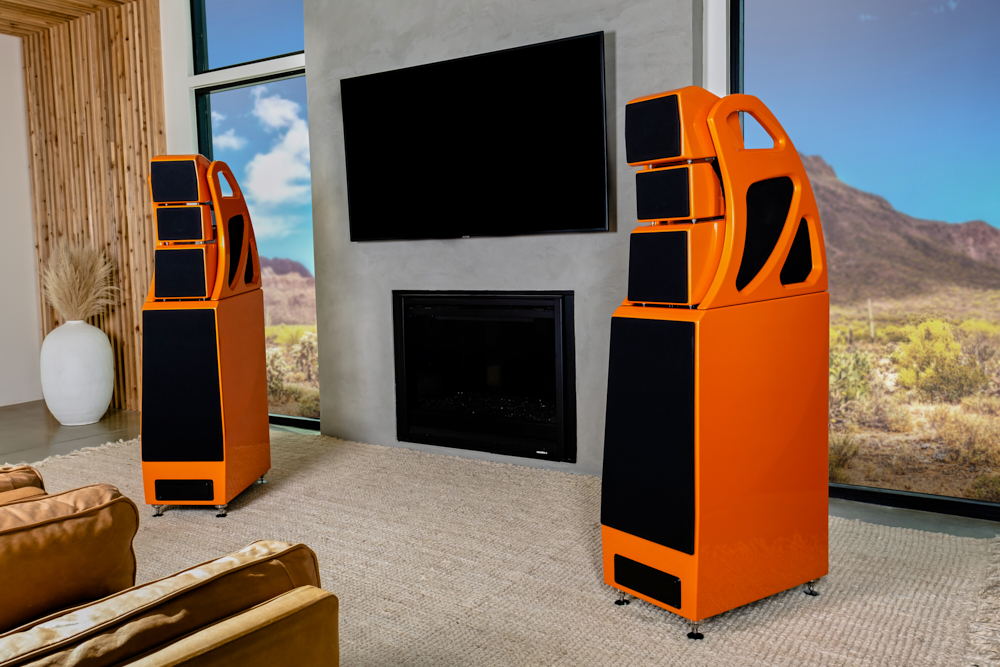 We spoke to Wilson Audio's CEO Daryl Wilson who told SoundStage! Australia, "Wilson Audio has had an unbelievable amount of support for the Alexx V launch and we are looking forward to hearing about your listening experiences from all around the world. Thank you for the incredible outpouring of excitement, we share in that feeling and have been handcrafting this special loudspeaker for you. I'm so proud of the Wilson Audio family here in Provo, Utah. 'Overcoming Obstacles with Excellence' is one of our mantras and the dedication shown everyday as we worked through supply chain issues, positively supported each other as we've all battled various struggles, and carefully crafted this world-class loudspeaker has been truly inspiring. The Alexx V is sonic and industrial art that now belongs comfortably right next to the Chronosonic XVX and WAMM Master Chronosonic."
Wilson Audio Alexx V Loudspeakers
Price: AU$199,995
Australian Distributor: Advance Audio Australia
+61 2 9561 0799
www.advanceaudio.com.au