Absolute Hi End has announced obtaining the Australian distribution for the high-end amplification specialist Absolare. The company has achieved considerable success via a growing line of high performance, beautifully designed and immaculately constructed amplification components.
Absolare designs its valve-based amplification products via a collaboration of international engineers specialising in each of the requirements making up the Absolare product line. The company holds two main offices, one in the United States and the other in the Netherlands where the association between the two allows for product design, manufacturing, administration and service on a global basis.
Absolare offers SET and Push-Pull valve power amplifier designs, preamplifiers, an integrated amplifier, a phono stage and AC Power Purifiers/Electrical Mains Distribution devices. All the components are built to extremely high standards and are said to contain the highest quality componentry and the products are available in a variety of leather and colour options, something that has become the company's aesthetic trademark.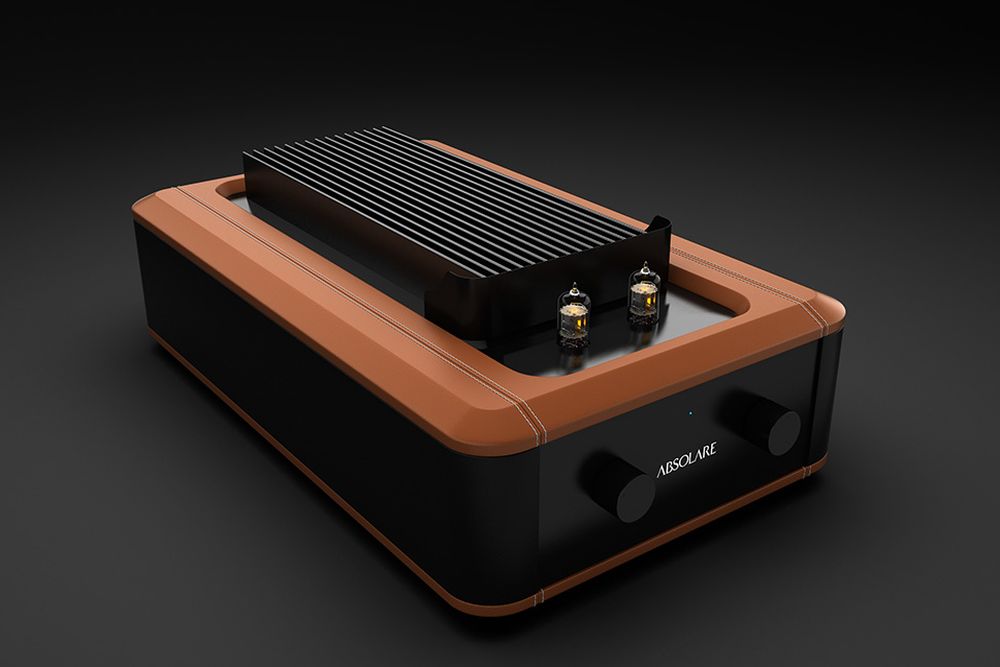 Absolare's Passion integrated is the starting point in the company's line. As per its product siblings, the Passion integrated is built around a 3mm-thick aluminium chassis which adopts further resonance control via damping materials and the external leather finish. The Passion is a hybrid design featuring a Single-Ended Triode input stage with either two 12AU7, ECC82 or E80CC NOS valves and a solid state output stage. It is capable of 150 watts continuous output power into 8 ohms and 200 watts into 4 ohms with a bandwidth of 20Hz to 20kHz within +/- 0.1dB. Volume control is via a high quality resistor-based system. The Passion amplifier is dual mono and each channel features an independent power transformer and a large low ESR capacitor bank.
Absolare offers a standard and Signature version of the Passion integrated amplifier, with the Signature version featuring an upgraded power supply, internal Echole alloy wiring throughout and exotic capacitors. The Standard version is priced at AU$35,500 with the Signature version being $46,500. Absolute Hi End will be introducing the brand by offering Absolare's complete line of amplification products.
Australian Distributor: Absolute Hi End
+61 488 777 999
www.absolutehiend.com
Price: AU$35,500 Standard, AU$46,500 Signature