ELAC's highly acclaimed entry level Debut series sees substantial driver and enclosure improvements warranting a new appellation to 'Reference'.
A design effort by renowned acoustic engineer Andrew Jones, the Debut Reference features design refinements to the ELAC cloth dome tweeter which now incorporates a new waveguide for improved dispersion while also adopting a more acoustically transparent metal protective grille. Both design aspects are said to have improved overall high frequency performance. The mid/bass driver has received new engineering by way of a reworking of the cast basket which is said to be stiffer, therefore providing a reduction of resonant and vibrational distortions.
Improvements have been also implemented on the cabinet construction. A "full perimeter" brace has been applied across the top and side panels in order to not only strengthen the overall construction, but to also reduce midrange and low frequency muddying resonance. The new dual port design is said to provide better, more dynamic low frequency performance while reducing port air flow 'chuffing' noise.
The new Debut Reference series launches with a 2-way standmount/bookshelf speaker and a refined 3-way floorstander while multi-channel audio is catered via a matching DCR52 centre channel speaker. The new DBR62 standmount houses the cloth dome tweeter and a bespoke 165mm mid/bass aramid fibre driver while the floorstanding DFR52 uses the same tweeter but introduces a custom 150mm driver which is used for the midrange and as a trio for the bass. The DCR52 centre channel employs the tweeter and 150mm driver in the ubiquitous centre channel configuration.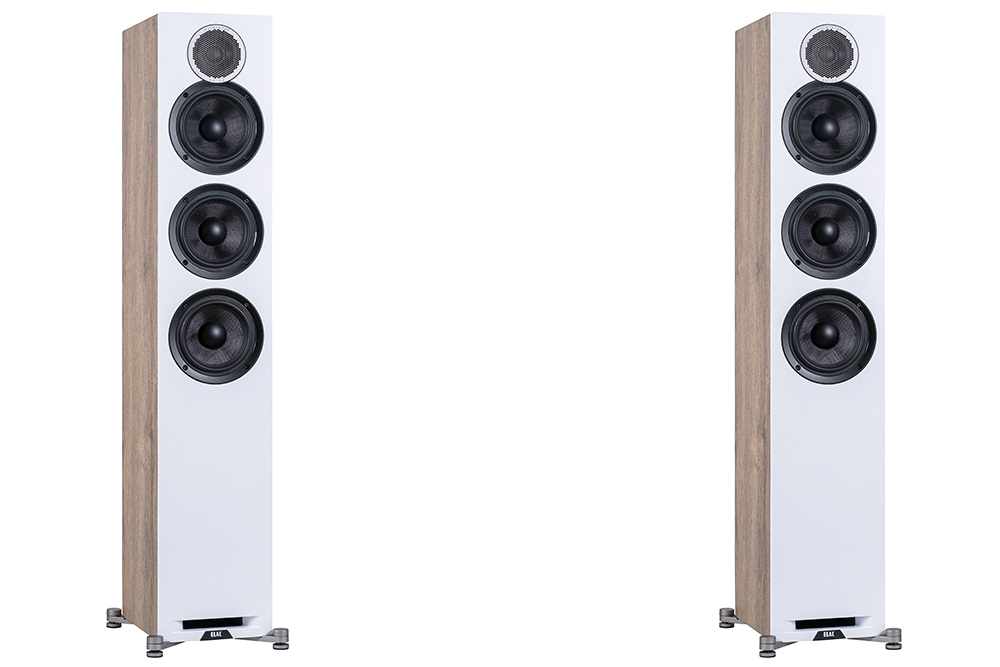 The standmount and floorstander present a nominal 6 ohms (8 ohms for the centre channel) with an efficiency of 87dB and 86dB at 2.83 volts/1 meter respectively (87dB for the centre channel). The DBR62 standmount's frequency response has been given at a reasonably wide 44 Hz to 35 kHz (no parameters provided) while the floorstander DFR52's is 42 Hz to 35 kHz. The centre channel's response is quoted as 55 Hz to 35 kHz.
The new ELAC Debut Reference series will be available in attractive enclosure and grille finish options to suit any modern home environment. The new speakers will be available around the country via specialist audio dealers.
ELAC Debut Reference Loudspeakers
Price: DBR62 AU$999, DFR52 AU$2399, DCR52 AU$799 (centre speaker)
Australian Distributor: Synergy Audio Visual
+61 3 9459 7474
www.synergyaudio.com.au