Renowned for its extremely high value high-end John Curl-designed Halo products, Parasound now offers its 200 Pre as its newest full feature preamplifier in the entry level NewClassic line.
The new 200 Pre combines a high quality preamplifier (which keeps the signal in the analogue domain from input to output) with a high resolution Digital-to-Analogue Converter (DAC), a Moving Magnet (MM) and Moving Coil (MC) phono stage and a high quality headphone amplifier. The line stage of the 200 Pre offers three single-ended RCA inputs, one of which can be configured to be the phono input. Home theatre integration is available via a bypass. The input levels can be trimmed to match sources with varying gain outputs. The dimmable LCD display serves as a comprehensive information hub which also offers individual input naming.
Twin subwoofer inputs are associated with the built-in variable crossover selector and bass management with high-pass and low-pass outputs. Line level outputs are single-ended RCA. Digital inputs include USB, optical and coaxial options with support for resolutions of up to 24-bit 192 kHz. In fact, the on-board DAC is a trickle down incorporation from Parasound's upmarket Halo P5 preamplifier.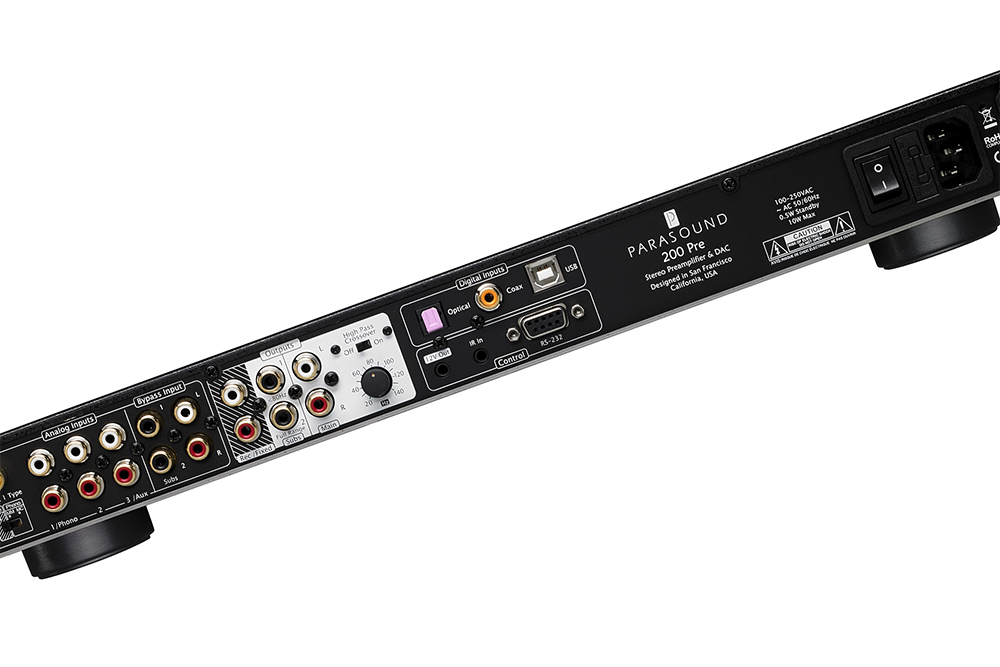 Custom installation was also in mind when designing the 200 Pre as it will soon have Control4 compatibility while featuring two-way RS232 communication, 12 volt triggering, rear panel infrared input and the 1RU unit is available with optional rack mounts (RMK11 model). The unit is supplied with a backlit remote control.
The 200 Pre's input impedance has been quoted as 24 kohms while the low output impedance of 470 ohms will make it compatible with most power amplifiers. Total Harmonic Distortion is a low 0.03 percent between 20 Hz and 20 kHz. The preamplifier's gain is 12 dB when the volume is set to '100' while the gain from the MM and MC stages are 40 dB and 50 dB respectively (with impedances at 47 kohms and 100 kohms).
"The NewClassic 200Pre is a moderately priced analogue audio preamplifier and DAC with outstanding sound quality, excellent connectivity, and versatility" Parasound told SoundStage! Australia, continuing with, "like all NewClassic products, the model 200 Pre represents a new generation of affordable, high performance audio products from Parasound."

The NewClassic 200 Pre preamplifier is distributed in Australia via Network AV and is available through established retailers around the country.
Parasound NewClassic 200 Pre Preamplifier
Price: AU$1795
Australian Distributor: National AV Solutions
+61 2 9949 9349
www.nationalavsolutions.com.au